Japan is a place where people will pay a eighty bucks for a melon, five dollars for a chocolate truffle, and fork over hundreds for less than a pound of beef. I've never before witnessed such absurdity in pursuit of exclusivity. But I don't blame them for it, either; not after trying the best Kobe beef in Kobe.
Whether you have a whole month or just three days in Osaka & Kyoto, a pilgrimage to the port city of Kobe is a can't miss addition to your trip. The country's food industry enables their obsessions, constantly releasing new & interesting products exclusive to Japan.
If you wander the chocolate shops of Osaka, you might think they were trying to imitate a European ideal, but the many new products originating out of Japan each year would beg to differ. Chocolate-infused fruits, black sugar caramels, and some inventive new ways to brew coffee are just some of Japan's contributions to the global food scene.
Another Japanese contribution is the beloved Kobe beef. In Japan, it's become the answer for non-seafood lovers looking to savor the many culinary contributions of Japan. No matter where I've had it, from Okinawa to Tokyo, Japanese beef has continued to impress me.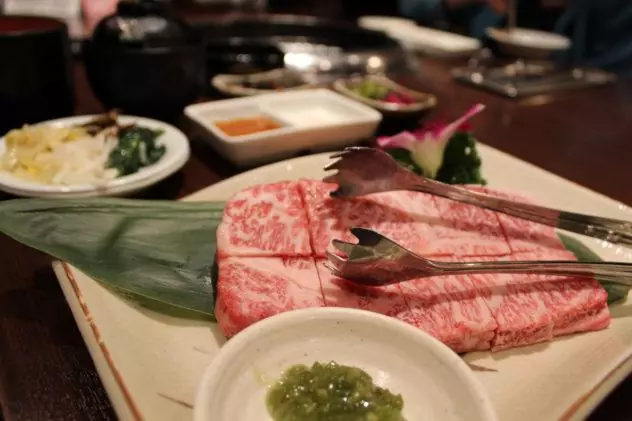 What Is Kobe Beef?
I doubt you'd be reading this if you didn't have at least an inkling of what Kobe beef is. It's beef, plain and simple, but with breathtaking marbling. It's said to be one of the most expensive meats in the world, right up there with jamon iberico from Spain (which I've also had a few times; not impressed).
The price varies depending upon what part of the cow you go for, as Kobe is not a cut of beef (like fillet mignon), but a type of cow (Wagyu), bred in the Hyogo perfecture of Japan. It's a Wagyu cow of the Tajima-Gyu variety, known to have very tender flesh thanks to both its breed & upbringing.
Though it's now also known for having its name butchered constantly by tourists. The beef and the city it's named after are pronounced "Koh-bay." Alternatives to Kobe beef include other varieties of Japanese wagyu beef, many of which are arguably just as good but without the higher price tag.
If you're ever in my country of South Korea, be sure to seek out hanu (한우), Korean barbeque domestic beef. I've had both hanu and Kobe beef, and if you get the right cut then it's hard to tell them apart (other than the side dishes).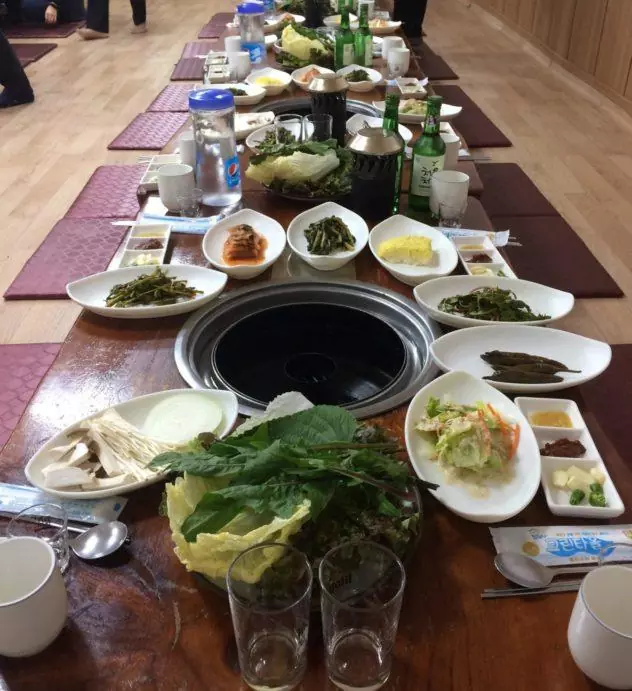 There's actually a national rating scale for Kobe beef, as well as a limit on the number of cows that get the highest designations. If you see any grades or types of beef on the menu, look for A5 wagyu beef, as that is the real Kobe beef insofar as its of the quality we've come to associate it with.
A5 grade Kobe beef is part of the exclusive group of cows who received that highest designation of quality, of the limited number raised that season. So for those of you wondering "Can I just get Kobe beef outside of Kobe and save myself a flight?"
I mean, theoretically you caaaan, but there have been shortages of Kobe in the past due to its inherently limited nature— yet the international sale of Kobe beef hasn't slowed. So if you really trust the source of that beef, then sure. Go for it. But I can't guarantee that it'll be authentic Kobe beef.
If you're considering a side trip from Osaka, consider making it Kobe. After all, they do have some of the best chocolate in Japan, as well.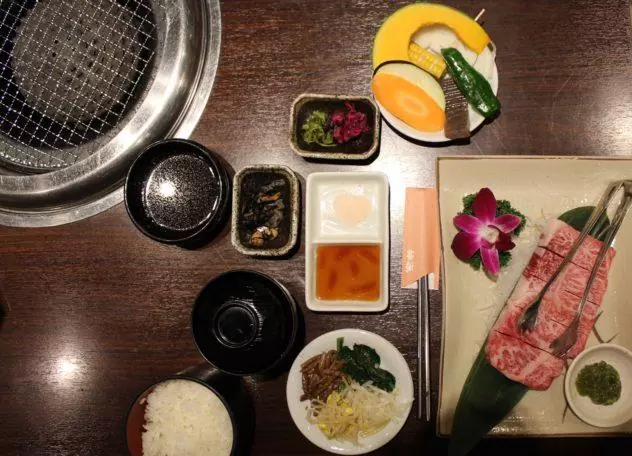 Finding Cheap Kobe Beef (In Kobe)
Kobe Beef is actually not too expensive within the city of Kobe, though no matter how you spin it, it's going to be a nice meal out. Outside of Kobe city the price increases with the distance, and precious little of the meat is actually shipped out of Japan. Other Japanese wagyu cows are also made into very delicious Japanese steaks, though that's another hunt entirely.
So in terms of the most expensive beef in the world, affordable means less than $60USD per person; it's not breaking the bank, but it's not ramen, either. And considering how expensive regular Japanese beef is, a $50USD or $60USD Kobe beef lunch is not hilariously out of range, though I can't deny its splurge status.
Finding affordable Kobe beef in Japan is all about location, location, and timing. First, you need to get over to the city of Kobe, as this is where the most governmental regulation (in terms of standards of meat quality) can be found.
There's no sense in shelling out for Kobe beef if you can't ensure its authenticity. The next step is one you'll probably already have done: go to the Sannomiya neighborhood, the bustling downtown area surrounding Sannomiya railway station.
This is where the highest concentration of affordable Kobe beef restaurants are located, as the more expensive places are further north near Shin-Kobe station. Lastly is timing. Eat at lunch. It's as simple as having your meal between 11am and 3pm, following the law of supply and demand.
If there's a chef cooking your meal for you, that's going to bump up the price, as well, so aim for a do-it-yourself beef restaurant. Meat prices can also as much as double in the evenings, when businessmen and big groups are having nice outings on the company card.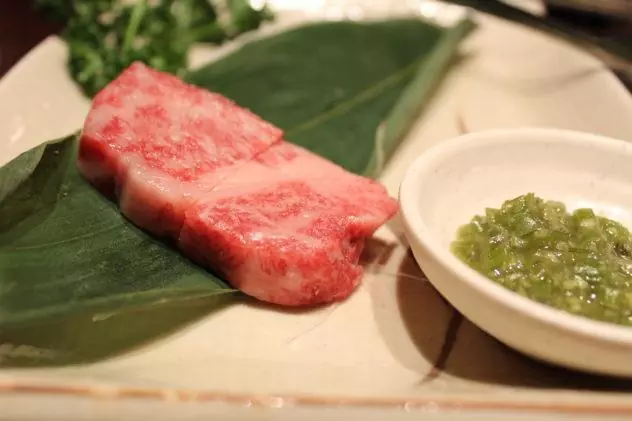 Where To Eat Kobe Beef In Kobe
First of all, if you're still wondering where Kobe is, Kobe is the name of a city in the Hyogo perfecture of Japan, firmly in the center of the country. Kobe weather is cold in the winter (well below freezing), and very hot in the summer (well beyond 90F/30C), despite being a port city.
The best way to get to Kobe is via plane, landing at the massive hub of Osaka Kansai airport and taking the train directly from the airport to Kobe Station. Once you arrive, scope out the area around where you plan to eat lunch. Where there's an affordable lunch, there are affordable souvenirs.
Just beware that most Kobe beef restaurants will be closed from 3pm to 5pm every day, and will not take reservations for that time. And I do recommend you make reservations if possible, as the best Kobe beef restaurants have a very low capacity, often fewer than a dozen customers at a time.
So if you plan to do any activities in the area, grabbing an early lunch and then working off the calories before an early dinner is almost a must here. All restaurants have a last order time half an hour to an hour before they close, as it's common for patrons to linger over drinks after a fine meal, as one might expect.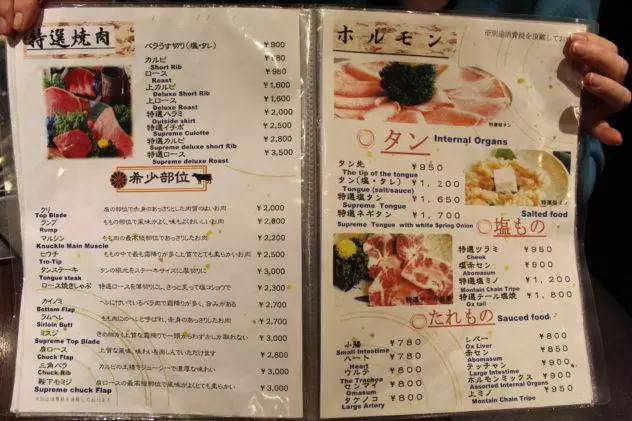 A server will come over and ask if you have any more order requests, including for drinks, so consider your timing when making a reservation. I promise you'll still leave satisfied if you go for a more affordable Kobe beef experience.
But in the case of lunch, at least a portion of that fullness will come from side dishes and rice, which your digestive system (and wallet) will thank me for later on. The actual cost of Kobe beef in Kobe can range hugely, from just a taste of the leftover bits for ~$10USD, to a multi-course meal of the best cuts of beef for $250USD+ per person.
The restaurants recommended below not only have high ratings for their food and are open for lunch, but are affordable places to eat Kobe beef in Kobe, the home of Japan's most famous Wagyus. The average Kobe beef lunch set costs less than $50USD— still a splurge, but no need to re-finance you're mortgage.
Plus, at least you're already in the country of ramen and bento boxes! Just don't forget the food tax, which will be somewhere between 8-10%, when calculating your final bill. Check out the list below for 7 delectable choices of where to eat Kobe beef in Kobe.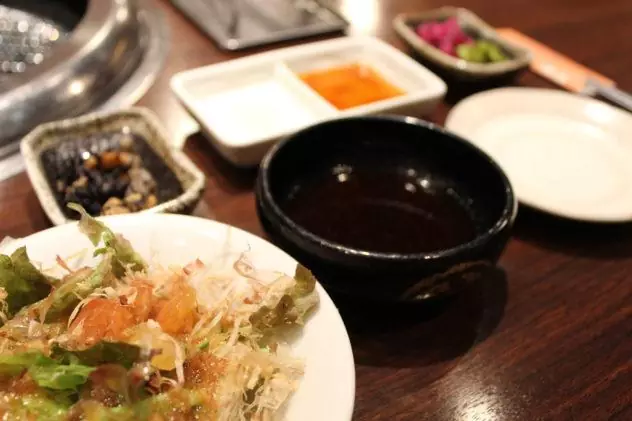 7 Affordable Kobe Beef Restaurants In Kobe
1. Meriken Hatoba: Just a few minutes from Motomachi Station, Meriken Hotoba gets repeated praise for its amazing service and English-speaking staff, as well as the delicious Kobe beef they serve up all day long. The restaurant seats only 10 people, but you'll feel like family, especially when you get the bill at the end, aa the lunch set makes you feel like you get the family discount.
Reviewers rave about jovial atmosphere and animated chef-owner. Call 078-392-1369 or message them on Facebook to make a reservation, as they currently don't have a website. Open 12pm-3pm & 5:30pm-10pm Tuesday-Sunday (closed every 3rd Tuesday of the month). (Google Map)
2. Steak Aoyama: Run by the same family for the last 50 years, the English-speaking owners of Aoyama will treat you like a long-lost child or grandchild. Known for their reasonably-priced Kobe beef sets and lovely conversation, my guess is that their low prices are thanks to having a packed house every time.
With seating for just 6 to 8 people and a near perfect score on Trip Advisor & Google & Facebook, this is a place you'll want to make a reservation for (via phone or Facebook). Check out the menu on their site. Open 12pm-2:30pm & 5pm-9pm Thursday-Tuesday. (Google Map)
As of September 2023, Shingen is no longer in business.
3. Shingen: This is where we ate Kobe beef, as highly recommended by a friend of mine, and it didn't disappoint. They definitely put meat at the center of their aesthetic, and the owner himself goes to auctions to source their beef.
With a variety of lunch specials within a reasonable range, we were able to settle upon the ¥5,500 lunch set with the variety of side dishes, vegetables, rice, soup, coffee, and scoop of ice cream it came with. But I think the 5-meat selection of different cuts of Kobe beef was the better deal, even without the extras, at ¥6,500.
Read more about our experience below. Make a reservation here after checking out the menu on their site. Open 11:30am-2:30pm & 5pm-11pm daily, closing at 10:30 on Sundays/Holidays; the 8th of every month is their day off. (Google Map)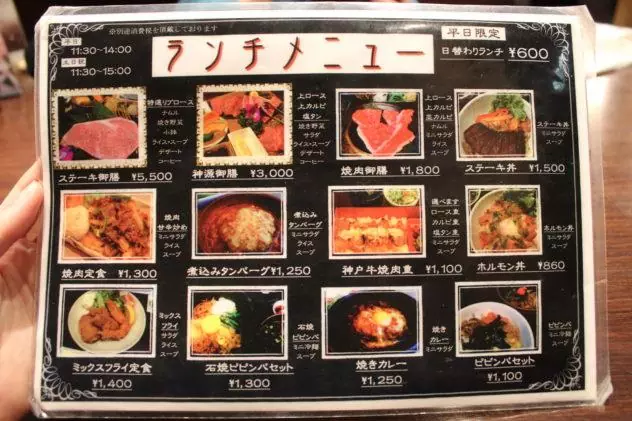 4. Ishida: Though it might be a little hard to find, admittedly located basically in an alley, this 9-person restaurant serves up some of the best service in the area alongside their beef. Customers love the variety of sauces and salts on offer, as well as the beautiful presentation and attentive staff.
There's a good reason the restaurant now finds itself with 4 locations in Kobe! It's often noted to be the best Kobe beef restaurant in Kobe. Make a reservation here after checking out the menu on their site. Open 11:30am-3pm & 5pm-10pm Thursday-Tuesday. (Google Map)
5. Kobe Harborland Sandaya: As the name suggests, Harborland is right on the water, a spacious fine dining restaurant with an emphasis on high-class service. Unlike most Kobe beef restaurants in Kobe, Harborlands target demographic is not businessmen but couples. Their wine selection is top notch, and carefully selected to go with each meal, side dishes and all.
Each Kobe steak is prepared by the chef in the teppanyaki style, and brought out to diners on fine china, really separating it from the grill-it-yourself spots common in Japan. Check out the menu on their site. Open 11am-8:30pm daily, with lunch menu orders ending at 3pm. (Google Map)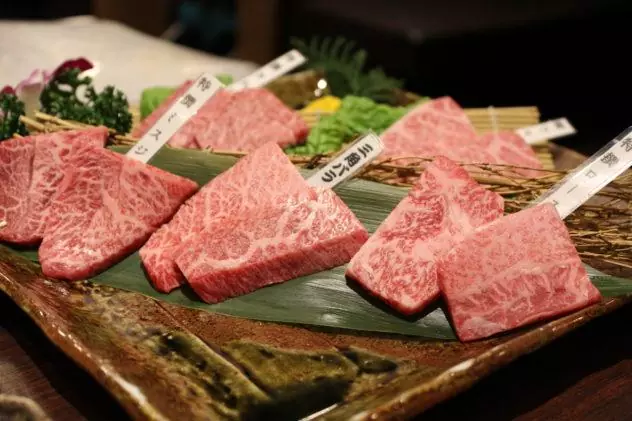 6. KOKUBU Steak House: While you will actually need a reservation to enjoy the Kobe beef at Kokubu, it's well-worth the planning time. Every visitor's experience will be unique, but all patrons have the opportunity to try real A5 Kobe beef.
That particular grade is part of the exclusive group of cows with the highest designation of quality, prepared by an English-speaking chef with nearly 50 years' experience. There are multiple cuts of Kobe beef to choose from, as well as an assortment of vegetable and rice dishes to accompany your meat.
Note that the restaurant is located a few stories up, but there's an elevator you can take if unable to climb the stairs. This spot only has space for several people at a time.
So to make a reservation before your trip, send them an email at steakmanthe2ed(@)gmail.com, or have your hotel give them a call at 078-321-1717 if you're more flexible on timing (or visiting during low season in Kobe). Open for dinner 5pm-10pm Mon-Sat; closed on Sundays & holidays. (Google Map)
7. Kōbe Tanryū Higashimon: Like many of the famous Kobe beef restaurants in Kobe, Tanryū Higashimon's chef has many decades of experiences not only in cooking Kobe beef, but in picking what meat he will purchase for his restaurant (a less well-known job of a chef).
The restaurant is known for their various options of both cuts of meat and serving styles, most of which are do-it-yourself barbeque options. I'd recommend trying one of their course menus, which are on the expensive side, but give a great idea of the chef's skills.
The restaurant is laid out with small groups in mind, so be sure to make a reservation beforehand here. Open for lunch 11am-3:30pm Mon-Thu, 11am-4pm Fri-Sun & 5pm-12am Mon-Sat close at 9:30 on Sundays & holidays. (Google Map)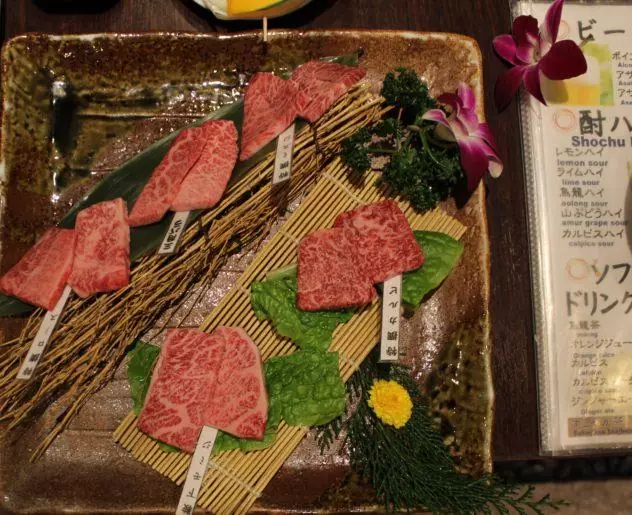 The Kobe Beef Experience
Fresh brightly colored vegetables are seared on the open-faced grill. Your meat is shrinking and sizzling as it prepares itself to be enjoyed by you. Add some soy sauce and a slice of onion to your sauce bowl, and you've found heaven.
Some may say I overcooked my first piece, but all I have to say is boo hiss; I'll do what I want in my real-life dream. This moment is all about the meat in my mouth (hey, get that dirty image out of your head!).
It's actually difficult to ruin such perfect beef. It melts in your mouth, with just a little give. Halfway through, you bite into a plain grilled onion, and they melt together into the most memorable meat experience of your life. The poor rice and soup are abandoned at the wayside, if you're smart.
That's the story of a do-it-yourself barbeque place, as we went to for our Kobe beef experience. Consider yourself warned that all of the side dishes that come with the set meal will fill you up, if you choose to eat them. Some cuts of meat were tougher than I had expected, but we learned that through trial and error.
After they help you order, the staff will leave you to your own devices unless you call them over. So we took it one cut at a time, cooking each of the two pieces together so that we could enjoy them one at a time.
One thing I'll say about Japanese servers after my four trips to Japan thus-far, is that they know how to fade into the background and just let the food speak for itself.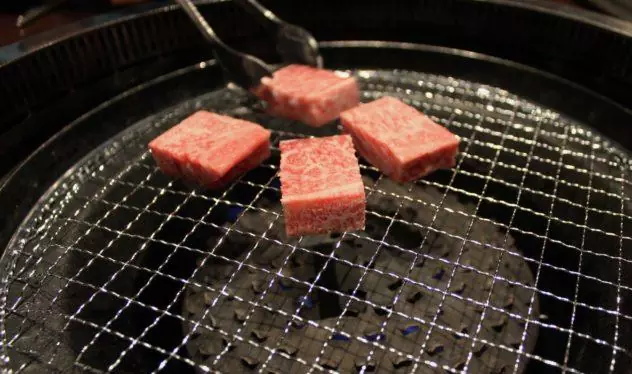 The assortment of sweet and bitter vegetables we threw on alongside the meat added a stark contrast and pleasure to the umami of the fatty beef. Plus, momma always taught me to eat my colors.
My only regret was that all the glorious fat was dropped onto the open fire to fuel it's own demise, instead of saved for later. Many restaurants offer rice to be cooked in the fat and enjoyed after the meal, but the slant of our grill didn't catch the fat.
Sigh. Some cuts were also actually too greasy for me, but be sure you don't overcook it, as we did several times. That strongly affects the toughness of the meat, so simply sear on all sides, and enjoy.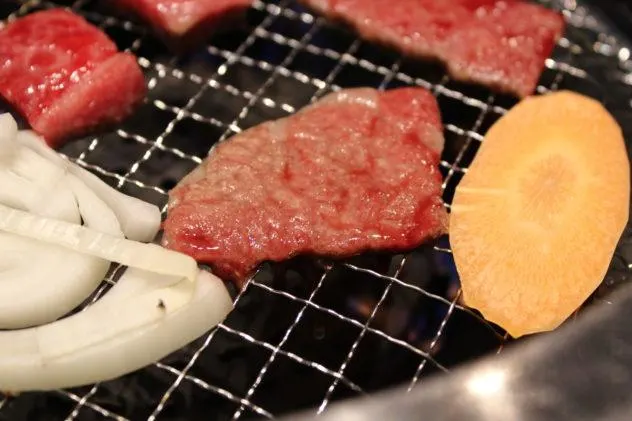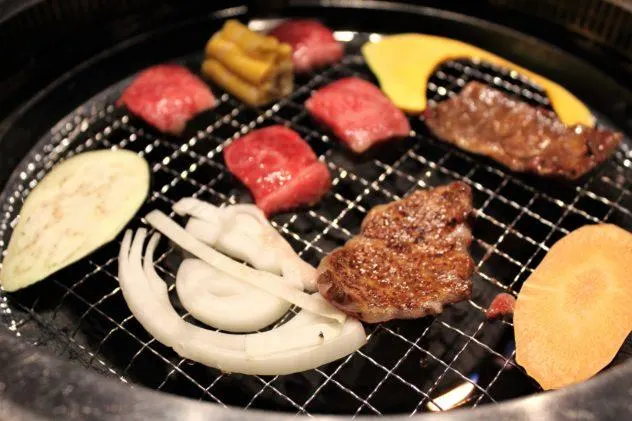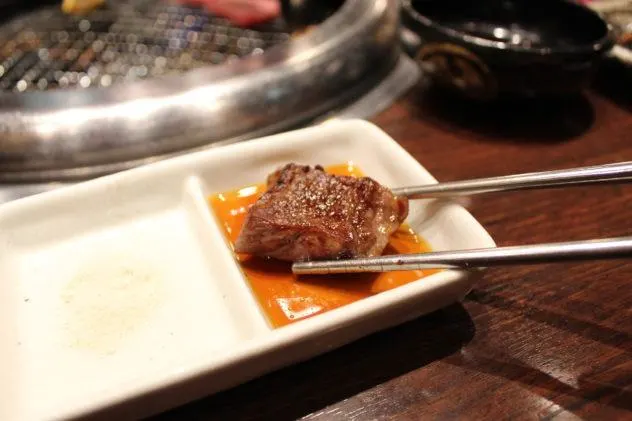 How To Cook Kobe Beef
There are different ways of cooking your meat or having it cooked for you. Some places sell meat by the gram, while most others sell it in teppanyaki or yakiniku sets for both lunch and dinner. Teppanyaki is the Japanese word for when a chef grills your meat on an iron stove in front of you, sort of like dinner and a show.
Yakiniku is a similar idea, except grilled over a charcoal or gas fire rather than directly on an iron table. If someone else is cooking your beef, ask for it rare or medium-rare— if you cook it any further than medium, the toughness of the meat will overpower the melty properties of the fat.
But if someone else is cooking your beef and they don't recommend such a cooking level already, then I'd hightail it out of there, anyway. This cow was raised to be savored, and you can truly taste the difference.
Per centimeter of thickness on your meat, give it about one-and-a-half minutes on the first side and one more minute on the second.
We found every cut to be too oily, but to pair perfectly with the variety of vegetables. I even experimented with adding salt to it before & after cooking, and I believe that sprinkling on a pinch of salt before grilling made the flavor overall better and more meaty, though others disagree.
Personally, I prefer my meat extra salty, though, so take my advice with or without a grain of salt. Unlike with every steak I've ever had, however, this is one meat I never had to pick a chewy or nubby piece of from my mouth. It's very soft to the touch, with a little give.
It may be TMI, but we've all had bad beef, and how sad for the cow to be put through so much torture for no reason. The middle sauce at Shingen was my favorite, but try each creation as one will certainly stand out as best for you.
Some restaurants have their own special sauces and salt blends, so see above for our Kobe beef restaurant recommendations in Kobe.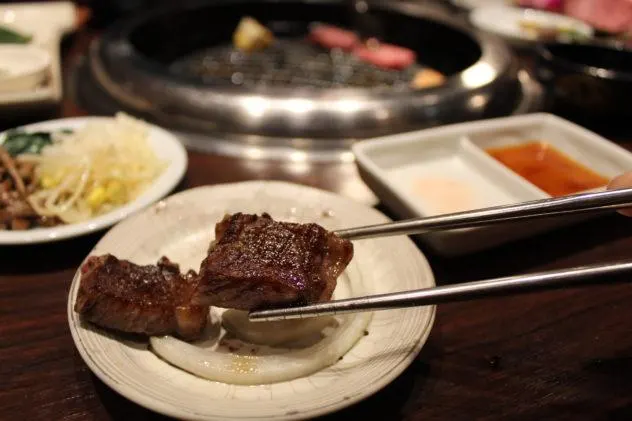 6 Things To Do In Kobe
Assuming you're only in town for the day, here are six things to do in Kobe during one day, likely in between bouts of beef.
Chocolate Tour: I'd be remiss to ignore the amazing array of chocolate shops in Kobe, the city described to me by Japanese friends as well-known for its chocolate. It's a well-deserved reputation I might add. So take yourself on a self-guided chocolate tour of the city, where nearly a dozen chocolatiers are located less than a 10-minute walk from Kobe-Sannomiya Station.
Sorakuen Park: Relax in one of the hippest parks in Kobe, just a 10-minute walk north from Motomachi Station. The tranquil space is laid out in such a way that you not only want to wander around the park, but you want to become pleasantly lost in it. The space was originally part of the residence of a former mayor of Kobe, but was largely destroyed during WWII and later donated to the city.
Shop Til You Drop: Japan as a whole is known for shopping and unearthing all sorts of kitschy souvenirs, in particular in the Japanese versions of malls— the department store. But beyond the 14-floor monstrosities found in every major city in Japan, there are also a number of street markets dotting the city. Arguably the most famous market in Kobe is Motomachi, a covered market in what I've come to think of as the Japanese style, and quite close to the Station of the same name.
Earthquake Museum: Visit the museum which commemorates the devastating 1995 earthquake that hit the region. Opened in 2002, the museum holds screenings of a documentary detailing the tragic events, child-friendly games on disaster prevention, and exhibits with relics from the day of.
Shin-Kobe Ropeway: An underrated experience, if I've ever heard of one, this cable car takes you directly from Shin-Kobe Station up to the top of a mountain, on which there is a fully-functioning large-scale herb garden. Not only is this one of the easy activities to do in Kobe, but it's also kid-friendly and lends a beautiful view of the city.
Cafe Hopping: Hang out in a cool cafe down an alleyway or two, like Africa Cafe, the gorgeous coffee shop my mom & stumbled upon. Just like in Korea, coffee is life for many Japanese people. Coffee shops are easier to find in Kobe than affordable Kobe beef, I'll tell you that much!
Cafes are the hip places in which to hang out, especially on weekend, so find a shop whose vibes you like, and settle in with a cup of coffee or tea. I'm not judging.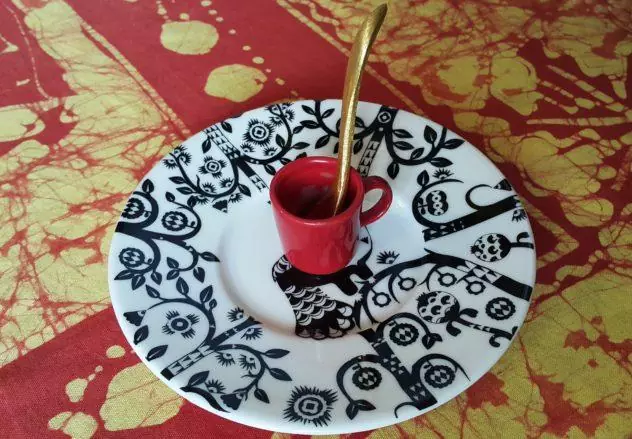 Kobe Beef FAQ
Where does Kobe beef come from?
Kobe beef comes from the Hyogo Prefecture of central Japan, around a port city called Kobe (pronounced "koh-bay").
How is Kobe beef raised?
Genuine Kobe beef can only come from Tajima-ushi cattle, famously raised & auctioned-off in Japan's Hyogo prefecture. Not only are these wagyu cattle raised on a limited number of farms, but all certified Kobe cattle must adhere to stringent weight limits and fat ratios. So are Kobe beef cows massaged, fed beer, and played classical music? Maybe in the summer time, when their appetite can't keep up with their scheduled intake; beer is said to be a traditional approach to stimulate the animals' appetites.
Are Kobe beef and wagyu beef the same?
Sort of. Kobe beef is a type of wagyu beef raised in a specific region, meeting specific conditions. While all Kobe beef is from wagyu cows, not all wagyu beef is Kobe beef. There are even American wagyu cattle. But more specifically, comparing Kobe beef vs wagyu beef marbling, you'l immediately notice that Kobe beef has the most even marbling and a lighter pink appearance.
How expensive is Kobe beef?
Depending on the grade of Kobe beef you choose, a single steak can cost upwards of $400 in the US or $200 in Japan. However, you can also get a high grade Kobe beef in Kobe at lunchtime for under $50 per person, so the Kobe beef price in Japan is usually less than half what it is abroad.
What is so special about Kobe beef?
Does Kobe beef taste different from your run-of-the-mill steak? Of course. It's simply the best beef out there. But while the overall quality and distribution of fat— plus the stunningly tender muscle fibers— make Kobe beef worth it for most people who try it, if you don't like fatty meat then it won't be anything special for you.
How much does Kobe beef cost?
The cost of Kobe beef varies by grade and amount, but at most places to eat in Kobe you can find a Kobe beef lunch special for around 5000-8000JPY ($40-65USD), or dinner starting at 8000JPY ($50USD) and easily going into the hundreds of dollars.
---
Please pin this Kobe beef guide so that it can help other travelers! If you have any further questions, I'd love to help you in the comments below.