Days Danced: 1
Days Sick: 0
Not every trip's a winner, but you can learn from each one, anyway. Going to Seattle and Alaska this month reminded me that some places are destined to just remind you what you like rather than thrill you with a new favorite vacation spot. Ah, and I started my final contract in Korea!
Seattle
Over the course of my recent travels, I've found myself to have a bit of a one-track mind in terms of what I want to do and see while on vacation. Going to new places has primarily become a pursuit with a goal behind it, a change of scenery and fodder for my life's work rather than merely for the pleasure of it.
So over the four or so days I spent in Seattle, I took myself on a proper chocolate tour, meeting Erin from indi chocolate and her daughter Siena, chatting away for over 4 hours before dinner with Barbie, another Seattle-based chocolate head. We more or less ate our way through my list of most-missed foods, and documented Seattle's chocolate scene, one shop at a time. Sitting by the riverbank or salsa dancing or strolling through Seattle's glass museum, we explored all the attractions which piqued our interest.
But I have to say that this trip "home" was a reminder of both the bitter and the sweet that comes with the US. All the foods and familiarities I hadn't even known comforted me were suddenly available, but also thrown in my face was the palpable lack of social support. I felt very uncomfortable, like I had to be on alert, in most parts of the city. And this is in the country that's supposed to be my home. In stark contrast to Korea and in general most parts of Asia, there were few moments when I really felt like I could relax.
Add back in the hidden taxes and tips, and the US is much more expensive than I remember! It serves as a big reminder that I love visiting, but I'm not sure I'll ever permanently return to the US. There's so much choice and indulgence available, like wine tasting, but right alongside it is people who have nothing. I'll never forget throwing away my pile of way too much rice right next to a man who had just eaten a little can of peaches; next time I'd rather embarrass both of us by offering it to him than regret wasting food when he's hungry.
The overwhelming number of homeless people really was the biggest culture shock after two years away in a country that's not perfect, but overall very differently damaged. This is seconded only by high prices, probably contributing to number one.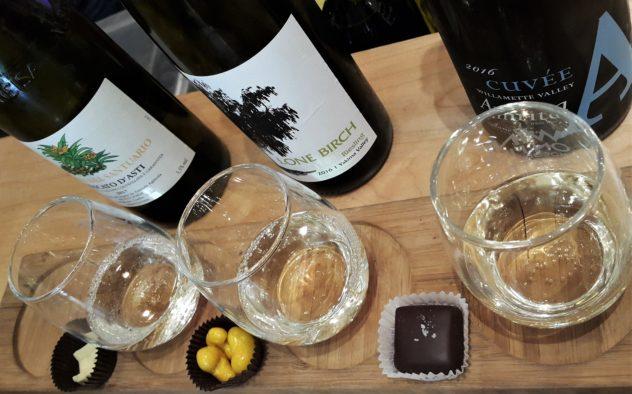 Fairbanks & Healy
Arriving at the airport was a bittersweet affair, as it meant that I had to say goodbye to my mom for another year, and re-arrange stuff so that none of my bags were over-sized.
They were all overstuffed, but apparently the weight was fine. While I was pondering whether body scrub counted as a liquid, however, my dad was checking us into our flight. He walked over with a confused expression on his face, remarking that our tickets said first class, but he had never & would never pay for first class in his life, so that had to be a mistake. Neither of us were keen on fighting it, though, so we just went through all the motions, securing, boarding, and seating, until finally we realized it was true. The flight attendant brought me champagne with cranberry juice and dad & I celebrated my 23rd birthday in style.
First class is the goddamn way to fly.
Since I get anxious on flights, I was really grateful for the nice flight attendants, and the distractingly stunning sunset & firey moonrise with twinkling stars just outside the plane window. I sort of regret forcing my dad to switch seats so that he could see it too, because maybe if I had a picture you could understand the 5 billion star beauty of this scene. Arriving at Fairbanks Airport at 2am, my dad's friend picked us up, only to promptly be pulled over by the cops for driving 15 miles below the speed limit. Luckily, that's not slow enough to get a ticket, so we just continued on our way and I slept half my day away.
I couldn't give you a play by play of the day, because our three days in Fairbanks were a lot of the same. Lots of small town summer stuff. We were lucky enough to be taken around the city by a local, relaxing when we wanted to and spending one day outside the city, at the hot springs. On the way, we spotted a moose from afar and then while we were stopped, a car rolled right into the middle of the road, the emergency break not on. A woman whose family had also stopped yelled "oh, there's nobody in that car!" That's when I realized that it was our car with no driver, and that it was rolling perilously close to the riverbank before my dad dove in and pulled the emergency brake. He's pretty nimble for 65. Maybe it's his new hips?
We were on our way to Chena hot springs and ice museum, you know the one with the cute bartender; did I mention there's a bar in the ice museum? The hot springs, like most of Alaska, featured countless old people, including the owner, Bernie, who was at the time hauling an airplane seventy feet into the air as part of a zipline/airplane/hotel/bar he's pulling together. We could all use a little more Bernie creativity in our lives.
On our last day in Fairbanks, I went to the fair for the first time this decade. It's a lot more multicultural in Alaska than in rural Maryland. But my tummy had no complaints against the buttery sweet corn, horchata, barbecue, and avocado smoothie I finally checked off my list. Wow. No wonder Americans are so fat; we have all the good food! I managed to check off every single food on my list during this trip, plus some bonus foods I had forgotten about (I'm looking at you, chili).
Going down south to Healey with all the gorgeous mountains and off road vehicles and a truck hauling coal (including all the way into the parking lot of the local supermarket) was another glimpse at the small part of Alaska that people actually live in. It definitely gets frostier further north, but overall Alaska is wildly uninhabited. They seem to bring much of the spice of the world to them, and most of the locals we met were quite well-traveled. In fact, contemporary Alaskan cuisine at Park 229 is in the top ten meals I've ever had.
Side note: breves might be Alaska's national beverage.
Denali & Anchorage
I'll freely admit that before the trip, Alaska wasn't exactly my dream summer destination. It still isn't, frankly; I'm an island girl at heart. But I feel honored to have been able to see so much of the American wilderness. Denali National Park was particularly beautiful, and while I enjoyed the rafting in Healy and tolerated the boat ride in Talkeetna, the best way to see the park was definitely on the $40 8-hour bus ride.
During that long trip into the park we saw caribou, moose, a porcupine, lots of bears, a fox, and zero sheep. Not even a wolf in sheep's clothing. But hey, you can't have everything. The blue and white I imagined Alaska to overpower the senses with was quickly overwritten by evergreen trees. Much further than any eye could see, they stretched into the distance. For some reason I'd imagined Alaska as one giant ski resort with more buildings. Even knowing logically that this was wrong, however, I was still surprised when our fun zip lining through the Alaskan woods was overwhelmingly green and musky.
Two college students took us across rickety lines as a brisk pace, nearly not leaving time for us to worry about the dead tree charged with supporting our weight. Luckily we made it out of Talkeetna and onto our train to Anchorage with limited obstacles.
As soon as we de-trained in Anchorage we were swept off to a hardy Tex-Mex meal, the likes of which you'd expect in DC or Dallas, not Anchorage, Alaska. During the two days in between, I filmed & documented all the local chocolate shops, as was my only request when I suggested Alaska for my summer break. It was rather barren but for a chocolatier whom I feared was overhyped, but who I ended up being very impressed with.
The couple behind Sweet Chalet Chocolatier is actually Korean, so I chatted with the husband for quite awhile while I filmed clips of his wife's arresting hand-painted bonbons. On our last full day, we met up with a friend of our hosts who just so happens to hoard chocolate bar wrappers like I hoard bars of chocolate. We had a beautiful last American meal out, indulging in wine and salmon and a round robin of desserts before declaring the event a winner.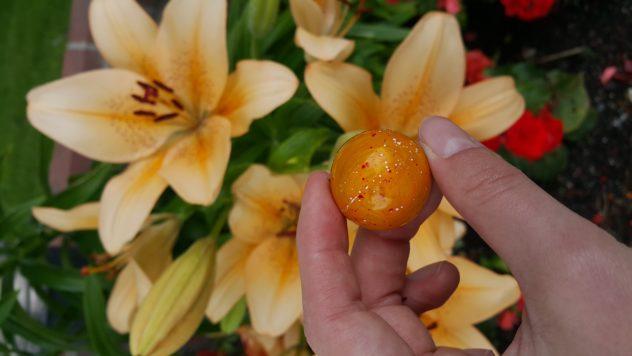 Fine Chocolate & Cacao Institute
The day after I got back from the US I got a DM on Instagram inviting me to a chocolate dinner in Seoul, and was unbelievably thrilled until I realized that it was on a Monday. Seoul is 2.5 hours away, making for a very long trip. No way I could make it on a school night (#teacherlife).
But when I went back to school the next day, exactly a week before the dinner, I realized that I got off work early on Mondays and that that particular school happens to be a bit close to Seoul. This might just work. So as the title gives away, I indeed spent Monday finally meeting Carla and Jose from the FCCA. We enjoyed some stupendous Korean Barbecue and chatted about their recent travels around Asia, as well as potential trips back in the future. It got me super excited about cacao seminars that are not only unplanned, but also completely up in the air.
Yet the idea that Korea's chocolate and cacao community is growing quickly enough to support an entire seminar is heartening. I'm not Korean by blood, but every time I return I feel like I've come home. I'm so proud of the strides I've watched Korean chocolate make over the last two years, and I look forward to helping it continue to grow during my next & final year living here.