I consider myself a bit of an expert on the topic of Korean candies, particularly because I spent my first year in Korea frequenting the local grocery stores for sweets to bribe my students. Most people think of crunchy dalgona when dreaming of Korean candy, thanks to the Netflix show "Squid Game."
Though others who've been to H-Mart may be more familiar with local favorites, like Pepero and Ghana milk chocolate.
But once you come to Korea, you may be surprised to see Korean candy flavors typically not associated with sweets, like green tea jelly or red ginseng lollies. So if you're reading this in the aisles of an H-Mart, there are guaranteed to be at least a few sweet treats you can snag off this list.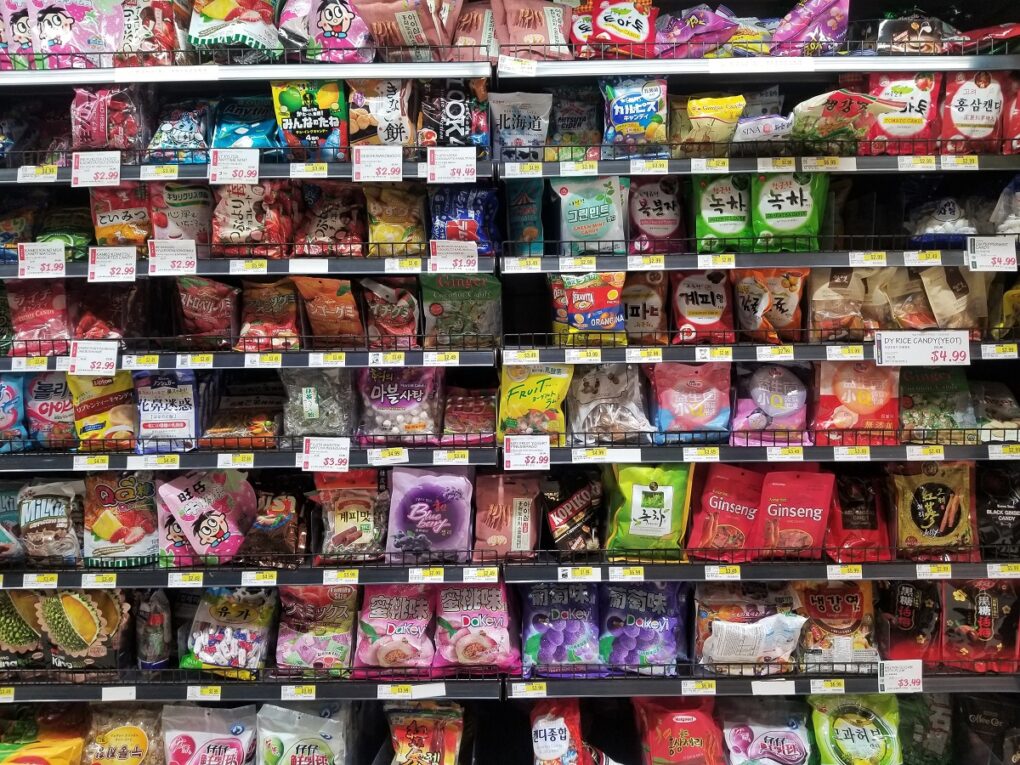 Best Korean Candy Overall
These are notably the best candy brands in Korea, so if you see any of these around, you should give them a shot. While not technically candies, a few of these are just incredibly popular Korean sweets that I (& my students) love.
Orion Chocopie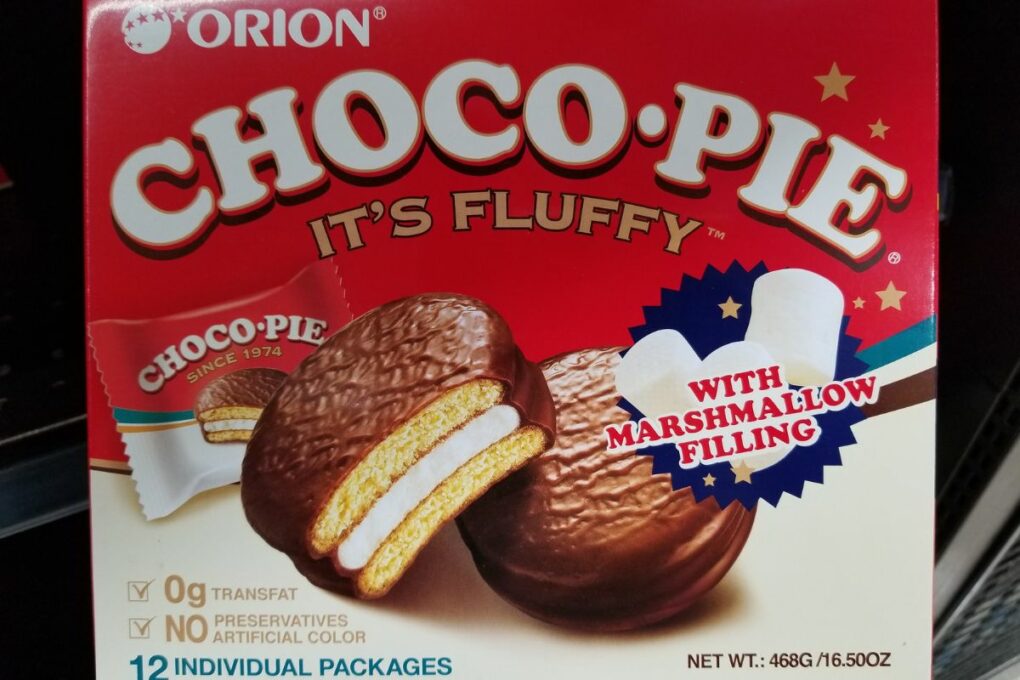 Only in Korea?: No, Amazon or H-Mart
Even though Chocopies are abundant in Korea, most people prefer the Orion brand over the Lotte brand Chocopies because of their richer, more chocolatey taste. This chocolate-covered sponge cake hides a thick layer of marshmallow inside, which melts in your mouth and leaves a pleasant vanilla aftertaste.
Believe me, it's hard to stop yourself from finishing an entire box of Chocopies (unless you have a gaggle of elementary-school students vying for them!). Everything about this treat is popular, and that's why it's the first on this list.
Pepero
Only in Korea?: No, Amazon or H-Mart
On the 11th of November, locals love giving out Pepero to their friends and loved ones. What's so fun about Pepero is that there are a lot of flavors to choose from, like almonds, cookies and cream, and even peanut butter.
Unfortunately, much like Choco Pies, Pepero don't use the best quality chocolate to coat their sticks. If you're still curious about the taste, you can always head to the nearest convenience store in Korea or your local H-Mart to give it a shot. These biscuit sticks are perfect if you are looking for a Korean sweet with a satisfying crunch.
Ilkwang Red Ginseng Candy
Only in Korea?: No, Amazon or H-Mart
This South Korean candy was no doubt created for health reasons, but its popularity has grown beyond the medicinal. Locals swear by its health benefits, and many claim that it strengthens your skin and immune system.
This throat-soothing Korean candy can even accompany your medicine if you are sick, and if you need to study or work for hours, this candy is said to be able to aid in enhancing your brain function.
Best Korean Chocolates
Lotte Ghana Milk Chocolate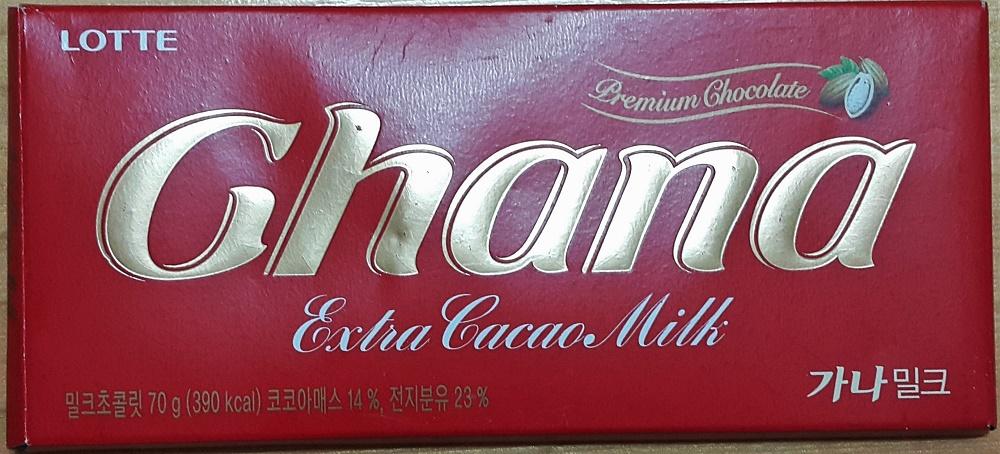 Only in Korea?: No, Amazon or H-Mart
If there's a positive thing that resulted from American presence during the Korean war, it's the introduction of chocolate to Korea. Later, in the 1970s, Lotte created the Ghana Milk Chocolate bar, a popular candy reportedly sweeter than Japanese versions of the chocolates.
Furthermore, Lotte is known for their very sweet milk chocolates, so if you're looking for a Korean candy with a creamy undertone, this is for you.
Sand Ace Chocolate Biscuits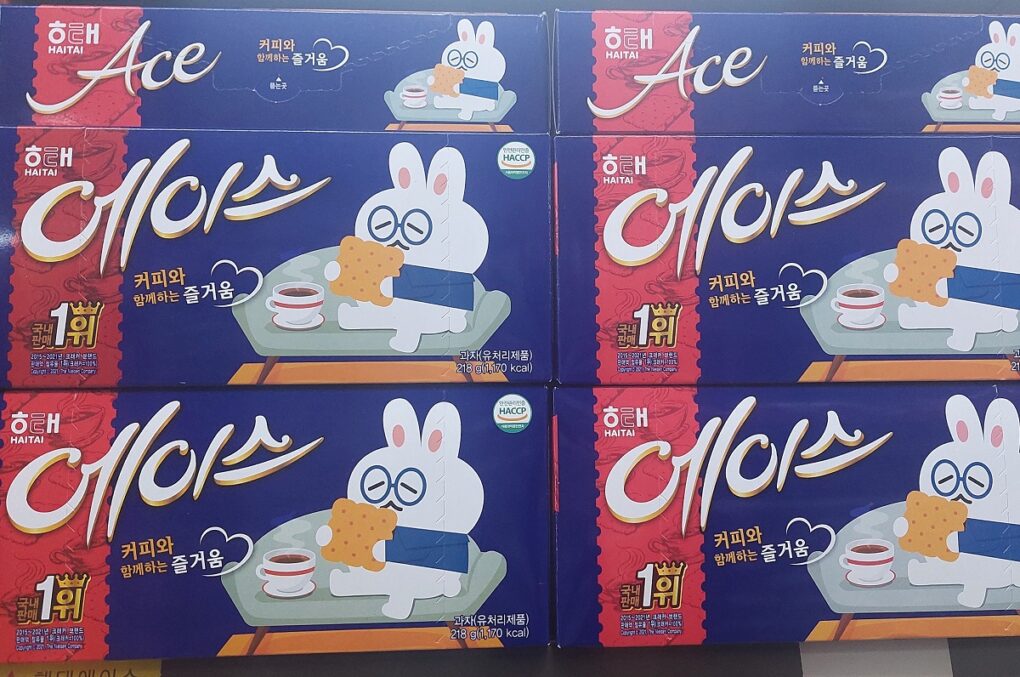 Only in Korea?: No, Market-Q
Love your crackers on the sweeter side? This Korean snack lets you enjoy British-style biscuits with a rich milk chocolate filling. This Korean candy is a hit among my English students, but who says adults can't enjoy them? A must if you love having tea or hot milk in the afternoon with a sweet treat.
ABC Chocolate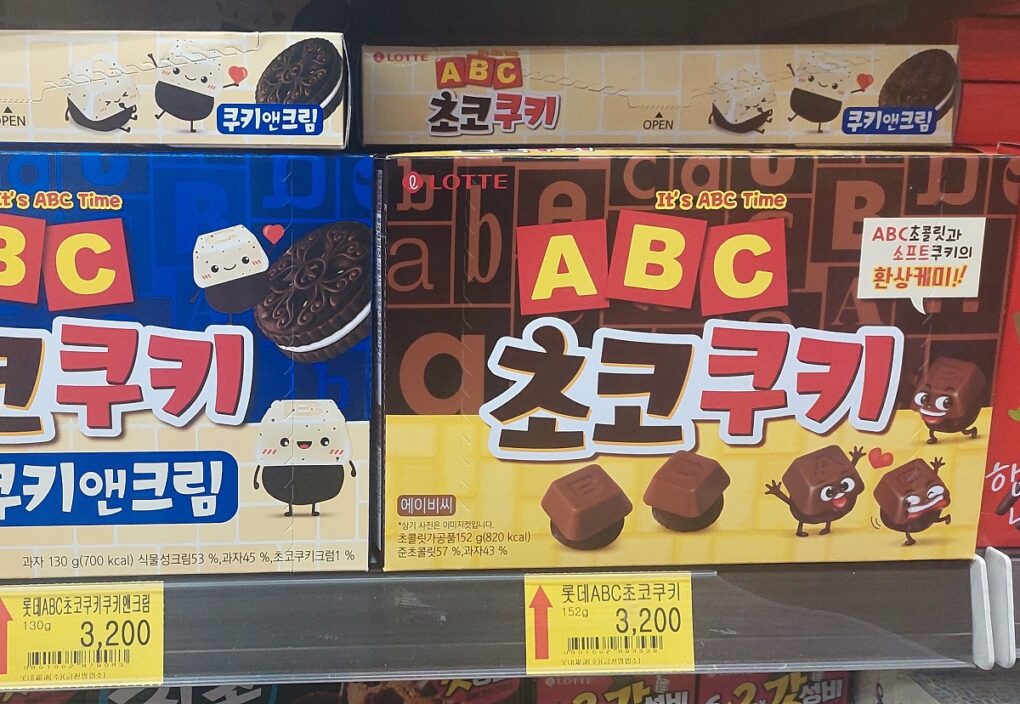 Only in Korea?: No, Amazon
Think scrabble pieces, in chocolate form. These cute chocolate cubes have the alphabet written on them, and you can use the many pieces to write short, sweet messages to your loved one before gobbling them all up. If you find yourself on your last days of a trip to Seoul and can't visit a local chocolate shop, these are a decent pick.
The smooth texture and the mild chocolate flavor leaves kids wanting for more, so this is a fun treat to add to your party baskets, and works well as a decoration for ice cream and cakes. Friends will also appreciate treats with their names spelled out using these chocolate blocks, no matter their age.
Malang Cow Chewy Milk Candy
Only in Korea?: No, Amazon or H-Mart
Soft and sweet and incredibly milky, this South Korean candy comes in flavors like plain milk or strawberry. In my humble opinión, it is one of the best candies in Korea, and locals think it is a perfect balance between not too sweet and not too milky. Plus, it smells really good, and it doesn't stick in the nooks & crannies of your teeth while you're chewing it.
Best Korean Gummy Candies
Korean gummies are best. Their unique jelly gummies are chewy and soft, and they can be sugary or sour– depending on your preference. Definitely not a boring snack, most packs comes in multiple colors and flavors.
Ilkwang Green Tea Gummy Candy
Only in Korea?: No, Amazon or H-Mart
Green tea enthusiasts in particular will appreciate this Korean candy. Infused with pure green tea, you can expect this hard candy treat to come with benefits that fight against inflammation, contribute to brain health, and strengthen cardiovascular function, though remember that it will still be quite sweet. Children may probably not mind chewing on these gummies since these blocks are too chewy and tasty.
7-Select Yogurt Jelly Gummy Candy
Only in Korea?: No, Ebay
Best eaten cold, this yogurt jelly is a fun version of the probiotic drink Yakult. If you like that drink, you'll also appreciate how large the bag of candies is compared to the liquid form, giving you more time to appreciate its signature tart flavor. Other versions of this drink-inspired candy have strawberry and apple yogurt flavor.
Haribo Gummy Bear
Only in Korea?: No, Amazon or H-Mart
Haribo isn't a Korean brand, but locals love these small gummy bear candies not only because of their 'exotic' taste, but also because of the relatively low calories. The flavors in each pack range from pineapple to lemon, and they're chewier than most gummies, which when chewed, is said to help relieve the tension in your head and shoulders.
Orion's Gummy Candy
Only in Korea?: No, Amazon ($20.98 for 10pcs)
This is a must-try if you are a gummy fan. Orion's My Gummy offers a unique experience compared to other Korean gummies, because they're filled with a bit of fruit juice. Each jelly is also shaped like the fruit it's meant to taste like, and the peach is a national favorite because of its delicate heart shape.
Best Korean Gum & Taffy
Gum and taffy are sweet, chewy, and delicious. But just be careful when you tell a Korean to "eat taffy" because to them, this is a derogatory slur that's just as bad as using the number four.
Crown MyChew Taffy
Only in Korea?: No, Amazon or H-Mart
If you can't get enough of that fresh fruity flavor, this taffy is the pick for you. Korean kids love this candy so much that you can get it in any convenience store. It also takes a while to chew through each piece, so a little will last a long while. My personal favorite flavors are the strawberry and the grape.
Lotte Xylitol Gum
Only in Korea?: No, Amazon or H-Mart
This is not your ordinary gum; it's made with a base of xylitol, a tree-derived sweetener. Xylitol has plenty of health benefits, so chewing this gum is thought to stimulate the immune system, improve your digestive tract's motility, and strengthens your lipid and bone growth. It is reportedly one of the safest no-calorie sweeteners on the market.
Knowing that health factors are a top priority for Koreans, Lotte Confectionery has produced two flavors: Apple Mint and Purple Mix (a mixture of grapefruit and blueberry). Since that release, this has been one of the most-chewed brand of gum in South Korea. Some versions of Xylitol gum come in cute purple containers featuring a BTS member.
Yeot (Korean Traditional Taffy)
Only in Korea?: No, Eleven Street
Often given as a way to cheer on someone taking the yearly College Scholastic Ability Test, anything that puts people in their feelings makes them turn to a toffee fudge candy called yeot for comfort. This candy is made of sweet rice, corn, and potatoes.
If yeot is melted & simmered in a large pot (sot), it becomes jochung. This liquid candy is even used to replace sugar or honey in some Korean dishes. If you want to learn more about yeot, watch this video about a family in Chungju that upholds this traditional method.
Best Traditional Korean Candies
Do not overlook Korea's hangwa (Korean sweets). Often viewed as medicinal Korean candies and full of health benefits, these local sweets taste better if you pair them with Korean street food.
Dalgona Candy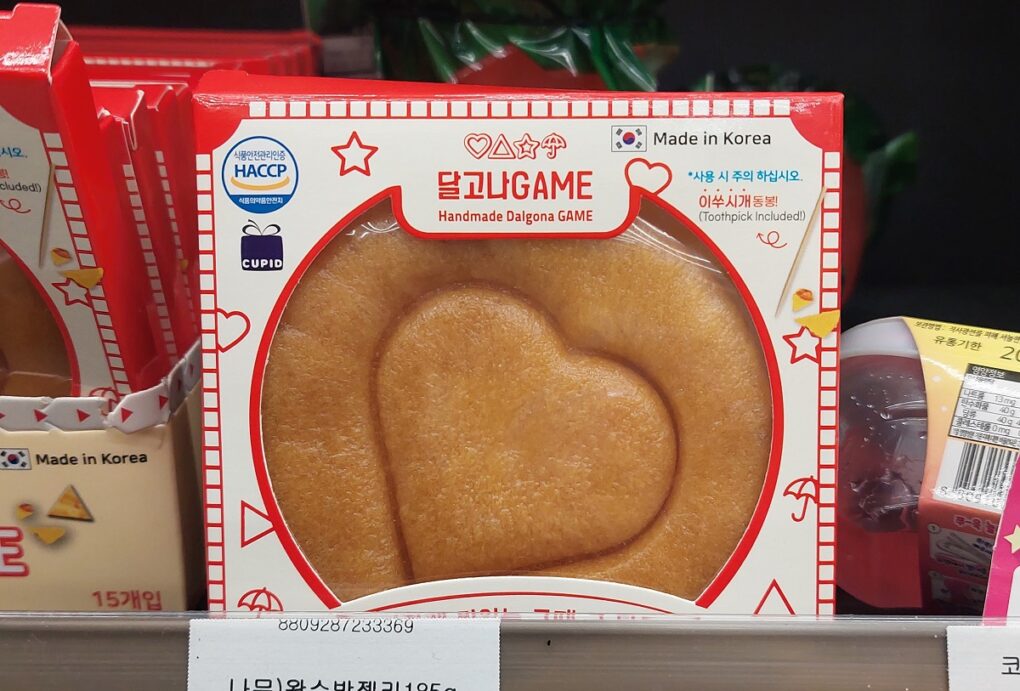 Only in Korea?: Yes (unless homemade)
Dalgona became a world-famous treat after "Squid Games" trended worldwide in 2020. Also known as ppopgi, this thin sugar biscuit tastes a lot like honeycomb toffee. Aside from the famous umbrella shape drawn on top of the cookie, there are other common dalgona shapes, like a heart or a star.
But Koreans rarely care about the particular shape, because at the end of the day, they just get broken, dunked in coffee, or used as a topping on other kinds of desserts. Moreover, dalgona candy is incredibly easy to make, and can be a fun activity to attempt with your family and friends.
Dragon's Beard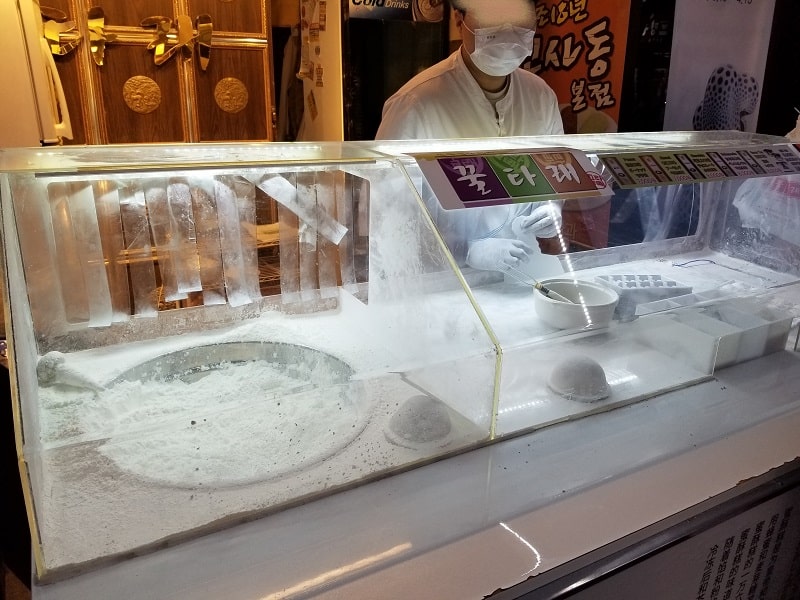 Only in Korea?: Yes
This traditional Korean candy really looks like a dragon's beard, and these days you have to visit Korean traditional markets to find it. It's quite expensive, too, because it used to be a dessert only made for the royalty on special occasions.
The process to make this sweet can be a bit theatrical, so when you pick some up in Insadong, imagine that you're also paying for a show. Even though you might want to take a while to admire its beauty, you're supposed to eat this Korean sweet straight away, because it could melt at a moment's notice.
Yakgwa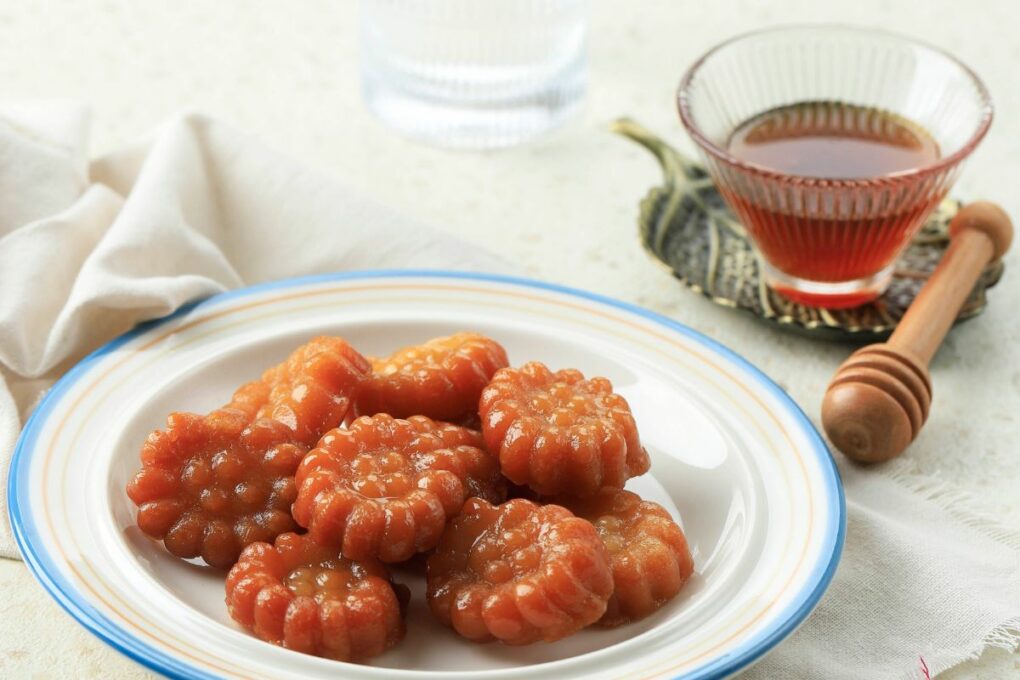 Only in Korea?: Yes
These are a perfect alternative to chocolate-chip cookies, if you're looking for something purely sweet and energizing. These honey-covered cakes were long-ago considered a medicinal treat that kept people strong and healthy, but have since become a sweet treat.
You can buy a lot of these in Korean markets, and they're seriously tasty. You can also try making yakgwa at home. It may not be entirely similar to the ones sold in Korea, but it's still delicious.