This was a remarkably sweaty, cold month. An old Korean man, a Jehovah's Witness as it turned out, handed me a card with a link to a bible app after he saw me standing around the train station in a tank top. The school year ended, I lost an expensive phone, and I got laser eye surgery in Seoul on Christmas Eve.
Days Danced: 4
Days Sick: 0
Weekend Trips & Crashing Korean Parties
The first weekend of the month was unsurprisingly the warmest, so in a questionable last-minute trip, I went to the famous mountains of Sobaeksan for hiking & lots of resting on the Huibangsa trail. Later on in the night I met up with another English teacher in Wonju, the biggest city in my province at 300.000 people, for some craft beer and catching up.
Ten weeks in, I accidentally gave in and ate squid. It was squishy. Oops. Later that week, I found a Thai restaurant, and ate there four times, but not in a row. Korean makes finding international food require a trip to the closest big city, and surprise! It's always Seoul. One Tuesday night I climbed as usual, but was then told that there was an end-of-year party afterwards, and did I want to go? Of course I did!
There were several people "in the climbing club" whom I had never met in my several weeks of going. But everybody seemed fine with the foreigner being there, and in fact, even insisted that I didn't have to pay for dinner. Being 10-25 years younger than everyone else might have also been a factor. But it was a lovely new experience, either way. I showed my newest unnie (older sister) how to use snapchat filters and they showed me a similar Korean app that had everyone cracking up after crushing a dozen bottles of soju. It was so welcoming, and such a great way to pick up on some Korean words and humor, which I think is quite similar to American humor.
My First Taste of Korean Winter
Just a few days later, as the first snow fell in Yeongwol, my school had another 1pm finish for one last staff field trip and dinner. Once again we went to a temple, apparently the biggest one in Korea, and I certainly believe it! It was huge, and they seemed to be setting up for Chinese New Year. It's still over a month away, but that didn't seem to affect the prep. There were massive colorful constructions going up everywhere, and the garish colors clashed somewhat with the classic nature of the very Chinese Buddhist temple in the background.
But we hobbled up the ice-covered drive and steps and walked around the grounds for a bit before heading into a restaurant where I finally tried makgeolli (rice wine; I swear it tastes like alcoholic toothpaste) and everyone else started their day drinking. Those who had not started with beers on the bus, of course.
We were basically counting down the hours until dinner, which I was told was a special food— hanu (하누), a very expensive and high quality Korean beef. It was beautifully marbled and nearly melted in your mouth. With a bit of grilled garlic and marinade-soaked cabbage, it was stunning! I understand why they looked forward to it so much.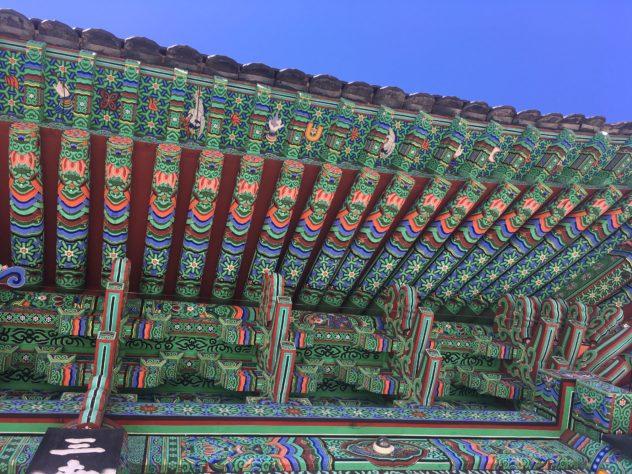 The last weekend before school finished, I met up with a friend in the Korean army and a bunch of his friends in Seoul. He was on vacation so we went to a pub and then to a club and he basically just balled out… and I danced like a crazy person. I mean, they played Safari by J. Balvin, so what could I do? After a very late-night dinner, they all proved to be very responsible friends. Except for my original friend throwing up the next night and me losing my phone in a taxi.
Other than having to replace my phone and credit card and Korean ID… I had an enchanting late night talk with a new Korean army friend. It was during that chat that I discovered my missing phone. A week of living on a loan eventually passed and I got a replacement credit card on the last day of school. It was bittersweet to finally access my account again, but have to watch all my sixth graders graduate.
Finishing the School Year with Surgery
It was time for another weekend in Seoul, but I booked my hostel for the wrong nights– luckily, the owner generously let me stay on the couch downstairs, and I showed him a salsa bar close to his hostel. We checked out the playground (dead) and got fried chicken (amazing) before I slept restlessly on the couch, woken up intermittently by very loud noises and a few "are you okay?"s. I got LASIK the next day, effectively ending my weekend right there. I basically did not leave the hostel for a full day, hanging out with the staff, ordering in chicken, and calling relatives to wish them a Merry Christmas.
For Christmas, I went with some of the other English teachers in town to a barbeque restaurant for a special dinner. A friend visited from Daegu, I had pancake brunch with Korean friend from Peru, and I passed my 1-week LASIK check-up with proverbial flying colors. Both of my last nights of 2016 I went out for kabobs and salsa dancing. On the second night, some army guys I met in my hostel came with me. It was damn great. The bouncer demanded one of my hair things in extra payment, and a kind stranger gave me ₩5000 when the entrance was double what it usually was and I didn't have enough cash.
2016 was an amazing year, just like 2015, so here's hoping for an amazing 2017! What did you do to end your year?