Let's be honest, the first ten days of February were pretty boring and routine (other than that Saturday the Olympic torch came through my town). I desk-warmed and got some blog work done, and then taught winter English camp in 0F temperatures. I'd rather forget most of it, but the kids were so sweet that I suppose some of those memories can be allowed to remain. The meat of this month was heading to Japan for the second month in a row. Chocolate ensued.
Days Danced: 0
Days Sick: 7 🙁
Misadventures in Japan
So I left for Japan around 6am, and the day basically went downhill from there. I mean, the flight went fine and everything. No crashing or sputtering, and limited turbulence. But then, the money transferred into my checking account hadn't arrived, so I only had $20 cash to pay for my ticket into town. After my mom & I used airport wifi to communicate where and when to meet, my phone died. I then knew where I was going, but the train took an hour longer than expected and WOW but Japan just doesn't have as much English as Korea does.
So after being mobbed in the chocolate Festival by legitimate hoards of Japanese people, I went down a floor and tried to communicate my sob story to the generous souls at a coffee shop. Then I genuinely sobbed, trying so hard not to. Hormones are amazing, amazing being, and Japanese people are awkward, awkward ones. It's like running into your new stepdad right after you have your first period, and neither of you knows how to help each other with the situation. Luckily, there are also women in Japan.
The nice lady let me charge my phone to 13%, at which point I could stall no longer with the English-speaking woman they called to reason with me. So I made my way back down to the information desk with my suitcase and carry-on. That unlucky percentage was just enough to communicate to my worried mother where I was and why I was 2 hours late. Talk about a loving soul. The day got a little better from there, but it was just time to go. We had pork cutlets for dinner and mom regaled me with her own sob story from arriving the night before. It's a toss-up as to whose was worse. Having been poked and prodded and intermittently coddled by too many Japanese strangers to count, it was time to settle into our miniature full-sized Japanese hostel and grab some shut-eye. The adventure had finally begun.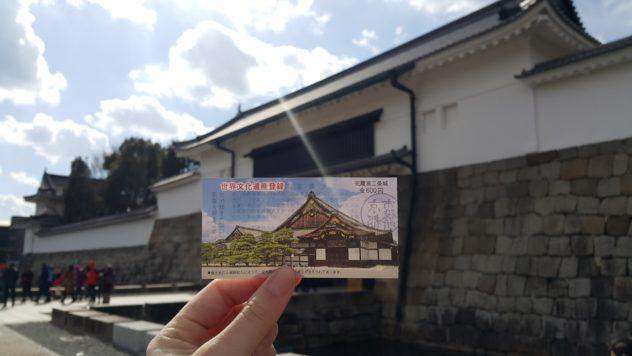 Osaka Salon du Chocolat
I'll preserve the full details of our visit for a post later this month, but suffice it to say that I'll be back for this event! It was hailed as the largest chocolate event in Japan, and if you'd told me otherwise my jaw would've been on the floor. The mall I met my mom in on the first day was actually the very same event hall. By the early evening, the packed rooms continued to fill and the traffic slowed to a crawl. The suitcase only made it worse. Three massive rooms were jammed with Japanese people from 10am to 9pm for two straight weeks. If you can come to the event, I'd recommend arriving on a weekdays during their first week. We showed up— unbeknownst to us— on a three-day weekend just before Valentine's Day. Not our brightest idea, but we managed still break a few piggy banks during the morning. My chocolate collection grew exponentially in Japan.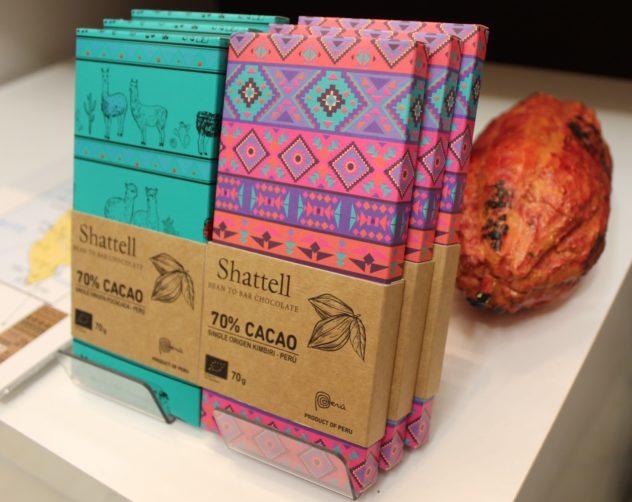 Condiment Concealer in Kyoto
Just walking to our hostel in Kyoto, we ran into a chocolate shop. There was another cluster of them a half mile south, and we spent a good chuck of our time in Kyoto perusing & pursuing these sweets. The day after the Salon du Chocolat, we took a cheap train from Osaka to Kyoto, hauling our luggage behind us. It was cold in Japan. Even central Japan was around freezing each day, with some snow occasionally falling. We made it to Nani-jo and Nishiki Market on our first day, despite the cold I had apparently caught in Korea. Walking around Kyoto was a treat, however, even in the cold weather. Unlike bustling Osaka, Kyoto is full of less-intimidating buildings, many in a traditional Japanese architectural style, and more open space.
On day two, all I recall are flashes of being really cold and it snowing, but nonetheless walking to 6 chocolate shops in a feverish haze. It was that overall tingly feeling that makes it seem okay to walk a few miles in the snow, only to have an overwhelming exhaustion overtake you one you catch an eyeful of bed. Still feverish our next morning, I insisted that we make it to the two most iconic spots in Kyoto: the bamboo forest (Arashiyama) and then the orange poles place (the Fushimi Inari Shrine). I have no defense of how I remember those two places.
My fondest memories of Kyoto, beyond the chocolate I later ate, was when mom and I spent half an hour in the liquor aisle of a gourmet grocers we stumbled upon. To top it all off, later that night we had a nice meal at a restaurant bar, and I ended up being very curt with the rude waitress, only to realize once we walked into the hotel that I had food on my face. Like, a lot. You'd have thought I used mustard as a moisturizer.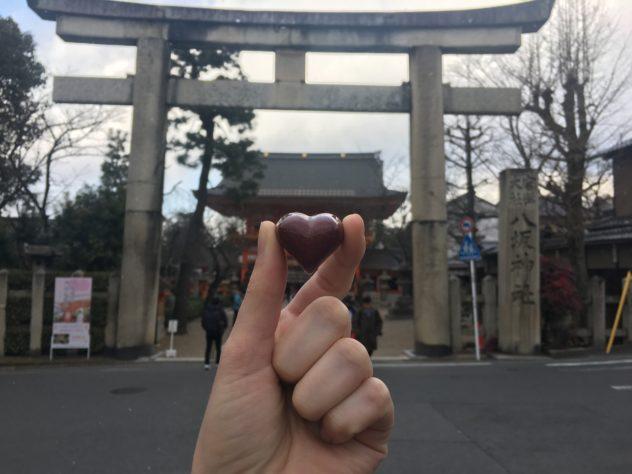 Osaka is Eh
We headed into Osaka after a nice leisurely lunch, and found ourselves with little to do. We were also locked out of our apartment by an evil key box, but at least it wasn't raining. I insisted that since we were bored, we should run some chocolate errands around the big city. So we packed ourselves up into our biggest, fluffiest coats, and headed all the way up north, finally encountering the famed ruby chocolate. And then we rested because wow just getting around Japan takes a lot out of you when you're sick or old (self-attributed).
My cold actually took a full week to work through my system, though the fever was gone by day 4. Coughing in Japan is also an amazing way to draw attention to yourself, if anyone was looking into breaking into the street performing business. Our time in Osaka was honestly just "eh." We spent our second day around the center of Japan, finally trying udon and Japanese pancakes, and walking around to a half dozen more chocolate shops. This was chocolate travel to the max, because really, the cities of Japan are just way too much for me. They're loud and crowded and confusing, and I get enough of that in Seoul. Our highlight around Osaka was actually leaving it.
Meeting up with a local chocolatier and a cacao importer in Kobe, early in the morning, was a highlight of my entire Japan trip. Meeting chocolate people can brighten up any city, but I truly believe that Kobe is my kind of city. The thriving foodie scene, much more than Kobe beef, combined with multitudes of open spaces and just more smiles than Osaka, added up to some amazing snapshots. Hitting up a half dozen chocolate shops and luxuriating in my first taste of Kobe Beef didn't hurt, either. Despite being another busy city, the smaller and more aesthetically pleasing architecture had us happily strolling around between chocolate shops and cafes all day.
Nara
On the other end of Osaka, we have the deer town of Nara. Upon my first up-close encounter with one of these dear creatures, he made this fffffff sound and then turned tail and charged off in the opposite direction, right in my direction in fact, missing me by a mere two inches. Just ten feet away were these two young Chinese children, being dramatic about the deer and yet being pulled into pictures to pose with them, half-unwilling but clearly not pulling away. Because dammit, dad was gonna get him a selfie.
All the deer were males, with horns filed down, and it was just a chaotic event. The animals are beautiful and majestic or whatever, but this place is crazy. The noises some of those creatures make are unreal. Most people with food were hounded incessantly by the bowing deer, while others were respectfully greeted and the food-filled hand was nosed until empty. But you never knew what you'd get until you felt that head hit your hand. Also, most all of the other visitors were Chinese tourists, not unexpected on a weekday around Chinese New Year in Japan, so their reactions were hilarious-sounding, especially when they were high-pitches shrieks, somehow sill said tonally. Chinese baffles me.
Commutes Can be Complicated
Nothing frustrates me more than banking in Korea, but being in transit at airports is a close second. I've slept overnight in airports, wasted hours in line, and read books while waiting for flights; it truly never gets better. I'd rather be at the bank most of the time, as at least that offers up the challenge of communicating in Korean. My naive mid-2017 self idiotic ally bought tickets back from Osaka that would have us land after 8pm, and add to that the fact that my mom landed in a different terminal and you'll find the recipe from which our mess was born. This is why you should always take that morning flight.
Other than not having anything to do all morning and hauling around our heavy bags, the handle of my suitcase broke off as I hauled it onto our first train. It was rather dramatic, heads whipping around to gaze at us as I tried to tug my carry-on into the train car. I made it, barely. Pulling the two rectangles jutting out from the top of my suitcase proved to be an arduous task. A ridiculous check-in timeline and sprinting with luggage to make it onto the last train back home did not help. I coughed for half an hour as my asthma-riddled lungs settled back into my routine of sitting. The 5-hour return to Yeongwol was eventually completed, with much too little fanfare. I may or may not have devoured a box of comfort truffles upon our return.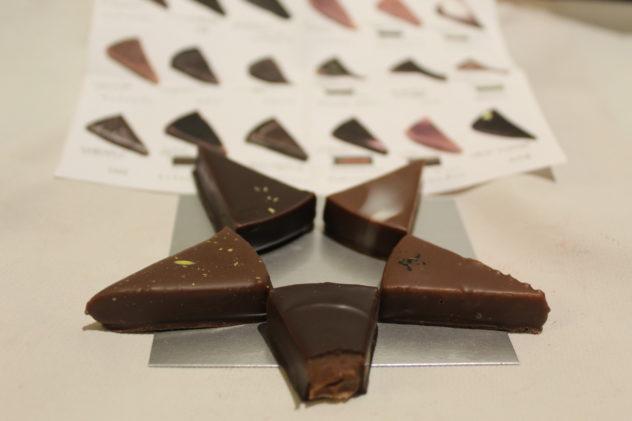 The 2018 Winter Olympics
Other than losing my Korean credit card a few days before the Olympics, we had an amazing time. It was stressful, but the games were an unforgettable experience. It felt like it should have been fuller, busier, but we were at Cross-Country Skiing's Marathon competition. It's not like it was the most popular ticket out there. In fact, it was the cheapest. We just wanted to be able to say we went, and we did, but maybe I wouldn't do it again unless it was convenient. Big crowds, big cities, big prices… they're not my thing. Plus, by the end of the afternoon, an hour into the event, mist started to settle heavy over the village and block out the sun.
Snow drifted over us and we hightailed it out of there, though the mist only thickened as we waited out our evening in one of the country houses. It was nearly impossible to make our train with all the traffic, but with some wishes and luck, we made it on time and the train took off a minute late. Only crazy weather could ever delay Korea's public transportation. It's hard to top the Olympics, and really, not much else happened in February, so I'll leave it there. Now grab some hot chocolate; you've earned it.
What did you get up to at winter's end?