Beaches in Thailand and Japan, plus craft chocolate tastings, make Max a very happy woman. Too bad the sibling squabbles kept ruining the fun. Plus, the in-flight turbulence and asbestos-ridden workplace.
Days Danced: 0
Days Sick: 0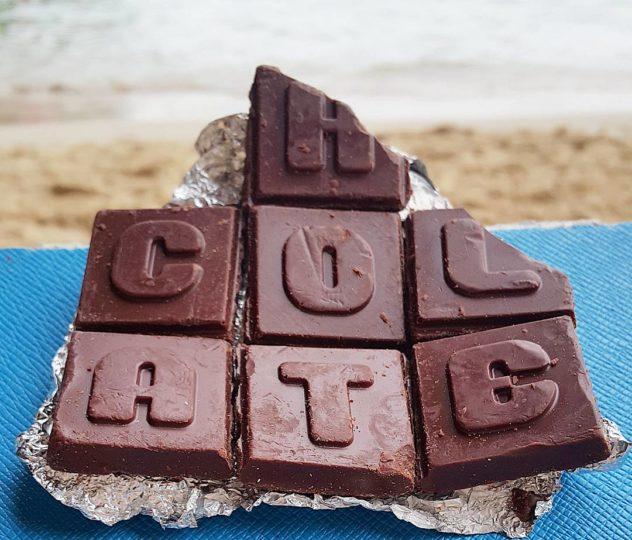 Okinawa
We begin this month where the other one ended: we flew to Japan. On the day before New Year's Eve, my sister & I journeyed from rural South Korea to sunny southern Japan. Once we arrived at our Air BnB, many hand gestures and Google translations later, we learned that Okinawans do NOT speak much more English than mainland Japanese. The room was not exactly as advertised, so one shared bathroom, a very broken lock, and a surprise hostel later, we booked another place. After rolling our bags and ourselves over, we settled in and figured out a plan of attack for the day. Kindly imagine us unfurling a map and then pointing to all the interesting points before returning it neatly to our knapsacks and heading out.
This isn't how it happened, but I'm trying to slowly alter my memory until it is. We walked purposefully in the direction of a restaurant I was 90% sure existed, acutely aware of the lack of other people. It seems that low season is felt all over the city. After a grey meal, we headed off in search of my main goal: ice cream for breakfast (brunch). Salted cookie, sugar cane, and bourbon butterfinger Blue Seal ice cream have altered the trajectory of our trip. Meiji chocolate still has not.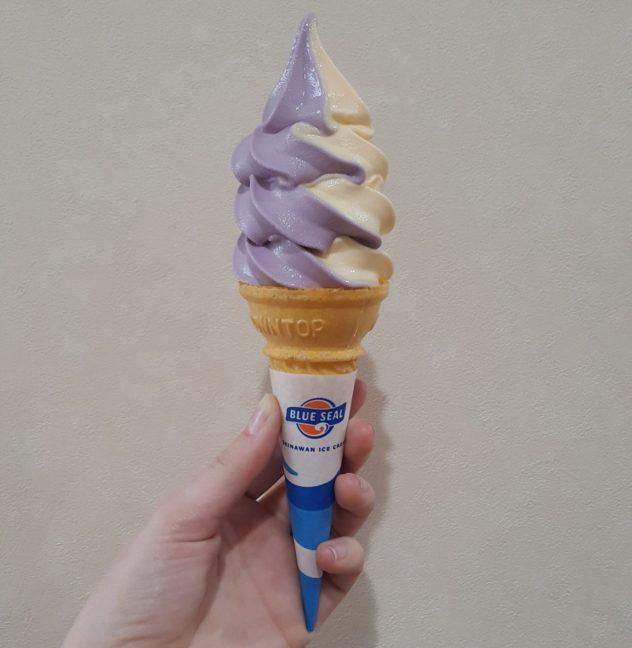 Florence
Wandering around Naha's downtown area, we found "Firenze Bar." What's the worst that could happen? asked Cady. You can hear clanging as we alert them to our approach, and a classical jazz song underlies the jovial game of darts we still can't see being played as we stand, frozen, confused. We slowly enter and a small old man comes over and greets us, seemingly the owner and apparently very drunk. What's your name? Max. Huh? Maekseu. Huh? MAX! Ah, MAX! NICE TO MEET YOU! We chat, and then he tells me to come over, and I lightly protest, thinking I'm getting roped into a game of darts, but eventually I find myself barked forward in starts until I'm standing behind the bar.
His younger friends are repeating "joke, special joke" in English. Eventually I return from behind the bar and go sit next to my sister, both laughing nervously. She whispers behind a hand that maybe this is the moment when we can slip out. I run out before she can even finish her sentence, with her clanging along behind me just seconds later. What's the worst that could happen, she had inquired?
S(e)oul
Cady reiterated her earlier question, this time with a glint in her eye, as we walked up the stairs and into Soul bar. We were so close to midnight once we arrived that they handed us party poppers when we went to order drinks. Old American pop songs were playing for the last 20 minutes of Japan's 2017, with a rendition of Baby by Justin Beiber ushering in some decent reggaeton. Nothing too scarring happened again until we were nearly back to the hotel; maybe the glint in her eye defied any potential bar shenanigans. Yet true to the challenge, as we were walking home, the top of a power line exploded about a hundred feet away from us.
There was a loud thud. A fire truck and dozens of people were already milling around outside the club, so this was seemingly expected. But then the Japanese people who heard it, WALKED TOWARDS IT. I yelled at them, but we've already discussed our mutual (un)intelligibility. A low ringing started just below the hum of the crow. As we walked away it weakened, but this deja vu came over me and I shivered, wishing I'd brought a jacket and some earplugs. The new year definitely started off with a bang.
Naha & Nago
With a mere two days in Okinawa's capital, we set off early the next morning to meet up with a high school friend and one of his army buddies. They had just moved to Japan, and this was the first time they were allowed off base, so we headed out to a more traditional Okinawan lunch. I ordered for us, and I swear that this was the turning point in my Japanese learning; all five of the phrases I had been practicing just fell right into place.
One salted ice cream and a castle later, we stumbled upon a coffee shop selling bean-to-bar chocolate. It took some nerve, but I went over and tried to ask the staff some questions, failing miserably. I returned two more times before just giving in to my instincts and asking if the guy spoke Korean. Vindication! He was thoroughly surprised, but we chatted about chocolate and I got his contact info. We went to some gardens and hunted for gyoza (*apparently not Japanese, but Chinese), and found a homeless man being bothered by cats. But contrary to my usual experience, it was the beauty of this place that made it some memorable.
Sure, we met lots of nice people (especially at Sushi restaurants), but after a horrible rental car adventure and my sister driving on the left side of the road for the first time, the people were sometimes the part I wanted to forget. American Village and the peninsula west of Nago were some of the most memorable, and places I'll journey to again. And soon.
Krabi+
Although we arrived in Bangkok a full day before our flight left for Krabi, the Thai beaches were the real reason we went in the first place. Wanderlust doesn't come easily to my sister, but a day at the beach slathered in sunscreen is her dream vacation, so Thailand was a no-brainer. Unfortunately, Railay Beach just wasn't all it's cracked up to be. Admittedly we stayed on the less-nice side, but at $130USD a night, I just felt underwhelmed. The area is very resort-heavy, and my backpacker spirit felt like it was held under water for 5 days. The massages will certainly break your back and not your bank, however.
I've spent a lot less money traveling in Cambodia, and even in Ecuador, for much nicer vacations. Maybe the islands would be a better choice for our next Thailand trip. It's definitely a mix-your-own and make-your-own adventure kind of party. The flare of a sunset from West Railay, and the food at Tew Lay Bar (a 5 minute walk past Last Bar on Railay East) are the highlights of my time on the peninsula. Also, Mark the South African guy. We even went on an expensive day trip to Emerald Isle and the hot streams, but it was pouring rain by the time we got to Tiger Cave.
We opted for the shorter 200 stairs to the top, where a group of locals passed by holding banana leaves above their heads in case of continued showers, with one young girl wearing a hat fashioned out of a plastic bag (every American parent's apparent worst nightmare). Krabi left me with muddy memories of unimpressive rainy rocks, and beautiful elephants in horrid conditions. The only other elephants I'd seen were in a sanctuary in Cambodia. At dusk on our last night, I watched bats fly out of their cave as we walked home, while a local man muttered about Batman. See ya, Railay.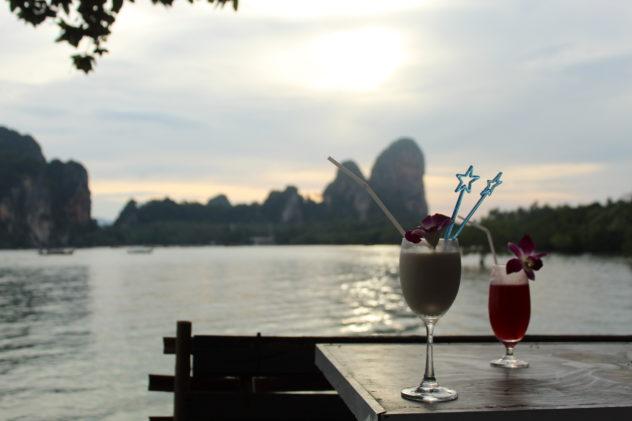 Bangkok, Paris, and Gangneung
Flying into Bangkok and meeting up with two chocolate makers was one of the highlights of Thailand, for me. The couple behind Kad Kokoa, one of the first bean-to-bar chocolate makers in Bangkok, met us for coffee on our first afternoon. They even sent us via Tuk Tuk to our next destination, aghast that we would presume to pay for it ourselves. The friends behind Shabar Chocolate, another Thai maker, insisted similarly when we went out to dinner with them. Bangkok is not even close to one of my top ten cities, but its people remain some of my favorite.
Having friends in a country is an amazing way to help you see more of that place, and just enjoy it more. Before leaving Bangkok, I spent two hours crossing the ridiculous city once again, to make my final stop on the chocolate tour of Bangkok (not fully prepared, yet; give it another few years). I visited with friends, witnessed the beginning of a sugar-free Thai chocolate takeover, and gorged myself at a chocolate buffet. Also, got a spontaneous sister tattoo and freaked out on some planes; I have strange control issues.
The weekend after Thailand, I'd nearly decompressed. It was time for Paris. Er, a slice of it, this is, at the Salon du Chocolat in Seoul. It's a Paris transplant that is now on it's 4th or 5th year in Korea. The showing blew me away compared to last year's, and the makers who molded the show presented a great view of Korea's fledgling craft chocolate scene. In Gangneung, the city of the 2018 Winter Olympics, I finally re-united with my boyfriend and some beer. We met up with a blogger I greatly admire, Expat Edna, who was there to work on the Olympics Comittee for 7 weeks. We managed to hit the calm before the storm, and see a little more of his city before it's bombarded by more foreigners than it's seen in the last 100 years combined.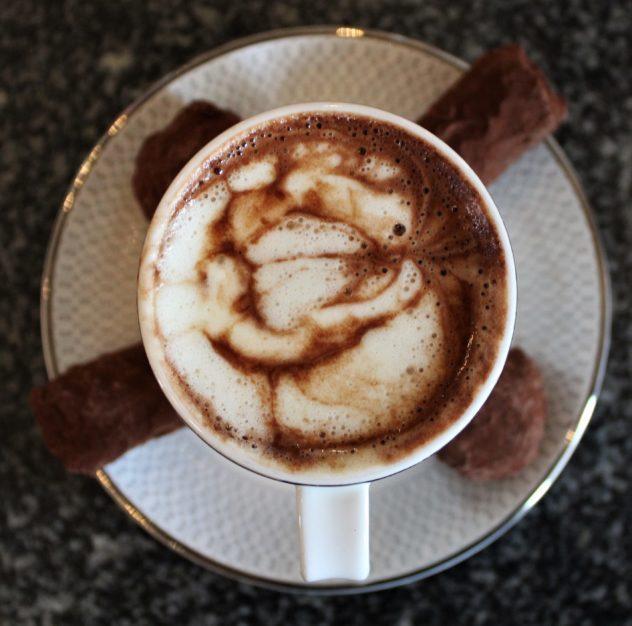 All I Wanted Was to Use the Bathroom
I've been rolling out of bed late because of desk-warming season, so first thing after arriving, I head to the bathroom and run into a yellow barrier. There are more blocking all other visible entrances. Time for Plan B. I walk up to all three entrances I can see from my perch and ask the office manager, talking on his phone outside, 화장실? and he makes a "go-around" gesture. I half-jog to the front of the building, one of my third graders & fifth graders loitering outside of the gym. I quiz them; they're wrong. I ignore it, ducking under the inexplicable tape blocking off the area around the entrance. Why is this here?
Everything is yellow.
I glance up at the second floor and see the same setup at the entrance, and settle on the path of least resistance. Walking through the toxic yellow brick road, preoccupied that the bathrooms will already be gutted & unusable somehow, when the English on the tape keeping these dozens of bags closed, caught my eye: aspestos.
I start jogging, and then flying down the hall toward the, thank god, regular bathroom. There are no bags in sight, so I do my business as quickly as possible. I realize that aspestos may still be in the air, and seriously, isn't that poison? So I give up on hand washing (they're out of soap, anyway) and decide to fly back down, thanking myself for small favors when I remember I went on the second floor.
Of course I exit the fun house at the same time as some guy exits a taxi, just across from the front of the school. We lock eyes and he stares at me, horrified, as he continues walking forward to his destination. I'm worried he might fall, and I don't wanna help him up in front of my still-loitering students, so I break my hold over him. I'm scarin' all the homies. My two students are still looking over at me, and I realize that they're standing in front of the gym, which the office manager was probably referring to with his "go around" gesture. God, I hope I don't have to use the bathroom again until March.
What are some of your funny expat moments?