Days sick: 3
Days danced: 5
January was an expectedly hectic month. I started the new decade with a bacterial infection in India, continued by spending my life savings in the South Pacific, and avoiding bush fires in Oz. Anyone ready for 2021, yet?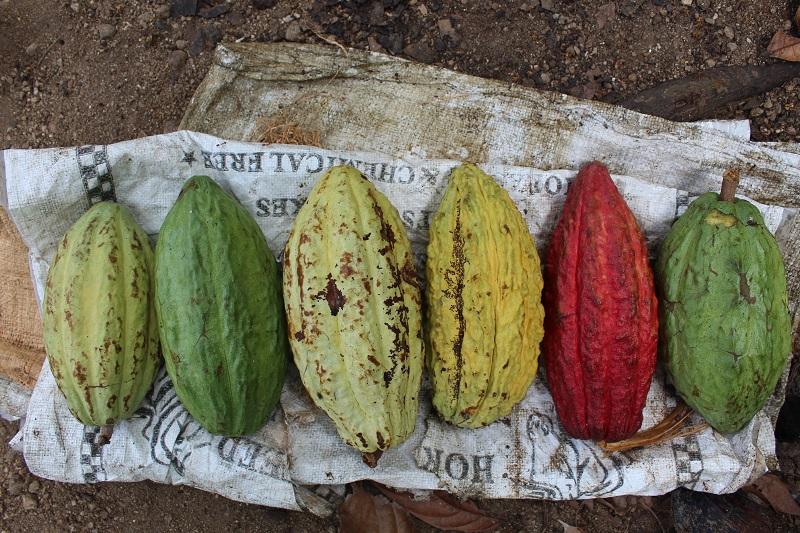 My First Visit To India
When we last left off, I was just arriving in Chennai, preparing to board my flight to Coimbatore. I saw a pigeon poop on the floor. Then I continued on the strange journey of a relatively empty India.
The south of India was like a colorful suburb of DC, full but not packed and with lots of great restaurants. In Coimbatore at least, I got even fewer stares than in Sri Lanka, and I saw many fewer (obvious) foreigners. After a dinner meeting with a local chocolate maker, I headed back to my room to start the process of collapse that happens when you awaken at 5am in a different country from where you'll sleep that night.
The next few days were a primer on how to eat only with your right hand, as I gorged on South Indian dishes like idly, chili chicken, sambor, and channa samosa. What a delicious country. My first full day in India, I woke up around 7am to grab breakfast before a long trip over to the Anamalai Hills cacao farms. Meeting up with the two owners was a long-term dream of mine, and their beautiful farm did not disappoint!
After a long morning of touring the farm and trying a few different cacao fruits, we headed to have lunch and then a chocolate tasting at the family home. They have over a dozen distinct bars and flavors, each more creative than the last. I was able to not only try all of them, but take some home! Finishing off the evening with a visit to their factory and then their fermentary, I learned so much more about the young premium cocoa market in India.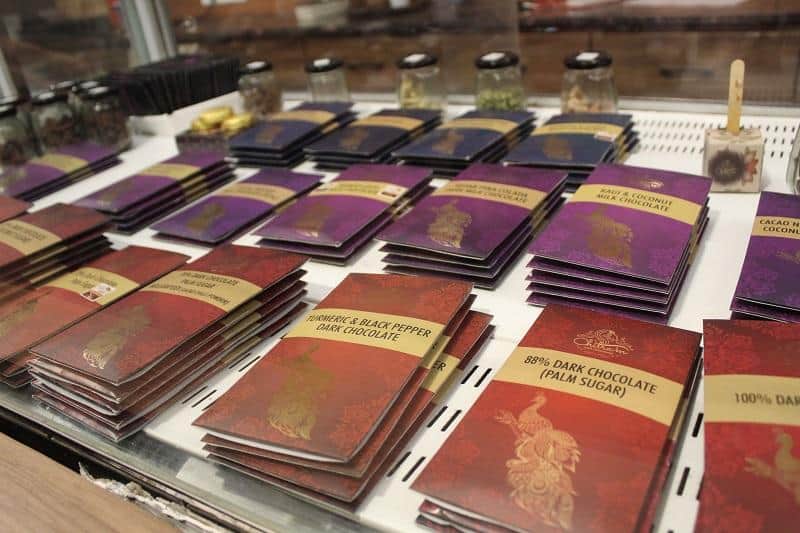 Starting 2020, As Usual, With Cacao
We visited a different one of their farms the next morning (January 1st!), having lunch at a hot local restaurant afterwards. I guess I'm only moderately adventurous, because while I was down for local-style biryani eaten with my hands, I wasn't in for the liver or brains. Not today, Satan. But maybe in another life… side note: I think this is what got me sick, and Hindu temples are super colorful!
In the evening I was able once again to meet up with my chocolate maker friend and his girlfriend for dinner at her restaurant. It was one of the best meals I had in all of India. Seriously. Spectacular pumpkin soup and perfectly crispy chicken tikka. South Indian food is muah! Perfecto. We even all grabbed dinner the next morning, after I stayed up til 4am finishing editing a podcast interview episode. This brekkie could also be where I got sick; we'll never know.
Heading to the train station, still stunned at how few people we were passing, we all said our goodbyes. There are few places I've traveled to and never felt the itch to return, and I really expected India to be one of those places. Yet I'm itching for the chance to plan my return trip, road trip included.
As stated above, I fell ill in India. I actually thought I might have dengue fever on the train ride between Coimbatore and Kochi, but by the time I'd made reluctant friends with the guy across from me, had dinner with a local friend, and arrived at my hotel, the only thing making me feel sick was the heat. So I wasted an entire potential work day feeling achey on a train— but hey, at least all of my chocolate stayed unmelted.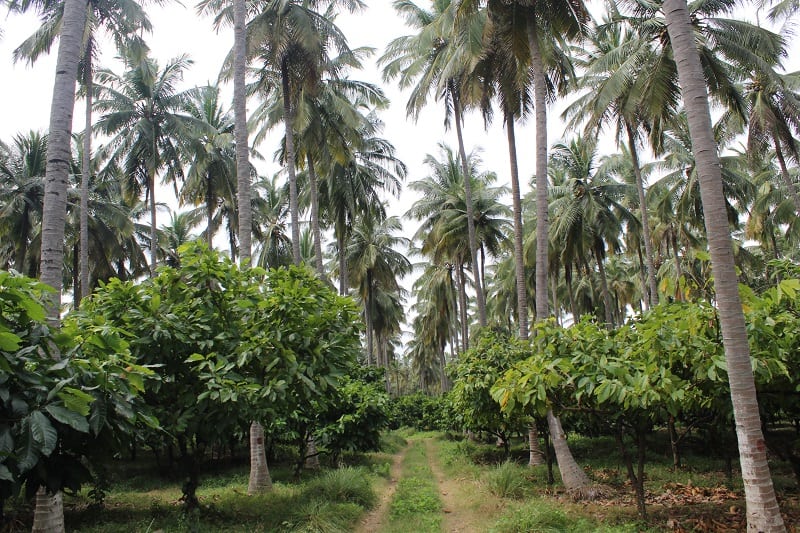 We've All Been There, Girl
At dinner in Kochi I saw little girl pee her pants just outside the bathroom stall. I came out of the single stall and she was just there, peeing onto the floor. I dunno what I could have done, but I definitely stayed an extra few seconds in there straightening my skirt after she knocked on the door (and I knocked back, as I learned to do in Korea), and I feel badly about it. Maybe this is my confessional? Hopefully she's not too affected by the experience, but you never know what sticks with kids. Anywho.
The next morning I had a leisurely trip to and from a relatively nearby cocoa processing facility, taking up most— but blessedly not all— of my day. By the evening, when my family arrived, I'd caught up on some of my work and we'd decided to basically do nothing all of the next day. With just 3 days in Kerala, we had enough time to see two regions of the state, all nearby Kochi.
On day two, I took pity on Dad and went with him to Allepy for a boat trip, despite feeling like actual crap. I was having a repeat of my train trip to Kochi, with full body aches, a fever, and pain in various parts of my body. From Allepy we decided to go straight to the hospital, truly thinking I might have dengue. Turns out I had a bacterial infection, which went away after several days of meds. But it was still not a great night.
Overall, I really liked southern India, especially the food and the overall vibes compared to my family's experience in the north. I left with a new skirt, a few thousand ruppees (oops), and some new favorite Indian foods (paratha and payasam, howyadoin'). Also, I learned that the only desserts Indians do well are their own. Though they do them very well.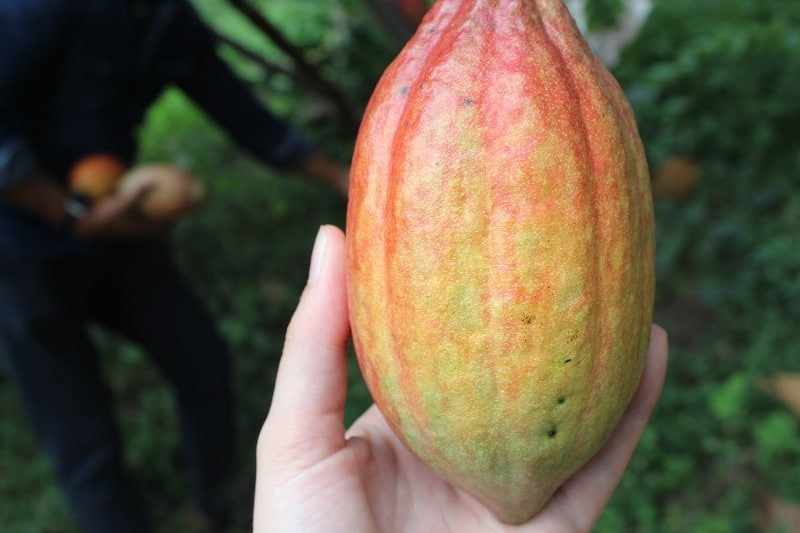 Overnight To Singapore
Our overnight flight to Singapore was restless, to day the least, with our 9am arrival into the city limiting our options for almost anything. In fact, for most of our visit we ate anything but Singaporean cuisine, in part due to not knowing where to eat (the rest was due to high transport costs).
Over our six-ish days in Singapore, I spent about half of them working, i.e. walking around to chocolate shops and interviews or staying in the room to work on edits. Those hours-long walks around the city were some of my most peaceful moments of this trip, too, with me fully comfortable in my sweat-soaked state, for once.
Beyond my own work, I also had several lovely dinners and coffee dates with friends around the city, with no fewer than two salted cream teas, three bougie ice creams, and two rooster sightings near Orchard Road. Yet still, most touristy activity I did was spend an evening riding the cable car to Sentosa Island with my mom & sister (and staying for maybe 10 minutes before it started raining and we were ready to turn around). Thus ended our last night on Singapore.
Fiji Is SO Expensive (R.I.P. Phone)
As is my m.o. on overnight flights, I got two hours of sleep at most. Shortly thereafter, we boarded our 18-seater domestic flight to the other island, my first and unhappily not my last tiny plane adventure. After a safe arrival, we took an expensive taxi north to the area near the farm, where we checked into a very rustic cabin for the night. It was about what I'd expected, except for the exceedingly lush surroundings, which were almost overwhelming. Imagine different shades of medium and lime green in every texture imaginable, the pasture dotted with goats and a healthy dose of constant rain.
The next morning we paid a quick visit to the large cacao farm that has put Fijian cacao on the map, and did the interview we flew there for. On the drive back it wasn't nearly as foggy, so we were even able to stop for a little photo-op at the first ocean look out. Fiji is definitely a stunner, but boy was our visit rainy! We didn't do much other than eat & get stared at in SavuSavu, finally having days to rest and catch up on work (or sleep) apart from each other. My sister also managed to be much more calm than I during our second tiny flight across Fiji, even dozing off at one point.
Once I got over my freakout, we both had a great time exploring the cocoa farm with the Olsen family. But on our last night I forgot to close the door to one of the bathrooms, leaving bugs to get in; this is relevant, I swear. About three hours later, as I had to use the bathroom, this came back to bite me in the ass— er, on the hand. As I finished up my business on the toilet, I reached over for the toilet paper, only to have a roach attack me from INSIDE the toilet paper roll. Y'all, it was just chilling and I disturbed it, but that placement felt like some damn karma.
Adding sore eyes to it all, I got maybe 4 hours of sleep that night, before going by bus and then boat over to a gorgeous island off the coast of Nadi. There, we spent three days relaxing, working a bit, and realizing the evils of kayaking with my phone, which died a damp death on day two. That evening my sister gave me a little something something to keep my mind off of my water-logged phone, and it was a bit much, to say the least. I'll be sticking to brownies from now on.
Taking the boat back to the mainland, we were able to complete the last 2 interviews for the Fiji episode, meeting some more wonderful chocolate people before our flight to Australia (went fine but for the bumpy landing).
Happy Invasion Day!
Our first full day in Australia was spent relaxing and walking around our new neighborhood for a bit, a choice which I would later lament thanks to the realization that we overlapped our visit with Australia Day. What is Australia Day you might ask? Well apparently it's a celebration of the day the British arrived to colonize the country, so… basically #InvationDay.
But for most Aussies, it signals the beginning of the school year, and in this case it brought a 3 days weekend and lots of shop closures. Add to that that many shops are also closed on Tuesdays, and my sister and I had two very long days of visiting chocolate shops, plus one more morning of just me & the sun. This honestly led to lots of fighting with my sister, then some daily gelato to cool down, as she was on vacation but I needed to get work done. There are only so many chocolate shops a normal person wants to visit on their international trip, and I definitely pushed her limit.
So after a full day for only chocolate shops, we dedicated another day to only wine tasting and exploring. Then we had three days of glorious dancing (wherein another great dancer called me "really great!" Ugh I love bachata, but I digress). Over the course of our week on Oz, many people starting to freak out about the Corona Virus, whose death toll rose exponentially on the daily.
Kobe Bryant & many others also died in a horrific helicopter crash, hopefully having at least some kind of positive effect by reminding some of his fans that death can come at any moment, and as scary as that is, it's also a reason to live life as you want it rather than as you think you're supposed to. Speaking of which, I almost got hit by a car, just a few inches away, as I walked to a chocolate shop on our last day in Australia, pushing that point home. It was an emotional last couple of days, really. My sister and I were set to part again, after five weeks together, and I was off to Bali for 2.5 weeks of working on paradise.
My very wet start on Bali was precipitated by the cloudy turbulence which welcomed our decent into Indonesia. Passengers literally screamed at points during our last 20 minutes in the air; it was a very tense time for me & my lonely aisle. But I'll leave Bali to next month, when I travel from #BaliToBelgium during the month of February. Until then.~