Workers from every paladar we passed had a laminated menu to thrust into our private bubbles, and offered a "special price, for you." We biked along highways, ate way too many ham sandwiches, and smoked a few cubanos. No, not the people, but the famous cigars hand-rolled on the island nation of Cuba. I spent the whole month of July there, starting with losing and then finding my traveling companion in Havana.
Days Danced: somehow just 2
Days Sick: about half of them
Long, Hot Days in La Habana
Ian, my travel buddy for the month, lost the name of our hostel and ended up in the lobby of the renowned Habana Libre hotel before I retrieved him. Internet is sparse there, so it took a whole day before we were able to get in contact. In fact, the day before, he foreshadowed the theme of our trip by waiting around for me for twelve hours in Havana. A lack of easy communication makes patience a necessary trait for Cubans and visitors alike.
We relaxed for a bit, and then started what turned out to be a very bumpy tour around the country of Cuba. Never have I seen such poised and well put-together people; everyone we passed was wearing beautiful and creative outfits, topped by fresh haircuts a lo cubano. Before leaving the capital city, we walked all over Old Havana, and then walked along the gathering hall of the Malecon towards the Fábrica de Arte Cubano, an immensely unique museum & concert hall & bar that's only open on the weekends. And inevitably, there's a line to get in
.A late shared taxi took us to Viñales way too early the next morning, in what I had high hopes would be the bumpiest ride I ever experienced. Every drive through Cuba showcased spectacular countryside vistas and glimpses of other shared taxi situations, some even more precarious than our own. Most of our trips were akin to a roller coaster ride with ten or so strangers. The British couple who was in our shared taxi ended up staying in the same casa as us, and we went on a scenic and wet horseback riding trip together.
Relaxing as a Cuban Artform
Throughout the month, although we did not always meet new people in each house, shooting the breeze with the other travelers over some drinks in the rocking chairs on the ever-present front porch was the most relaxing part of all of our many casa experiences. Viñales is a very nice little town, and a good spot in which to relax as we made further cuts to our itinerary in attempts to limit travel costs. We worked in a lot of day trips in order to see more of the country; from Matanzas to Varadero and Trinidad to Sancti Spiritus. From Matanzas, Ian and I went to the Valle de Yumurí and the Cuevas de Bellamar, the foot traffic in both of which was very much Cuban. It's summertime for them, too, now.
So in an attempt to avoid ridiculous travel prices, on the way to Santa Clara we took the first of many night buses. Later that morning, we tried to get tickets for a tobacco factory tour. But apparently you can only get tickets the same day, and the $4CUCpp half-hour tours are only offered from 9am-1pm on the whim of the factory. Thusly disappointed, we walked around the city and ducked into a government music shop where Ian was allowed to tune and play one of the guitars before we gathered ourselves up for the walk to the monument to Che Guevara, easily sidetracked by a chocolate shop on the way.
It was threatening rain the entire time, and our mosey down the main thoroughfare strangely sticks out as a highlight of the trip for me. It was so comfortable to only have one destination, rather than hurrying through a schedule, and to already be so sure that it would rain on you. Yet it didn't. The skies only deigned to break open minutes after our return home.
An Exhausting Sunday in Remedios
The next morning we went on the government tobacco tour, and then took a $0.04 local bus an hour north to Remedios. We tried desperately to keep the stunning northbound journey in our hearts when it all went downhill right afterwards. Once we found cocktails at the town's famous bar, an exceedingly thin man approached our table and silently begged for money along the patio, lifting his shirt and pointing to his visible ribs. I'll never forget that abrupt moment.
I gave him $5MN only to watch him get more money from the next guilty and embarrased suckers and the next ones after that. By now all of the bus sweat had dried, so I headed to the bathroom, which was a wreck. I later learned that it was because there was no water in town due to damage to the main pipe. It was just another one of those Cuban things that you have to deal with, like bad service and broken-down vehicles.
So we paid and left to look for local food, covering the whole town on foot before we gave into the Cuban classic: pizza. The expensive taxi back to Santa Clara was a blow to our budgets. To add fuel to my disappointment, we were trapped in the room that night because the casa owners had gone to bed and locked the exits without asking us about our plans. We joked around and danced about and drank some rum to make up for it, but it was quite annoying. We learned repeatedly that in Cuba you must make your own fun.
Beaches, Trains, and Music Around Trinidad
The next morning started strong, with quick street sandwiches and a beautiful shared taxi ride to Trinidad. Wandering the city, we were amazed at the touristy prices, though we loved the mango man on the corner and were humbled by the pizza guy. In Trinidad, I tried lobster for the first time, went to the disco in a cave (surprisingly owned by the government), and witnessed tourists delight over performances at the renowned Casa de la Música. We checked all the requisite touristy things off of the list, as well as some more difficult situations outside of Trinidad. The days felt so long there, and even when you felt like you hadn't done much at all, you looked back and realized all the things you stuffed into half a day.
On the day we headed to Sancti Spiritus, from the time when we woke up at quarter to 8 to when we finished dinner about 12 hours later we had traveled over 100 miles and seen a good bit of the small town. After our nerves and the weather were calmed, we walked around their agricultural fair and the quaint downtown area. If I were to do it over again, I would have actually based us in Sancti Spiritus for half of our six days in the area. The vibe was much better than in Trinidad, with less expensive food and fewer hustlers.
From the city we also did another day trip to Cienfuegos and a local beach there, biked to Playa Ancón via the coastal town of La Boca, took the antique train to Valle De Los Ingenuos, and hiked in the mountains of Topes de Collantes. We even tasted some white wine made in Cuba, in the province of Artemisa. In the end, it is with good reason that Trinidad is so popular. Six days there and we felt like we could have easily spent well over a week in the region, soaking up all of the artfully crafted plans of the Cuban government, but instead we headed out to Bayamo.
Bayamo: The Most Aesthetically-Pleasing City in Cuba
Although we realized how little there was to do in Bayamo, it's tough to pass up a new city to explore. We went there mainly as a stopover on the way to Baracoa, on the east coast, and because we read that on Saturday nights they have legendary parties. We were ready to spend some pesos.
But as always, we wanted our pesos to clink into the right hands, so during our long bus ride's expected stop at a government restaurant, I decided to forgo the plain-flavored meat and ventured towards a bunch of mango trees and ate some of the ones on the ground. Sweet, free sustenance. But it's stuff like that which makes me think I would get very easily arrested in North Korea (another good reason to never go), though nobody in Cuba really seemed to pay me any mind.
While in Bayamo we went to the Fiesta de la Cubanía, which is basically a plaza full of beer, reggaeton, and bad choices. We left early, but it's interesting to check out if you happen to be in town on a Saturday. At 4am we woke up to catch the bus to Santiago and then another one to Baracoa. We kept seeing people from previous legs of our journey on the other end of Cuba. Baracoa was a whirlwind of nature, and on our first full day we made our own ten dollar tour of the city, complete with a cocktail and a full cast of characters.
The government tour of Yumurí, the most worthwhile tour we did in all of Cuba, was headed by a wonderful guide, Indira. Baracoa was my favorite city in Cuba, despite the rampant pollution in the country, and the number of times it had me fed up about the screwed-up Cuban system and my intent to survive in it without ending up stranded by the side of the road. On our last day, at playa Maguana, a guy even tried to trade me twenty pineapples for our towel. I have no idea what he thought we'd do with all those pineapples, but boy was he insistent.
The Straightest Zigzag Back Through Cuba
We arrived in Guantanamo none the worse for wear and ended up in an outside club with only one other tourist and a local rapper who took hours to finally appear. It was the beginning of festivities for the week of holiday and celebration of Independence Day, yet nobody was dancing, only drinking and smoking. Carnaval in Santiago was not much different, unexpectedly. I had bronchitis the whole time we were there, but I went out anyway and was hit on mercilessly for it.
The first night I helped ease a cart down a hill with some very surprised Cubans, got really lost, and a cute guy asked me to dance right before another one, who looked like the rapper Logic, helped me find my casa. We got exceedingly bored with Santiago rather quickly, as almost anything there might have been to do was closed for he public holidays. Everyone had already stocked up on booze and cigarettes over the weekend. Even just walking around had us sad about how the floats and costumes seemed to be covering up the daily hassle of life in Cuba.
During the day it became a city's excuse to drink and pee with abandon in the streets, drinking liters of beer from measuring cups and sipping clear liquid from stripped water bottles. And as my Brazilian travel companion pointed out to me— that's just not what Carnaval is all about. Or as we came to know it, the March of the Terrifying Life-Sized Dolls. Every day we napped a lot and I coughed myself to sleep, and in the midday hours we bartered for things with our clothes.
Upon leaving, we were struck by the Cuban curse and got stuck for 5 hours with a bunch of locals, being told repeatedly that another bus was coming in an hour, or that the driver was drunk and they're looking for another one. But in true fashion, everybody laughed and joked around even as we were stranded in a town a hour outside of Santiago. Needless to say, Ian and I had rum and knew how to use it. It was truly a horrible trip back to Havana, but we made it, and we're all the better for it.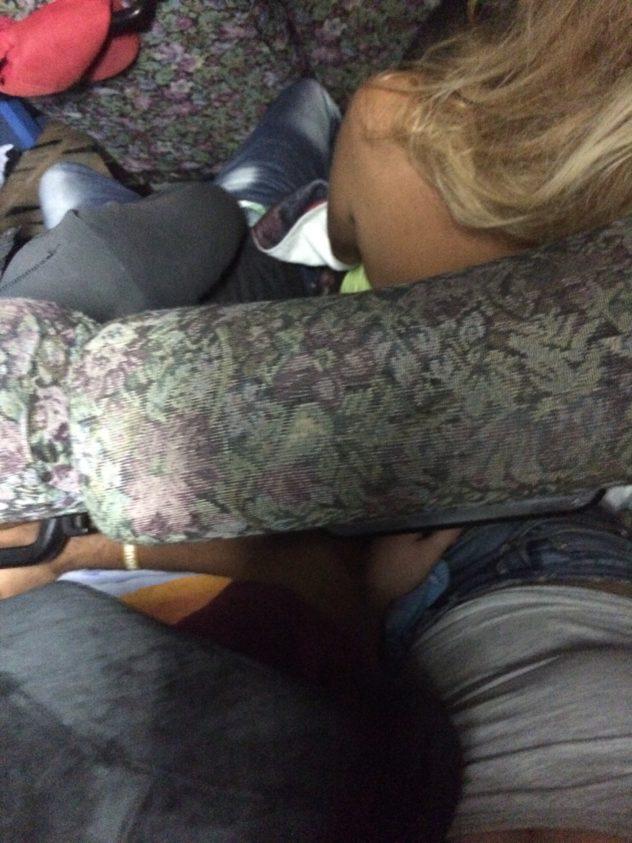 Come Friday night, piña coladas and mojitos look out, because we were cruising for a good time and boy did we find one. The Australian scuba diver staying in our same beloved casa convinced us to spend our second-to-last full night out in a bar with live music and drinks on him. I was so excited about our plans to shop and eat unmindful of a budget that I woke up coughing at quarter to eight on Sunday, still a bit tipsy from a night of rum and reggaeton on Saturday. Overall, it was a fine last day in Cuba.
As an American, Cuba used to be forbidden territory, likely part of what made it so appealing. Everyone but the Americans can and does freely visit Cuba; their tourist infrastructure is very developed. Americans see visiting Cuba as a privilege, an exciting forbidden adventure that only the most intrepid will undertake. So after over five weeks backpacking, sweating, changing plans, always fretting and occasionally relaxing in Cuba, I am exhausted. My forbidden adventure had been undertaken and survived. But I am home as of tonight, and there are, as always, more tales to come.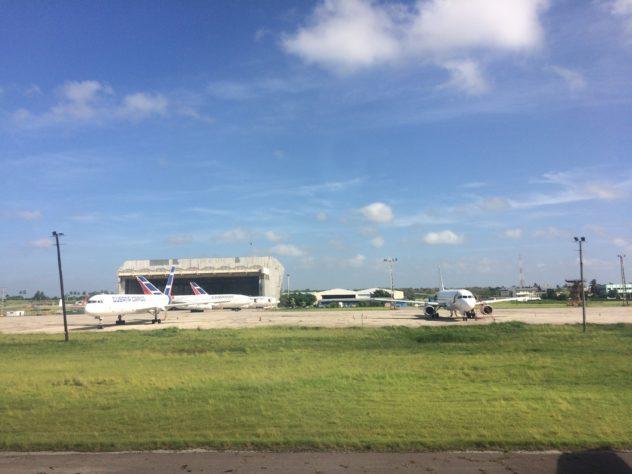 Have you ever dreamt of visiting Cuba? Where do you want to go?