Getting electrocuted, hiking to one of the seven wonders of the world, and then leaving a continent. Just another month as me.
​Days Danced: 1
Days Sick: ~0.5
Finding My Own Weekend Fun
I got a tad sick early in the month, but a bug was bound to hit my stomach sooner or later. Lucky for me, it bounced right off. Work has become routine, so breaks therein are inclusive of stupendous rainbows and dinner out at the nicest place in town. It was expensive, but so very fabulous. Would you ever guess that a town in rural Peru has a fancy farm-to-fork restaurant?
A few nights later I was electrocuted a bit, read a whole book, and bought some delicious touristy cake. My host seemed unfazed when I told her that her microwave had the tendency to electrocute people. If you even it out, the night was pretty unremarkable, but I'll sure never forget it. On the weekends here, I usually stay in and wonder what the youth do for fun in town, but then I'll hear drunk guys outside of the bar down the road and realize that they do nothing. Weekends are for resting, though that wasn't my experience growing up. Apparently there's even a dance club in town, but everyone I asked refused to ever approach or enter it.
So I took it upon myself to find weekend fun before leaving Ollantaytambo. I live with Mormons, but I have no qualms against drinking or fun. The next night I went to the town's bar, just two doors down from my house, and had a couple drinks over the next several hours. I hung out with the bartender, and several people from a Cusco travel agency. It was a good time, and although one day I may be mature enough to drink and not take pictures of my drink, I had a Bailey's over ice & a maracuyá sour. If a Pisco Sour doesn't interest you, how about replacing the citrus and egg white with passion fruit?
Killing My Vibe, Repeatedly
I woke up after 7 hours of very good rest to a lock on my front door. I had been locked in, from the outside. The small padlock was unreachable from the kitchen, so I spent several minutes of my Sunday banging on the door to call over the neighbor and have her use my key to open the door. She was very sympathetic; the only thought I had left is what was my landlady thinking?!
There was a ruckus at the store later that day, as well. We found two mice in one day, both trying unsuccessfully to invade the back of the store. It was quite the experience, going after them with brooms and dustpans, screaming at them like they'd listen. I'm thankful they were too fast for me to snap any pictures. It reminded me how grateful I was to live on the second floor.
That Monday was it, too. Finally the day I would go visit Machu Picchu. Expect that it didn't happen. I ended up working that day, so I could have Wednesday off so that I could try to go on Tuesday, which did happen.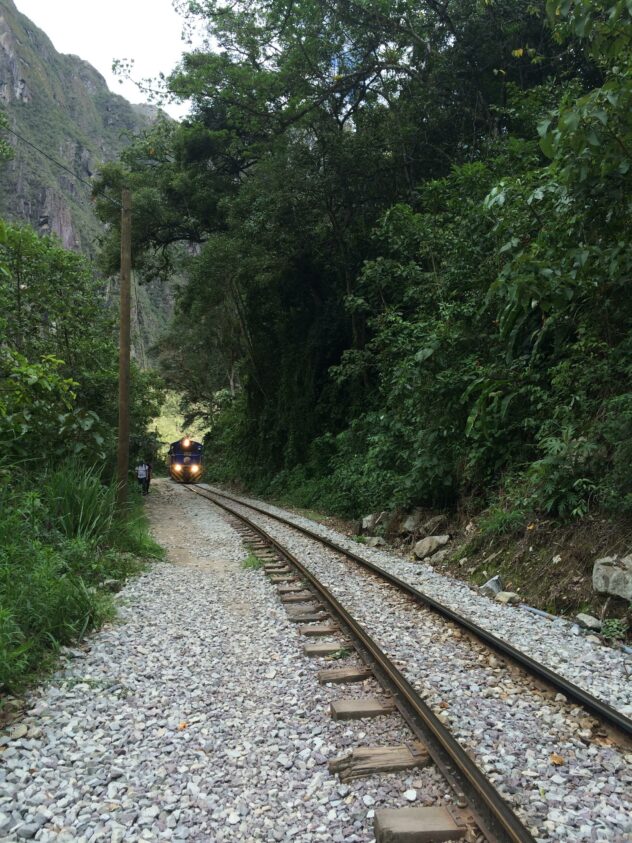 Making it to Machu Picchu
Tuesday morning I took a colectivo to the Hydroelectric Plant, and then hiked a couple of hours to the town of Aguascalientes. On the way, I met a group of Koreans. And the Chilean man they had adopted into the group the week before. We were all so excited just to be there, and they were all really nice. Every travel experience should be this memorable.
We all found a hostel together, and then bought Machu Picchu entrance tickets and grabbed dinner. They were absolutely a riot, and I don't think I could have found a better group to hike Machu Picchu with. We spent that first night hanging out and talking while they drank a few beers, rapturously watching a tiny pony masquerading as a ridiculously huge dog prancing around and running.
Our day of visiting the famous archaeological site started at 4:45am, when I woke up and walked/crawled/trekked up to the entrance to the Park with Javier, my new Chilean friend. It took us just over an hour of panting to get up there, with only a few breaks in all. He said it was an hour and five minutes, though I admit it felt like two hours. It really took a toll on my legs. But the alternative was a rather expensive bus and all of its long lines, so I just dealt. It was a very long day, but a very fun time despite the issues trying to get home, and the trembling tiredness in my legs.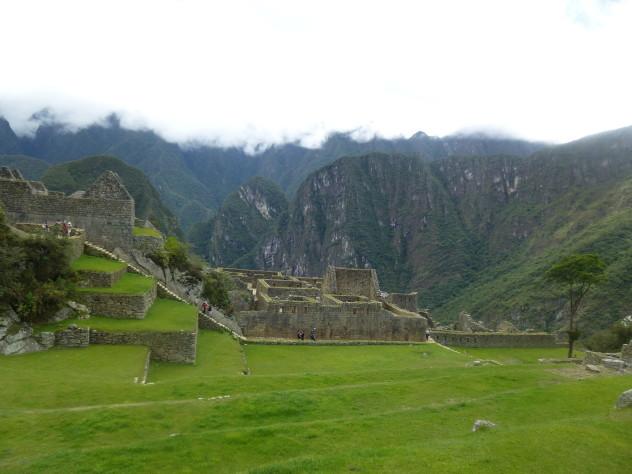 Post-Picchu: Becoming a Godmother
At night we bargained for a hostel, grabbed dinner (I had to eat all the leftovers, poor me), and settled in to watch a movie and enjoy the wifi. At quarter to 8 the next morning I woke up and claimed my ticket on the train with no problems, and befriended a Canadian couple on the way back home, whom I helped find a place to stay and eat and stuff to do in Ollanta.
It was all very nice and I felt so back in my element in my town, like I had returned home. The Koreans even found me later that day at work, after a couple of Peruvian kids adopted me for an hour or so. They were just sitting in front of the museum and we had no customers, so we chatted through gestured. This was before the confirmation ceremony for my goddaughter. It was a very long ceremony, too, but the night's celebration was equally as long and inversely as strenuous.
I went into Urubamba the next morning and got myself a new phone charger, Chicha Morada candies, a fabulous lunch, and the chocolate my mom asked me for. It was time to start preparing for the big move home. Tuesday morning I tackled the other ruins in town, a hummingbird falling from the sky and landing at my side on the way. After a few hours of hiking and climbing and dreaming I showered and ate mote con queso, then sought wifi at work. And worked a bit because I speak English.
That night I did a ton of writing until my computer died, and the same deal for the next few days until Friday, my last day, on which I managed not to cry but the sky did not. It absolutely poured all afternoon, thunder and lightning and all, and it kind of felt like the village was mourning my parting. Or at least I liked to see it that way. That was the first time I ever saw such rain in Peru, much less the lightning and thunder. We all took pictures together and promised to write, but I swear every time I leave a new country it gets harder & harder to say goodbye.
I still pack obsessively the week before, though.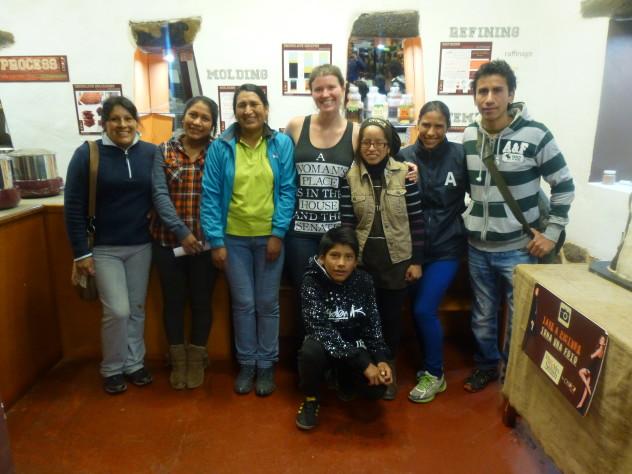 Leaving for Lima, and Home
Finally, morning came, and at 7am I had to catch a colectivo to Cusco, then a taxi to the airport, catch my flight, and get a taxi to my hostel in Lima. In Lima I met a really cool dude from Texas, and spent the first couple of days with him, watching pitbulls skateboard and eating food at NYC prices and buying as much chocolate as I could handle. Er, as much chocolate as I could afford.
Once the guy from Texas left, I met up with a Korean friend from Machu Picchu for coffee and dinner, discussing chocolate and the idiosyncrasies of Korean culture. I went back to that same coffee shop the next day to recover from a migraine; it was so loud outside that trying to walk home would have been further torture. I packed up that night and prepared for the long journey home. Six hours to Miami and another three to DC was a lot for one day, but what other option was there?
It wasn't too bad, compared to three flights from Ecuador, apparently. My sister was waiting for me at the airport. It's hard to complain with that kind of service at your disposal. I spent the week hanging out with my parents and sorting through all the stuff I had, in order to make a huge donation to the local thrift store.
Highlights of coming home: I made my first ever batch of bean-to-bar chocolate, ate all my favorite Asian foods, and went salsa dancing.
What would be your first stop upon coming home after a long trip?