​Days Danced: 6
Days Sick: 4
November was rather hectic and pretty exhausting. Looking forward to Europe, and the South Pacific before that, there's so much to arrange before even arriving that I'm positive the stress is interrupting my sleep. But the exhausting parts, as usual, were some of the most fun— climbing ancient temples, motorbiking across an island, and climbing up hilly cacao farms.
BKK to RGN to NYU to MDL to BKK to CEI
To start off my month alone, I discovered some disappointing dancing, and motorbiked around Bangkok (a favorite past time of mine, as we know), doing interviews and meeting up with other chocolate people in between bouts of writing or editing or scheduling. I also had the first official day of the Latin Dance Festival in Bangkok, which proved to be pretty damn fun. I danced so much and so hard at Bangkok Latin Fiesta that my knees almost gave out. One of the performers even told me I'm a "really good dancer"!
Where's that heart eyes emoji right about now?
I also got my upper endoscopy done without being sedated, which was a huge win for me. Unfortunately, however, November started off without much sleep, due to mostly late nights and mostly unreasonably early mornings. One night I woke up and would have sworn I felt the acid in the back of my throat, burning. I'll be happy to be back in private rooms with my mom, to be honest, if only to get a decent night's sleep.
Once I arrived in Myanmar, in the first 3 days I went to the Chinatown market and ordered raw skewers by myself, tried but failed to take the local bus, and fell repeatedly off the e-bike. Fear don't count if you really want something; that became my motto in Myanmar. Also, holy crap their local tea is insanely delicious (& crazy sweet)!
After 1.3 days in Yangon, and another 3 in Bagan, exploring pagodas and catching up on work, it was time to head back to Thailand. Before we landed, though, I had a nice long conversation with my aisle-mate, Michael, who works a lot with governments in Southeast Asia, working to slow the drug trade in these parts. Very interesting guy.
Festival of Light in Northern Thailand
In Chiang Rai I spent most of my time visiting the cacao farm of a friend of a friend, harvesting cacao and chatting with the people most of us never get a chance to: our cacao farmers. Later in the day we went to a local tourist spot for popsicles, and then headed home. This part of Thailand has some stunning views, but it's always more enjoyable to see the sights with locals who appreciate them.
After I had a delicious dinner with Nat from Xoconat, I headed home to begin a full 24 hours of distracted work. After switching my meds, I'm still having issues with sleeping well. I've gone so far as to post in online forums begging for help, because sleep deprivation wreaks havok.
In the evening, however, we headed out to celebrate Loy Krathong, the full moon celebration involving lots of fireworks, paper lanterns, and flower offerings. Up in Chiang Rai it was a veritable party, with singing and performances, blocks of street food, and the burn of sparkler smoke in the air.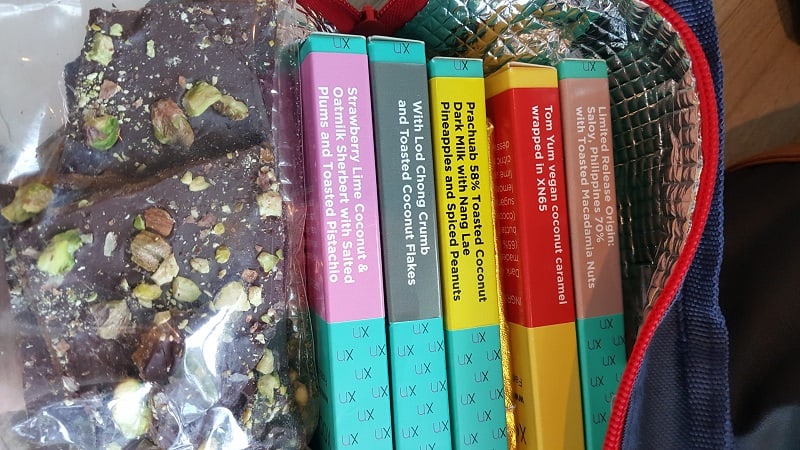 North to South & Souther
Heading to Chiang Mai the next morning, my trip calmed down noticeably. On my first day I met up with a local chocolate blogger and met the other half of a local chocolate maker I'd met in August. I spent most of the next day working on articles for the rest of the year, but I still managed to meet up with another chocolate maker & have a third dinner at DASH before leaving.
My last day back in Chiang Mai was spent doing the final interview for the Thailand episode of Chocolate On The Road, and taking a cooking class at my blogger friend's farm. It was gorgeous! I'm always very happy to learn more about preparing delicious vegetarian & vegan meals.
Heading back down to the south of Thailand, it took just 3 hours from hostel to hostel to get to Koh Samui. I found the island to be remarkably expensive, but quite nice in low season. From day 1 I glommed onto another group of travelers, and one in particular, with whom I traveled most of the island.
Koh Samui has a mix of Burmese, Israeli, Russian, and northern Thai residents; the multiculturality really made me feel at home. Some highlights of the south for me were going to Jungle Club for dinner at sunset, hummus in Chaweng, another motorbike across the island, and trying Russian food for the first time (highly recommend the dumplings).
We also tried to go on an island-hopping & snorkeling day trip, but that was an expensive and rainy choice. It involved tipping over in the kayak— twice— and a whole lot of rain & a whole lack of sunshine. On my last night I stayed up until after 5am finishing the Thailand episode of the podcast, managing to barely put it out on time.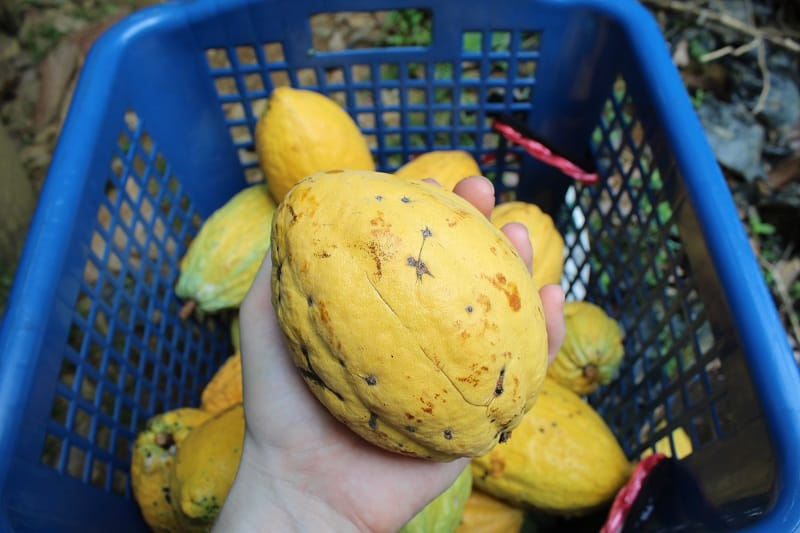 My First Malaysia: Peninsular & Borneo
Heading to KL, I had immediate flashbacks to arriving in Seoul over 3 years ago. Premonition, or nah? Probably nah. Day 1 I saw a completely naked man masturbating next to my building. That, thankfully, did not set the tone for my time in KL.
Starting later that day I attended a great Latin dance weekend where I met some wonderful Iranian & Indian people who'd traveled quite far to be there and perform. During the days I did lots of working and walking and eating chocolate, then proceeded to stupidly miss my flight to Borneo. I had to yet again re-buy a flight (see: Laos).
Arriving in KK, I still had a lot to do in the evening. The couch where I ended up parking myself to work 4 of the next 5 nights proved to be a boon for finding roaches crawling out of the room across the way. I actually just had generally horrible sleep in Kota Kinabalu (I had a cold most of the time), though I met incredible people and had a great introduction to the beauty of Borneo.
This included seeing lots of cacao trees older than I am, and a stunning harbor I never seemed to pause long enough to snap a picture of. Also, dozens of mosquito bites. I got to see 2 chocolate factories, 4 different cacao farms, and a vanilla plantation. Not to mention all of the chocolate tasting! KK, if you want me to come back soon, all you need do is ask. Until next month…