It's chocolate time! When we last left off in late August, my wonderful boyfriend had just fixed my transformer. During September, I also managed to finish making 5 pounds of Vietnamese dark chocolate, begin a bean to bar chocolate course, and head off for 10 days in Taiwan. Highlights: trying three new Korean chocolate shops, spending relaxing weekends with my boyfriend, finishing another chocolate experiment, and arriving safely in Taipei. Lowlights: getting sick & being unable to go salsa dancing, and stressing out majorly from chronic over-stretching of my time.
Days Danced: 0
Days Sick: ~2
Plans for Chocolate World Domination
At the beginning of this month, we managed to roast 2kg of Vietnamese cacao for the next batch of chocolate, as well as some green coffee I'd been hoarding. Just a couple of days later, we headed to two more chocolate cafes in the center of Seoul. September was a long month, with the beginning of the Korean school year, and serious preparations in terms of chocolate and travel weighing on my shoulders. Later on that weekend, we went to an outdoors movie with the crew, likely the last one before it gets too cold, and I worked on my plans for world domination. Er, sorry, wrong chapter. I worked on my plans for finding chocolate in each and every corner of Korea. One must be thorough.

Tears of Joy on the Clean Streets of Yeongwol
One Thursday afternoon in the middle of the month, I ran into one of my third graders crying as she walked towards school. I was headed home for the day, but stopped to ask her what was wrong. However, since she's only in her first year of English we tried using only Korean to communicate. Or rather, I tried using Korean, and she rightly succeeded. After I ascertained that she was headed back to school for some reason, but that her home is quite close to mine, I started walking her back to her mom's shop.
We ended up relying on my boyfriend's translations to be sure of where she needed to go, and I'm still not sure why she was crying. But we had an animated mutual babble on the walk home. By the end, she understood my Korean handicap, and so tried to learn some of the English words I taught her. All I got from it was a new word for "vacation," and a conviction that the first and last months of school are spent solely thinking about what happened or will happen during the closest vacation period.
Home Chocolate Making on the Dark Side
At the same time as I continued preparing the cacao for my next homemade chocolate, I started researching for my online chocolate making course. Thus began the journey of losing myself amidst a sudden inundation of chocolate resources, mostly focused upon Europe and the Americas. Where's all my Asia info at?! I still made it into Seoul to visit two new chocolate shops, as well as have celebratory Mexican food. I've officially been in Korea for over a year as of this month! I got sick that weekend, just before meeting friends for brunch, but hey, you can't win all the battles.
The middle of the month ended up being immensely stressful for me, as I finally started my chocolate making course, continued writing articles for the site, planned my current trip to Taiwan, worked on marketing for Dame Cacao, continued making chocolate, and, oh yeah, still had a full-time job. By the end of the month I seriously needed a break. I stayed home the weekend before leaving for Taiwan in order to finish my chocolate homework, and mold & store a batch of Vietnamese 70% that's been in the works for over two months. My trip to explore the chocolate culture of Taiwan, and soon after Japan & Thailand, was fast upon us.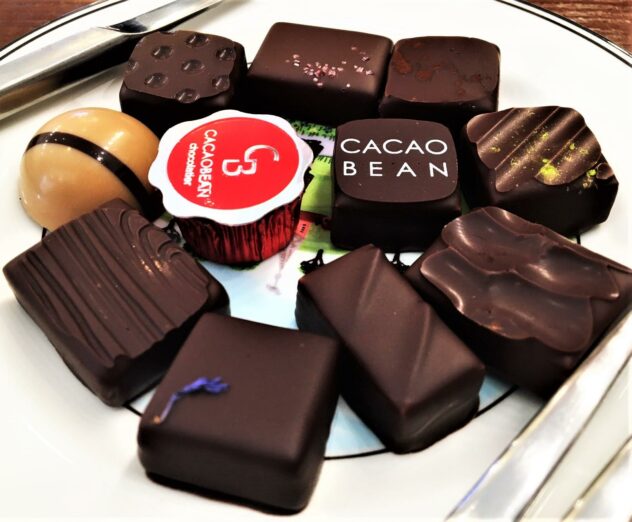 Chocolate in Rural Korea
But fear not, I continue to adventure around Korea. A weekend visiting my boyfriend in Gangneung led to an evening chocolate adventure to Hongcheon, a town about 130km from Gangneung. We made the three hour commute because I argued to him that we should always choose adventure, instead of just staying home. It turns out that we were the only visitors to the café that evening, despite it being a Saturday, because it's actually in the middle of nowhere, outside of a small town. But that doesn't mean that it's a country bumpkin itself, as the owners have decked out the café with a lifetime's collection of porcelain, and gorgeous photo ops.
They make chocolate bean to bar there, and showed us their whole operation. Afterwards, we chatted over truffles and talked about the drinks we bought. We were aparently so charming that at the end of the night they took the two of us to dinner at a local restaurant. Yes the owners of a café treated us to dinner. I. Love. Chocolate people. In the future I'll be back there to check out their machinery more thoroughly, and practice my Korean even more, since they speak so little English. But the chocolate is stupendous. Similar to my own situation, I look forward to seeing what will happen as the family gets their hands on more and more Asian cacao.
Have you ever found a new favorite spot in a very unexpected locale? Do you still go there?