On the farm here in northern Ecuador, we pick and process cacao every other Thursday, allowing us to control each step of the bean-to-bar chocolate making process.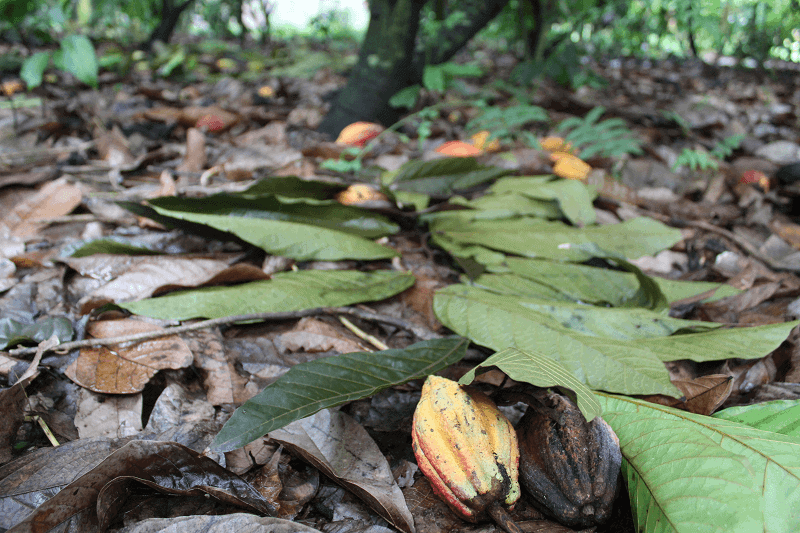 Preparing the Premiere Wonder Grinder
Part of our weeks-long chocolate making endeavor is the simultaneous grinding & conching of the fermented & dried & newly-roasted cacao beans. To do this in a more modern fashion, the farm has just purchased the Premiere Wonder Grinder, a machine originally intended to be used as an Indian spice grinder. However, the machine has proven to be immensely useful in the art of chocolate making, the purpose for which we will be using it on the farm. Be that as it may, before it can be used for that purpose it must be cleaned. So in an admittedly ecological choice (also admittedly not so on purpose), I just used several large and flat leaves of an unknown but sturdy variety to clean out the gunk used in the first run through to clean out the grinder.
The recommended solution, according to the all-knowing internet, was a mix of 1 cup of white sugar and 1 cup of vegetable oil, and it whipped up like a half-caf full-fat soy latte. I'm actually kind of proud of it, disgusting as it is. I had wanted to clean out the sweet emulsion with some paper towels, but we don't keep any on the farm, so I went out to find some leaves.
Premiere Wonder Grinder: The Aftermath
The first run through of the machine went well, insofar as nothing broke or was strewn comincally all over the kitchen. My farm-mate offered up some real towels, but he doesn't quite understand that what I'm removing should be immediately discarded rather than forever immortalized on some poor innocent dishrag. Not to mention within the sink drain. Grossly, Rex the Farm Dog decided to eat some of the fatty sugar mixture. This is after I threw some outside, once I decided that the putrid compost bin shouldn't be open for that long.
Good news: this stuff makes great glue, and I got to bachata & salsa dance around the kitchen as I got more leaves from outside. Also, after years of wondering I finally understand how mayonnaise works.
Bad news: this is a really gross, though somewhat ecological process.
Have you ever had to deal with the learning curve of a new machine? Isn't it a pain?