You're a newlywed in South Korea in the 1980's, and life around you feels rigid and predictable.
You know there's got to be more to experience in the world than your family's expectations. So where do you move to in order to find new opportunities, new faces and perspective on life? Somewhere close by, like China or Japan? Maybe France, like many Koreans of that era? Try Venezuela.
Then to mix things up a bit more, let's add kids into the mix.
Dan Kim is one of the kids who enriched that story. He grew up Korean-Venezuelan in Caracas during the 1990's and early 2000's, with his older brother and now business partner, Jon. One of just a few hundred Koreans in quite possibly the entire country, Dan's household may have been Asian, but his home has always been Latin America. No matter his appearance, as soon as he opens up his mouth, you can tell you're listening to a Latino based off of the cadence, the light lilt of his accent.
"There's actually a term they use in Venezuela, like if you're fully 100% Venezuelan, and someone asks you what country you're from, you say 'soy criollo'… in my case I wouldn't be criollo, I'd be like 'chinito criollo,'" a born & bred Venezuelan who looks East Asian. Criollo, for those not steeped in cacao culture, is also a white-colored cacao type said to be the finest in the world. Literally translated it means "native to a place."
Growing up in the city, Dan's thoughts of cacao were limited to hot cocoa on rainy days— Venezuela doesn't exactly get cold, not like Seoul does. But he recalls that Venezuela's supermarket chocolate game was strong, and everybody knew it. "In Venezuela… you would be able to find 100% blocks of chocolate in the supermarket… they would chop those blocks and use it to make hot cocoa. I remember using those to make cacao drinks." It was just a fact, like how the sky is blue. Venezuelan cacao is good, and so is Venezuelan chocolate.
Dan's younger years were spent at an international school in the city, where he made friends from all over the world. On the streets he looked a little out of place, but at school, he was among his friends and peers. One high school friend even worked at El Rey, a local chocolate company. After finishing up secondary school, Dan made his first big move, to California to eventually study at USC. After university he moved back to Venezuela to put his brand-new accounting degree to use, but like many young people, after a few years it all grew a bit stale. Combined with mounting social pressures, everything finally just reached a boiling point for Dan & his brother.
"I realized [accounting] wasn't something I saw myself doing in the future, and at the same time, the political climate was getting very heated in Venezuela… it was the year that [Hugo] Chavez died… a lot of inflation was there, and a lot of crimes, like kidnapping, and it was basically home, work; work, home… Doing anything outside, like extracurricular activities, was slowly being diminished. Me and my brother felt kind of trapped in some sense. That's when we decided to go somewhere and start something new."
So knowing that they wanted to build a business together, and that they had the option of moving back to their parents' homeland of South Korea, the only question left was what to build. As the financial and strategic mind of the future business, Dan went on a scouting trip to Korea in 2014. "I came in to do some market research in the beginning… I had an idea in Venezuela before I came, about potentially starting to do something with chocolate." At that point it was just going to be an import-export business, but the guys realized that if they were going to enter the Korean market at all, they needed a cohesive brand.
Remember that high school friend from earlier? The one who worked at El Rey in high school? Well if you're entrenched in the fine chocolate world, then you'll know that El Rey is a long-established chocolate maker from Venezuela, making chocolate using fine Venezuelan cacao. They ran into that old friend around Caracas a few times, and started discussing the idea of importing El Rey to Korea. It was already available in Japan, but nobody had brought it to Korea yet. So they decided on a plan: import El Rey, and sell it using the branding they were putting together.
It quickly became apparently, however, that this wasn't enough for the Korean public, whose chocolate culture was nowhere near developed. In fact, it's still in the growth stage, but this meant that the Kims had to be able to not only sell to their customers, but also to educate them. This needed to start from the cocoa bean, and end at something familiar but better than what was already available. "It's like any other food where you have to focus on finding the best ingredients to make a really good dish. In chocolate it's also being able to find good cacao."
That meant that these city boys needed to learn more about cacao.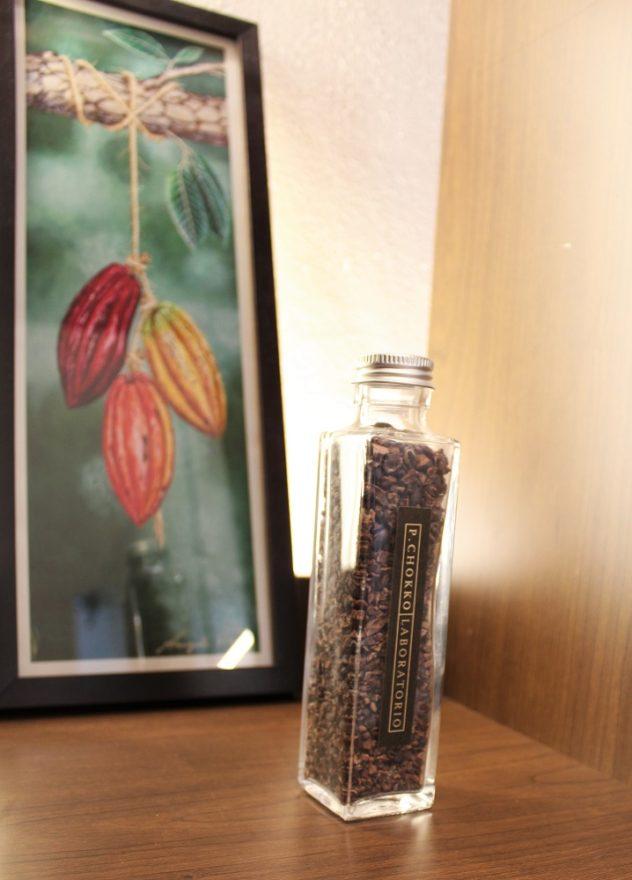 So they set aside 5 days to go visit Chuao, one of the most famous cacao regions in the world, which just so happens to be a mere 50 miles from Caracas. You can see a hilarious video from their origin trip at the end of the article, and I highly recommend you take a look. It will have you belly-laughing, eye bugged out, especially if you keep in mind from the beginning that the brothers are from Venezuela.
When I first saw the video, I remember one of the brothers remarking that when Venezuelan audiences saw it, there was a very surprising reaction: immense pride. Not for Jon and Dan; they didn't know the brothers were actually Venezuelan. But pride at seeing these two Asian-looking guys traveling around their beautiful country, showing it off and seeming to discover one of the treasures of Venezuela: cacao. At first viewing they'd have no reason to suspect that the brothers speak Spanish, much less that they're from Caracas. The video is at the heart of P.Chokko's goal: "bring something to reflect a positive aspect of Venezuela."
Because especially in South Korea, Venezuela isn't always reflected positively. And unfortunately, sometimes that's with good reason.
Over the last decade or two, Venezuela's had a lot of unrest and instability, as well as outright violence. "There was a lot of negative news about Venezuela," Dan says of when he first arrived. This negative image is the only one most Korean people will ever get of the country, unless someone takes it upon themselves to add to the conversation and flip that perception on its head.
Just like with craft chocolate, people don't usually seek out and discover new information on their own; someone has to go out and disseminate it. Dan and Jon founded P.Chokko as a way to add perspective to the overall conversation on Venezuela, and in doing so, perspective on the culture surrounding chocolate in Korea.
During that first scouting trip that Dan took in 2014, he noted that most Korean chocolatiers used Valrhona, Felchlin, and Callebaut exclusively, a trend still present today. Most consumers thought— and still think— that the world's best chocolate comes from Belgium or Switzerland. "People didn't know how chocolate was made, even," Dan says. "The only thing they knew about chocolate was big brands like Godiva." Oh, and Godiva was all the rage.
"In the beginning, people had no knowledge about chocolate, how it was made… they just knew the European brands, huge brands of chocolate. But then after [I arrived] there was this boom of cacao nibs. People were eating cacao nibs raw, just for health reasons. So after that boom, we felt like there was a small spark for people to jump into bean to bar, and a lot of people now going to expos and shows, a lot of coffee places, are interested in this type of bean to bar. So there has definitely been an interest in people doing bean to bar, especially from the coffee industry."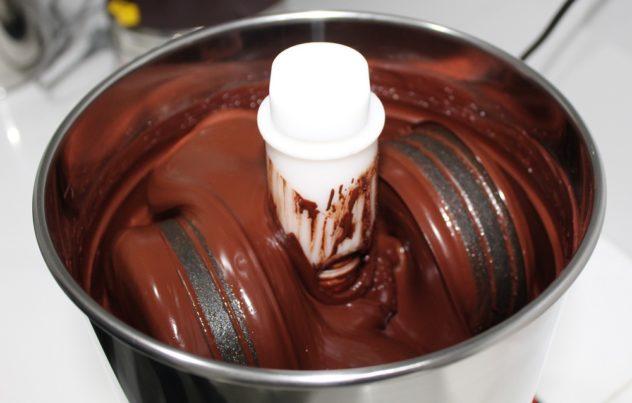 While it's true that not much has changed in the overall market, the small shifts that have come about in the years since Dan's first trip to the peninsula are very important first steps in a much longer journey. Korean chocolate makers are building a fine chocolate culture from the ground up, something that fast-changing and -globalizing South Korea is more than ready for. But it takes time and work to set the foundation.
It was this early realization about how little people actually knew about non-European chocolate that brought about P.Chokko's tagline: seriously, you deserve better chocolate. By the end of 2014, Dan & Jon had imported El Rey to South Korea and were working on carving out their niche in the growing fine chocolate sector.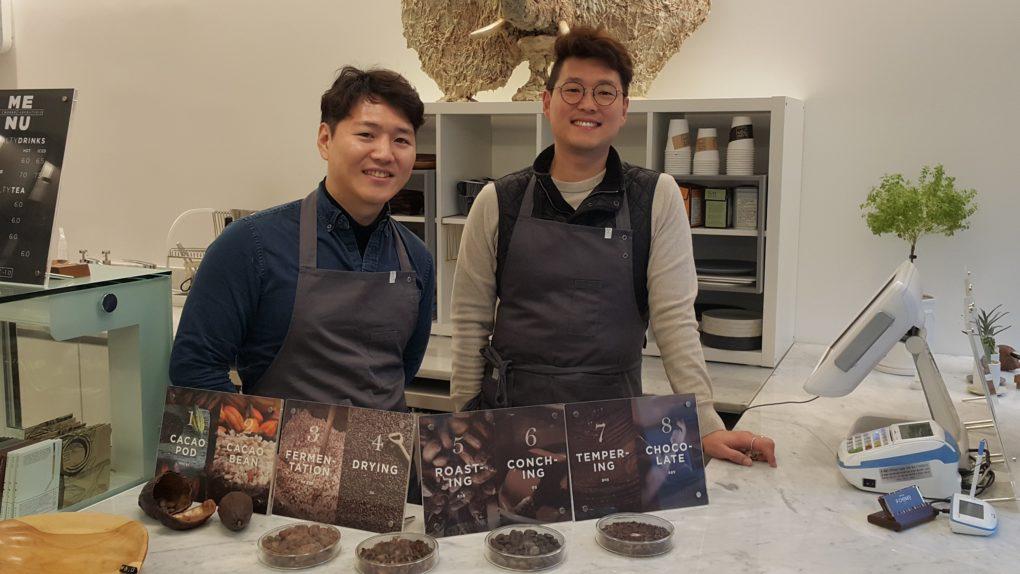 Consumers were starting to get used to the idea of single origin chocolates, thanks in part to the immense popularity of single origins coffee culture. "We always had brought [cacao] samples in our luggage… we even made our parents bring some when they came to visit us," he says. But it wouldn't be until 2017 that the Kims were finally able to import any significant amounts of Venezuelan cacao.
"Most of the cacao [in Venezuela] is either nationally consumed, or being treated and mixed with other cacaos and being called Venezuelan cacao." So once the cacao that they had sourced in-person finally made it through customs, the brothers were more than ready to make their own chocolate with it. Dan remarks that they've managed to build up so much knowledge about cacao and chocolate, as well as about Korea, in such a short time thanks to "a lot of failures," a rarity to admit in a country known for saving face.
As is typical in a fast-growing economy like Korea's, as the market's changed, so have the opportunities. From importing couverture chocolate and then cacao, to shifting towards making their own chocolate from said cacao, for the Kim brothers it's been a rather atypical journey. It's actually been less about making their delicious chocolate, and more about shifting perspectives. In a market and a society that's slowly opening up to it, changing how people see something as binary— Venezuelan or Korean, good or bad, safe, or unsafe— is a tough task. But Dan is sort of an expert at changing how people see things.
He's been doing it his whole life.
First he was born into it, and then he chose to do it, and now he teaches others how to do it, as well. These days P.Chokko is doing chocolate seminars in multiple languages, and celebrating their shop's recent remodel and the opening of their bean-to-bar chocolate factory. Though he was in many ways pushed out of Venezuela, Dan sees this opportunity in chocolate as a privilege, a chance to give context on Venezuela to the Korean public. While most visitors probably won't be able to physically travel there right now, Dan & Jon want to make them feel like they have.
Because seriously, you deserve better chocolate.
If you want to visit Dan & Jon's chocolate shop in Seoul, you can find it near Ttukseom metro station (exit 8), or come visit them at the Seoul Salon du Chocolat from January 10-13th, 2019!
Hours: 11am-5pm, Tuesday to Saturday
Address in English: 685-315 Seongsu 1(il)-ga 2(i)-dong, Seongdong-gu, Seoul
Address in Korean: 서울 성동구 서울숲길 47