Life can be stunning. It's what happens after you craft, and often change, your lofty itinerary. Bohol is a beautiful island, the highlight of my many weeks in the Philippines, and I was stunned to find what you can pack into a single day. There are tiny primates, a bevy of bridges, and the beautiful Panglao Island. We were able to see all of the main tourist sights in Bohol in one day, and we managed to share transport between the four of us. If you find yourself with much more time, though, you can look for a liveaboard in the Philippines.
The island is packed full of close-together sights, earning its spot as one of the most popular tourist spots in the Philippines. It's also one of the biggest of the 7,000+ islands that make up the country. The following is a photographic overview of the few days I spent there, plus an ideal one-day itinerary for short-term visitors. Step one? Find a motorbike.
One Day in Bohol: Itinerary
Finding a motorbike in the Philippines is like finding a car in Los Angeles. They're basically everywhere, and often crowd the roads and muck up the air. It's getting a cheap one with all the parts working that's the hard part. Never rent a motorbike without a helmet, and always check the brakes before paying.
Before our journey, none of us had ridden a motorbike in the Philippines, yet. Nobody had even set foot out of the hostel, though we were all already shining with sweat. Ten or so of us were on a mission to find transportation for the day, intending to travel as a pack, but then the men and women separated. I ended up with three German teenagers, each of whom took a turn driving us around the southern part of the island.
Renting Motorbikes
Renting a motorbike in Bohol should cost you a reasonable 400PHP (~$8) a day; we got ours from the almost-abandoned hostel next door. The poor boys were fated to go it alone the rest of the day, as the separation happened when they sought motorbikes elsewhere.
Atop two vehicles, the four of us set out on a fairly well-tread trail around Bohol's highly-touted sights. We studied what the package tours were offering, and then decided to go it alone for a small fraction of the price. There are so many gorgeous nearby islands on which to relax, but first we headed inland for our day tour of Bohol.
The Bohol Itinerary
It was a cloudy but beautiful day, even at nearly 8am, with the misty threat of rain varying throughout the day, luckily with no follow through. We actually ended up borrowing the bikes for two days, and spending most of the second at the beach. But if you don't plan on beach time or are a fast traveler, this itinerary is do-able in one very early & long day.
On the one day Bohol Itinerary: the tarsier sanctuary, the man-made forest, the chocolate hills, a low-hanging bridge & waterfalls, Panglao Beach— one of the most beautiful beaches in the Philippines— and dinner at Buzz Cafe. On the way to the beach on day 2, two of the guys actually crashed their bikes and we had to stop. Thankfully, a kind couple raced over and helped fix us up before they sent us on our way. Always wear your helmets, dears!
Bohol Highlights (Morning)
Tariers > Man-Made Forest > Chocolate Hills
First up on this grand tour of Bohol were the tarsiers. They have the honor of being the tiniest primates in the world, and only found on a few islands. We headed to the Tarsier Sanctuary to see these little guys, and actually arrived there before it opened, but they kindly let us in for a tour a bit early. A knowledgeable guide led us around for about fifteen minutes, whispering tarsier facts and answering questions as we all took turns snapping pictures. It felt sort of like one giant photo-op. But the introverted creatures were insanely adorable, and I'm glad I had the opportunity to contribute to maintaining a safe space for them.
Next we continued on through the countryside. Our path led us through long stretches of rice paddies & coconut trees, as well as the two kilometer-long man-made mahogany forest.
The next leg took another hour or so of driving, a beautiful journey broken up only by a snack break in a small town we passed through for lunch on-the-go. We arrived at the Chocolate Hills around 11am, before all the tour buses arrived post-lunch cruise. If you have the time and desire, a Loboc River Cruise does come highly recommended from many other bloggers.
There were several dozen people at the Chocolate Hills complex when we visited, but most of them seemed to have driven or taken a bus there. They inflated my ego a bit by pointing and staring at our bikes and helmets, though personally I didn't drive a bit. Filipinos are lovely people, but subtle they are not.
On the way back from our long trip to the Hills, we made several shorter stops for the sake of exploration. Passing right through the town of Loboc, we trekked around a low-hanging bridge, I stopped the caravan to ask an elderly woman about cacao beans drying outside a neighboring hut. Then together, we walked down to some waterfalls just as the skies started spitting rain.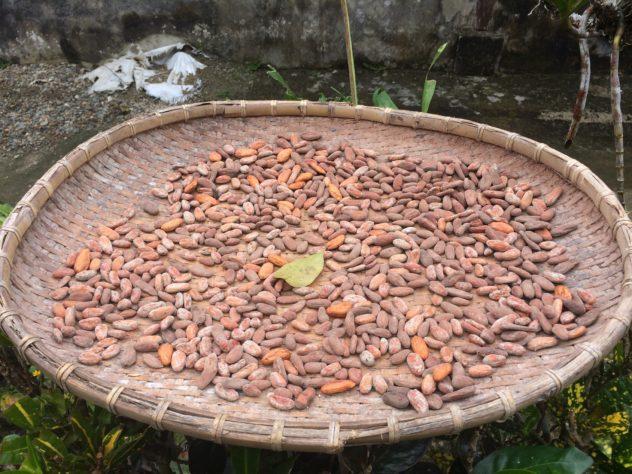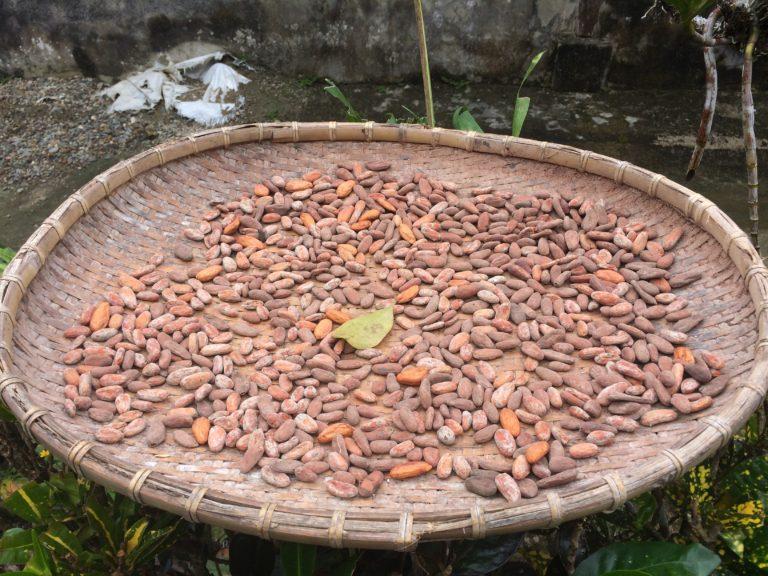 [easy-image-collage id=6274]
Bohol Itinerary (Evening)
Panglao Island > Bohol Bee Farm or Loboc River Cruise
Flying through the countryside and nearly right past our hostel, we finally arrived at the beach. The intermittent time was largely spent regretting being on the back of a bike, but glad I hadn't eaten much yet. After all the stresses of the day and the motorbike and finding food, it's time to relax. Find your paradise on the white sand beaches of Panglao Island, if you've made it this far.
If you want to skip the sunset on the beach, or if you didn't get your fill of the Bee Farm at their Cafe, then head over to Bohol Bee Farm to catch a slightly different buzz. Or even hold it in your hands! An alternative to spending the evening on the beach and having dinner at Buzz Cafe is to go directly from the waterfalls & hanging bridge to the bee farm. Or you could stay inland and do a Loboc River cruise with your afternoon
I spent three full days on the island of Bohol, and would heartily recommend that you do the same. Although it is certainly possible to see the highlights of Bohol in one day, I'd recommend adding one or two more. The ferry from Cebu is a long one, and the flight from Manila is no picnic, either, so make your time count.
Happy adventuring!
---
If you found this itinerary helpful, please pin it so that others can find it, as well!
Have you ever been to an island as beautiful as Bohol? Drop a comment below!