South Korea is known as the Land of Morning Calm because at night is when things really get loud. Koreans, resident foreigners, and tourists alike all love to spend a warm evening wandering around a Seoul night market, with Myeongdong Night Market and Dongdaemun Night Market being the unquestionable front-runners.
Both of these night markets in Seoul have decades of history and multiple layers to them. For one, Dongdaemun isn't just one big market but a series of a half dozen malls, while Myeongdong Market is more like a district of markets than simply one big one.
In this guide I cover the best Seoul night markets to visit in 2023, as well as how to get there, what you'll find, and a map of the markets.
Visiting Korea in 2023
Those of you looking to visit South Korea are probably as confused by all the changes as I was before I visited again in 2022. The Korean government has been as wishy-washy with their pandemic policies as those in most of the other heavily-touristed countries in Asia have been.
But as of September 18th, 2023, masks are still required in medical settings like hospitals but are NO LONGER REQUIRED in all other indoor public places, including on public transport (though some people continue to wear them).
Here are the documents you need to visit Korea as a tourist:
K-ETA (Korean Electronic Travel Authorization, applied for at least 72 hours before departure) OR Visa to visit Korea (countries which previously had a visa exemption now need to apply for a K-ETA). From April 1, 2023 to December 31, 2024, passport holders from 22 countries will also temporarily NOT need a K-ETA or visa to visit Korea (includes: Australia, Austria, Belgium, Canada, Denmark, Finland, France, Germany, Hong Kong, Italy, Japan, Macao, Netherlands, New Zealand, Norway, Poland, Singapore, Spain, Sweden, Taiwan, UK, US (including Guam)). If you're a valid ABTC card holder (APEC card), you are not required to apply for a K-ETA [excluding Americans & Canadians].
Q-Code (can also be filled out upon arrival): visitors need to fill out information for the Korean quarantine system, known as Q-Code. Note that all travelers are now allowed in regardless of vaccination status, but you do need to have filled out your Q-Code before going through immigration.
If for some reason you need to take a covid test in a South Korea airport, the cost of a covid test in Incheon Airport is currently ₩80,000 ($60USD), with some options within Seoul as inexpensive as ₩65,000 ($50USD). There's no testing requirement to leave South Korea, but you may be required to take a test in order to move on and enter your next destination or home country.
Tips for Visiting Night Markets in Seoul
Most shopkeepers in Korean night markets won't speak English. They just won't, and speaking louder— as I've seen some tourists do— will not make communication easier. But shopkeepers often understand body language and a bit of English, Chinese, and sometimes Japanese. So if you maintain a bit of patience and use the simple Korean phrases above, you can get through to anyone about buying anything.
Korea is basically a cashless society, except for in the markets. This means that you can use your credit card most everywhere, but international cards aren't always accepted, so always keep enough cash on hand.
You can and should haggle at any Seoul night market. Most shops won't have any price tags, even in 2023, so listen carefully for the shopkeeper's opening price, already having the price you're willing to pay in mind, then lowering it by 20% before it comes out of your mouth. Ideally you'll meet somewhere in the middle, and check multiple stalls for what you're looking for before starting to haggle at one.
Getting 'service' means a different thing in Korea. Here, many restaurants and shop proprietors will give you something extra after or during your meal or transaction, as a respectful 'thank you' for choosing their place of business. When they give you or do the free thing, they'll typically tell you that it's 'seo-bi-seu' (서비스), or 'something for free.'
It's respectful, though not required, to use two hands to give & receive items. If the thing you're handling is small, people typically will put their unused hand on the arm of the hand being used. It sorta sounds complicated when written down, but it becomes habit quite quickly, and it's a polite gesture.
Shopkeepers might follow you, especially if you look like a foreigner, and they'll be standing closer to you than you'd prefer. This is true in Korean department stores and clothing shops, as well, but it always surprised me most in the night markets. They just want to be nearby in case you need anything, though I noticed that they now stand slightly further away, post-pandemic.
Korea has their share of travel scams, and one of the most common is the fortune teller scam, in which a woman stops you on the street and offers to take you to have traditional experiences, only to scam you out of money. Either way, if someone stops you on the street or in the market like that, 95% of the time they just want money.
5 Simple Korean Phrases for Night Markets
Before diving into any more cultural aspects you should know, here are the five most helpful Korean phrases for night markets.
Hello // An-nyeong-ha-se-yo. (안녕하세요.)
Thank you // Gam-saahm-ni-da. (감사합니다.)
How much is it? // Eol-ma-yeh-yo? (얼마예요?)
Please give me a discount. // Ha-reen ju-say-yo. (할인 주세요.)
One of these, please. // Ee-gaw ha-na ju-say-yo. (이거 하나 주세요.)
Regular Seoul Night Markets
These are the five regular night markets in Seoul, meaning that they're open every day of the year, though many have reduced hours or many of the shops are closed on Sundays.
Myeongdong Night Market (명동 시장)
In 2023, Myeongdong night market hours will be longer and later than at any time since the pandemic began, as visitor numbers are expected to swell to more like pre-covid levels. This is because Myeongdong is arguably the center of Seoul nightlife, as a huge tourist destination and a hub for affordable accommodation and street food.
Myeong dong night market is particularly known for cosmetics and clothes shopping, as well as its both traditional and eclectic Korean street dishes. The area that's considered to be the night market in Myeongdong is actually a stretch of about a half mile going outwards from the metro station; just follow the bright lights.
While the cheesy lobster tail is the signature street food in Myeongdong, eomuk (어묵) & ddeokbokki (떡볶이), which are fish cakes & spicy rice cakes, respectively, are two of the cheapest and most typical dishes to try. Hoddeok (호떡), a cinnamon sugar-filled fried rice cake, is my absolute favorite treat and one of the few traditional sweets in Korea.
Location: Myeongdong Station (Exit 6 or 7) in Chungmuro, Jung-gu
Season: year-round
Hours: 5pm-1am, daily
Dongdaemun Night Market (동대문 시장)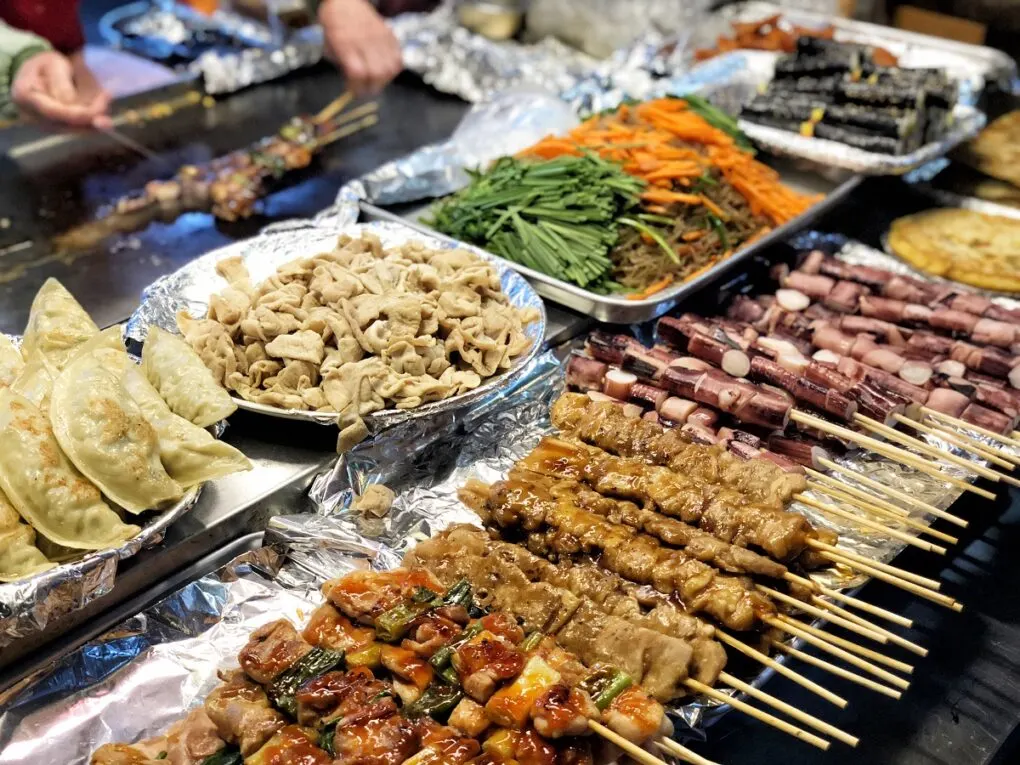 Dongdaemun night market is less a single market so much as a shopping complex, the cousin of wholesale-oriented Namdaemun Market. It's a group of several malls, each with many floors featuring shops selling almost everything under the sun.
Fun Fact— 'Dongdaemun" means 'large east gate' in Korean, and the name refers to a physical gate that has become emblematic in the neighborhood.
This is the ideal Seoul market for clothes shopping in the middle of the night, if that's your idea of a good time. Even if it isn't, however, shopping at Dongdaemun market offers very interesting insight into current Korean fashion and another opportunity to people-watch.
Many visitors make it a point to come here at the end of their night to wander around and haggle after dinner, or occasionally as a way to kill time before the subway reopens. Most of the street food vendors are open quite late, so this also a great place to come for late-night eats.
Location: Dongdaemun History and Culture Park Station (Exits 1, 2, or 3) in Dongdaemun
Season: year-round
Hours: 8pm-3am (some close at 5am, many are closed on Sundays)
Namdaemun Night Market (남대문 시장)
Namdaemun is the oldest and largest night market in South Korea. It's actually the largest market in the country, period, and is open twenty-four hours a day. This is because the market actually caters to retail buyers, that is, people who are shopping for the trinkets and pieces they're going to be selling to you in Hongdae or Insadong (at a mark-up, naturally).
Many enterprising Koreans and visitors alike will come to Namdaemun night market, named after the 'large south gate' located nearby, to buy presents to bring home in bulk, or even just stock up on socks and underwear for the family. I only came here a couple times when I was living in Korea, as I found the vendors to be pretty gruff unless you could speak rapid-fire Korean.
Still, it's a cool place to wander around and spend an evening seeing Koreans haggle with the best of them.
Location: Hoeheyon Station (Exit 5) in Hoehyeon-dong, Jung-gu
Season: year-round
Hours: 24 hours (night market starts at 10pm, many are closed on Sundays)
Gwangjang Market (광장 시장)
If Namdaemun is the oldest night market in Seoul, then Gwangjang is the oldest daily shopping market in Seoul, mostly patronized by locals picking up their weekly groceries. It's hustling, bustling, and always busy, except on Sundays, when a lot of the shops close. This is the market I head to when I want a taste of old Seoul.
Gwangjang Market is notorious amongst locals for the bindaetteok, which is a massive mung bean flour pancake served hot, preferably with a couple glasses of cold makgeolli (rice wine). There are other traditional treats to discover there, but it's also a great place to shop for high-quality local goods and traditional Korean clothing.
Sometimes there are even performances on the outskirts of the main building, especially right when Koreans get off work.
Location: Jongno-5 Station (Exit 7) in Jongno
Season: year-round
Hours: most shops close around 7pm; street food goes 'til 11pm
Noryangjin Fish Market (노량진 수산물도매 시장)
People often forget that Seoul is a port city, and a hub for great, fresh seafood. It's actually an important part of the Korean diet, and one of the best places to get a taste of fresh, traditional Korean dishes is at Noryangjin Fish Market.
The open-air market is open all day, all year, including late at night. In the new building, the first floor is dedicated to the market itself, where you can browse and purchase fresh seafood for dinner, both the familiar and unfamiliar.
Up on the second floor is the restaurants where they'll prepare your catch for you, as well as serve house-made side dishes. Friday and Saturday nights are the busiest at Noryangjin, so if you want to pick food and eat it in a restaurant here, I recommend coming earlier, like around 5pm.
Location: Noryangjin Station (Exits 8 & 9) in Dongjak-gu
Season: year-round
Hours: 24 hours
Banghak-dong Dokkaebi Market (방학동 도깨비 시장)
While arguably a daytime market, the Banghakdong Dokkaebi Market is one of the older markets in Seoul, having began in 1982. It started off as just a central spot for unlicensed vendors to sell goods, often in the cover of the evening, as the country was just opening up to outside influence.
The market's nickname of Dokkaebi, which roughly translates to 'goblin,' is actually a reference to these early vendors, who were said to scatter off into the night when the cops came by. These days the market operates in the daytime as well as into the night, still holding a 'dokkaebi sale' three times a week. But locals come for the cheap prices on fresh food, banchan, dry goods, clothes, and even bedding.
It's especially popular in the couple weeks before chuseok (Korean Thanksgiving) to see people buying large baskets of fruits & spam. Note that this is not to be confused with the summertime 'Bamdokkaebi Markets' which pop up around Seoul at night (see below).
Location: Ssangmun Station (Exit 2) in Dobong
Season: year-round
Hours: 9am-11pm (most shops close by 9pm)
Hongdae Night Market on Weekends (홍대 시장)
While not a regular night market, in Hongdae every weekend there's a heavy flow of young people and a cacophony of Korean snacks & street food and both buskers & booths. Sometimes there are more organized pop-ups of art fairs or craft sales, but these are temporary extensions of the regular vendors which show up most days (along with buskers and performers on the weekends).
If you visit Hongdae for dinner beforehand, your first mission is to snag a table and order up some Korean barbecue, preferably samgyupsal (pork belly) or galbi (pork or beef ribs). After your meal, walk around the neighborhood shopping & people-watching, and settle in on a bench if it's nicer weather.
Location: Hongik University Station (Exit 8) in Mapo-gu
Season: year-round
Hours: most shops close by 11pm (earlier in winter)
Night Market Seoul Bamdokkaebi Locations
These unusual Seoul night market locations are all connected to the same group, which has been organizing them in different locations since 2015. While the most recent iterations were in only one spot, it's believed that the 2023 Seoul Bamdokkaebi Markets will return in four or five locations, with potential for a Christmas Market.
Cheonggyecheon Time Tour Market (청계천 타임 투어 시장)
Also sometimes held a block or two away as the Cheonggye Plaza Seasonal Night Market, this is one of the original locations for the bamdokkaebi night markets in Seoul. It's held near Gwangtonggyo Bridge, just above the famous greenery of Cheonggyecheon Stream, which cuts through the northern part of Seoul.
The name of the market refers to its general theme, which takes you back in time to enjoy traditional performances, games, and foods. The bright yellow tents which characterize the market can be seen on weekends from April to October, when the market opens in the evenings for visitors to enjoy the shows and grab street food, crafts, and locally-made clothing & gifts.
Often there are also themed photo booths set up, as well as free activities for kids. Each location of the bamdokkaebi markets is different with different timing, but the Cheonggyecheon iteration remains a local favorite.
Location: Gwanghwamun Station (exit 5), Jonggak Station (exit 5), or Euljiro 1(il)-ga Station (exit 2) in Jongno-gu
Season: April-October, sporadically (check website)
Hours: Saturday, 5pm-10pm & Sunday, 4pm-9pm
Yeouido World Night Market (여의도 밤도깨비 야시장)
Held on occasion during the warmer months in Yeouido Hangang Park, the so-named 'Seoul World Market' is the more internationally-themed of the dokkaebi markets. The emphasis is not really upon foreign-owned businesses, but rather celebrating cultures from around the world, especially when it comes to food.
While there are also regular performances, like at all the other dokkaebi night markets, most visitors come for the food trucks and the beautiful backdrop of the park. Many enjoy coming for an early dinner, then watching the sunset as they picnic. A few times a year, the market also plays host to a music festival, and on other weekends the area along the Han River features an array of street vendors & buskers, mostly young musicians.
Location: Yeouinaru Station (Exit 2) in Yeongdeungpo
Season: April-October, sporadically (check website)
Hours: Fridays & Saturdays, 6pm-11pm
Banpo Romantic Moonlight Market (반포 낭만 달빛 시장)
With the beautiful Banpo Bridge in the background, Banpo Romantic Moonlight Market is the most recent setting for the Seoul bamdokkaebi night markets, and the location for the last market of the 2022 season. In the coming year, Banpo Hangang Park is expected to be the setting of several more romance-themed markets, with particular popularity amongst young couples and foreigners.
There are Korean & international food trucks, handmade crafts & art pieces, and sometimes even a live performance or two. However unlike many of the other night markets covered here, this one is focused on all the elements of a good date night. So while families do attend, the balance definitely leans towards hand-holding and a long romantic stroll.
Location: Sinbanpo Station (Exit 1) in Seocho-gu
Season: April-October, sporadically (check website)
Hours: 6pm-11pm, Fridays & Saturdays
Oil Tank Culture Park Night Market (오일탱크 문화공원 야시장)
Though this hasn't been the location of a bamdokkaebi market since 2019, the Oil Tank Culture Park, which sort of close to the Hongdae neighborhood, is a very cool space to explore. For over 40 years it was closed off to the public, and eventually shut down as an oil depot in 2002.
By 2014, thanks to a push for urban regeneration, the government had turned it into an eco-friendly cultural space, with the five old oil tanks turned into performance spaces, exhibition halls, and a large pavilion. More recently they added a cafeteria and a large plaza, all of which is put to good use when the space is transformed into a night market.
Visitors are encouraged to come early and have a picnic on the plaza, explore the pop-up shops, and enjoy the scheduled & impromptu performances.
Location: World Cup Stadium Station (Exits 2 & 3) in Mapo-gu
Season: April-October, sporadically (check website)
Hours: 4pm-9pm, Fridays & Saturdays
Seoul Night Market Map