I have so many feelings about South Korea. Two weeks in Korea? Try three years. That's how long I've lived here by now, discovering the country's beautiful places and the people who live there. So while I could write a South Korea itinerary centered only on Seoul and Busan, maybe even Jeju, and most people would be perfectly happy, I'm not going to do that.
This country deserves so much more, and so do you. Even though there's no such thing as a perfect itinerary for Korea, the country is small enough that two weeks is enough time to adjust to the culture change and still have time to enjoy most everything. But if you only have 10 days in Korea (or even fewer), then I suggest you start in Seoul.
Starting with 4 days in Seoul, you can see the basics & build out your itinerary from there, as I mention in the South Korea sample itinerary section. So let's get to planning!

South Korea Travel FAQ
I've included a FAQ section including the most common questions I've been asked in the last 3 years, by friends, family, and complete strangers. Hopefully this answers the majority of your questions!
What is the currency in South Korea?
In Korea we use the Korean won (KRW), written as ₩ or 원 in Korean. ₩1000 is roughly equal to $0.85USD or ₱42. The won used in South Korea is different from the won used in North Korea.
How expensive is it to travel Korea?
This depends on your style of travel, but a mid-range budget for a solo traveler would be about $65USD per day. If you're willing to stay in cheap hostels, stick to more free activities in Seoul, and eat local foods, then you could get it down to maybe $40USD per day. So I'd say that traveling Korea is really quite affordable, though you can always upgrade your trip.
What language is spoken in Korea?
As you might expect, Korean people speak the Korean language, but many people in more urban areas also speak decent English, especially younger people. But the written language of Korea is called hangeul, and it's similar in number to the roman alphabet, but the appearance and pronunciation is different. You will not be able to read Korean unless you study some beforehand (if you're interested, I recommend Talk To Me In Korean).
How's the internet connection in South Korea?
The internet is generally great in Korea. You can find free public wifi in basically every major point of transit, tourism, and general town hub (even in my little countryside area). But if you want to be connected constantly, you can rent a wifi egg as soon as you land at the airport, or buy a pre-paid sim card for trips longer than a week (I recommend KT/Olleh sims; it's what I've used all three years here).
Is Korea safe to travel?
South and North Korea are technically still at war. That said, there is no sense that this is a country at war, as the last few decades have been relatively quiet on that front. In fact, Korea and Japan are two of the safest places I've ever been; the biggest peril I've ever felt is from potential alcohol poisoning (the drinking culture here is insane; the local liquor of soju is the most popular beverage in the world). I'd feel comfortable telling anyone they could walk around here at night, though unfortunately women should be extra vigilant with their drinking.
What's the best time to visit South Korea?
I agree with the general consensus that May, September, and October are the nicest months of the year, weather wise. They have nice sunshine, beautiful foliage, and outside of major holidays, they're light on domestic tourism. But if you want to find the shoulder season, come in April or June. They're either a bit colder or warmer than you might like, but the kids are still in school and the pollution will be less heavy than it would be in May or October. However, winter is food festival season in Korea, with coffee festivals and chocolate festivals happening across the country.
Preparing to Visit Korea
What should I wear in Korea during winter, spring, summer, and fall?
From mid-November to mid-March, it could definitely snow and you'll want a heavy winter jacket and some heat-retaining leggings for under your pants. From mid-March through early May & early October through mid-November, there's still the possibility of chilly nights. So bring pants and a jacket for the nights, and t-shirts for the days.
Pack more conservative tops, as showing your collarbones can be cause for staring, especially in smaller towns. Respect is very important in Korea. Early May through early October is a toss-up between extremely hot and warm with a breeze, but it will definitely be humid.
What do I need to bring to Korea?
Other than the basics you'd always pack for yourself, remember to bring higher-cut shirts, as Koreans are more conservative in their dress than most westerners. Women should be sure to bring tampons and pads, as there was recently an issue with domestic pads & tampons are extremely hard to come by. Many readers have told me that purchasing a sim card and attraction pass (like the Discover Seoul Pass) helped them make the most of shorter visits.
Do I need a visa to visit Korea?
Currently, 107 countries don't need to apply for visas before visiting Korea for 30 to 90 days. You can check if your country is one of those, and how long your visa lasts for, here. Common countries: USA (up to 90 days), Canada (up to 6 months), South Africa (up to 30 days), Malaysia (up to 90 days), Singapore (up to 90 days).
How can I get to & around Korea?
Since South Korea is on a peninsula off the southern coast of China, you have to fly in. Note that if you have a layover at Gimpo Airport for some reason, the airport closes each night from 12am-4:30am. Theoretically you could also arrive by boat from China or Japan, but that truly sounds like torture, especially after what happened with the Sewol Ferry in 2014. As for actually getting around Korea, that's a much easier question.
Getting between the cities is best done by bus, or train if it's a very popular route. Some people prefer to fly between Seoul, Busan, and Jeju. Within the major cities, buses and metro and taxi are all reliable and safe forms of transport (just make sure your taxi uses their meter). In smaller areas, buses and the occasional taxi are the way to go; taxis are very affordable in South Korea.
How long should you stay in Korea?
I think two weeks in Korea is ideal for getting a taste of the coast, the nature, and the overall urban lifestyle. But if you have less time, you can get a condensed version of all of that with just 5 days in Seoul (yes, even the beaches!). If you have fewer than 5 days, it will be tough to get a good sense of the culture and people and cuisine.
Which apps should I download before visiting Korea?
My most used apps have been: Kakao Talk (like Korean WhatsApp), Naver Maps (Google Maps is trash here, so you'll want to download this local equivalent), Google Translate (the speaking function is a lifesaver; just remember town download Korean offline), and a Seoul Subway App (mine is in Korean, but there are plenty out there in English).

South Korea DIY Itinerary Examples
The whole idea of this guide it to give you an idea of where to visit in Korea and how long you want to spend there. Tourism is on the rise in Korea, and having a unique experience is becoming more important than ever for visitors. So in true DIY spirit, here are some route examples for each of the following Korean itinerary lengths.
Korea Itinerary 2 Weeks
Seoul (Days 1-4)
Jeju (Days 5-7)
Busan (Days 8-9)
Suncheon area (Days 10-12)
Jeonju (Days 13-14)
See below for more information on each city.
Korea Itinerary 10 Days
Seoul (Days 1-4)
Jeju (Days 5-7)
Suncheon area (Days 8-10)
See below for more information on each city.
Click to check current hotel prices in Korea.
Korea Itinerary 7 Days
Seoul (Days 1-4)
Suncheon area (Days 5-7)
See below for more information on each city.
Korea Itinerary 5 Days
Seoul (Days 1-3)
Jeonju (Days 4-5)
See below for more information on each city.
Korea Itinerary 3 Days
Seoul. Just spend 2 days exploring all you can in Seoul, and then spend your middle day doing a day trip from the city, maybe to nearby Chuncheon.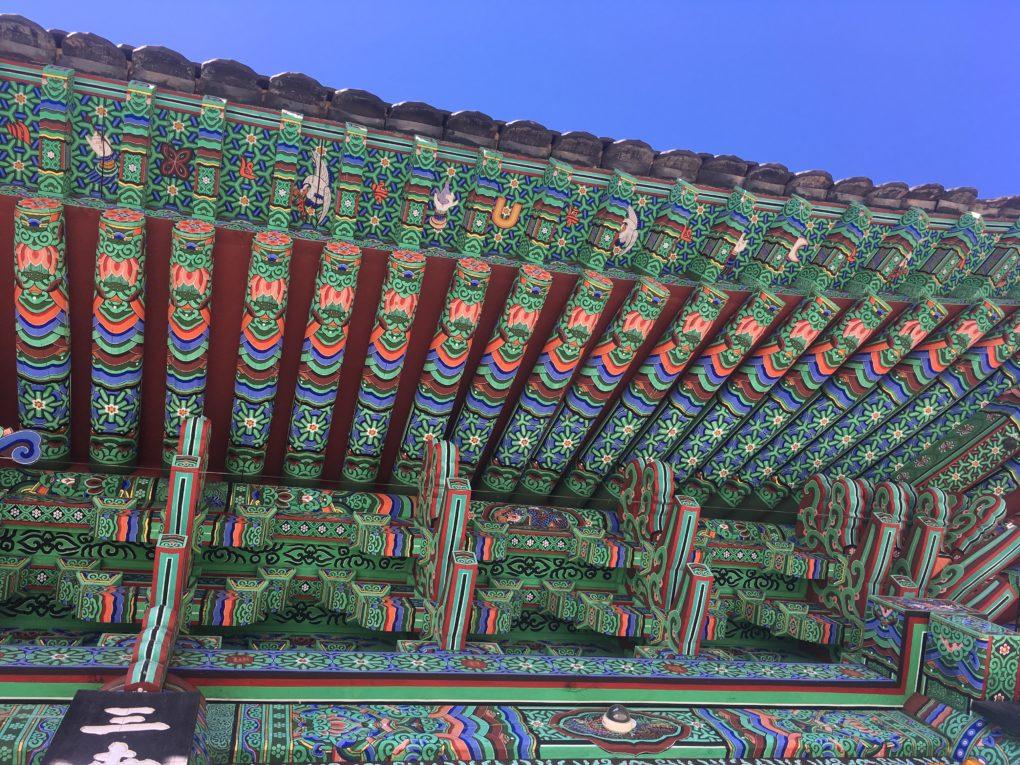 Where To Visit In South Korea
Seoul: the capitol city, the darling of K-Pop fans, and one of the most populous cities in the world. Seoul is not for the faint of heart, but for those who can handle serious crowds, Seoul can be most anything you want it to be. It's a great base from which to travel the rest of the country, or spend a week or so experiencing all of the different neighborhoods & their vibes. Seoul is great for culture, food, nightlife, and just about anything else you want in a trip to Korea, except for peace and quiet.
Busan: possibly best known outside of Korea for the movie Train To Busan, this port city is thought of domestically as the seafood and cinema capitol of the country. Even though it's incredibly urban in its own right, people also think of it as more laid back, with beach vibes and ocean views for days. Busan is perfect for seafood lovers looking to spend time at the beach and indulge in some cinematic activity.
Jeju: the Hawaii of Korea, as it's often called, Jeju is known for its beaches and seafood and nature. The entire island comes from a single volcanic explosion thousands of years ago, and you can actually see the peak of that volcano from any point on the island. Jeju is ideal for those looking to get a taste of Korean culture and cuisine, but with much more tranquility and beach vibes than you'd find anywhere on the mainland.
Jeonju: this lesser-known Korean destination is where Koreans go when they want to experience the "olden times" of Korea. Jeonju is one of the oldest cities in Korea, famous for its spicy bibimbap, traditional hanok houses, and many unique festivals. Come to Jeonju if you want to soak in a whole city happily dedicated to maintaining traditional Korean culture, one bowl of spicy bibimbap at a time.
Suncheon: truly off-the-beaten path, Suncheon is a gorgeous region full of flowers, agriculture, and stunning natural landscapes. Domestic tourists most often visit in the springtime to see the green tea fields & cherry blossoms, but Suncheon is also a great base from which to explore a few nearby cities. Visit Suncheon if you want to see a less-touristed side of Korea's natural beauty, with an emphasis on local agriculture.
CLICK A TAB BELOW TO READ A TRAVEL GUIDE FOR THAT CITY.
Click to check current hotel prices in Korea.
Budget For A Trip To South Korea
Of all the countries in East Asia, I'd argue that South Korea has become the most affordable to visit. There are many extremes to be found in the ROK (Republic Of Korea), a fact which extends to my daily life here over the last few years. Visitors could stay in super cheap dorm beds booked way in advance for about ₩12000 ($10USD) a night, eat street food for another $10USD a day, and otherwise spend money only on transportation. I wouldn't recommend it, but it's doable.
On the other hand, Seoul is a massive city with plenty of hotels always ready to take your money. $500USD a night hotel rooms aren't the norm, but they're there. The key is to find a balance, and if you're looking to travel Korea on a budget, then make a list of priorities. Do you most want a nice place to sleep? Fancy meals? Involved day trips?
Budget travel in Korea is 100% possible, but it takes planning. Korean coffee culture can be tough on the wallet, after all. So here's a rundown of the costs of traveling in Korea.
Note that this South Korea DIY itinerary covers such a wide range of days that the Korea travel budget below is a snapshot of how much you could spend in one day. My dad would call them "guesstimates." It also covers the cost of basic activities which most everyone would do. Remember to multiply this Korea travel budget by the number of days you'll be visiting us for!
POTENTIAL COSTS:
Visa Fee: ₩30000 (to check if you need a visa, click here)
Day Tours: ₩70000 (some day tours cost more, but these kids of trips include visiting the DMZ, Nami Island, and Jeju tours)
Each Trip To A New City*: ~₩30000 (one way; this is an average)
*Round Trip Airfare to Jeju: ₩80000 (if booked well in advance)
Decent Guesthouse: ₩25000
Meals & Snacks: ₩20000
Attractions & Activities: ₩10000
Transportation: ₩5000 (4 trips on the subway or bus)
Souvenirs & Cafes: ₩5000 (coffee or tea)
Average Cost Per Day: ₩65000
11 South Korea Travel Tips
Metros aren't very accessible but the buses and taxis are. So if you're in a hurry or disabled, then you should take a taxi. They're very cheap and fast, though during rush hour they'll take as long as the metro. Most shops (like Korean chocolate shops) are clustered right around metro shops anyway, so even if your driver doesn't speak much English you can tell them the name of the metro station closest to where you're going.
Korean winters are not for the faint of heart. My friends from Vietnam visited me last winter and spent their first day alone— they were shivering for hours after we came inside. Even my sister was not very happy with all the snow over New Year's when she visited a few years ago. It can get brutal, thanks to winds coming down from Siberia.
Also not for the faint of heart, entitled old people. They will push you, publicly and without shame if they think you're in their way. I understand that they act this way because they don't think young people respect their elders like they should, and they don't, in my opinion. But no matter how you think, it is something to be aware of.
Pollution is horrible. Sometimes the skies aren't as bad, but spring 2018 and winter 2019 were particularly harsh, with many days seeing pollution levels as high in Seoul as in Beijing, China. Bring a mask, or buy one.
Korea is basically a cashless society, except for in the markets. This means that you can use your credit card most everywhere, but international cards aren't always accepted, so still keep some cash on hand.
Along similar lines, in Korea you should expect late nights and late mornings. Cafes, restaurants, and shops are open very late, usually between 10pm and midnight, but rarely open before 11am. If you want morning coffee if Korea you'll have to either be at the airport or grab canned coffee from a convenience store.
Even though it's a more developed country, Korea has their share of travel scams. One of the most common is the fortune teller scam, in which a woman stops you on the street and offers to take you to have traditional experiences, only to scam you out of money. Either way, if someone stops you on the street, 95% of the time they want your money or to convert you. NYC rules apply.
Look up. If you're looking for an office or guesthouse or restaurant, and you'd swear you're at the right address, just look up. It's probably just on a much higher floor, like the 11th or 32nd.
However, when you do look up, don't make eye contact unless you want to start a conversation or get stared at as you walk away (though that might happen anyway, in the countryside).
Hospitals are for everything, even if you're a visitor with a cold. The hospital is like the doctor's office, and in small towns like mine, they're open 9 to 5 like everything else.
Always count to 5 before crossing the street, because without fail, at least once a week I watch someone go after the light turns red, be it a car or a motorbike. Better safe than sorry.
Basic Korean Phrases For Your Trip
Hello // An-nyeong-ha-se-yo. (안녕하세요.)
Thank you // Gam-saahm-ni-da. (감사합니다.)
How much is it? // Eegaw eol-ma-yeh-yo? (이거 얼마예요?)
Do you speak English? // Yeong-aw jal-hae-yo? (영어 잘해요?)
I don't speak any Korean. // Han-guk-aw jal-moat-hae-yo. (한국어 잘못해요.)
One of these, please. // Ee-gaw ha-na ju-say-yo. (이거 하나 주세요.)
It's to-go/takeout. // Po-jahng ee-eh-yo or Tae-ee-kow-shi-yay-oh. (포장 이예요.)
Lesson complete! Check out my post on Learning Korean to get even more basics down— now let's get packing.
---
Did this post help you plan your trip? Save it on Pinterest so that it can help others, too!