This two weeks in South Korea itinerary is based on my three years living in Korea, discovering the country's beautiful places and the people who live there. Since I left, I've also been back to visit several times, most recently last year.
So while I could write a South Korea 10 day itinerary or 14 day itinerary centered only on Seoul and Busan, maybe even Jeju, I'm not going to do that. This country deserves so much more attention to detail, and so do you. So this guide actually covers five different cities in Korea to check out on your visit.
Even though there's no such thing as the perfect itinerary for Korea, the country is small enough that two weeks is enough time to adjust to the culture change and still have time to enjoy most everything. But if you only have 10 days in Korea (or even fewer), then I highly suggest you start in Seoul for 4 days, at least.
Starting with 4 days in Seoul, you can see the basics for tourists & build out your itinerary from there, as I mention in the South Korea sample itinerary section. So let's get to planning!
Buy a PDF Version of This Post!
Planning Vacations in South Korea (2023 Update)
Those of you looking to visit South Korea are probably as confused by all the changes as I was before I visited again in 2022. The Korean government has been as wishy-washy with their pandemic policies as those in most of the other heavily-touristed countries in Asia have been.
But as of November 2nd, 2023, masks are still required in medical settings like hospitals but are NO LONGER REQUIRED in all other indoor public places, including on public transport (though some people continue to wear them).
Here are the documents you need to visit Korea as a tourist:
K-ETA (Korean Electronic Travel Authorization, applied for at least 72 hours before departure) OR Visa to visit Korea (countries which previously had a visa exemption now need to apply for a K-ETA). From April 1, 2023 to December 31, 2024, passport holders from 22 countries will also temporarily NOT need a K-ETA or visa to visit Korea (includes: Australia, Austria, Belgium, Canada, Denmark, Finland, France, Germany, Hong Kong, Italy, Japan, Macao, Netherlands, New Zealand, Norway, Poland, Singapore, Spain, Sweden, Taiwan, UK, US (including Guam)). If you're a valid ABTC card holder (APEC card), you are not required to apply for a K-ETA [excluding Americans & Canadians].
Q-Code (can also be filled out upon arrival): visitors need to fill out information for the Korean quarantine system, known as Q-Code. Note that all travelers are now allowed in regardless of vaccination status, but you do need to have filled out your Q-Code before going through immigration.
If for some reason you need to take a covid test in a South Korea airport, the cost of a covid test in Incheon Airport is currently ₩80,000 ($60USD), with some options within Seoul as inexpensive as ₩65,000 ($50USD). There's no testing requirement to leave South Korea, but you may be required to take a test in order to move on and enter your next destination or home country.
South Korea Travel FAQ
I've included a FAQ section including the most common questions I've been asked in the last 3 years, by friends, family, and complete strangers. Hopefully this answers the majority of your questions!
What is the currency in South Korea?
In Korea we use the Korean won (KRW), written as ₩ or 원 in Korean. ₩1000 is roughly equal to $0.75USD or ₱43. The won used in South Korea is different from the won used in North Korea.
How expensive is it to travel Korea?
This depends on your style of travel, but a mid-range budget for a solo traveler spending 10 days in South Korea would be about $65USD per day. If you're willing to stay in cheap hostels, stick to more free activities in Seoul, and eat local foods, then you could get it down to maybe $40USD per day. So I'd say that traveling Korea is really quite affordable, though you can always upgrade your trip, and the longer you stay the cheaper it will be per dium.
What language is spoken in Korea?
As you might expect, Korean people speak the Korean language, but many people in more urban areas also speak decent English, especially younger people. But the written language of Korea is called hangeul, and it's similar in number to the roman alphabet, but the appearance and pronunciation is different. You will not be able to read Korean unless you study some beforehand (if you're interested, I recommend Talk To Me In Korean).
How's the internet connection in South Korea?
The internet is generally great in Korea. You can find free public wifi in basically every major point of transit, tourism, and general town hub (even in my little countryside area). But if you want to be connected constantly, you can rent a wifi egg as soon as you land at the airport, or buy a pre-paid sim card for trips longer than a week (I recommend KT/Olleh sims; it's what I've used all three years here).
Is Korea safe to travel?
South and North Korea are technically still at war. That said, there is no sense that this is a country at war, as the last few decades have been relatively quiet on that front. In fact, Korea and Japan are two of the safest places I've ever been; the biggest peril I've ever felt is from potential alcohol poisoning (the drinking culture here is insane; the local liquor of soju is the most popular beverage in the world). I'd feel comfortable telling anyone they could walk around here at night, though unfortunately women should be extra vigilant with their drinking.
What's the best time to visit South Korea?
I agree with the general consensus that May, September, and October are the nicest months of the year, weather wise. They have nice sunshine, beautiful foliage, and outside of major holidays, they're light on domestic tourism. But if you want to find the shoulder season, come in April or June. They're either a bit colder or warmer than you might like, but the kids are still in school and the pollution will be less heavy than it would be in May or October. However, winter is food festival season in Korea, with coffee festivals and chocolate festivals happening across the country.
What should I wear in Korea during winter, spring, summer, and fall?
From mid-November to mid-March, it could definitely snow and you'll want a heavy winter jacket and some heat-retaining leggings for under your pants. From mid-March through early May & early October through mid-November, there's still the possibility of chilly nights. So bring pants and a jacket for the nights, and t-shirts for the days.
Pack more conservative tops to take to Korea, as showing your collarbones can be cause for staring, especially in smaller towns. Respect is very important in Korea. Early May through early October is a toss-up between extremely hot and warm with a breeze, but it will definitely be humid.
What do I need to bring to Korea?
Other than the basics you'd always pack for yourself, remember to bring higher-cut shirts, as Koreans are more conservative in their dress than most westerners. Women should be sure to bring tampons and pads, as there was recently an issue with domestic pads & tampons are extremely hard to come by.
Many readers have told me that purchasing a sim card and attraction pass (like the Discover Seoul Pass) helped them make the most of shorter visits, and those are simple things to arrange in advance and take to Korea.
Do I need a visa to visit Korea?
While there are still 112 countries whose citizens don't need to apply for visas before visiting Korea for 30 to 90 days, as of September 2021, ALL visitors from those approved countries still need to have an approved K-ETA before arriving in Korea, even if you just have a long layover in Incheon.
K-ETA stands for Korea-Electronic Travel Authorization. You can check if yours is one of those visa-exempt, countries and how long your visa lasts for, here. Common countries: USA (up to 90 days), Canada (up to 6 months), South Africa (up to 30 days), Malaysia (up to 90 days), Singapore (up to 90 days).
But remember, even if you don't need to apply for a visa, from now on you do still need to apply for a K-ETA, which is good for two years form the date of approval. If you already need to apply for a visa, you do not need to apply for a K-ETA.
How can I get to & around Korea?
Since South Korea is on a peninsula off the southern coast of China, you have to fly in. Note that if you have a layover at Gimpo Airport for some reason, the airport closes each night from 12am-4:30am. Theoretically you could also arrive by boat from China or Japan, but that truly sounds awful to me.
As for actually getting around Korea, that's a much easier question. Getting between the cities is best done by bus, or train if it's a very popular route. Some people prefer to fly between Seoul, Busan, and Jeju, though you can also go via bus & boat.
Within the major cities, buses and metro and taxi are all reliable and safe forms of transport (just make sure your taxi uses their meter). In smaller areas, buses and the occasional taxi are the way to go; taxis are very affordable in South Korea.
How many days in South Korea is enough?
I think two weeks in Korea is ideal for getting a taste of the coast, the nature, and the overall urban lifestyle. But if you have less time on you vacation in South Korea, you can get a condensed version of all of that with just 5 days in Seoul (yes, even the beaches!).
If you have fewer than 5 days, I really do think it will be tough to get a good sense of the culture and people and cuisine.
Which apps should I download before visiting Korea?
My most used apps have been: Kakao Talk (like Korean WhatsApp), Naver Maps (Google Maps is trash here, so you'll want to download this local equivalent), Google Translate (the speaking function is a lifesaver; just remember town download Korean offline), and a Seoul Subway App (mine is in Korean, but there are plenty out there in English).
South Korea Trip Itinerary Examples
The whole idea of this guide it to give you an idea of where to visit in Korea and how long you want to spend there. Tourism is on the rise in Korea, and having a unique experience is becoming more important than ever for visitors.
So in true DIY spirit, here are some route examples for a 2 weeks in Korea itinerary or less, for each of the following lengths.
South Korea Itinerary 14 Days
Seoul (Days 1-4)
Jeju (Days 5-7)
Busan (Days 8-9)
Suncheon area (Days 10-12)
Jeonju (Days 13-14)
See below for more information on each city.
South Korea Itinerary 10 Days
Seoul (Days 1-4)
Jeju (Days 5-7)
Suncheon area (Days 8-10)
See below for more information on each city.
Click to check current hotel prices in Korea.
South Korea Itinerary 7 Days
Seoul (Days 1-4)
Suncheon area (Days 5-7)
See below for more information on each city.
South Korea Itinerary 5 Days
Seoul (Days 1-3)
Jeonju (Days 4-5)
See below for more information on each city.
South Korea Itinerary 3 Days
Seoul. Just spend 2 days exploring all you can in Seoul, and then spend your middle day doing a day trip from the city, maybe to nearby Chuncheon.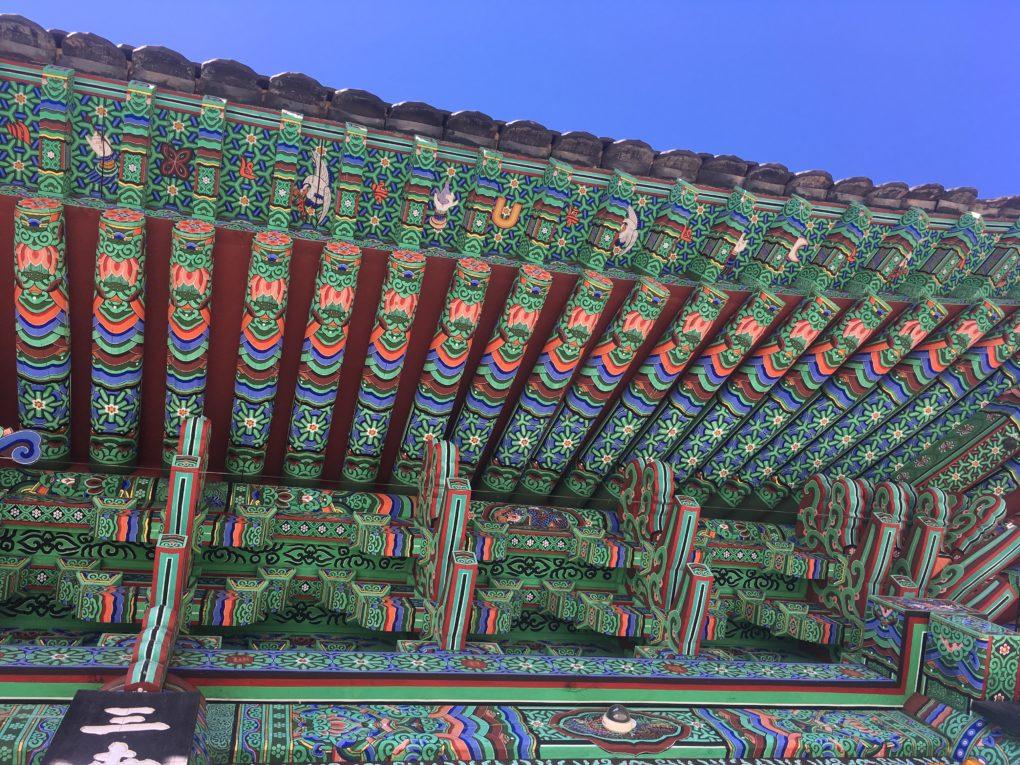 Where To Visit In South Korea
Seoul: the capitol city, the darling of K-Pop fans, and one of the most populous cities in the world. Seoul is not for the faint of heart, but for those who can handle serious crowds, Seoul can be most anything you want it to be.
Almost everyone planning South Korea vacations will end up either starting or ending here, and they're lucky to do so. It's a great base from which to travel the rest of the country, or even spend a week or so experiencing all of the different neighborhoods & their vibes.
Seoul is great for culture, food, nightlife, and just about anything else you want in a trip to Korea, except for peace and quiet.
Busan: possibly best known outside of Korea for the movie Train To Busan, this port city is thought of domestically as the seafood and cinema capitol of the country.
Even though it's incredibly urban in its own right, people also think of it as more laid back, with beach vibes and ocean views for days. Busan is perfect for seafood lovers looking to spend time at the beach and indulge in some cinematic activity.
Jeju: the Hawaii of Korea, as it's often called, Jeju is known for its beaches and seafood and nature. The entire island comes from a single volcanic explosion thousands of years ago, and you can actually see the peak of that volcano from any point on the island.
Jeju is ideal for those looking to get a taste of Korean culture and cuisine, but with much more tranquility and beach vibes than you'd find anywhere on the mainland.
Jeonju: this lesser-known Korean destination is where Koreans go when they want to experience the "olden times" of Korea. Jeonju is one of the oldest cities in Korea, famous for its spicy bibimbap, traditional hanok houses, and many unique festivals.
Come to Jeonju if you want to soak in a whole city happily dedicated to maintaining traditional Korean culture, one bowl of spicy bibimbap at a time.
Suncheon: truly off-the-beaten path, Suncheon is a gorgeous region full of flowers, agriculture, and stunning natural landscapes. Domestic tourists most often visit in the springtime to see the green tea fields & cherry blossoms, but Suncheon is also a great base from which to explore a few nearby cities.
Visit Suncheon if you want to see a less-touristed side of Korea's natural beauty, with an emphasis on local agriculture.
Seoul
What Seoul Is Known For
For a more in-depth look at Seoul, check out my massive Seoul Guide.
Seoul has everything you could want in a destination. It's one of the biggest cities in the world, and despite being the center of international cultures in Korea, it's still very much culturally Korean. It's for this reason that I think Seoul is the perfect place to put at the beginning of your Korea itinerary.
You'll probably arrive here, anyway, since Incheon Airport is one of Asia's biggest transport hubs. Many people even plan a Seoul itinerary for 10 days for a taste of the Korean dishes which have become so popular around the world.
Others come for the world-class shopping and cosmetics selection, or even for medical tourism. But I think that the most worthy reasons to write Seoul into your Korean itinerary are the natural beauty, historic temples, and little cultural quirks which all add up to an ambiance that's purely Korean.
What To See In Seoul
I won't list out everything you can do or see in Seoul, since that could fill a whole book (and probably has). But here are 7 things you can't miss seeing in Seoul, since 7 is a lucky number here. Click here for more ideas of what to do in Seoul, with entrance fees, Korean translations, and hours.
Go to the spa. The spa, or sauna, is an important pastime for Koreans of all ages, and it's most common to go on the weekends as a family. A Korean sauna, however, is divided by gender and has you completely naked.
While you could visit a sauna in most any city in Korea, Seoul is going to have the most options for different types of baths and treatments, and it's going to be the most foreigner-friendly. I highly recommend Itaewon Land Spa.
Walk to Namsan Tower. This landmark is rather characteristic of Itaewon and the whole HBC area, located in central Seoul and considered the international hub of the city. Namsan Tower is set in a very green park, and right around the tower itself is a temple and a gate with "love locks" attached to it, but the Tower is best known for having an amazing view of the city.
It's a bit of a walk from Itaewon's downtown area, but there's a bus if you get tired, and a cable car to take you to the top. I think the view is just as good from the cafe right before the top floor, so I wouldn't recommend paying for the cable car.
Visit Gyungbokgung, one of the 5 royal palaces in Seoul. Of the 5, Gyeongbokgung is the most accessible by public transportation, located just outside of a subway stop. I also think it's the most beautiful, but I've had the chance to visit in both fall and spring.
Those are the seasons when the colors of the palace grounds come to life; in summer and winter it's a bit less colorful. The grounds of Gyeongbongung are large, but you could spend anywhere from twenty minutes to two hours exploring each corner of the grounds.
Sing in a Noraebang. Literally translated as "song room," noraebang are the quintessential nighttime activity of the Korean public. In English we usually know then by the Japanese name karaoke.
From middle school onward, on any given night you can find a noraebang full of Korean students hanging out with friends, or adults drinking with co-workers or family. In Seoul it's easy to find either coin noraebang, in which you pay per song, or regular noraebang, in which you rent a room by the hour & buy snacks.
Hike Bukhansan. Just a half hour north of Seoul is one of Korea's many national parks. Hiking is a national pastime, so every day of the week you'll see groups of older people geared up for a trip up Bukhansan. On the weekends there are visitors of all ages, usually ending their hikes with a picnic and drinks at whichever peak they decide to stop on.
Explore Gana Art Center. Gana is known across Seoul for its beautiful think pieces. Amidst all the traditional Korean food and aesthetics of northern Seoul, walking around Gana Art Center gives you a different perspective on the current events in Korea.
Luckily, you don't have to speak any Korean to get the gist of real art, though it may be helpful to know some about Korean culture in order to get the full impact. The permanent exhibits are free, but you may have to pay to enter the special exhibits.
Wander Bukchon Hanok Village. A hanok is a traditional Korean house, a small building with a thatched roofs and beautiful painted walls & roof. In the spring and fall the foliage creates a stunning backdrop for photos, so that's the perfect time to enjoy the village in traditional garb.
Note that Bukchon Hanok Village doesn't actually close, but between the hours of 11pm and 5am there's nothing going on.
What To Eat In Seoul
In case you only have a few days in Seoul, this is where you'll get to sample a range of uniquely Korean foods. And hopefully also visit some of Seoul's dozens of delicious chocolate shops. So while you're in Seoul, be sure to look out for these top 5 Korean foods, particular to the country, but not to any specific region.
Japchae (잡채). A noodle dish containing thinly chopped vegetables, sweet potato starch noodles, and sometimes a little bit of meat. It's great served warm as a main dish, but it's often served as a side dish, tossed in sesame oil and soy sauce.
Hoddeok (호떡). This cinnamon sugar-filled fried rice cake is my absolute favorite treat. It's one of the few traditional sweets in Korea, but it's most easily found in the colder months, from October to April (I'd recommend you get it in the neighborhood of Insadong).
Samgyupsal (삼겹살). This is Korean pork belly, the most popular meat of choice in the country. It's just one of many types of meat you can have for Korean barbecue, which is basically a particularly communal style of cooking meat in the center of a table. If this is your only trip to Korea, you need to try this before you go!
Mul Nangmyeon (물냉면). Translated as "water cold noodles," this chilled dish is made with buckwheat flour, and served with sliced cucumber & half a boiled egg on top. The dish is made with a meat broth and most commonly eaten right after barbecue, preferably with meat hot off the grill.
Samgyetang (삼계탕). Quite possibly my favorite Korean meal, samgyetang is basically Korean chicken soup. The main part of the dish, thought be very healthy, is a whole chicken stuffed with rice and a bit of ginseng, jujubes, & ginko beans. You eat these with the side dishes and the meat & soup, after you dip it in the salt they serve on the side.
Buy a PDF Version of This Post!
Where To Stay In Seoul
There are hundreds of lovely guesthouses and hotels throughout Seoul, and there are equally as many crappy ones. Most egregiously, some of them are both expensive and crappy. So here's my selection for the three best places to stay in Seoul. Each spot is centrally located, high quality, and foreigner-friendly. These are listed in order from least expensive to most expensive.
Budget: G Guesthouse
There's a reason this is always the recommended guesthouse in Itaewon. Not only does it always come in under budget, but the facilities are clean, the staff is helpful but unobtrusive, and the beds are comfortable. They even provide towels, a luxury not as common as you'd like.
Although you can't control what other guests do or what time they come back, my friends & I have always found that G provides a quieter environment for late-night entries than the other hostels in the area. Pro tip: the kebab place just down the street has the best kebabs in Seoul hands-down.
Mid-Range: Solaria Nishitetsu Seoul
Voted a traveler's favorite in 2017, Solaria Nishitetsu is part of a Japanese hotel chain which combines comfort & convenience at a reasonable price. Guests love the huge rooms and large, firm beds, a real find in the heart of Myeongdong.
Because of its popular with business travelers, there are lots of harder-to-find amenities for digital nomads and other business people on-the-go, like work spaces and less-expensive single rooms.
Luxury: Signiel Seoul
Located in the top floors of Lotte Tower, Signiel is truly in a league of its own. Its sauna, gym, and pool facilities are world-class, with a staff and suites to match. Each room has a spa-style bathroom and a cozy place to rest your head, in addition to their unparalleled views of the city.
There are even free drinks and appetizers for guests in the hotel lounge, at all times of day. The Signiel is truly the place to get pampered, perfect for those looking for a honeymoon hotel.
Busan
What Busan Is Known For
For a more in-depth look at Busan, check out my massive Busan Guide.
Even though it's the second-largest city in Korea, and a metropolis in its own right, Busan doesn't get a lot of love from tourists. Most people think of it as a smaller version of Seoul, with a lot of the same cultural attractions but just harder to get to.
They have a point; Busan and Seoul are both massive port cities with cosmopolitan & hipster neighborhoods, alike. However, I'd argue that the feel of a place and its unique natural landscape plays a big role in your experience there.
In that regard, Seoul and Busan are more comparable to LA and San Diego. Seoul has glitz & glamour and a little of everything, while Busan has a more relaxed ocean-side vibe with lots of fresh seafood & quick flights to neighboring Japan.
As one of Korea's most popular weekend destinations, 3 days in Busan is plenty to see the city's highlights and get a feel for the ancient seaside temples, the beaches, and the local importance of cinema.
What To See In Busan
I won't write up everything you can do or see in Busan, since that'd take hours for you to pour through. So here are 7 things you can't miss seeing or doing in Busan (since 7 is a lucky number). Click here for more ideas of what to do in Busan, with entrance fees, Korean translations, and hours.
Lounge on Haeundae Beach. Undoubtedly the most popular beach in Korea, Haeundae is always packed in the summer, especially with families. But public schools don't actually let out until mid-July, so if you time your visit well, you may just have a patch of sand to yourself. Note that beaches are only open for swimming from June to August.
Skip down Cheongsapo Daritdol Skywalk. This unique attraction has become quite popular over the last few years. It's basically a see-through bridge out over the ocean, perfect for showing off the ocean without you having to get in it. There's also an observatory in the area, one of just 3 in the city. The skywalk is located a short walk from Haeundae Beach.
Explore Busan Cinema Center. As home to the Busan International Film Festival, which is held each fall, this is a great introduction to the film culture for which Busan is famous within Korea. The center has 3 buildings containing theatres of varying sizes, each offering daily tours & lectures. There are restaurants and cafes on-site.
Have a photoshoot in Gamcheon Culture Village. Probably the most popular photo backdrop in all of Busan, "GMC" has become known as a sort of Korean Cinque Terre. The calming blue houses look right out over the ocean, and are actually still people's homes.
You'll see many an older person drying their laundry on their balconies and chatting on rooftops on sunny afternoons, so remember to stay respectful of the residents.
Have a meal at Jagalchi Market. This is the largest open-air seafood market in Korea, often compared to Noryangjin Market in Seoul. It's actually become so famous that each October the city holds the Jagalchi Cultural Tourism Festival.
But even if you can't make it on time for the festival, seafood lovers will have a blast walking through the market and exploring the diverse sea life found in Busan's waters. The entire first floor is a wet market, while restaurants and the like are found on floors 2-7.
Wander the grounds of Taejongdae. Of all the things to do in Busan, this is by far one of my favorites. Equal parts resort & park, Taejongdae has become famous for its beautiful views and colorful tourist train.
The area's temples are accessible within an hour's walk, but even right around the entrance you can hike down and reach the shore in less than 10 minutes. Basically no matter where you go on the grounds, you'll find a great view. Note that while it's free to enter the grounds, this is likely to take up half of your day since it's so far south of downtown.
Watch sunrise at Haedong Yonggungsa Temple. In case you don't have the time to spare for a visit to Taejongdae, this is your alternative glimpse at Korea's ancient seaside temples. Most of Korea's temples are in the mountains, offering tranquility and spectacular views of life below.
But Haedong offers a broader view of the life going on below, focusing on the deep blue sea rather than countryside valleys. Some people come here to watch the sunrise, which is a spectacular choice considering it's on the east coast & opens at 5am!
What To Eat In Busan
Busan is not a city for vegetarians or non-adventurous eaters, unless you're looking for chocolate in Busan, that is. The region's most famous foods are definitely of the sea variety, and thus, so are most of these 5 foods you should try in Busan. I have included a couple of land-based options for those who aren't into eau de ocean, however.
Sannakji: likely one of the most famous Korean foods, sannakji is often translated as "live baby octopus." Cut & served immediately after being pulled from the water, sannakji are squirted with sesame oil & acidic fruit juices, making the tentacles continue to move around for minutes after death.
Haemul Pajeon: this is a seafood pancake, basically, but a Korean version (made with rice flour). They usually include tiny octopus, and are especially popular as a drinking snack, though many people come to Busan's fish markets to enjoy them with family and friends.
Busan Jokbal: I don't think I've ever met a Korean who didn't like this dish. The jokbal, or pig's feet, are cooked in a sweet cinnamon & honey mixture which reminds me of spiral-cut ham on Christmas. They're then served cut-up and ready for eating; the meat is fatty and rich, so don't knock it 'til you try it.
Dwaeji Gukbap: this is a very hearty pork-based stew, prepared by slowly boiling pork bone into a broth & adding tender little pork bits. It's served with rice and side dishes; you plop the rice into the stew and then eat it with side dishes of your choosing. It's popular year-round, but is a must-try in winter.
Mulhoe: hoe literally means raw seafood, while mul means water. Mulhoe is therefore a raw fish soup, served cold & spicy with a variety of noodles and veggies. I'd only recommend it if you're eating somewhere right off the coast, like in Busan's Jagalchi market.
Where To Stay In Busan
Domestically, Busan is just as much of a tourist destination as Seoul is, since most of the people who travel around regularly are actually coming from Seoul. So Busan has hundreds of quality guesthouses, and probably an equal number of not-so-great ones.
So here's my selection for the 3 best places to stay in Busan, because there's no reason to suffer through a crappy, expensive hotel. Each of these spots is centrally located, high quality, and foreigner-friendly. These are listed in order from least expensive to most expensive.
Budget: The Bay Guesthouse
The Bay has become my go-to guesthouse in the warmer months, just 3 minutes from the beach & 2 minutes from the metro. It's centrally located, the beds are large & comfortable, and the style is as a cross between a capsule hotel and a more typical hostel.
Every morning the manager even cooks breakfast for the guests, and there's coffee brewed in the dining room.
Mid-Range: Stanford Inn Busan
Stanford Inn is a relatively new addition to Busan's "affordable luxury" lineup. But in the few years since it's opened its doors, guests have been very impressed with the high quality of the rooms & breakfast buffet.
Port-side suites garner the most praise, with guests impressed by the view and the proximity to the metro, just a few blocks in either direction.
Luxury: Lotte Hotel
Though best known internationally for department stores & perishables, domestically Lotte is known for offering a variety of luxury experiences; this includes their chain of hotels. Each suite in Lotte Hotel offers big fluffy beds and a spacious bathroom, as well as a bevy of modern furnishings.
Lotte Hotel is especially popular with families, thanks their reputable spa & restaurant facilities.
Click to check current hotel prices in Korea.
Jeju
What Jeju Is Known For
For a more in-depth look at Jeju, check out my massive Jeju itinerary & guide.
A few days after one of my trips to Jeju, a Korean friend told me he was jealous that I went without him, because Jeju is his "stereotype of a beautiful place." Well to be honest, it's mine, too. Jeju is breathtaking in the spring & fall, and somehow a haven from the mainland's overwhelming weather in winter & summer.
The route from Seoul's Gimpo Airport to Jeju is actually the most traveled route in the world. That's how much Koreans love visiting this idyllic little island off their southern coast. But tourists? Not so much. Every time I visit Jeju, mine is one of the very few foreign faces I see.
But Jeju Island has so much to offer, from gorgeous hikes to unique local foods, that there's no reason it shouldn't be on every South Korea travel itinerary. Jeju is the place for you if you love exploring natural beauty, learning about sea life, and relaxing seaside.
What To See On Jeju
There is such an incredible number of things to do on Jeju, in every season, that you could spend hours researching. But to give you an idea of some of the many things you can do across the island, here are 7 things you should do or see on Jeju Island. Click here for more ideas of what to do on Jeju, with entrance fees, Korean translations, and hours.
Pose in Love Land (erotic museum). This is often one of the most unexpected sites to find in Korea: a park full of penises & other various erotic sculptures. The park was opened in 2004 by a group of art students from Seoul's prestigious Hongik University, and since then the park has been a surprising success, where selfies abound. Note that you must be at least 18 to enter the park.
Watch sunrise at the top of Seongsan Ilchulbong. Is this in Korea or the Highlands of Ireland? The immensity of the green and the brightly colored flowers that greet you in the spring could very well distract you from ever climbing to the top of Seongsan.
From the hike to the viewpoint, horseback riding, and boating, you could easily spend half a day here. If you're lucky, this is also where you'll catch site of some of Jeju's famous women divers, though you may see some on the walk over.
Hike around Seopjikoji. Just across from Seongsan Ilchulbong is Seopjikoji, an area famous for being the filming location for several dramas, and just a stunning place in general. The stairs built into & walking trails leading along the cliffs can get a bit crowded on weekends in the summer.
But if you get too hot, there's also a sea side restaurant at the top of the climb. Seopjikoji's most gorgeous scenes are in the spring, when the hills are vibrant green and dotted with bright yellow canola flowers.
Stare in awe at Jeongbang Waterfall. Jeongbang's claim to fame is that it's the only waterfall in Asia to fall directly into the ocean. It's honestly a cool sight to see, basically from the parking lot, making it my pick for the best waterfall in Jeju.
There's even a tiny beach in front of it, just before the vast ocean extending way beyond. The shops just along the parking lot will also be selling souvenirs, oranges, and Jeju chocolates.
Walk the Jusangjeolli Lava Cliffs. Often compared to Giant's Causeway in Northern Island, Jusangjeolli is another act of nature bestowed upon Jeju by the volcano from which it was forged. Less than 5 minutes from the parking lot, the cliffs are deep grey rectangular formations jutting out into the ocean.
It almost looks as if they were formed by a child slowly stacking blocks. They're quite the popular photo spot, and certainly worth a stop, though lines for selfies can get long on weekends.
Bathe in Sanbangsan Carbonate Springs. This will be one of the strangest experiences of your life, if you've never been to a Korean sauna. Everybody here is separated by gender, and then strips themselves buck naked. It takes some getting used to, but when you do, it's glorious. These hot springs are divided by each temperature and healing properties, making for a very soothing way to spend an evening.
Sip on a cup of tea at O'Sulloc Tea Fields & Museum. The museum is tiny, but if you came to the fields for the tea products, then this is your spot. The aforementioned museum is attached to a massive cafe serving up a variety of teas from their farm, plus coffee and desserts.
The entire complex is located next to a cosmetics shop & a second cafe. But the best part for most people will be the tea plantation itself, situated across the street from the museum, and laid out with pictures in mind.
What To Eat In Jeju
Like all other provinces and cities in Korea, Jeju has a few foods it's famous for, but unlike most of those other regions, Jeju is famous for them because they're actually grown there. A few of these products have turned into a whole range of foods, all focused on that one crop. Take a look.
Abalone (Sea Snails). I know the translation doesn't sound very appetizing, but abalone are actually shellfish, more like oysters than snails (but don't go looking for any pearls). They're one of the many sea foods caught by the women divers of Jeju, and are caught & served fresh daily. Local favorites are abalone rice porridge and grilled abalone.
Black Pork. This is meat from a specific type of pig raised mainly on Jeju Island, and I find it to be a softer & more flavorful version of the meat found on the mainland. If you're looking for easy pickings of a variety of black pork restaurants, check out Black Pork Street in Jeju City.
Hallabong (those big oranges grown throughout the island). The season for hallabong is actually winter time, but some of the groves manage to grow oranges year round. So you'll see these thick-skinned beauties for sale in boxes along the side of the road, and at gift shops in most of the major tourists sites. Keep an eye out specifically for hallabong tea.
Green Tea Anything. Home to the well-known O'Sulloc tea fields, you'll see green tea-flavored things for sale throughout Jeju. But nowhere is there a higher concentration of tea-flavored items than at the O'Sulloc tea museum, itself, which is profiled above.
Peanut Ice Cream. Depending on where you get it from, the cream flavor can be more or less intense, and the ice crystals can be very strong. But peanuts are actually grown on Udo, an island off the coast of Jeju, making it a truly local food. Though honestly, most people just buy it for the cute pictures.
Buy a PDF Version of This Post!
Where To Stay On Jeju
Since so much of the Island's economy depends upon tourism, you'll have your pickings of Jeju accommodation, especially in Jeju City and the southern city of Seogwipo. But there are some hidden gems, so allow me to shine light on 3 of the best places to stay on Jeju. Each spot is centrally located, high quality, and foreigner-friendly. These are listed in order from least expensive to most expensive.
Budget: Yeha Guesthouse
Seoul is famous for their inexpensive accommodation, but Jeju City really puts up a fight. Yeha is the best choice for backpacking or budget-minded visitors, with a solid 9/10 rating for their dorm beds, and a good connection to island's public transporation.
To top it all off, they'll happily store your luggage for you if you want to explore a bit before your flight back.
Mid-Range: Color In Jeju
If you're looking to stay on the eastern coast and want to splurge a bit, Color In is the move. They've got immaculate rooms, a small outdoor pool, and the rugged surroundings typical outside of the big cities. Front desk hours are limited, but that's easily overlooked once you get to the pool.
With just 6 guest rooms in the entire place, odds are good that yours will be poolside.
Luxury: Kensington Hotel Jeju
One of the highest-rated hotels in Jeju, the Kensington contains all the opulence one expects from a 5-star hotel, infinity pool included. If the layers of indoor & outdoor pools isn't enough, however, consider the superb staff and various on-site restaurants; their breakfast buffet is included in your stay.
Within walking distance of the hotel are a botanical garden and the teddy bear museum.
Suncheon
What Suncheon Is Known For
Of all the cities in this Korea itinerary, Suncheon is probably the least famous internationally. The city has just a few hundred thousand residents, quite small by Korean standards, but each spring the county is flooded with domestic tourists chasing beautiful flowers and stunning natural landscapes.
But despite its size, I'd recommend Suncheon because of its great potential as a base from which to explore the rest of southern Korea. Just south of Suncheon are Boseong, where most of the country's green tea is grown, and Yeosu, a beautiful island with lots of attractions in its own right.
Northeast of Suncheon is Gurye, whose spring flower festival & fall cherry festival are famously striking. Simply put, people visit Suncheon in order to revel in the beauty of nature, get away from the big cities, and enjoy the festival culture of small Korean communities.
What To See Around Suncheon
As just one of four great cities to explore in southern Korea, it's difficult to distill Suncheon attractions into one post. But in order to lend an idea of some of the things you can do around Suncheon, here are 7 things you should do or see near Suncheon City.
Learn hands-on at Naganeupseong Folk Village. With remaining residents numbering in the hundreds, calling this a village is a bit of a stretch. But Naganeupseong is more like a demonstrative village, offering visitors performances and traditional experiences you couldn't find even in Seoul.
Each region of Korea has their own unique traditions that they've chosen to keep alive and highlight here. This means that for as vast & varied as Seoul is, you won't find as many ways to experience southern Korean culture up there.
This is honestly in large part because most Seoulites see Korea's southernmost areas as countryside and backwards and unworthy of a visit. However, I think that each is gorgeous (including my own countryside town), and this one in particular is worth a trip.
Hike the Suncheon Bay Wetlands. Small crabs reach up at you from the mud, wheat whispers in the wind, and old people are probably yelling from just behind you. So go the wetlands. Starting from the parking lot and continuing on through the carefully-curated gardens, you'll reach the wetlands themselves.
From there you can cross the gardens via a long bridge. On the other side is a small mountain, which you can take about half an hour to hike up, or you could stop and turn around where you are, admiring the other side of the wetlands' natural beauty.
Picnic at Suncheon Bay National Gardens. When I think of gardens, I think of somewhere well-kept and brightly-colored, maintained within a specific small area. Suncheon's National Gardens are a vast and impressive version of that, including not just flowers but also sculptures, a bridge covered in hangeul, and a variety of cafes & eateries on site.
In peak bloom season, from around mid-March to mid-May, you could easily spend a whole day walking across the ponds and admiring the colorful fauna, wondering why you didn't come here sooner.
Relax at Jirisan Spa Land. If you've never been to a Korean sauna, you are missing out. Spas are a national past time here, and they're also quite affordable, and fun in a group, couple, or solo. Jirisan is particularly well-known because it features hot springs-supplied baths. Keep in mind that like all Korean spas, the indoor regions of the spa are separated by gender and have a no-clothes policy.
Do a photo shoot amongst Gurye Cherry Trees. These bright yellow blossoms have taken up root throughout the village of Gurye, bringing hoards of people (& tourism dollars) to town every spring. In the fall, the trees' cherries cover them in color once again, this time a deep red. If you manage to visit in March (outside of festival time), you may even find this to be the perfect spot for a photo shoot.
Ride the Yeosu Cable Car. Especially beautiful around sunset, Yeosu's cable car takes you across the bridge which connects Yeosu to the mainland. From an incredible height it gives you a look at the still-active port area and many smaller surrounding islands. Not to mention it saves you a taxi ride!
Drink up at Boseong Green Tea Fields. The green tea fields of Boseong hit their peak around mid-May, but they start turning a deep green color as early as March, continuing to lighten until late September. Koreans come to visit the main green tea plantation in order to hike up to the top of the hill on which the tea trees are planted.
Most people end up taking selfies and enjoying the view of everyone walking around far below them. At the plantation, other than the tea itself, you can enjoy green tea-flavored churros, lattes, and even a few savoury dishes (though don't expect much tea to be put in those).
What To Eat In Suncheon
Suncheon is often hailed as the foodie capital of the southern part of Korea. Located near the coast, in Jeollanam-do, local restaurants in Suncheon will serve all the classics, but with a southern twist. Popular themes include seafood, fresh local vegetables, and abundant side dishes.
Mudskipper Soup. Arguably the most popular way to consume this local fish, the soup is prepared using boiled fish, radish leaves, and soybean paste. It's a very strong flavor, but all the side dishes it's served with temper it beautifully.
Kongnamul Gukbap. Literally "soybean soup rice," you can find gukbap all over Korea; I actually recommend trying a hearty pork or beef version in Busan. But each region has their own special recipes for the soups and when they add the rice and where they source the ingredients. In the case of Suncheon's gukbap, the soybean sprouts add beautiful crunch to a very traditional Korean dish.
Sannakji Bibimbap. Another dish I sort of recommended in Busan, sannakji is basically the freshest form of raw octopus you could eat, served with lemon juice and seasoned with sesame oil. This iteration is less of a snack and more of a full meal, incorporating fresh vegetables and rice. Look for 산낙지비빔밥 on a menu.
Green Tea Churros. I couldn't recommend visiting the green tea fields of Boseong without also recommending the snacks! Only available on the weekends, these churros are nice when paired with a cup of green tea soft serve ice cream.
Grilled Duck. Suncheon famously raises about half the duck in Korea, meaning that finding a local duck dish is more likely than not. If you can find it, my favorite is Yangnyum Ori (양념오리).
Where To Stay In Suncheon
Suncheon is quite the hot spot for domestic tourism, so most of the places to stay in Suncheon are Korean-style. This means that you sleep on the floor, and usually call to book directly. But there are some nice western-style guesthouses to choose from, three of which I've listed below. If you're visiting Suncheon between April and June, I'd recommend booking a guesthouse in advance!
Budget: Suncheon Namu Guesthouse
You can't get much closer to Suncheon bus terminal than Namu Guesthouse. No matter what time of day or night you arrive (or depart), if you stay at Namu you're just a few minutes from the city's bus terminal.
The beds are pretty standard for Korea, on the hard side, but the shared space is very homey and comfortable. At just $16USD a night for a dorm bed, it's the perfect spot for those planning to stay awhile and do a lot of day trips.
Budget: Baguni Hostel
It's rare to find a hostel with affordable dorm beds and a decent sense of privacy, but Baguni manages to strike this balance with grace. The dorm beds are each in their own little cubbies, with privacy curtains and fluffy bedding.
But the building itself makes use of lots of white and neutral tones, choosing to focus mainly upon providing a clean, comfortable, and affordable environment for guests.
The hostel is located right in the city center, a short walk from the bus terminal, making it a great choice for visitors who can't or choose not to rent a car. Single hostel beds start at $18USD a night.
Mid-Range: Hotel Iam
Every room at Iam includes an en-suite bathroom and complementary breakfast in the dining room. For those looking to upgrade their stay in Suncheon, this is an affordable hotel with comfortable beds, a nice staff, and a central location.
It's family-friendly, but more popular with couples looking to get away from hostels without breaking the bank. Double rooms start at $40USD.
Click here to check out prices for other hotels in Suncheon
Jeonju
What Jeonju Is Known For
Despite being just 1.5 hours from Seoul, Jeonju rarely features on a Korea itinerary, and that is a mistake. While you can easily visit Jeonju on a day trip from Seoul, I humbly recommend you spend at least two days in the city.
Preferably while staying in one of the historic houses & enjoying traditional Korean dishes in Korea's "Foodie Capital." Unlike Suncheon, most of the things to see in Jeonju are within the city itself, making it walkable and perfect for any wintertime Korea itinerary.
Seoulites tend to visit the city on the weekends, so take a couple of weekdays to discover the city whose name literally translates as "perfect region." While you're there, make the most of your time with visits to local galleries and walks around the city's many parks and green spaces.
Jeonju is seen as a very spiritual city, a place of historical importance for its maintenance of traditional foods, architecture, and those intangible parts of Korean culture we all strive to experience in a new place.
What To See Around Jeonju
Jeonju is a great place to just walk around, similar to some of the neighborhoods in central Seoul, but it's always nice to have a destination in mind. So in order to give you an idea of some of the things you can do in Jeonju, here are 7 things you should do or see in the city.
Photoshoot in Jaman Mural Village. Somewhat similar to Gamcheon Cultural Village in Busan or Rainbow Village in Taiwan, Jaman has become a symbol of revitalization for older parts of the city.
While the nearby hanok village has become well-known, just beyond the overpass is Jaman, a neighborhood painted up & beautified by local artists. The uphill scene is worth the trip, and makes for some very cute photos, especially for families and couples.
Tour a Hanok. A hanok is a type of small house, traditionally one story tall, which were the main type of dwelling in Korea for centuries. Due to Jeonju's ancient status, it was designated a UNESCO City of Gastronomy, and as a result, the rest of the city has also been well-preserved.
One thing that sticks out in Jeonju compared to Seoul or Busan is the height of the buildings. It can be hard to put your finger on at first, but you'll quickly notice how short most places are, and how it opens up the entire city.
This is due in large part to the city's hanoks. Places feel greener, even when you visit Jeonju in the winter. While you can tour a hanok (hopefully stay in one, too!) just by walking by, I'd also recommend checking out Gyeonggijeon Shrine for a more holistic look at how hanok culture shaped contemporary Korea.
Eat Street Food at Nambu Night Market. You can't recommend a visit to Jeonju without also recommending a trip to a night market. Korean night markets are notoriously boisterous affairs, with locals loudly hawking their wares from the safety of their booths, wafting any number of smells your way. The market is open every day, but Fridays and Saturdays are the busiest of all.
Some delicacies to enjoy once you've feasted your eyes are the grilled meat skewers, daepae saewoo (pork-wrapped shrimp), and hoddeok (honey cinnamon-filled rice cakes), though there are many international dishes, as well.
Try Dolsot Bibimbap With Makgeolli. Those little gold bowls full of translucent white liquid have become a staple in my life. Anytime staff at my job went out to dinner together, we always had makgeolli (rice wine), usually served from a big pot in the center of the table.
This is the most traditional way to consume the traditional rice liquor, and it's a great accompaniment to Jeonju's famous version of bibimbap (mixed rice). Try it almost anywhere in the ancient village, and I guarantee a smile.
Wear a Hanbok Amongst Hanok. Similar to the beautiful hanbok (traditional Korean outfits) you'll see in Seoul and Busan, it's almost a rite of passage to wear a hanbok around Jeonju. If you want a more unique experience in the city, this is the move. Rentals start from ₩8,000 (~$7USD), and range from 1-4 hours.
Have Tea in an Ancient Cafe. Or at least in a cafe that looks ancient, as many of the cafes in Jeonju's downtown area have been styled to look.
Some of the cafes are even in a hanok, which makes the tea-sipping feel all the more event-like. Some great cafes in Jeonju are Café Haengwon and Swan Park Cafe, but just remember to have a translation app on hand for the menus.
Admire the Flowers in Deokjin Park. One of the most popular gathering places in Jeonju, Deokjin Park has now become a draw for visitors, as well. In the spring there are flowers everywhere, while the summer sees the lotus blooming on the lake & fall brings changing colors to the leaves.
If you visit from July to August you'll notice crowds of locals taking pictures with the lotus flowers, as the high season coincides with kids' summer break.
What To Eat In Jeonju
Despite the popularity of Suncheon as Korea's underground foodie capital, Jeonju is the official foodie capital of the country. In fact, in 2012 it was named a UNESCO City of Gastronomy. Domestically, Jeonju is known for its fresh vegetables and locally-grown rice, as well high levels of spice, so prepare your palate.
Legit Choco Pies. The infamous Korean treat of Choco Pies, which my students simply adore, were actually born at a bakery here in Jeonju. The bakery, PNB, has branches throughout the city, where you can find the layered chocolate and marshmallow pastry in multiple iterations.
Grilled Imsil Cheese. Korean cheese is notoriously gross. But many years ago, in a town just outside of Jeonju, one company faced this problem head-on: Imsil. In street food regions throughout the city you can find thick skewers of carefully grilled Imsil cheese, lightly sweet and crispy on the outside, halloumi-like in texture.
The brand also makes some delicious yogurt, and if you took the bus to & from Jeonju, you may even stop at an outpost where you can buy some of their cheese & yogurt. Go for the blueberry flavor; you can thank me later.
Jeonju Royal Court Cuisine. Gung hanjeongsik, as it's called in Korean, is the modern retelling of the special food eaten at the King's palace during the Joseon Dynasty. Even back then it was so intricate to prepare that it was only consumed once a month. One of my friends insisted that we try this type of meal when we went to her hometown, and it does not disappoint.
The setup is basically three tables covered in dozens of side dishes and a few main meals, all emphasizing local specialties from different parts of the country. This special meal is an investment, maybe $45USD per person. But it's seriously worth it.
Ddeok-galbi. Another local recommendation, these short rib patties will make your mouth water. They're prepared using marinated galbi, usually pork, and onion, garlic, ginger, and a umber of other spices. The meat is ground and then reformed into thin patties before being grilled on skewers or back on the bones; they're served with white rice and numerous side dishes.
Dolsot Bibimbap. While bibimbap (rice with steamed vegetables) is common throughout Korea, this version is unique because it's prepared in a piping hot stone bowl (dol is Korean for "stone"). The rice is allowed to crisp up on the bottom, adding a delightfully different texture to the mix of ingredients.
This mix almost always includes fresh vegetables, kimchi, oak jelly, a small amount of beef, and a raw egg to stir into the steaming hot dish. Jeonju is so synonymous with bibimbap that there's now Bibimbap Festival every year. Just don't touch the bowl!
Where To Stay In Jeonju
One of the main reasons people choose to visit Jeonju over any other destination in Korea is for the hanoks (traditional Korean houses). All of them are now also equipped with ondol, the typical Korean floor heating system, making them quite comfortable even on the coldest of nights.
So most visitors do opt to spend the night in one of these beautiful guesthouses, most all of which are clustered in the famous Jeonju Hanok Village (in the southeastern part of the city).
But I'm not a huge fan of sleeping on thin blankets on a hard wooden floor, despite having done it a few dozen times. So here I've recommended just one hanok-style guesthouse, the two other being more western-style accommodations.
Budget: 24Guesthouse Jeonju
24 is a popular guesthouse chain, and I've stayed in several of their locations throughout Korea. They offer affordable double rooms with en-suite bathrooms, as well as 3- to 4-person hostel-style rooms for some of the cheapest prices around. A simple coffee & breakfast is included.
The guesthouse is a few blocks north of the Hanok Village, allowing you to be near but not right inside all of the action. At just $14USD a night per dorm bed, it's hard to beat the price if you're visiting Jeonju on a budget.
Hanok: Bu Kyung Dang Guesthouse
This is one of the most beautiful and most-loved hanoks in the whole village; no exaggeration. The entirety of the property consists of just 8 rooms, surrounded by greenery, which is found in full bloom if you visit in the spring.
On the outside is the traditional slatted doors with a paljak roof and paper lanterns around the perimeter. But heading inside you'll find a beautifully refurbished stone-tiled bathroom and wide open rooms. Grab a blanket from the stack and settle in for the night. Rooms start at just $32USD per night.
Mid-Range: N Bridge Hotel
Non-hanok accommodation in Jeonju is incredibly hard to come by; most people want to stay the night in the famous Hanok Village, and seem to have no problem sleeping on the floor. But for my fellow non-floor sleepers— at least those not on a budget— I'd recommend N Bridge.
It's got big fluffy beds, 24-hour service, and a fridge in every room. Unlike most of the hanok options, it also has multiple floors and a marble bathroom in every suite. Just be sure you don't book their futon room unless you actually do want to sleep on the floor, Korean-style. Double rooms start at $74USD.
Click here to check out prices for other hotels in Jeonju
Budget For A Trip To South Korea
Of all the countries in East Asia, I'd argue that South Korea has become the most affordable to visit. There are many extremes to be found in the ROK (Republic Of Korea), a fact which extends to my daily life here over the last few years.
Visitors could stay in super cheap dorm beds booked way in advance for about ₩12000 ($10USD) a night, eat street food for another $10USD a day, and otherwise spend money only on transportation. I wouldn't recommend it, but it's doable.
On the other hand, Seoul is a massive city with plenty of hotels always ready to take your money. $500USD a night hotel rooms aren't the norm, but they're there. The key is to find a balance, and if you're looking to travel Korea on a budget, then make a list of priorities.
Do you most want a nice place to sleep? Fancy meals? Involved day trips? Budget travel in Korea is 100% possible, but it takes planning. So here's a rundown of the costs of traveling in Korea.
Note that this South Korea travel guide covers such a wide range of days that the budget below is a snapshot of how much you could spend in one day. My dad would call them "guesstimates." It also covers the cost of basic activities which most everyone would do. Remember to multiply this Korea travel budget by the number of days you'll be visiting us for!
ESTIMATED COSTS:
Visa Fee: ₩30000 (to check if you need a visa, click here)
Day Tours: ₩70000 (some day tours cost more, but these kids of trips include visiting the DMZ, Nami Island, and Jeju tours)
*Each Trip To A New City: ~₩30000 (one way; this is an average)
*Round Trip Airfare to Jeju: ₩80000 (if booked well in advance)
Decent Guesthouse: ₩25000
Meals & Snacks: ₩20000
Attractions & Activities: ₩10000
Transportation: ₩5000 (4 trips on the subway or bus)
Souvenirs & Cafes: ₩5000 (coffee or tea)
Average Cost Per Day: ₩65000
Buy a PDF Version of This Post!
13 South Korea Travel Tips
Metros aren't very accessible but the buses and taxis are. So if you're in a hurry or disabled, then you should take a taxi. They're very cheap and fast, though during rush hour they'll take as long as the metro. Most shops (like Korean chocolate shops) are clustered right around metro stations anyway, so even if your driver doesn't speak much English you can tell them the name of the metro station closest to where you're going.
Korean winters are not for the faint of heart. My friends from Vietnam visited me last winter and spent their first day alone— they were shivering for hours after we came inside. Even my sister was not very happy with all the snow over New Year's when she visited a few years ago. It can get brutal, thanks to winds coming down from Siberia.
Also not for the faint of heart, entitled old people. They will push you, publicly and without shame if they think you're in their way. I understand that they act this way because they don't think young people respect their elders like they should, and they don't, in my opinion. But no matter how you think, it is something to be aware of.
Korea is basically a cashless society, except for in the markets. This means that you can use your credit card most everywhere, but international cards aren't always accepted, so still keep some cash on hand.
Along similar lines, in Korea you should expect late nights and late mornings. Cafes, restaurants, and shops are open very late, usually between 10pm and midnight, but rarely open before 11am. If you want morning coffee if Korea you'll have to either be at the airport or grab canned coffee from a convenience store.
Even though it's a more developed country, Korea has their share of travel scams. One of the most common is the fortune teller scam, in which a woman stops you on the street and offers to take you to have traditional experiences, only to scam you out of money. Either way, if someone stops you on the street, 95% of the time they want your money or to convert you. NYC rules apply.
Pollution is horrible. Sometimes the skies aren't as bad, but spring 2018 and winter 2019 were particularly harsh, with many days seeing pollution levels as high in Seoul as in Beijing, China. Bring a mask, or buy one, especially if spending 2 weeks in South Korea, or longer.
Naver Maps will tell you which door of the subway you should go to for the faster arrival at your next destination.
If you're a bigger person, look for handicap-accessible or family bathrooms, as Korean public bathroom stalls are made for small people, especially the women's bathrooms.
Look up. If you're looking for an office or guesthouse or restaurant, and you'd swear you're at the right address, just look up. It's probably just on a much higher floor, like the 11th or 32nd.
However, when you do look up, don't make eye contact unless you want to start a conversation or get stared at as you walk away (though that might happen anyway, in the countryside).
Hospitals are for everything, even if you're a visitor taking various South Korea tours and end up with a cold. The hospital is like the doctor's office, and in small towns like mine, they're open 9 to 5 like everything else.
Always count to 5 before crossing the street, because without fail, at least once a week I watch someone go after the light turns red, be it a car or a motorbike. Better safe than sorry.
Basic Phrases For Your Trip to Korea
Hello // An-nyeong-ha-se-yo. (안녕하세요.)
Thank you // Gam-saahm-ni-da. (감사합니다.)
How much is it? // Eegaw eol-ma-yeh-yo? (이거 얼마예요?)
Do you speak English? // Yeong-aw jal-hae-yo? (영어 잘해요?)
I don't speak any Korean. // Han-guk-aw jal-moat-hae-yo. (한국어 잘못해요.)
One of these, please. // Ee-gaw ha-na ju-say-yo. (이거 하나 주세요.)
It's to-go/takeout. // Po-jahng ee-eh-yo or Tae-ee-kow-shi-yay-oh. (포장 이예요.)
Lesson complete! Now let's get packing.
---
Did this post help you plan your trip to Korea? Save it on Pinterest so that it can help others, too!