After three years living in South Korea, and five long trips to Jeju, I've compiled a killer list of a few dozen unique things to do in Jeju Island. Jeju-do, as it's called domestically, is located off the southern coast of Korea. It's known locally as the Hawaii of South Korea.
The island is so popular that the flights from Seoul to Jeju and back are the most-flown route in the world. Yet the vast majority of visitors to Korea skip Jeju, and that's a mistake I hope you won't make.
This sunny destination is known for its stunning natural beauty, unique culture, and delicious seafood dishes. Whether you're interested in history, culture, art, or just looking for a fun day out, there's something for everyone on Jeju Island.
In this article I cover what to do in Jeju Island, from exploring its many unusual museums & sights to experiencing the local cuisine and culture.
Buy a PDF Version of This Post!
What to Know: Visiting South Korea in 2023
Those of you looking to visit South Korea are probably as confused by all the changes as I was before I visited again in 2022. The Korean government has been as wishy-washy with their pandemic policies as those in most of the other heavily-touristed countries in Asia have been.
But as of September 18th, 2023, masks are still required in medical settings like hospitals but are NO LONGER REQUIRED in all other indoor public places, including on public transport (though some people continue to wear them).
Here are the documents you need to visit Korea as a tourist:
K-ETA (Korean Electronic Travel Authorization, applied for at least 72 hours before departure) OR Visa to visit Korea (countries which previously had a visa exemption now need to apply for a K-ETA). From April 1, 2023 to December 31, 2024, passport holders from 22 countries will also temporarily NOT need a K-ETA or visa to visit Korea (includes: Australia, Austria, Belgium, Canada, Denmark, Finland, France, Germany, Hong Kong, Italy, Japan, Macao, Netherlands, New Zealand, Norway, Poland, Singapore, Spain, Sweden, Taiwan, UK, US (including Guam)). If you're a valid ABTC card holder (APEC card), you are not required to apply for a K-ETA [excluding Americans & Canadians].
Q-Code (can also be filled out upon arrival): visitors need to fill out information for the Korean quarantine system, known as Q-Code. Note that all travelers are now allowed in regardless of vaccination status, but you do need to have filled out your Q-Code before going through immigration.
If for some reason you need to take a covid test in a South Korea airport, the cost of a covid test in Incheon Airport is currently ₩80,000 ($60USD), with some options within Seoul as inexpensive as ₩65,000 ($50USD). There's no testing requirement to leave South Korea, but you may be required to take a test in order to move on and enter your next destination or home country.
Travel Tips For Jeju Island
Get a sim card at the airport. I lived in Korea for three years using only a pre-paid sim card from Olleh. That cost me ₩20000 (~$16USD) a month for 2GB of data, and another few thousand KRW a month for calling. It saved me so many times over the years to have someone be able to call a hotel or taxi for me using my own phone.
Speaking of calling, the Korea Travel Hotline, known to expats as the "English Help Line," should be your go-to with any issue. Simply dial 1330 and press 1 for English, and you'll be connected to someone at any hour of the day, any day of the week. They can help with ticket prices, bus schedules, attraction locations, and even translating for taxi drivers, and helpers also speak Japanese and Chinese.
Rent a car (you'll need an international driver's license). M

ost attractions in Jeju are far from cities and far apart, and taxis can also be hard or impossible to come by after 10pm (coincidentally, also when most of the buses stop running). You'll want to download the Kakao Taxi app if you plan to mainly taxi taxis around the island.

Travel the island in sections. Take a careful look at the Jeju attractions map at the end of this post, and note the opening hours & days for any of the ones you're interested in (this info is listed next to each one below). Even though the island appears small at first, it can be a very long trek between stops if you don't plan ahead

.

Just as in the rest of Korea, Google Maps isn't useful or detailed on Jeju, so do remember to download the English-language version of Naver Maps, the Korean map app, in order to more easily navigate around.
Beaches close for winter, at least for swimming. Just like in the rest of Korea, from September to May you're not allowed to swim at beaches in Jeju, though you can certainly still walk along the them and take pictures.
Jeju has a decent food scene, but don't come here for the nightlife, as most everything shuts down by 10pm or 11pm, even the bars.
Speaking of early nights, try to start your day early. Lots of attractions open around 8am or 9am, and close around 5pm or 6pm; the last ferry from Udo Island comes back before 7pm.
Getting Around Jeju

(by Bus or Car)
When you get to Jeju you will find yourself on the north side of the island, nearly inside Jeju City. It's certainly possible to get around Jeju Island by public bus or taxi, but not recommended (for time & money reasons).
But for those who hate to drive as much as I do, I've also shared tips below on how to get around Jeju by bus. However the best option is to rent a car on Jeju, as it will make it easier to predictably plan when you're able to leave places.
I've gotten around Jeju by tour bus, public bus lines, and driving a rental car. There's no metro or train system on the island, though there are ferries to the mainland & Udo.
If you travel Jeju by bus, you'll want to stay along the coast so that you're never more than two buses from where you want to go. I recommend staying in Seogwipo, so that you can follow my Jeju itinerary.
Your favorite bus line on Jeju will be the 201, which takes you in a ring around the island.
The scene along the coast is particularly gorgeous from April to June, when most of the flowers begin to bloom. For your initial arrival, Jeju airport limousine bus 800 (or 800-1) will take you from the airport to Seogwipo most directly, with daily buses every 15 minutes between 6am-10pm.
Most of the bus routes stop running just before 10pm. If you arrive after that, I'd recommend staying in Jeju City for the first night; you can take the 3000's lines to a few different places, but those also stop running at 12am. Taxis will always be waiting to take you somewhere, but the lines are super long at night.
You can buy a transportation card known as a T-Money card at any 7-11, and then use it to get all around the island, even in most taxis (but always bring cash just in case). Most bus fares will be ₩1250 (~$1USD) each way, although the cost of taxis depends completely upon distance.
Be sure to download the Naver Maps app before arrival so that you can get bus route info immediately. Driving in Jeju is quite safe, and a self-drive in Jeju is also the best way to see the beauty of the island's countryside vistas, stay flexible in case of weather interruptions, and stay in cheaper hotels.
The only requirements to rent a car in Jeju is a license in your home country and an international license (which is applied & paid for separately before you arrive to South Korea). Having a car on Jeju got us to about twice as many sites across the island as compared to when I took the bus.
Plus, your Korean GPS will give you numerous speed warnings every time you're approaching speed cameras (no excuses for getting a ticket!), so don't freak out when it chirps and beeps at you loudly. For a car rental, Jeju Island is one of the easiest spots I've ever rented in.
What to Do in Jeju
Jeju counts itself with 3 UNESCO World Heritage Sites, as well as a fair amount of quirk and Korean tradition (naked hot tubs, anyone?). This list could legitimately go on for pages, but I've decided to stick to just the weird, the natural, and the educational, divided by region.
If doing a self-drive on Jeju, you'll want to keep some cash on hand to pay for parking (no more than a few dollars at each spot). Surprisingly, I find the points of interest in Jeju to be much more handicap accessible and walkable than those in Seoul or Busan.
Most everything is available in Korean, English and Chinese, and many more people are able to speak English than I generally find in Seoul. So don't shy away from something that sounds interesting, just because it looks rural.
Jeju City
Hallasan Hiking /// free /// roughly sunrise to sunset
It's tough to designate a specific starting point to hike Hallasan, considering that it's at the center of the island. But Jeju City is as good a place to stay as any when planning to Hike another of Jeju's UNESCO World Heritage sites.
Hallasan is actually an active volcano, though it spews no lava or smoke at the moment, and it's the reason why Jeju island exists at all. The views from the top are unforgettable, and you have 5 different paths you can use to reach the top, each of a different difficulty level.
Note that it is not safe to Hike Hallasan in the rain and that you should bring extra layers no matter the weather or time of year when you start.
Orange Picking Experience /// ₩3000-₩6000 /// usually 8am-6pm
With peak orange season from November to February, orange picking is a winter activity on Jeju that most everyone participates in, local or tourist. The deal is basically a flat fee per person to pick and eat as many oranges as they want & bring home a kilogram.
Guests are offered a lower price for every kilogram picked beyond that, which locals definitely take advantage of. However, most Korean pick their oranges as slowly as possible in order to maximize photo opportunities, and I find it hard to blame them.
Lucky for us, just like with Hallasan, it's hard to nail this down to one area of the island, as the island's fertile soil allows orange groves to flourish basically anywhere. But keep in mind that you're more likely able to catch a taxi to a nearby orange grove from either Jeju City or Seogwipo.
Hamdeok Beach (함덕 해수욕장) /// free /// roughly sunrise to sunset
This is one of the best beaches in Jeju Island, and also one of the most popular due to its central location near the island's capital city.
Locals love it for the pristine white sand and mild waters, as well as the wind protection provided by Seoubong Mountain just behind the strip. If you're looking to spend an afternoon at the beach on Jeju, this should be one of your first picks, and not just because of the volcanic rock bridge and impressive disappearing sandbar.
Jeju NANTA (홍대난타전용관) /// ₩40000-60000 /// shows at 4:30pm daily
The first time I saw this show, I couldn't even read Korean, much less understand any of it. But it was such a knee-slapping hilarious performance that I highly recommend it to any visitor. There's almost no dialogue, and all the songs are their own mini-slapstick performance, complete with food props and your monthly allowance of juggling. Shows are at 4:30PM Monday-Sunday.
Love Land (erotic museum) /// ₩9000 entrance /// 9am-midnight daily
Love Land is a very blasé name for this unusual park full of penises and other erotic sculptures. It was actually opened in 2004 by a group of art students from Seoul's Hongik University (of 'Hongdae' fame).
The museum has since become a very successful tourist attraction, with almost all visitors snapping a selfie with one or more of the well-endowed sculptures. Please note that you must be 19 or older to enter the park (the age minimum has changed since 'Korean age' was essentially eliminated).
Manjanggul (lava cave) /// ₩3000 entrance /// 9am-6pm daily (closed 1st Wed. every month)
This is definitely a cave. It's cold and badly-lit, but the long walk down into the volcanicly-formed earth most certainly appeals to people.
As one of Jeju's UNESCO World Heritage sites, the 1,000 meters of cave open to the public gets quite packed on weekends. The slippery floors can become extra hazardous, so bring grippy shoes.
The more claustrophobic folks in the bunch will enjoy the lovely greenery above ground, especially in springtime when the grass is dotted with flowers.
Seogwipo
Jeongbang Waterfall /// ₩2000 entrance /// 8am-6pm
Jeongbang's claim to fame is as the only waterfall in Asia to fall directly into the ocean, which is honestly a really cool sight to see. Even better, you can see it basically from the parking lot, and get up close & personal with just a 5-minute walk. There's even a tiny beach in front of it, just before the vast ocean extending way beyond.
The walk down is worth it in nice weather, but can be a bit treacherous in rain or snow. If you're lucky, you may even see a rainbow— do it for the 'gram, I dare you. There are a few shops just along the parking lot selling souvenirs, oranges, and Jeju chocolates, as well. Look for the coffee shop with free wifi if you need a break.
Cheonjiyeon Waterfall /// ₩2000 entrance /// 8am-6pm
Cheonjiyeon deserves a place on this list on a nice day, but in the rain it's nothing but a waterfall. Jeongbang is a gnarly sight no matter the weather, but Cheonjiyeong is a worthy stopover only if you have the time.
Though it honestly looks like some gnarly white water rafting could take place here. It's nice for a picture, however, and taking a rest in one of the many cafes. Not to be confused with Cheonjeyeon Waterfall, which is a three-tiered waterfall much further from Seogwipo.
Buy a PDF Version of This Post!
Olle Trails (Oedolgae Rock) /// free /// roughly sunrise to sunset
A rock may not sound like a very impressive attraction, but this stunning viewpoint is the perfect spot from which to admire the ocean & the many small islands off the coast of this side of Jeju-do. Many people come here each day just to trek the well-trod trails and stop at a lookout every once in awhile to soak it all in.
However the lazy among us (like myself) tend to stand at the lookout point and try to decide what each of the rock formations looks like. Think of hiking Olle Trail as cloud-watching, but for ancient volcanic rocks. Seriously, though, this place is gorgeous.
Jusangjeolli Lava Cliffs /// ₩2000 entrance /// roughly sunrise to sunset
Often compared to the Giant's Causeway in Northern Island, the Jusangjeolli cliff faces are another act of nature bestowed upon Jeju by the volcano that formed its body.
Easily less than 5 minutes from the parking lot, the cliffs are deep grey rectangular and square formations which jut out into the ocean as if slowly formed by the stacking of blocks. They're quite the popular photo spot, and certainly worth a stop.
But I have to warn you that the line on the weekend can be long, and quite the brutal place to be waiting if it's raining.
Around Udo
Jeju Folk Village (Jeju Minsokchon) /// ₩11000 /// 8:30am-5pm or 6pm (spring & summer)
Jeju Island is the land of the unexpected, and on my last trip I ended up in this tiny mountainous village for lunch, in an area I later learned was called Minsokchon.
The traditional Jeju Folk Village seems to have sprung out of the mountains, populated with short, flat-rooved structures which share with visitors the traditional way of life on the island.
It's a bit further down the east coast than the other Jeju attractions I'd recommend (but still accessible via bus 201!), however they have a wedding hall, horseback photo-ops, live performances, and restaurants, with overall plenty of activities for a full & fun afternoon.
Jeju Herb Garden (허브동산) /// ₩12000 (+ ₩12000 for optional foot bath) /// 9am-10pm
My first time visiting the Jeju Herb Dongsan, I was amazed by how massive the grounds are. They have flowers in bloom at every time of year, and over 150 types of herbs growing across the property.
There's a café, restaurant, shopping area, multiple windmills, a mini golf course, and even a hotel you can stay in. The name in Korean is more like the Garden of Eden rather than your backyard herb garden, and the space genuinely lives up the name.
I tend to spend just a couple of hours wandering the grounds in the spring, but in the summer there are so many activities going on that you could easily pass an entire afternoon there. Plus, at 6pm every day, the grounds light up with over 5 million tiny bulbs, largely placed for optimal viewing and photography, making it a magical experience no matter the time of day.
Aqua Planet Jeju /// ₩37200-₩40900 /// 10am-7pm
If you're visiting Jeju with kids, this is a must-see. This massive aquarium has not only penguins and sea lions, but whale sharks.
They have daily demonstrations and educational programs about the animals (in Korean), but all of the aquatic animals found in & around Jeju are in their large main building (with English signage). The entrance is pretty steep, but I promise that the photos are worth it.
Seopjikoji (scenic view point) /// free /// roughly sunrise to sunset
Just across from Seongsan is Seopjikoji, an area famous for being the filming location for several dramas and a gorgeous area, to boot.
The draws over here are a defined walking trail along the cliffs and a beach side restaurant, though the most gorgeous scenes are in the spring, when the hills are in full bloom with bright yellow canola flowers. Watch out for selfie sticks, and try not to buy too many trinkets.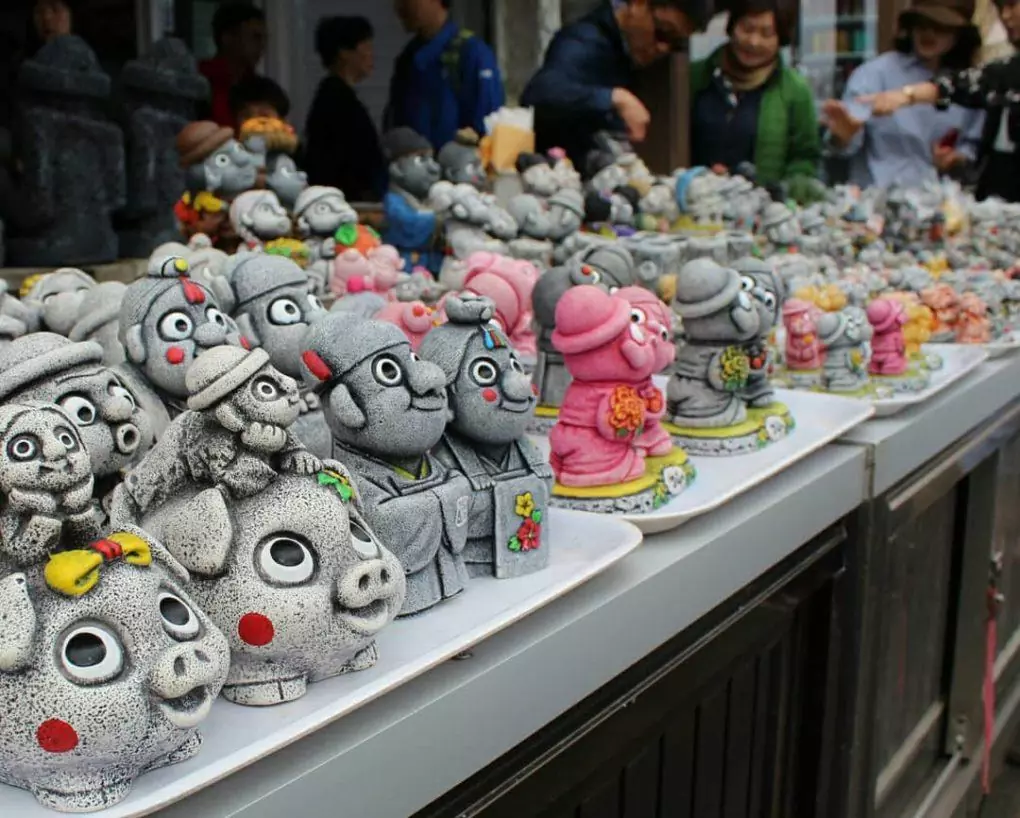 Submarine Ride to & from Udo /// ₩36000-₩55000 /// departing 8:55am-4:30pm
Again, this is not a cheap activity, but it is one that you'd be hard-pressed to find anywhere else. Jeju is famous not only for its women divers, but also for its scuba diving.
The marine life in and around the islands is very vivid, in a way that's difficult to experience with snorkeling.
And the best part? Children of all ages are able to experience the beauty of the ocean, without the need to swim in it. Check out the submarine company here. Note that there is a 10% discount if you book with them online.
Bike Around Udo Island /// ₩10.500 (same-day round trip ferry) /// 7:30/8am-5/6:30pm (varies by season)
Despite the fact that Jeju has become famous for their black pork, Udo is actually named for a cow. The shape of a cow, actually, which is what people thought it resembled when they first decided to name things.
Like the rest of Jeju, Udo is know for its great views and it's beaches, but unlike the rest of Jeju, Udo has a special dessert: peanut ice cream.
Bear with me here. Imagine you could ride around on a scooter on Udo with a cup of their famous peanut ice cream and a beach waiting for you to spend the afternoon on it. Just don't forget your international driver's licence if you want to ride around on anything with a motor!
Seongsan Ilchulbong (sunrise peak) /// ₩2000 /// Summer 7:10am-7pm & Winter 7:30am-6pm
Is this in Korea or the Highlands of Ireland? The immensity of the green and the brightly colored flowers that greet you in the spring could very well distract you from ever climbing to the top of Seongsan.
The final of Jeju's three UNESCO world heritage sites, this windy fairy tale mountain was formed long ago by a volcanic eruption, just like the rest of Jeju Island. Available in the area is the hike to the viewpoint, and horseback riding and boating for a bit extra.
If you're lucky, this is also where you'll catch site of some of Jeju's famous women divers. Note that no food is allowed once you pass the ticket booth, so you'll have to take any peanut ice cream pictures from outside the gates.
Western Jeju-do
A Very Colorful Photoshoot /// free /// roughly sunrise to sunset
Depending on the time of year, from March to October you could find yourself posing with cherry blossoms, canola flowers, lavender, sunflowers, or pink muhly.
Each of these blooms can be found during their own growing season in many corners of both Jeju and Udo. It all begins with the infamous cherry blossom season on Jeju, which starts sometime in mid to late March.
The season of flowers in Jeju ends with the brilliant pink muhly (actually a grass native to the US), with the selection changing every month or so. The blossoms you can see on your trip to Jeju will depend on the time of year during which you visit.
The Chocolate Museum /// ₩6000 /// 10am-6pm
Built to resemble a castle, this massive museum is actually the second-largest chocolate museum in the world, behind the one in Cologne, Germany. Its exterior is covered in a volcanic landscape inspired by the island, while the inside smells as if it were coated in chocolate.
There are exhibits on chocolate history and chocolate making, as well as a cafe and a sales area where you can buy boxes of the sweet stuff. It's a chocolate lover's paradise, but I'll also admit that I've seen better. Note that the Jeju chocolate museum closes an hour early in winter and an hour late in summer.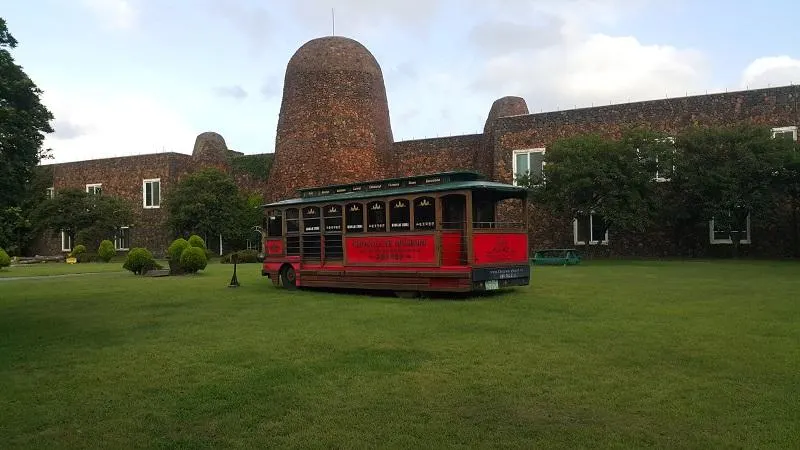 Sanbangsan Carbonate Springs /// ₩12000 base entrance /// 6am-midnight (indoor hot springs)
This will be one of the strangest experiences of your life, if you've never been to a Korean sauna. Everybody here is naked. Separated by gender, but naked. It takes some getting used to. And when you do, it's glorious.
This hot springs, glorified swimming pools in many ways, are divided by both temperature and healing properties. It's a very soothing way to spend an evening, especially if you're ready to scrub down everything afterwards; trust me, you'll feel baby smooth.
Note that the jjimjilbang (sleeping area) is open 24 hours, and costs an extra ₩10000 to stay in.
Jeju Trick Eye Museum (트릭아이미술관) /// ₩7000-9000 entrance /// 9am-6pm
One of my favorite things to bring visitors to, the Trick Eye Museum is one of the best winter activities in Jeju.
It's fun in the summer as well, but with relatively fewer things to do in Jeju in winter, spending a couple of hours acting a fool with your friends is the perfect medicine. There's a typical path which visitors take that brings them past all of the backgrounds, and marks on the floor to show you how to pose for each one.
If you download their app, there are additional special effects for many of the backgrounds. For an additional ₩3000 per person, you can also visit the Greek Mythology Museum, with shares a space with the Trick Eye Museum.
Geumneung Beach (금능해수욕장) /// free /// roughly sunrise to sunset
A relaxing option a bit further from the city is Geumneung Beach, a favorite Jeju Island beach amongst locals, especially in the summertime.
It's known for its idyllic views of Biyando Island, accessible & kid-friendly sandbar, crystal clear water, and black lava rocks, perfect for walking around or visiting with kids. This more hidden gem is also surrounded by cool restaurants and cafes to relax in while you enjoy the sunset over a drink or meal.
O'Sulloc Tea Fields & Museum /// free /// 9am-6pm
Being a tiny museum, I wouldn't expect much in the way of tea education, but if you came for the tea products, then this is your spot.
The small museum is attached to a massive cafe serving up a variety of teas from their farm, plus coffee and desserts. In the Innis Free store a hundred meters away is the beauty products section of the grounds, along with another massive cafe.
The best part for most people will be the tea plantation itself, however, which is situated across the street from the museum and simply laden with photo-ops. There are honestly so many things to do in Jeju, but it's all so different that it's unlikely that everything will appeal to you.
So just pick your favorites in each area, and then move on to the next one.
Buy a PDF Version of This Post!
Foods to Eat in Jeju
Sannakji ("live" octopus)
This is baby octopus, killed and then immediately cut up & served with sesame seeds on top, but the freshness of the animals means that the tentacles are still moving around when it's served. This one can be hard to stomach (or swallow), but it's certainly an important dish here.
Abalone (Sea Snails)
It may sound gross to eat snails, but these are actually a type of shellfish, more like oysters than snails. They're one of the many seafoods caught by the women divers of Jeju, and are caught & served fresh every day from most restaurants in Jeju.
Black Pork
The slabs of pork belly (its most common form) you'll find sold in most barbeque restaurants in Jeju are a softer and more flavorful version of the meat from the mainland. Don't forget to check out Black Pork Street in Jeju City.
Green Tea Anything
Home to the O'Sulloc tea fields, you'll see green tea flavored things throughout Jeju Island. But nowhere is there a higher concentration of green tea items than at the O'Sulloc tea museum. The crowd favorites are the green tea lattes and green tea cakes, but I always go for the green tea churros.
Hallabong (those big oranges grown throughout the island)
Winter is the best season for hallabong (Jeju oranges), but some of the groves grow hallabong year round. You'll see these beauties for sale in boxes along the side of the road during high season, and at gift shops in most of the major tourists sites.
Peanut Ice Cream
Depending on where you get it from, the cream flavor can be more or less intense, and the ice crystals can be strong. However, peanuts are grown on Udo, the island off the coast of Jeju, making it a local food & one that Koreans are rightfully very proud of. I like it okay, but most people just buy it for the cute pictures., anyway
Jeju Chocolate
As mentioned above, Jeju is home to the world's second-largest chocolate museum. This means that Jeju chocolate has become famous throughout Korea over the years. If you're bringing back a souvenir for those who couldn't come with, a box of chocolates is a good option.
Where to Stay on Jeju

Island
Jeju Island is by no means small, but it is navigable enough to stay in one place with a rental car and see the whole island in three or four days. So in this post I narrow it down to the four best regions in which to base yourself, and a different spot for every budget and comfort level.
If you're unsure of where to stay at all, or just have a day or two, then I highly recommend you stick to the transportation hub of Jeju City. If you're spending at least 3 days on Jeju, consider splitting up your accommodation and staying on the two opposite sides of the island.
Click here to see reviews of Jeju accomodation on Agoda.
Jeju

Practical Info
Jeju Population: ~680,000 people.
Language: Korean, though most who work in tourism will speak a little English. Some people speak some Japanese and Mandarin.
Currency: the Korean won (KRW), written as either ₩ or 원 (in Korean). 1000 won is equal to about $0.78USD or ₱42.
Voltage: 220v/60Hz, with two round holes for the plug (type F).
Korea Visa: While there are still 112 countries whose citizens don't need to apply for visas before visiting Korea for 30 to 90 days, beginning from September 2021, ALL visitors from those approved countries still need to have an approved K-ETA before arriving in Korea. K-ETA stands for Korea-Electronic Travel Authorization.
You can check if yours is one of those visa-exempt, countries and how long your visa lasts for, here. But remember, even if you don't need to apply for a visa, from now on you do still need to apply for a K-ETA, which is good for two years from the date of approval.
Best Time to Visit Jeju
There's really no bad time to visit Jeju, since the weather is so much milder compared to Seoul. But summer is definitely peak season, with prices also at their peak as both families and honeymooners packing the beaches & resorts.
The best month to visit Jeju Island is May, when the canola flowers are blooming and locals haven't yet started packing the hotels.
Since most people come to Jeju for just 3 or 4 days at a time, flights are much cheaper to arrive Sunday through Wednesday & depart Wednesday, Thursday or Saturday.
Basic Korean Lesson
For a native English speaker, Korean is one of the harder languages to learn. So to help you prepare for your trip, I've compiled a shortlist to help you order food and just be generally polite.
Many Koreans speak enough English to understand your order in a restaurant, but it's always polite to thank someone in Korean. I'd also highly recommend downloading a picture-capable translation app before you go, like Google Translate.
Hello! // An-nyeong-ha-se-yo! (안녕하세요!)
Thank you. // Gam-saahm-ni-da. (감사합니다.)
I don't speak Korean. // Han-guk-aw jal-moat-hae-yo. (한국어 잘못해요.)
Do you speak English? // Yeong-aw jal-hae-yo? (영어 잘해요?)
It's to-go/takeout. // Po-jahng ee-eh-yo. (포장 이예요.)
How much is it? // Eol-ma-yeh-yo? (얼마예요?)
One of these, please. // Ee-gaw ha-na ju-say-yo. (이거 하나 주세요.)
Buy a PDF Version of This Post!
Jeju Attractions Map