If you find yourself with an extra day on Jeju Island, Udo Island is the place to go. If you haven't heard of it, Udo is an island 15 minutes off the eastern coast of Jeju-do, known best for its peanuts and beautiful views.
Technically, Udo Maritime Park is the complete name of the place (u = cow, do = island), but because most people call it Udo Island in English, that's the name I'll mainly stick to. South Korea has many small islands off its coasts, but Udo, Dokdo, and Jeju-do are by far the most famous.
And for as gorgeous as Jeju City & Island are, I think Udo may actually have it beat— particularly when it comes to beaches on Udo Island. But don't take my word for it; head to cow island to judge for yourself. This is my complete guide to visiting Udo Island, from start to finish!
I know some of you will check out this guide while already on the island, so just click the name of the section in the table of contents to 'jump' to any of these things to do on Udo Island.
Visiting Udo Island in 2023
Those of you looking to visit South Korea are probably as confused by all the changes as I was before I visited again in 2022. The Korean government has been as wishy-washy with their pandemic policies as those in most of the other heavily-touristed countries in Asia have been.
But as of September 18th, 2023, masks are still required in medical settings like hospitals but are NO LONGER REQUIRED in all other indoor public places, including on public transport (though some people continue to wear them).
Here are the documents you need to visit Korea as a tourist:
K-ETA (Korean Electronic Travel Authorization, applied for at least 72 hours before departure) OR Visa to visit Korea (countries which previously had a visa exemption now need to apply for a K-ETA). From April 1, 2023 to December 31, 2024, passport holders from 22 countries will also temporarily NOT need a K-ETA or visa to visit Korea (includes: Australia, Austria, Belgium, Canada, Denmark, Finland, France, Germany, Hong Kong, Italy, Japan, Macao, Netherlands, New Zealand, Norway, Poland, Singapore, Spain, Sweden, Taiwan, UK, US (including Guam)). If you're a valid ABTC card holder (APEC card), you are not required to apply for a K-ETA [excluding Americans & Canadians].
Q-Code (can also be filled out upon arrival): visitors need to fill out information for the Korean quarantine system, known as Q-Code. Note that all travelers are now allowed in regardless of vaccination status, but you do need to have filled out your Q-Code before going through immigration.
If for some reason you need to take a covid test in a South Korea airport, the cost of a covid test in Incheon Airport is currently ₩80,000 ($60USD), with some options within Seoul as inexpensive as ₩65,000 ($50USD). There's no testing requirement to leave South Korea, but you may be required to take a test in order to move on and enter your next destination or home country.
Udo Island Ferry (How to Get to Udo)
​Before anything else, you must know that you need your passport to be able to take the ferry or submarine to Udo Island. The ferry ports that take you between Udo and Jeju-do operate from 7am or 8am to between 5pm and 6:30pm (depending on the season).
That said, there are two ports on Jeju Island that can take you to Udo: Seongsan Port and Jongdal Port. The most easily-accessible port for tourists is the one at Seongsan Harbor, where I left from all 3 times I've made the trek to Udo Island.
On the Udo side are Haumokdong Port (하우목동항) and Cheongjin Port (우도천진항). While you'll likely see both Udo Island ports during your visit, you'll probably be taking the same route as most visitors take: starting from Seongsan Port on Jeju and arriving at Cheongjin Port on Udo.
In the summer (high season), the last ferry back from either Udo port leaves at 6:30pm each day. So if you find yourself left there overnight, you'll have to find a room in a guesthouse there (yes, you can stay on Udo).
Regardless of the route you choose, the ferry takes about 15 minutes each way, and costs ₩10000 for an adult's single-day roundtrip ticket (₩7000 for the elderly), and ₩8100 for students or ₩2400 for kids ages 3-7.
To purchase a ferry ticket to Udo, you just need to fill out the Boarding Declaration Form and then hand over your passport after waiting in line. They'll give everything back to you, including your roundtrip tickets. Do not lose them; they need to be handed over as you board.
To get to the ferry (called 성산포항 in Korean), just follow the signs to head outside under the covered path. You'll go past the right turn to the Udo Island Submarine Tours and all the way to the end, where there will be a person there to collect your ticket and allow you to board (during the 15-20 minutes before the next boat).
The car ferry is the same as the regular ferry, so make sure to just go where you're directed.
Getting Around Udo
Best Time to Visit Udo Island: April-September
Transit Time Around The Island: 3-4 hours by electric bike
You can read more commonly asked questions about Korea here!
Renting Electric Bikes
You can see the whole island of Udo by electric bike in about 4 hours. This is the method I opted for on my last trip, after taking the bus and renting a regular bike, previously— I highly recommend an electric bike.
It costs just ₩15000 per person to rent an electric bicycle (pronounced ja-jeon-caw), but this may not be the best option if you have kids. If you've never used an electric bike, it basically just helps you get up the steepest hills, like a temporary loosening of gravity's pull.
You still have to do all the biking yourself, but I'd say it takes about half the effort of a regular bike; that is to say, still some. While there aren't really dedicated bike trails on Udo Island, there are very few cars and well-paved roads.
So if you don't want to sweat, especially in the summer (when there's not rain), opt for the bus. Alternatively, make sure you get your international driver's license so you can (hopefully) rent a mini car.
Renting Scooters (Mini Cars)
You can see the whole island of Udo by mini car in about 3 hours. It costs ₩30000 to rent a mini car or motorbike, and you are legally required to have your international driving permit to be able to rent one. Unfortunately on my last trip in 2022, none of the shops were renting these to non-Koreans.
If you have a Korean ID (or even ARC) they may rent to you, but both shops I tried were honestly pretty rude with shooing me off. I don't know if they're just not used to foreigners anymore or had a bad experience, but I'd stick to the electric bikes.
Udo Island by Bus
You can see the whole island of Udo by bus in about 3 hours (I've done it!). Since only some places will let you rent a mini car with an international license, and the number seems to be dwindling, the bus has been growing in popularity.
As of 2023, the Udo Island bus only stops at 8 main places around the island plus the two ports, with buses running every 15-30 minutes depending upon the season.
I took the bus around the island on my first visit, and I've rented a vehicle every time since. While it's convenient and pretty easy to take the bus, you're really at the mercy of their schedule. You can rent a regular bike and still take the bus, but I say it's really worth it to just spring for the electric bike.
15 Things to Do on Udo (Attractions)
It's for the clear blue skies that I always plan for Udo on the nicest weather day of my trip to Jeju! Unfortunately due to covid, many businesses closed over the last few years, so many lists of things to do on Udo are outdated.
So for those wondering what to do on Udo Island other than enjoying the sunshine, there are plenty of attractions beyond the beach. When you arrive on Udo Island, you'll be handed a guide to the '8 Scenic Views of Udo,' which vary widely in their uniqueness.
I've covered each of those 8 below, which are almost all on the southern half of the island, as well as the much more interesting things to do on Udo Island. There are a deceptively large number of cafes on Udo, so you have a ton of options for resting and trying out the local peanut specialties.
I highly recommend downloading Naver and bookmarking the ports + places of most interest to you before you even catch the ferry. Otherwise it may get overwhelming to try and sort everything out, especially if you're not fluent in Korean.
The main path around the island is called the 'Olle Trail,' and at just over 11km (7 miles), it's very possible to visit all these Udo Island attractions in one day.
Things to Do on Udo Island
Jeonpo Mangdo (전포망도)
It seems only right to start with the Udo attraction that's not quite on Udo Island, at all: the view of Udo Island from the ferry. To clarify, this refers to those few minutes as the ferry approaches the island that all the Koreans clamor to one side of the boat to see the island in its cow-shaped entirety.
It is absolutely gorgeous (though someone may need to point out the cow shape to you, at first), and definitely worth standing up to see.
Climb Udobong for Jidu Cheongsa (지두청사)
This scenic view is only possible if you climb to the top of Udobong (Udo Peak), which sits just 430 feet above sea level. While Udo Peak may not be as much of a hiking feat as climbing Hallasan Mountain, the view is totally worth the short hike. Much like reaching Seongsan Ilchulbong Peak on Jeju Island, the view in the spring and summer will remind you a lot of the Isles of Scotland.
Jugan Myeongweol (주간명월)
A short distance from Jidu Cheongsa is actually a sea cave, which is located just under Udobong. The reflection of the mid-morning sun on the water inside is said to resemble the moonlight, so lots of people come here to enjoy it the view before heading further north. It's pretty uncommon, but sometimes you'll see visitors posing in the entrance with the glow of the sun as their backdrop.
Dongan Gyeonggul (동안경굴)
Probably the best-known cave on Udo Island, this beautiful natural formation is viewable up-close only by boat. The massive opening has spawned many a legend, keeping visitors coming from both Geommeolle Beach and the sandy area just below Seongsan Ilchulbong (boat trip prices vary per person and by the season).
Huhae Seokbyeok (후해석벽)
While this is technically referring to the view of Udobong from the side when in the water, the view from across the way is quite nice, as well. For those who can't afford the time or money to take a boat out, you can follow the wooden fence along the path to reach an overlook that's (I've been told) almost the same view.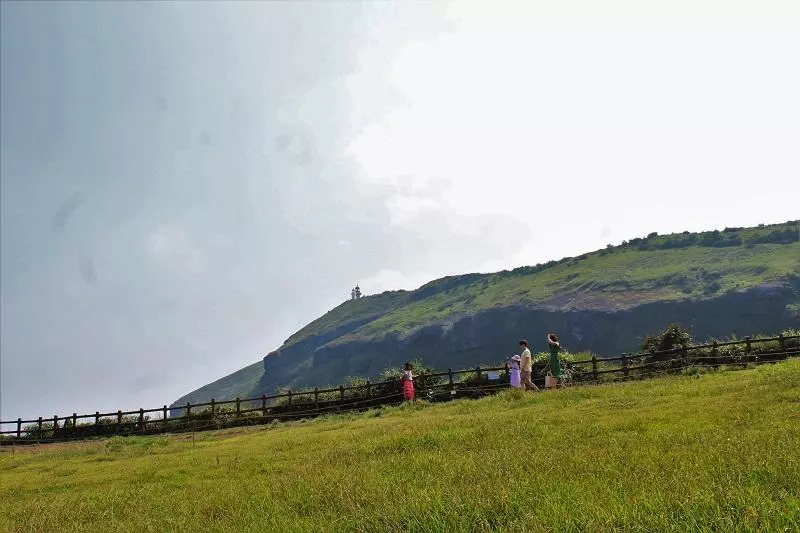 Cheongjin Gwansa (천진관사)
Near Cheonjin Port (where most people arrive to Udo) is Cheonjin Village lookout point, from which you can see a stunning view of Jeju's Hallasan Mountain on clear days.
Yahang Eobeom (야항어범)
While most people won't have the chance to enjoy this view unless they actually stay on Udo Island overnight, the lights from the locals' fishing boats are said to make for a beautiful nighttime display on the water.
Seobinbaeksa (서빈백사)
The final 'scenic view' of Udo is one of its most famous beaches: Seobin Baeksa. Also known as Udo Sanho Beach, this large stretch of white sand beach is truly a view of its own. The deep blue water surrounding Jeju seems to stretch on for miles, and since it's right next to Udo's main port, it's very easy to get to.
Geommeolle Beach (검멀레해변)
Unlike most beaches on Jeju Island, Geommeolle Beach is not one that you'd want to set up your towel & umbrella on. This is because the black sand gets incredibly hot in the summer sun, and is surrounded by those gnarly-looking black lava rocks so characteristic of Jeju.
Rather, most people come here to take pictures on the rocks with the stunning background, and then take a boat out to see the caves during low tide (be sure to time it right, otherwise the water is too high for a trip!).
Hagosudong Beach (하고수동해변)
If you're visiting Udo Island for the beaches, this is your spot. Unlike the shell-filled or black lava beaches on most edges of the island, this one is bright white sand and shallow water almost as far as the eye can see. However because it's widely thought to be the most beautiful beach on Udo Island, it's almost always packed with beach-goers and their gear.
Mangru Light House (망루 등대)
Another one of the stunning places to visit on Udo Island is Mangru Lighthouse. One of only five lighthouses on Udo, this is by far the most-visited lighthouse on Udo thanks to its stark white exterior. It's also a great central spot to hang out, and you're guaranteed to find someone to take your picture.
Changkom Rock (창꼼바위)
This is best described as an ancient lava ring, big enough to comfortably fit a few people inside. Think of this like one of those Instagram frames that people used to pose in front of at parties; it's very nice to look at, but there's not much else going on. But locals love to come here for a picture, especially couples, so it's worth a stop for the selfie, alone.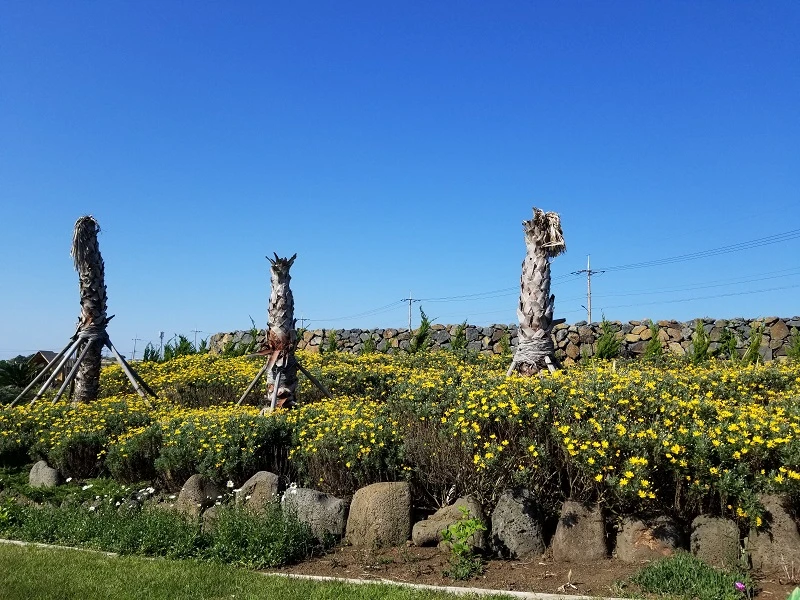 Udo Botanical Garden (우도정원)
Udo Botanical Garden, also known as Udo Herb Garden, is a large and colorful garden on the northern end of the island. It's great for walking around & taking pictures for an hour or two, depending on whether you stop in at their café or not (and how many photos you take).
As you bike your way through the one lane circuiting Udo, you'll encounter the sweet scent of citrus blossoms, which you may at first confuse for honeysuckle.
Here at Udo Botanical Garden, you can experience the intoxicating blooms up close and personal, along with a variety of other local and imported warm weather plants. This is where the infamous Udo Island pink grass (muhly grass) is located.
People Watch at a Cafe

(카페)
This is one of my favorite things to do in Seoul and everywhere else in Korea, Udo Island included. I highly recommend ordering a peanut latte (iced or hot), and then sitting back to enjoy the view.
Ziplining Near Udobong (짚라인)
The Udo zipline was closed for most of the pandemic, but is normally open seasonally (in warm weather). Riding across offers a complete in-air view of Udo Island, which makes the moderately-steep price more than worth it.
Udo Island Submarine Ride (우도잠수함)
Probably one of the most unique things to do on Udo Island, taking a submarine ride is something that needs to be booked in advance, but I guarantee you'll never forget the experience.
Biyangdo Island

(비양도)
Similar to Dokdo Island in the northern part of the country, Biyangdo is not a place that many people visit. Fewer than 100 people live on the island year-round, but it's a popular day trip from Jeju, and easily visited from Udo. The highlights of a trip to Biyangdo Island are the hike to the top of the peak, the lighthouse, secret fishing spots, and view of Jeju-do that can't be beat.
What to Eat on Udo Island
You couldn't go on a day trip to Udo Island without trying some of the local fare, so allow me to make some recommendations.
Drink a peanut latte (ground peanuts in a sweet latte) or peanut liquor, both of which are Udo Island specialties.
Try homemade peanut ice cream, which you can find at a multitude of cafes on Udo island (most of which are marked on the map above).
Abalone anything— most people opt for the porridge or stew (jeonbokguk), even in the summer heat.
Any snacks and dishes with garlic are highly sought-after on Udo, because the local environment is perfect for growing all sorts of plants, and the local residents pride themselves on their quality garlic & chives.
Marinated crabs are even better here than on Jeju; I swear. You can often even find them as a banchan, or a side dish served alongside your main meal, though only at the seafood-centric restaurants.