If you think limes are only reserved for Mexican delicacies, think again. The colorful citrus fruit is a flavor powerhouse that demands a top seat in your dessert rotation, from the classic Key lime pies and standout cakes to refreshing ice cream and flavorful cookies.
Whether you're looking for something to prepare using fresh limes or lime-flavored ingredients, I've got you covered with these delicious lime desserts. This compilation is the fruit of my sweet tooth and undying obsession for anything lime, so get ready to dig into each recipe.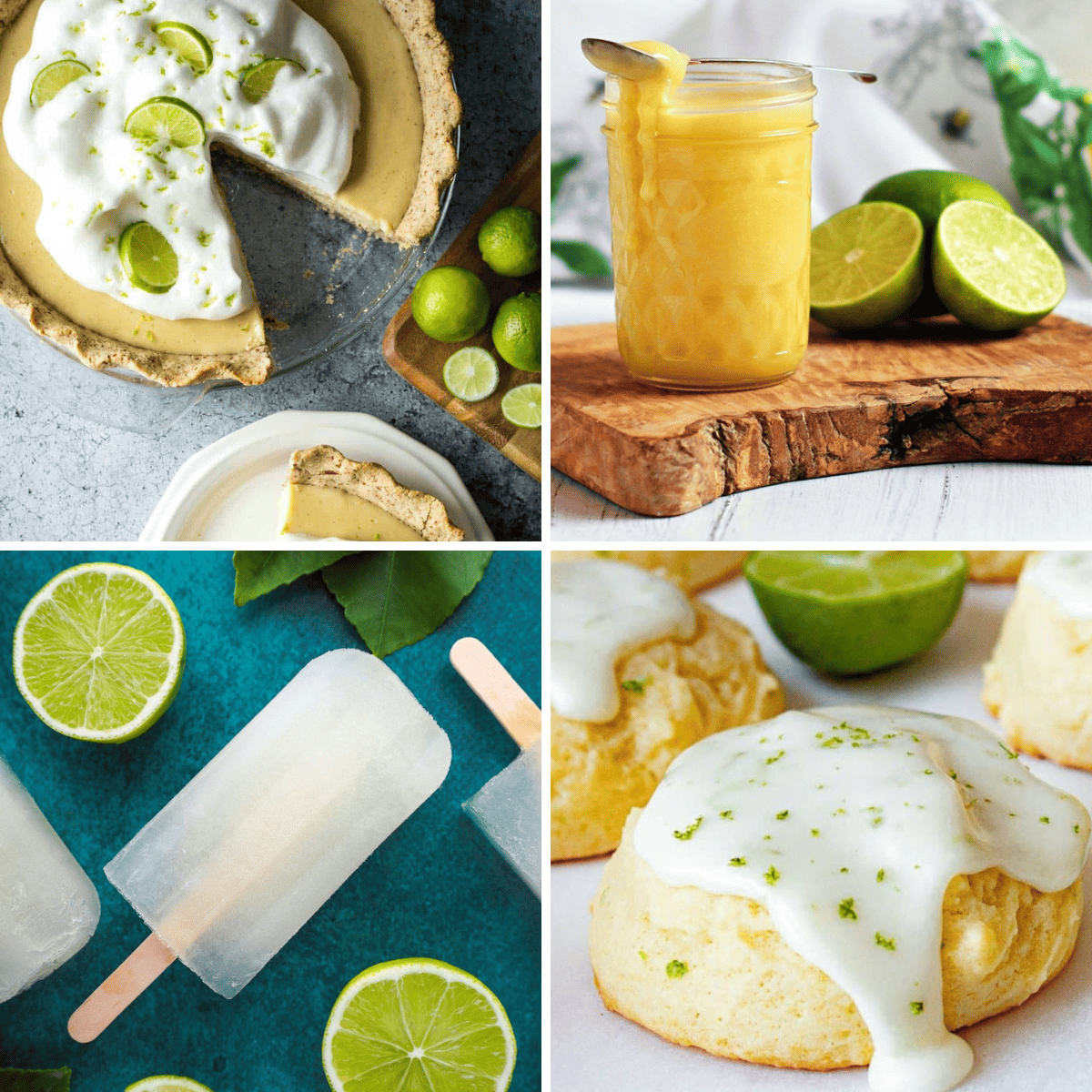 Jump to:
Lime Cookie Recipes
Lime Melt Away Cookies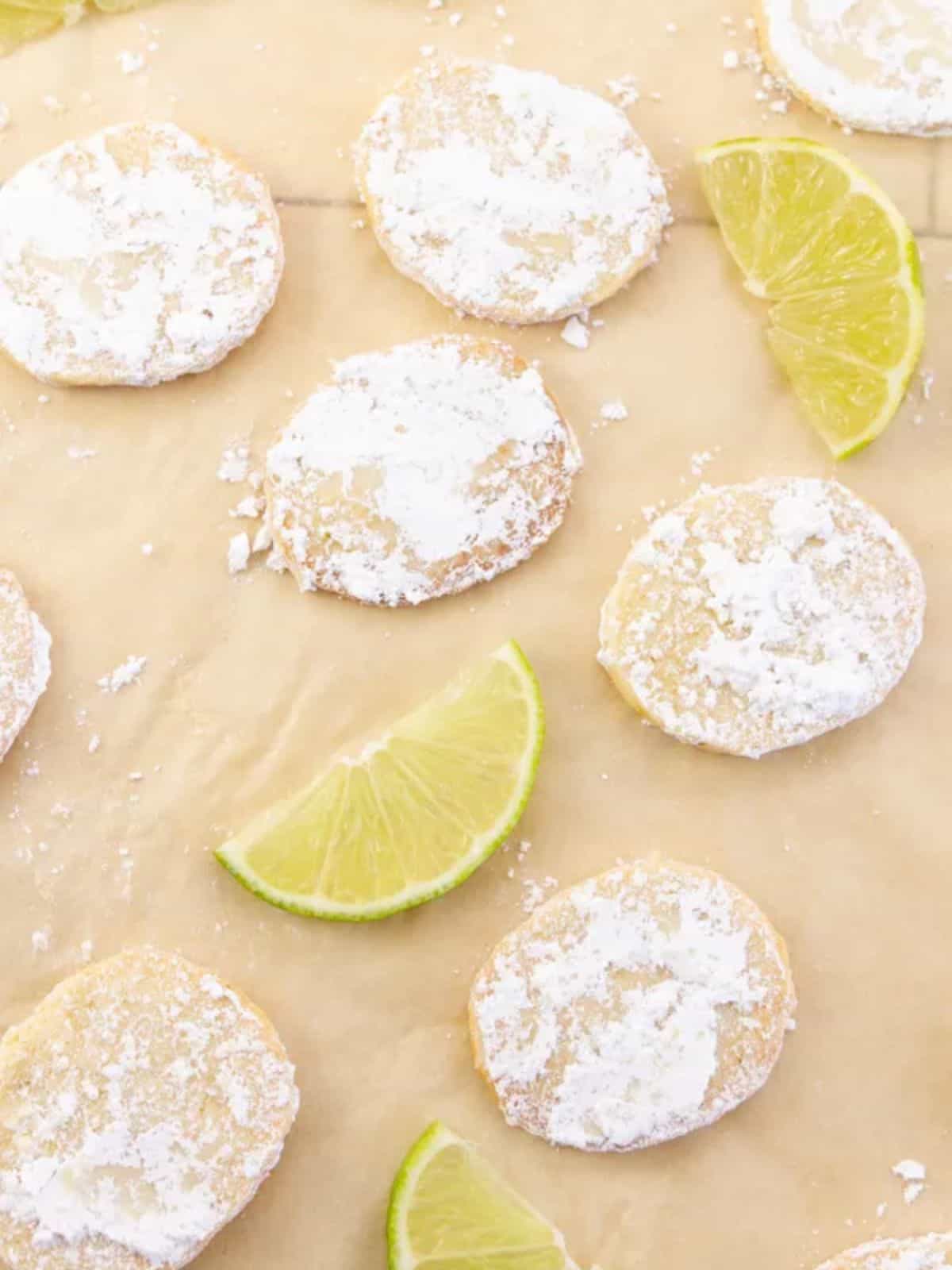 Lime melt away cookies are shortbread biscuits that are buttery, crumbly, and gently sweetened. They get their name from the way they seem to melt away in your mouth as you eat them, dissolving delightfully. This lovely texture is simply created by the butter, sugar, and cornstarch dough.
Take that tiny cookie and cover it in powdered sugar, and you get a fantastic flavor with a zippy lime tang. Delicious and easy to make with only a few pantry ingredients, these lime melt aways cookies will be loved by everyone.
Key Lime Pie Cookies (Crumbl Copycat)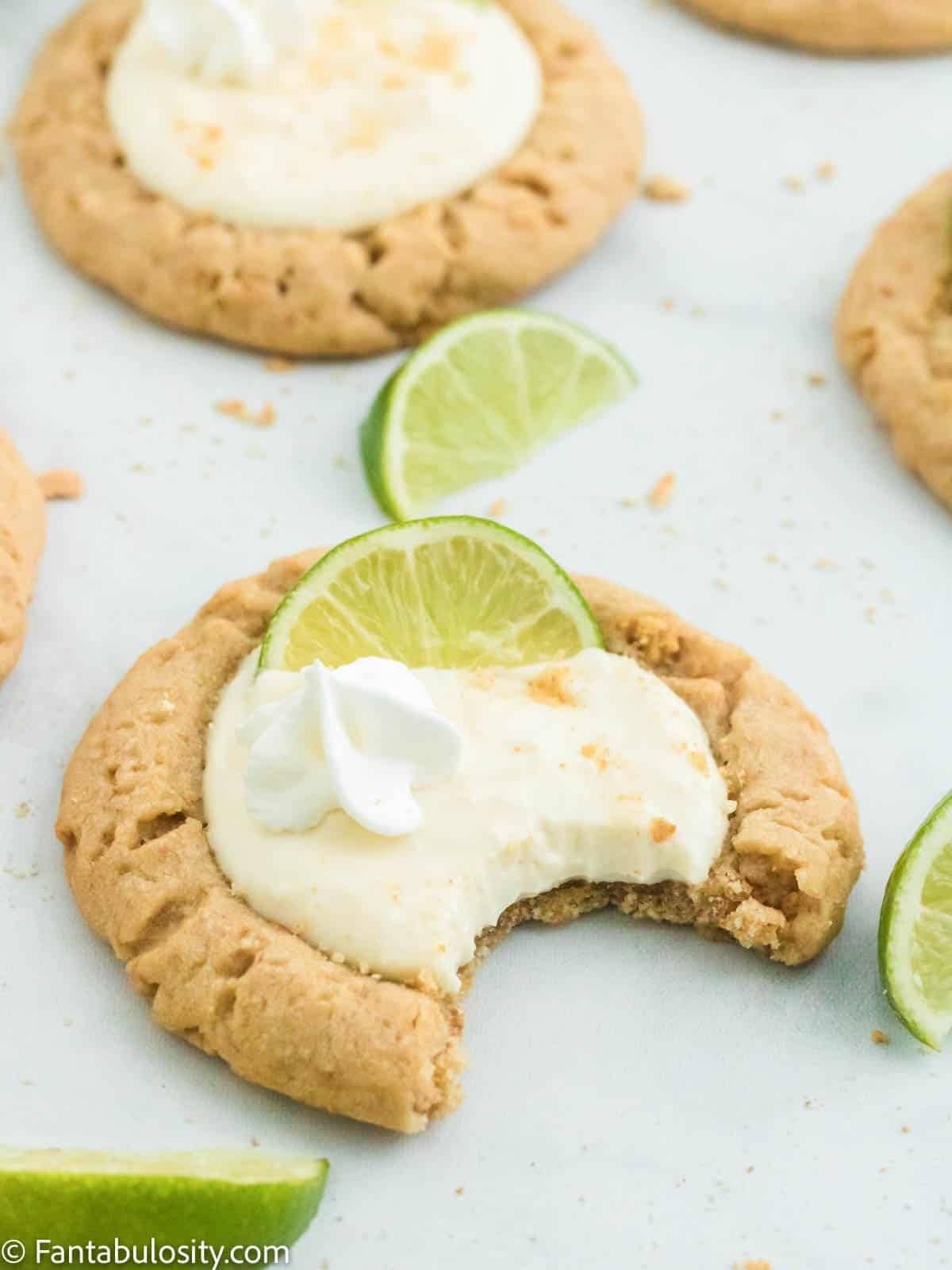 If trying to catch Key Lime from Crumbl isn't your thing, go ahead and make it yourself! This key lime cookie recipe is quite simple to make, despite the fact that it is not your typical mix-and-bake cookie. But I assure you, they are well worth it!
These soft key lime sugar cookies are perfectly chewy, and the tart key lime filling on top is incredible! It's the quintessential key lime pie in cookie form.
Gluten-Free Key Lime Cookies With Glaze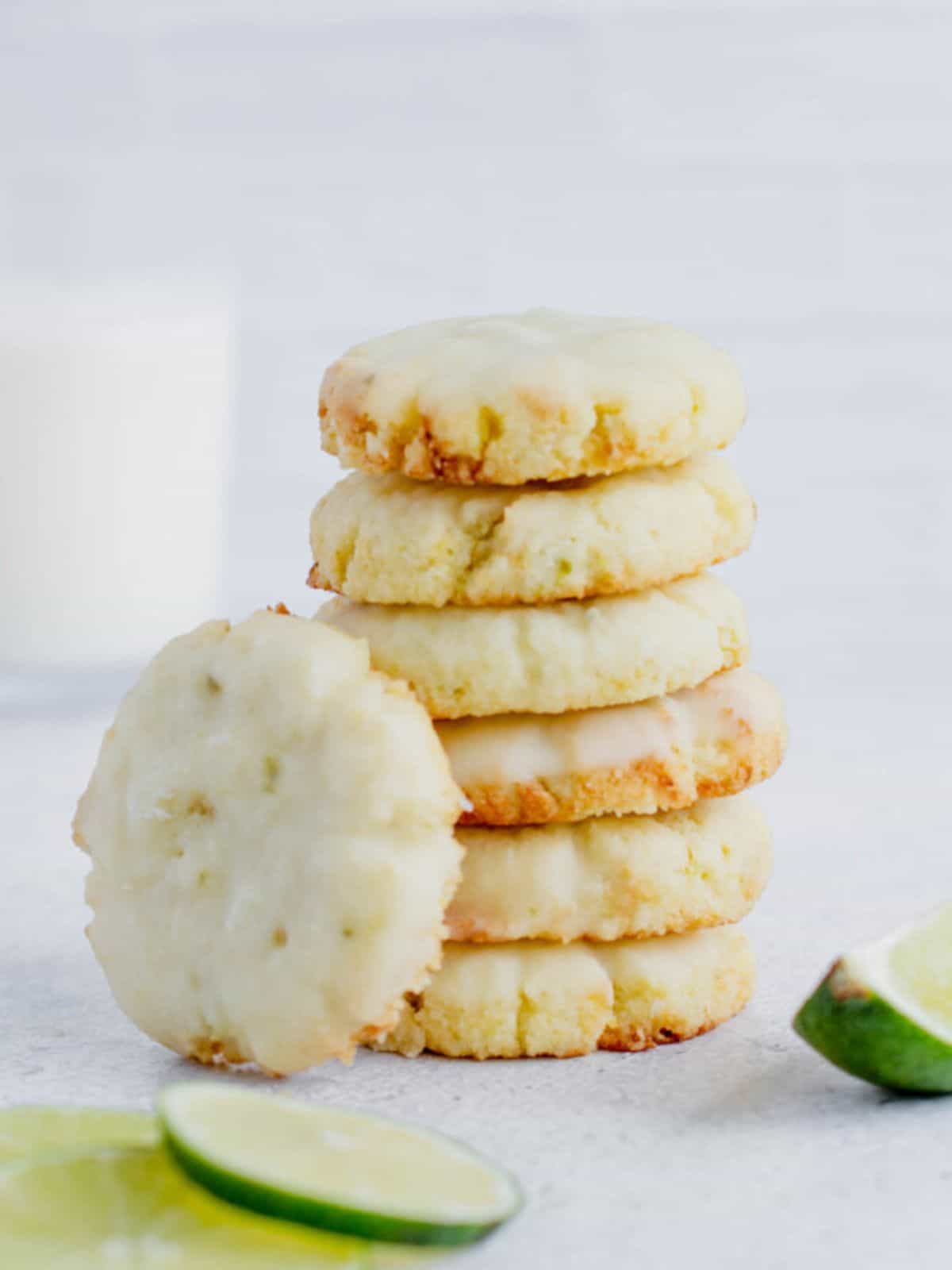 These healthy and delicious key lime cookies will be your new favorite recipe to make year-round! Bursting with lime flavor and topped with a lime glaze that is to die for.
Best of all it comes together in one bowl, and then you have yourself absolutely luscious light and fluffy cookies that are the perfect lime dessert or treat.
Key Lime Cooler Cookies With Glaze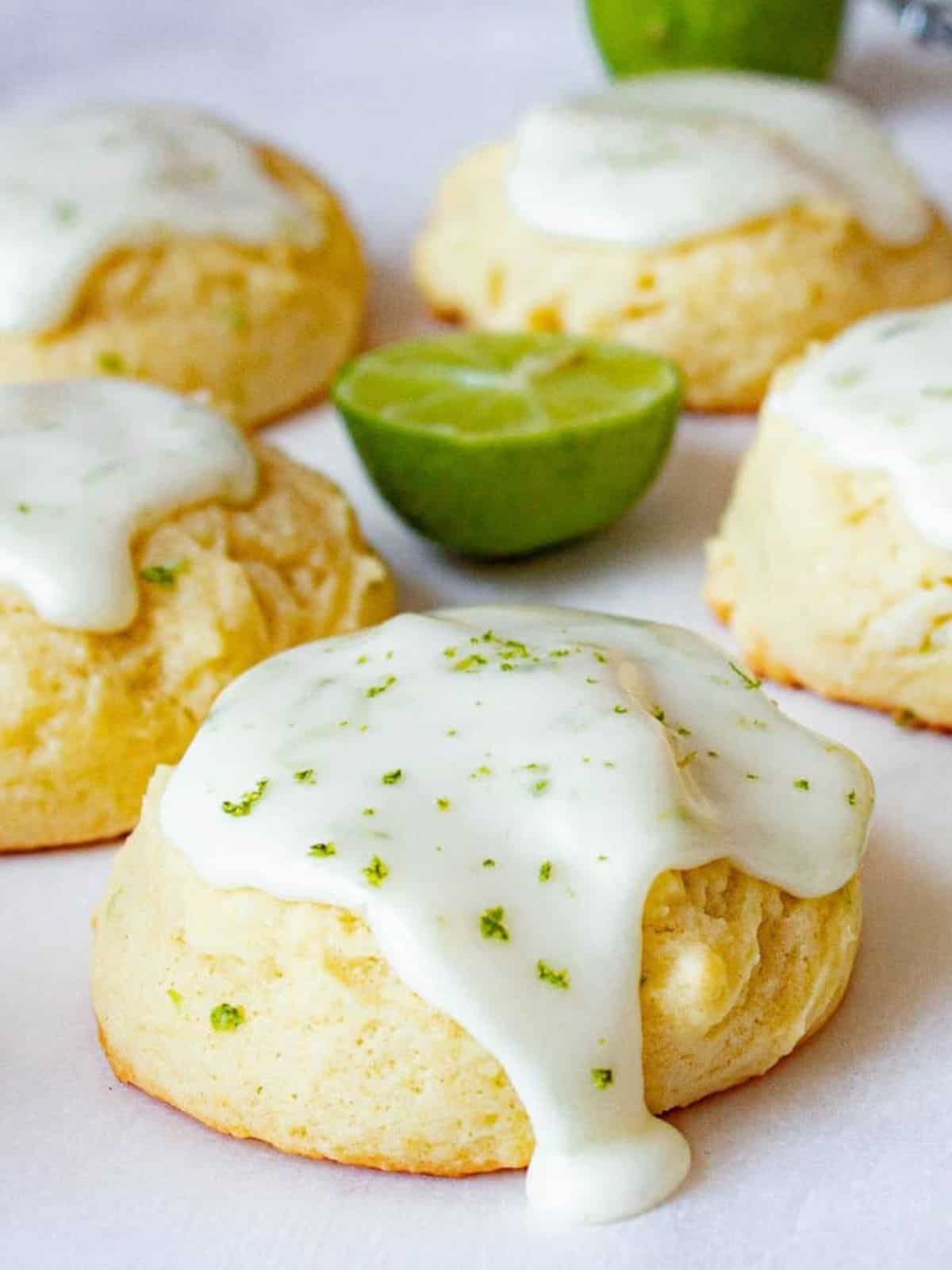 These Key lime cooler cookies are little bites of heaven! Perfectly tart, soft and chewy with an amazing key lime glaze on top!
It's easy to make with fresh key limes or bottled juice. Don't forget to chill the dough to keep your cookies from spreading into a flat mess in the oven, and retain that light, fluffy texture that is SO good in these lime desserts.
Key Lime Cookies (Condensed Milk Frosting)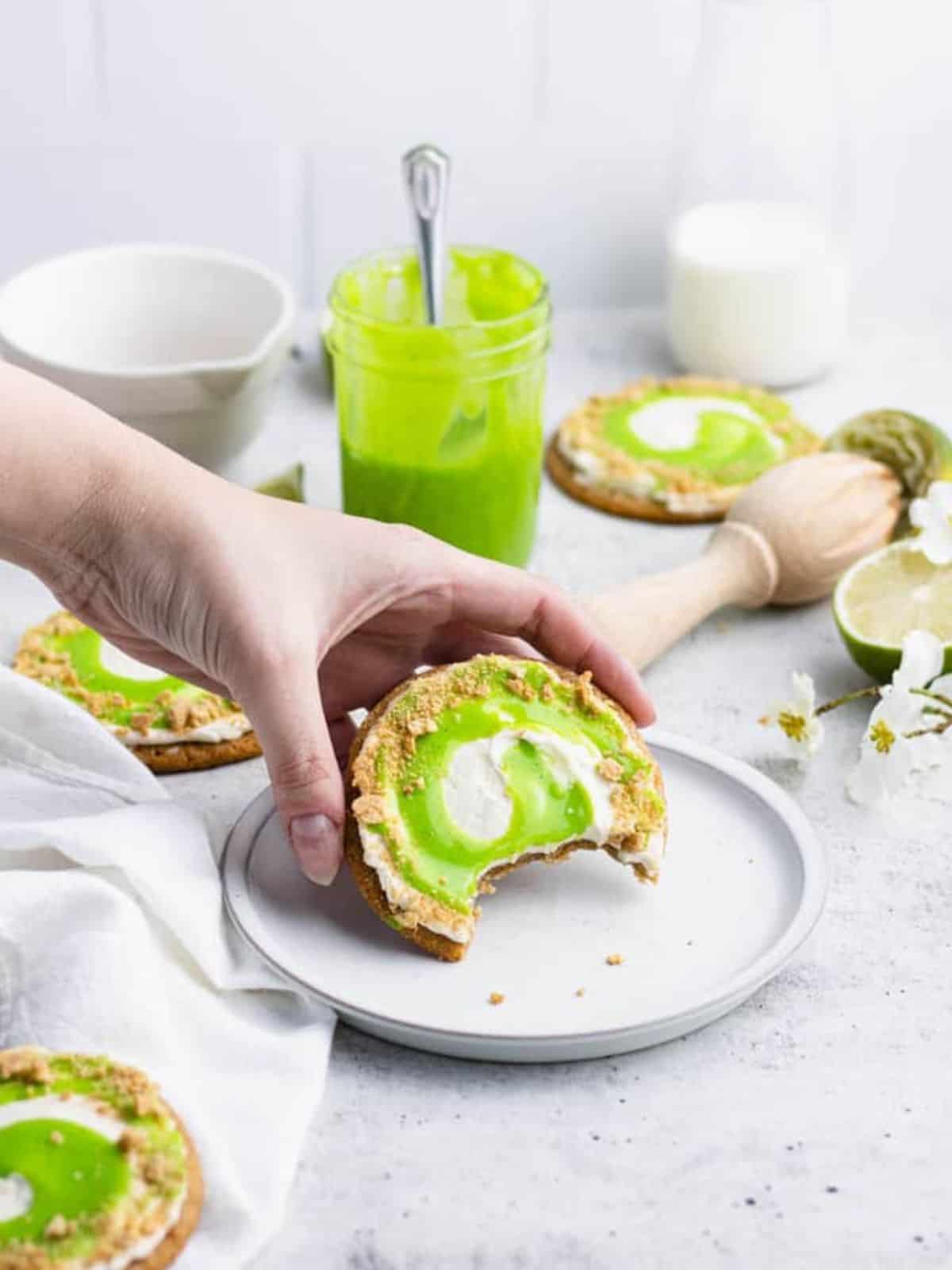 Your go-to key lime pie takes the form of a lovely, dense cookie in this key lime cookie recipe. Inspired by the flavors of the iconic pie, these cookies feature a chewy graham cracker cookie, with silky sweetened condensed milk frosting, and a generous serving of zesty lime curd.
Homemade lime curd filling is a must for this recipe. A delicious cookie with sweet milky frosting and tangy lime filling is simply amazing.
Key Lime Coconut Thumbprints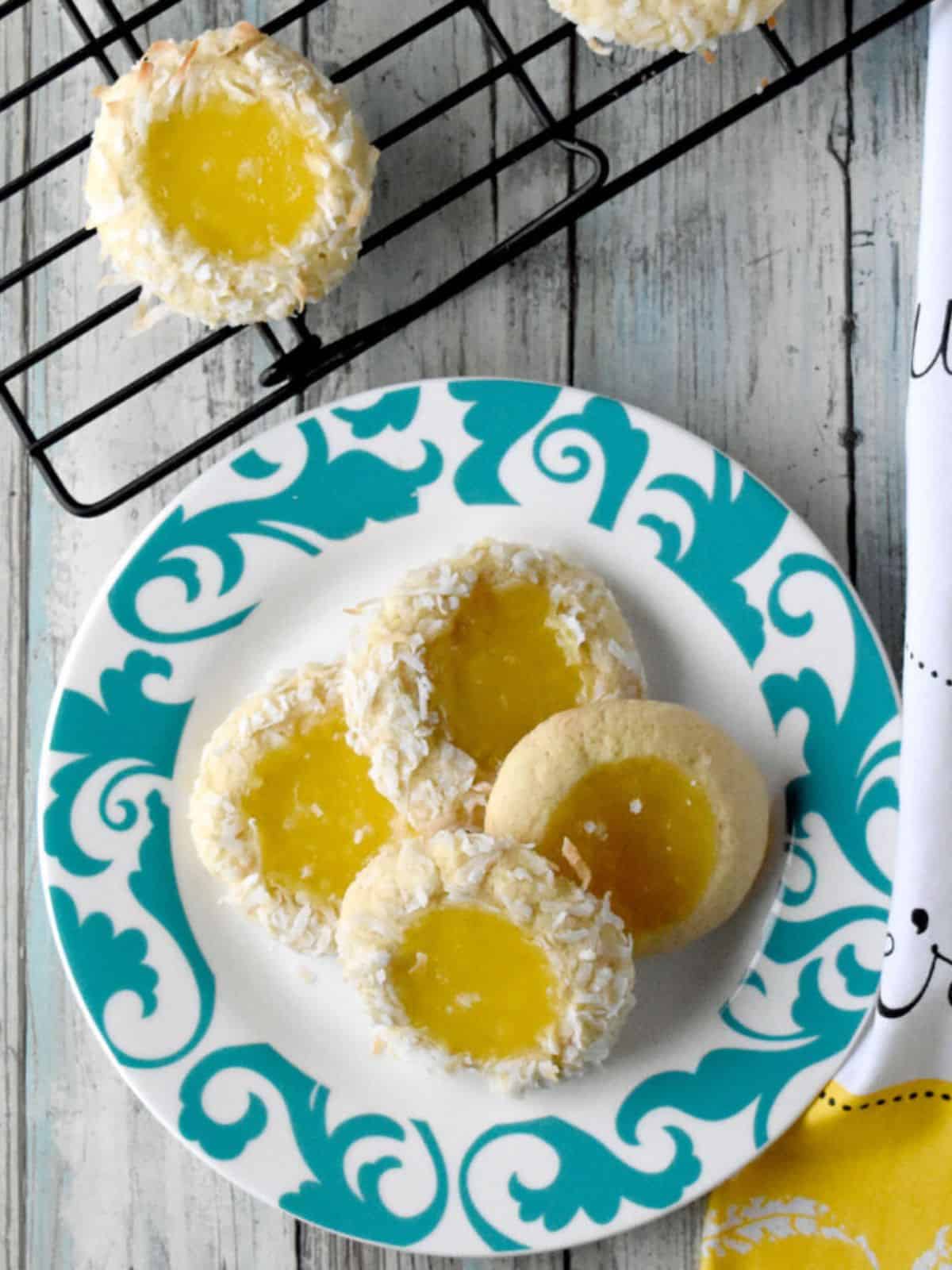 Key lime coconut thumbprints have a sweet tart filling in a deliciously tender thumbprint sugar cookie. Got some extra lime curd lying around or want to make your own? This is the perfect recipe for it.
You'll want to make thick lime curd for these thumbprint cookies, and any excess will be for the spoonlickers. The sprinkle of gray sea salt on top is the hidden flavor that rounds out all the flavors in these cookies. From the texture of the baked curd, to how translucent they look in the cookies, these pretty jewels will perfectly adorn your dessert spread.
Lime Cakes
Keto, No-Bake Lime Cheesecake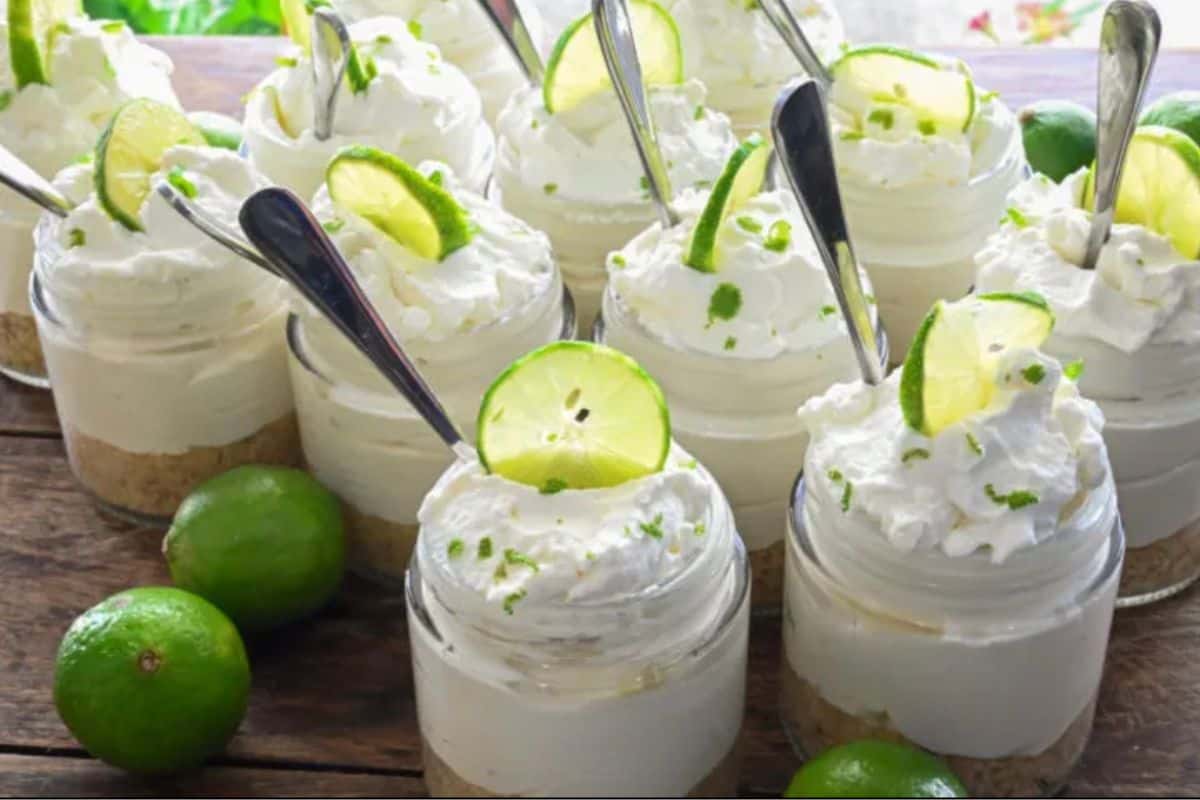 This is a creamy, dreamy cheesecake infused with the flavor of key limes, and it's keto-friendly! What more do you want? The sweetness of cream cheese and the sharpness of limes complement each other well in this low-carb no-bake key lime cheesecake dessert.
It features a velvety-rich lime filling that's as light and fluffy as a cheesecake mousse. To top it all off, it comes with a 3-ingredient, grain & gluten-free crust that's low in carbs. It's a no-fail, keto delight!
Key Lime Cupcakes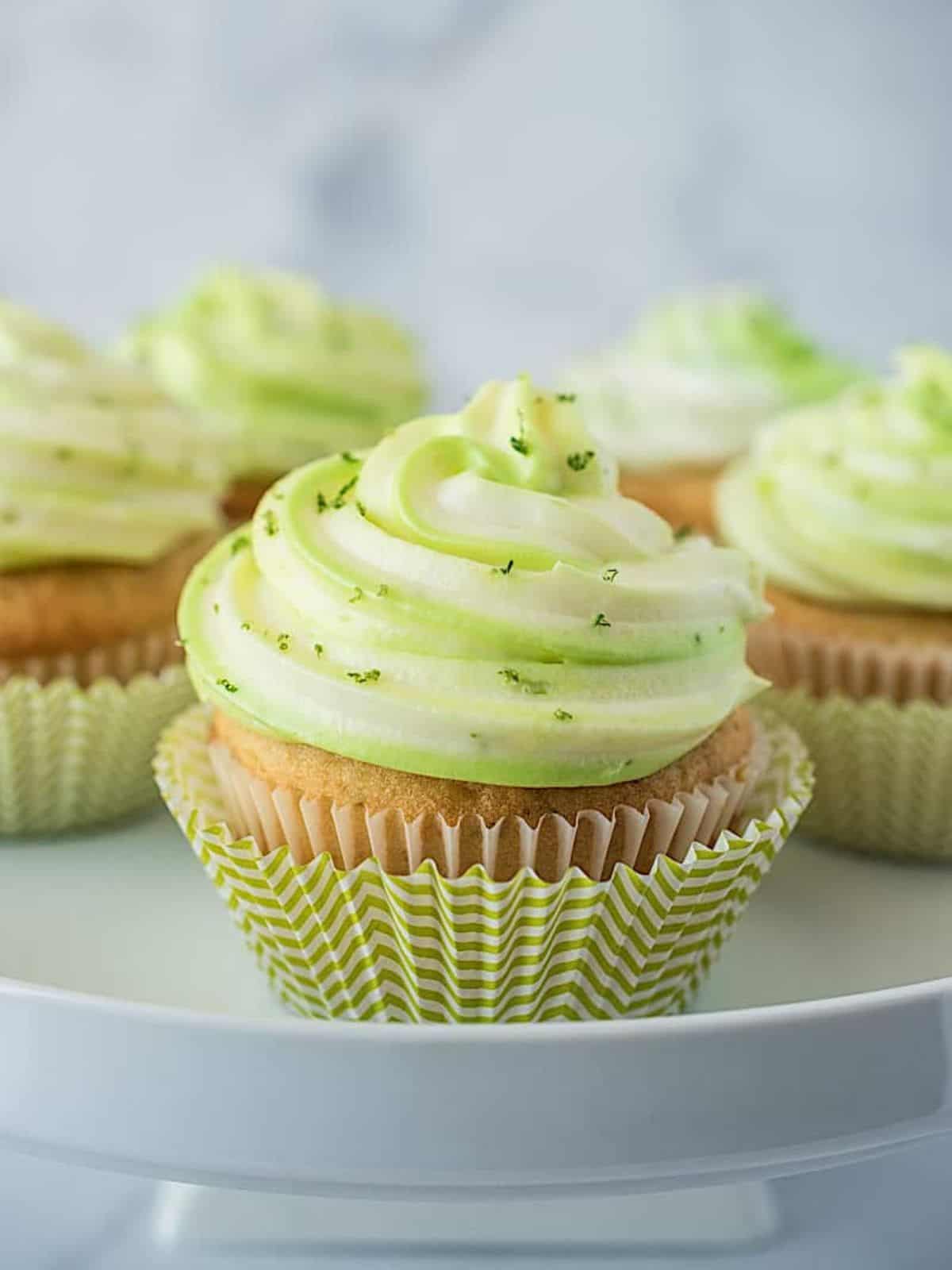 This lime-infused cupcake recipe is so simple to make but absolutely bursting with fantastic flavor. Key lime cupcakes are airy, light, and delicious.
Lime frosting that tastes bright and fresh, with a little tang, a little sweetness powers this brilliant summery treat. That key lime frosting adds the perfect zippy tartness, so it's a must-make, if you ask me.
7-Up Pound Cake With Citrus Glaze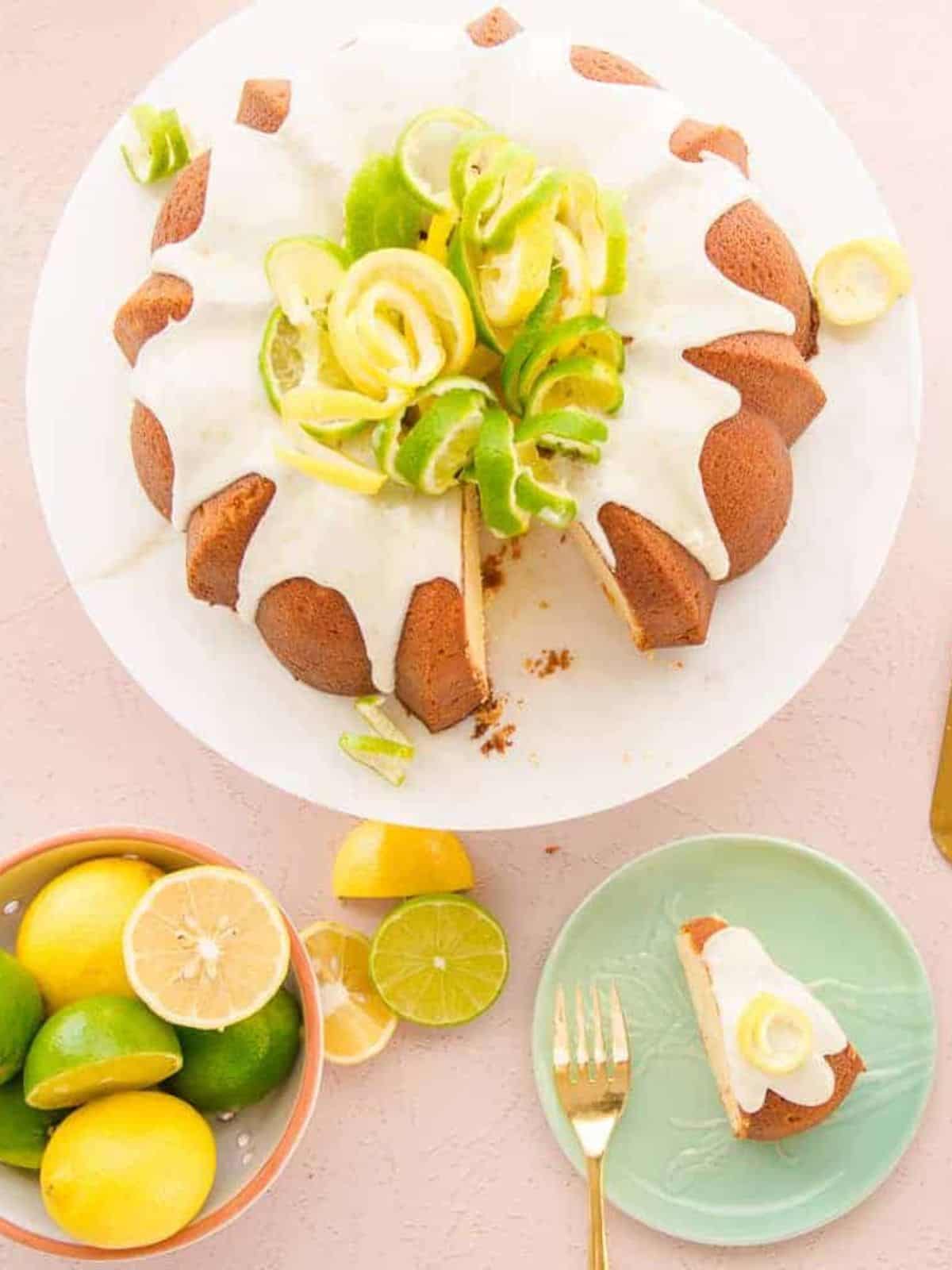 A delicious, lemon-lime-infused all-butter cake flavored with the popular citrus drink - 7-Up gives your dessert table a wow factor like no other. 7-Up pound cake with citrus glaze is basically a lemon and lime flavored Southern dessert that's so simple to make.
The base cake is made entirely of butter infused with lemon and lime flavors for a luscious buttery tang. The secret ingredient - 7-Up makes an appearance in the cake and glaze and adds lightness to the cake. This classic Southern dessert is moist and delicious and perfect for any occasion.
No-Bake Strawberry Lime Cheesecake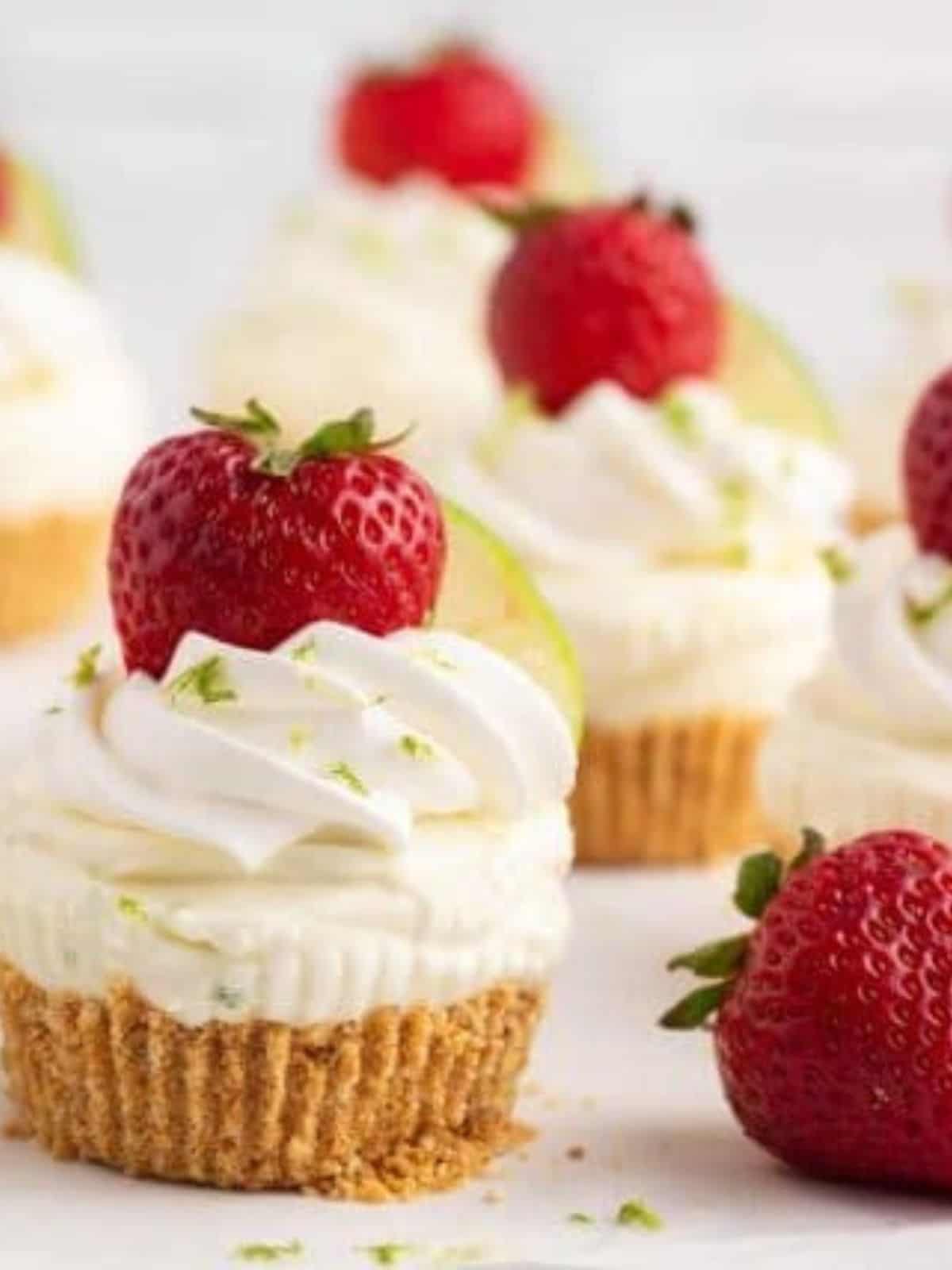 This is a cool and refreshing no-bake strawberry lime cheesecake recipe to satisfy your sweet tooth. Strawberries and lime collide to make a quick and easy no-brainer summer dessert that's great for entertaining!
Topped with beautiful seasonal strawberries and a tiny wedge of lime, these cheesecakes are so pretty for your next soiree. I can't wait to sink my teeth into the sweet tart goodness of this heavenly lime dessert.
Healthy Avocado Lime Cheesecake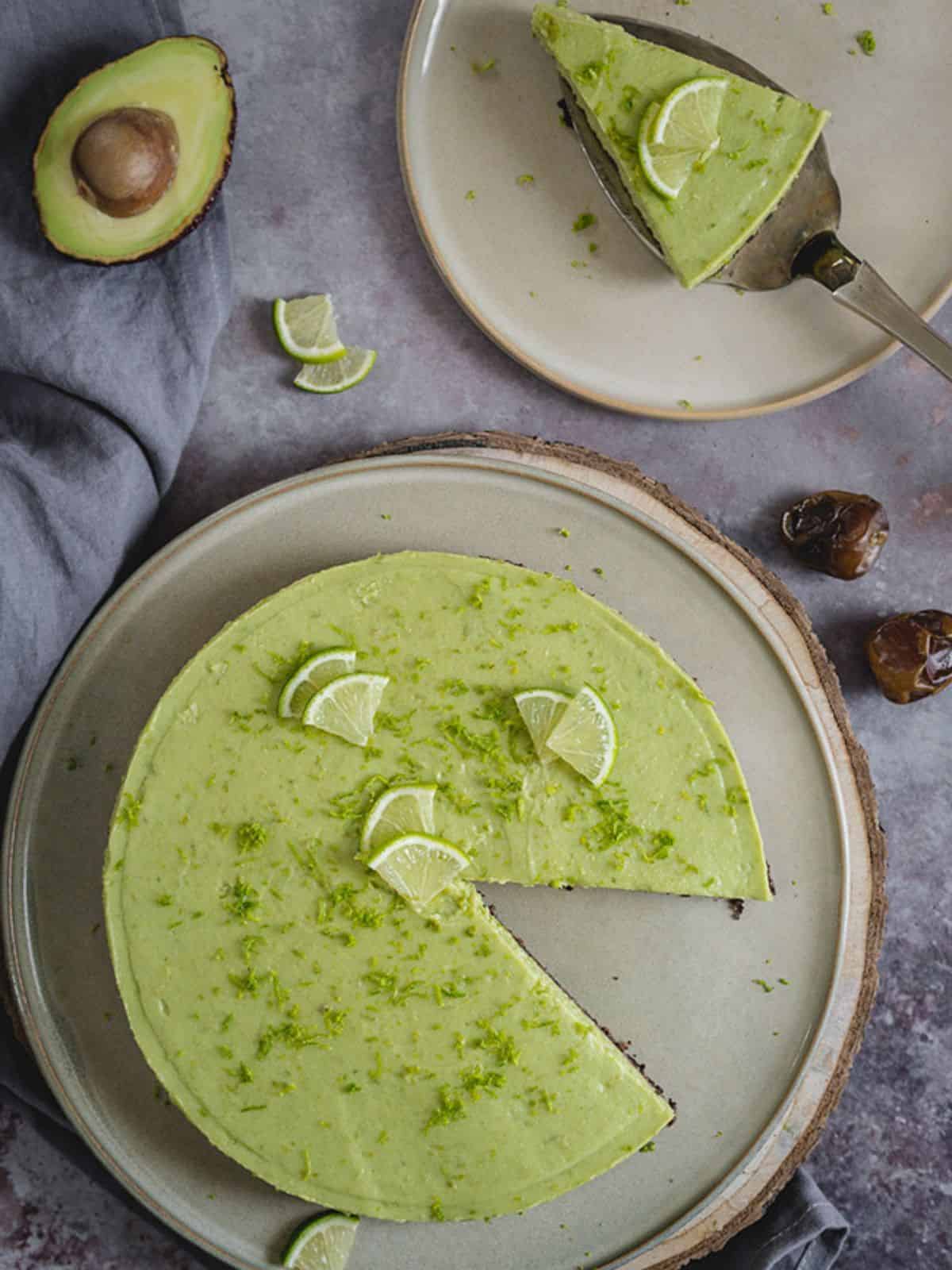 This healthy avocado lime cheesecake is one of the most refreshing lime desserts you'll ever make and taste. Raw, vegan, and gluten-free, the crust is nutty and chocolaty with dates double hatting as both sweetener and binder for the crust.
Then there's that smooth, delicious, and tangy filling. It's a tasty and completely healthy treat with a heavenly indulgence!
Vegan Coconut Lime Cupcakes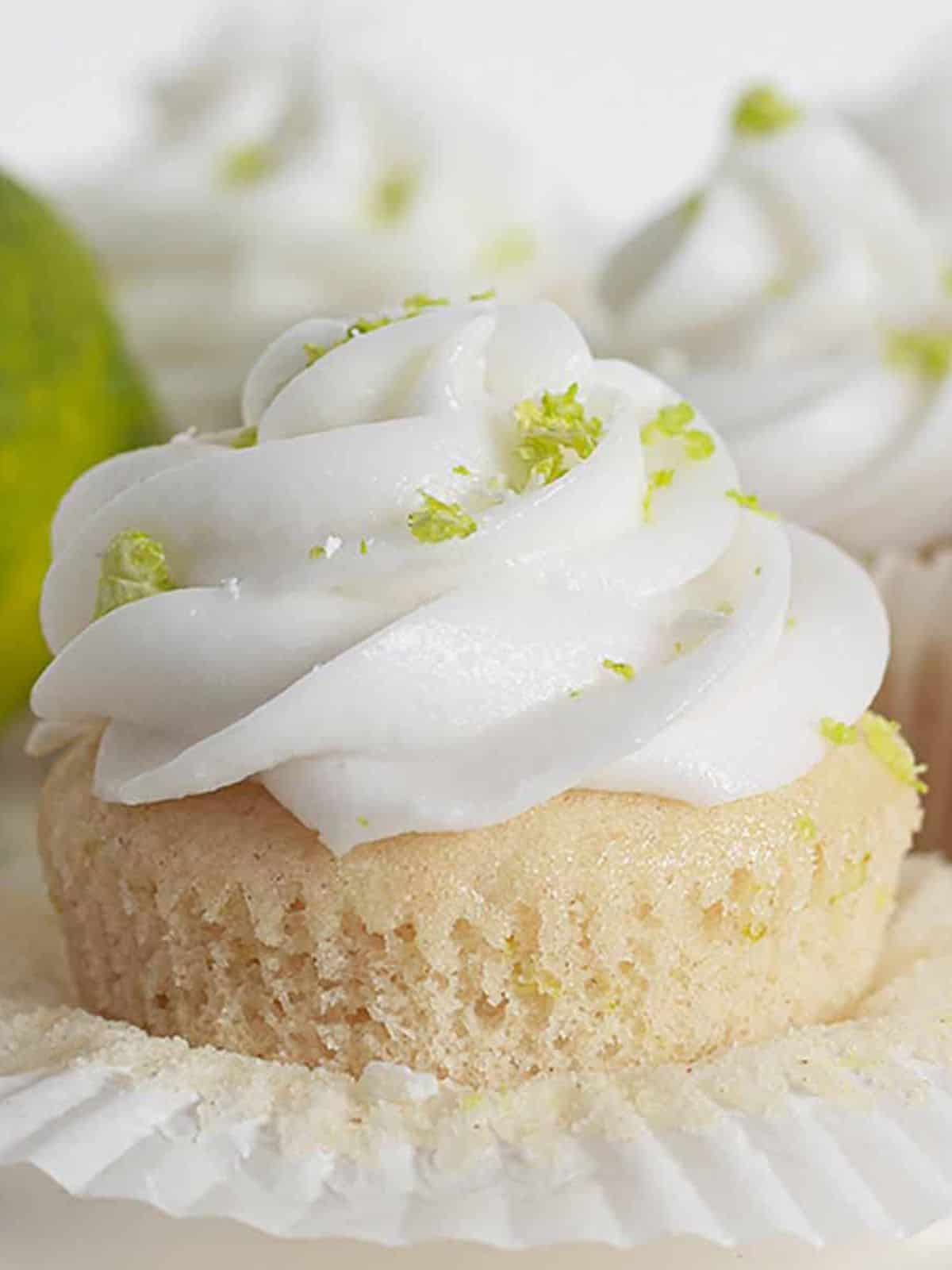 Light and fluffy vegan lime and coconut cupcakes with creamy frosting on top is a must in your sweet lime dessert arsenal. The refreshing and tropical decadence of this dessert stems from the tangy flavor of lime coupled with the creamy sweetness of coconut.
And that icing on top really brings the cupcake to another level. These are easy to make but sure to impress!
Key Lime Cake With Rum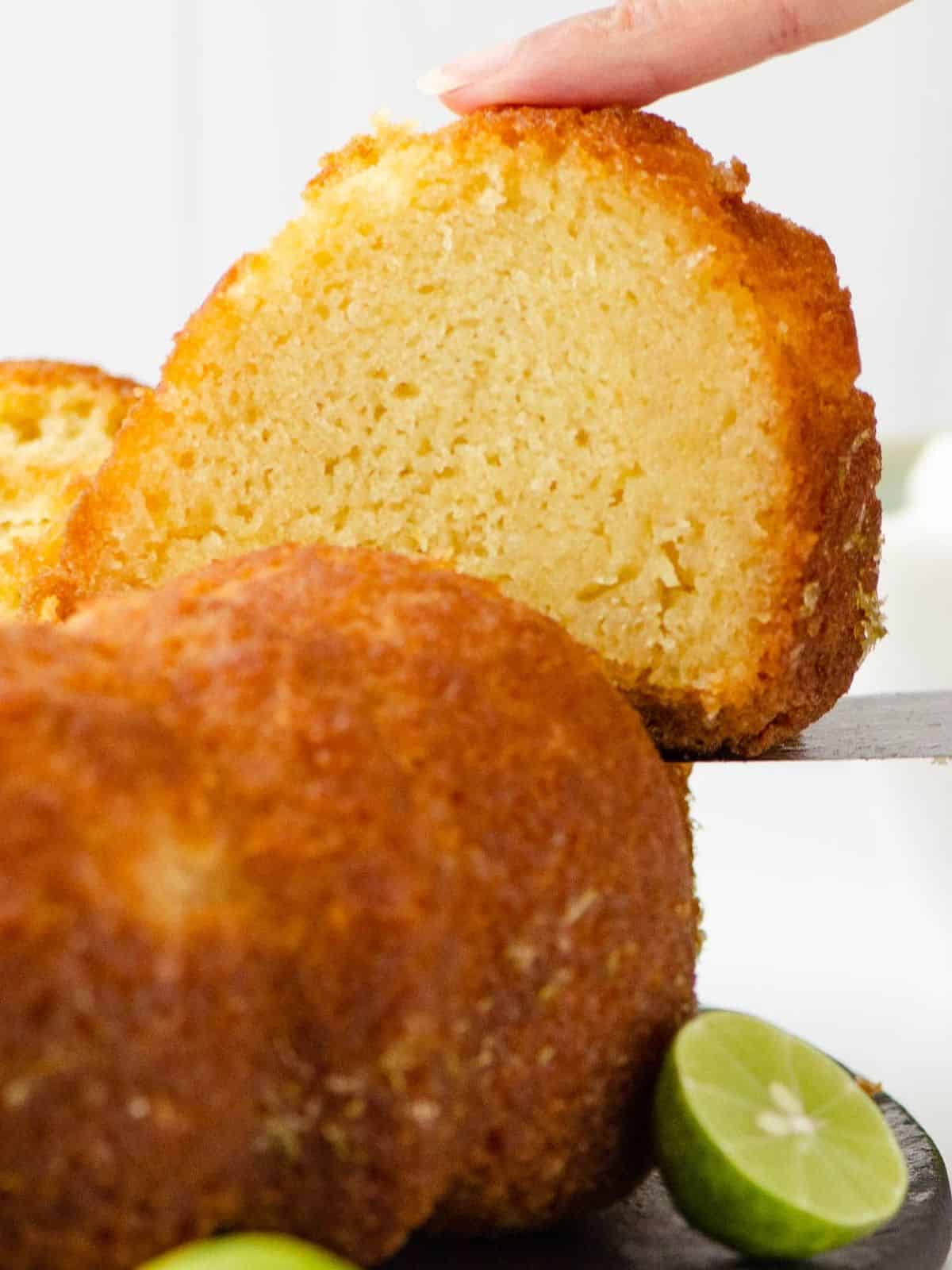 You can't think of Key limes and miss thinking about the ocean-lovers paradise that is the Florida Keys (also home of Key limes). Key lime cake with rum is one of the simplest ways to use up Key limes.
A classic buttery rum cake with the zippy zest of limes for all the yellow cake fans all over the world!
Amazing Lime Pies
Lazy Girl Key Lime Pie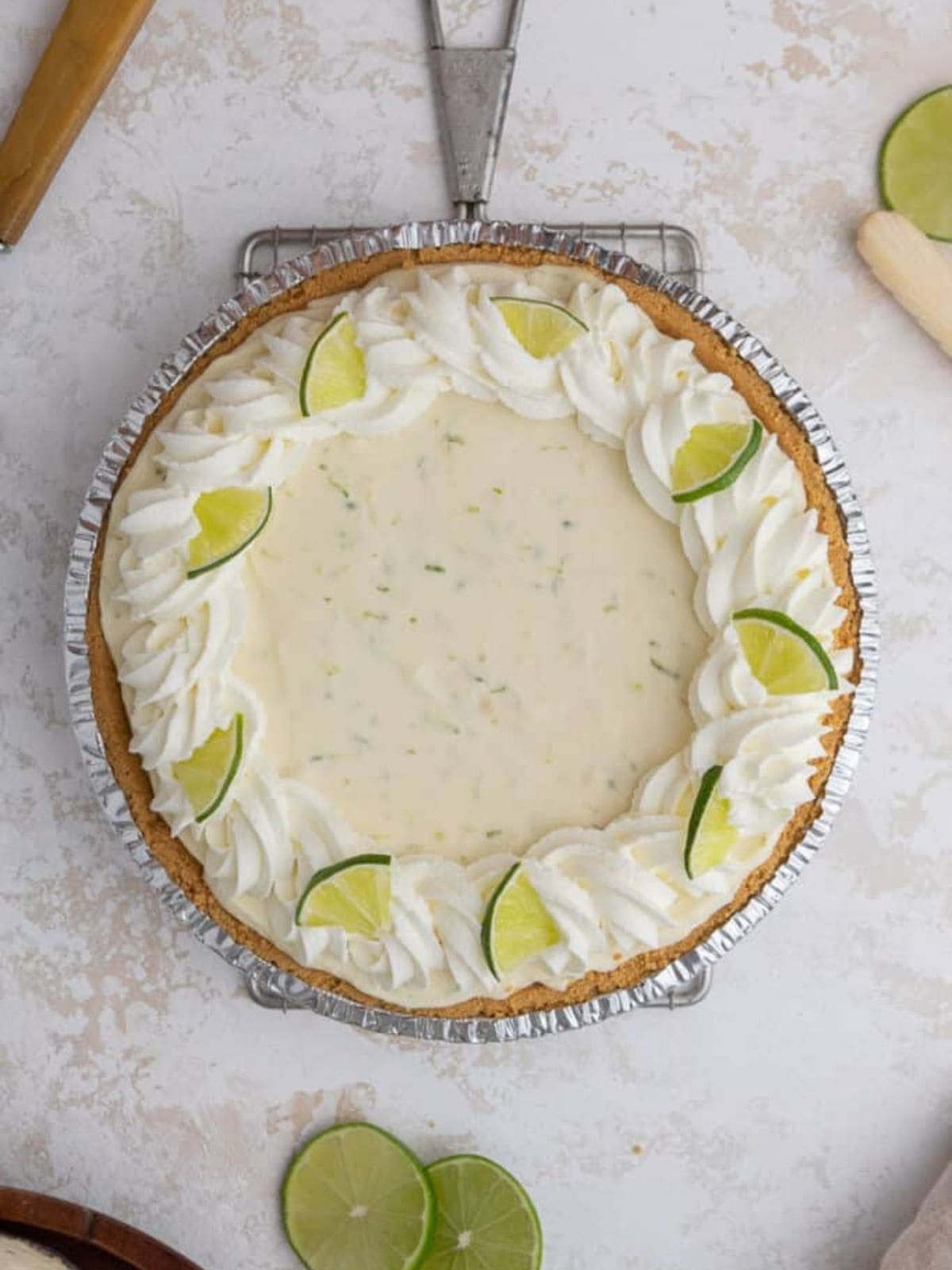 Just like in brownies, there's such a thing as lazy girl key lime pie. This recipe is super quick and easy to make with an out of this world taste.
Featuring a filling that's identical to a no-bake cheesecake but is flavored with plenty of key lime juice for tang and extra lime zest to let the flavors shine.
Vegan Key Lime Pie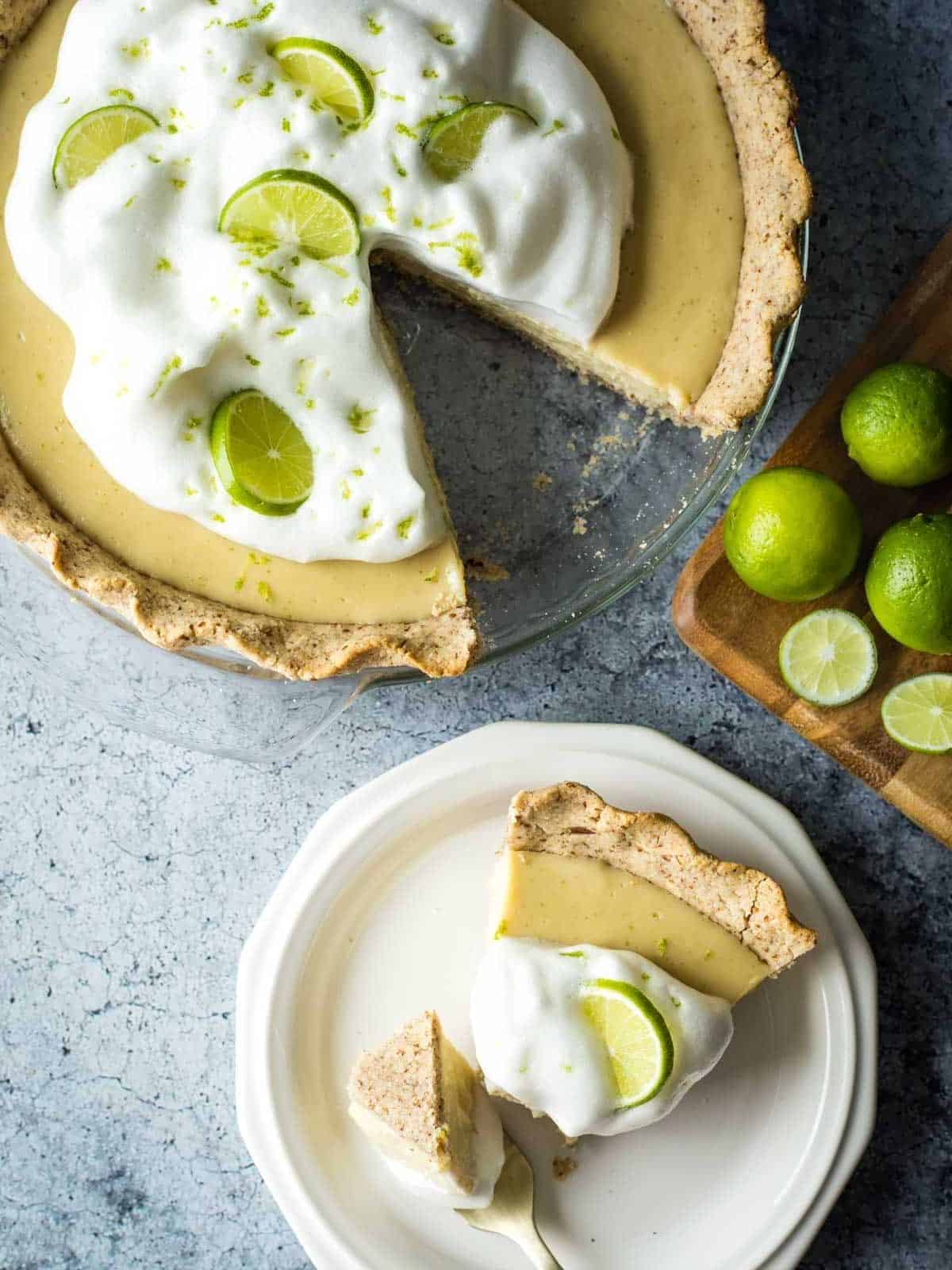 This vegan key lime pie is the stuff of lime fantasies! Wonderfully creamy, tart, and refreshing, this vegan take on key lime pie is so good no one will ever miss the dairy and eggs!
It's just as sweet, fresh, vibrant, creamy, and delectable as the original, and devoid of coconut (if you're not a fan). Prepare to be smitten by this zesty vegan delicacy.
No-Bake Avocado Lime Tart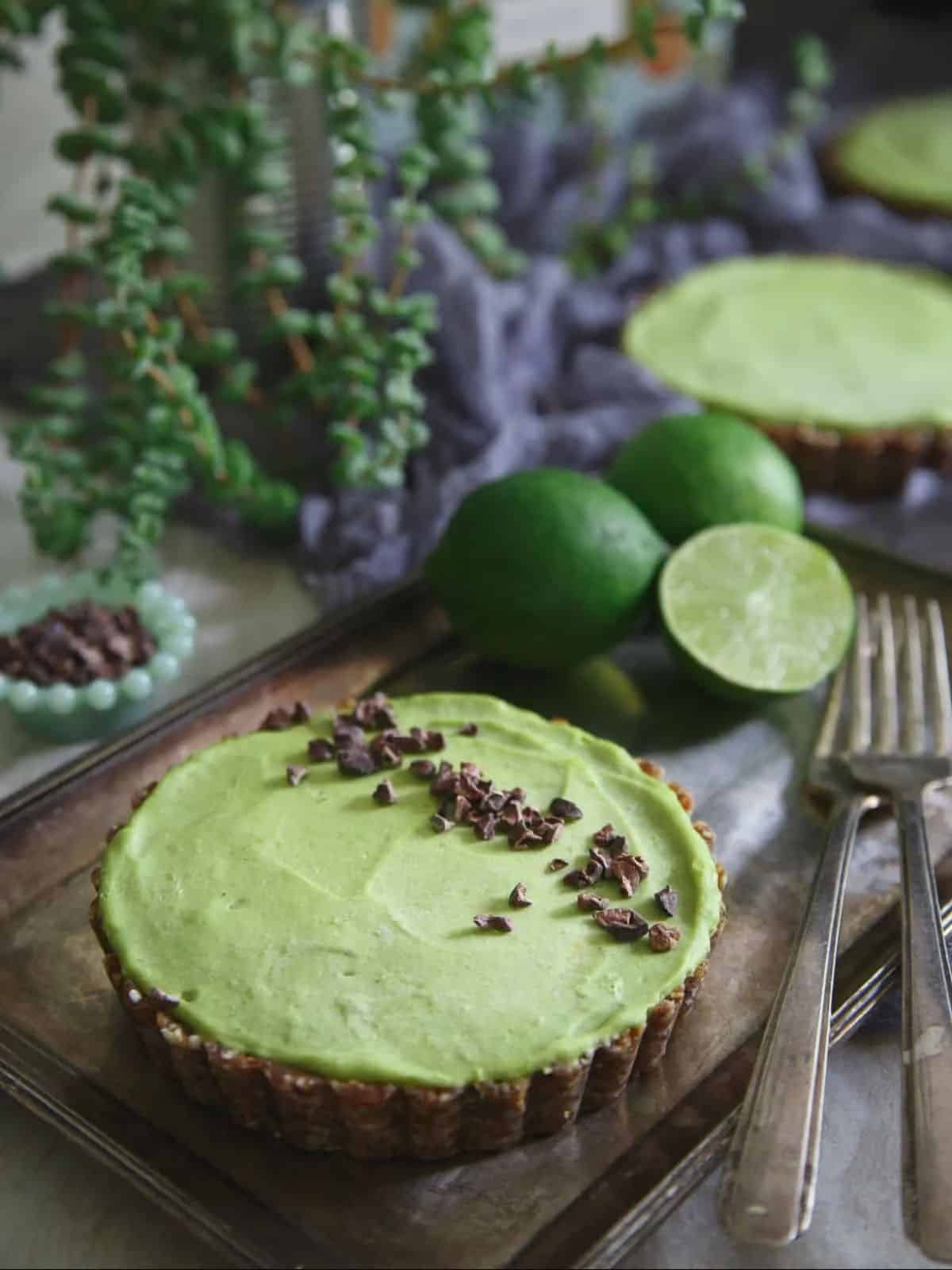 Save yourself the trouble of baking a pie crust with this no-bake avocado lime tart recipe. This no-bake avocado lime tart is full of zesty lime flavor that makes it the perfect refreshing treat.
Avocado is used as the base with the lime rounding out the fresh flavors nicely. There is absolutely no refined sugar added, making this raw pie gluten-free, paleo and keto-friendly. Delicious, simple, and healthy for any occasion.
Unique Lime Desserts
Lime Bars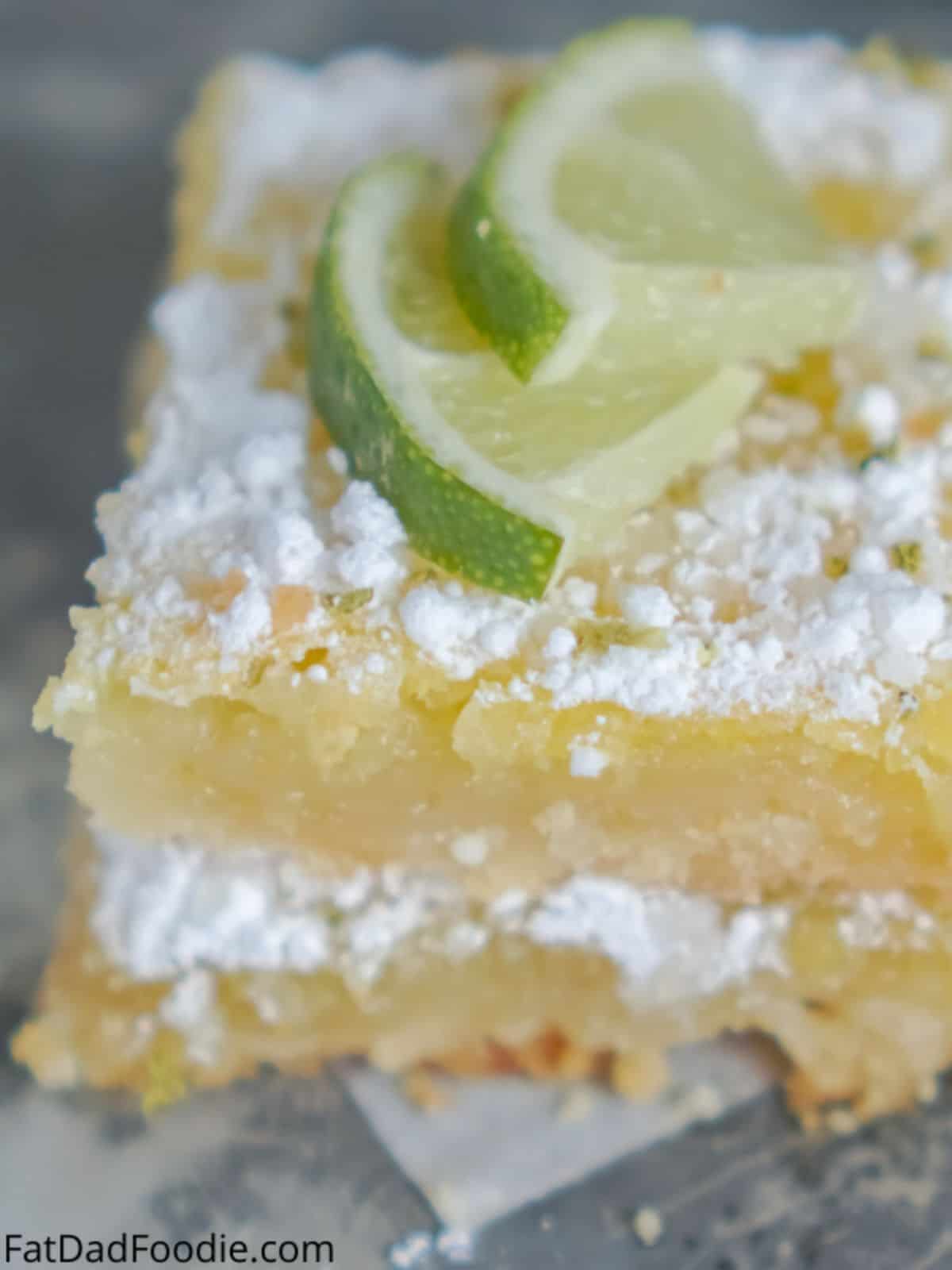 When it's hot outside, a citrus dessert is the best kind of dessert. This lime bar is a delightful warm season dessert with a shortbread crust and a tangy lime filling. Topped with just enough powdered sugar to brighten up that tang.
It's absolutely delicious. You can't not fall in love with these lime bars.
Mini Key Lime Pie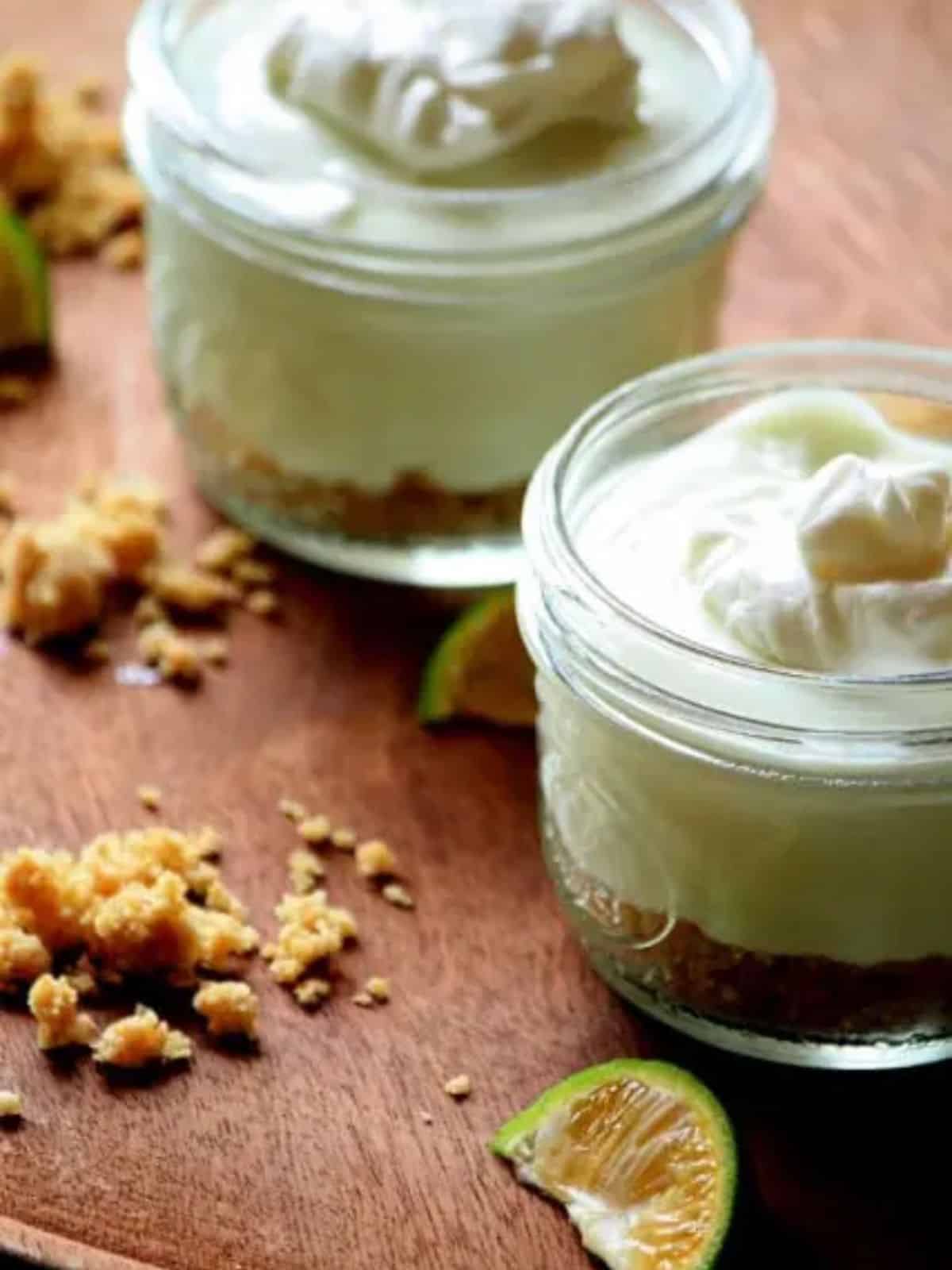 No-bake mini key lime pie layered in clear glasses is as pretty as can be. These mini key lime pies start with a graham cracker crust, and only 3 ingredients are needed for the filling!
Key limes are brighter, tangier, and more floral than regular limes so when in a pinch, grab a bottle of Key lime juice instead of swapping them for regular limes. The perfect no-bake summer dessert that's easy to put together.
Creamy Lime Bar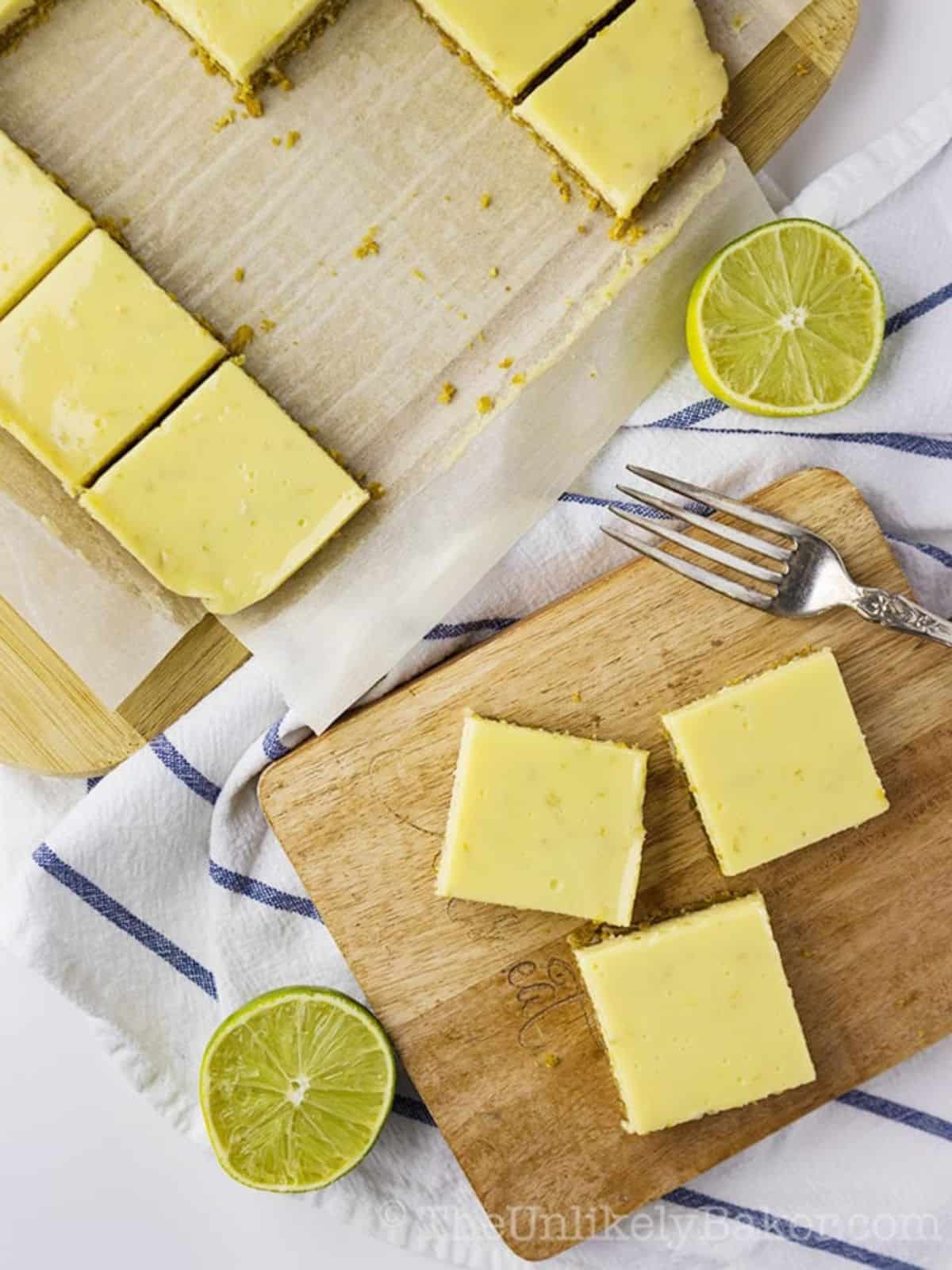 Creamy lime bars are perfectly sweet and tart. With a coconut biscuit base, this lime dessert screams of summer.
There's also a simple video tutorial to show you how quickly these silky, citrusy bars come together! So good and they taste like the tropics!
Lime Mascarpone Cheesecake Shooters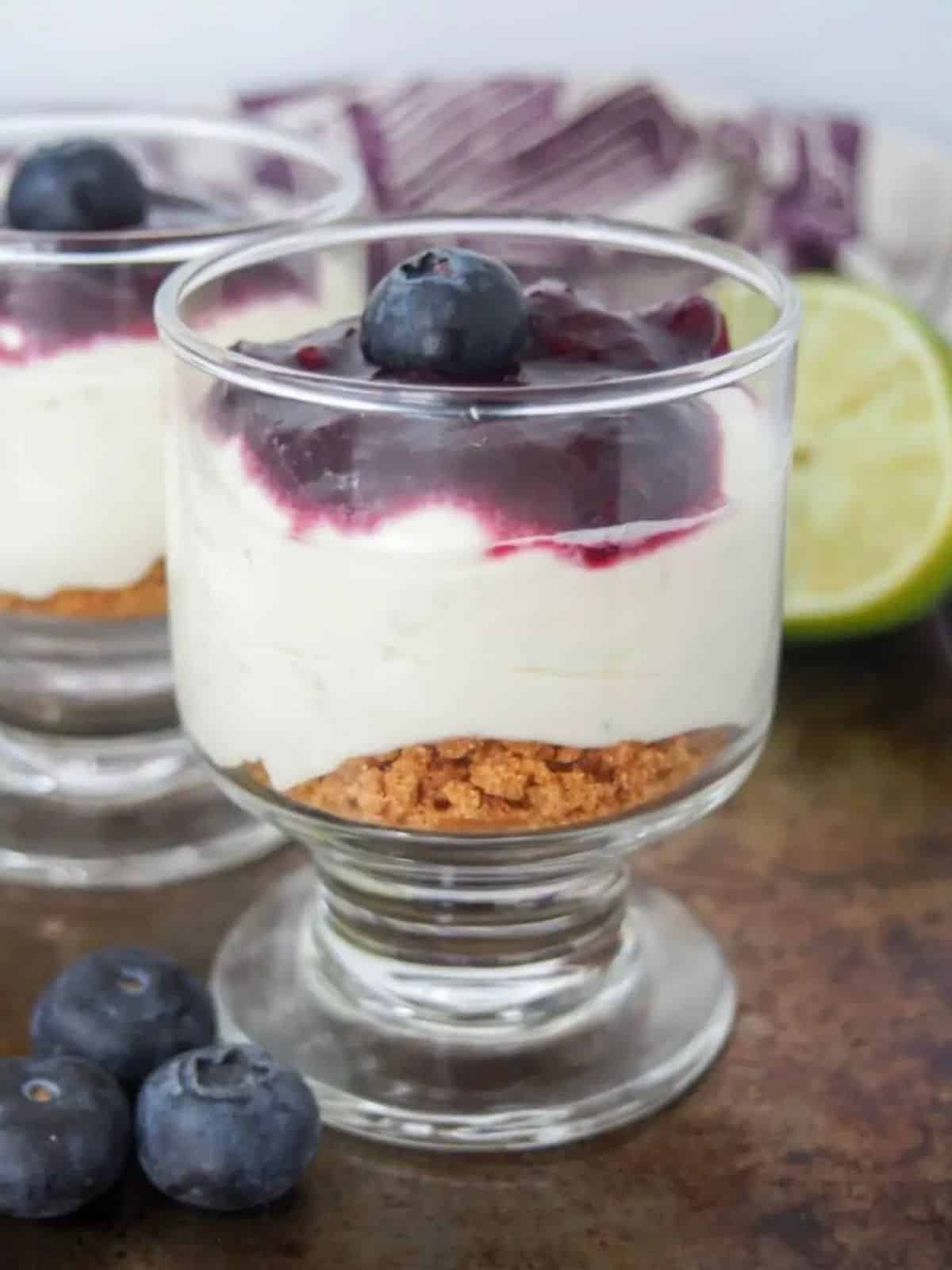 These lime mascarpone cheesecake shooters have a lovely balance of crunchy crumb base, smooth gently limey mascarpone and fruity topping. Creamy, zesty and delicious best describes them.
They're a super easy, tasty dessert that's perfect for entertaining. No-bake, make ahead, and can easily be portioned into individual servings or for a platoon.
Lime Jello Salad With Cream Cheese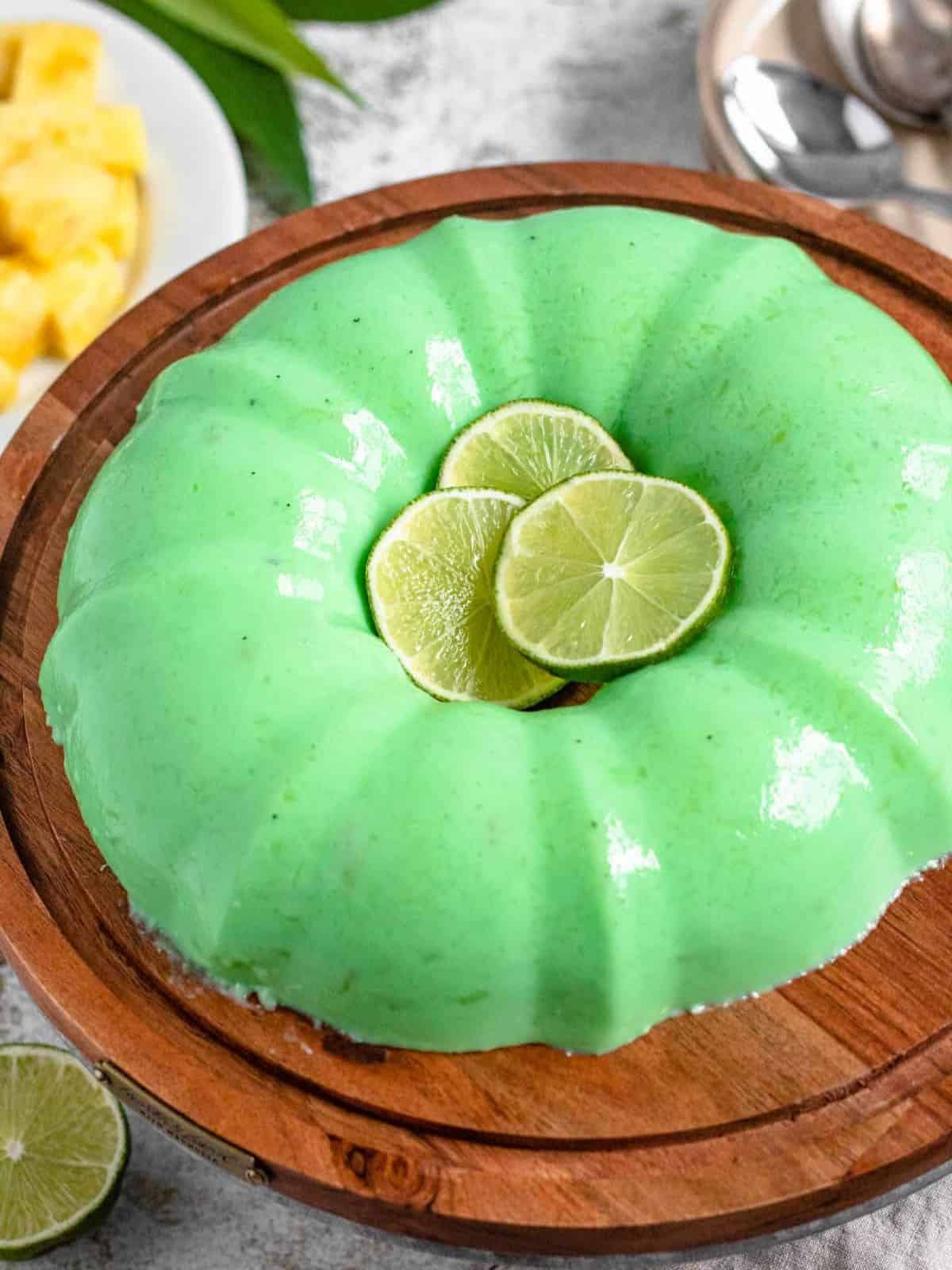 I know, I know, it sounds like something savory. The salad put you off but trust me, this long forgotten lime jello salad recipe was once on all our Thanksgiving holiday tables.
This creamy jello salad, made with melted cream cheese, pineapple, and lime gelatin, is even easier to make. It only takes a couple of hours to prepare and makes a terrific dessert or side dish.
5-Minute Lime Curd Recipe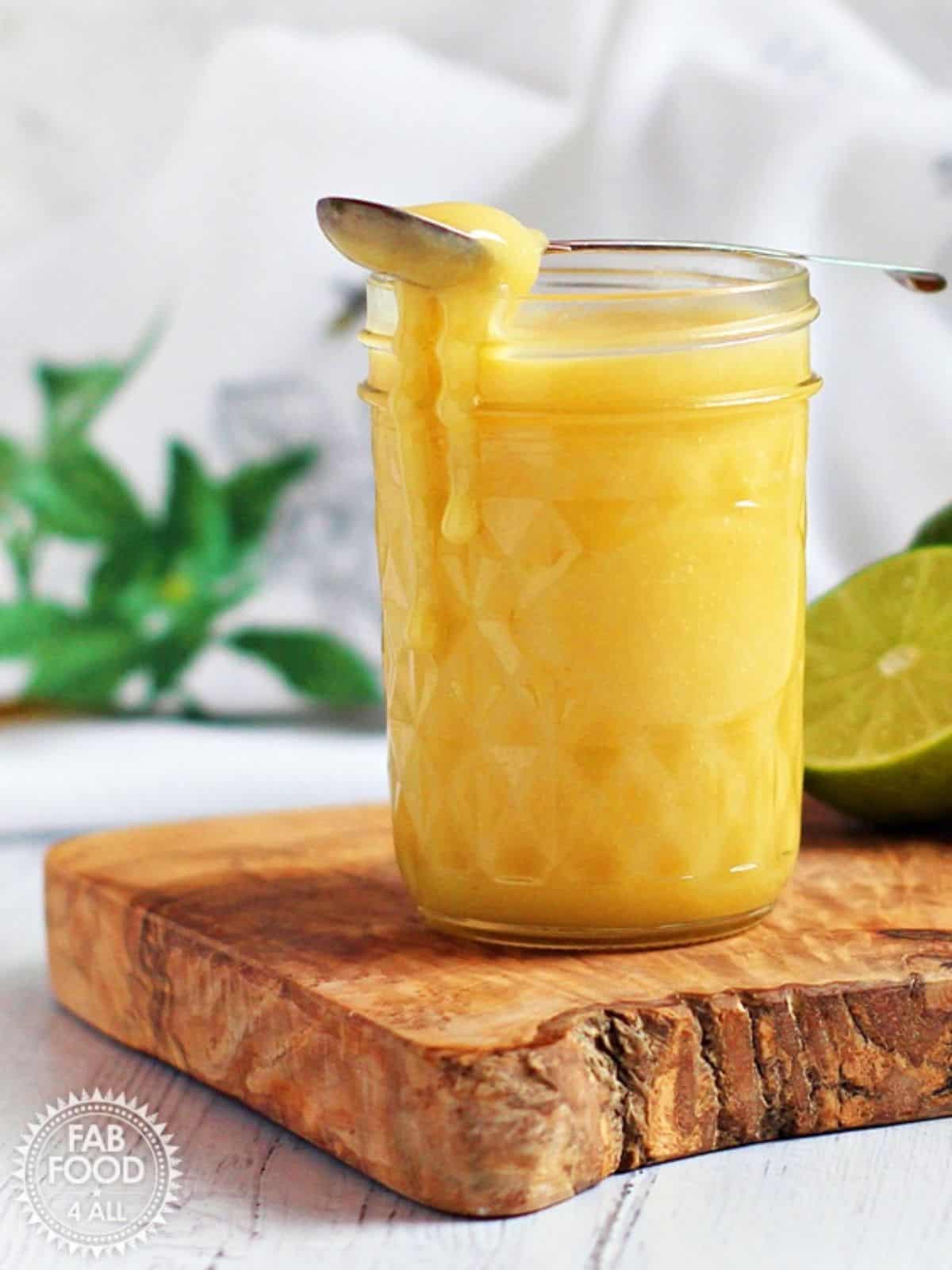 A 5-minute lime curd no-cook recipe? Sign me up for that! Made with 4 ingredients, this lime curd is perfect for spreading or using in cakes and brownies! Super quick, delicious and tangy curd made in a high powered blender, perfect for using in several of the other lime dessert recipes here.
You'd normally whisk curd ingredients over a medium heat in a saucepan or a bain-marie, but you'll skip all that and more by using a high-speed blender. It's a dessert with all the Key lime flavor you want, but without the trouble.
Mango Crepes (Maple-Lime Ricotta Filling)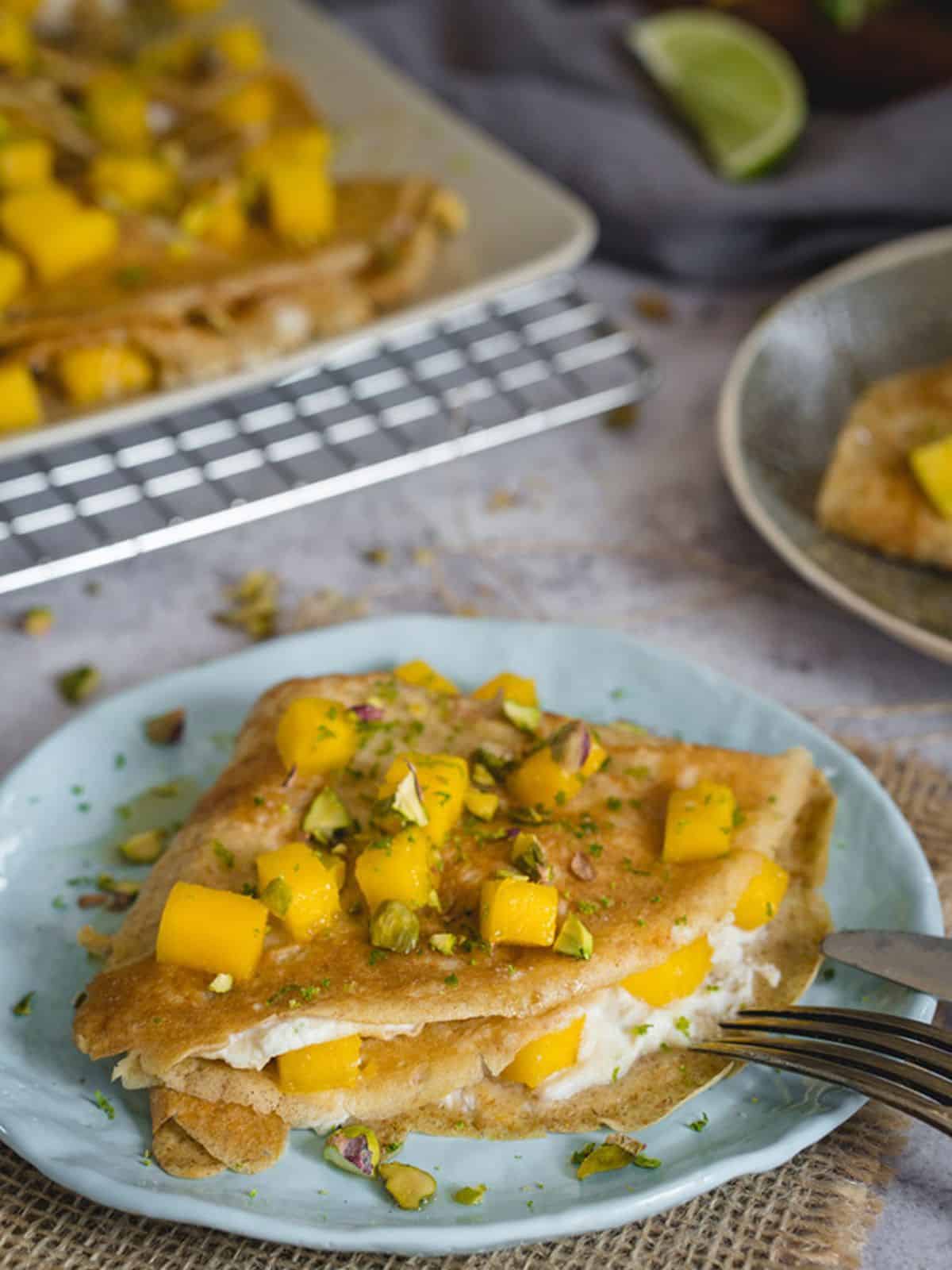 If you're bored of the usual brunch options, a fruit crepe can change it up a bit. These mango crepes with a lime flavored ricotta filling is a great healthy breakfast thanks to fresh fruit, whole-grains and oat flour!
Made with an oat and whole wheat crepe with fresh mango, lime, and a dollop of ricotta. This dessert is not pure lime but the ingredient certainly makes the flavors of this lime-based dessert sing.
Lime Posset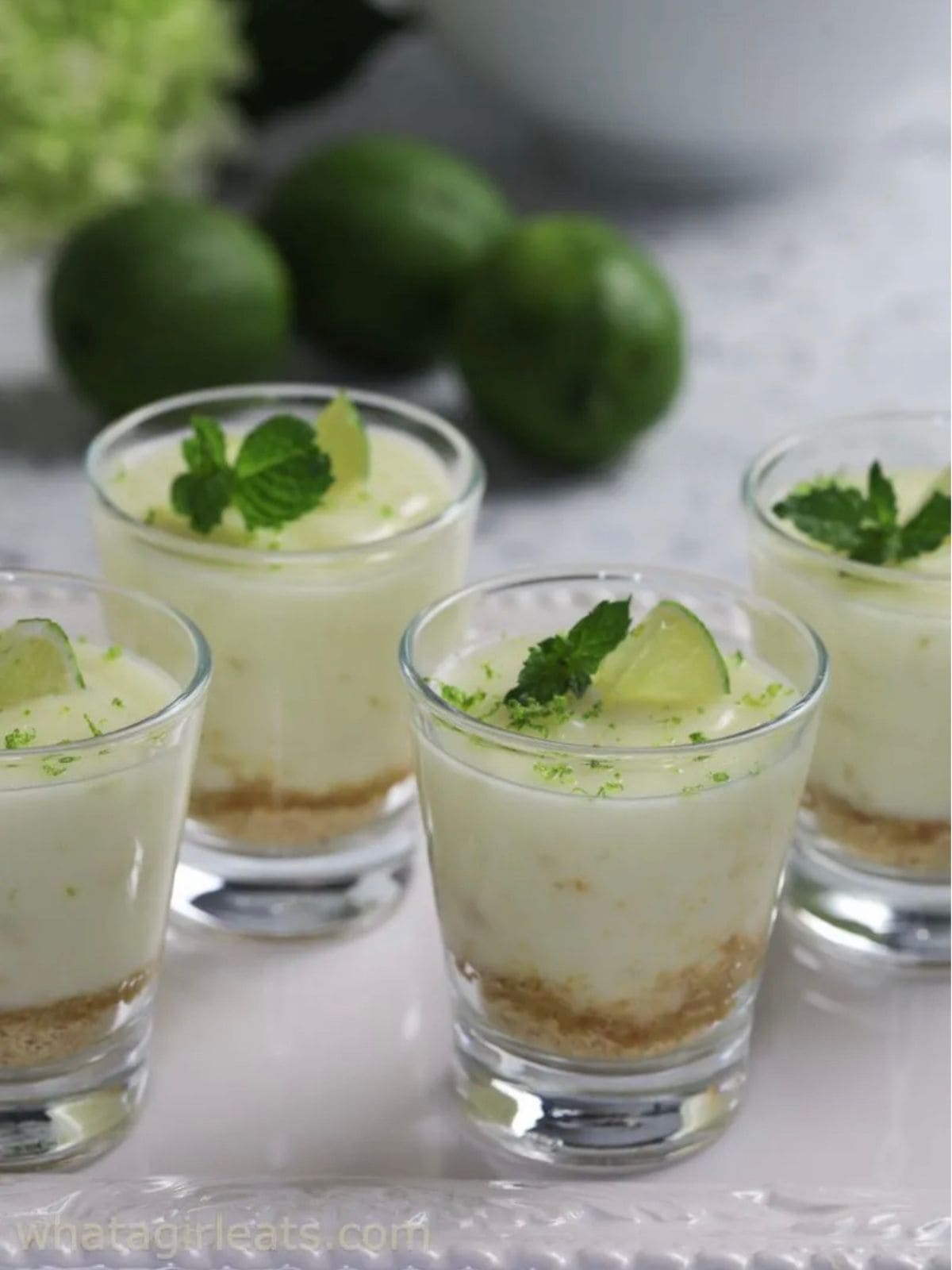 Lime posset is a delicious dessert to make whenever you're craving something sweet and tart. With just three ingredients this creamy smooth dessert comes together in just 15 minutes!
This recipe is almost fool-proof, so it definitely deserves a place in your dessert lineup. They're easy enough to whip up for a weeknight family treat, but pretty enough to serve at a party for kids and adults alike.
Coconut Lime Tres Leches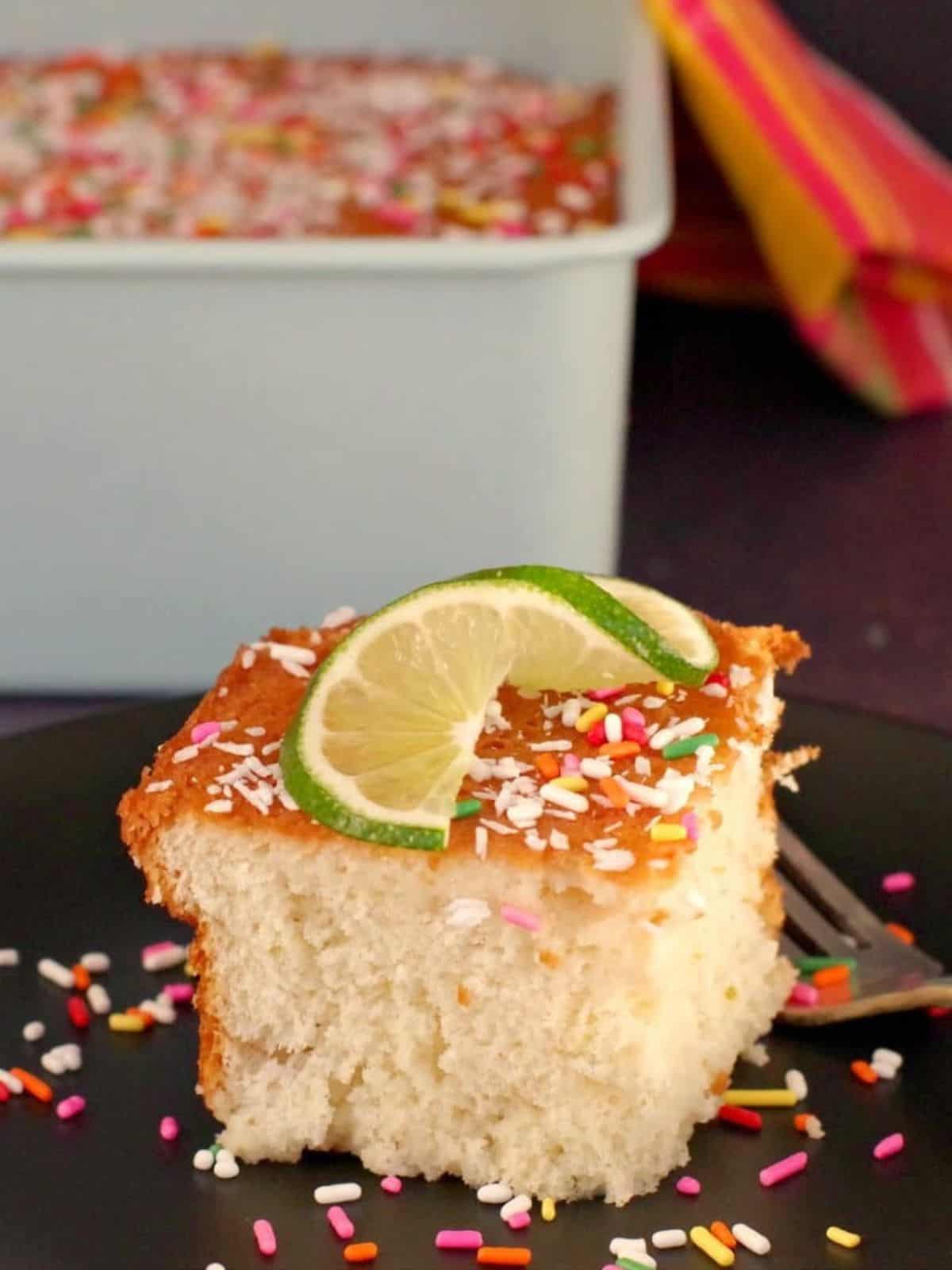 Nothing tastes more like the tropics than a coconut and lime dessert. Coconut lime tres leches is as you guessed, a tres leches with a coconut and lime twist.
Tres leches literally means "3 milk" and that's what this cake contains - 3 different types of milk (using coconut milk instead of evaporated milk). This creamy trio of milks creates just the right balance of sweetness, density, and richness.
With a perfectly moist and velvety texture, without being mushy, this coconut tres leches recipe is a crowd-pleaser. I'm officially calling it: this coconut lime tres leches is the dessert for the entire summer season.
Pineapple Calamansi Bread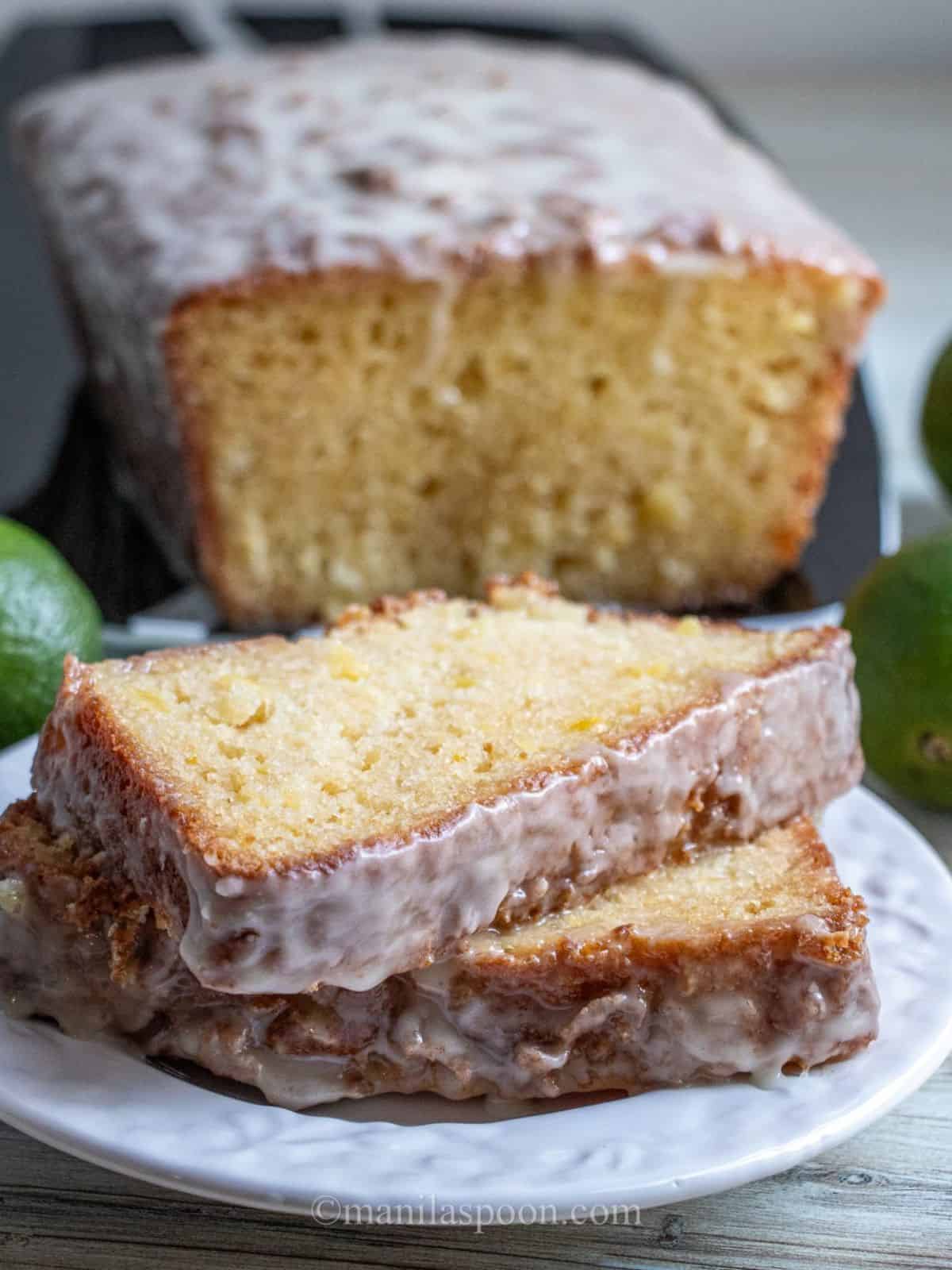 This pineapple calamansi bread recipe is so moist, delicious, and full of fruity flavor. Crushed pineapples and fruit juices give moisture and flavor to the bread.
There's a delightful hint of zesty tang from the Philippine limes (known as calamansi or calamondin). Best of all, the batter contains no butter or oil, making it a healthier treat!
Choose this easy lime dessert to whip up before a summer kidspalooza or when the holiday feasting rolls in.
Lime Cake Drizzle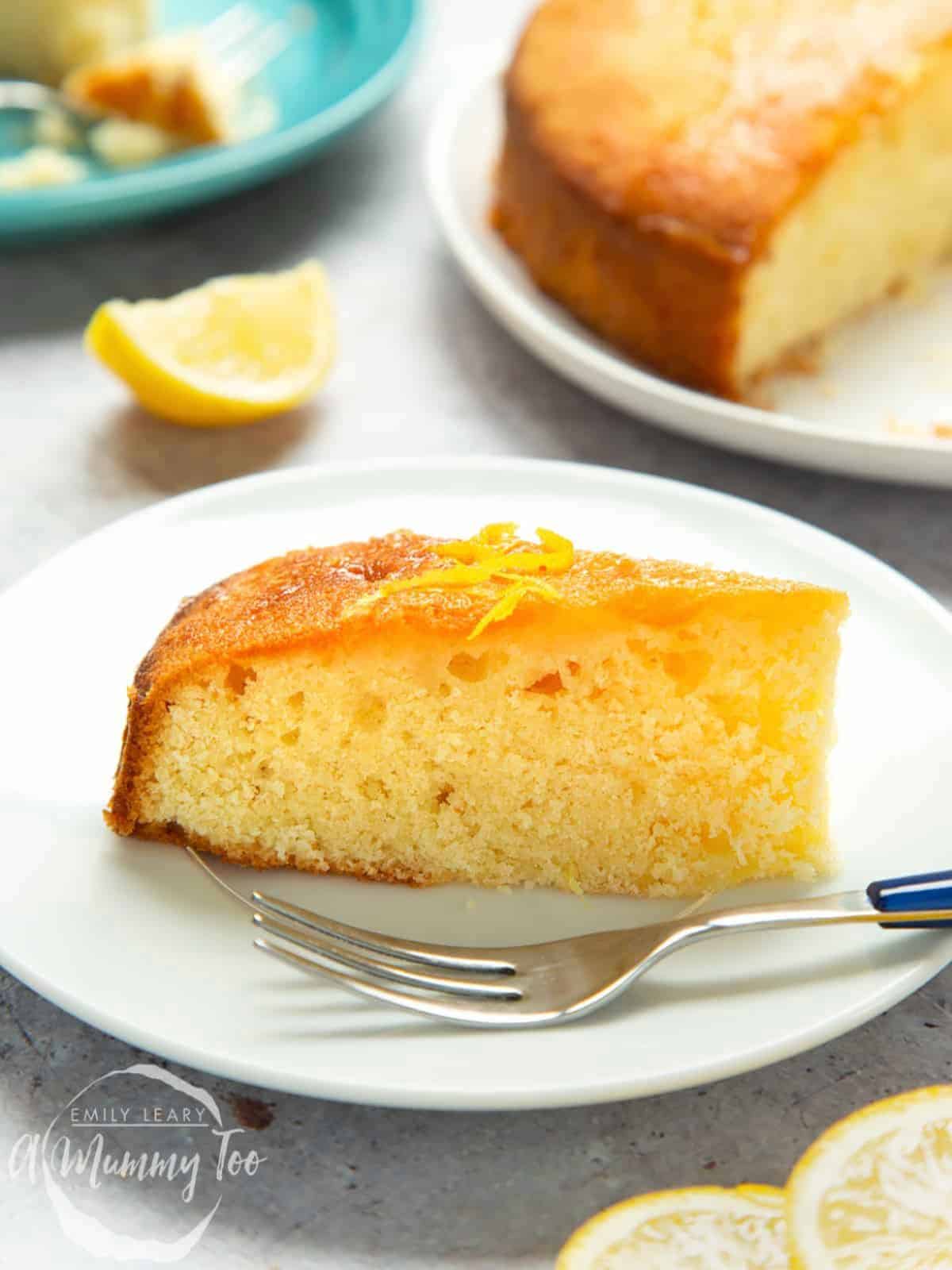 Not all cakes need frosting. This luscious lime drizzle cake has the best tangy sweet flavors to make your mouth sing with glee. It's buttery, moist, and absolutely delicious.
And you'll only need ingredients from your pantry and fridge. Juicy, tangy limes bring it all to life. To make this delightful lime drizzle cake, stir lime into the wonderfully zesty lime syrup that soaks into the top of the sponge. A gloriously decadent lime sweet treat for a party.
Lime Mango Pineapple Cake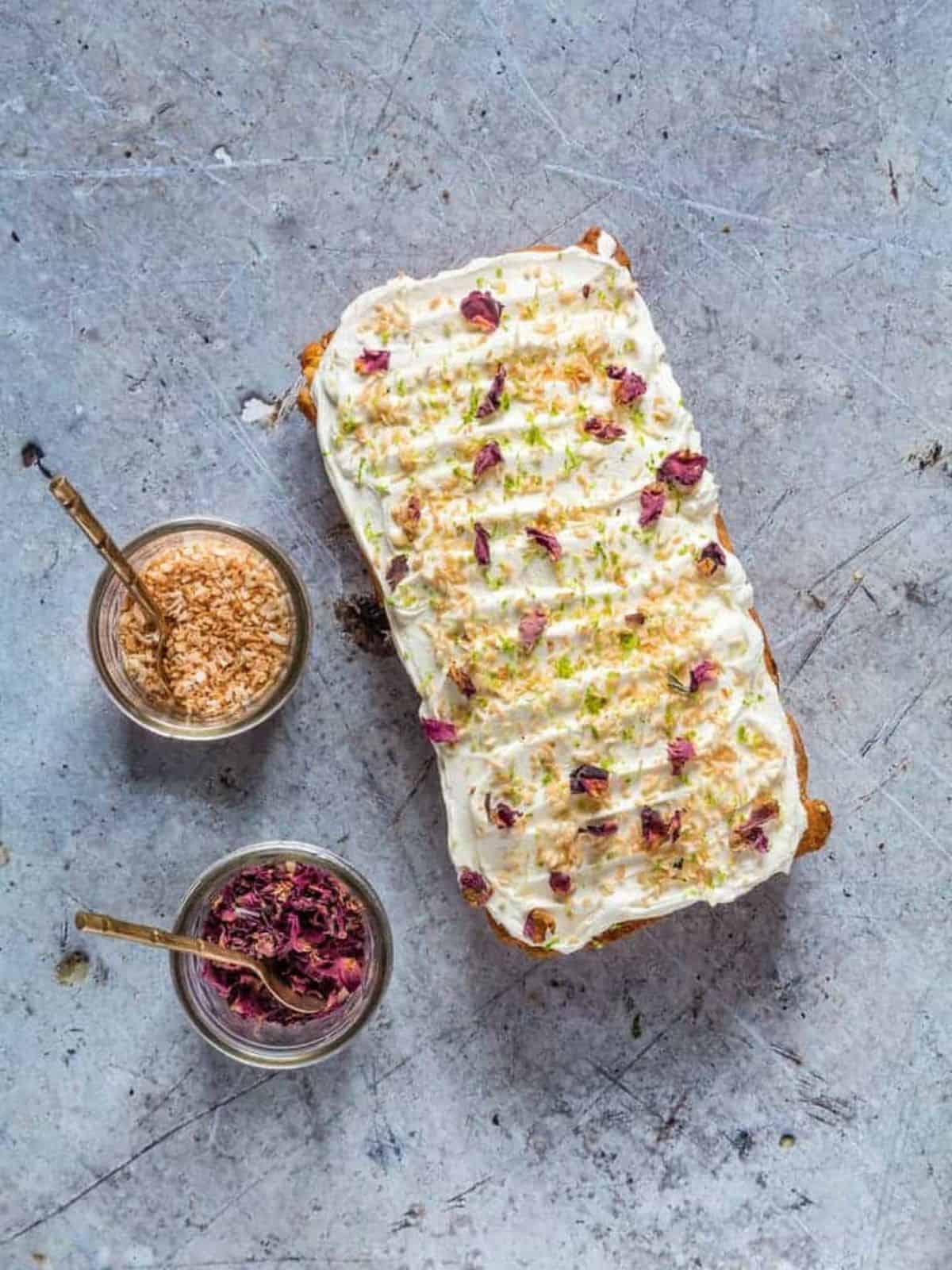 This easy lime mango and pineapple cake is like a summer vacation on a plate. With amazing tropical flavors and a blank canvas to decorate, this lime dessert will be the show stopping piece at your next soiree.
The ingredients easily come together in one bowl. Spread as much of the whipped cream on the top of the cake as you want and top with some lime zest, shredded coconut and rose petals for a stunning dessert.
Lime Passion Fruit Charlotte Royale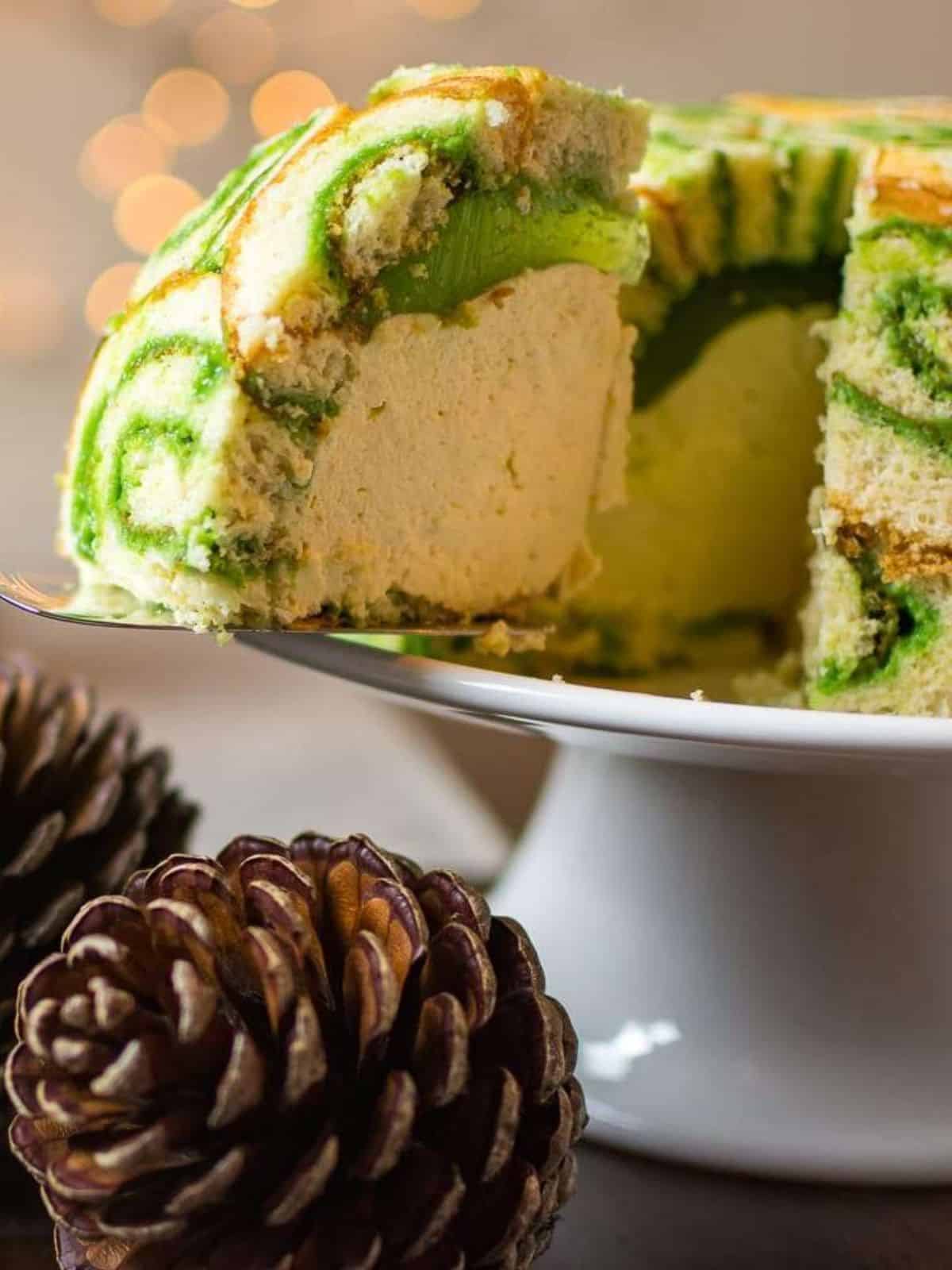 A tropical take on an old-fashioned British dessert worthy of kings and queens! It takes some time and work, but if you enjoy baking and want to impress someone special, you should definitely make this lime and passionfruit Charlotte royale!
Prep ahead to save time, and just use store-bought lime jelly instead of creating your own. The beautiful exterior and wonderful flavors make this an ideal lighter alternative to your usual sweet spread. It's not the easiest lime dessert recipe from the list but this tart and tangy dessert is totally worth the work!
Gluten-Free Lemon Lime Bars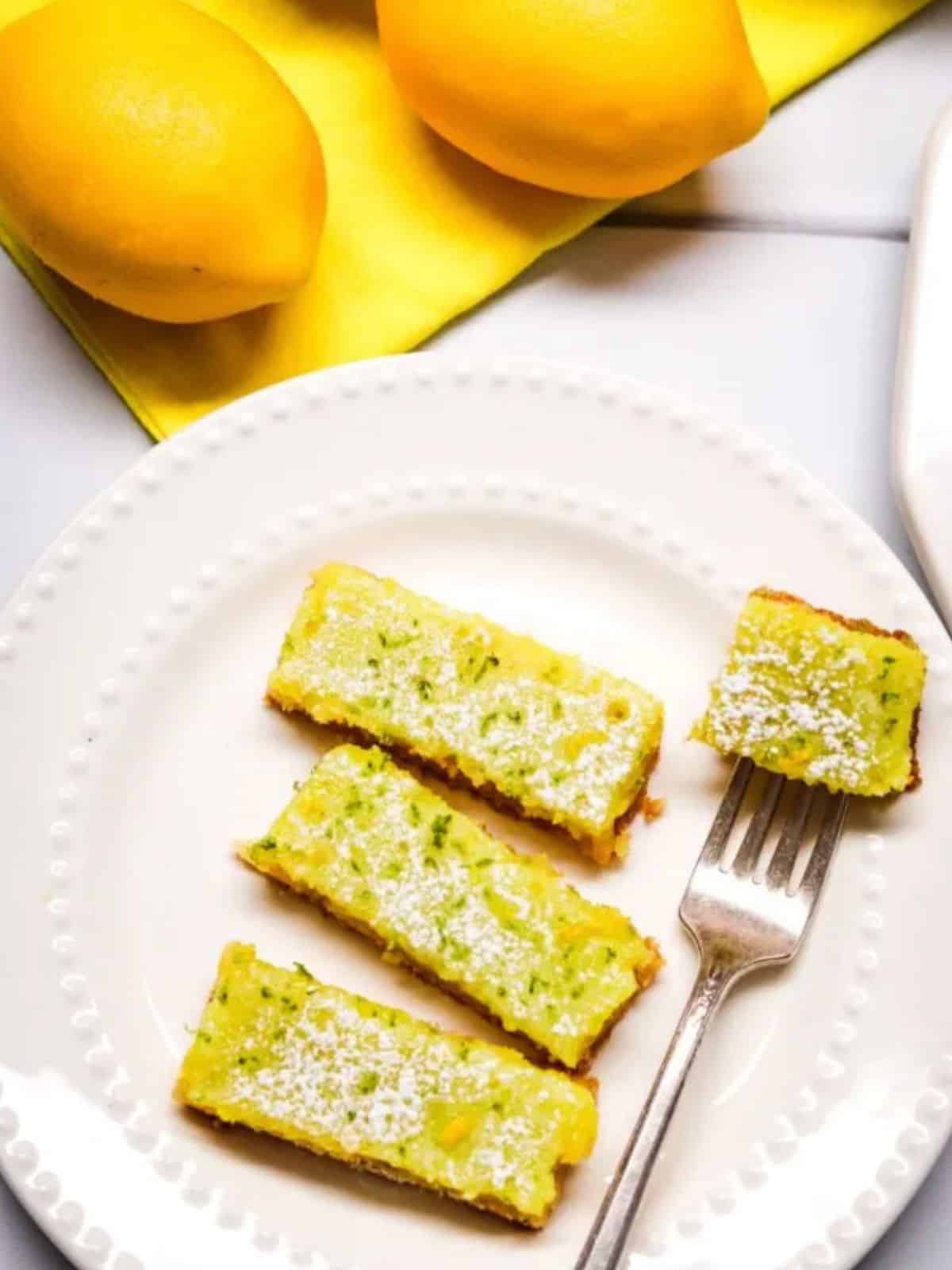 These gluten-free lemon lime bars will satisfy your craving for a sweet and sour craving. These lemon lime bars have all the zesty flavor of citrus fruits paired with a sweet and buttery crust that's made from scratch.
Make this no-jello lime dessert for a cool and refreshing treat any day. They're perfect for a crowd, and no one will ever know these bars are gluten free!
Copycat Starbucks Coconut Lime Bars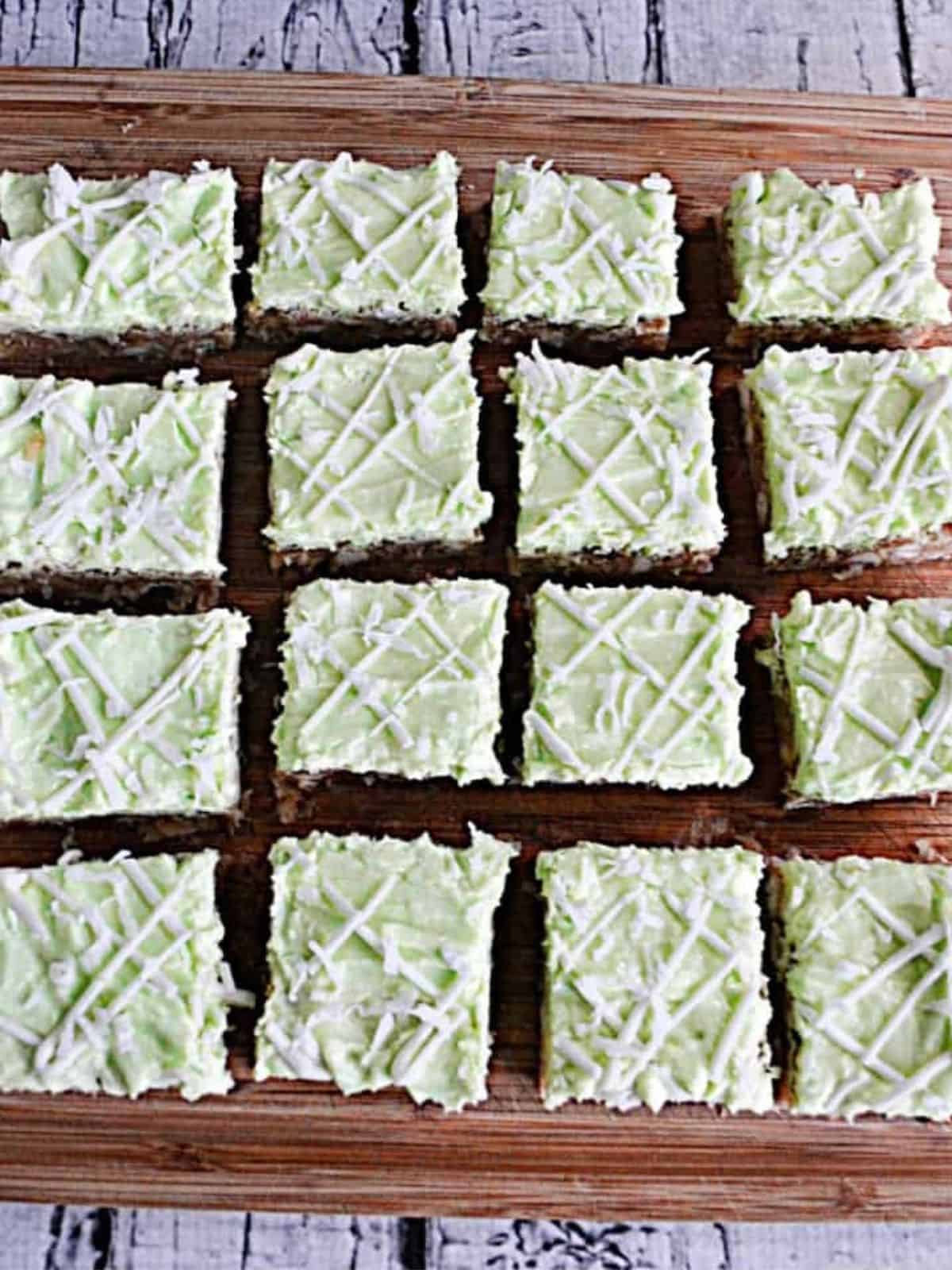 Starbucks' lime frosted coconut bars are well worth the hype. These copycat Starbucks coconut lime bars lets you enjoy your favorite treat in the comfort of your own home, and at a much lower price.
Lip-smacking and sweet coconut white chocolate cookie bars are topped off with a flavorful and tart lime buttercream frosting. They're then finished off with shredded coconut and a white chocolate drizzle. From that sweet and buttery cookie bar to the zesty lime buttercream, this lime dessert will transport you to the tropics.
Vegan Avocado Lime Coconut Cake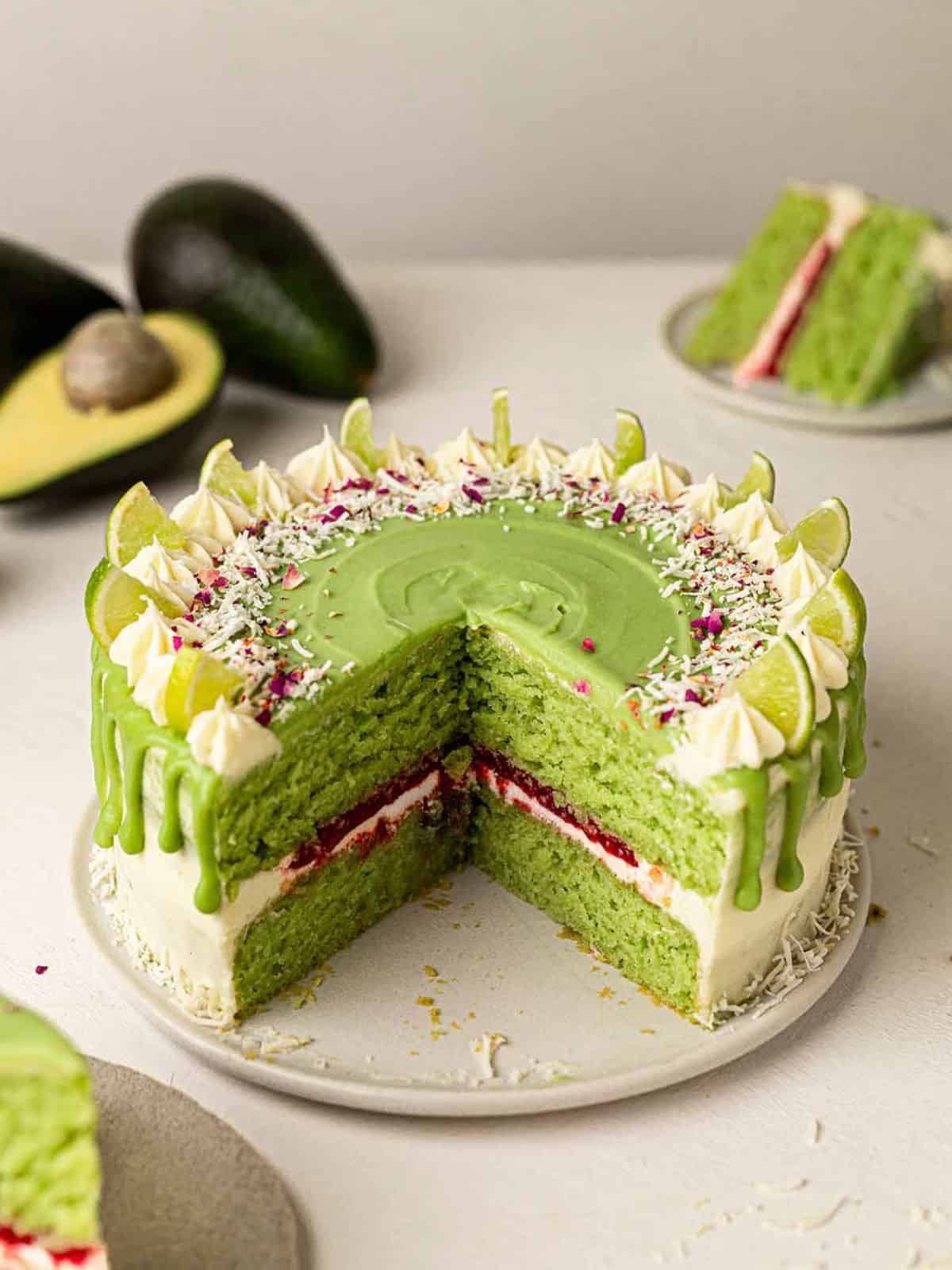 Soft, fluffy and zesty vegan avocado cake with the tropical flavors of lime and coconut. This decadent cake is decorated with an avocado ganache, quick raspberry jam and vanilla lime buttercream. Fresh limes make all the difference in this sweet lime treat.
Cold Lime Confections
Key Lime Pie Popsicles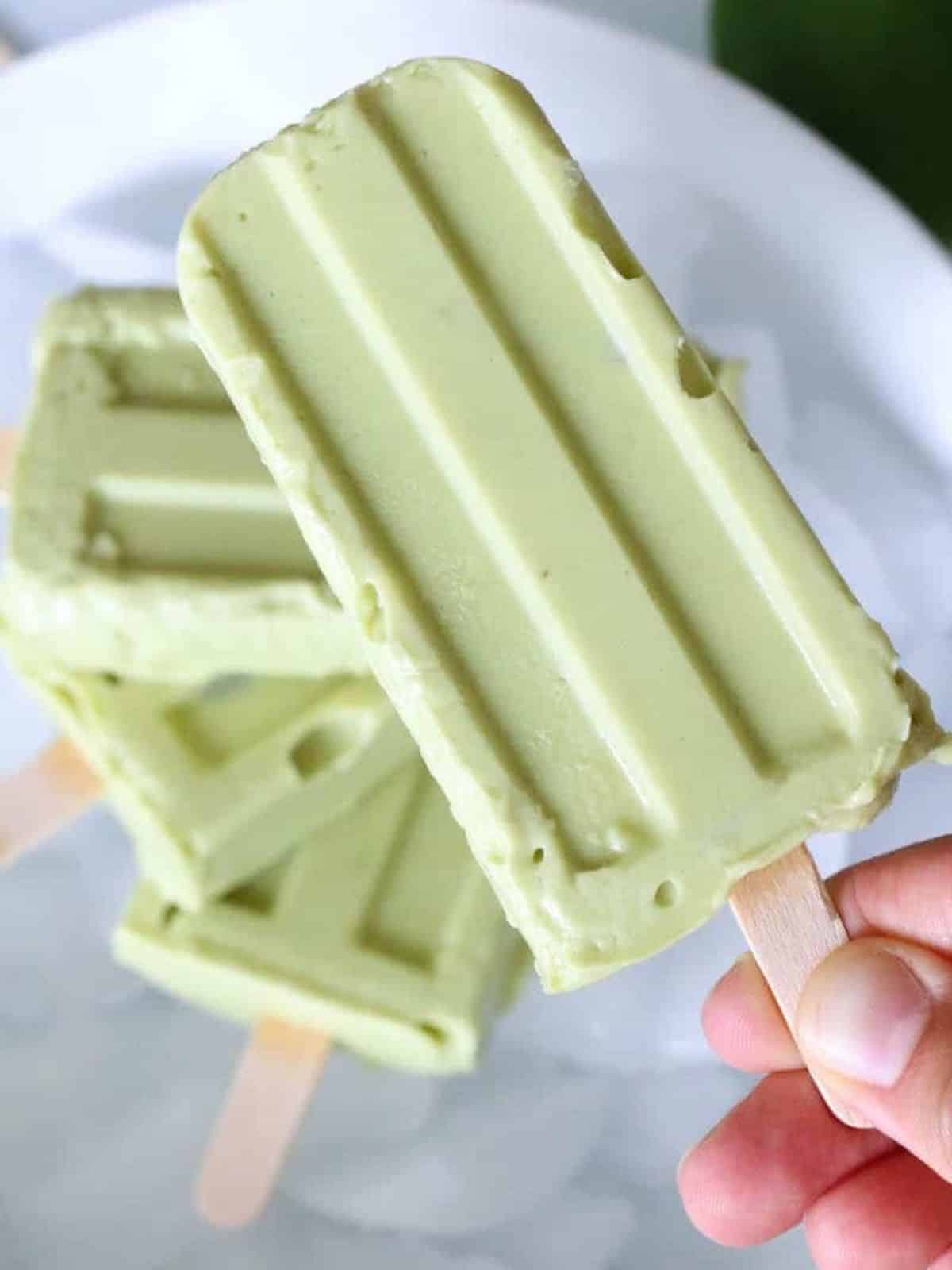 How about a healthy and creamy key lime pie popsicle for a truly spectacular lime dessert? They're bursting with zesty, fresh lime flavor and yet sweet just like key lime pie should be.
Featuring just four ingredients, this popsicle is 100% raw, vegan, gluten-free, nut-free, healthy and allergy-friendly. These creamy, frozen treats will make you feel like you're on a tropical island.
Lime Popsicles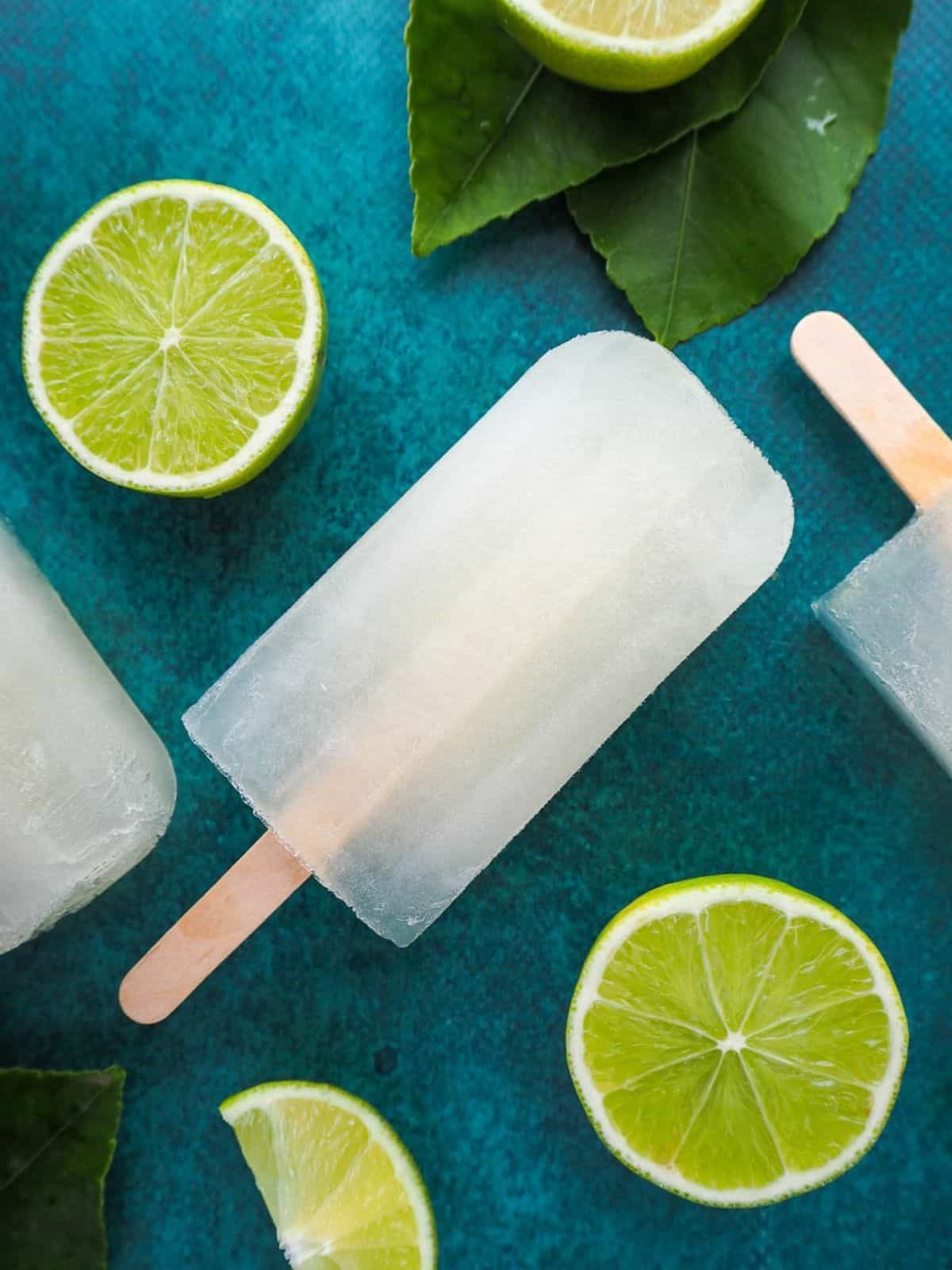 Nothing beats homemade lime popsicles for a super refreshing and full of the zingy zest of bright tart goodness. Unlike our key lime recipe above, these lime popsicles lean towards sorbet rather than ice cream.
They're a breeze to make and would certainly transport you to your happy summer place, whatever the season. Just make sure you freeze them enough before enjoying them. Perfect for a summer's day when you need to beat the heat.
Salted Lime Sorbet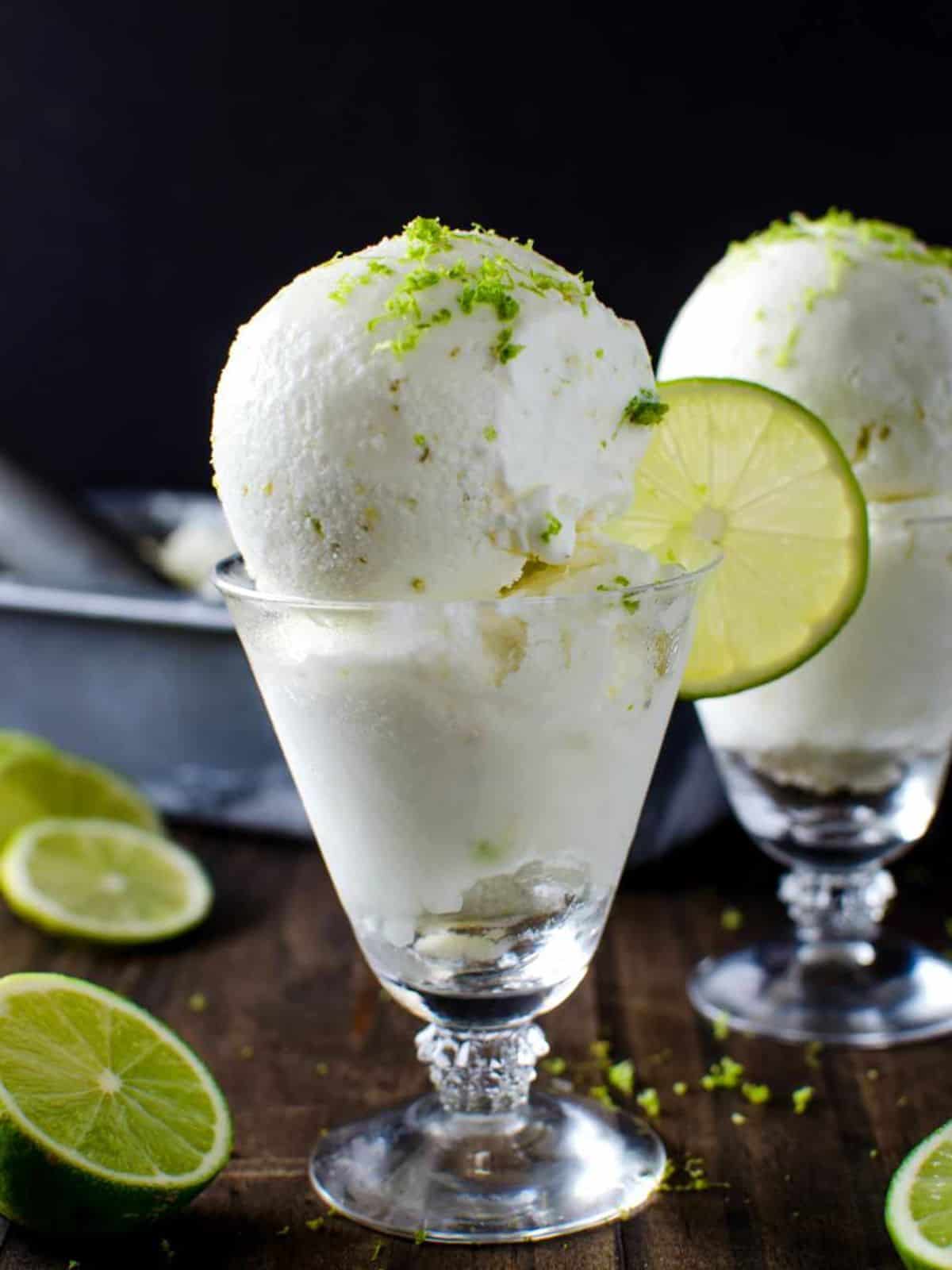 When I say 'salt and lime,' you say, 'margarita!' This fun salted lime sorbet recipe takes the flavors of a classic margarita to a topnotch party standout. Perfect for adults and kids because it's sans alcohol!
Margarita ice cream or lime sherbet is tangy, salty, creamy and refreshing plus, it's super easy to make! This superb frozen lime dessert is the ultimate flavor party in your mouth.
Coconut Avocado Lime Sorbet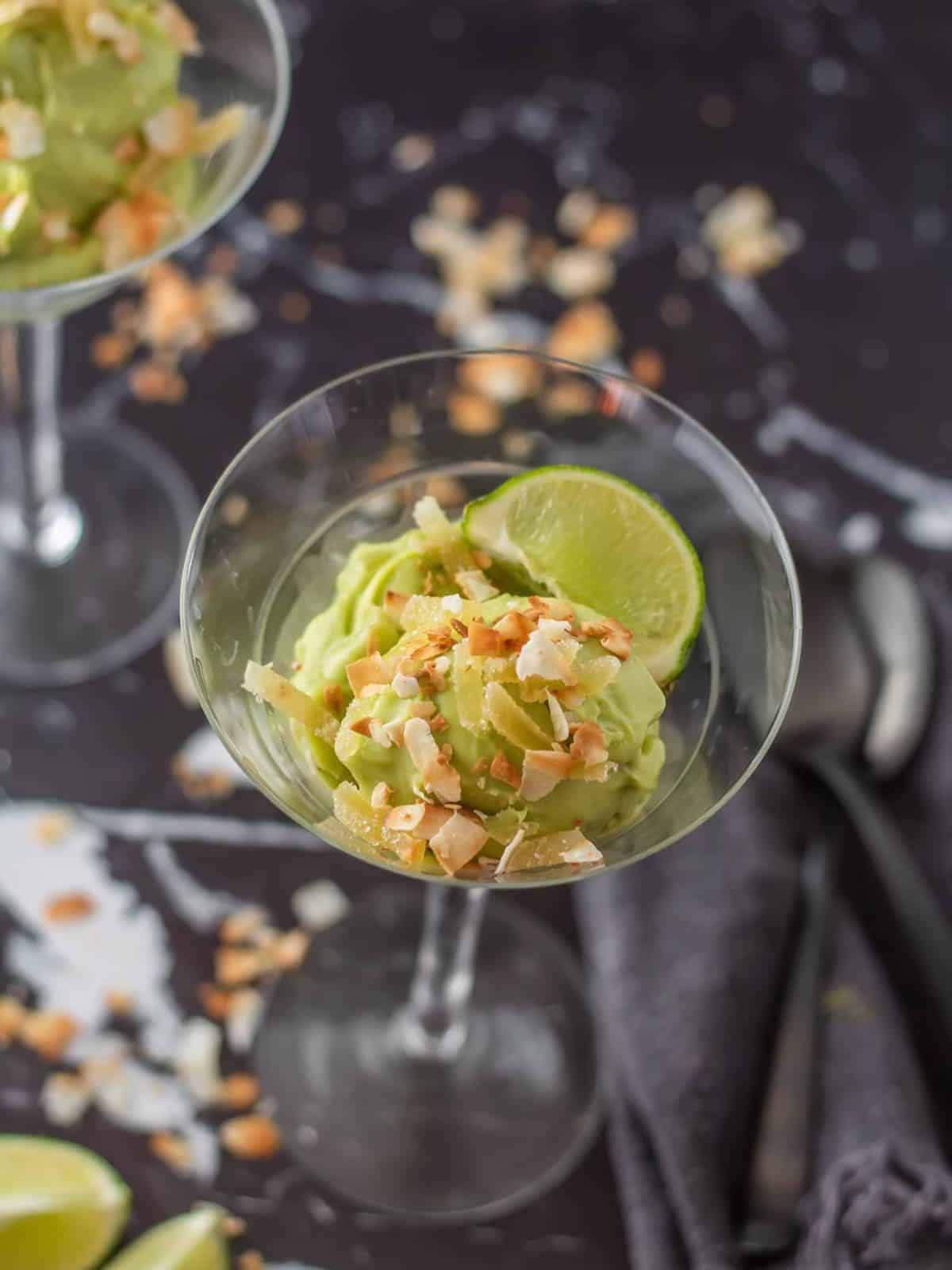 Nothing cools down a hot and steamy day like homemade sorbet. This coconut avocado sorbet features creamy avocado, sweet coconut cream, and fresh lime juice for an alluring cold delight.
The citrusy flavor of lime compliments the tropical vibe of the coconuts and avocado in this easy make ahead summer day treat. Sweet and creamy juxtaposed with salty and spicy are the distinguishing features of this creamy, frozen dessert!
Peach Lime Granita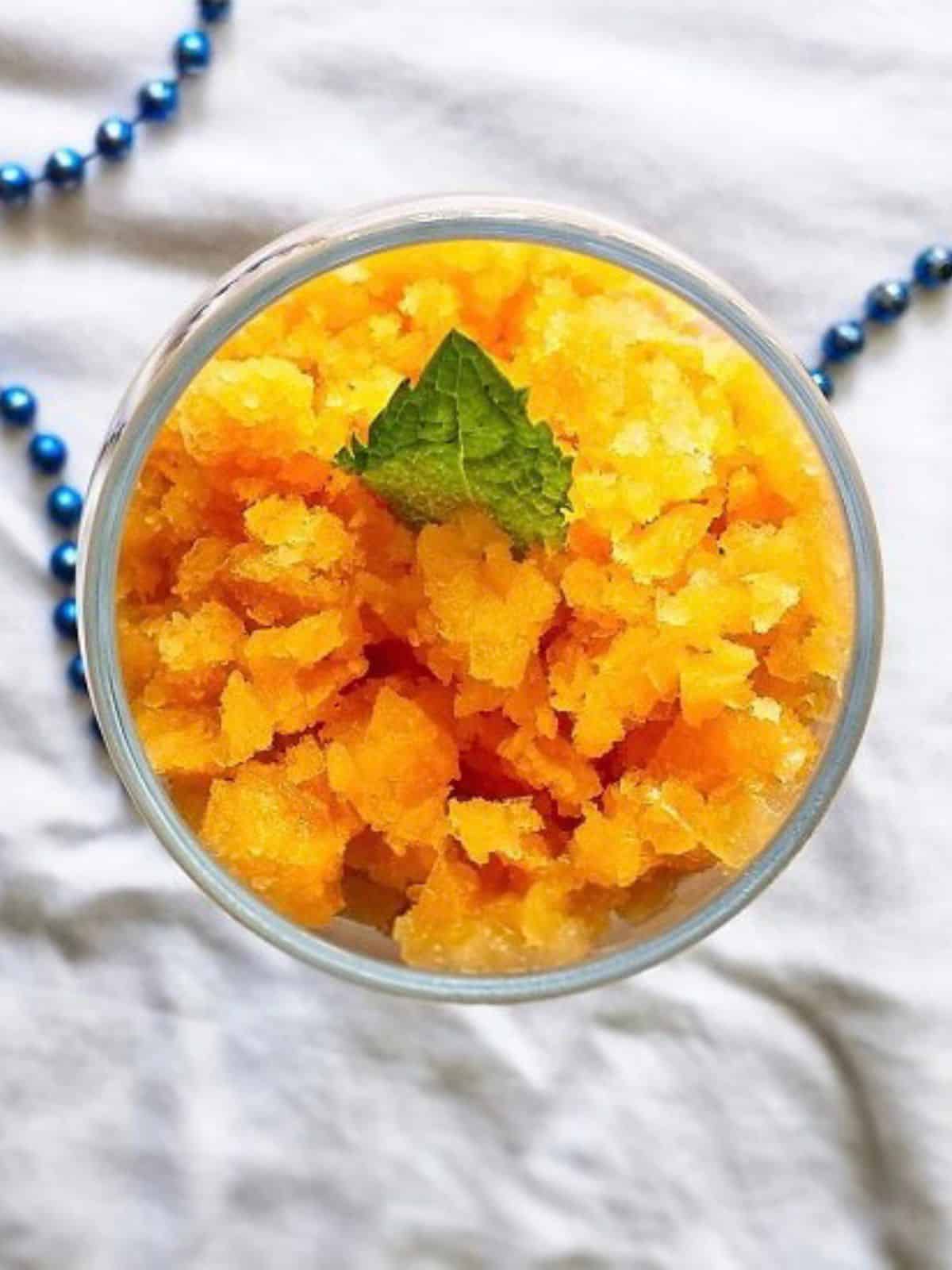 This peach lime granita is such a refreshing treat on a hot day. Making granita is a simple process of pureeing the fruits, then sweetening it. The crystal-like texture of granita forms when water is added.
Freeze for 2 hours and voila, an Italian classic cold confection that's so easy to make. You can also swap with any kind of fruit that you have on hand. Make it for yourself to see how easy it is.
Lemon Lime Daiquiri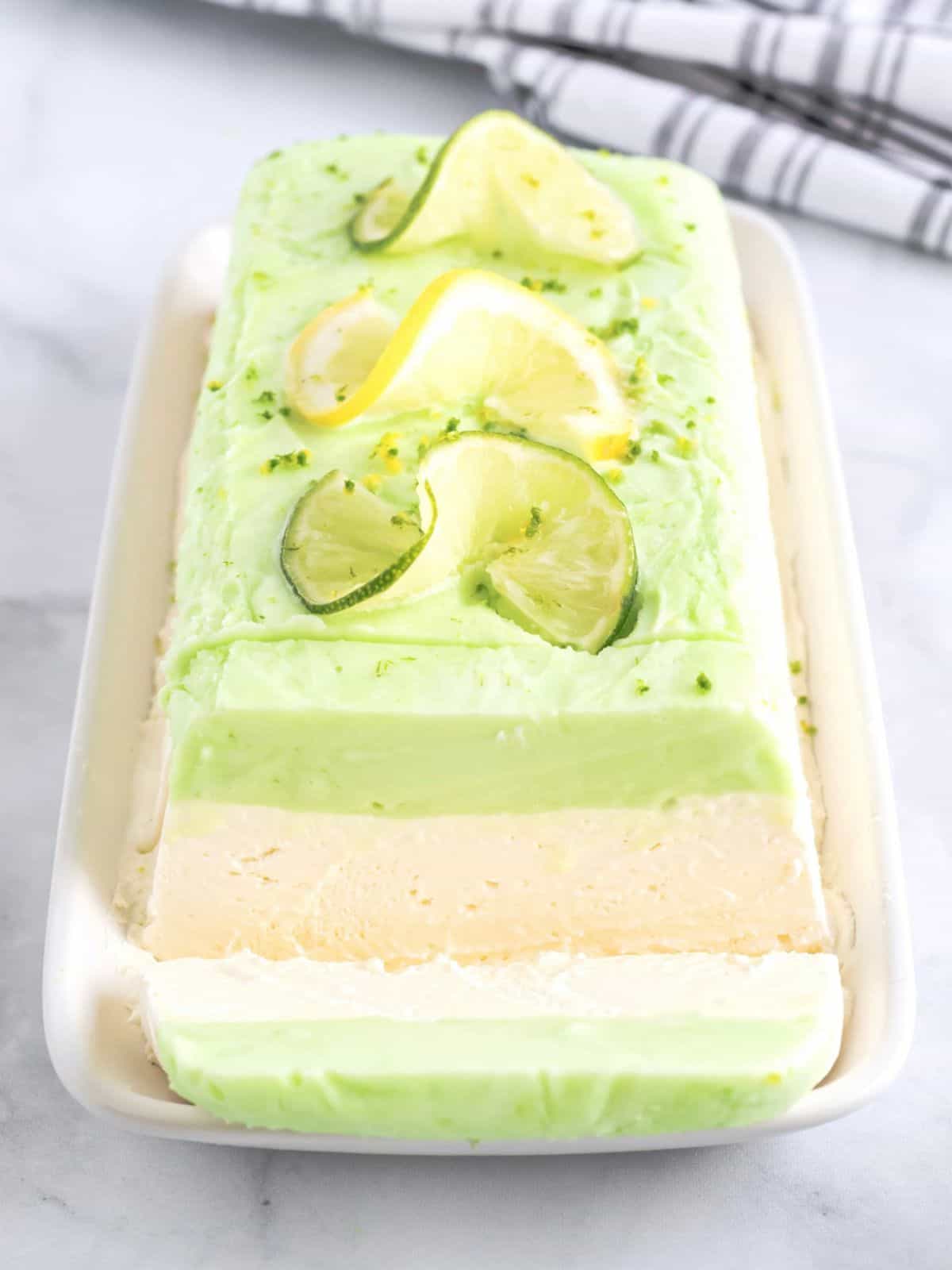 It's not a cocktail per se but you'd want to make this easy peasy lemon lime daiquiri that's as simple as shaking and stirring libation. A delicious cool and creamy make ahead lime and lemon flavored frozen lime dessert that's kept in the freezer until you're to serve it. It's cool, creamy and delicious!
Lime Jell-O Poke Cake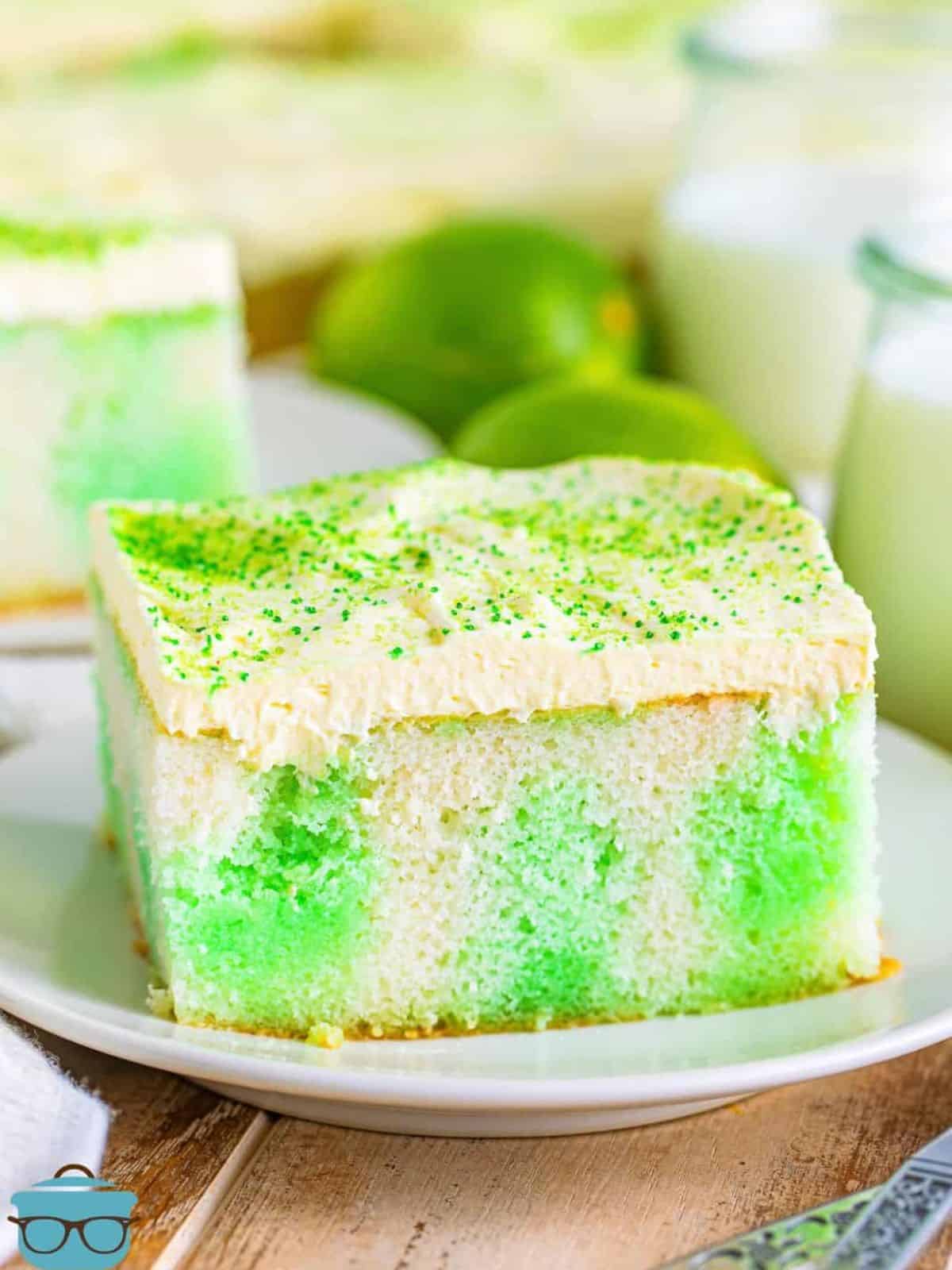 Fluffy white cake with splashes of lime Jell-O and a delicious creamy frosting make up this super simple and fun lime Jell-O poke cake! Made with fluffy white cake, lime Jell-O, and a luscious creamy icing, it's so simple to make that even inexperienced bakers can impress their friends and family.
They are light and fluffy, and make a cool and delicious treat. Plus, it's perfect for potlucks, parties, and barbecues, or just a weeknight dessert!
Liquor-Laced Lime Desserts
Pisco Sour Cocktail Cupcakes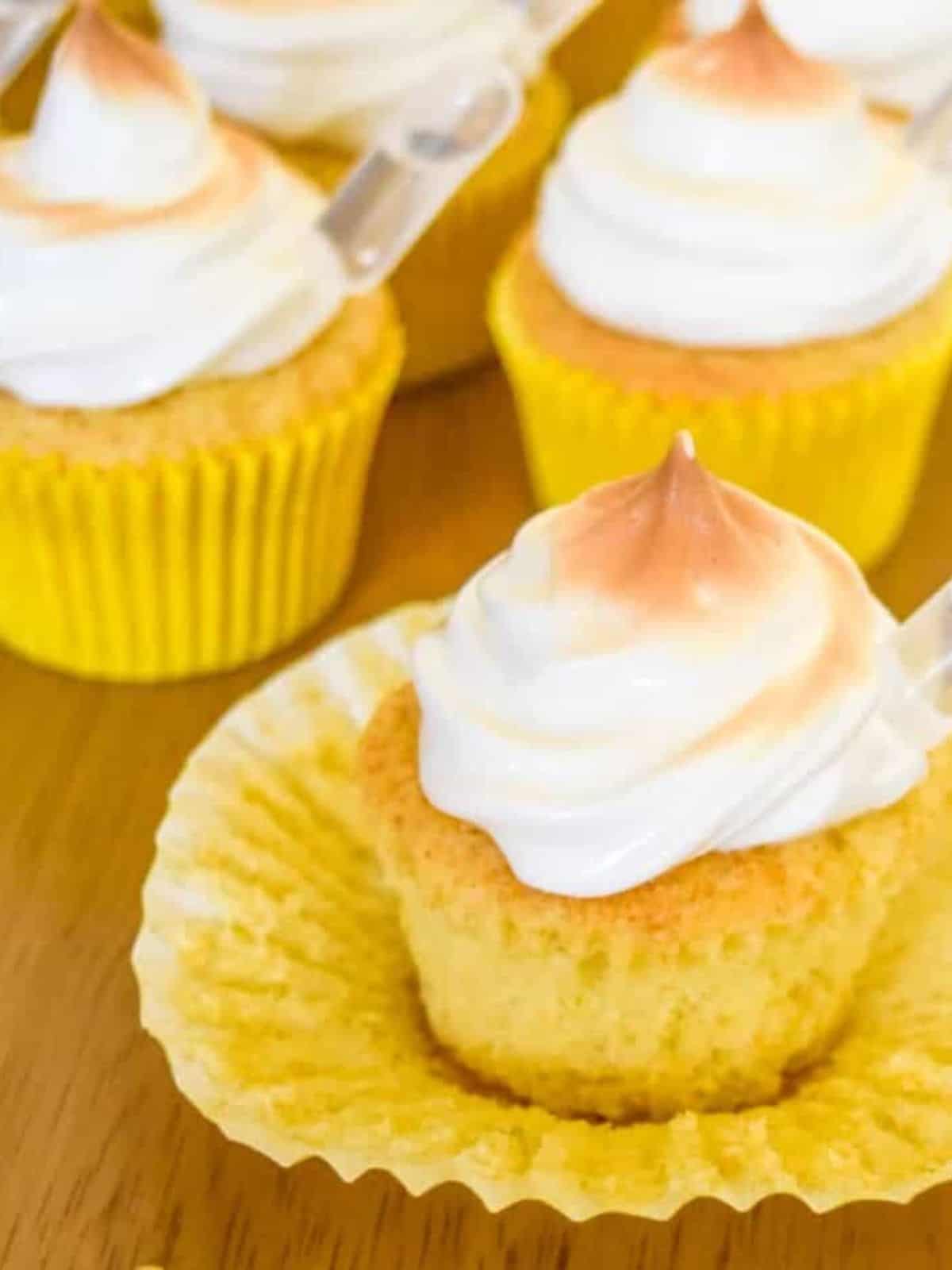 The popularity of boozy cupcakes have stood the test of time. Here we are with the mashup of the season - tangy and fun pisco sour cocktail cupcakes.
This recipe is all lime from the lime pound cake cupcake, lime curd filling, Pisco sour-filled pipettes, and a fluffy meringue topping. It's the zesty, zingy adult cupcake version of the Peruvian cocktail.
Margarita Lime Bars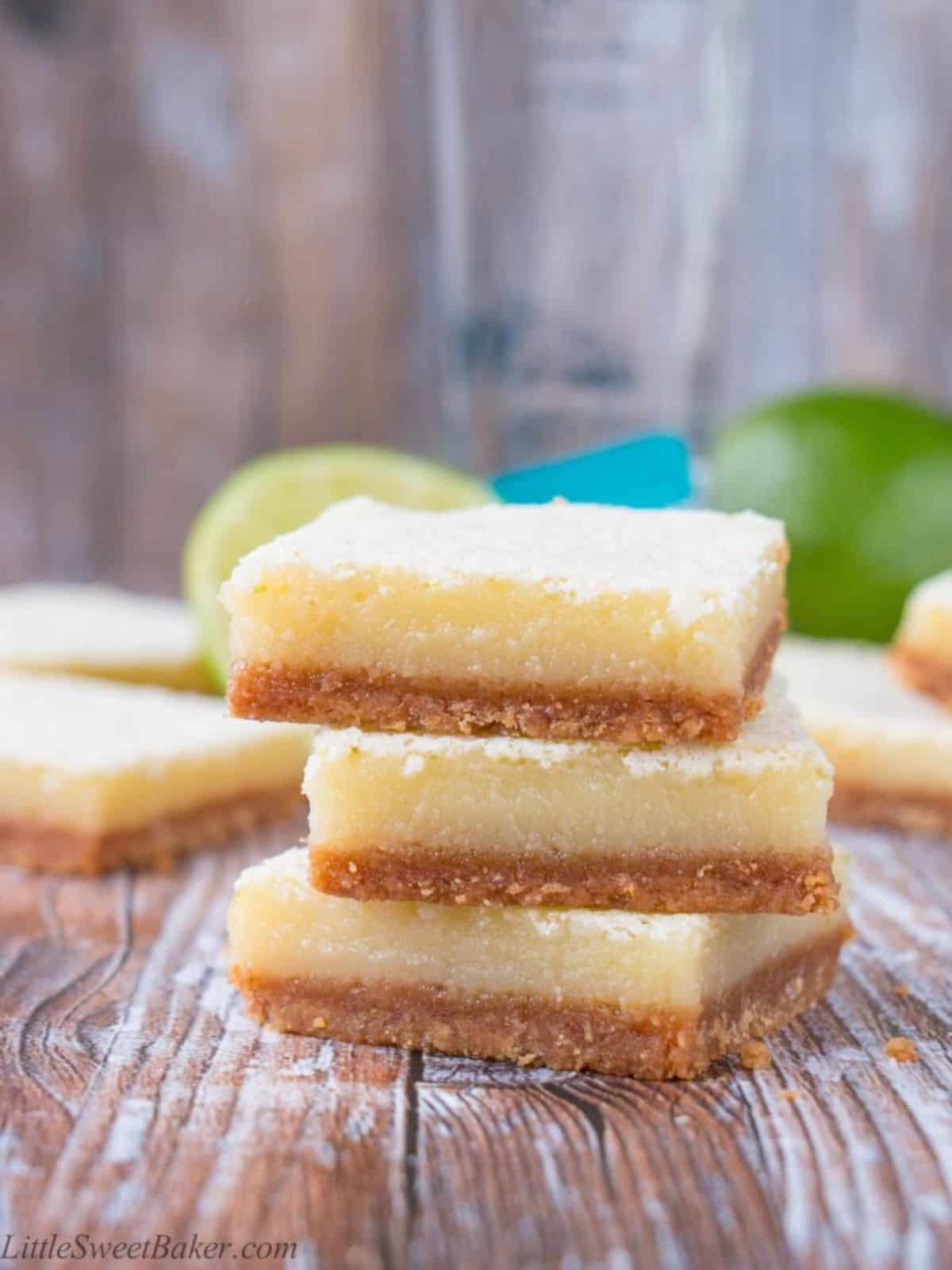 When someone says limes, my brain heads straight to two things - tequila and margarita! (And yes, you guessed it, the third one is key lime pie) These zesty and sweet margarita lime bars are to die for. They are bursting with a tangy lime taste and pack a punch of tequila flavor.
There's an amazing soft and gooey texture, with a crumbly cookie bottom. At first bite, you'll notice the citrus and sweetness from the custard, then the tequila's earthy and straight-forward aroma with a gentle herbal and sweet black licorice scent that lingers in the mouth. It's the perfect adult lime dessert for any fiesta or fete.
Lime Desserts FAQ
What can I do with a lot of limes?
With a lot of limes, you can make limeade, lime-infused water, lime curd, or lime sorbet; or on the savory side make a lime marinades for meats, or use the zest and juice in various recipes such as salads, desserts, and cocktails.
Are key limes and sweet limes the same?
Key limes and sweet limes are not the same. Key limes are smaller, more acidic, and have a stronger aroma and flavor compared to sweet limes, and are much carder to find globally.
Is lime a sweet or savory flavor?
Lime can be both a sweet and savory flavor, as it adds a tangy and refreshing element to both types of dishes, and even contains a small amount of sugar, despite their acidic pH.
What flavors work with lime?
Lime pairs well with a variety of flavors, including cilantro, coconut, mint, chili, ginger, and tropical fruits like mango or pineapple.
What food pairs well with lime?
Lime pairs well with seafood, chicken, Mexican and Thai dishes, salads, salsas, desserts (such as key lime pie), and beverages like margaritas and mojitos.
📖 Recipe