Ruby chocolate made its debut at a Shanghai Trade show in 2017. It was a relatively quiet introduction, taking months before it was first made available to the public by Nestle, in the form of a Japanese KitKat bar. Initially it made a lot of buzz due to the claim that it's the 4th type of chocolate, after dark, milk, and white chocolates. However, excitement slowed due to the months-long gaps between releases to wider audiences.
Half a decade later, Barry Callebaut remains the only producer and supplier of ruby chocolate. This is probably why there are so few ruby chocolate recipes out there, except by culinary professionals. They can actually access bulk amounts of ruby chocolate, known as Ruby RB1, with the right credentials. But for those of us looking to bake with ruby chocolate at home, here are some accessible recipes for ruby chocolate, from home chef to expert baker.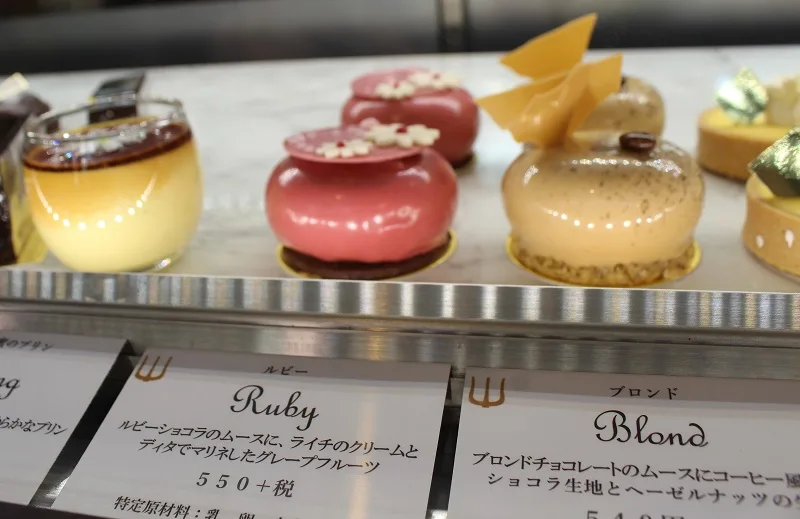 What Is Ruby Chocolate + Baking Tips
Like white and milk chocolate, a large portion of ruby chocolate's ingredients are made up of cocoa butter, milk solids, and sugar. Like milk chocolate, it also contains cacao solids, but the legal minimums for the product are around just 3% cacao. The ruby cacao beans used are said to be sourced from Brazil, Ecuador, and the Ivory coast, with no further information as what makes them unique.
Its allegedly-natural pink color doesn't come from any additional food coloring, but the color turns a brownish when exposed to even low temperature baking. The confection's original color is thought to be related to a fermenting process described in a 2009 patent filed by Barry Callebaut, explaining why high heat affects it. But info on their method of achieving the color is not publicly available, and as such remains a trade secret.
Ruby has a creamy taste profile comparable to white chocolate with a fruity, acidic berry taste. Due to the slower than anticipated public approval (consider the timing of the pandemic as well), there aren't that many ruby chocolate recipes out there.
But ruby chocolate does have a wide range of applications, with similar working characteristics to white chocolate. However, ruby chocolate is extra sensitive to moisture, oxygen, and light; heat exposure of any kind causes the pink color to grey or fade. Therefore, recipes that use ruby chocolate usually involve the use of a coloring agent to restore the pinkish shade, such as beetroot or hibiscus powder.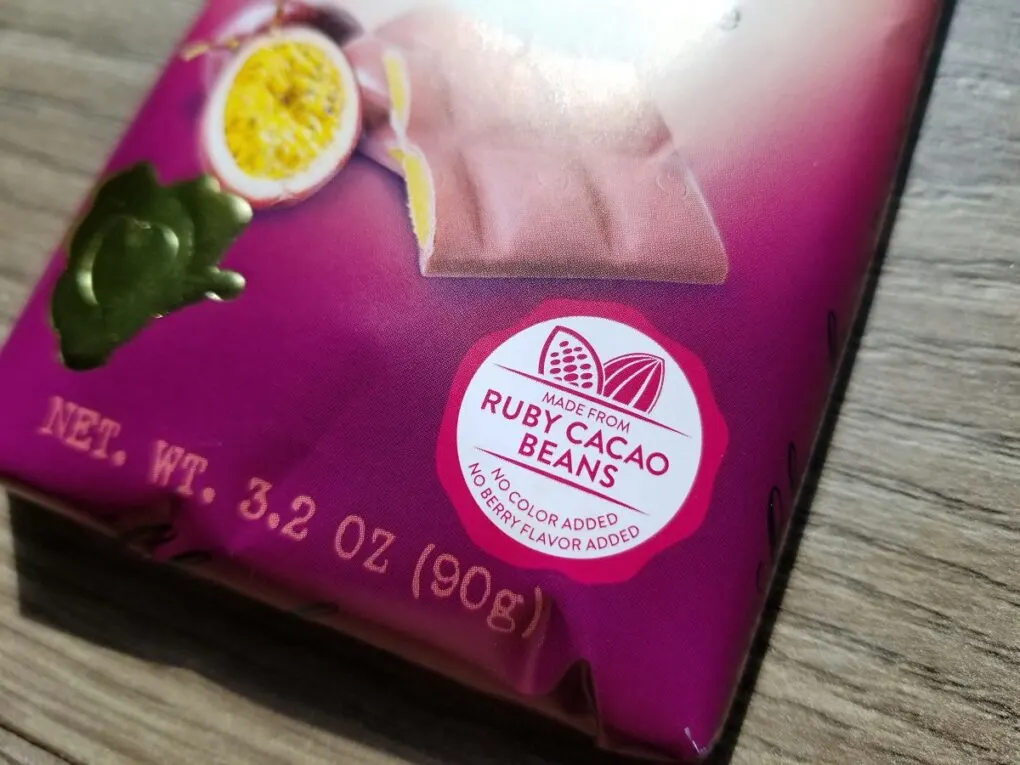 The Best Recipes Using Ruby Chocolate
Ruby Chocolate Truffles
Prep Time: 2 hours & 20 minutes
Ruby chocolate truffles are a great low-effort introduction to ruby chocolate recipes. These bite-sized round balls contain cream and cookie crumbs, and are each generously powdered with icing sugar and pink drink powder. The mixing & cooling of the ganache is a relatively short and straightforward process, with a big payoff (or rather, a few dozen of them). The result is a creamy and firm ruby chocolate dessert, without much effort.
Ruby Chocolate Bonbons
Prep Time: 1 hour & 25 minutes
These ruby chocolate bonbons utilize a hard ruby outer shell and vanilla white chocolate ganache filling. The creamy, fruity taste of ruby chocolate is complemented by the equally creamy flavor of vanilla-scented ganache. Preparation is relatively quick, and offers a pink berry twist on the more traditional combo of vanilla & white chocolate.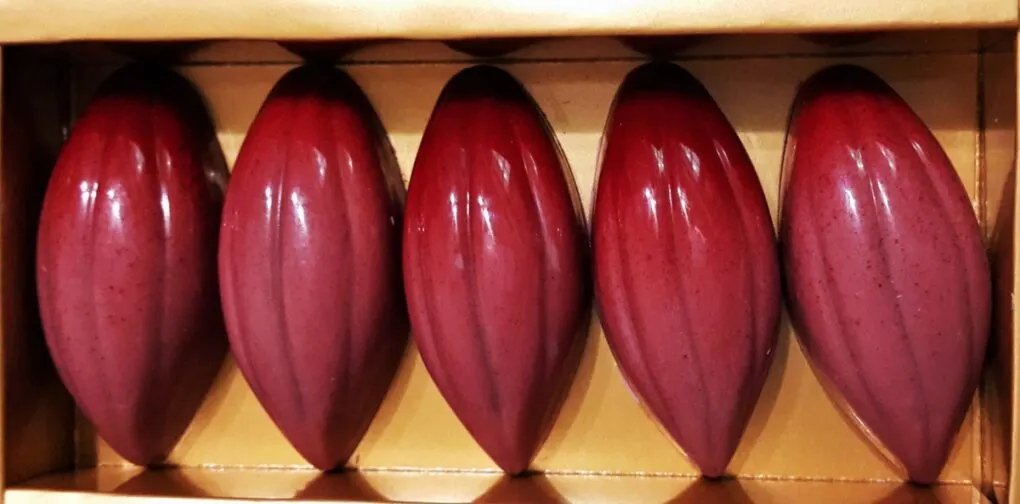 Ruby Chocolate Blondies
Prep Time: 1 hour
Another relatively short recipe that uses ruby chocolate by spotlighting its inherent berry taste into the fudgey goodness of blondies. A ruby chocolate brownie batter is baked until crusted, and then the top is sprinkled with ruby chocolate bits. The ruby chocolate will lose some of its color due to the baking, as with most recipes using heat, so optional food coloring can be added for a deeper shade of pink.
Ruby Chocolate Crinkles
Prep Time: 27 minutes
These crinkle cookies are made with a ruby chocolate cookie batter infused with pure vanilla extract. Beetroot powder is used to restore the pinkish tone as they bake in the oven, before being generously covered in caster sugar and icing sugar. This ruby chocolate recipe gives the crinkles a delicate pink shade that's both fun and easy to pair.
Ruby Chocolate Roulade Cake
Prep Time: 15 hours
This ruby chocolate sponge cake recipe has it all! It's a milk chocolate cake roll packed with creamy whipped ruby chocolate ganache, encased in an almond ruby chocolate glaze shell, and then topped with a ruby chocolate garnish. Needless to say, the recipe is not for beginner bakers, but it hold great appeal because it incorporates different forms of ruby chocolate into just one dessert. Making this cake also requires considerable prep time, specifically the hours required to chill and freeze parts of the cake before assembly.
Éclairs with Ruby Glaze
Prep Time: 13 hours and 30 minutes
Éclairs are amazing pastries. This version, found on Barry Callebaut's own website, fills the light and airy choux pastry with ruby chocolate cream. The combination gives the eclairs a satisfying firmness and snap, thanks to the ruby chocolate icing on top. While this isn't for beginners, it's not as complex as the cake above, despite the long prep time. All the steps in the recipe are straightforward; the preparation time is only extended due to refrigeration time.
Click here to make this recipe.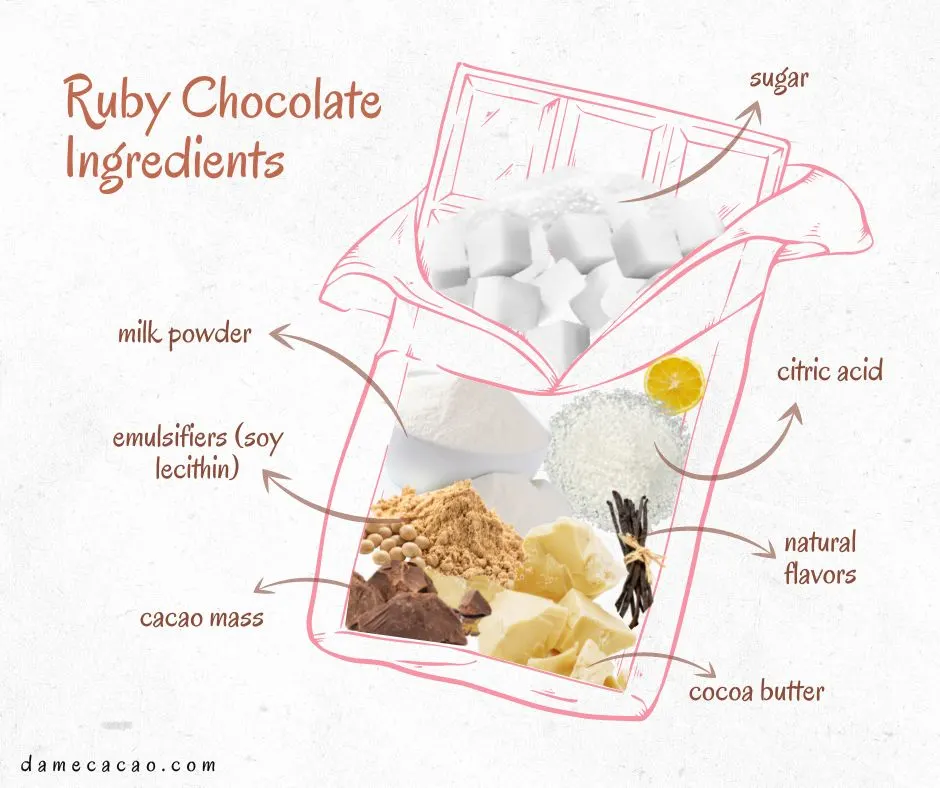 Ruby Chocolate Cheesecake
Prep Time: 4 hours and 25 minutes
This is a regular cheesecake, but with a tangy ruby chocolate twist. The berry taste of ruby chocolate goes well with the cream cheese base, all of which is spread over a buttery shortbread crust. This recipe provides a heavily creamy ruby chocolate flavor, but I'd argue that this makes it stand out from all the other ruby chocolate recipes here, earning it the coveted final spot. Note that the cheesecake itself is straightforward to make, but this recipe goes all out on visuals with the added decorations, so your prep time will be less if your cheesecake can be less bougie.