Sri Lanka is a beautiful island with lots of tasty foods and very nice inhabitants. But there's already so much information out there about Sri Lankan cuisine and things to do and where to visit, that I decided to write about something different: the chocolate selection. I wasn't expecting much, despite the fact that Sri Lanka has been cultivating cacao since the 1700's.
Right now the island is much better known for cinnamon than for cocoa, as it should be. Regardless of that fact, the island does have chocolate, much of it made on Sri Lanka. This isn't necessarily a good thing (see below). Of the nine chocolates we picked out— based solely on what looked interesting and sounded more unique and not too obviously gross— we basically sorta liked two of them. The confections are laid out below in the order we (my mom & I) tried them in; ratings are assigned by me.
Everything we tried was incredibly sweet, no exceptions, and there was a lot of added vegetable oil. Most of the chocolate on the outside of the candy bars we chose was either super thin or waxy (or both). But I certainly concede that all of this was very cheap, costing just Rs825 (about $4.50USD) for all nine bars. Note that we took these pictures & did this tasting on the train from Kandy to Ella.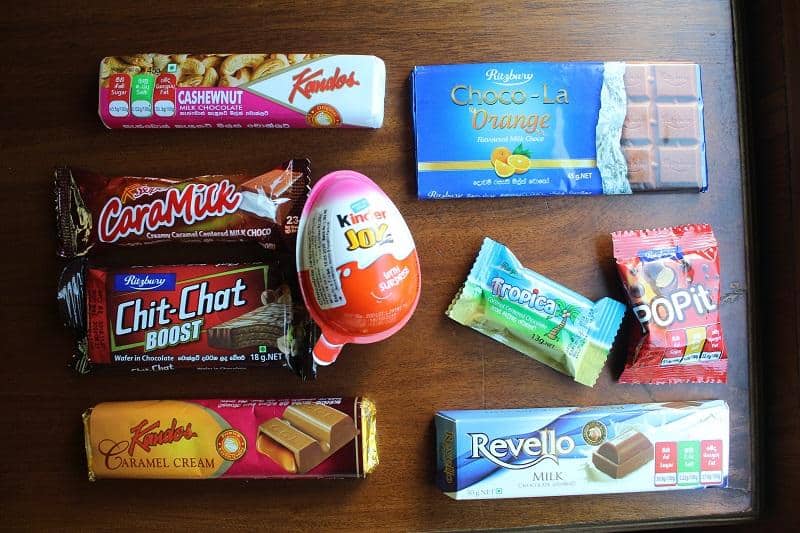 Kinder Egg
Company: Ferrero Lanka Ltd.
First 3 Ingredients: Sugar, Palmolein, Skimmed Cow Milk Powder.
Rating: 3/5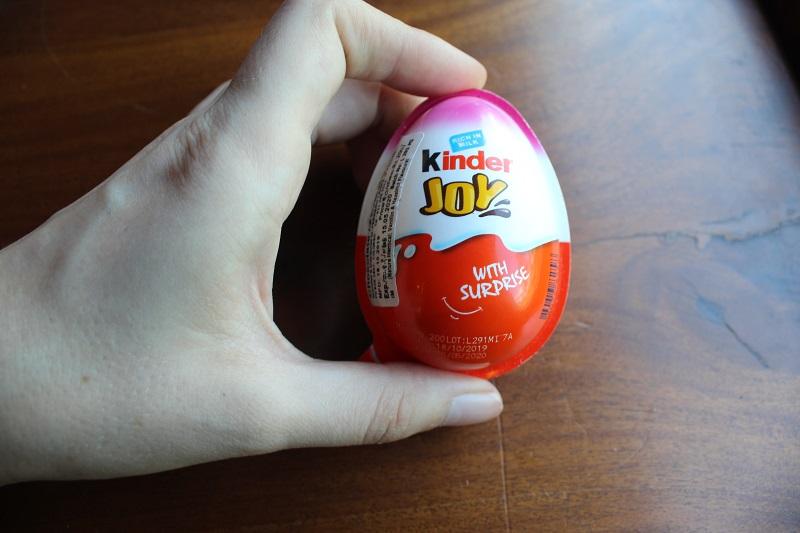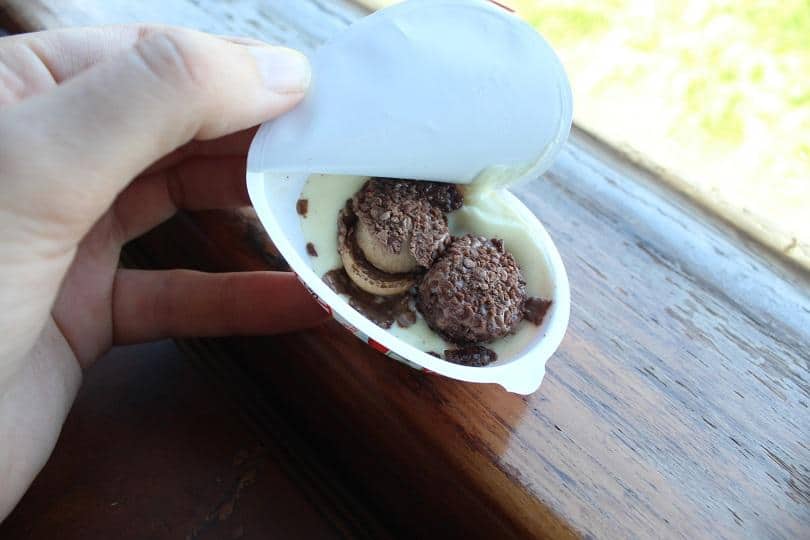 Kinder eggs in Sri Lanka are the same as they are everywhere else: half plastic toys and half melty chocolate with crunchy things inside. The goo itself tastes super sweet and milky, and just a bit oily despite being mostly wheat and oil. It tasted kind of like ice cream, and I hate myself a bit for enjoying it; the cream was clearly manufactured to be very sweet and textured and then finished. Note that the cream & crunches only has a 4% cocoa content by weight, so "chocolate" is a strong term for this creation.
Revello Milk Chocolate
Company: Ritzbury.
First 3 Ingredients: Sugar, Milk Powder, Cocoa Butter.
Rating: 0.5/5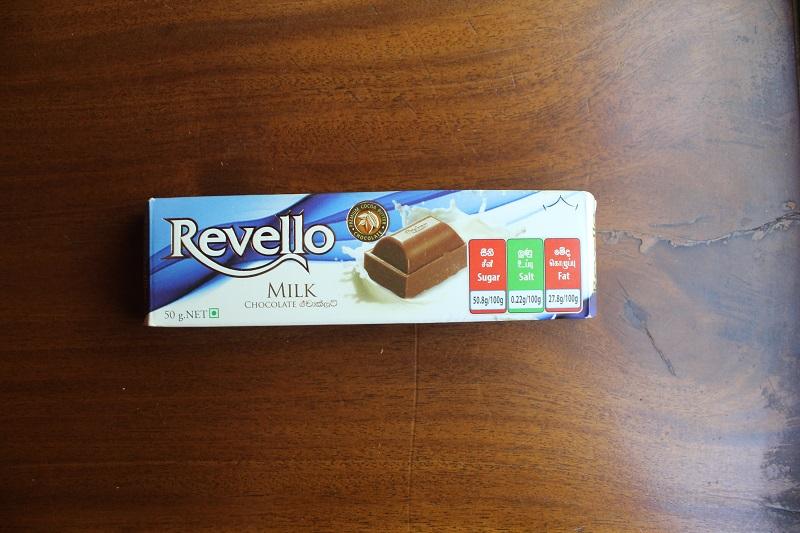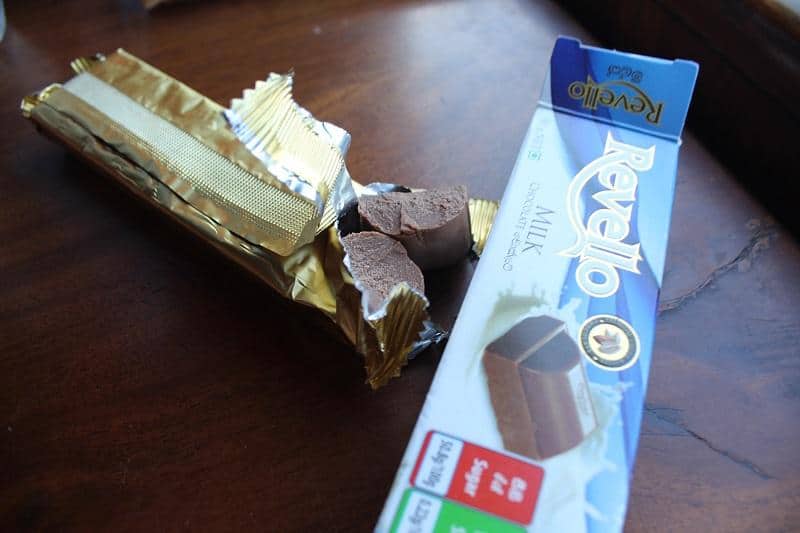 This bar smells like Hershey's chocolate, the kind of slightly sour milk flavor I've come to expect from American mass-market chocolates. But it's got a much more goopy texture, like mud, compared to its American counterpart. The bar is melty even in the air conditioning, and a bit bitter and unpleasant at the end before a milky & creamy sweet finish. Mom said "that's nasty," of the flavor.
Tropica
Company: Ritzbury.
First 3 Ingredients: Sugar, Dessicated Coconut, Glucose.
Rating: 2/5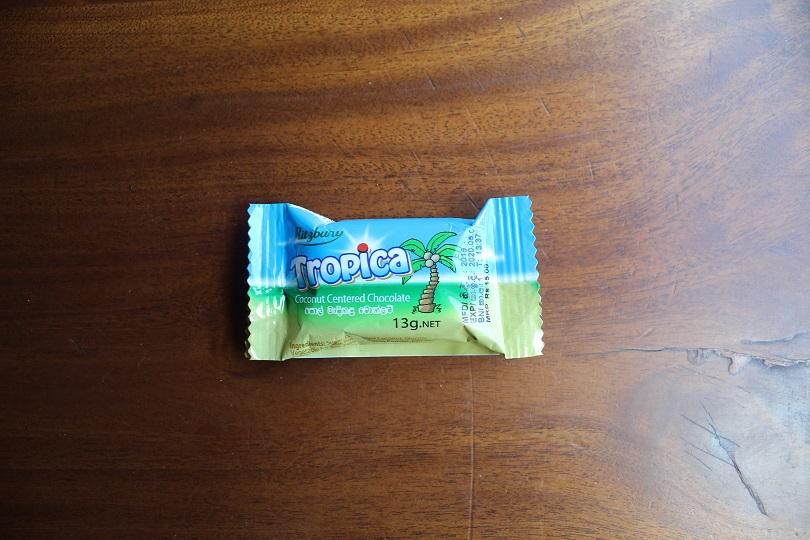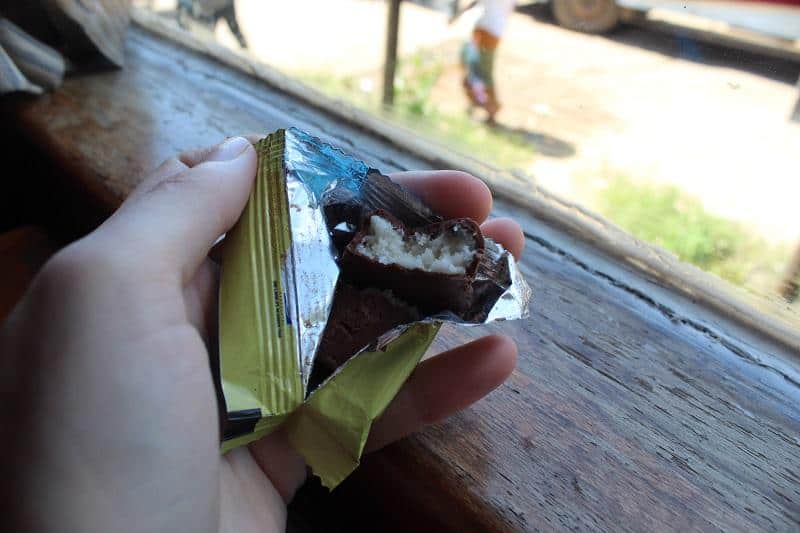 This is supposed to be like a Sri Lankan Bounty bar, even down to the look of the packaging. Biting into the bar, it's quite sweet and then a bit oily as we got into the coconut center. Immediately the coconut flavor comes in and drowns out the purported chocolate. While the coconut flavor is good, and you can taste the bits of coconut inside, the sweet finish reminds you of a piña colada more so than a chocolate bar. Very basic.
Choco-La Orange
Company: Ritzbury.
First 3 Ingredients: Sugar, Vegetable Fat, Milk Powder.
Rating: 0.5/5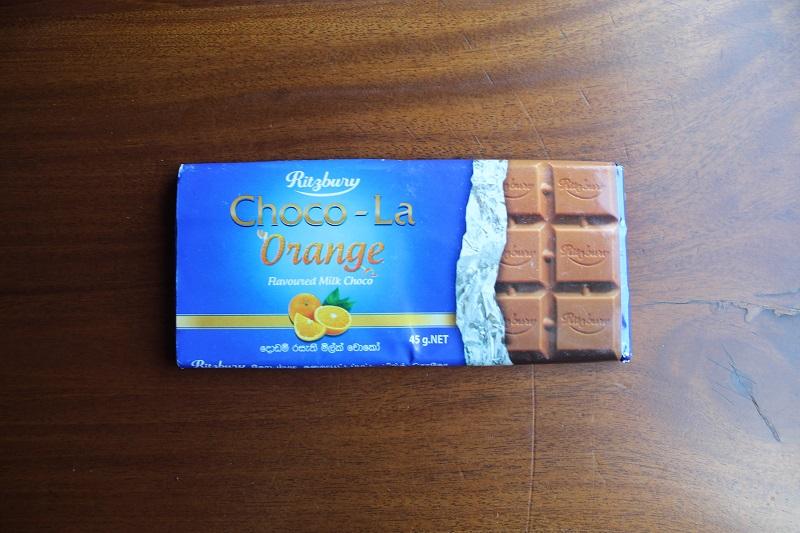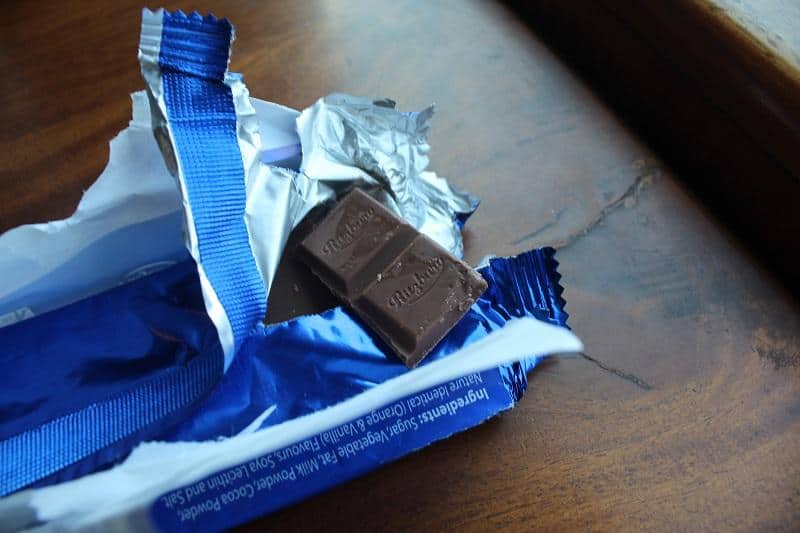 This bar tastes like orange initially ,but sweet like a bubblegum's artificial orange flavor, and then very sweet with literally no chocolate flavor. Somehow this chocolate bar tastes like sweet orange and not much else. Mom winced and said it's also nasty (see above). I agree. This was my least favorite of everything we tried (until #8, at least).
POPit
Company: Ritzbury.
First 3 Ingredients: Sugar, Vegetable Fat, Milk Powder.
Rating: 0.5/5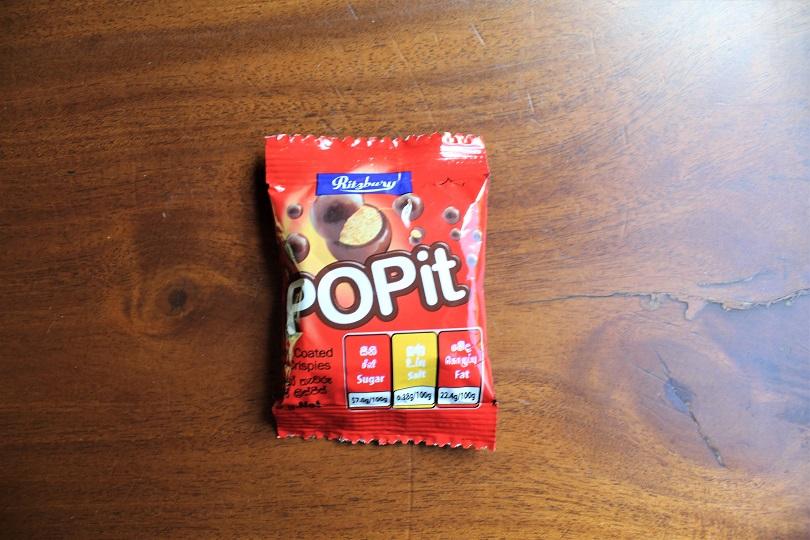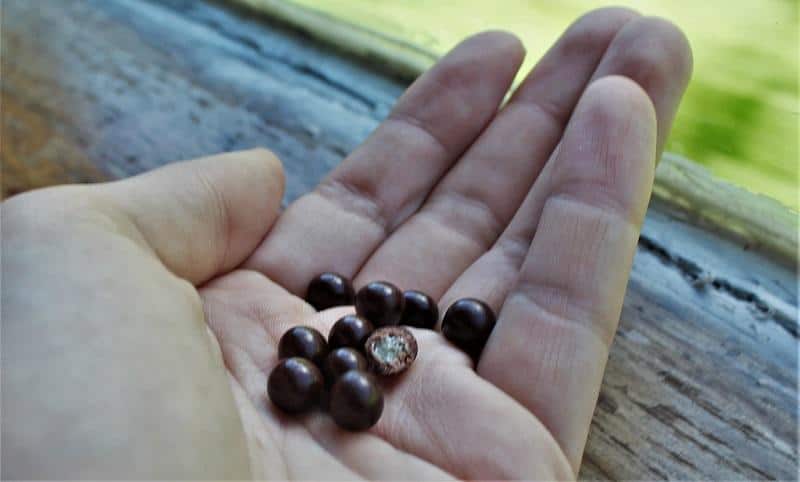 These are teeny tiny dark chocolate-covered wheat… bits? Something wheat-based coated in a dark brown thing that's calling itself chocolate. The bits are malted, and they taste rather sweet with a crunchy honeycomb-textured center. Then it's over. They're overall very easy to eat, very shiny with a nondescript flavor. "The chocolate-like coating is waxy and blech," says Mom.
Kandos Caramel Cream
Company: Ceylon Chocolates Ltd.
First 3 Ingredients: Sugar, Full Cream Milk Powder, Cocoa Butter.
Rating: 0.5/5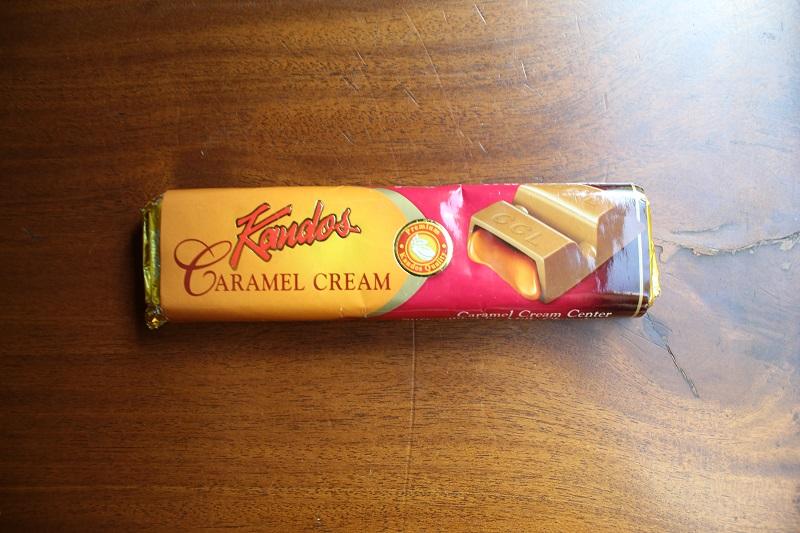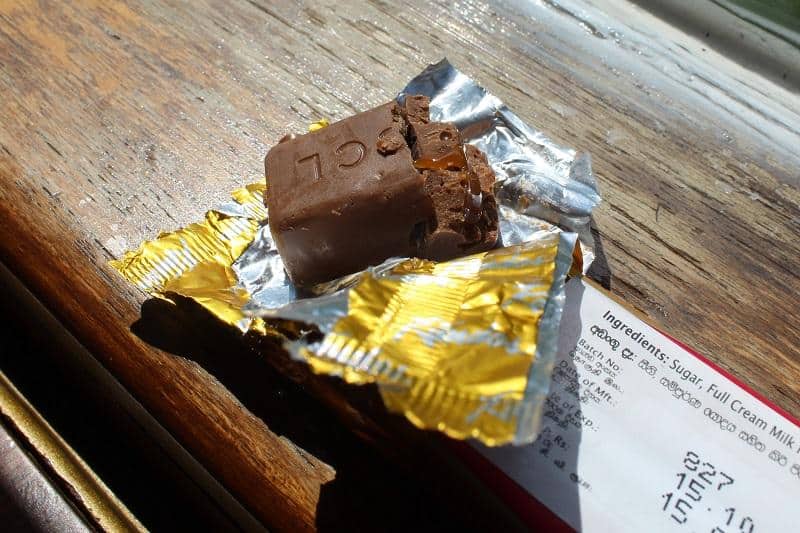 Before trying any of these bars, we photographed each one. This bar has a medium-yellow liquid center that looks lovely in pictures, but which I really didn't taste at all beyond the sweet irritation of overly-sugared chocolate, felt strongest in the back of my throat. The "chocolate" itself melted and finished very sweetly, quite quickly. It's just kind of… tasteless. Sweet and basic with no chocolate flavor.
Kandos Cashewnut Milk Chocolate
Company: Ceylon Chocolates Ltd.
First 3 Ingredients: Sugar, Full Cream Milk Powder, Cocoa Butter.
Rating: 3/5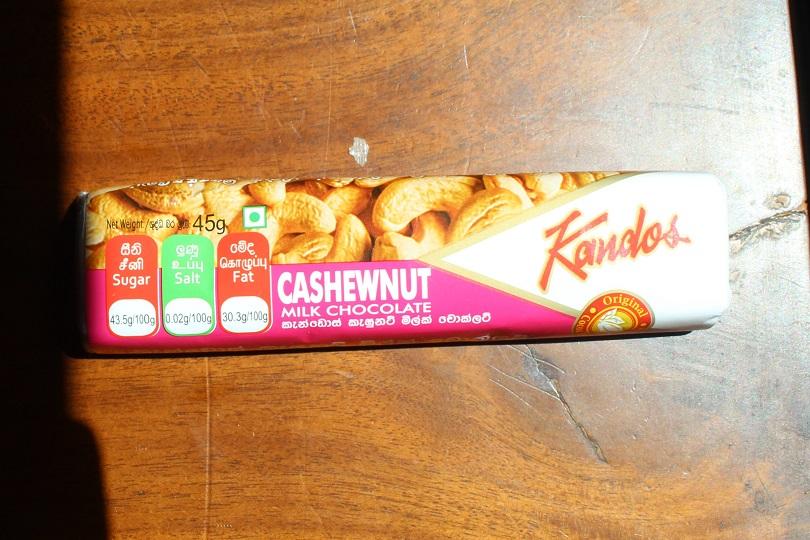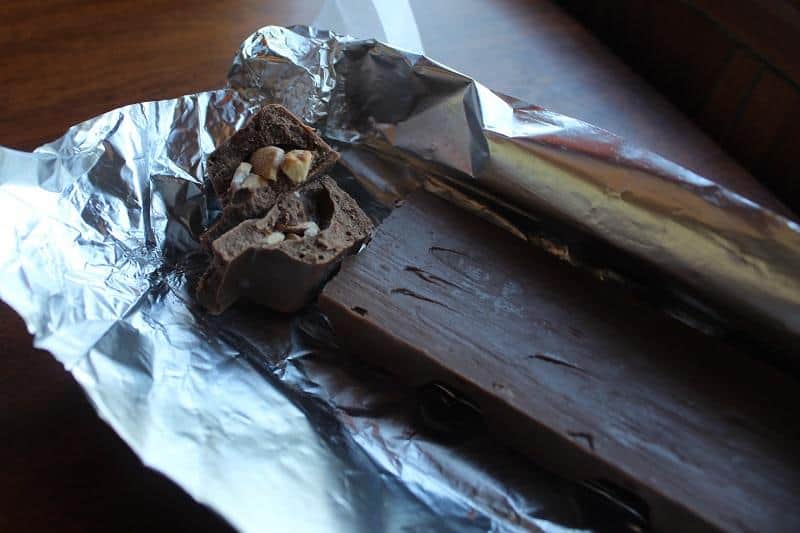 This solid milk chocolate is filled with bits of cashew. The chocolate itself is very sweet, and the bits of cashew almost taste caramelized when you actually eat it. While the bar is incredibly sweet and a bit milky, with a vaguely nutty finish, it's actually one of the most flavorful things on this lineup. This was my favorite of everything we tried. Mom thought the chocolate tasted watered-down, but non-offensive.
CaraMilk
Company: Ceylon Chocokate Ltd.
First 3 Ingredients: Sugar, Cocoa Butter Substitute, Full Cream Milk Powder.
Rating: 0/5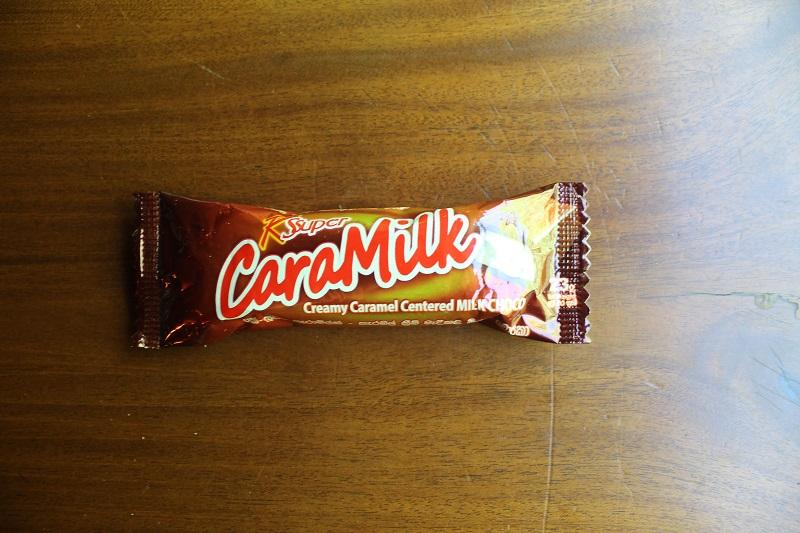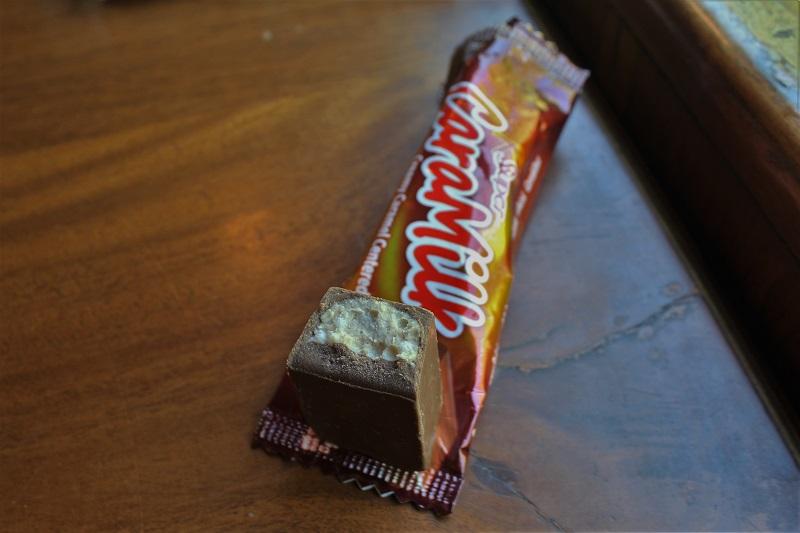 I was not excited to try this bar after accidentally peeking at the ingredients beforehand. The bar itself smells like expired milk when you break it open, a bit like the Revello (made by a different company). It tasted like chalky milk and then oil that separates and sticks to the top of your mouth. God, to quote Mom, this was nasty. She said "this was nondescript and YUCK… God, somebody get me a Mars bar…" #retweet.
Chit-Chat Boost
Company: Ritzbury.
First 3 Ingredients: Sugar, Vegetable Fat, Wheat Flour.
Rating: 0.5/5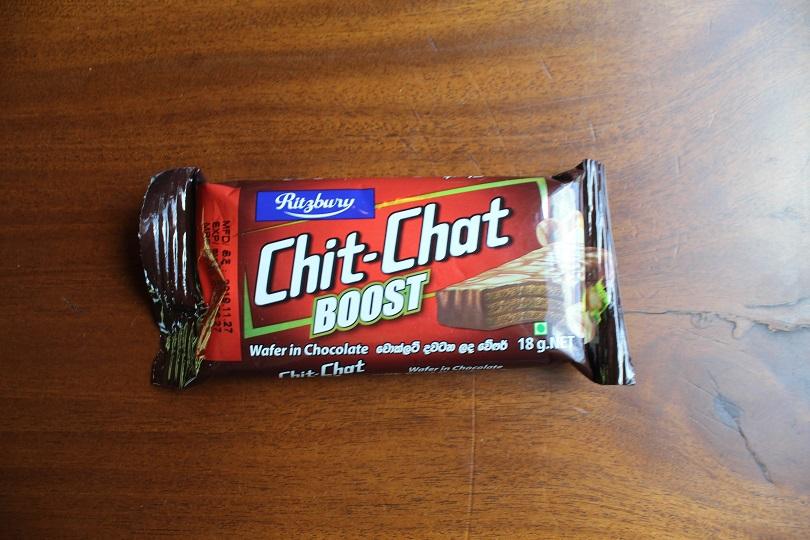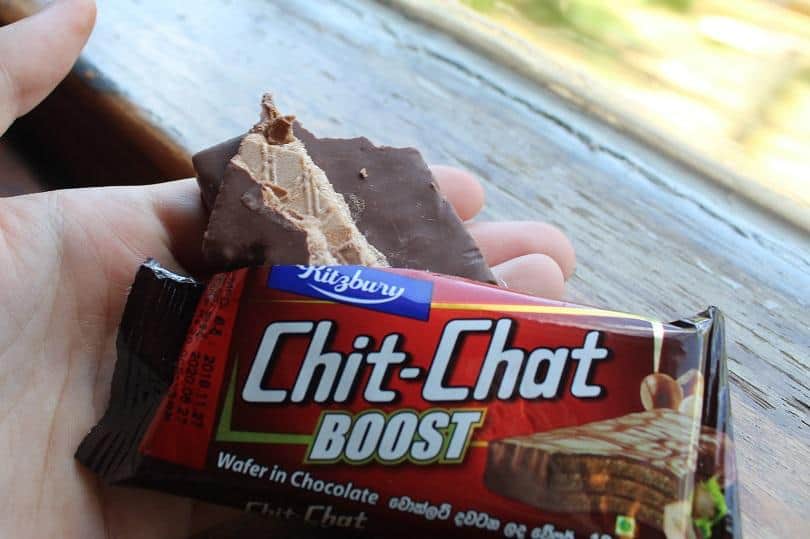 Upon opening the packaging, this bar smells like wheat; nothing else. The flavor is just like a basic chocolate hazelnut wafer cookie, though the "chocolate" on the outside is waxy and super thin. It's not bad, but I certainly wouldn't invest in another one. Mom's thoughts echoed mine.
So this was our tasting of Sri Lanka chocolate bars from the convenience store! We found a few dozen options when we visited, but no craft chocolate, unsurprisingly. The Sri Lankan chocolate industry is still relatively young, with very few people buying chocolate in general. I hope to see this change in coming years, as locals realize the gold they're sitting on with locally-grown cacao, but I've yet to see this beginning.