Rather than chocolate, Boulder, Colorado is known for rock climbing, yoga, and incredibly expensive real estate. Yet the city is also home to ChocoLove Chocolate (also known in my household as "xoxo chocolate"), a mass-market chocolate manufacturer with their headquarters and a manufacturing facility in Boulder. The company was founded over 25 years ago and has since gone international, importing supposedly premium Belgium chocolate, and adding flavorings once they reach the factory. Chocolove is perhaps the best known chocolate in Boulder— but it shouldn't be.
Today I want to introduce you to several Boulder chocolate shops with selections much better than that of Chocolove chocolates, though admittedly many of these shops also carry that brand. After a few weeks exploring the Boulder chocolate scene with my sister, these are the best & worst chocolate factories in Boulder, and some of the places to buy bean to bar chocolate. Since the city is so small to begin with, I've separated each of the shops by type, be they chocolatiers, chocolate makers, or retailers who also sell chocolate. Note that hours may change in the coming months as state restrictions lift.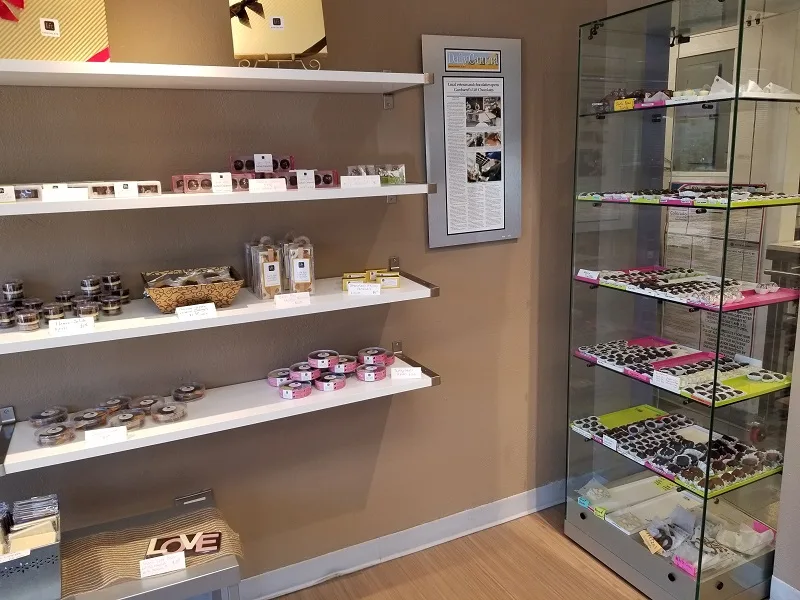 Boulder Chocolatiers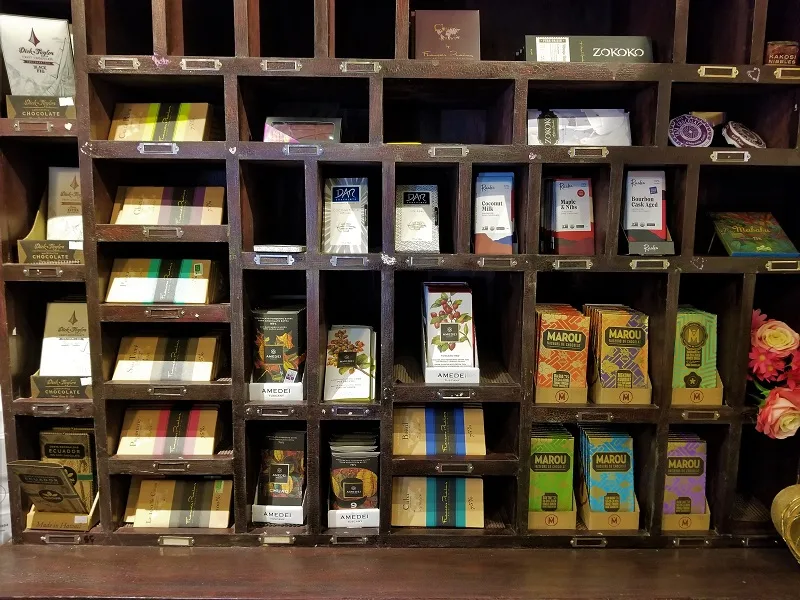 There's a reason this particular Boulder chocolate shop is a local favorite. They carry all sorts of chocolate goodies, from dipped figs and toffees to single origin chocolate bars and artisanal candies. If you feel like a beverage, prominently on the side wall is their menu of hot chocolate and espresso-based drinks, as well as a large case of cakes & pastries in a variety of flavors. Their gluten free brownie is sweet but rich, and would be delicious with a scoop of ice cream, either there or at home.
The only things I tried that I didn't love were macarons. Unfortunately they looked good, but they're made using flavoring liquids rather than pure fruit purees or espresso, etc., which made them taste flat and overly-sweet. But I loved the bonbons—– I'd come back for a collection of those in a heartbeat. The various caramels and the honey lavender were my favorites, though the milk chocolate hazelnut was also great.
Hours: Sun.-Tue. 9am-6pm & Wed.-Sat. 9am-9pm
Address: 805 Pearl Street, Boulder, CO 80302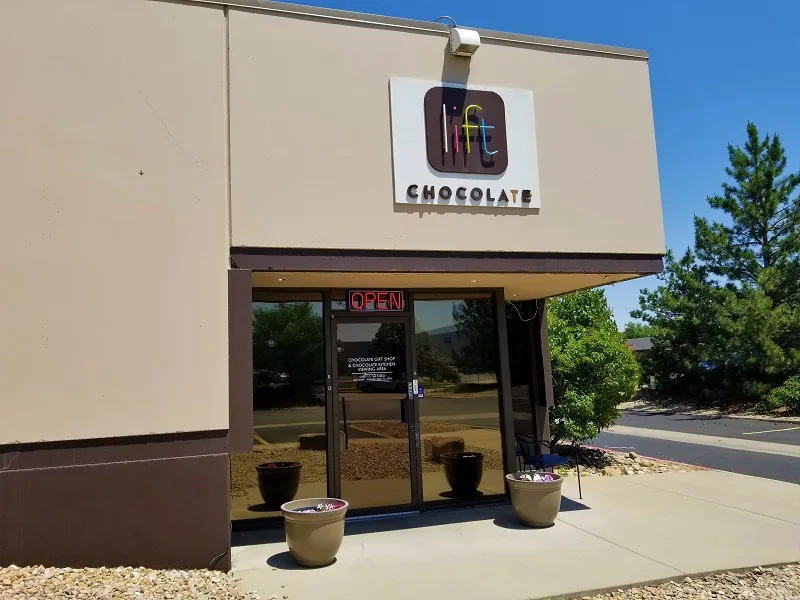 I'd been looking forward to trying bonbons from here, as it's one of the only places in Boulder for chocolate that isn't mass-produced. Additionally, despite their small space, they offer a huge variety of bonbons and confections such as toffee and chocolate-dipped oranges. And while the bonbons look quite pretty, for me they mostly fell flat, with the caramels lacking any sort of cooked sugar flavor (and in two cases remaining very granular). I had high expectations based on the prices, but of the 9 bonbons we tried, only the piña colada and the peanut butter were decent; everything else tasted either nothing like their flavor or so much like it you couldn't even taste the chocolate surrounding it. I enjoyed the blueberry + toasted white chocolate bars they sell, but I'm not sure I'd come back just for that.
Hours: Mon.-Fri. 9am-5pm
Address: 6395 Gunpark Dr, Boulder, CO 80301 (located in Suite R; the place is nondescript)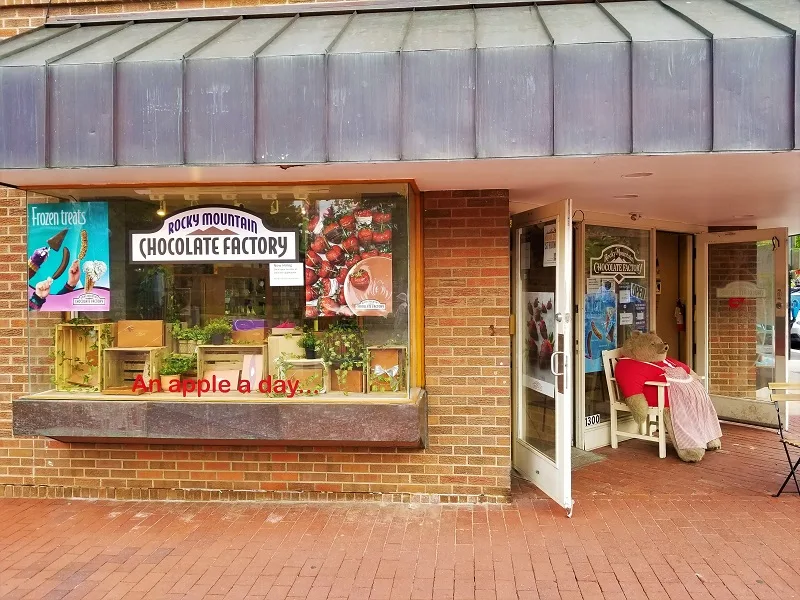 I'm not sure why I was hoping for more from this location of RMCF— maybe because we're so close to the Rockies? But just like every other Rocky Mountain Chocolate Factory, this location is populated with their signature candied apples and chocolate confections, including some thick bonbons. I found the chocolates I tried to be overly-sweet and quite flat, thought the flavors were generally strong. There are definitely better chocolate shops in Boulder.
Hours: Mon.-Sat. 10am-9pm & Sun. 10:30am-8pm
Address: 1300 Pearl St, Boulder, CO 80302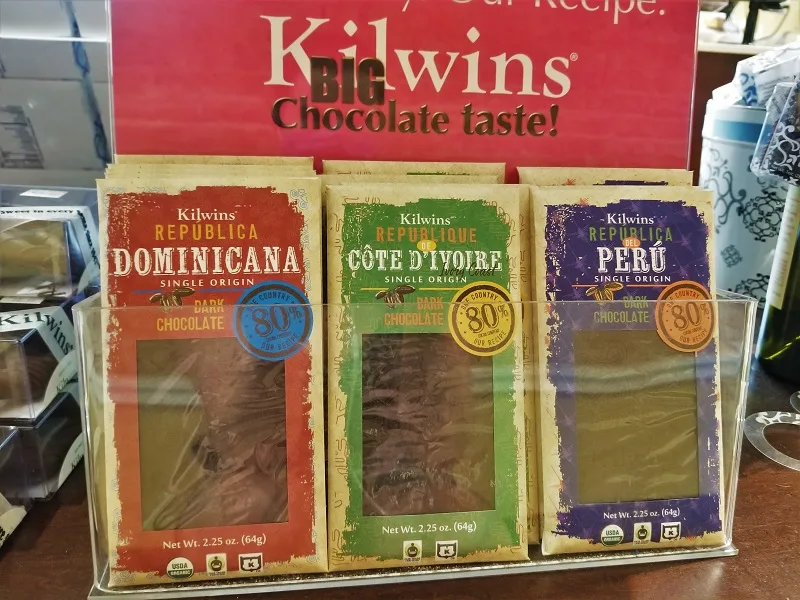 Kilwins has a large selection of truffles and chocolate confections, including kitschy Boulder-influenced sweets. They also carry many of their signature fudge flavors, all of which are delicious, but incredibly sweet (as fudge tends to be). Their weight-based pricing is good for those who like being able to try a variety of confections, but while the chocolates I tried were sweet and not too strong, they lacked the oomph I'd expect for the price. If you just want a well-packaged chocolate gift to take home from your trip, though, Kilwins is a fine choice.
Hours: Mon.-Thu. 11am-9pm & Fri.-Sun. 11am-10pm
Address: 1430 Pearl St, Boulder, CO 80302
Boulder Chocolate Makers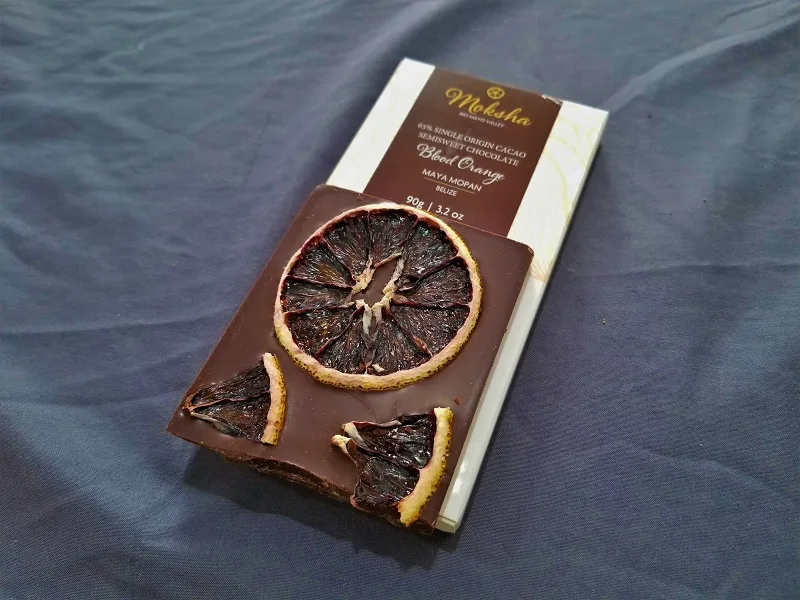 Moksha is a relatively young Boulder chocolate company, founded in 2017 by Jennifer and Michael Caines, an international couple who've called the city home for many years. They began their life in chocolate around 2013, when they had the opportunity to travel to Peru and begin a relationship with a small community of local cacao farmers there. You may even recognize the brand from my article on CBD Chocolate, as Moksha has made its name in the area thanks to its dual lineup of straight and CBD-infused chocolates— whatever your needs may be at the time.
While the couple doesn't currently have a storefront, they do have great distribution for their bars, which include both vegan-friendly and traditional chocolates in all the types: white, milk, and dark. I've been able to try their bars recently, and although I don't rely solely upon infused chocolates for my CBD intake, theirs are a great way to try CBD in a familiar, delicious, and ethical medium. In their CBD line, the vegan white raspberry bar is definitely the standout, while I most enjoy the blood orange bar from their straight chocolates; the large slices of blood orange subtly flavor the entire bar.
Click here to shop their chocolate.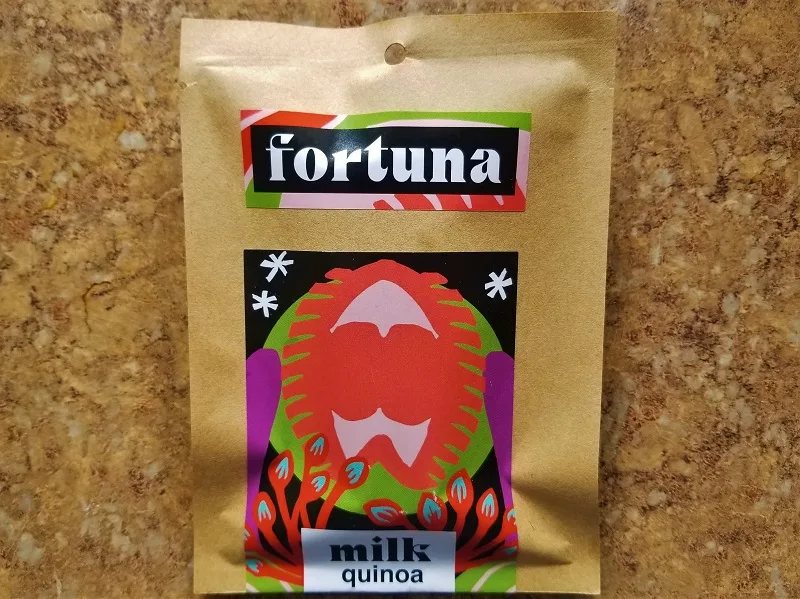 Fortuna Chocolate is a years-long endeavor by a small family with roots in both Colorado and Mexico, as well as a storied globe-trotting history of their own. But lucky for us, Fortuna eventually settled in Boulder, and now offers their delicious dark, milk, and white chocolates to both locals & fans of the postal system. The brand's varied flavors include local mint, puffed quinoa (my favorite), black sesame, and turmeric coconut lime, each 1oz. bar coming in a fully-compostable sleeve, as pictured above.
Currently only available online and in local retailers, Fortuna Chocolate is exclusively made with organic cacao sourced from southern Mexico, where it's believed to have been domesticated after being brought from South America thousands of years ago. As a company, Fortuna is committed to bringing this ancient cacao to an enlightened market; their product line now includes stone-ground cacao, perfect for making pure chocolate beverages at home. During the pandemic they've even started selling limited-edition cacao prints straight from Mexico City, a lovely addition to their t-shirts and bags, each of which benefits a different non-profit group.
Click here to shop their chocolate.
Bean to Bar Chocolate in Boulder (Retailers)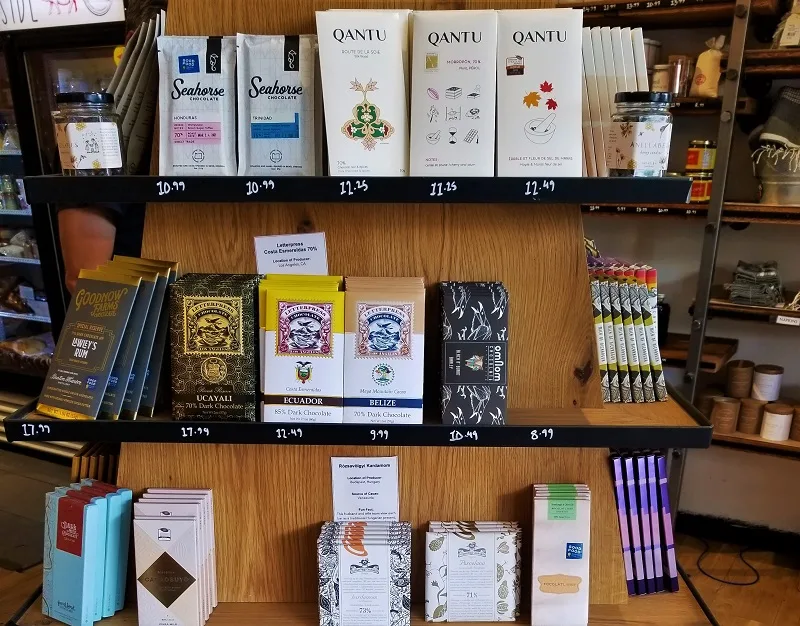 Newly remodeled, this gourmet grocery store is better-known locally for their fabulous cheese & meat selection, but right at the entrance to the shop is a tiered display with numerous craft chocolate bars. While the makers' origins range from hyper-local to the far reaches of Asia and South America, so too do the cacao origins. Carrying a few dozen different bean to bar chocolate products, Cured has one of the best selections of craft chocolate in Boulder. If you venture a bit further in, you can also grab a sandwich from the counter and then sit with a coffee from Boxcar Coffee, which shares the space. I highly recommend an oat milk latte with any sausage-based sammie.
Hours: Tue.-Fri. 10:30am-7pm & Sat.-Sun. 9am-6pm
Address: 1825 Pearl St suite b, Boulder, CO 80302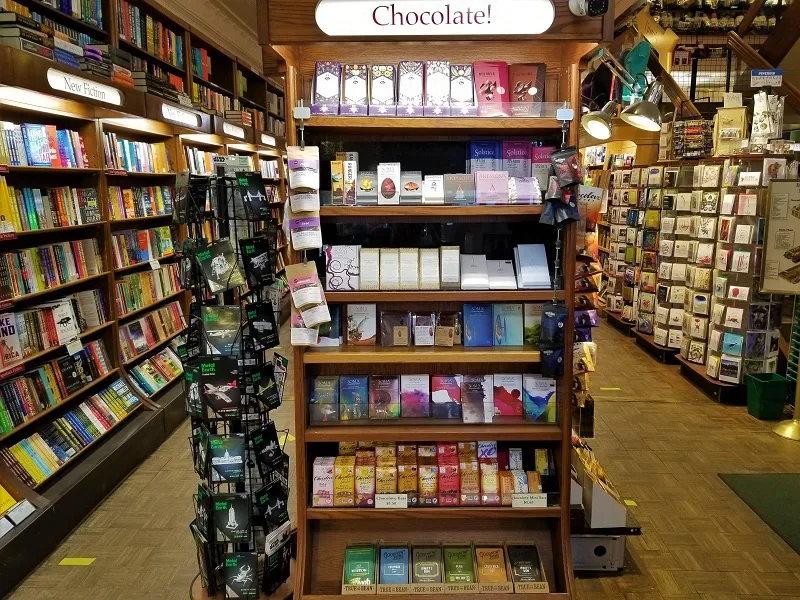 At first glance— and even at second glance— this bookshop is not the idea spot to fulfill your chocolate cravings in town. But mark my words, their selection rivals Cured's wide range of local and international makers, with the added bonus of being surrounded by books. Just steps from the entrance you'll notice a tall carousel of artfully-arranged bars and caramels, filled on three sides with a selection quite different from that of Cured. Just don't forget to allow yourself time to explore the books, too!
Hours: Mon.-Sat. 10:30am-8:30pm & Sun. 11am-7pm
Address: 1107 Pearl St, Boulder, CO 80302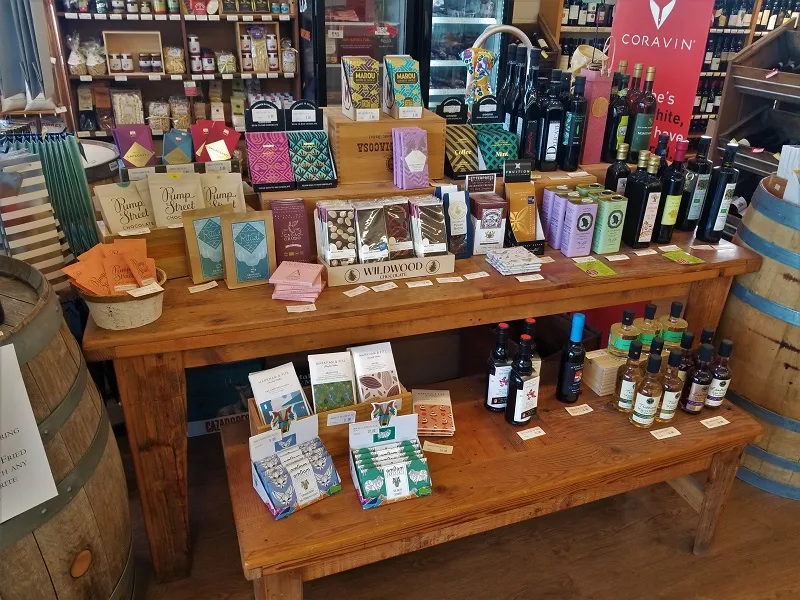 Perfect in a pinch, Boulder Wine Merchant carries a few shelves worth of craft chocolates from around a dozen brands, all displayed right near the entrance. This selection comes in addition to the rest of their artisanal food section, curated to complement their vast number of wines and other alcoholic beverages. I grabbed a Fruition bar and a Markham & Fitz bar when I went, but it's worth allocating a few extra minutes to also grab some cheese & wine.
Hours: Mon.-Sat. 10am-9pm & Sun. 11am-8pm
Address: 2690 Broadway, Boulder, CO 80304
Before we leave the topic of chocolate in Boulder, I do want to share a brand introduced to me by a chocolate friend who used to live in Denver: Cholaca. While not a physical shop you can visit, Cholaca is a chocolate made in Boulder, albeit aimed at the food service and beer-brewing crowd. So if you happen to be in the region, own a shop, and be looking for chocolate liquor or nibs for making your own products, theirs is worth taking a closer look at. Also, after trying several famed local coffeehouses, the best espresso in Boulder is definitely from Ozo Coffee or Boxcar Coffee Roasters. Just grab one from each and thank me later!
Boulder Chocolate Shops Map