Before visiting these dozen or so Denver chocolate shops, I wasn't really sure what to expect from the Mile High City. I knew there were some nice restaurants and a few chocolate makers, but boy is the Denver chocolate scene on fire!
Sure, you'll still find the typical See's Candies, Rocky Mountain Chocolate Factory, Kilwins, and It'sugar, but beyond that are over a dozen local chocolate boutiques for you to choose amongst. Options range from Mexican-style hot chocolate and artisanal chocolate bars to chocolate-covered marshmallows and twenty different flavors of fudge.
Luckily, most of these shops are very accessible, either fully online or in the city center. Since there are so many options, shops are broken into three categories depending upon how they make their products.
They either make the chocolate themselves, buy the chocolate and make it into truffles & bonbons, or buy ready-made truffles and bonbons. Those categories are chocolate makers, chocolatiers, and chocolate shops, respectively.
*Note that each store marked with an asterisk is currently online-only.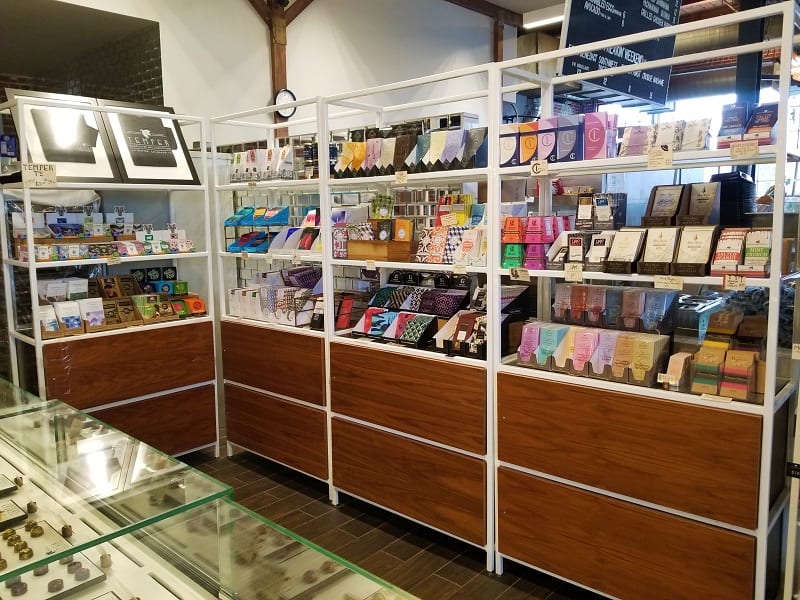 Denver Chocolate Makers
DAR Chocolate is a craft chocolate maker based in Denver, with a sister company— Gataka Wellness— producing craft CBD chocolates. The founders' beginnings with making chocolate started with a cacao nib smoothie they had in Costa Rica, and a couple years later, their newfound passion for cacao brought them to Denver.
Their current selection includes both standard bars and an invention they call a truffle bar, which is a fluffy chocolate confection whipped up with the scantest addition of natural ingredients as the flavoring.
I've only tried their standard bars, however, and their Fireside bar is an absolute delight, though I have my eye on both the Caramel Coffee and the Lemongrass & Ginger. Currently DAR Chocolate is only available online and through other Denver-area retailers, but hopefully one day we'll be able to visit them in a shop of their own.
Click here to visit their online store.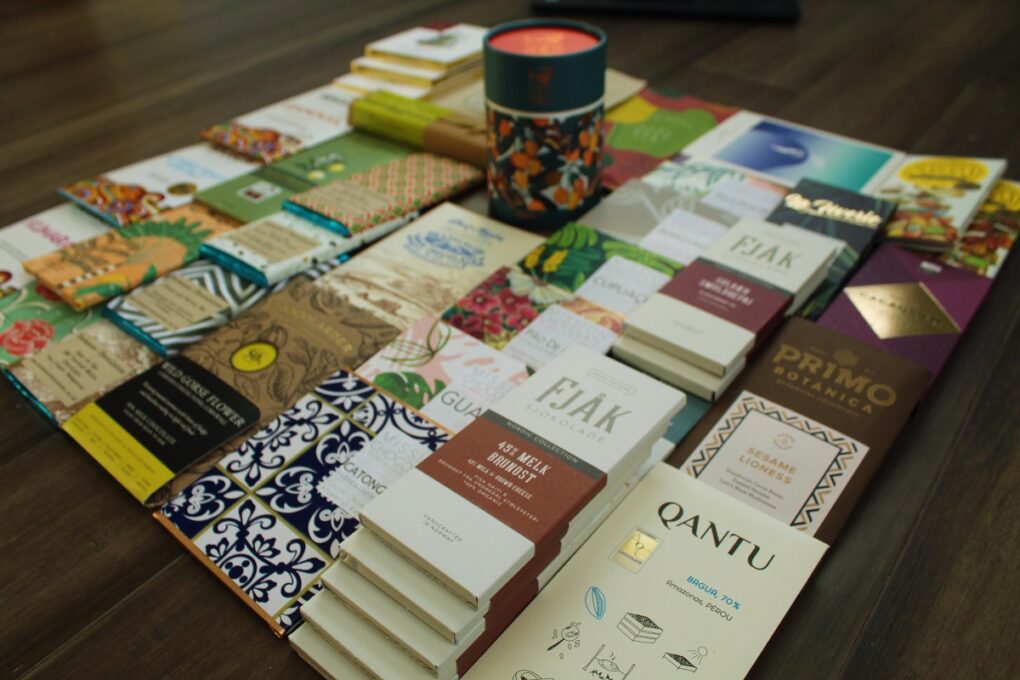 Like so many Denver chocolate companies, right now Bar & Cocoa is exclusively online, offering bean to bar chocolate to consumers around the world. For the record, they exclusively sell bean to bar chocolate, even they don't make any themselves, which is why they're under the 'Chocolate Makers' heading.
Their selection includes 70+ craft chocolate companies and nearly 1000 different products, from bars and bonbons to chocolate spreads and cigars; I'm partial to the Pralus Barres Infernales and any white chocolate bar by Mission Chocolate.
But for the most unusual chocolates you'll ever find in your life, use the filter options to find the exact chocolate of your dreams. Note that at the moment. Bar & Cocoa is only doing shipped orders, even for local customers. Hopefully once everything settles around the world, they'll be able to set up a physical shop once again, but for now we get to peruse the entire inventory at once.
Click here to visit their online store.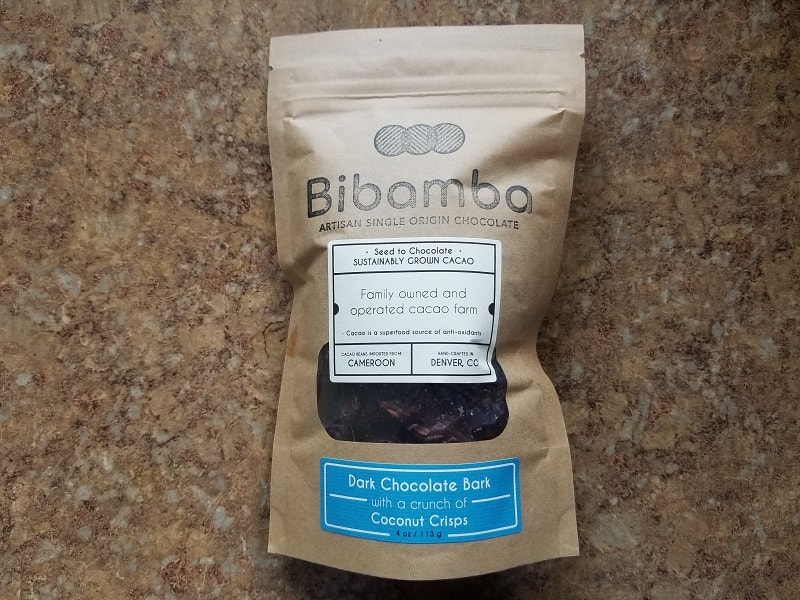 Bibamba is relatively new to the Denver Chocolate scene, but the founders are by no means unfamiliar with cacao (the base ingredient of chocolate). In fact, all the cacao used to make their bean to bar chocolate in Denver is sourced from the family's farm in Cameroon, a coastal nation in West Africa.
While their current lineup only includes dark chocolates, their flavors are all quite good, with my favorite being either the plantain or coconut flavor, both of which are available for sample at all of their popups in the Denver and Boulder area markets. You can also order their chocolates online, if you can't wait for the next market.
Click here to visit their online store.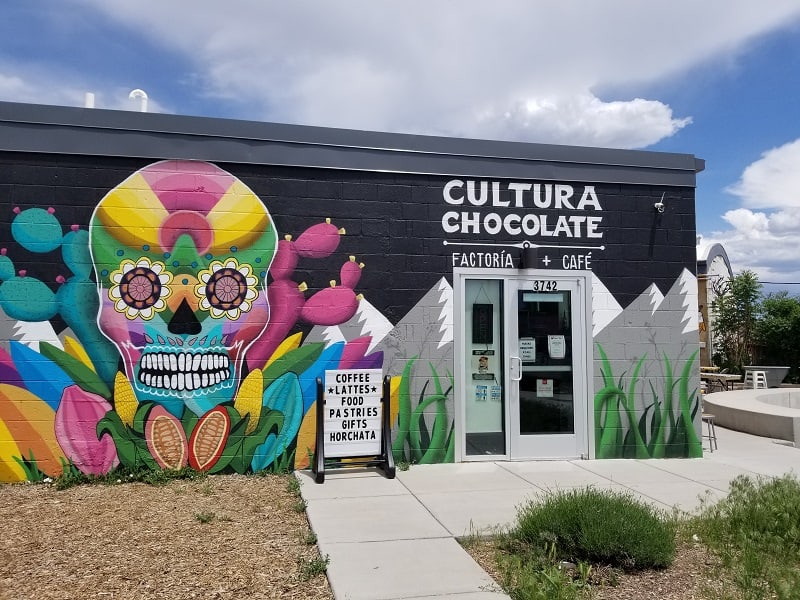 As of publication, Cultura Chocolate is the only Denver craft chocolate maker to have their own retail space. The shop in question also doubles as their factory, with an open floor plan to see into the chocolate making space, plus one table & two chairs inside and ample seating outside.
As soon as you enter the space, on your left are abundant jars of dried ingredients used to make the chocolate bars and drinking chocolates lines up on the shelves below. If you're hoping to recreate some traditional Mexican dishes at home, they also offer a variety of spice blends, sauces, masa, and instruments like a grinder and a metate, all proudly displayed throughout the shop.
If you're looking for something beyond their single origin chocolate bars, however, I'd also recommend the horchata with cold brew or even the hot chocolate, both of which are equally satisfying. There are also a lot of locally-produced artisanal goods, from muscle balms and bath bombs to soaps and jewelry.
Address: 3742 Morrison Rd, Denver, CO 80219
Hours: Thu.-Sun., ​8am-2pm
Denver Chocolatiers​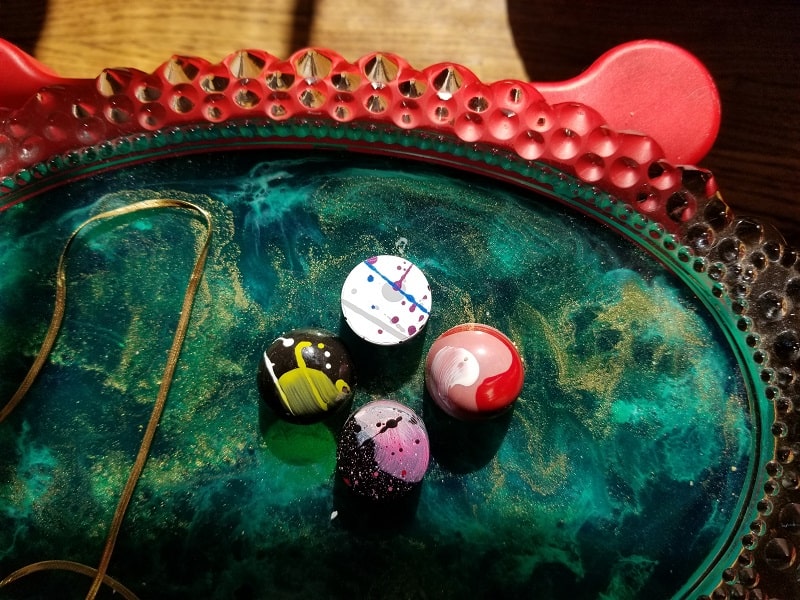 Currently Colorado Cocoa Pod is only available online for pickup or delivery, but it's worth making the call. The company's product line is based around their many flavors of beautiful bonbons, though they also carry small bars of chocolate and caramels.
We had to pick up some bonbons, and from our dozen flavors, the Cinnamon Marshmallow, the Lemon, and the Passion Fruit Guava really stood out. Only one of the ganaches, the Earl Grey Lavender, wasn't strong enough for me, so I'd personally wait awhile before trying any softer flavors.
As for the rest of them, each of the flavor combinations was potent & well-balanced, and I'm looking forward to trying their full collection one day. The texture of the caramels is outstanding!
Click here to visit their online store.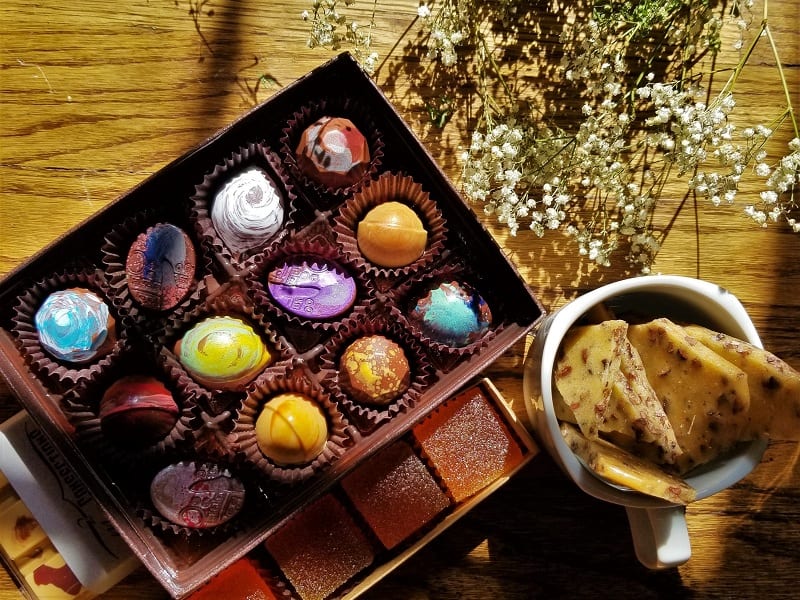 This one-woman-show was founded just a few years ago, and now offers chocolates in Denver for pickup or delivery. When pouring over the M2 catalogue— pronounced "Em Squared"— their bonbons jump out as particularly unique.
After mild deliberation, I decided to try a selection of a dozen different bonbons, their chipotle nib brittle, and the passion fruit pate de fruits. They also included a sample of their French Toast bar in my order, which is absolutely delicious!
There are so many flavors going on in each of their chocolates that it's hard to pick favorites, but our group of tasters most loved the Burnt Passionfruit, Carrot Cake, and the Strawberry Sorbet. Hopefully there's a retail shop with their full selection when I'm back in Denver.
Click here to visit their online store.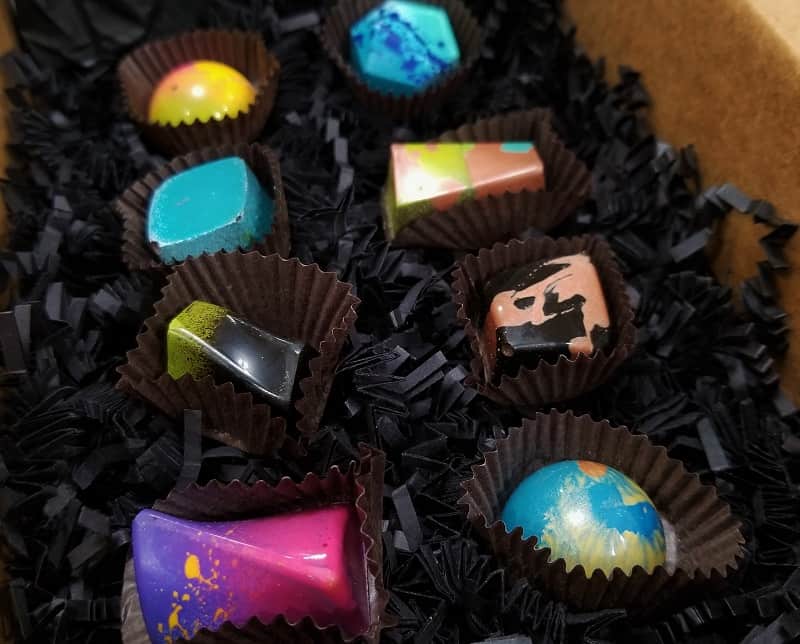 Coco Gusto is a chocolate brand founded by young chocolatier Wade Stembridge. The company's specialty is their hand-painted bonbons and bars, available in a rotating array of flavors (for the moment, you can't customize a box through their site).
Their seasonal releases change annually and may include macarons, brownies, or even a chocolate meat rub! For those with a special occasion coming up, you can order any of their gift sets for local delivery within Denver city limits, although they've recently also added nationwide shipping.
Click here to visit their online store.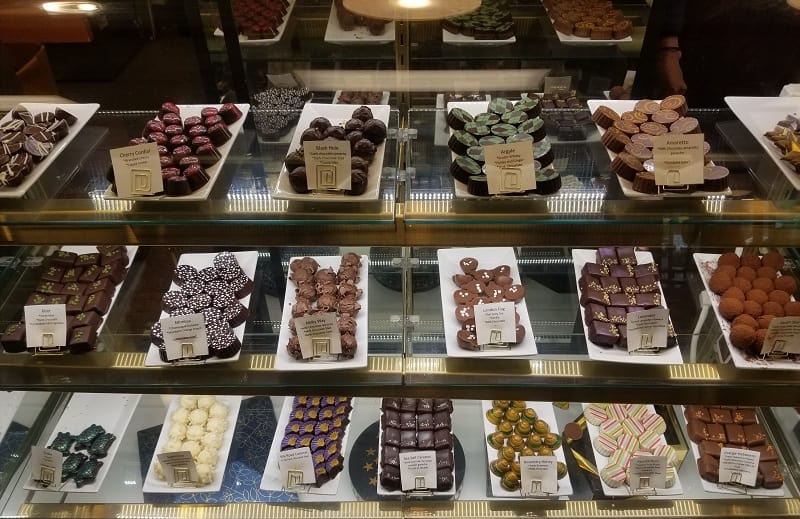 This small Denver chocolate shop, located in the Colorado Place strip mall, boasts a large selection of chocolate and coffee drinks, a small selection of beers and wines, and a smattering of solid bars. The rest of their assortment is in the pre-selected boxes of bonbons or pick-your-own from the case.
I especially love the ample indoor seating, uncrowded and brushed for customers looking to visit for awhile. I picked out 6 or 7 chocolates from the case, and while all of them were a little sweeter than I'd wanted, they're certainly pretty, with relatively complex caramels and flavored ganache fillings.
I found the Rosemary Honey and the London Fog bonbons to be particularly delicious and unusual, but overall I was happy with everything.
Address: 700 Colorado Blvd, Denver, CO 80206
Hours: Mon.-Sat., 9am-6pm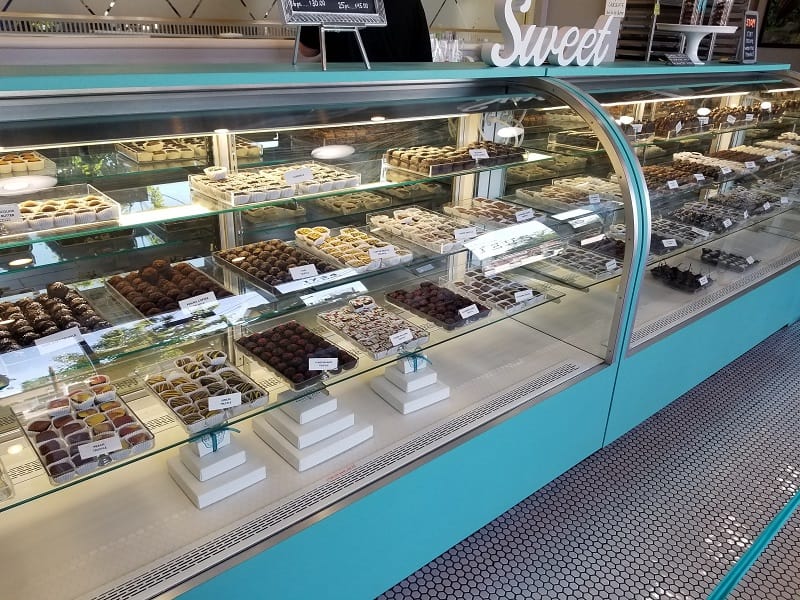 From the outside, Deiter's has a very 50's diner look, though the inside evokes the bougie feel of a NYC candy shop. On tables & shelves throughout, there are prepackaged candies and chocolate-dipped goodies, as well as treats like toffee, dried fruits, and boxes of caramels.
We chose nine flavors of bonbons to try, and of all of them ranged from fine to good.
Other than the Earl Grey and the Honey Cinnamon, in fact, most of the flavors were much too mild for my tastes, to the point that I started feeling like I'd bought a bunch of plain truffles with different decorations. I'd come back for the toffee and the Askinosie chocolate, but not for the chocolates themselves.
Address: 1734 E Evans Ave, Denver, CO 80210
Hours: 10am-6pm, daily (closes 5pm on Sundays)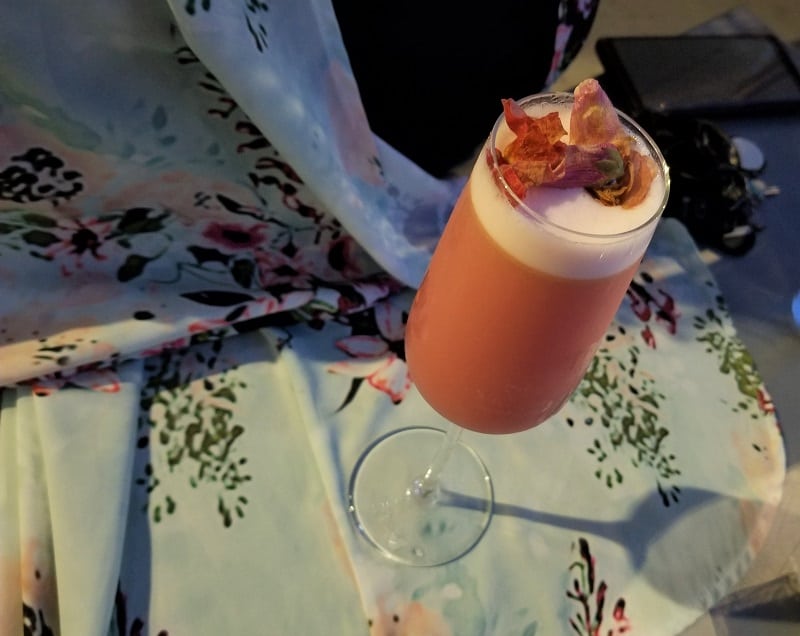 Chocolate Lab is a low-key spot with a mix of wines & cocktails, chocolate barks & confections, and chocolate bonbons. The cocktails range in price from $11-$15, and they're very nice, but the chocolates themselves were too sweet and lacked the complexity I'd expect for the price.
But for a unique chocolate creation like Brussels Sprouts & Bleu Cheese bark or Mustard Pretzel bark, then this is your spot. It's just not my spot.
Address: 2504 E Colfax Ave, Denver, CO 80206
Hours: 12pm-6pm, Wed. & 12pm-9pm, Thu.-Sun.
Denver Chocolate Shops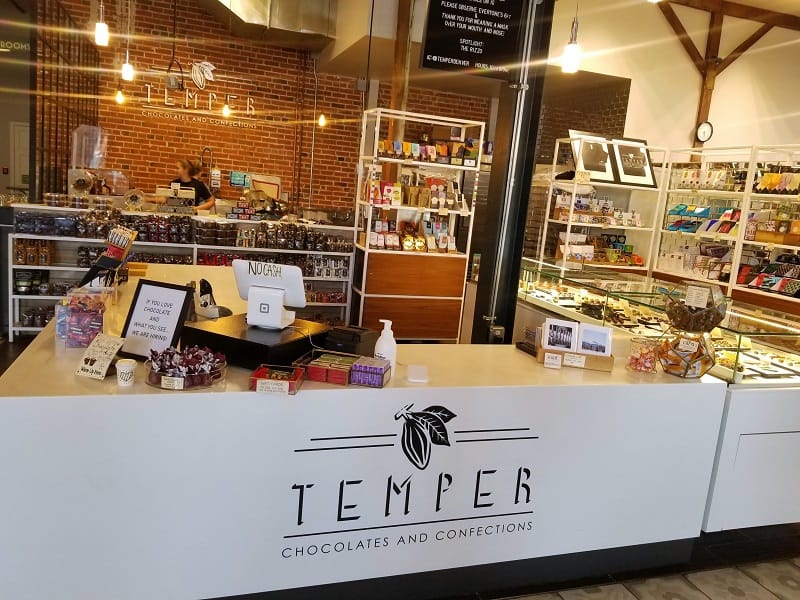 Temper Chocolate's inventory includes about a dozen bonbon flavors and several dozen different bean to bar makers' chocolatiers' bars, with most of the better known makers represented. For the record, some of their bonbons and truffles do seem to be made in-house, but a much larger portion of their inventory is bought wholesale and then resold to the final customer.
They also have a small selection of non-bonbon confections, and happen to be located in a small cafeteria with a variety of restaurants and bars. The bonbons themselves have very strong, straightforward flavors— they are as they present themselves to be. But they didn't taste as balanced as I'd have liked, and for the price, I wouldn't buy them again.
Address: 2669 Larimer St, Denver, CO 80205
Hours: 10am-8pm, daily (open 'til 9pm on Fri./Sat.)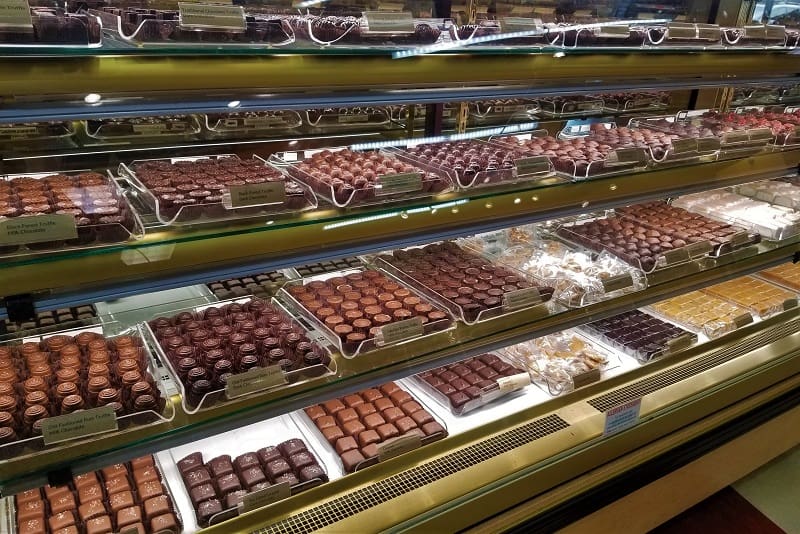 The Enstrom I visited is the downtown location of this regional chain candy shop, with a focus upon chocolates and chocolate-flavored confections. Their range is so diverse that it was hard to pick a good representation of their offerings.
Based on reviews I gave a variety of their few dozen flavors of bonbons and truffles a try. Beyond those, however, they also offer flavored pre-packaged chocolates, bulk jelly beans and other candies, as well as a variety of coffees and their own brand of ice cream.
The shop I visited is also quite large, with plenty of outdoor seating and a few tables indoors. The chocolates I tried were super sweet and reminded me of the candy shops I frequented growing up, especially insofar as having strong flavors & uncolored exteriors.
They really hit the spot for nostalgia and price, I'd but definitely go for stronger flavors like the toffees and coconut ones, as the caramels and turn-based ones fell flat for me.
Address: 201 University Blvd #118, Denver, CO 80206 (multiple locations; just one noted on map)
Hours: 7am-8pm, Mon.-Fri. & 8am-8pm, Sat. & 10am-5pm, Sun.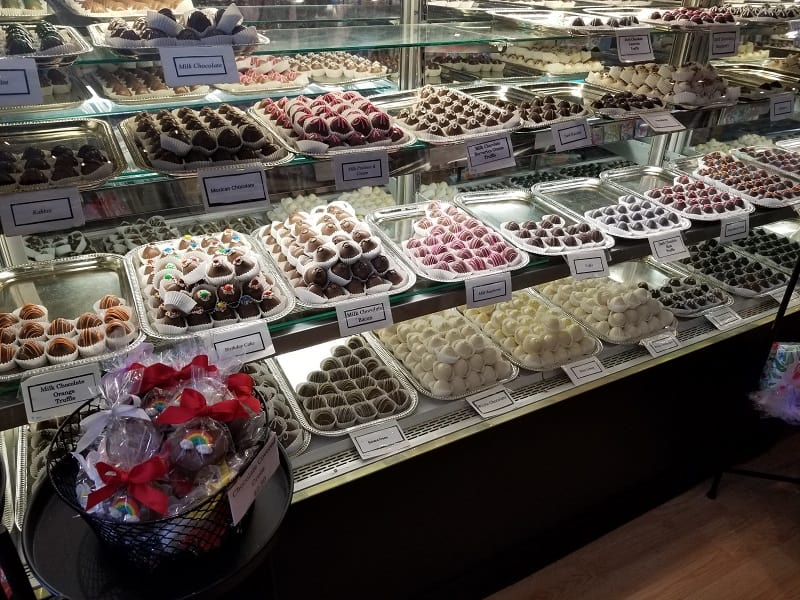 Roberta's Chocolate is a small shop along a busy road in the West Highland district of Denver. They carry several dozen flavors of bonbons and truffles, all thick on the outside with flavored insides, in two different price tiers (either $1 or $2.25 each).
But beyond the chocolates they have fudge, old-fashioned candies, and Colorado-themed trinkets. Despite their small size, they've packed a lot of options into the space, and we particularly loved the selection of cards & postcards for Denver.
As for the chocolates themselves, each of the higher-priced ones we tried were overly sweet, with a very weak chocolatey flavor even in the outside chocolate, and a viscous sweetness inside that often obscured the flavor.
For the price, if I just wanted something overwhelmingly sweet, I'd opt for their less expensive chocolates or the fudge, and then head elsewhere for bonbons.
Address: 4022 Tennyson St, Denver, CO 80212
Hours: 9am-5pm, Mon.-Fri. & 10am-4pm, Sat.
Denver Chocolate Shops Maps