For anyone accustomed to the hustle and bustle of Tokyo, Fukuoka is a completely different experience. It's got those trademark sky-high buildings that characterize all of Japan, but with a fraction of the population density. Their chocolate scene, too, counts itself with many fewer chocolate shops of any kind, and just 2 chocolate makers close to the city. Chocolate culture hasn't quite hit Fukuoka yet, so their truffles tend to be very sweet, even the imported ones.
But with such a compact downtown area, it's possible to walk to all of these chocolate shops in the span of just one day, if you're so inclined.
From the sweet Godiva and Mary Chocolates of the mall kiosks, to the much smaller local chocolatiers and makers, this Fukuoka chocolate guide is guaranteed to surprise and delight all visitors to Fukuoka's fine food scene. Note that Wednesday is a bad day to look for chocolate in Fukuoka, as most shops are closed that day.
Fukuoka Chocolate Makers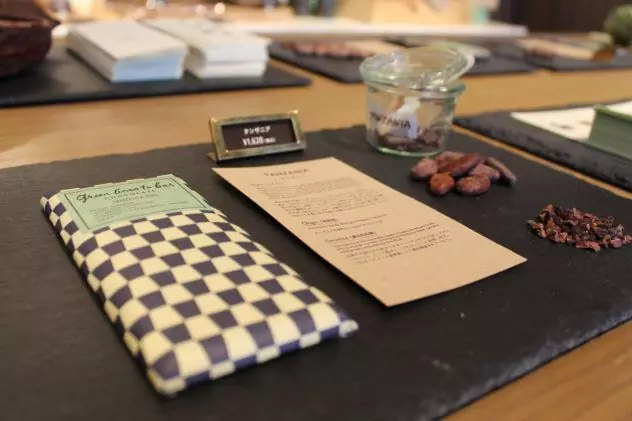 Quality-wise, this was one of the most impressive chocolate shops in Fukuoka. Friends gave me mixed reviews of the quality of pastries at their Tokyo shop, but they're doing something right in the Fukuoka store, because everything I had was delicious. I was so impressed that I visited twice in just four days. The staff was so friendly that when I left 4 chocolate bars behind and belatedly messaged their Instagram account about it, they remembered and gave them back to me the next day.
In Fukuoka, Green Bean to Bar is likely just seen as a cafe which also serves delicious pastries and chocolate, but they've found ways to entice customers back, and part of it is their rotating selection of pastries. Their double chocolate cookies use nibs instead of chocolate chips, and they have samples of most of the bars out at one time. They use their own chocolate to craft the treats, so you'll see origins like "Chuao" and "Tanzania" as the only English in the description, but I'd recommend trying any of their creations, especially the drinks. Their iced chocolate is like a liquefied dark chocolate mousse, but even if you're not their in wintertime, go for the day's special hot chocolate for something more unique.
I was so impressed by the quality of their 9 flavors of bonbons that I had to buy even more on my second visit. Either way, come hungry.
Address: 〒810-0021 Fukuoka-ken, Fukuoka-shi, Chūō-ku, Imaizumi, 1 Chome−19, 福岡市中央区今泉1-19-22 (see map below)
Hours & Prices: 11am-9pm, Thu.-Tue. (~¥1700 per 55g bar; ¥380 for bonbons)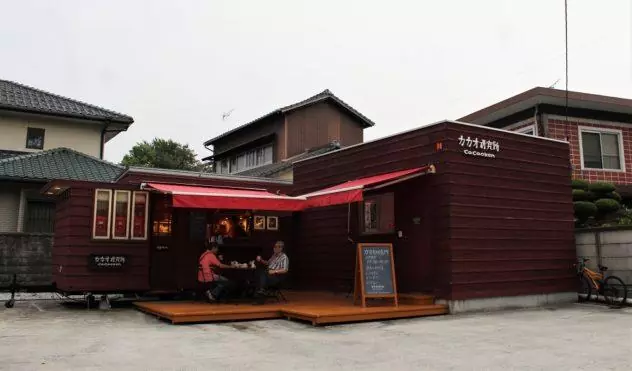 This family chocolate business has been running for just a few years, but they got into bean to bar chocolate about six years ago, when the concept of making your own chocolate was still quite new in Japan. Since 2014 they've been selling their cacao creations out of their tiny shop in Fukuoka's countryside. They have a large range of dark, milk, and white chocolate bars available in single origins or as flavored bars. The company gets their creativity from a combination of their Japanese heritage and their connections to the farmers they work with in Vietnam. In fact, they're the only company I know of in Japan which sells cacao wine and cocoa syrup, two products made with the juice of he cacao fruit.
Other creations include their nib-specked honey, extremely thick hot chocolate, and cacao sauce, which is currently being featured in a tasting menu available only at the Imperial Hotel in Tokyo until December 26th. Located about an hour outside of Fukuoka city, you can take a bus directly from downtown that drops you off a half kilometer from the tiny shop. If you have any problems finding them, be sure to reach out to their Instagram account (which is linked above).
Read more about Cacaoken in my interview with them.
Address: 17-79 Higashitokuzen, Iizuka, Fukuoka Prefecture 820-0032 (see map below)
Hours & Prices: 1:30pm-6pm, Thu.-Mon. (¥600 per 20g bar)
Fukuoka Chocolatiers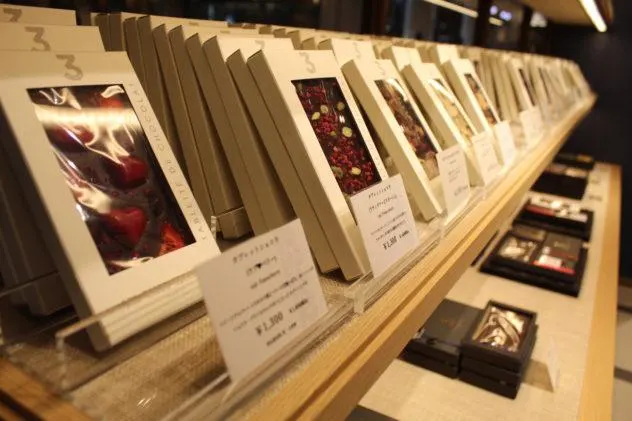 On the first floor of one of downtown Fukuoka's biggest malls is Parisian chocolatier Les Trois Chocolats. The outlet sells imported French chocolates and long, thin cakes and fancy pastries, as well as some seriously impressive bars—some even have truffles stuck in them! It seems like most people came for some of the cakes or truffles, but the chocolates were quite sweet for my taste, meaning that the flavors they chose to import are definitely catered towards the Japanese palate.
However the flavors like yuzu, sesame, and soybean, among other more classic flavors, are all expressed in a French style. Most of the chocolates are square, flavored ganaches, enrobed in chocolate and then differentiated by a small design on top. The staff was kind and didn't mind me taking pictures, and even translated some of the Japanese for me (they had a little French, naming each truffle and bar). It was a very pleasant experience, and despite the sweetness, I enjoyed the chocolates, and would recommend the yuzu one most of all. Note that Les Trois Chocolats has no seating.
Address: Japan, 〒810-0001 Fukuoka-ken, Fukuoka-shi, Chūō-ku, Tenjin, 2 Chome−2−43 ソラリアプラザ1F (see map below)
Hours & Prices: 10am-8:30pm, daily (¥330-350 per truffle)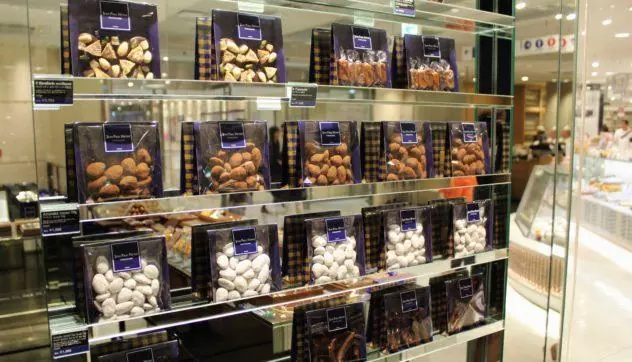 Tucked away in back of the basement of a mall is yet another French chocolatier bringing expensive elegance to the Fukuoka chocolate scene. As with all of his locations in Japan, Jean Paul Hévin Fukuoka has a small seating area with a sipping chocolate and coffee menu, and a larger room in which they house the goodies. On one wall is a mirror, the space in front of it dedicated to a variety of cookies and treats. But the real draw is Hévin's signature mirrored case holding dozens of truffles.
Unfortunately, the names are almost all mysterious and French, so anything that wasn't a single obvious flavor was a mystery until I translated the descriptions. Then again, even then they could remain out of my grasp. After a few minutes, I was told not to take pictures inside, so translation failed me and I just went for a random selection and a few macarons. The chocolates were very smooth and delicious, though the flavors could have been stronger, and the macarons were of the soft variety and with much more pronounced flavors. Unlike some of the other European chocolatiers in Japan, Jean Paul Hévin does manage to keep the sweetness at a typical European level, not bowing to the Japanese palate.
Address: 2 Chome-5-35 Tenjin, Chūō-ku, Fukuoka-shi, Fukuoka-ken 810-8680 (see map below)
Hours & Prices: 10am-8pm, daily (¥350 per truffle)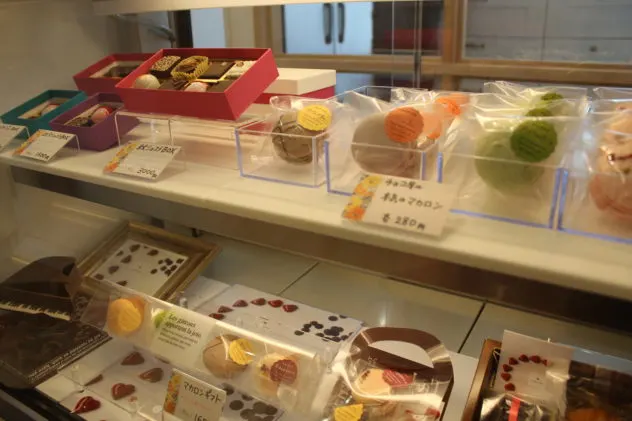 Though their building looks suspiciously like a high rise full of small apartments, I did indeed discover this chocolate shop on the 5th floor, just to the right of the elevator. Once I saw it, I was immediately sure I was in the right place. Opening the wooden door, the bell above dings and you'll have up to three heads turn in your direction, and at least one will scurry over. It almost felt like they had converted somebody's apartment, but in a pleasant and clearly careful way. They don't speak much English, but their beautiful bonbons needed little explanation.
With seasonal mixes of truffles put together by the small Cuillere crew, as well as macarons and other French cookies, most customers just choose a collection and continue on their way. From classics like Earl Grey to single origin ganaches, it's hard to go wrong with the chocolatier's choices. The manager was more than accommodating and willing to translate each and every truffle, since there was almost zero English or French in the shop. I would recommend the truffles as a quality not-too-sweet European chocolate, but I wasn't big on the cookies.
Address: 〒810-0041 Fukuoka-ken, Fukuoka-shi, Chūō-ku, Daimyō, 2 Chome−1−42, 5th floor (see map below)
Hours & Prices: 11am-7pm, Thu.-Tue. (¥340-370 per truffle)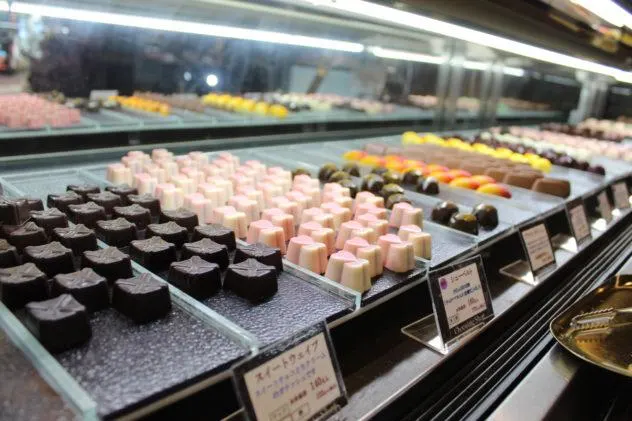 Touted in English as the "Chocolate Shop of Hakata," that's about all the English you'll get from this local staple. But despite the language barrier, all of the staff seemed very eager to help, and were patient with my translator app, even offering a sample while it loaded. The front of the store, where all patrons enter, holds their huge selection of pastries and cookies, while a more climate-controlled room to the right keeps all their chocolates fresh.
As the oldest chocolate shop in Fukuoka, they seem to have a very steady stream of visitors, chief among them being children, who are huge fans of the ability to literally pick your own bonbons out of the display case. I chose a modest half dozen, still not positive what I got, and found the bonbons to be very sweet and the flavors natural, but not too complex. There's nowhere to sit and eat, so everything will be boxed up for you at the counter.
Pro-tip: use a translation app to ask the staff to read the names of chocolate flavors aloud, as they're almost always just French or English flavors written in the Japanese katakana script.
Address: 3-17 Tsunabamachi, Hakata-ku, Fukuoka-shi, Fukuoka-ken 812-0024 (see map below)
Hours & Prices: 10am-8:30pm, daily (¥140-240 per truffle)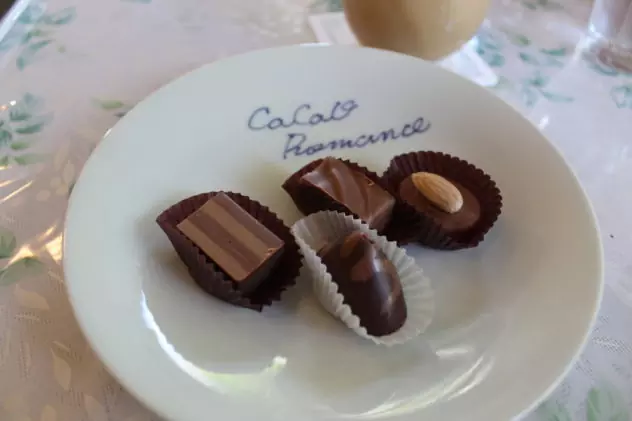 The name is adorable and from the outside, the shop looks charming. But Cacao Romance has the feel of a roadside food stand in Latin America, with plastic-protected tables and dull marble floors & zero English, though their chocolates far exceeded initial expectations. I had a selection of a few truffles, and the fruit flavors tasted real but enhanced, like they'd use a flavoring for some extra umph. They also sell a huge array of little packaged cookies and pastries, of which the butter cookies came out on top.
But their range of alcoholic chocolates is the real draw, with most of their several dozen flavors featuring some kind of alcohol, likely both enhancing flavors and increasing their appeal as gifts. Cacao Romance is definitely skewed towards a sweeter Japanese palate, but they're quite good for the price and would indeed make a lovely present. I'd go elsewhere for a fine cup of coffee or bittersweet chocolates, however.
Address: 5-12 Jōsuidōri, Chūō-ku, Fukuoka-shi, Fukuoka-ken 810-0028 (see map below)
Hours & Prices: 10am-7pm, daily (¥160-215 per truffle)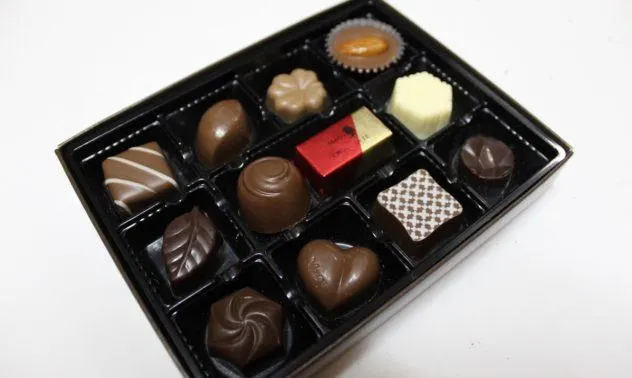 There's almost no chocolate more common (outside of those convenience store bars) in Japan than Mary's. I feel like I see a stand for Mary's chocolate in every populated part of Japan, which is almost everywhere you go as a tourist, to be fair. But are Mary's chocolates actually any good, or does it just have good branding? I bought their smallest box, a 12-piece of tiny chocolates for just ¥560, to taste test it out, and I doubt the results will surprise you.
Opening the lid, each box has a key for the flavors of their chocolates, though I tried them first without looking and they were pretty clear: plain white, milk, and dark chocolates, as well as typical flavors like orange, coconut, and caramel. The chocolates were very sweet but pretty smooth, and they didn't have the plasticky flavor I associate with cheap chocolate, but some of the flavorings were too much. The chocolates are cheap, but I'd definitely go with a different chocolate shop if given the choice. Mary's chocolate is also well-known for their cookies and their boxes of themed chocolates that pop up around more Western holidays like Halloween, Christmas, and Easter.
Address: 2 Chome-5-35 Tenjin, Chūō-ku, Fukuoka-shi, Fukuoka-ken 810-8680 (see map below)
Hours & Prices: 10am-8pm, daily (~¥50 per truffle)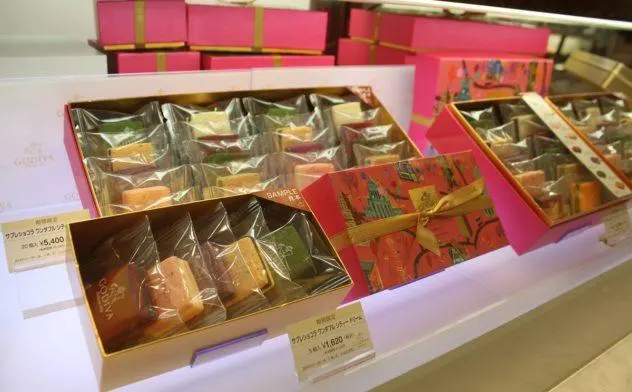 While in no way a craft or fine chocolate maker, Godiva is certainly an option widely available throughout Japan and the rest of Asia. Like most of their locations, the one I visited was located in the bottom floor of a mall and had just a small selection of their Belgian truffles. Fukuoka has 4 Godiva locations, but I'd highly recommend shopping at one of the more local chocolatiers if you have more time to spend shopping for chocolate in Fukuoka.
Address: 2 Chome-5-35 Tenjin, Chūō-ku, Fukuoka-shi, Fukuoka-ken 810-8680 (way too many locations; see map below)
Hours & Prices: 10am-8pm, daily (~¥400 per truffle)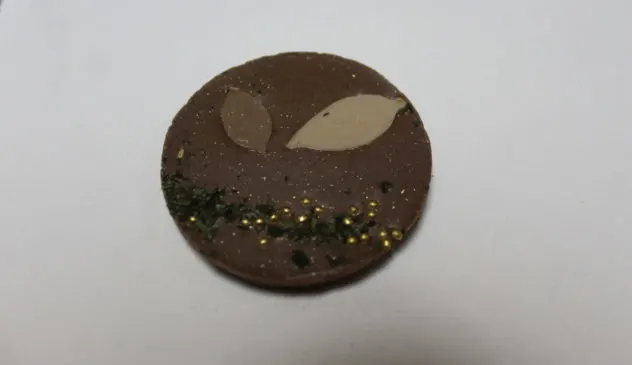 Of all the chocolatiers I visited, Chocolat Bel Amer was the only one who gave out samples; just a tiny bite to guilt you into buying one of the beautiful chocolate circles they have on grand display. The large, flat chocolates are available in dozens of flavors of white, milk, and dark chocolates, and are pretty tasty, but they're more aesthetically pleasing than chemically. Merely an outlet of their larger Tokyo location, the Fukuoka Chocolat Bel Amer also carries a small assortment of their bonbons and madeleines, though they've got some tough chocolate competition in their basement location.
Address: 2 Chome-5-35 Tenjin, Chūō-ku, Fukuoka-shi, Fukuoka-ken 810-8680 (see map below)
Hours & Prices: 10am-8pm, daily (¥250-300 per truffle)
Bonus: Fukuoka Chocolate Festival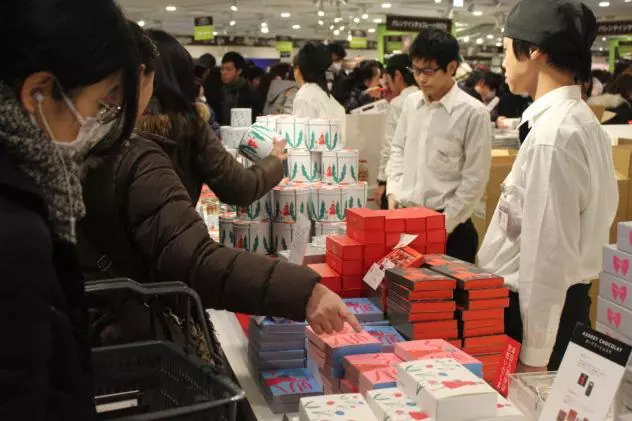 The Salons du Chocolat are annual chocolate shows held once a year in each locale, and in Japan they all happen to be held just before Valentine's day, when most Japanese people are most willing to buy chocolates. The sizes of shows range quite a bit, with Japan's biggest shows being in Tokyo with Osaka not far behind. The festivities last anywhere from 10 to 21 days, and there are performances and workshops on the busier days, as well as a bevy of kid-friendly activities to keep the youngsters entertained. Most of the Salons in Japan are centered upon the country's chocolatiers, but over the last couple of years the focus has shifted more heavily towards bean to bar, though the pastry and chocolatier arts are still well represented.
To get an idea of how the Salon du Chocolat Fukuoka might be, take a look at my article on the Osaka Salon du Chocolat.
Address: 7F Main Building, Iwataya Mitsukoshi (see map below)
Upcoming Dates & Prices: 10am-8pm, January 31st-February 14th, 2019 (free entry)
Fukuoka Chocolate Map
---
If you found this helpful, please pin it for later!