It's the 1950's; your country is poor and in the throes of recovery from WWII— but in the south, there's the promise of land.
The Japanese occupied the Philippines for 3 years, and after they were forced out, the country was devastated. Many Filipinos chose agriculture as a way out of poverty, and the country still relies heavily upon it today. But while some people chose a life of farming, others had it thrust upon them. Sometimes that's just reality when you're one of several siblings, and the only who bears the name of your father.
Ernesto Pantua, Jr. grew up around the family farm. When his father found himself a college graduate in Luzon with relatively few prospects, he moved with his wife down to Minadano, where many of his children remain today. Yet he didn't go to the agricultural hub of the Philippines to become a farmer. He was a businessman. The farm was one of his many investments, and when other parts of his life didn't quite work out, it was still there.
Now six decades later, that farm has become a large source for fine flavor cacao from the Philippines. If you've has a bar of craft chocolate made with cacao from South Cotabato, Philippines, you've probably tried their cacao. Kablon Family Farms has become the proud producer of several lines of jams, juices, and coconut- & cacao-based products, all managed by the very same Ernesto Pantua, Jr.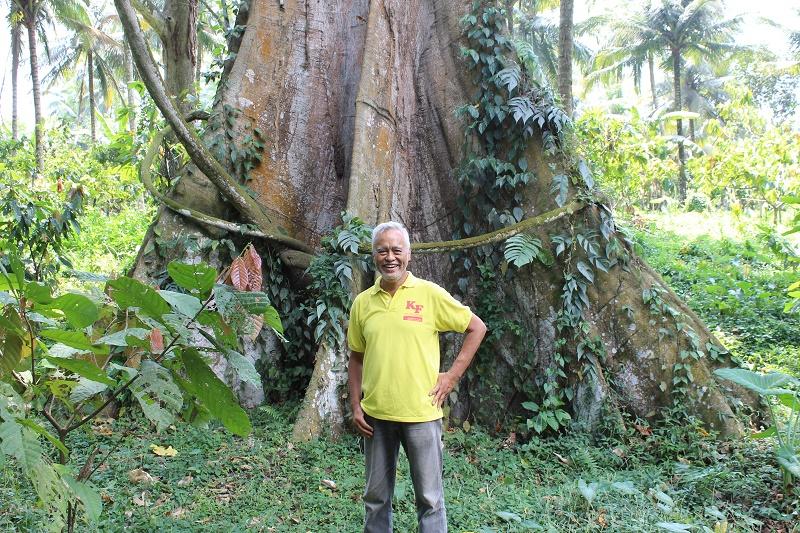 Before I sat down to learn more about Kablon Family Farms, I had the chance to walk around the estate with Ernesto himself, better known as Tito Jun, there to tell the story. His family acquired the land in the 1960's, planting crops little by little, until eventually the farm was the family's main source of income. Kablon's landscape was being built up at the same time as neighboring Dole's, but with a very different outcome.
"We have described this farm as an island in the middle of a sea of pineapple."

Ernest Pantua Jr., Kablon Family Farms
With unpaved roads and very few farms, South Cotabato must have been an appealing investment for Dole. But it also worked out well for the Pantuas, because by the time the younger Ernesto graduated from agricultural college, he was put in charge of an ever-expanding farm. It was growing, thanks in large part to some smart choices on Ernesto's & his older sister's parts. They used to collect the pineapples peelings dumped by their neighbors and feed them to the cows, before Dole wised up and realized how much potential they were tossing out.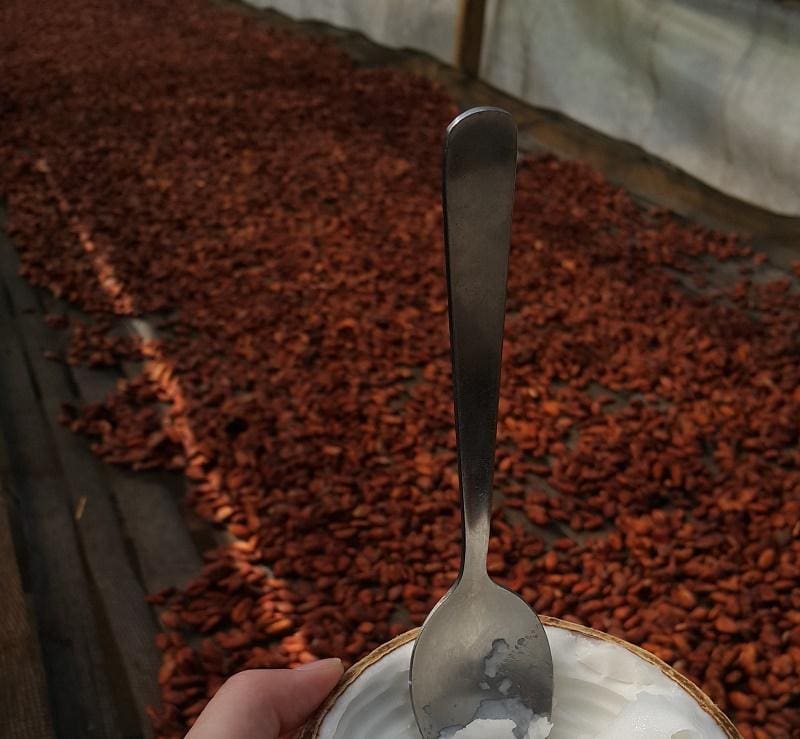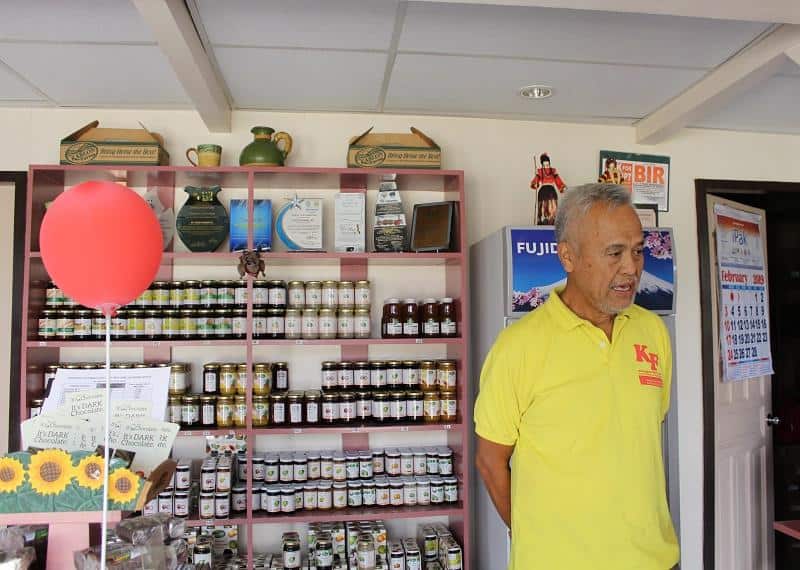 The eighties were a big time for the Pantuas, as prices for industrial crops began to fall across the Philippines, and they switched over to organic farming to combat the drop. That time also saw decreased demand for coconut oil and cacao, as the US campaigned against saturated fats, and neighboring Asian countries heavily increased cacao production. So Ernesto and his sister set up the town's first roadside fruit stand.
Expanding their reach even further, the eighties brought air conditioning to Philippine supermarkets, allowing them to begin selling fresh fruit to a bigger market. Over the next thirty years, a series of both coincidental and genius choices expanded Kablon's offerings to include juices and jams, preservative-free and often sweetened with coconut sugar. At the same time as they sold fresh fruit to the supermarket, Ernesto managed to sneak in their peppercorns and tablea, outwitting the competition with high quality and lower prices.
One of the first crops Ernesto's father planted on the land in the sixties was the cacao used to make that tablea, a drink base prepared from ground cacao beans. It was a traditional food in Lagunas, where he was raised, and he wanted to have it on his farm in South Cotabato. When the family was settled down, he continued that tradition, processing the cacao as was typical in the region, without fermenting it. Can you guess when they began fermenting their cacao?
You guessed it: the 1980's.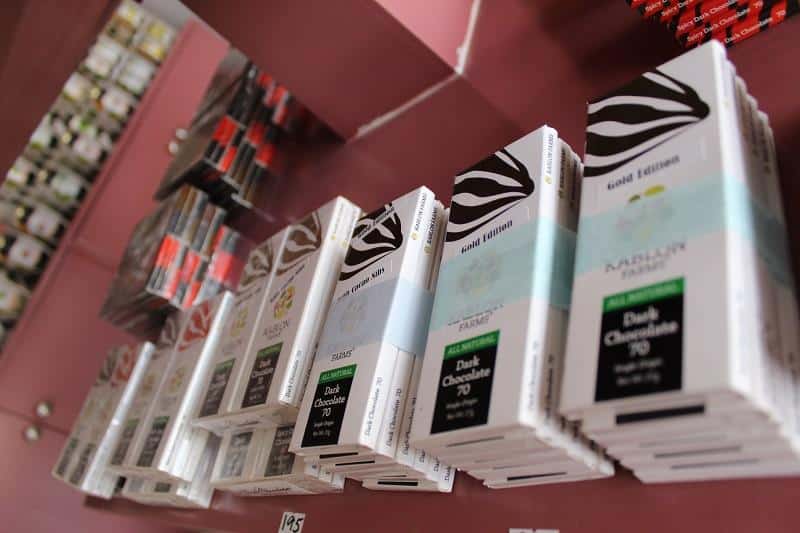 Looking at the farm now, the diversity and dedication is almost overwhelming. At the main house you find numerous staff working hard cracking open roasted coconuts to be turned into jams and pressed for oil. Tito Jun— after the long day we spent together, it seems wrong to call him anything else— is right there teaching me about the different types of coconuts and what you do with them. Coconuts remain an incredibly important crop in the Philippines, and the Philippine government is even working to convince coconut farmers to add cacao trees to their land, as the two grow well together.
Even though Tito Jun's family's been growing both on their farm for decades, up until just a few years ago they hadn't really exported any of their products. "It was really my niece, Estela, that brought the beans abroad," he says. After visiting the farm, Estela was inspired to try to export her uncle's cacao to Europe. As Tito Jun tells it, "the first shipment she had from us was 500kg, directly to her place in London. When the beans arrived to their house in London, her husband got angry, because their living room was full of cacao beans and smelled like cacao all over." Needless to say, the second shipment arrived to a warehouse.
"Hopefully she can really do something, not only for cacao beans of Kablon, but of the country."

Ernest Pantua Jr., Kablon Family Farms
The Pantuas and the Philippines as a whole have a long history of fine flavor criollo cacao. However, in the 1980's there was a lot of high-producing hybrid cacao from Malaysia planted to make up for low prices, a choice which farmers are reckoning with today. Up until recently, Filipino farmers didn't know much about cacao processing beyond the way they'd always done it: cut down the cacao as ripe as possible, then dry the beans.
For centuries that had been enough, since the only cacao on the islands was the delicate criollo, known for its lack of bitterness and astringency. But now farmers are running into issues with more bitterness in the hybrid trees and their cross-pollinated descendants. Beyond that, much of the demand for cacao is for properly-fermented organic beans, which are still not very common across the country.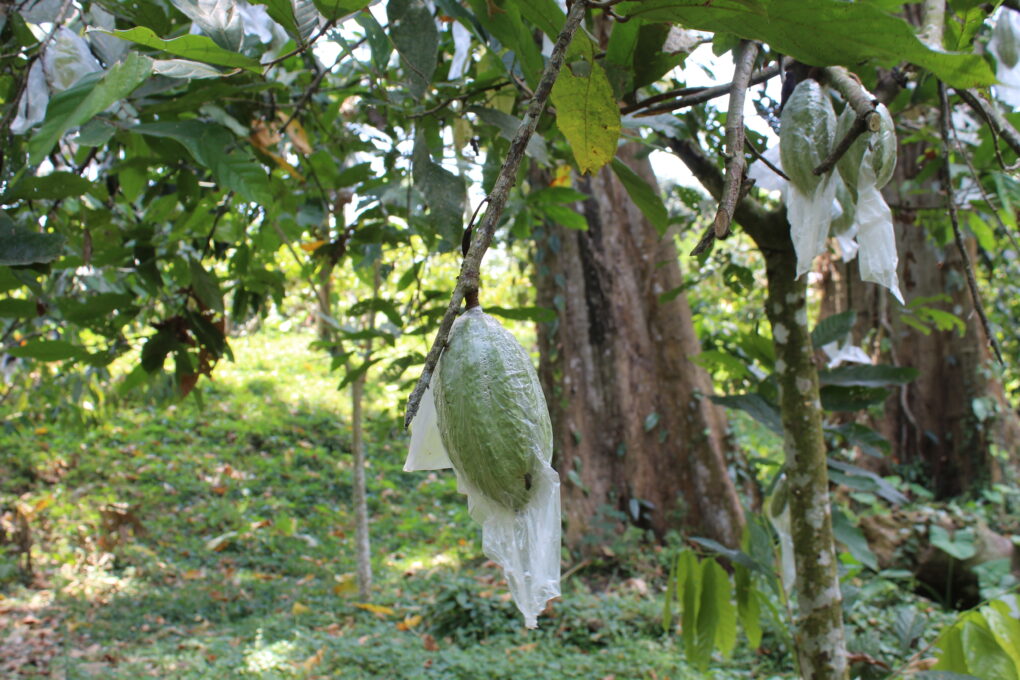 Kablon has had a leg up in this regard; since the 1980's, the buyers of their cacao demanded that they also ferment the beans, uncommon for that era. Fermentation is a crucial step for flavor development in cacao, and still one of the least widely-understood processes in the industry. In preparation for the international cacao market, Tito Jun and Estela decided to bring in a fermentation expert to figure out how to make their cacao as good as it could get.
Awhile back they began producing cacao nibs and small chocolate bars, but despite fermenting regularly, the results had been uneven over the years. Tito Jun was left scratching his head as to why his beans were so hit and miss with their flavor. While the new protocols are still being tested and slowly implemented, the team at Kablon (and over in London) is hopeful.
It's been a steep learning curve, but with the help of Zoe, Estela, and many Philippine farmers, the reputation of Philippine cacao is slowly making it off the islands. With the government's initiative to 10x the amount of cacao grown in the country over the next few years, soon the Philippines will no longer have a cacao deficit. Tito Jun wants other Filipino farmers to be able to transform and sell their quality cacao for good prices, domestically and internationally.
But the Pantua family also wants to make sure that all the cacao exported from the Philippines in the future has a high standard to live up to. They want farmers to learn how to treat the cacao throughout its lifetime, and then to earn commensurately. They hope that by putting quality Philippine cacao on the map now, it paves the way for the local industry to continue growing over the coming decades.
It tastes to me like they're well on their way.