The national drink of Dominican Republic is nothing like marijuana. I promise. It sure sounds like it, especially if you're speaking quickly, but don't get the two confused— marijuana is a drug and mamajuana is a drink. In fact, this is a mamajuana recipe, and quite likely the most straightforward one you'll find.
So let's leave out the incendiary drugs and just make some good mamajuana, the national drink of the DR. Coincidentally, it may still involve a few drugs of its own, though not in the traditional sense. See for yourself, below.
Click To Jump To Mamajuana Recipe
About The Dominican Republic
The Dominican Republic, often called the DR, is the land of sand and tropical forests and dembow. And rum. Lots of rum. It is a Caribbean island, after all. But it's more than just a beach getaway; the DR has a long history dating back to indigenous Taíno peoples, and heavy doses of Spanish and African cultural influence depending upon the region.
Like most of the Caribbean, the slave trade from Africa, and later from India, played a huge role in the island's cultural development. This includes religion, dress, and cuisine, extending into beverages. Many Caribbean slaves were charged with working the sugar cane fields, the product of which (cane juice) was used in rum production, leading us to the modern good reputation of Caribbean rum. That very rum has become the base of many popular local drinks, including mamajuana, the Dominican Republic's national drink.
To my surprise, after a visit to the DR in 2016, I even left the island with my very own bag of historically-significant bark. It's not your standard fertilizer, but a special mix of Dominican "aphrodisiac" bark & herbs, prepared in order to be stewed with local rum and Spanish wine and liquid honey. That final product of this cultural marriage is called mamajuana, and it's consumed rather frequently on the island, by tourists and locals alike. Now you can even make this drink at home.
Basics & History Of Mamajuana
During my visit to the DR, I had a few different iterations of mamajuana. It's pretty different depending on where on the island you buy it. But no matter what, it is going to be sweet and best served over ice or in the form of a shot. Online you can find an endless list of mamajuana recipes, none of which are specific on proportions. But all mamajuana recipes include wine, rum (preferably Dominican), honey, Dominican bark and herbs.
To make mamajuana, first I washed the herb mix I bought in the DR, just using clean water to make sure that everything was free of dirt and unwanted materials. It is supposed to be a bark, and some of the herbs and spices are pretty gnarly-looking, but you can tell when something is actually trash. After I rinsed it off, I "seasoned" the bark with some rum for about a week.
I then cleaned that "seasoned" rum through a coffee filter so that it can be consumed later on, though it smelled a bit heavy on the anise (I ended up diluting that with red wine and drinking it over ice). Once it was ready, I added my Brugal rum, some table wine and a heap of honey, as well as some clove, cinnamon, vanilla, and raisins (supposedly the best-kept secret to truly Dominican mamajuana).
Dominican Mamajuana Recipe
500ml dark rum (preferably Dominican, like Brugal)
250ml red table wine (a polite way of saying cheap red wine)
4-10TB honey (however sweet you want it)
optional: raisins
optional: extra spices & dimensional flavors (such as cinnamon, cloves, vanilla, cacao nibs, etc.)
This is the exact mamajuana bark I bought in the DR.
My seasoned mamajuana bark + other ingredients have been stewing for several days now and I have to say that it smells delicious! This mason jar batch should result in about three cups of mamajuana, and I can keep adding more liquid to keep steeping for several years to come, sort of like making homemade vanilla extract.
This adding of rum may happen several times over the coming years, and I'm okay with that. My initial inclination for mamajuana rum was towards a Puerto Rican one, but I was later convinced to restart with Brugal, a rum we picked up & found in abundance in the DR. I'm very happy with that choice.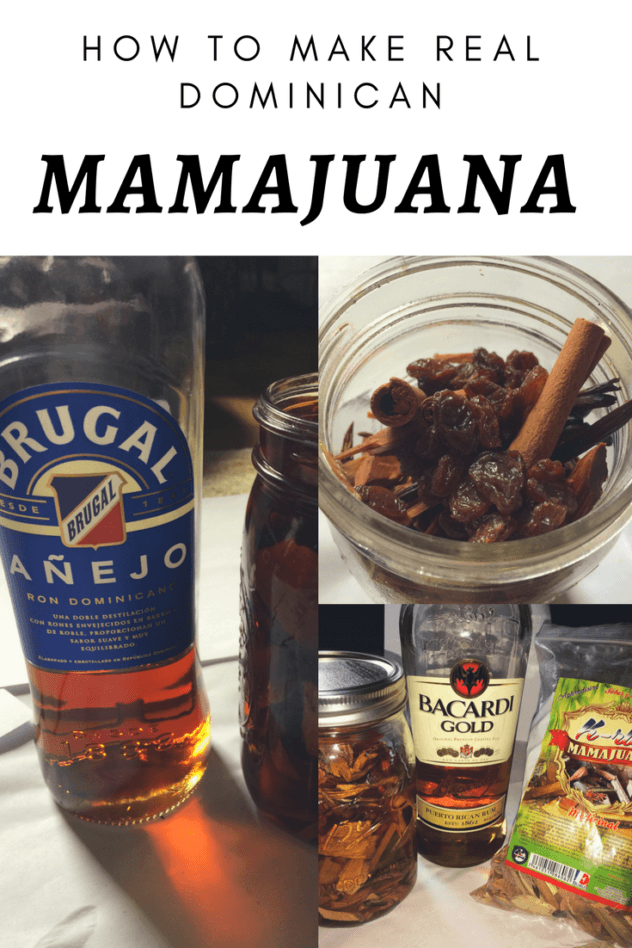 After trying your final version of mamajuana, feel free to add more of whatever rum or red wine you have on hand if the flavor is too strong or weak for you. This is what I ended up doing. The mamajuana bark really penetrated every corner of that concoction by the time I got a chance to drink it, so I directly diluted my drink with red wine, and then added more to my jar.
Adding more red wine brought out some acidity and lowered the alcohol content, making it fine for sipping or taking shots of. Since I'm a chocolate writer, and one of the DR's main exports is cacao, I also added cacao nibs to the bottom of each shot (it's like giving the drink a chocolaty finish as you munch on them). Don't forget to serve it chilled or over ice!
4 Years Update: these days I'm drinking the beverage from this recipe for mamajuana over ice, with a dash of vanilla and a full stick of cinnamon for stirring (& looking fancy). In April I moved the 2016 vintage to a separate glass jar and added more rum, wine, and honey in the same proportions as above.
Mamajuana Recipe In Pictures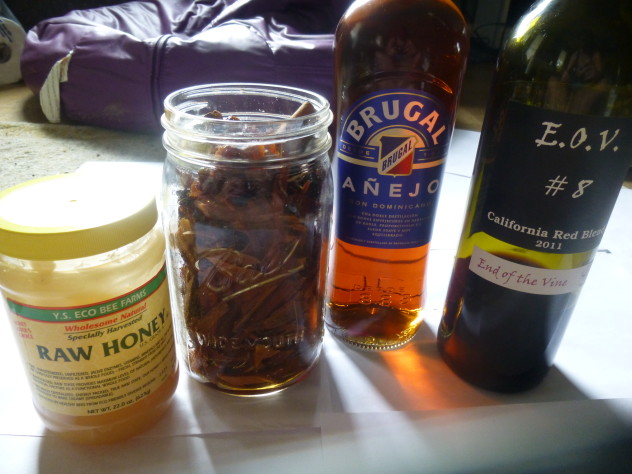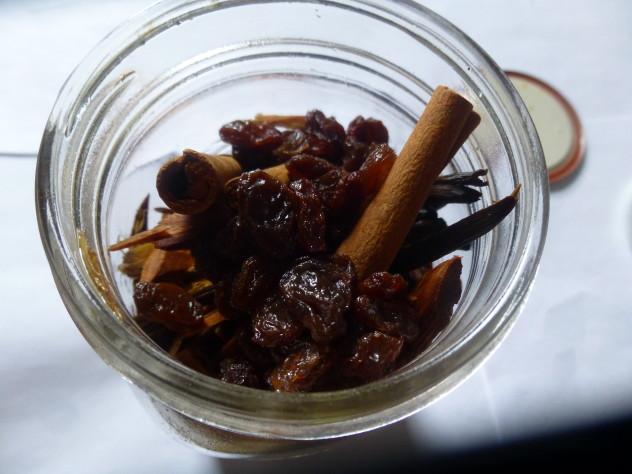 This good mamajuana recipe was originally published in 2016, and updated exactly 4 years later with more information on how the beverage ages.
---
Pin this mamajuana recipe for later!