Rum and coke, anyone?
Fancy cocktails and quality drinking in Cuba are world famous, and for many tourists, they're a huge part of the overall appeal of a Cuban vacation. This is even before you consider all the fresh juice, morning espressos, and local hot cocoas. But don't forget about Cuban food!
Rum & coconuts are cheap and abundant, and sandy stretches of beach are plentiful— what's not to love? Well, finding the drinks you're looking for in the first place may prove more stressful than you'd expect. So for anyone planning a trip to Cuba, let this serve as a tantalizing guide of what kinds of Cuban drinks to buy when and where.
Note that CUP, the Cuban currency, is tied directly to USD at a 24:1 ratio. If you're looking for one thing in particular, be sure to use the Table of Contents!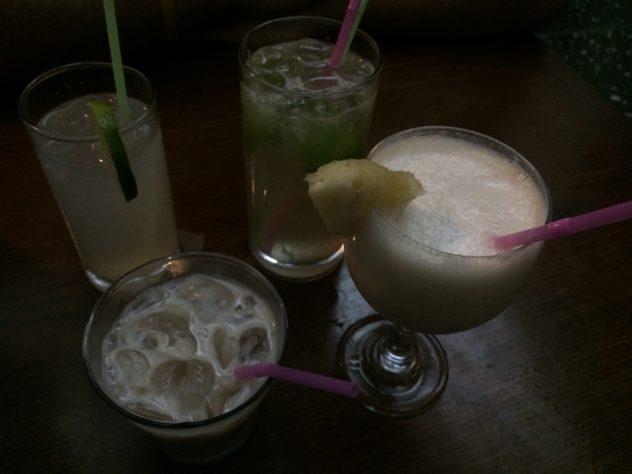 Cuban Rum
Name in Spanish: ron
Cost Per Liter: varies; $1-$10CUC+
Quality: moderate-very high
The main ingredient to any Cuban party, rum is also one of the best hostess gifts. As rumors might let on, it is available universally in Cuba, and if you're just looking for something to use in cocktails, there are many local brands available very cheaply.
Local brands come in quite cheaply, on the $1-$3CUC per liter end, whereas either of the national brands is going to be a bit more expensive. At the time of publication, the white bottles of Ron Santiago and Havana Club are roughly $5-$6CUC a liter, and come equipped with safe pour spouts for the bartenders who most often use them.
Aged varieties cost a bit more, until you get to the 7- or 10- or 11-years-aged bottles, which start costing ten or more times the price of the white varieties. Since the liquor is so abundant and of such high quality, most all 'house specialties' or cocktails made in Cuba have a Havana Club rum base, such as the Mojito or Habainissima.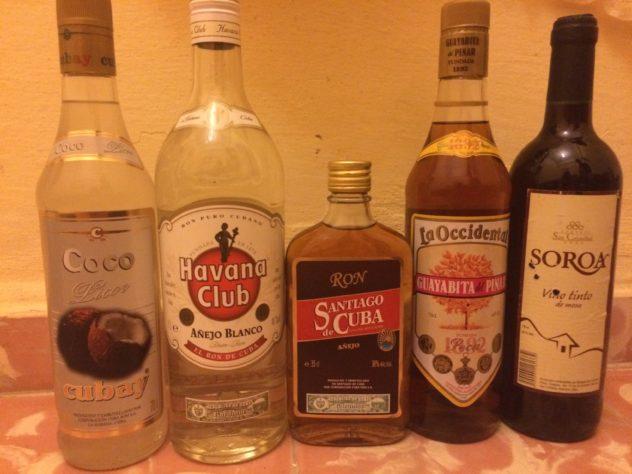 Cuban Liquors
Name in Spanish: licor de ____, tequila, ginebra, vodka, etc.
Cost per Liter: varies; $2-$10+
Quality: low-moderate
Believe it or not, Cuba produces spirits other than rum, although most of them are on the cheaper side of both quality and price. The government makes its own vodka and aguardiente (cane liquor), in addition to a multitude of flavored liqueurs and mixers for both at-home cocktails and the bars which re-stock from government shops.
The flavored liqueurs are available at almost every liquor shop you pass, but it was harder to find the aguardiente and vodka, so I'd pick those up when you see them. Imported stuff is almost impossible to find, unless you go to a restaurant.
So if you really have a hankering, I'd ask around in Havana and Varadero, but it's just plain luck to find anything non-Cuban outside of the touristy areas. Cuba is not big into importing liquor, since they produce so much of their own.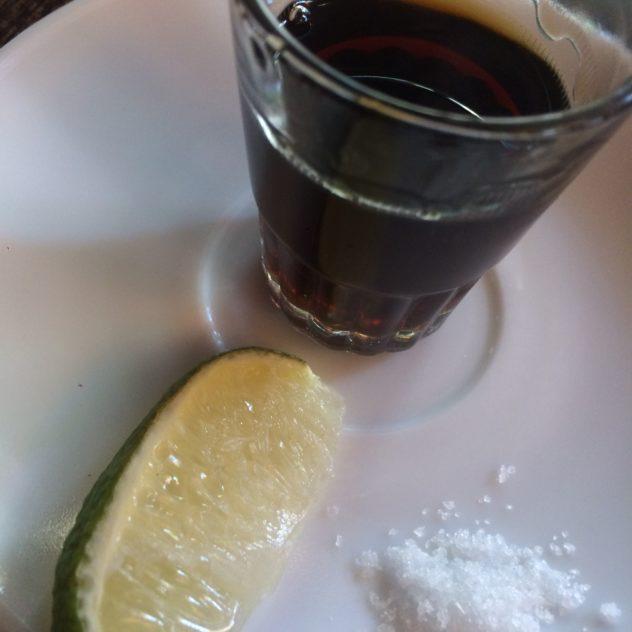 Cuban Wine
Name in Spanish: vino (blanco, tinto, rosado)
Cost per Liter: varies; $2.50-$50CUC+
Quality: low-moderate
Cuban wine: it exists. It is not easy to find and it's not very good, buts it's there if you look for it, and it is laughably cheap. We actually saw some bottles for $0.80 at a local market, but the stand was gone by the time we returned and we fully regret not impulse-buying. While in Cuba, we tried the red and white versions of the most easily-obtained brand, Soroa, made in Artemisa province, on the western side of the island.
We are not professional wine tasters. I have been to a few tastings and very much enjoy a glass of red in the evening, but my wine palate is far from being discriminating. So here I have for you some insight into how two young adults conduct a wine tasting in a country with little wine culture. Here is a transcript of our conversation:
'Smells like any other white wine.'
'Ooooooh.'
'Yeah, any other cheap white wine, though.'
That's about as good as it got. There was much hemming and hawing and sharing with the house's owners, but the sentiment didn't really change. The red was actually acidic enough that we couldn't drink it straight, and made an attempt at tropical sangria with it.
These bottles cost just $2.40CUC, though, and it's hard to expect much at that price. Imported bottles are available in the capital and seemingly-randomly chosen markets across the island, for a minimum of $10CUC per low-quality bottle.
Cuban Beer
Name in Spanish: cerveza
Cost per Liter: varies; $0.04-$5CUC+
Quality: low-moderate
If rum weren't a possibility, Cubans would probably unanimously vote beer in as their national drink. It is ridiculously abundant there, and other than several national brands of beer, which are $1-$2CUC a can/bottle and can be found absolutely everywhere, there are beer trucks. These trucks serve beer from massive tanks in the back, and charge usually $1MN ($0.04) per liter.
At festivals, there are always people going around selling massive cups that you then give to the beermonger, which they fill with beer in exchange for your four cents. These famous trucks are found in big cities as well, but come out by the dozen for festivals or carnaval.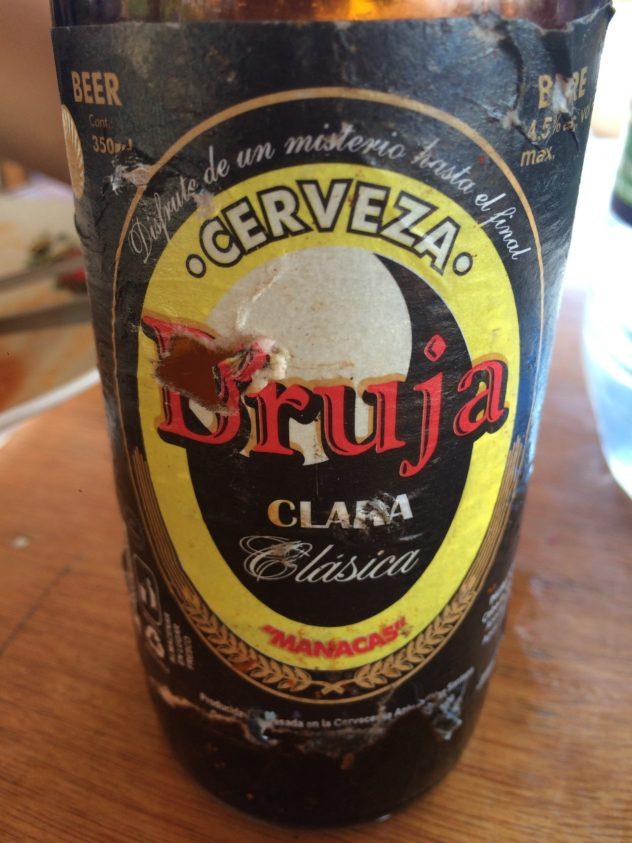 Cuban Juice
Name in Spanish: jugo de ____
Cost per Cup: varies; $0.04-$1CUC+ (or free)
Quality: low-moderate
Juice is everywhere in Cuba. In fact, most every casa particular owner will offer you a freshly-made jugo de bienvenido upon your arrival at their house, which just means a 'welcome juice.' Sometimes set menus at restaurants also offer a free juice with their lunches.
Otherwise, you can buy fresh juice at stands along the street and at the roadside, some places for as little as $0.04CUC a cup, though you must drink it there. Mango and guava and pineapple are the most common flavors at such local stands (though I found coconut once and I swear it was life-changing).
However imported orange and a variety of others are also available in almost all grocery stores around the country, for a steeper price. Hotels in Cuba often offer a fresh juice with breakfast.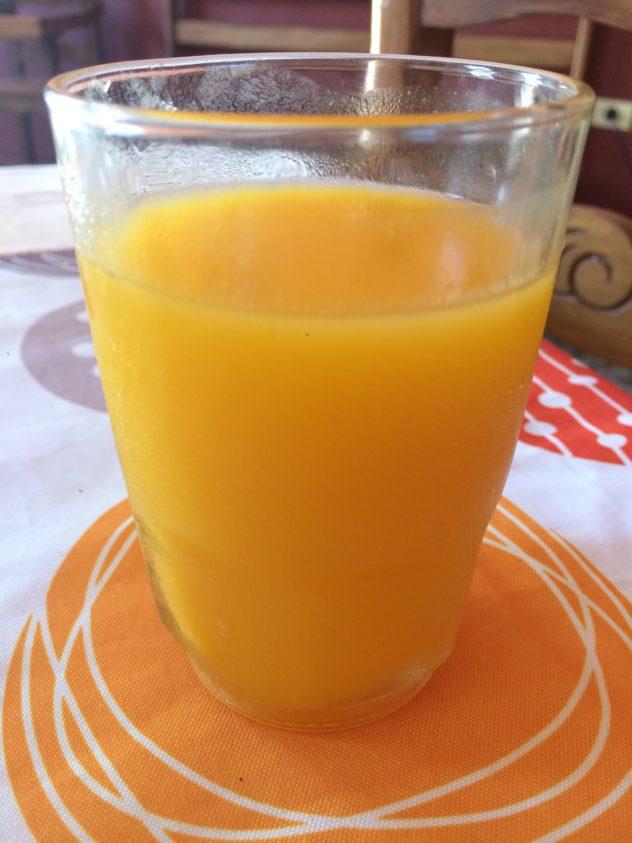 Cuban Coffee
Name in Spanish: espreso, cafe, chocolate
Cost per Espresso: varies; $0.04-$2CUC+ (or free)
Quality: moderate-very high
If juice is everywhere in Cuba because of all the fruit trees, then coffee is everywhere in Cuba because of the people's obsession with espresso. Actually, most casa particular owners will offer you a coffee with breakfast in the morning; an espresso made with Cuban coffee beans, of course.
There are even little stands along the street and on the roadside which offer small ceramic cups of espresso at $1MN ($0.04USD), to drivers and other Cubans looking for a break. Hotels and other touristy places charge much more, of course, but they also have fancier equipment and drinks.
Though for just twenty cents, I could get a cafe bombon, my favorite drink in Cuba, which is half sweetened condensed milk and half fresh espresso. A lovely post-lunch dessert, if I do say so myself.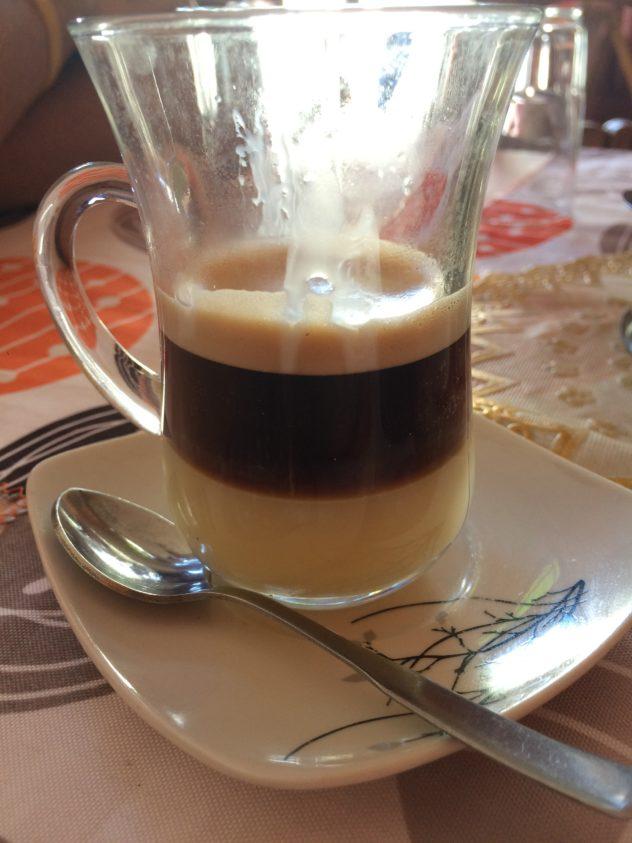 Water & Water Quality in Cuba
Name in Spanish: agua, agua hervido
Cost per Liter: Varies; $0.38-$2CUC (or free)
Quality: moderate
This information was immensely hard to find at the start of my trip. Googling the safety of tap water in Cuba, in both English and Spanish, yielded no usable answers, so I ended up bringing a Lifestraw and a plastic 16 oz. cup, as well as a 1.5L durable water bottle, which was a great decision.
We still had to buy several bottles of water, but we always had our main water in my bottle, and it could be re-filled nearly anywhere! At the first hostel we stayed in, we were warned that bottles of Ciego Montero are sometimes refilled sneakily.
But there is a standardization of prices otherwise, including for every single alcohol, so the 1.5 liter bottles of water will be just $0.70CUC if you bought from a grocery store. Some other tourists said that it tastes weird, and at times I agreed, though it may have also just been in comparison to the tap water I was drinking through my filter.
Tap water is generally unsafe to drink in Cuba, but is absolutely fine if boiled, as I drank it out of re-used bottles dozens of times. However, I and most people I met also brushed our teeth with tap water, and to the best of my knowledge nobody ever became ill because of it.
As for ice, using reusable plastic balls or bringing a tray to make your own with is probably the best option considering the environmental and economic cost of making it. Casas usually have a fridge with a tiny freezer for you to exploit.
Havana Club glasses only run about $1.60, each, so really, if you think about it, buying that bottle of rum is saving you money in the end. Just remember to share!
*Bonus: Liquid Medicine*
When I was sick during my last two weeks on the island, I was told of this numbing lime syrup, costing four cents, which is offered up as the only medicine for a sore throat, other than tea and lemon.
No western drugs here, for the most part. It did indeed taste like lime, though I was told that the garlic or onion syrup would have been "more effective."
Which drinks will you go for first? Have you ever had the chance to visit this beautiful island nation?