Prague chocolate shops were really & truly never on my radar. That is, until they had to be. Prague was my last stop in Europe after Berlin (via Dresden) and before I had to evacuate the continent due to the pandemic. During my few days there, so much was in the air; closures changed by the hour. So other than walking around to see outdoor tourist sites, my mom & I made it a point to visit all of the chocolate shops in Prague.
Even though we hadn't initially expected to spend any of our trip in Czechia, the Czech chocolate scene has contributed a few talented bean to bar chocolate makers to the global marketplace. Call me curious, but we couldn't pass up the opportunity. So the following is what we found from the 8 Prague chocolatiers and chocolate shops we visited across the city. Don't forget to drop a comment and let me know if you've discovered any other spots for chocolate in Prague, since our visit!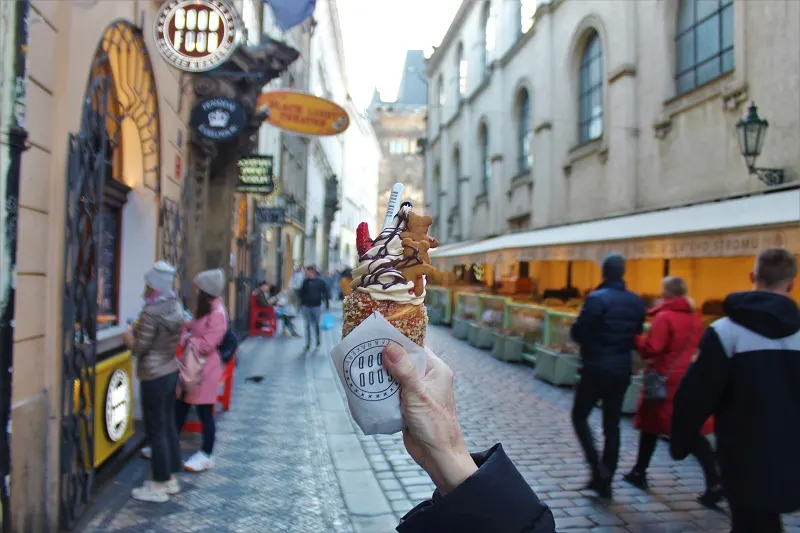 The shops are listed in the order in which we visited them, without favor to any particular ones.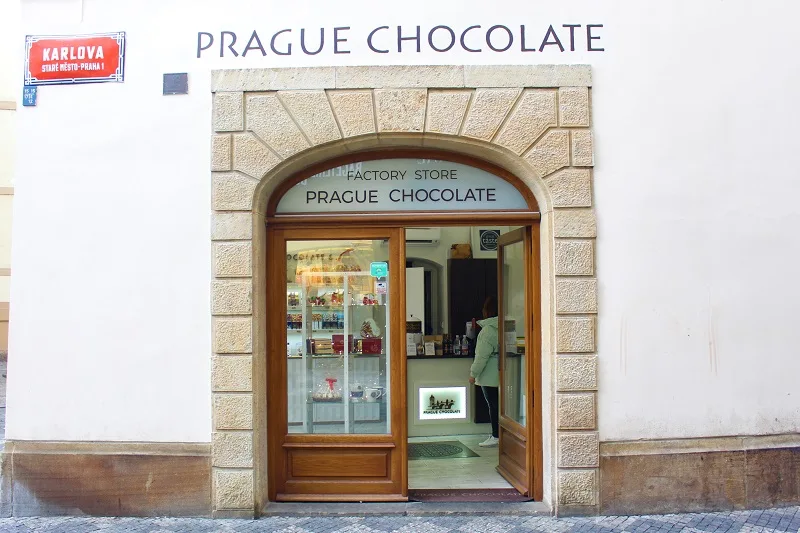 Yes, this shop is actually named "Prague Chocolate," and it has many locations throughout the city and the country. The shop's main focus is chocolate-coated almonds in various flavors, with Prague-imprinted packets of chocolate also seeming to be quite popular. Each location we passed was quite small with no room for sitting, and free samples of all products (even if you have to ask).
We didn't try any samples because even at just a few hundred cases, Prague was not the place in which I wanted to eat open-air food, but we had some of their chocolate-covered almonds later on and they were unimpressive. They have the elusive white chocolate-coated strawberries and some rum truffles on higher-ups shelves, but unless you're set on a kitschy tourist box of chocolate, I'd venture elsewhere.
Address: Karlova 175/3, 110 00 Staré Město, Czechia (various locations)
Hours: check Google or their social media for current hours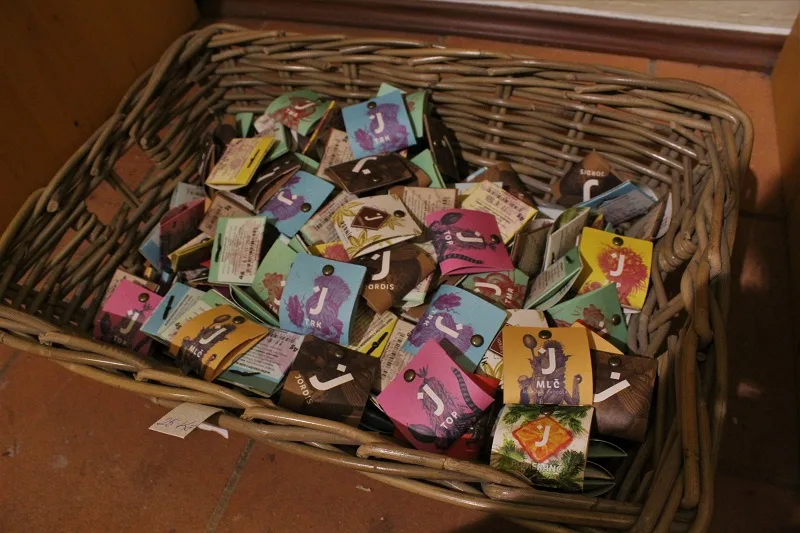 Cokolade is Czech for "chocolate," as well as the name of this postage stamp-sized bean to bar chocolate shop in Prague. Its inventory of at least 50 unique bars & baubles includes products from the Republic's two most well-known craft chocolate makers, Jordi's and Misina Cokolada. This is the physical shop for the brand's online offerings, and right now they're keeping just over a dozen chocolate makers in Stock, including Willie's Cacao, Friis Holm, and Rococo.
Address: 8, Husova 234, Staré Město, 110 00 Praha-Praha 1, Czechia
Hours: check Google or their social media for current hours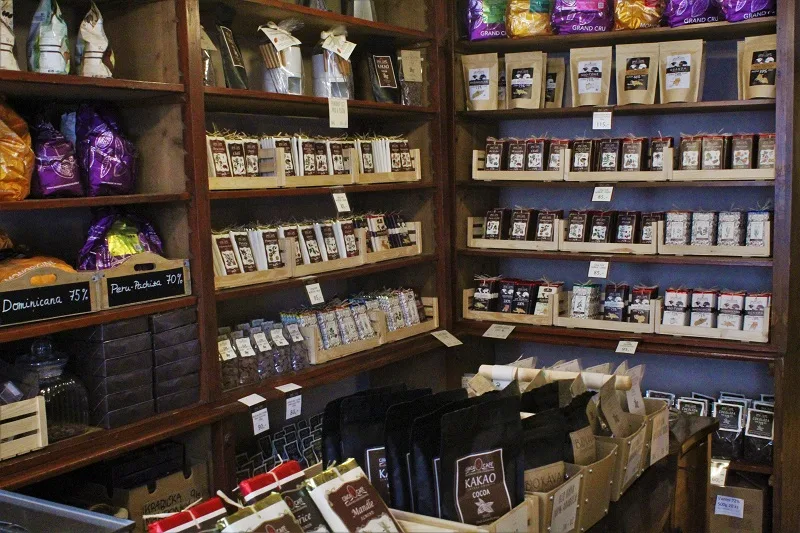 Walking up to this shop, we thought it was a normal cafe, maybe even a bit large for Prague, until we saw their chocolate selection. The aptly-named Choco Cafe offers 10 unique flavors of bonbons and several more flavors of white, milk, and dark chocolate bars. They also serve cakes and macarons, and sell bags of their couverture chocolate drops for making hot chocolate at home.
We ordered an eggnog coffee with whipped cream, and while it was okay, we weren't blown away (though it was still better than most of the coffee we had in Eastern Europe). The macarons are very cake-like in texture, and of the bonbons we tried, the Salted Caramel was by far the best. I'd come back for a piece of cake and some Salted Caramel bonbons any day… and probably also a mixed drink from their bar.
Address: Liliová 250/4, 110 00 Staré Město, Czechia
Hours: check Google or their social media for current hours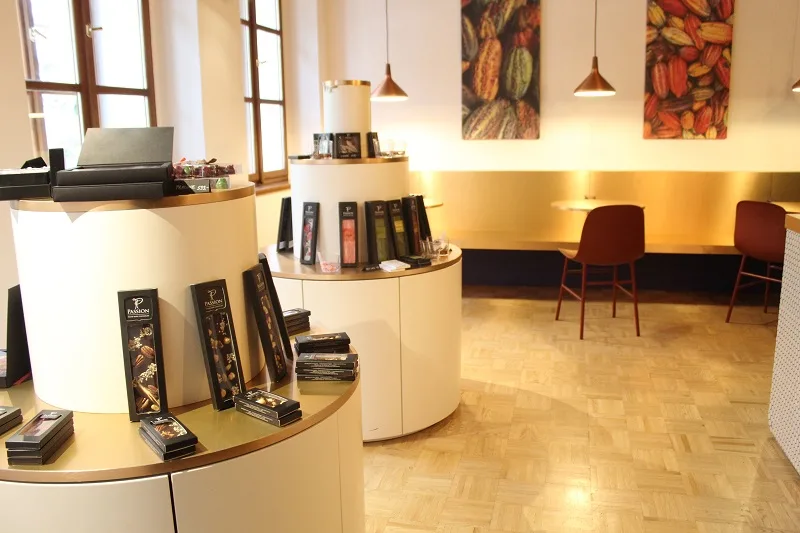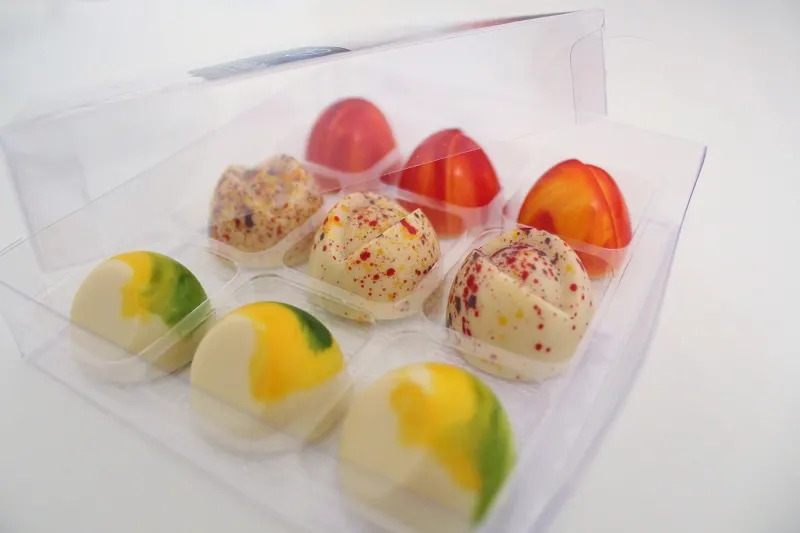 The nice staff person at this 2nd-floor retail tried so hard to help me, but they'd clearly just opened to the public, so this is only a review of the chocolates, which are good. They carry bars in dark, milk, white, and ruby chocolate with various flavors sprinkled on top, as well as boxes of 5 or 9 pralines.
Their base chocolate is sweet but straightforwardly chocolaty; no defects in the flavor, and the flavors are strong & pretty well-done. But it was hit or miss as to whether that strength worked in that particular bonbon's favor. I look forward to when they have a setup where you can choose the flavors in your box, because while we enjoyed all nine of our three flavors, it'd have been nice to try nine different flavors.
Address: Havelská 8, 110 00 Staré Město, Czechia
Hours: check Google or their social media for current hours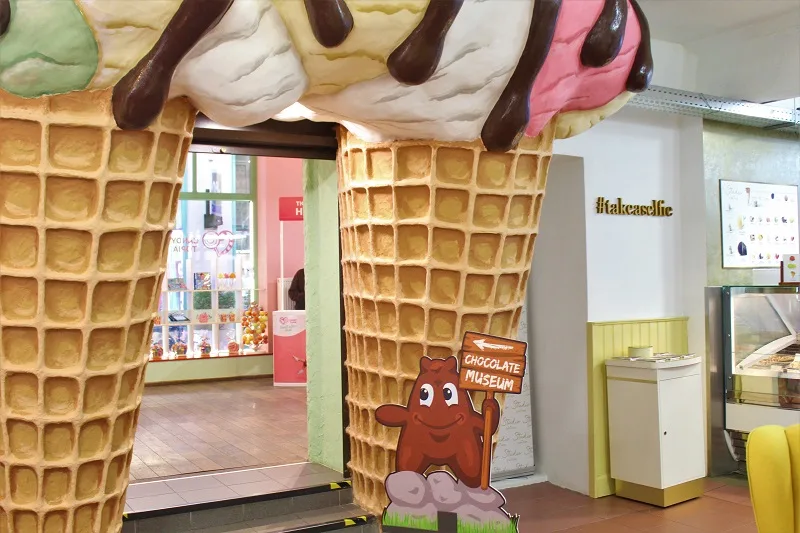 This is the same chain as the Choco-Story museums across Europe. Their chocotopia and candytopia stores have 2 locations very near each other, though I wouldn't patronize either for their chocolate. What this spot is worth a stop for is the museum itself, which has a very detailed dive into the history of chocolate in Europe, and overall as a food created & consumed around the world.
Address: V Oblouku 728, Průhonice, Czech Republic
Hours: check Google or their social media for current hours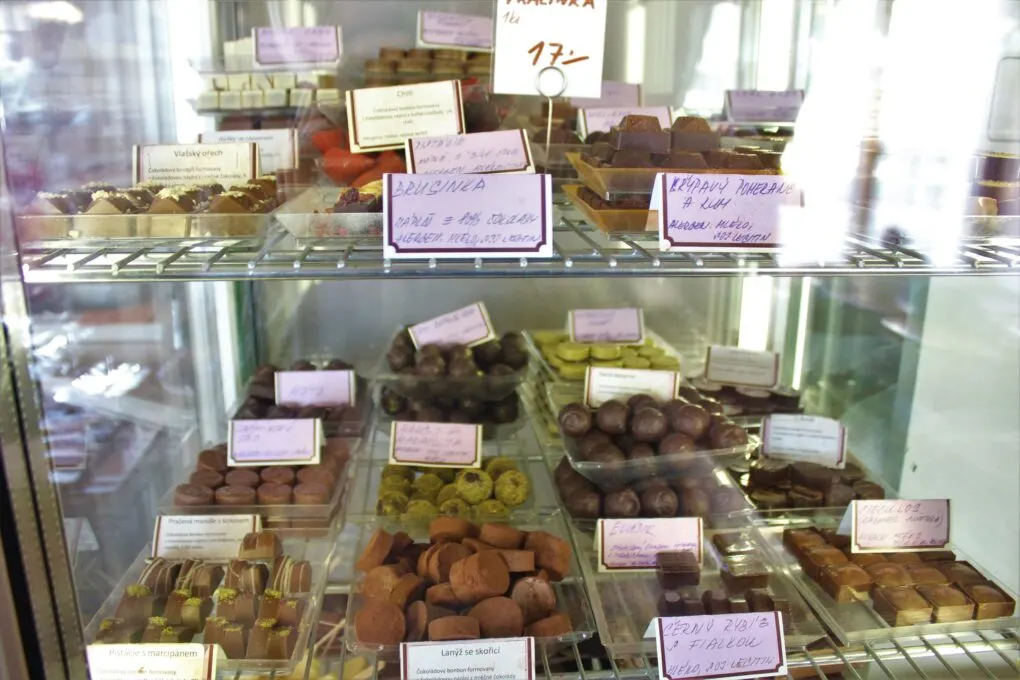 This small shop holds some of the tastiest chocolates in Prague— as soon as you walk in, take a close look at the bonbons in the refrigerator to the right of the counter. Everything is in Czech and the owner doesn't speak English, but body language and a decent knowledge of English gets you pretty far. We selected 6 bonbons to get a sample of the quality, and we were happily taken in a flavor journey.
A couple of our chocolates were just okay, but the rest were good enough to prompt us to buy more before leaving! I especially liked the Earl Grey, Mango Maracuja, and Pistachiovu Nogat; there are also numerous Sugar-Free options. Beyond the bonbons, the proprietor also offers chocolate bars, barks, nut butters, and a large selection of tarts and pastries.
Address: Radlická 816/20, Anděl, 150 00 Praha 5-Smíchov-Praha 5, Czechia
Hours: check Google or their social media for current hours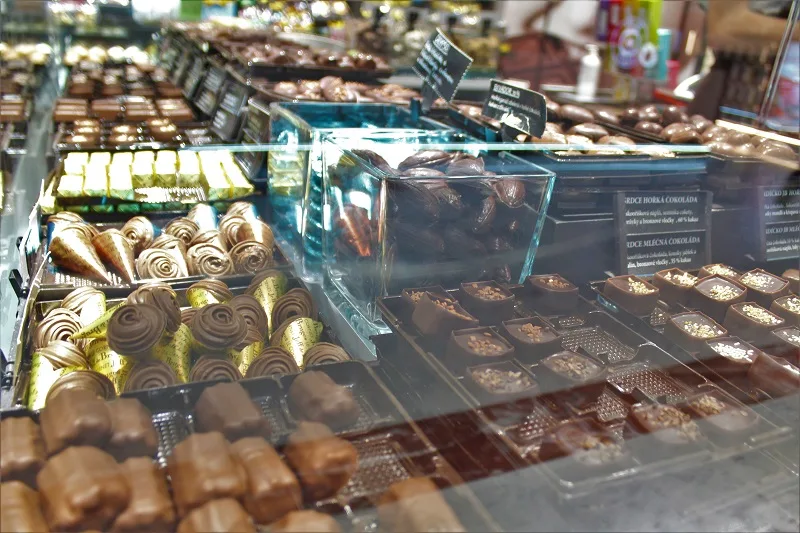 "Jeff" sells typical Belgian chocolates, overly sweet and flat in flavor, as well as marzipans and molded chocolates along the wall. There are also some chocolate bars near the front, but honestly, this shop is mostly on the list so that you don't waste your time coming here like we did. Everything in their display case is in Czech, as well, though the employee helping me was able to translate some.
Address: Plzeňská Centre Commercial Novy Smichov, Anděl, 150 00 Praha 5, Czechia
Hours: check Google or their social media for current hours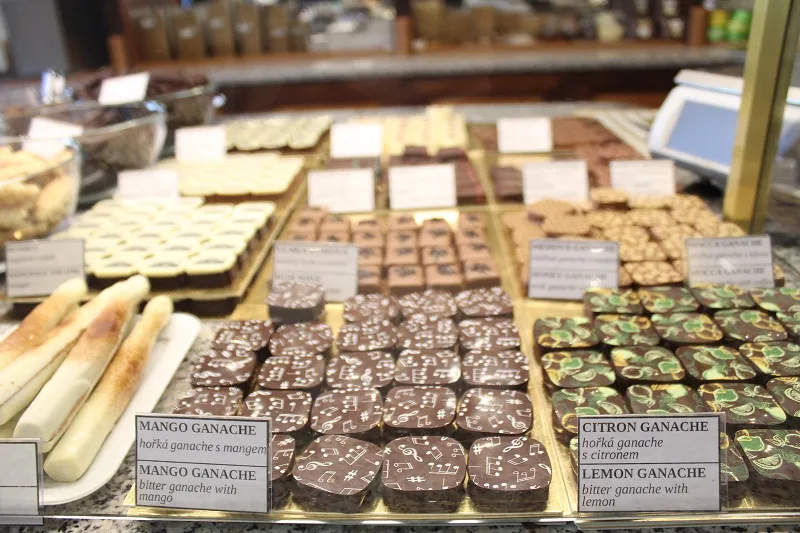 Pralinky Újezd is a small Belgian chocolate shop in Prague with a single seat in the corner and lots of molded chocolates. Their Belgian-style pralines come in over two dozen flavors, many of which have nut- and cream-based fillings, as you'd find throughout Belgium. There are English translations for their flavors, though unfortunately I never learned what the shop's name means in English.
The bonbons we had were very strong in flavor; some are sweeter than others, but overall they're pretty good. The ganaches are smooth and flavorful, but I'd go for the more unusual flavors before the classic flavors, as they were the most interesting & balanced.
Address: Újezd 403, 110 00 Malá Strana, Czechia
Hours: check Google or their social media for current hours
Map of Chocolate Shops in Prague
---
Pin this guide to Prague chocolate shops!