Malaysian Borneo is an absolutely stunning place. I can't speak to any of the rest of the island, as I've never been, but I was floored by the island's natural beauty— and the historical abundance of cacao. Malaysia's been growing cocoa for over two centuries, with the first trees blooming on peninsular Malaysia. These days, chocolate is something Malaysians pride themselves on. Yet many locals still don't realize how little of their chocolate is made with Malaysia-grown cacao.
While cocoa production remains on the decline, most Malaysian cacao is now grown on Borneo, particularly in the areas of Tawau, Kuching, and Sabah. Chocolate making isn't very common on the island, at the moment, but there are a few local chocolate brands working to revive the industry. A few of these brands are based in Kota Kinabalu, and all of them are using Malaysian cacao to craft some truly Malaysian chocolates. Check out my picks below.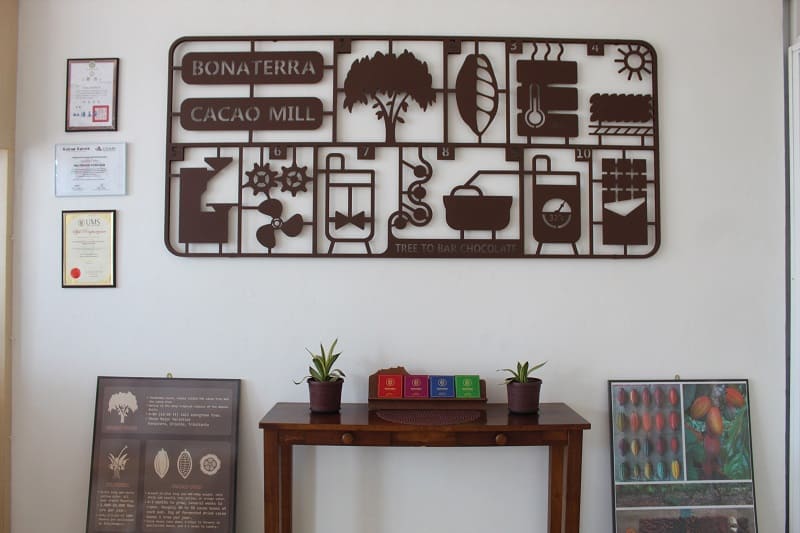 Undeniably out of the way for most visitors, Bonaterra is nonetheless worth a stop for learning all about how chocolate is made from bean to bar, all in one place. This is currently the only chocolate maker in Sabah with a public chocolate factory, as well as a showroom where you can buy their chocolates.
At the moment, Bonaterra's chocolate line includes only dark chocolates made with local Sabah cocoa, a few of which have added inclusions like matcha powder or cacao nibs. The emphasis of their products is upon health and indulgence all in one. This is also the spot to source your cocoa nibs and baking chocolate, as some of the highest quality stuff you can find in Malaysia. No palm oil in sight.
Address: No. 25, Lot 81, Semi-Detached Commercial Unit, Sierra Bizhub, Off, Mile 13, Jalan Tuaran, Menggatal, 88450 Kota Kinabalu, Sabah, Malaysia
Hours: 9am-5pm, weekdays & 9am-1pm, Saturdays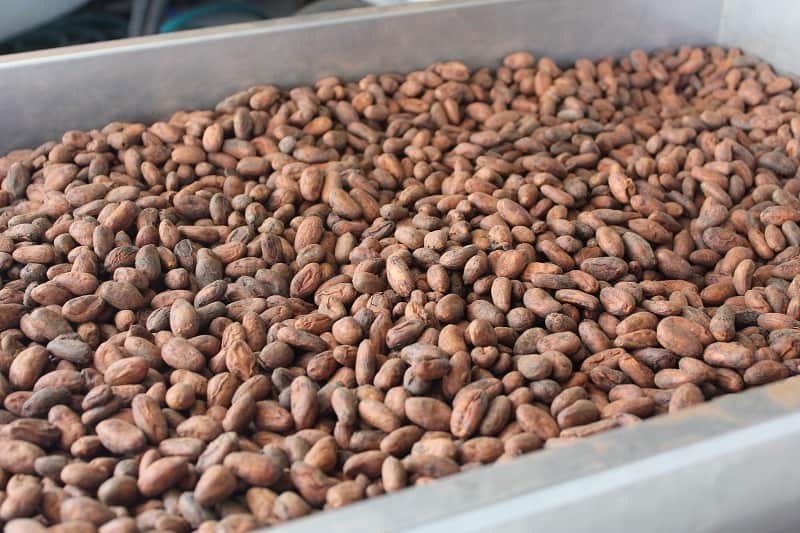 Established in 1995, Simply Chocolate is one of the older chocolate shops in Kota Kinabalu. While I didn't have the chance to visit their outlet on my trip, their site shows that they offer fruit- and nut-flavored bonbons at both their own shop and from retailers around Sabah.
The flavors in their lineup range from Banana, Sabah Tea, or Durian Milk to more staples like Almond or Peanut. You can order online or pick up in store, but based on the date they were established, there's a high probability that their bonbons are made with compound chocolate.
Address: 115, Lorong Muntahan, Taman Milik 1, 88300 Kota Kinabalu, Sabah, Malaysia
Hours: 8am-5pm, weekdays & 8am-12pm, Saturdays [closed on public holidays]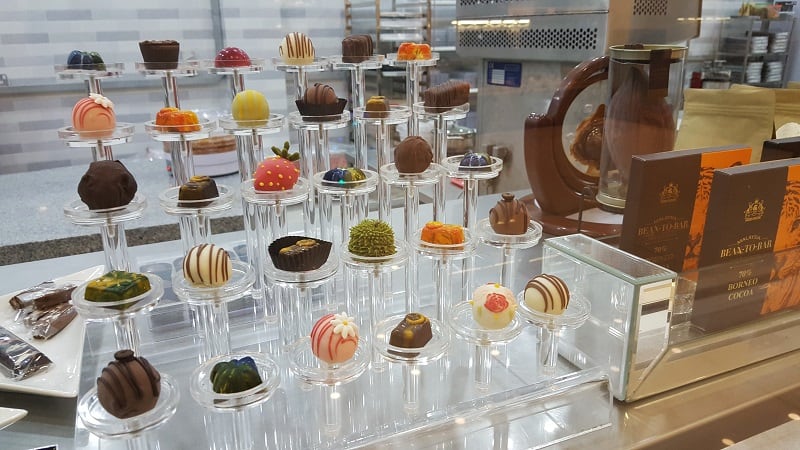 Although this place welcomes tour bus after tour bus to check out their basic chocolate museum and large spread of mass-produced chocolates, I was pleasantly surprised by their cafe. Since ownership changed hands to the new generation, I can tell that there are efforts being made to offer a more diverse base of products. I'll be honest— most of the products are still geared toward tourists looking for a facsimile of health and some souvenirs to take home.
But for those of us looking to indulge, head straight to the cafe (entrance on your right) and order a piece of yam cake or a few bonbons. I'm not the biggest durian fan, but their durian bonbon is a work of art and should be enjoyed as such. The cafe also has more typical Malay options for lunch, if you're looking to eat "real food" after your dessert. I highly recommend taking a box of artisanal bonbons home for later enjoyment.
Address: 1, Tanjung Aru, 88100 Kota Kinabalu, Sabah, Malaysia
Hours: 9am-8pm, daily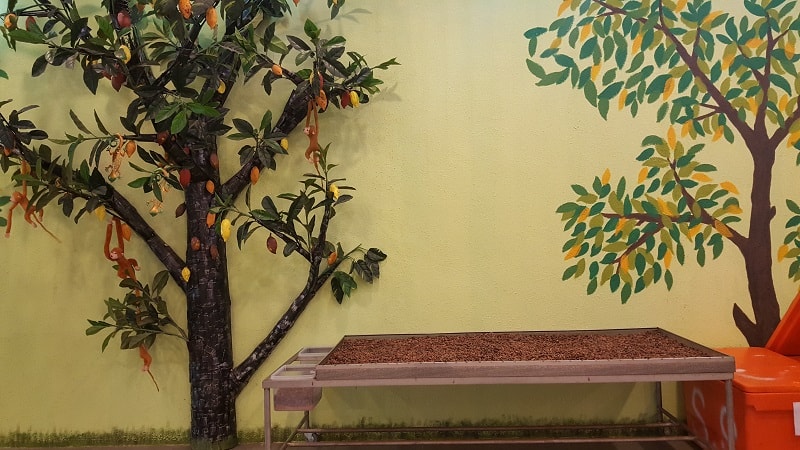 From a glance at their offerings through the door, I saw a collection of pre-packaged chocolates for sale. However, on their website they show various flavors of bonbons, and mention working with locally-sourced cacao and other foodstuffs. They also appear to have 30-minute chocolate making workshops in KK, so all may not be as it appeared at first glance. That said, when I stopped by the show was closed. So I haven't tasted their chocolates myself, but if you have, then please drop a comment and share your thoughts!
Address: Lot 15, Jalan Pasar Baru, Kampung Air, 88300 Kota Kinabalu, Sabah, Malaysia
Hours: 10am-10pm, daily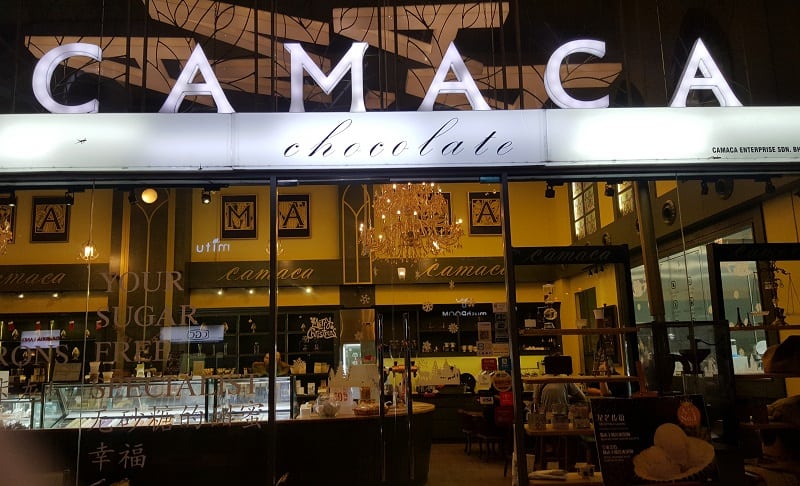 Originally from Taiwan, this brand has found a home in Kota Kinabalu for its high-end truffles and sugar-free gelatos (including musang king durian flavor). The price is rather daunting, but the chocolate truffles themselves are quite good, and the afternoon tea set is elegantly filling.
There are two Camaca locations in KK, and at the one in the mall downtown you can people watch at the entrance, while you sip on a coffee or hot chocolate from the comfort of air conditioning. The chocolates themselves are quite good, but they're the most expensive chocolates in Kota Kinabalu— and I'm not sure they warrant that honor.
Address: Jalan Dewan, Pusat Bandar Kota Kinabalu, 88000 Kota Kinabalu, Sabah, Malaysia
Hours: 12pm-10pm, daily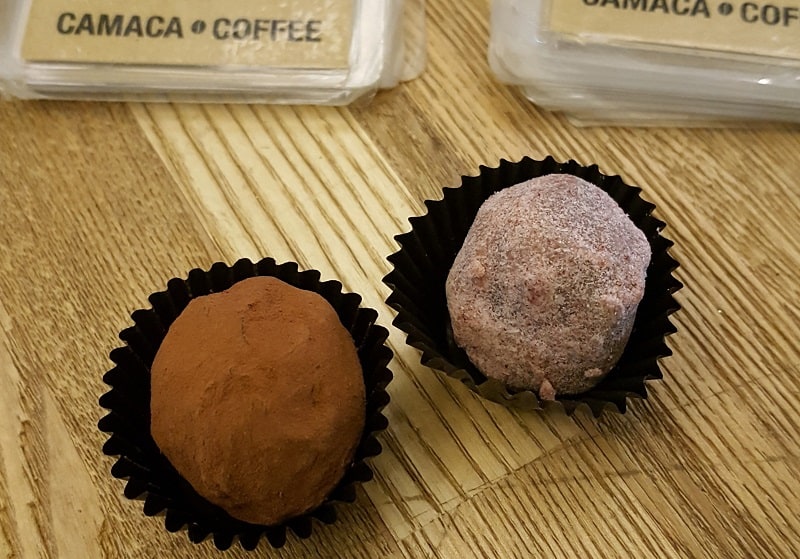 Located a ways outside of downtown KK, Chocolates Alive is a tourist-oriented chocolate shop in Sabah. The Korean-owned shop is a large outlet for chocolates and chocolate-covered sweets, but doesn't teach you much about the chocolates themselves. The decorations are very cutesy, making it good for kids and people looking for a photo-op, but the chocolate options themselves are very basic. Samples are offered, however, so you can try before you buy.
Address: 22, Jalan Istana, 88400 Kota Kinabalu, Sabah, Malaysia
Hours: 10am-8pm, daily (closes at 6pm on weekends)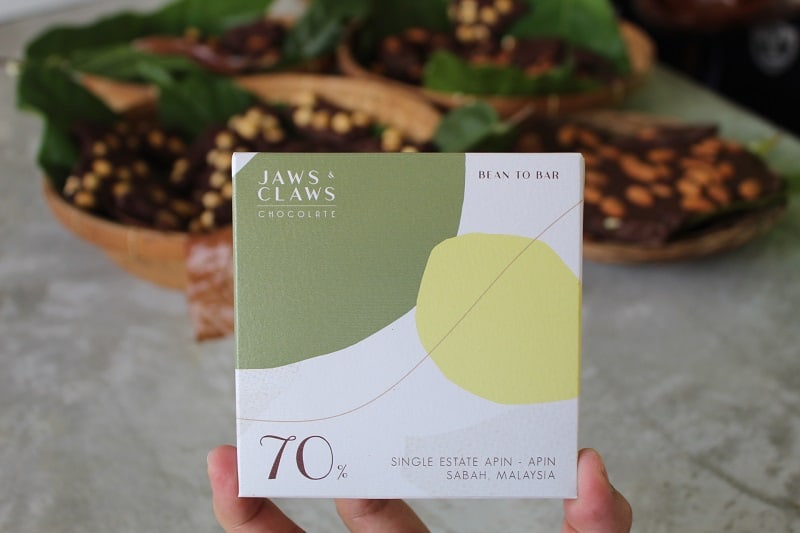 Jaws & Claws is a direct-trade bean to bar chocolate company; at the time of publication, they have 3 single origin chocolates available. Right now there are one or two more origins in development, with an emphasis on partnering with local female cocoa farmers. Their line is only available by special order, but the all-dark bar lineup will soon be joined by a milk chocolate, and are available in customizable packages.
The bars are made using local cocoa from Sabah cacao regions like Keningau and Apin-Apin, where co-owner Josephine works with local farmers to develop good post-harvest processing and convince them that there is a market for their cacao if they're willing to keep the trees on their land. Shoot Josephine, the co-founder of Jaws & Claws, an email or Instagram DM if you'd like to place an order. Click here to see their email address & Instagram.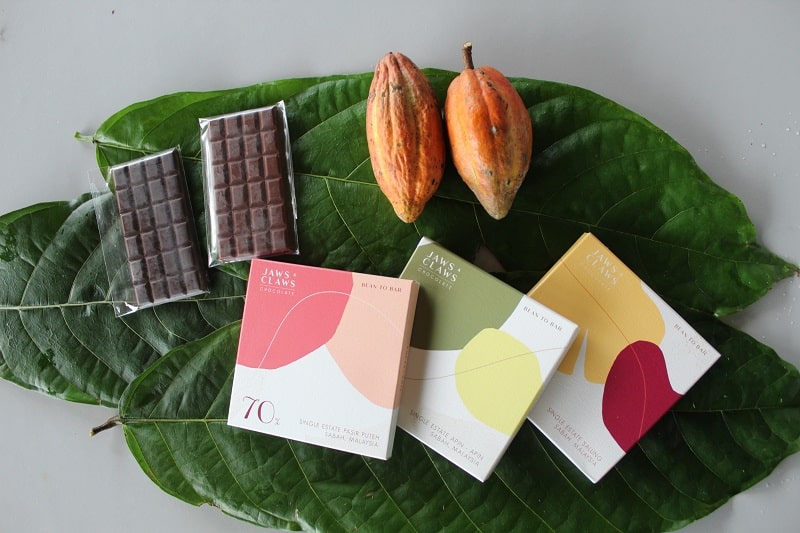 BONUS: Kota Kinabalu Eats
For those visiting Kota Kinabalu, I highly recommend checking out Sabah Eats, a KK-based food blog, for restaurant and cafe recommendations. I had the pleasure of meeting Joanne on my trip, and she's just as lovely & helpful in person as she is online. Plus she makes great cookies (check out Suka Cookies).
Other foodie tips for visiting KK include: eat at Woo Cafe and Madame Kwan's, watch at least one sunset from the beach, and head over to the local vanilla farm for some fragrant Grade AA vanilla at decent prices.
Kota Kinabalu Chocolate Map