Even if you only have a few days or a week in the Galapagos, there's no reason you can't make the most of it. If you carefully choose what to do, which beaches to visit, what & where to eat, and where to stay, the memories will last a lifetime. So come along. Let's plan your trip.
How to Get There & Back
First of all, you must start in mainland Ecuador, as any journey which doesn't first pass through there is illegal. While boats are certainly available from the coast, and a cruise around the islands is a popular option, the majority of people come by air, including myself.
San Cristóbal has the most-used airport of the ones on the Islands, and round trip flights from the mainland can be very affordable. Airplanes are by far the fastest mode of travel, and I found that getting through security and finding my gates was very easy, though admittedly I only had a small backpack carry-on.
Most of the quotes I have heard for high season have been around $400-500USD round trip from Quito during high season, but tickets during low season can be just $272USD, taxes and all. It's about 45 minutes to Guayaquil, and another hour and 45 minutes from Guayaquil to San Cristóbal.
I have no personal experience coming by boat, but you can find helpful info on cruises online. An important note is that the only cell phone provider on the island appeared to be Claro; you have been warned.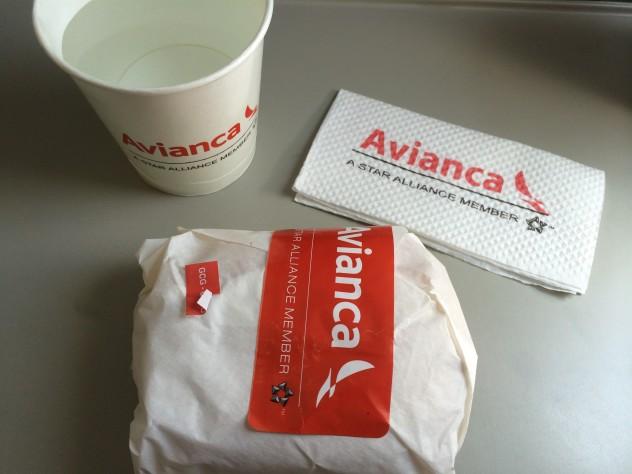 Where To Stay In San Cristobal + Transportation
While planning, I checked liberally online. It's important to also factor in that none of the places are going to already include the mandatory 12% VAT to be paid to the state of Ecuador on top of your hotel fees. As far as I can tell, there is no such thing as a dorm-style hostel like you would find in many big cities.
Getting around is very easy, with all taxis costing a dollar or two per person to get to most any spot on the island. Just like mainland Ecuador, US Dollars are the currency of choice. Basically all of the taxis are informal, so just ask the owners of your lodging if they have a usual driver or can call a taxi for you, if you are wary of getting ripped off.
I had only good experiences with these taxis, however, especially the one that took me on the grand tour of the island's closest sites. Bikes are also quite easy to find and rent, and have become a popular choice for spending a day trying to see all the closest tourist attractions on the island. As for where to base yourself:
BUDGET OPTION: Hostal Terito (La Posada Territo). This is where I stayed while on the island, as well as a friend of mine awhile back. The couple who runs the place is super sweet, and my private room & bathroom was cleaned every day, as well as having passable wifi access at all times. And all for just $20 a night! I'll certainly stay here again when I come back to San Cristobal.
MID-RANGE OPTION: Royal Bambu Inn. Though I did not spend the night here, I visited and spoke to the owner, Eduardo, and he was very nice. The food is supposed to be delicious as well, and I would have stayed here in a heartbeat had I not already booked other accommodation well in advance.
LUXURY OPTION: Casa Playa Mann. Everyone is raving about this place on TripAdvisor, Booking, Hotels, etc., but it seems to also be one of the most expensive places on the island. Think over $100 a night. So if you are looking for more luxury-style accommodations right on the beach and a generous host couple, look no further.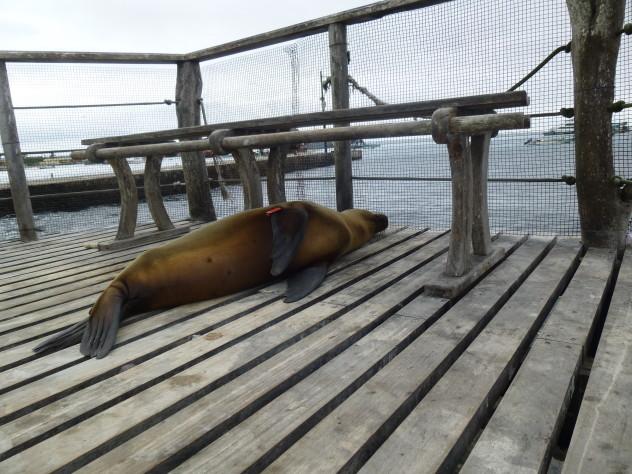 Things to Do in San Cristobal
Oh, this could go on for hours, but I'll just namedrop a dozen or so of my favorite activities. I wish I could also include pictures of each, but you'll just have to go check out my travel tips for Ecuador to see a few more snapshots from the island.
Punta Pitt is the northern tip of the island, and the native habitat of the island's most famous creatures, including the Galapagos tortoises, the red-chested feregata birds, and all three species of boobie (and the only place to see the red-footed boobie). Your tour will not be cheap, at least $100, but it will include lunch and birdwatching and a beach and some beautiful views, not to mention the tour itself. During low season the tours only go about once a week, and even during high season only about every other day, but if you can make it onto a tour it is worth it. You will spend your entire day exploring a part of the island that few actually get to see, due to the difficulty of getting there, about a three hour trip depending on the route you take.
Leon Dormido/Kicker Rock tours are offered most days of the week during low season and every day during high season. The formation takes a solid hour to get out to by boat, but the tours will first take you to a beach, the exact beach varying depending on which company takes you out that day. It is a half-day trip, leaving around 10am for the beach, eating lunch on the water, and then heading over to Kicker Rock for an hour or so of snorkeling. There is also a scuba diving option, but you have to have your scuba license and the trip is more expensive, in addition to going out much less often than the snorkeling trips. The beach is beautiful, but the real treat is terrifying yourself by seeing sharks and sea turtles pass right freaking below you (your guide may even reach out and touch the shark), along with schools of thousands of fish and plankton. It is absolutely beautiful.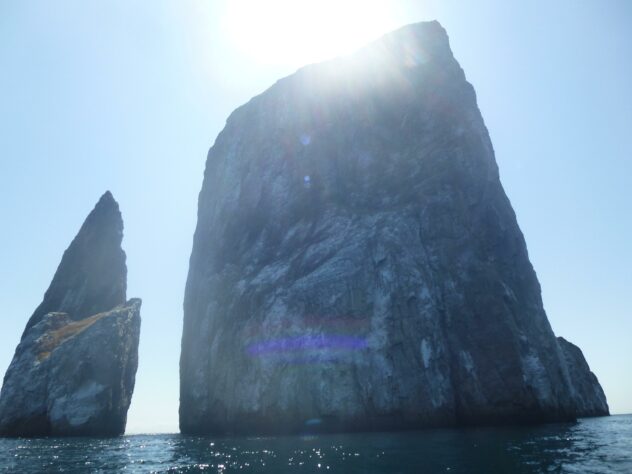 Snorkeling: it can be done almost anywhere. My favorite place to go was Las Tijeretas during low tide, but you can snorkel on almost any beach, including Playa Mann, Puerto Chino, and La Loberia Beach. Low tide anywhere is the best time to go, and there are many places renting out snorkels for the day, though I really have to recommend bringing your own. I didn't use flippers and was perfectly fine, not to mention I had a blast!
Fishing: I am not big into fishing, so I did not do this, but if you are looking for a fishing adventure, I would check this website out for more info. Happy catching!
Scuba Diving certification (don't forget to rent a go-pro!): It ain't cheap to get scuba certified, but I have a feeling this is one of the most unique places you can go about it.
Hiking into the protected forest land with a guide: I must first mention that it is prohibited to visit without a guide. There are huge fines, and it is overall a bad idea to go without a guide, since they know what is most interesting to see, how to tell you about it, and most importantly how to avoid hurting the island's delicate eco-system. Having said that, there are seemingly-endless options to see the inner-sanctum of the island, and some of the most highly-recommended ones are this and this, with English-, Spanish-, German- and French-speaking guides available.
The Terrestrial Tour: El Junco, Puerto Chino, La Galapaguera (You hire a taxi driver, usually whichever one your hotel prefers, and for $60 per vehicle they spend the morning or afternoon taking you and whoever else is in the car to these three beautiful stops. You'll probably want to use your entire camera battery at El Junco, but save some for the other two spots. El Junco is a breathtaking freshwater lake in the middle of an inactive volcano; Puerto Chino is a really pretty and somewhat secluded beach which can be hard to get to otherwise; La Galapaguera is the island's breeding station for their famous tortoises, where they care for them before releasing them back in their native habitat of Punta Pitt.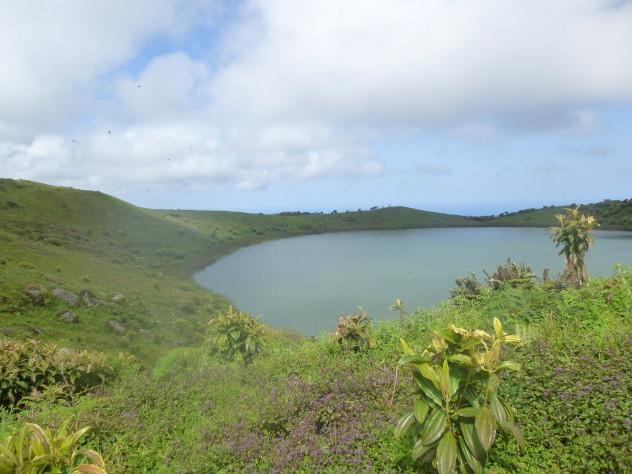 La Loberia: One of the free things to do on the island, this is a beautiful beach where sea lions come to hang out and humans come to snorkel or surf or just plain ol' lay around. I chose the third option one day, and took tons of pictures with lounging sea lions, as well. Getting there is a matter of walking thirty minutes inland towards the airport, and back around towards the shore, or calling a taxi to take you there for $2. If you need a ride back, get their number or tell them a time to come pick you up, as well, since it is rather secluded and taxis don't just stop by there. The five or six minute walk to the nicest beach is also riddled with black iguanas, so keep an eye out and enjoy your absolute freedom!
Playa Mann: The best-known and easiest-to-find beach in town. There are signs everywhere directing you to it, and it is worth a look; I spend one of y days lounging around there. It has crystal-clear waters and its fair share of sea lions, as well as some very enjoyable sand.
Las Tijeretas/The Interpretation Center/Punta Carola: this is all in one area and it all flows together pretty seamlessly. Las Tijeretas is the dock from which you can do some amazing snorkeling, especially at low tide. But it also refers to the hills on either side of the bay, from which you have a great view of Kicker Rock and the whole town of Puerto Baquerizo Moreno. At the top are a ton of frigate birds, and the statue of Charles Darwin & his animal friends. perfect for a photo-op.
Before arriving at Las Tijeretas, however, you will have to pass through the Interpretation Center, a small museum that tells you some of the history of the island and Darwin's stumbling upon it. Punta Carola is on the way back from the bay, and is a small beach with a lighthouse; it can be reached by following the signs after you pass through the Center. To get to all of these attractions, follow the signs for Playa Mann and then go past Playa Mann; the entrance to the Center is up a ramp to your right.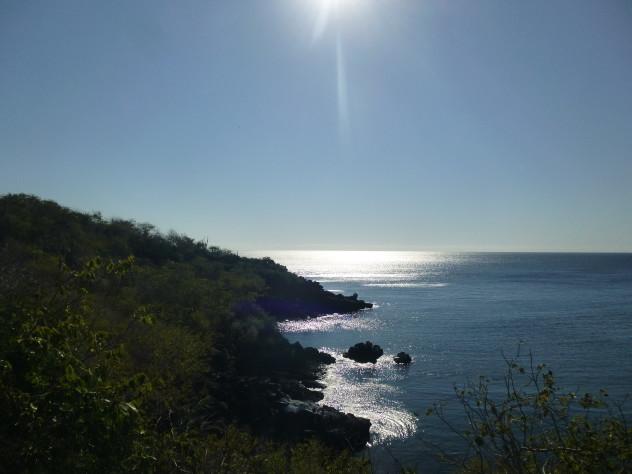 Swimming close to the shore, just floating on your back and looking up at the everlasting blue sky… covered in waterproof sunscreen of course.
Just walking or biking around the town and watching the sun set (or rise) over the ocean.
There are options for surfing, kayaking, canopying, paddle boarding, and diving everywhere; ask at your hotel about where to go.
Island-Hopping, either by flying (at about $150 a pop) or taking a boat to the nearby islands. I was told that San Cristobal was the most tranquil, but if that's not your cup of tea, the other islands are just waiting for your business. I promise.
Eh, I said only a dozen things to do on San Cristobal , but there is honestly just so much to do, and each activity probably deserves its own post, but I do not have the time to do that, nor the desire… I'd probably just cry and then kick myself for ever getting on the airplane to leave.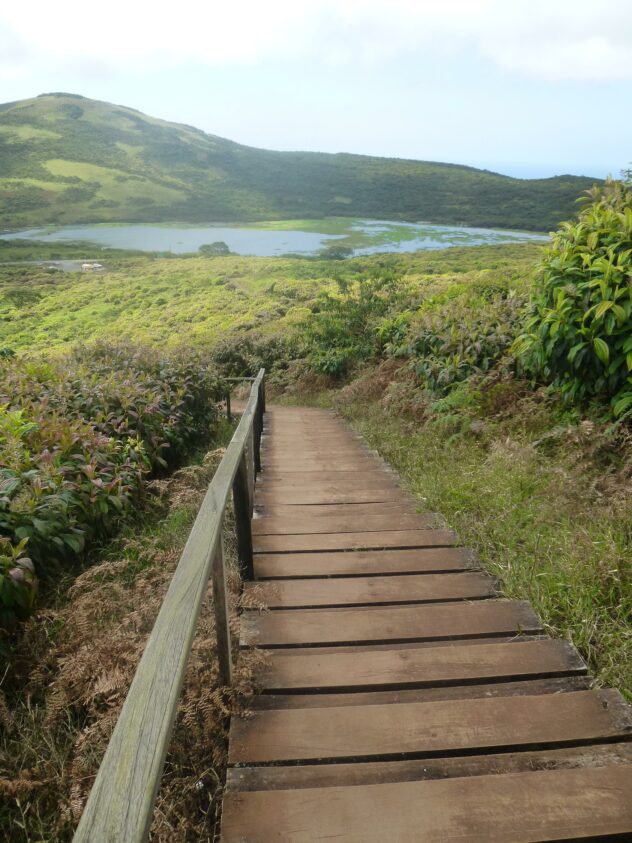 Where to Eat: Dinner & Dessert
While there is certainly fancy and expensive food available in abundance on the Island, my favorite haunts were more in tune with mainland Ecuadorean prices. I was trying to backpack, after all.
In particular there was a family joint called something like Sabores de Esmeraldas, which had fantastic flavor and a price point between $4-5 depending on the meal. Though they do not have a website, it would be worth walking around seeking them out for their fabulous juice/soup/entrée menu of the day.
Their food is full of the Afro-Caribbean flavors that actually made me think of Cuba at first; they are located just off the main square in town, two buildings closer to the shore. Some other restaurants with more formal dining rooms that I and my friends who live there & would recommend are:
Parrilladas San Jose: This was a locals recommendation, and since I am not big on meat, I skipped it, but if you are a BBQ fanatic then this is the place for you.
Calypso: for dessert and pizza, this is it. I also had a burger here, but I was not super impressed. The ice cream and cake, however, would be very hard to beat.
El Descanso Marinero: Again, I am not big on meat, including seafood, so I did not personally eat here. However it seems to be well-known and recommended, especially in the midst of seafood season, although it was also out of my budget once I finally arrived on the island and glimpsed the numbers in my bank account.
Mary's Cakes & Coffee: They do not have an online presence, just like my favorite cheap eats place on the island, but they are not hard to find. Right off the beach, here you can get an inexpensive breakfast or coffee, with options starting at $3.50 a plate. The staff are really sweet & accommodating, as well, and I ate breakfast here twice.
Mockingbird: This place was actually impossible to find, like, as in I couldn't find it. So I did not try it, but my friend who had been on the island all summer did not stop raving about it. She told me that I had to try it, and I wish I had, since the locals also highly recommend it. If you do try it, let me know how it is!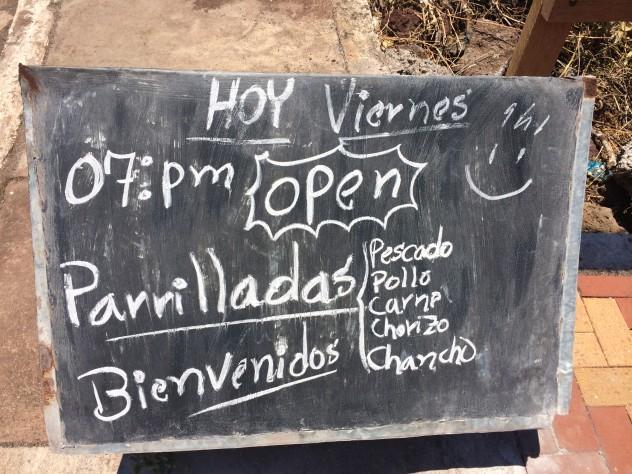 Practical Info
Best Time to Visit
With the proximity to the equator, there really is no bad time to visit in terms of sunshine and warm weather. So it depends on what you are looking for from your time on the island. I was looking for peace and tranquility, as well as a dollop of tourism; just enough to see the main sites and not feel rushed.
So for me, the low months of September/October or April/May are preferable. However, if you are looking to do a lot of traveling around the islands and can afford to shake your wallet for all it is worth, I'd recommend high season.
A particularly good time is in January-March when the kids are off of school and everyone is running around and offering tours every day of the week. I had trouble finding a snorkeling tour on the one day I could do it, though if you're willing to pay, there's always someone who can fulfill a need.
Especially if you only have a week or less on the islands, high season is when there is always someone willing to take you out on their boat or show you their home, albeit often for a price.
Safety Level: 10/10
Because it is an island there is really nowhere for criminals to hide, so the police can often be spotted messing around on their cell phones or just cruising around wasting gas. It is not a bad trade-off, in my opinion.
My Budget: 6D/5N (including flights)
Lodging: $112 ($112 for B&B)
Transport: $325 ($272 rt flight; $50 for taxi to/from airport; $2 for taxis around island)
Entrance Fee + Migration Control: $120
Activities: $154.20 ($123.20 Leon Dormido, $30 tour, $1 dancing)
Food: $85.45
TOTAL: $796.65
Nearby islands include Isabela & Santa Cruz.
---
Did this post help you plan your budget trip to the Galapagos? Save it on Pinterest so that it can help others, too!
Have you ever visited San Cristobal or the other islands of the Galapagos on a budget? Anything else to add?