This is the final chocolate travel guide I'll be posting on Asia for quite awhile! On my 3-week trip, I found Bali chocolate shops to be quite easy to find, and each radically different in their approach.
From hole-in-the-wall shops in downtown Ubud to expansive tropical estates which happen to have a chocolate factory, Bali's got a bit of everything. That's probably why people like me visit for so long, and other people come here for their dream honeymoon in Asia!
I'll cut to the chase with the list in a moment, but I did notice five other Bali chocolate brands when I went to my local supermarkets: Cau Chocolates, Delicacao, Baline Chocolate, Theos, and Bali Bon Bon. As far as I can tell, none of these brands have their own shop, but they each seem to be distinct brands of highly variable quality.
In other words, try at your own risk, but if you do, then please leave a comment and share how (& what) it was!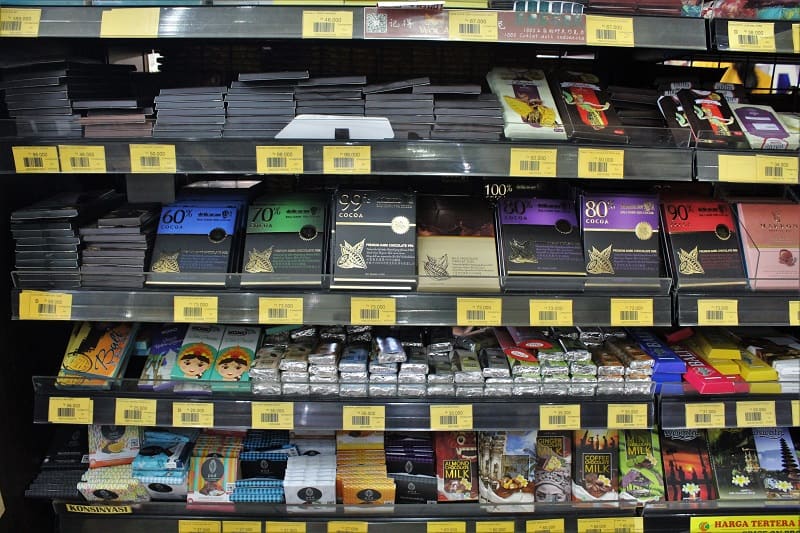 Since my visit in 2020, Pod Chocolate Factory has rebranded as 'Jungle Gold Bali' and changed locations to base themselves elsewhere in Mengwi, as well as at their flagship store in Sanur. My write-up is based on my experience visiting their old location, and has been updated to reflect the changes they've made.
Once you walk up to the Junglegold Chocolate Factory, an employee will explain the chocolate making process alongside a video of their sourcing practice. Then you'll be served a chocolate shot, which tastes like a very rich, liquid chocolate pudding.
After your drink you can sample all of their 25 flavors of chocolate in the air-conditioned shop. The cinnamon dark chocolate bar is quite good, as was the chocolate shot, but I wasn't a huge fan of the non-dairy milk chocolates.
However according to their website, their entire operation is now plant-based and vegan-friendly; they use a cashew and coconut blend to make their own mylk chocolates, so their plant-based formulation may have changed since my last trip.
As the company expands, you'll undoubtedly continue to see their products on every compilation of Bali chocolate shops & in grocery stores across the island. They currently offer 100g chocolate bars as well as chocolate drops (similar to chocolate chips).
Address: Jalan Denpasar-Singaraja No.29, Mengwi, Bali 80353, Indonesia (3 locations noted on map)
Hours: 9am-8pm, daily (double check with social media)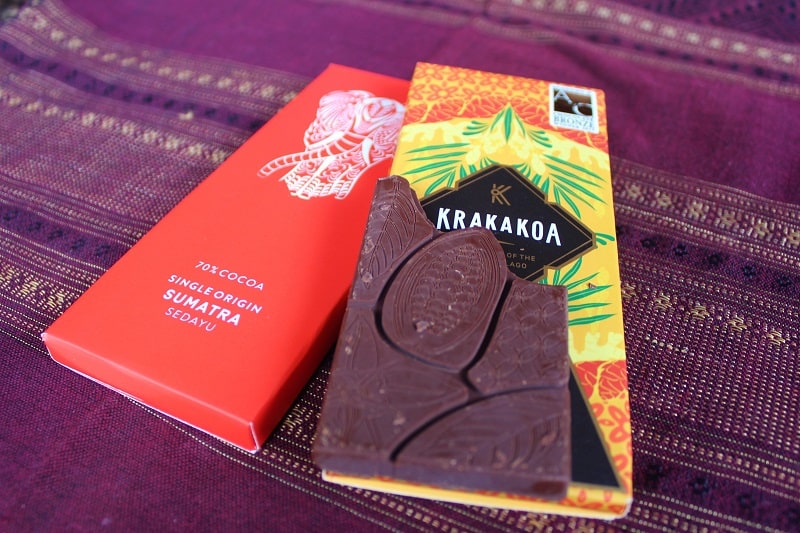 Krakokoa is probably the best-known Balinese chocolate maker, on an international level. I headed here as my first stop after arriving on the island and I was pleasantly surprised by the diversity of their options; I ended up going a second time when I went to Ubud.
Each location holds their entire line of 8 to 10 bars for sale, as well as brownies and chocolate & coffee drinks (though they were somehow out of chocolate for the drinks when I went the first time). You can sample each bar before buying, if you'd like, and there are also cocoa beans & nibs available for sale.
Their single origins and flavored bars are quite good, and they make a beautiful & delicious gift to bring home from Bali. One afternoon I even went to their shop for a frozen chocolate drink and it took a full hour for me to finish— I recommend bringing a friend!
Address: Jl. Monkey Forest No.88, Ubud, Kecamatan Ubud, Kabupaten Gianyar, Bali 80571, Indonesia
Hours: 9am-10pm, daily (double check with social media)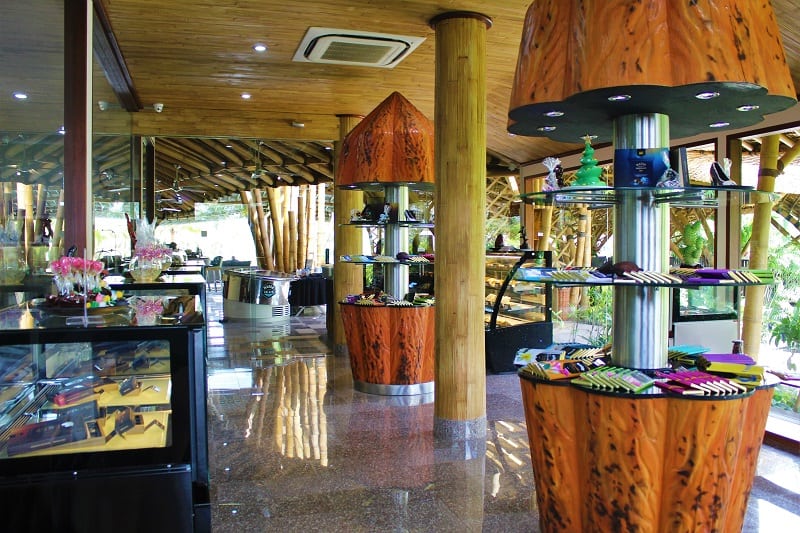 Mason Chocolates is probably the best-known Balinese chocolate brand on the island, though not very well known internationally. I was so excited to visit their shop when I first arrived; I'd seen pictures of the large restaurant attached to the café, and the pool overlooking rice terraces.
Venturing inside I found 7 cases of bonbons and samples of all their chocolates, including two types each of white & milk chocolate, and several percentages and flavors of dark chocolate. The bonbons were very hit and miss, with some decent ones and a couple I actually spit out (*cough* plain white chocolate *cough*).
The bars of palm sugar white chocolate were quite good, though. Things I didn't have the time to try include over a dozen flavors of gelato, chocolate-dipped ice creams, and a selection of a dozen pastries. They also have lots of chocolate-dipped bits, a fully open chocolate making room, a full bar, and fresh waffles!
This is a spot where they want you to stay for the whole day. But I abhor that they offer elephant riding— I don't condone animal cruelty in any way. It's definitely related to the business, but is kept separate, at the very least.
Address: Jl. Raya Taro, Taro, Kec. Tegallalang, Kabupaten Gianyar, Bali 80561, Indonesia
Hours: 9am-5pm, daily (double check with social media)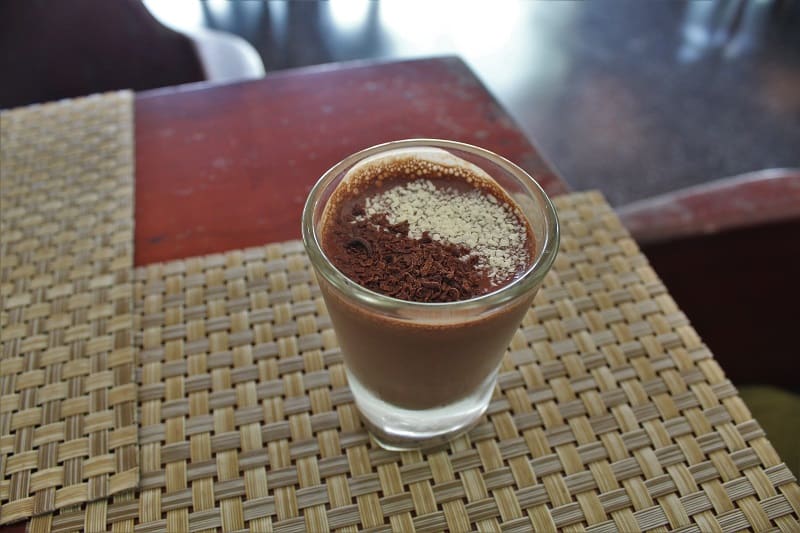 Unfortunately this was one of the two Bali chocolate shops I didn't have the chance to visit. This staple of Balinese chocolate culture started in 2009, making both chocolate and soap with locally-grown ingredients. The grounds of the shop resemble a small cocoa-scented village, with traditional-inspired conical huts along the coastline.
At the time of posting, the Balinese government continues to change the closure rules, so while normally you can book a tour & tasting on the grounds, that is now subject tot he will of the government. You can find some Charly's products at the bigger Balinese supermarkets under the brand "Bali Chocolate."
Address: Jalan Pantai Jasri, Pertima, Subagan, Kec. Karangasem, Kabupaten Karangasem, Bali 80813, Indonesia
Hours: 9am-5pm, daily (double check with social media)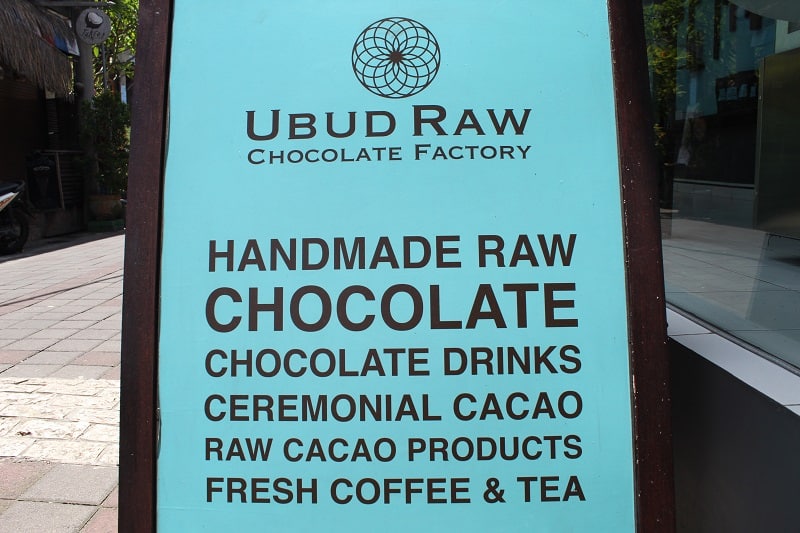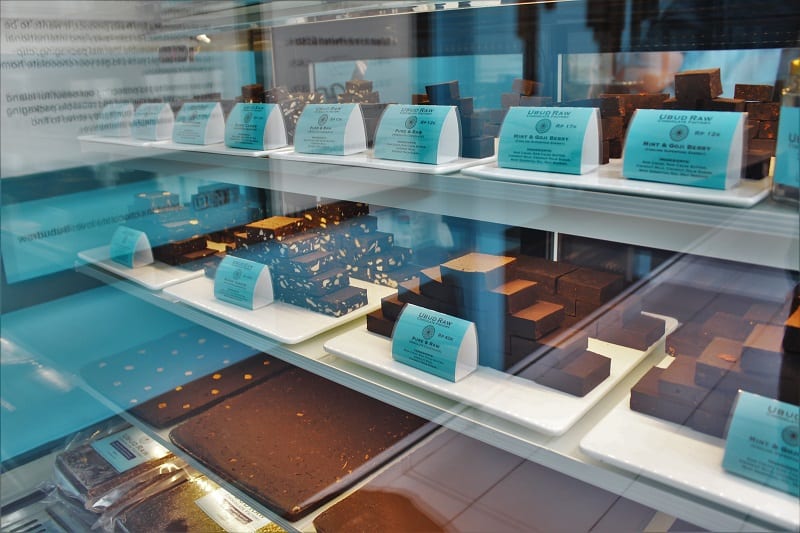 Ubud Raw is located in the perfect spot to serve the raw vegan community that flocks to Bali. Right downtown you'll find their small outlet featuring 4 flavors of 'raw' chocolate truffles in three different sizes, as well as slabs of plain chocolate.
The truffles have a rather chocolaty flavor at the beginning and then they get very earthy and a little powdery. Since publishing this article, the company has contacted me to let me know thye use "well-fermented unroasted cacao beans & coconut sugar as sweeteners."
It doesn't really taste like the chocolate any of us grew up with, but I've gotta say, it ain't bad. They also sell big bags of coconut sugar, cacao beans, and cacao nibs, both "raw," of course. The shop is air-conditioned, with free drinking water and a small drink menu including both chocolate and coffee.
Address: Jl. Gootama No.8, Ubud, Kecamatan Ubud, Kabupaten Gianyar, Bali 80571, Indonesia (two locations)
Hours: 10am-6pm, daily (double check with social media)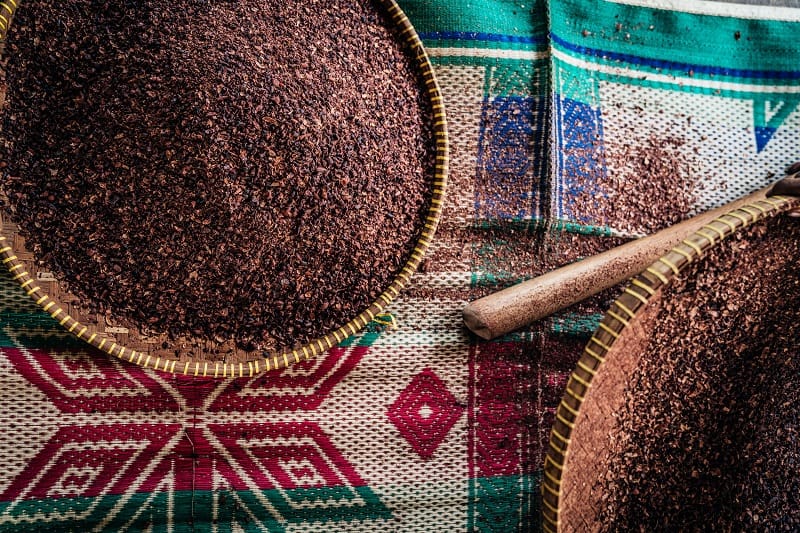 This is the other maker I didn't have the time to visit in person, but who does have two different locations on Bali. Primo was established in 2008 by Italian Architect Giuseppe Verdacchi, who was inspired by a desire to source ethically-grown local cacao and turn it into delicious chocolate, like he had in his own childhood.
Their current lineup is a blend of their tropical Indonesian surroundings and the founder's European heritage. Options include a chocolate power bar, plain 80% dark chocolate, and 80% chocolate bars flavored with local ingredients such as ginger, sesame, and Balinese chile.
I didn't see any of their Primo Cioccolato products in the local shops I scoured, so you'll want to visit their store in person, to try their wares, or have some delivered to your residence on Bali.
Address: Jl. Bumbak Dauh No.130, Kerobokan, Kec. Kuta Utara, Kabupaten Badung, Bali 80361, Indonesia (both shop & factory are pinned on the map)
Hours: 8am-6pm, Mon.-Sat. (double check with social media)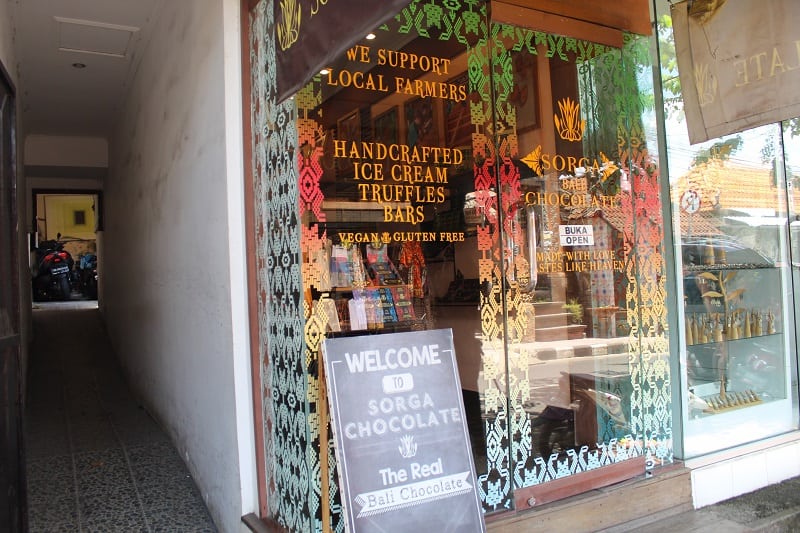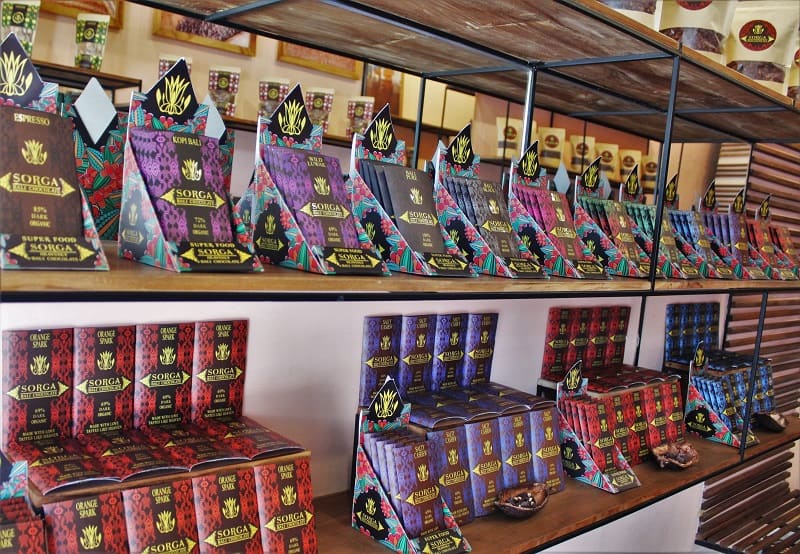 Sorga Chocolate has a relatively small setup right in downtown Ubud, with a small set of offerings and just one (English-speaking) employee at a time.
Their selection includes 8 or 9 flavors & percentages of chocolate, and several flavors of bonbons, as well as some cocoa nibs, cacao husk tea, and cacao beans for sale. It's incredibly small, but it's definitely a shop— with no WiFi or place to sit, but plenty of samples.
Address: Jl. Hanoman, Padang Tegal, Kecamatan Ubud, Kabupaten Gianyar, Bali 80571, Indonesia (2 locations)
Hours: 9am-9pm, daily (double check with social media)
---
Bali Chocolate Shops Map
---
Pin this guide to Bali chocolate shops!