Thailand is not yet known for its amazing chocolate or flavorful cacao. Most people visit Thailand for just a few days, exploring the floating markets in Bangkok or heading straight for one of the southern islands. Over the next few years this will change, but thanks to its current market of expats, Thailand's fine food scene is imported and Euro-centric.
But the flood of new visitors means that adding a chocolate shop or two to your Bangkok itinerary is easier than ever. Although European chocolates still dominate the small scene, it's quickly shifting towards a more local product. With all the European tourists visiting Bangkok, the initial European influence is not too surprising, though the European chef might be.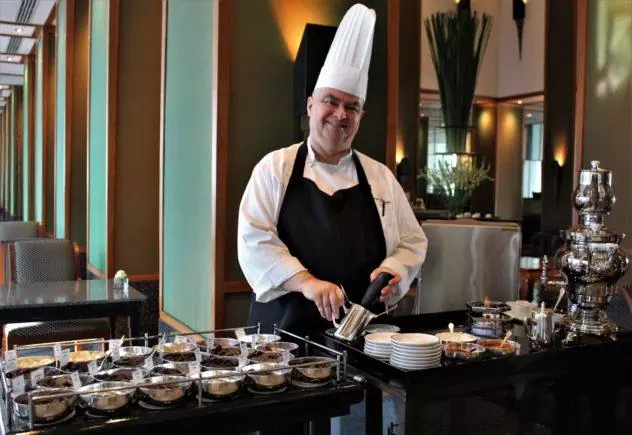 Laurent's Wonderous World of Chocolate
Chef Laurent Ganguillet is a jovial, serious man, who explains the interplay of his chocolates like an interior designer does fabrics. It's all about individual taste. Raised in the French-speaking part of Switzerland, after high school Chef began his classical training in one of the country's famous pastry schools. Taught through the apprenticeship system— then controlled by the Swiss Corporation of Pastry Chefs— after graduation in 1980, Chef began working in Europe and later Dubai. He's a guy you just naturally want to call "Chef," and it has nothing to do with the tall white hat.
He has an authority buzzing around him, and an undeniable ease when communicating with his staff. Since its opening in April 1991, he's been head of pastry at the Lobby Salon. The pastry kitchen is his domain. The chocolate buffet is his area, as well, although running that requires even more help these days. It was originally his creation in the 2000's. Chef wanted to educate people on the unique qualities and appeals of various dark chocolates. It was such a success that the people plainly demanded the event extend beyond its Christmas expiration date.
Back then, every Saturday the Lobby Salon set up this grand affair of chocolate desserts and drinks, and every Saturday it was packed. People lobbied for a second day, and they got it. Slowly they added more savory elements and non-chocolate sweets, growing the options alongside the demand. A short while later, still packed to the pillars with hungry guests, the Friday afternoon slot was added and the legend continues to this day, holidays or not.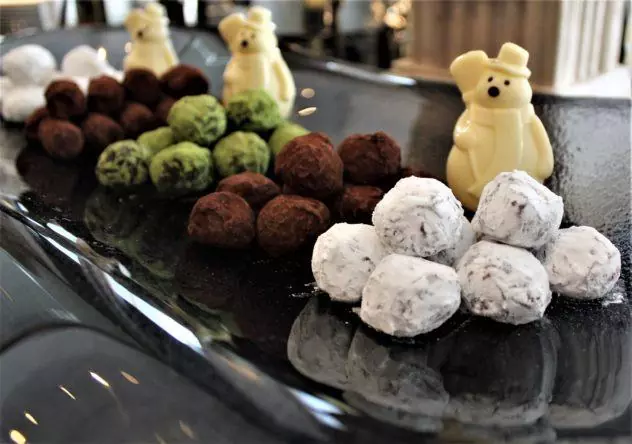 Chef's Hot Chocolate Station
Three afternoons a week, Bangkok's chocolatiest desires are fulfilled. Most patrons start their feasts with a cup of cocoa; Chef himself begins the experience. Set up blatantly across from the desserts table is his hot chocolate station. There you discuss your flavor preferences, from sweet or bitter down to red fruits or citrus fruits. Started with just 14 chocolate options in 2002, the hot chocolate station now boasts 23 chocolates to mix and match. This includes white, dark, and milk chocolates, along with traditional almond and hazelnut pralines, and French whipped cream. Samples encouraged.
As you close in on the chocolate cart, the smell of the latest aerated creation overwhelms. The hot chocolates are water-based rather than milk-based, to further emphasize the unique flavors in each origin, so Chef uses an immersion blender to ensure even chocolate distribution. His focus is on the taste itself, with no interest in collecting different origins or makers. This experience and my discussion with Laurent were a big highlight of my trip to Thailand, as I've never encountered such a spread anywhere else. It certainly made the current dearth of chocolate in the city much more bearable.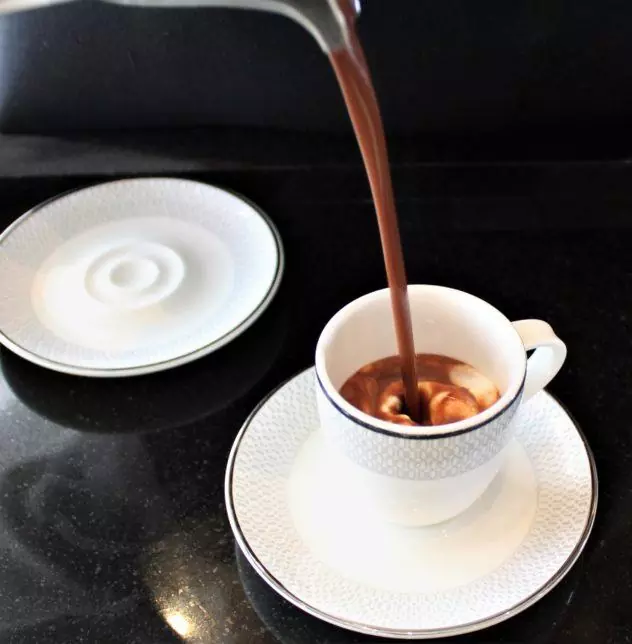 The Current Menu
My biggest tip is to get there early enough to sample all the treats. The seats encircle the buffet tables, so capacity is only around 40 people and the space fills up quickly. Beyond the chocolate creations and confections are a number of savory bites, so many that they warrant their own table. Each season, Chef mixes up the offerings on both sides of the green & gold aisle. This new menu started the second week of January, and continues until April. Chef tries to put out 4 new menus a year, plus their Easter menu and December holiday menu (more expensive since they include alcohol options).
Offering both savoury and sweet foods, on the lunch table are fresh local fruits, refreshing Greek crostinis and savory pumpkin tartlettes. Tiny tastes of Thai dishes spot the crowd, from a basket of papaya salad (my favorite) to cucumbers of spicy laab moh. Watch out for a chili pepper or simply ask some of the attentive staff if you're unsure which foods are spicy. The presentation is top notch, though be wary of peppers and garnishes getting in the way. The emphasis is on seafood.
On the dessert table are traditional French macarons and patê de fruits, as well as berry tarts, mini creme brulee, and citrus chocolate cakes that awaken your tastebuds. The dark chocolate coffee truffles sneak up on you, melting in your mouth rather than your hand, in true French style. Big ginger spiciness underlies the ginger truffle, and the mango sticky rice ice cream is a must. I needed to try a little bit of everything. You know, for research.
My favorite, you ask? The truffles, of course. I'm a sucker for a well-made chocolate. The green tea truffle married nicely with the perfumey Sukhothai house blend of tea I paired with my plates. I'd highly advise against eating anything before arriving for this scrumptious meal— today you have my express permission to eat dessert for lunch and dinner.
A Droolworthy Preview
While the menu does change a few times a year, the droolworthiness never will.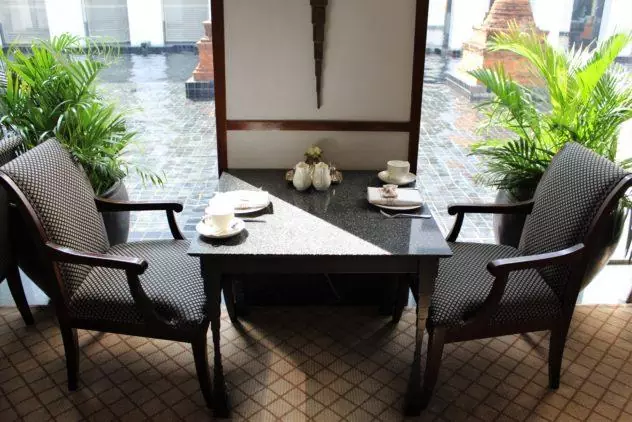 Practical Information
Dress Code: Smart Casual
Address: 13/3 South Sathorn Road, Bangkok 10120, Thailand (Google Map)
Metro Stop: Lumphini (MRT)
Hours: 2-5pm, Fri-Sun.
Prices: 990TBH per person (kids aged 6-12 are half price)
For an idea of the extent of the offerings at Lobby Salon, here's a previous chocolate buffet menu; their current restaurant menu includes afternoon tea sets offered from Monday to Thursday. Both buffets are notoriously booked up in advance, though the Friday crowds tend to be lighter since most people are at work— make sure you reach out to the booking manager at Leelanet.R(@)sukhothai.com or 02-344-8888 to make a reservation.
Save this for later!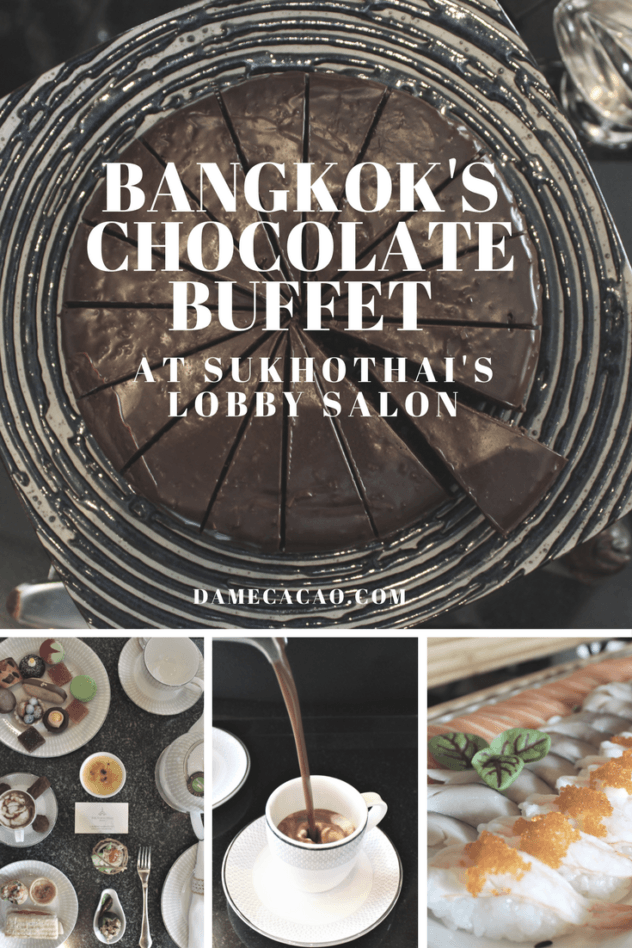 ---
Disclaimer: Although I was NOT financially compensated for this post, I reached out to & was hosted by the Sukhothai. A huge thanks to Chef Laurent and the entire team at the Sukhothai for being so responsive to my questions and accommodating with my time frame. All opinions are, as always, completely my own (and so are the drool-worthy photos!).