Between the malls, pizzerias, and international schools, Bangkok feels like a rather European part of Asia. Like Toyko or Seoul, but smaller. It's one of the most expensive places to live in Thailand, but also the most convenient for visitors.
If you're looking to keep your Bangkok travel costs low, it's a good idea to stick to small splurges, like high quality locally-made chocolates. The Thai chocolate makers and Thai chocolatiers below know what you want when you walk into their shop; rich, melty truffles burst with flavor as they slowly coat your mouth.
They'll usually lighten your wallet by just $1-1.50USD apiece, a staple "affordable luxury" for the masses. Even still these used to be very tough to find, kind of like craft beer in Bangkok (and Thailand as a whole). Lucky for us, the Bangkok chocolate scene has evolved in recent years.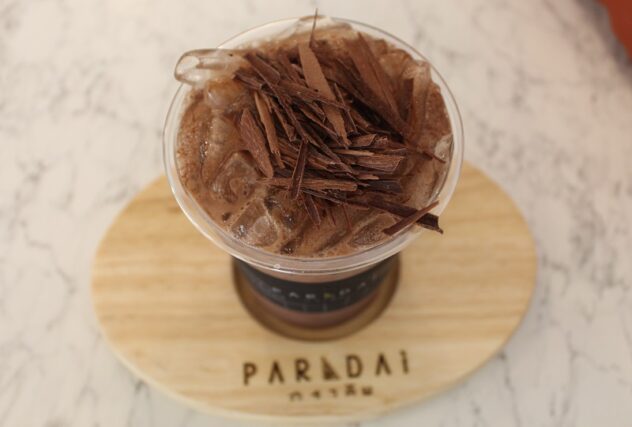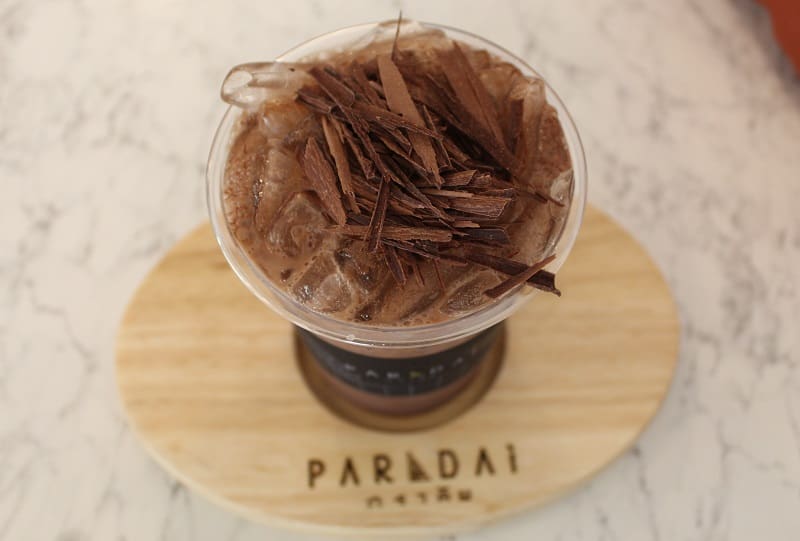 Reviewing Bangkok Chocolate Options
Bangkok is often pictured as dirty, smelly, and dangerous, which it sometimes is. The metropolis's millions of annual visitors outnumber residents more than threefold, yet there are fewer than a dozen European and Japanese chocolatiers breaking into Bangkok's bonbon business.
Luckily recent years have seen an explosion of local Thai chocolate makers in Bangkok, many of whom are making their own bean to bar chocolate and other treats. Unfortunately in Chiang Mai— Bangkok's popular northern counterpart— you're still more likely to stumble upon a wine bar than a chocolate shop.
As for Bangkok, it would be difficult to fully-accurately locate each of the European chocolatiers on the map, so I've linked to their websites in order for you to find the closest locations near you. There are also some shops marked off on the map at the bottom of the page, but those are merely a sample of the bevy of imports available in malls.
Even many of the brands which present themselves as Thai and craft Thai flavors are actually made with imported Belgian, Swiss, or French chocolate. So be sure to peruse the Thai chocolate makers first, if you're looking for high quality, locally-sourced flavors.
For example, for those of you who have heard of Chocolate Ville in Bangkok, by now you probably realize that it is a large European restaurant, and not an Asian chocolate theme park (as I'd hoped). Tip: if you're in a mall, check the directory for where the chocolate shops are— there's always at least one.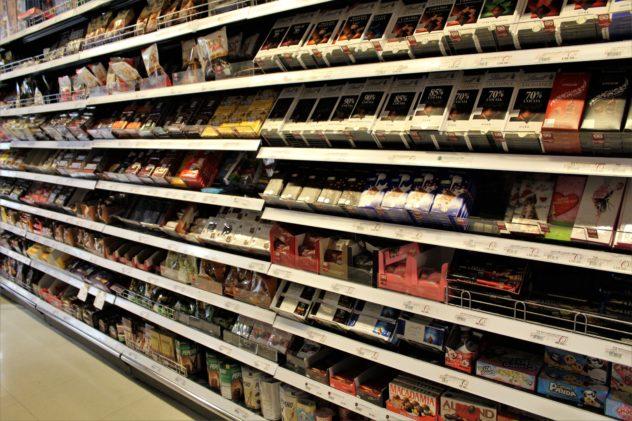 Thai Bean to Bar Chocolate Makers
Recent years have been explosive for Thai bean to bar chocolate, as several Bangkok chocolate cafes got up and running and several more makers joined the local chocolate scene. The years since have seen similar growth, albeit all over Thailand rather than only in Bangkok.
In Chiang Mai, in Northern Thailand, there are three craft chocolate makers already selling bars & treats, and in my short stay it was difficult to procure their products. Message them once you're in the country, if you'd like to buy some bars.
As more of the upcoming Bangkok chocolate makers begin opening cafes and selling bars, I'll share their missions & locations in updated versions of this article.
Thai bean to bar makers are marked on the map below with purple pins.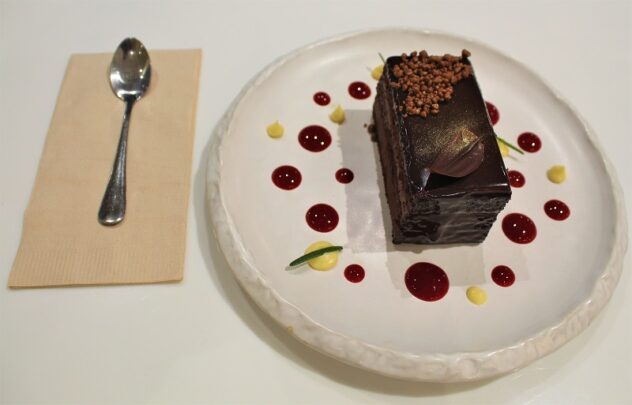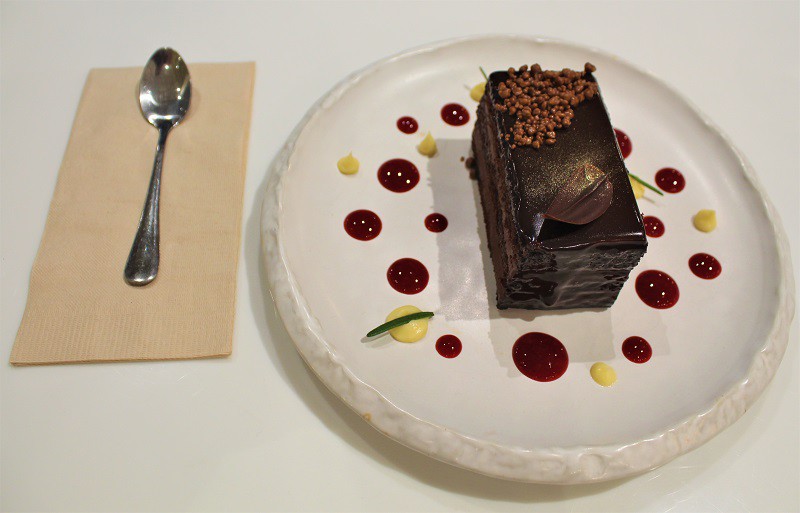 Known for: single origin Thai chocolates & a large selection of chocolate pastries/bonbons
Several years back, lawyers-turned-chocolate makers Nuttaya and Paniti decided to venture into chocolate making and fell head over heels in love with it all. They now dedicate themselves to not just their chocolate cafes, but also working with Thai cacao farmers in four regions of the country, and taking care of their own plantation in northern Thailand.
Their main two-story cafe is located in a more residential area just south of downtown, lined with young cacao trees along one side. From craft chocolate tastings & pairings to their beautiful chocolate pastries & drinks, Kad Kokoa has set themselves up as one of the main destinations for Bangkok chocolate lovers.
Every week there's something new on their menu, and not all of it is there to stay, so check out their Instagram for consistent updates on the week's specials. I'd recommend ordering a cacao nib-studded madeleine or a piece of chocolate cake with one of their iced cocoa drinks (but the bonbons are damn good, too).
Address: Nartiwas 17, Sathorn, Bangkok 10120 (see map below)
Hours: 10:30am-7:00pm, daily (opens at 11:30am on Sat/Sun)
Known for: Thai bean to bar chocolate bars & drinks
One of the few Thai chocolate makers who's keeping their day jobs, the duo behind Shabar Chocolate is a young couple of bankers & chocolate experimenters, now well-versed in chocolate making. They've been selling their bars at farmer's markets and in cafes around Bangkok for years now, and are slowly expanding into a range of chocolate drinks and sauces.
The duo is using mostly Thai cacao at the moment, but they pair their dark chocolate with a variety of inclusions, offering a flavor for everyone willing to venture onto the dark side. Narut, the master fermenter of the two, has been working on some experiments with fresh Thai cacao and how certain variables affect flavor.
If you attend one of their chocolate tastings or pop up shops, you'll more than likely find his chocolate alongside some other makers', always looking for ways to improve an already great product.
Address: TBD (check Instagram for an upcoming market or to place an order)
Hours: online shop; DM them to place an order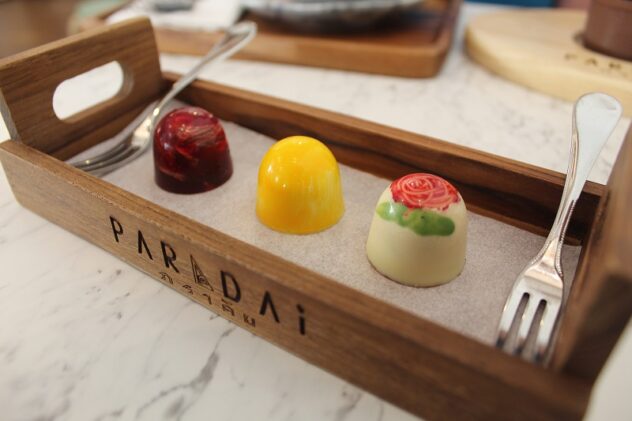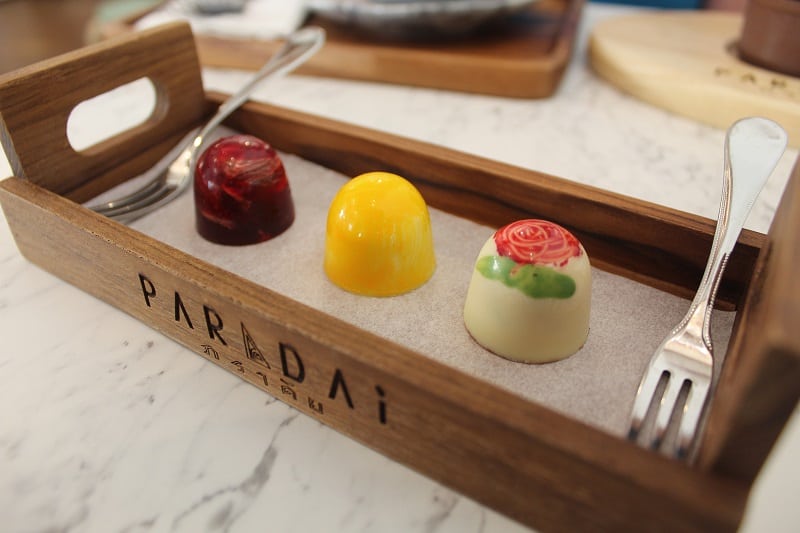 Known for: Thai bean to bar chocolate bars & bonbons
One of the more established chocolate cafes in Bangkok, PARADAi has already received numerous International Chocolate Awards in the Asia-Pacific competition, and gotten overwhelmingly positive reviews from the public.
All the cacao they use (except their Belize bar) comes from their own farm in Nakhon Si Thammarat, a region in southern Thailand just south of Chumphon, where much of the cacao in Thailand is grown.
Just one block from Khao San Road (backpacker street), their cafe is very open and naturally-lit, great for taking pictures. PARADAi offers both dark chocolate and milk chocolate, celebrating the contrasts of Thai landscape with their colorful, jungle-esque packaging, similar for both their bars and bonbons.
They use an impressively intricate mold for their bars, but the bonbons will likely be the first to catch your eye with their delicate flavors and bright slashes of color (my favorites are the Rose and the Passion Fruit & Sesame). Save some room for their famous iced chocolate drink before you go.
Address: 197 Thanon Tanao, Khwaeng Wat Bowon Niwet, Khet Phra Nakhon, Krung Thep Maha Nakhon 10200 (see map below)
Hours: 9:30am-6pm, Wed.-Mon.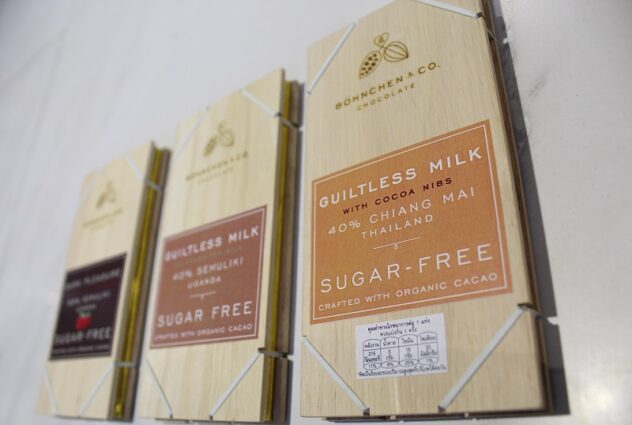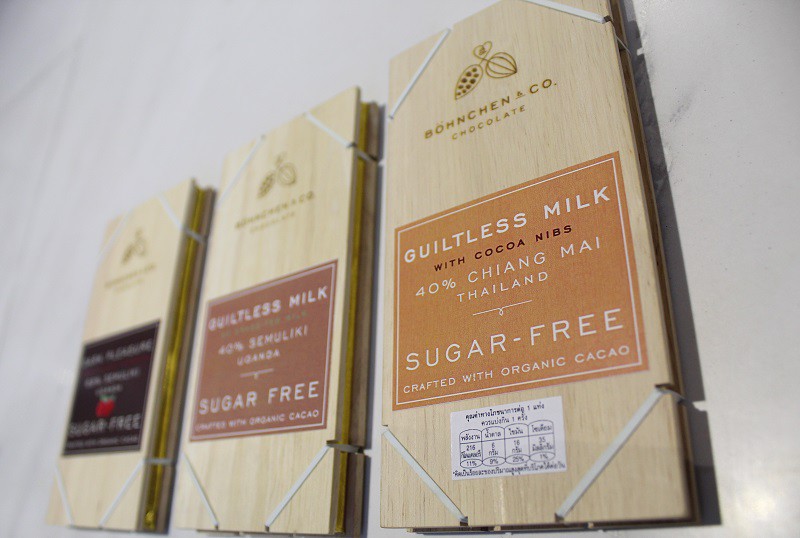 Known for: bean to bar sugar-free & keto chocolates
Originally just an extension of their range of healthy and delicious keto- & paleo-friendly foods, Ayano and Tobi were quickly taken with craft chocolate fever and haven't looked back since. The fit couple continues to run their cafe with all of its goodies, from spices and ingredients for dinner to chocolate-covered pili nuts and chocolate hazelnut spread.
They source cacao from all over the world to make a range of single origin and flavored chocolate bars, in sugar-free white, milk, and dark varieties. While the company operates mostly online, Böhnchen uses their own chocolate to make all the cafe's sweets, so if you go in person feel free to ask for a sample of anything.
I guarantee they'll both surprise and delight you, though don't just take my word for it. Beyond the bars, I'd also highly recommend a chocolate gelato and a huge bag of chili salted pili nuts for the road.
Address: 2991/20 (2F), Visuthanee Hi-Tech Office Park Lat Phrao 101/3 Road, Klongchan, Khet Bang Kapi, Krung Thep Maha Nakhon 10240 (see map below)
Hours: 9am-5:30pm, though mostly online orders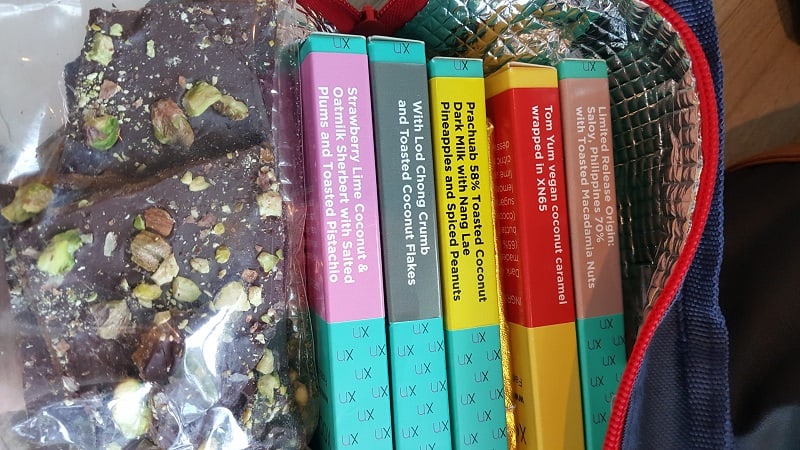 Known for: fancy filled chocolate bars & crunchy Thai-inspired toffees
As of May 2023, Xoconat is on hiatus. This self-branded craft chocolatier finally has her own shop. She's still one of the few Bangkok chocolate makers who also makes bonbons, but they're admittedly difficult to keep in stock. Nat sells various collections of her European-style bonbons and bars, with distinctly Thai flavors, and my mom still asks about how to buy them in the States; that's how delicious they are.
While her focus is on using Thai cacao and ingredients, what's most important to Nat is quality & creativity. Flavors in her collections range from Lavender Caramel Shortbread to Vegan Vietnamese Ganache.
You'll see her show her face at most Bangkok craft chocolate events, as well, but for those looking for a 1-on-1 chocolate experience, she runs regular truffle- and bar-making workshops out of her new shop. To order a box, simply visit her site or Instagram and tell her what you'd like, or reach out to make an appointment at her shop. Keep an eye out for the Optical Hopscotch Bar on my behalf!
Address: 1112, 121 Sukhumvit Plus 2 Alley, Khwaeng Phra Khanong, Khet Khlong Toei, Krung Thep Maha Nakhon 10110, Thailand
Hours: by appointment only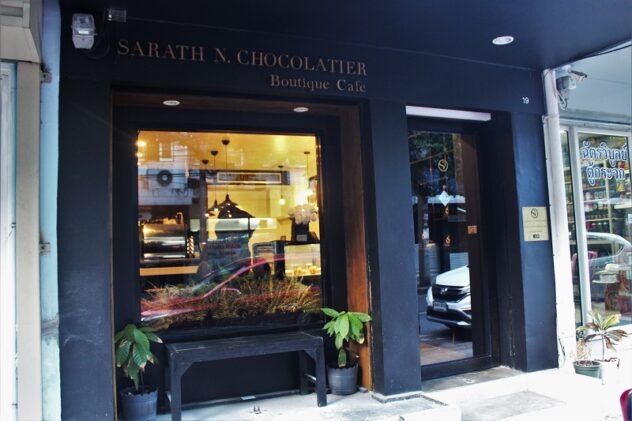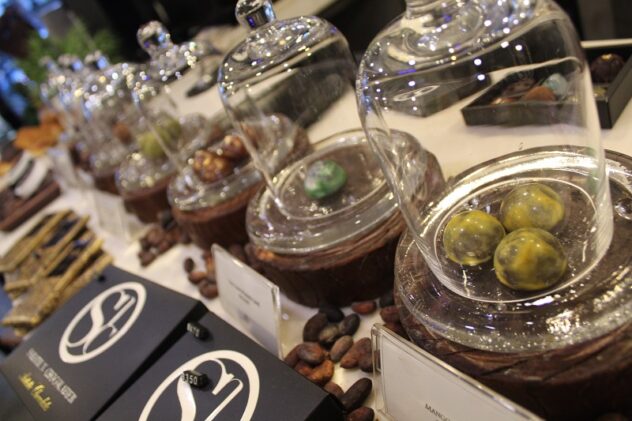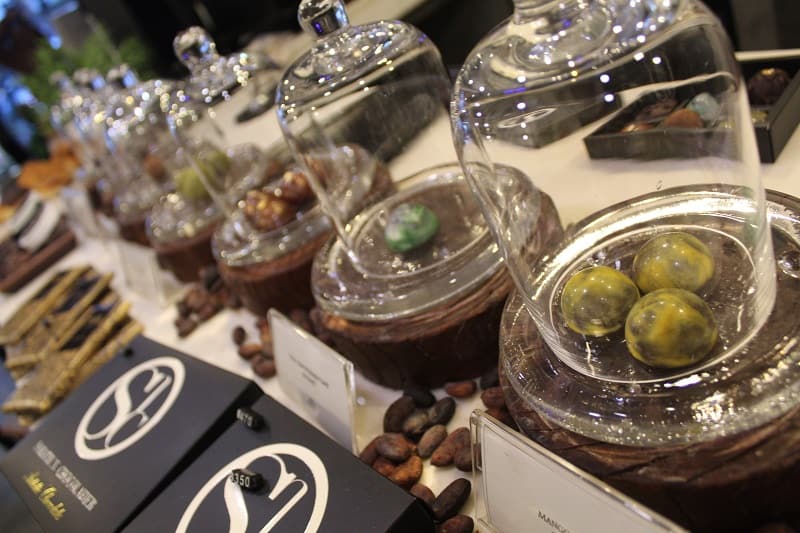 Known for: chocolate-based pastries & Thai-inspired bonbons
Despite the title of Master Chocolatier, Sarath was one of the first people making bean to bar chocolate in Thailand. He is also deservedly known for his stunning pastries & chocolates, however, and his modernist chocolate cafe highlights these specialties.
The twist he offers on the European-style bonbons most Thai people are used to is his emphasis on uniquely Thai flavors & ingredients. These are often sourced not only locally but from his own farm outside of Bangkok.
Sarath often travels around Thailand and other parts of Asia, learning about region produce from the local chefs, and then bringing all of that knowledge back to his own kitchen. The small cafe space here has seating for a dozen, with seven bonbon flavors, a few chocolate bars, croissants, and some fancy single-serve cakes.
Their modest drink menu features chocolate as the centerpiece, but there are a few coffee options, as well. I'd highly recommend trying a pastry and a small plate of bonbons before you go.
Address: 241/7, Pradipat Rd., Samsennai, Phayathai, Phaya Thai, Bangkok, 10400 (see map below)
Hours: 10am-7pm, daily
Up & Coming Chocolate Makers
There are five Bangkok-based chocolate companies with varying availability of chocolate. One is the retailer Yellow Chocolate, whose name is a reference to the yellow cacao pods Thailand has become famous for; they operate out of Larna House in Eastern Bangkok.
Out of the five companies, Kai Chocolate, which retails at Coffeeas in Central Bangkok, is one of the oldest. The last two include Pridi Cacao Fevier, which is online only, and Chocolasia, which is a maker & processor for larger batch chocolate products.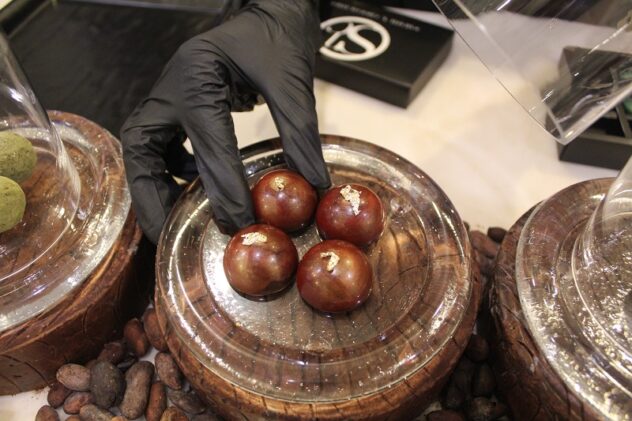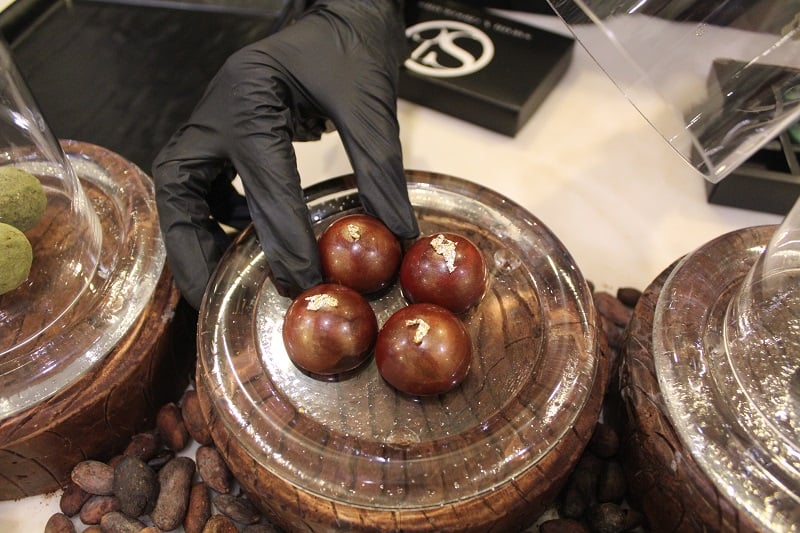 Bangkok Chocolatiers
I've included these Bangkok chocolatiers on this list on the off-chance that some people may be interested in these specific brands, or only interested in buying imported chocolate. However, I mentioned the Thai bean to bar makers first because I believe that if you're in Thailand, you should buy Thai chocolate, especially when it's so much better than the alternatives.
Plus, a few of the Bangkok chocolate cafes also produce bonbons, all of which are delicious and affordable. Newer additions to the chocolatier ranks include the chocolate offerings at Shangri-La Bangkok and the Four Seasons' Cafe Madeleine.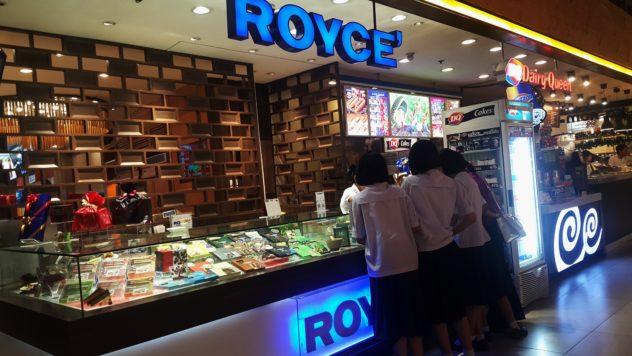 Known for: trays of flavored ganaches, chocolate-covered potato chips, matcha bonbons
Royce may be one of the most popular souvenirs for people to bring home from Japan. These days you can find their boxes of nama chocolate in all Japanese airports, as well as many foreign ones. Customers keep returning for the clean, cute aesthetic and smooth chocolate, though it certainly doesn't scream Thailand.
As one of the oldest chocolate companies in Japan, not-coincidentally based in Hokkaido, the flavors at Royce are much more Japanese than those of the domestically well-known Melt Me, and have better brand recognition. The quality seems about the same to me.
Address: Siam Paragon, G floor, 1 Phatumwan, 991 Rama I Rd, Khwaeng Pathum Wan, Khet Pathum Wan, Krung Thep Maha Nakhon 10330 (several locations; see map below for select stores)
Hours: 10am-8pm, daily (all locations)
Known for: flavored bonbons and chocolate bark
The first "premium" chocolate brand to open in Bangkok, Mrs. Flowers is a Thai-owned and -operated company with several shop locations around Bangkok and one in Pattaya. The main branch functions as a mini-museum for chocolate making, detailing the method and selling bonbons made with Swiss chocolate, processed in Thailand.
While the company offers many traditionally-flavored chocolates, they also have fruit-based and nut-based lines of specialty truffles available daily, and the original owner still oversees the entire operation. Their most popular item is an almond bark in dark chocolate.
Address: 304 Romklao Road (Between Soi 12 and Soi 10) Minburi Khwaeng Min Buri, Khet Min Buri, Krung Thep Maha Nakhon 10510 (several locations; see map below for select locations)
Main Museum Hours: 9am-5pm, Mon.-Sat.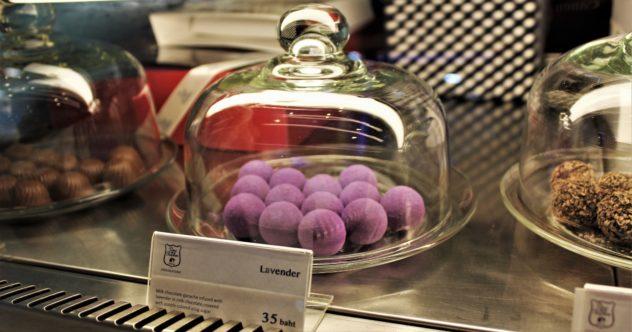 Known for: truffles with with Thai flavors
As another Belgian chocolatier who has decided to expand their empire into Asia, Duc de Praslin took a different approach in Thailand by incorporating local flavors. Their shops still have the more traditional praline and dark chocolate truffles flavors, etc., but they also have durian, wasabi, pad cha, and more.
I was not very impressed by the truffles I bought, but the funky flavors alone might appeal to you. Personally, I'll pass on the onion bonbon, but that's because I'm more of a garlic kind of gal. The company has three branches in Bangkok, and one in each Phuket and Pattaya.
Address: 191 Si Lom, Khwaeng Silom, Khet Bang Rak, Krung Thep Maha Nakhon 10500 (multiple locations; see map below for select locations)
Hours: varies greatly by location
Bangkok Chocolate Activities
You might be surprised to know that not only is Bangkok a huge tourist destination, but it's also a big foodie city. People from all over the world come here for fine Thai cuisine representing the flavors of every region in the country, but they also come to enjoy cooking classes and events. Some of those events are chocolate-themed, in nature, lucky for all of us.
These are some of those delectable and kid-friendly options.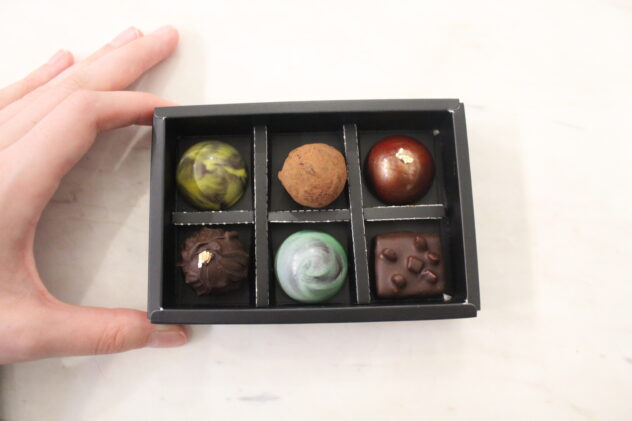 Known for: professional-level pastry & chocolate making classes
Looking to up your pastry and chocolate game while visiting Bangkok? Master Chocolatier Sarath Nimlamai is ready to help you do just that. Awarded First Place in the Pastry portion of Iron Chef Thailand in 2015, Mr. Nimlamai is highly experienced in all things dessert.
His school offers various pastry courses, as well as bean to bar chocolate making classes in English (see above for info on his chocolate shop in Bangkok). The difference at The Chocolate House is both the well-traveled and award-winning pastry chef, and his emphasis on Thai flavors from every region of the country.
Additionally, his experience as a chocolate maker lends a deeper pool of knowledge from which to teach his chocolatier classes, adding that extra je ne sais quoi to each class. I'd book way in advance if you make this your Valentine's Day plan for Bangkok.
Address: locations of each class varies; inquire via Instagram
Hours: see the school's calendar of classes by clicking their name above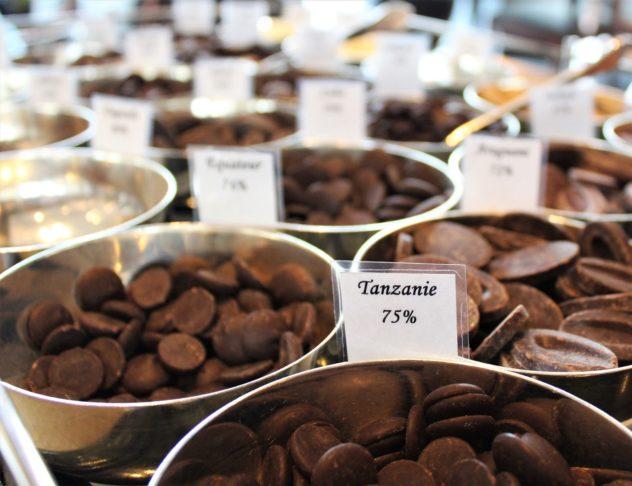 Offering the only chocolate feast in Thailand, the Sukhothai's Lobby Salon restaurant dedicates a large portion of their floor-level salon to their chocolate buffet. Started in 2001 by the pastry chef, Laurent Ganguillet, the chocolate spread includes one entire table covered in chocolate-themed desserts, and another table across the aisle which is filled with savoury bites.
Included in the 990BHT price is unlimited access to the Chef's choose-your-own hot chocolate station, and a coffee or tea from the restaurant's menu. The Bangkok chocolate buffet is available from 2pm-5pm on select Saturday afternoons. Learn more about their buffet in my full review here.
Address: 13/3, The Sukhothai Bangkok, 1st Floor, Sathon Tai Road, Thung Mahamek, Khet Sathon, Bangkok, 10120 (see map below)
Hours: Fri/Sat/Sun, 2pm-5pm
Known for: chocolate workshops, on-site restaurant, and wide assortment of bonbons
All they're missing is a bedroom in the back for me to live in. With an Italian restaurant, chocolate-making workshop space, and a variety of chocolate to buy, The Chocolate Factory makes it difficult to not want to move there.
Although they're not located in Bangkok, but rather an hour or so outside of it, they bring customers to them through an events calendars of classes with their trained chef. When you go, please send me a box of fruity bonbons. Or at least a picture; I beg of you.
Address: 400/626 Muang Pattaya, Amphoe Bang Lamung, Chang Wat Chon Buri 20150 (3 locations; see map below)
Hours: 9:30am-9:30pm, daily
Feel free to share this article on chocolate in Bangkok, and please leave a comment below if you have any questions or additions.
Bangkok Chocolate Map
---
Pin this Bangkok Chocolate Guide for later!