Thailand is hot. Even in the dead of winter, the south is sticky, melty hot. It's not the kind of hot you normally associate with chocolate, but Thailand has actually been growing cacao— the raw material for chocolate— for over a century.
Over the last few years, this fruit has been cropping up across southern and northern Thailand as a potentially large source of income for small-holder farmers. And boy is it growing.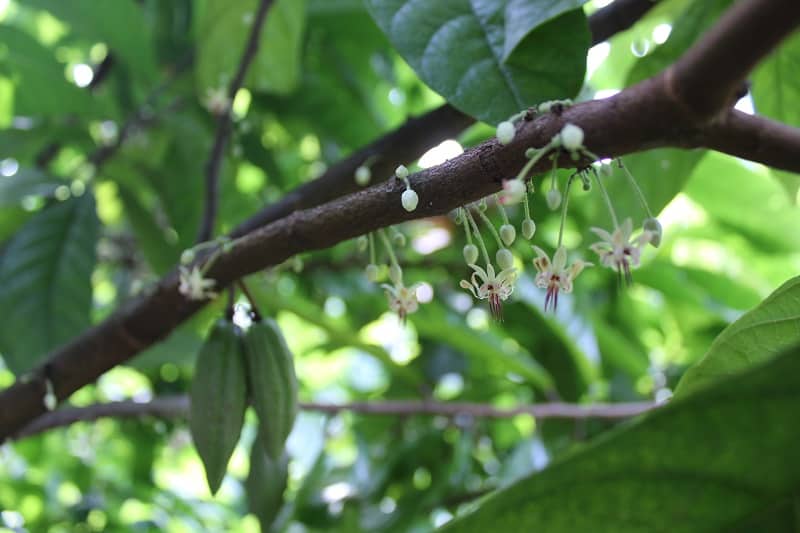 History of Cacao in Thailand
Cacao was brought to Asia via the Spanish territory of the Philippines, in the late 17th century. From there, it spread to Indonesia, India, and Malaysia over the next 200 years, most all of the cacao being of the forastero varietals.
Cacao came to Thailand 116 years ago, originally only in the south, from Malaysian farmers who were trading ideas and crops across the border. The trees were very obscure at first. Only decades later in 1952, the government began subsidizing cacao cultivation in the hopes of making it a huge commercial export.
But in 1997, Thai cacao cultivation began to decline.
This decline has nothing to do with concurrent increased production in neighboring countries, necessarily. It was just that other crops which already had higher value than cacao increased in popularity.
As this slow down in cultivation came to fruition, the cacao processing plants around Chanthaburi, in Eastern Thailand, ramped up their processing. Farmers had begun growing cacao near where the cacao processing facilities were, but soon demand rose higher than supply.
Processors began importing cacao from Indonesia, but the burden of the taxes were too high. Factories shut down just five or six years ago, around 2013. Then a few years later, the shift towards our current fascination with Thai cacao began.
At first this was just a handful of people, experimenting with chocolate making using some small local sources for cacao. But seemingly overnight, many of these projects blossomed into full-blown businesses and brands.
Growing cacao is still a secondary pursuit for most Thai farmers, with cacao profits being a sort of "extra" seasonal income rather than a main goal. While Thai cacao can still be categorized as a project under construction, not without its own issues, the demand for a quality home-grown chocolate is increasing.
Fine flavor is no longer optional. Many places near Chiang Mai, such as Chiang Rai and Nan, have projects now coming to fruition. At last count, the Kingdom produces several hundred tonnes of cacao per year, a paltry sum when compared to the hundreds of thousands of tonnes produced in neighboring Malaysia and Indonesia.
But Thai cacao production is undoubtedly on the rise across the country; the only question is whether it's growing fast enough.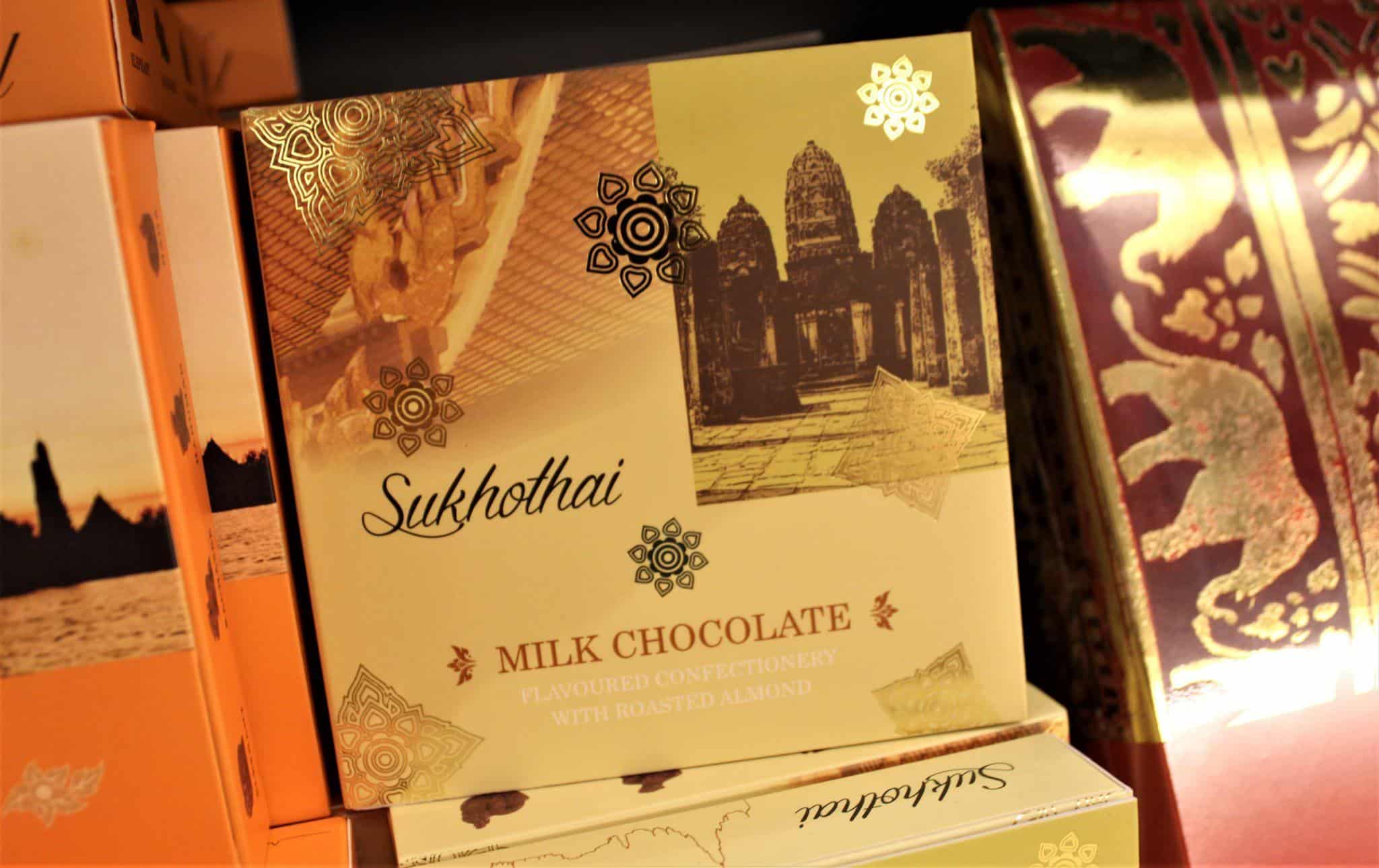 The chocolate for this mass-market product was likely grown in either Malaysia or Indonesia.
Developing Truly Thai Cacao Varietals
Up north in Chiang Mai, the Thailand Cocoa Center has been operating for decades, headed by professor Sanh La-ongsri and his wife. Still run as a family business, the Center has been a driving force in growing the professor's own varietal of cacao in the northern province of Chiang Mai.
His varietal of I.M.1— a cross between a Peruvian criollo and a forastero varietal developed in the Philippines— is now cultivated on dozens of farm around Chiang Mai. But there's one other varietal of Thai cacao which has a longer and much richer history in Thailand: Chumphon 1.
The Chumphon 1 varietal was originally developed by crossing the PA7 and the NA32 varietals in Trinidad, thanks to work done by a Dr. Pon. But it wasn't actually originally developed for Thailand. Yet researchers at the Chumphon Horticultural Research Center in southern Thailand found that it gave them a higher yield, so they stuck with it.
Eventually, Chumphon 1 became the dominant varietal of cacao grown across Thailand, and it remains as such to this day. Its signature yellow color can easily be spotted from afar— to both the great benefit and great detriment of local farmers.
Every cacao grower I spoke with mentioned their issues with rats and squirrels destroying their pods. One farming family I visited up north had planted numerous other brightly-colored, sweet fruits in the hopes of luring the critters away from the cacao.
Unfortunately, it's not 100% effective, and there are plenty of hollowed-out pods hanging on trees to prove it.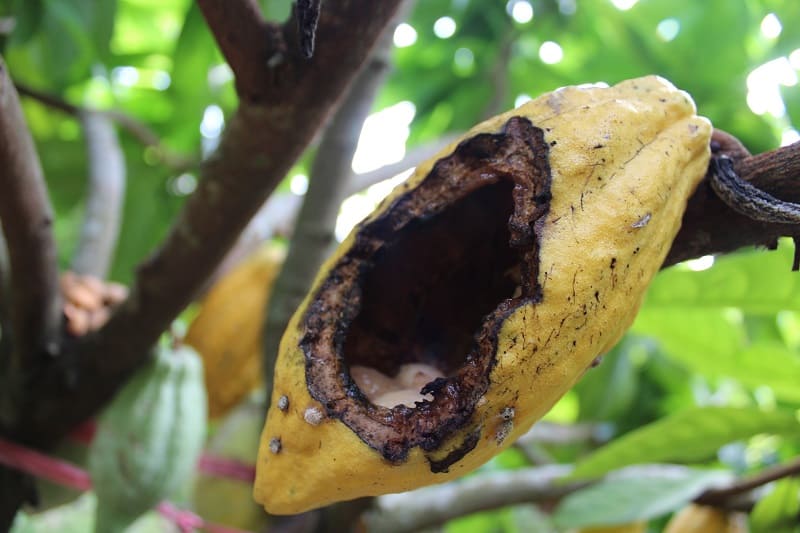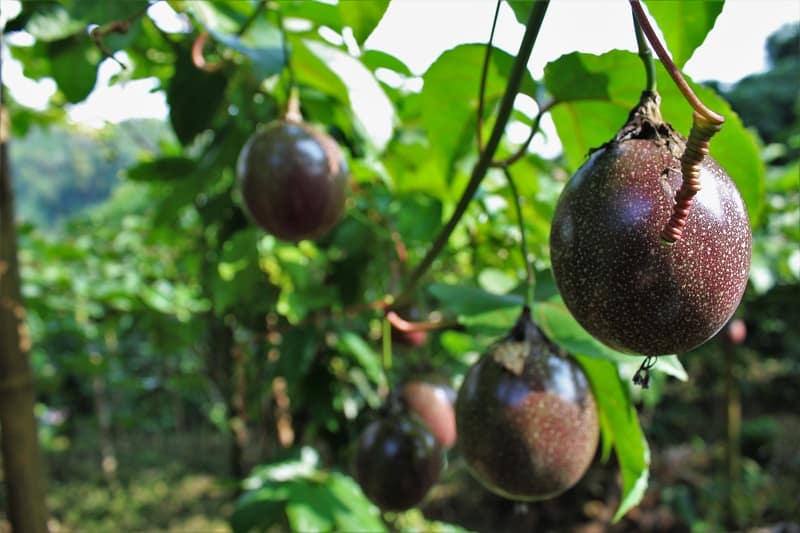 Sourcing Thai Cacao (Or Rather, Not)
Nowadays the majority of Thai cacao is grown in the south, along with some in the center and the Chiang Mai region to the north. However, these meager sources of Thai cacao are drying up, in a sense.
Over the last year or two, Thai cacao farmers have begun using their seeds to make baby trees to sell for profit rather than processing them into cacao beans for chocolate making. This choice makes the farmers much more money in the short term, and may amount to much more Thai cacao over the next few years.
But at the moment, it's really putting local chocolate makers in a tough place. If farmers are selling their beans, it's at an extremely high price, around 400THB (~$13USD+) per kg. This is a wholly unsustainable price compared to other southeast Asia countries, like the Philippines or Vietnam. The only possible exception is Taiwan, where the floor price for quality cacao has risen to 600NT (~$20USD) per kg.
While the farmers can see 50-100 times the income per pod on the seedling market, within another couple of years, this stream of income will dry up. The farmers who planted this year and last year will soon realize that they don't know how to harvest and process their cacao properly.
Some of the chocolate makers they were planning to sell to will have gone out of business or turned to other, more reliable sources for cacao. Those thousands of new trees will become commodity cacao again— for as long as farmers decide to keep them, that is.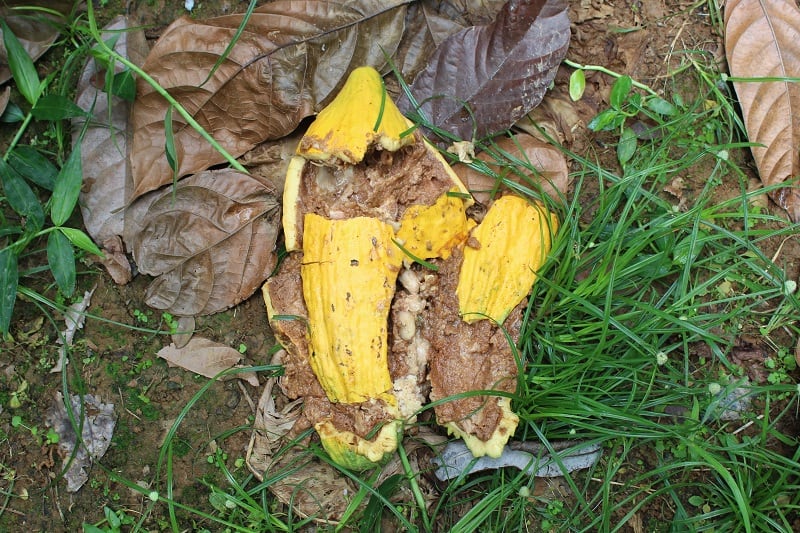 Revamping Thai Chocolate Culture
As mentioned in the overview on chocolate in Bangkok, there are two types of chocolate at all worth pursuing in Thailand. We have the imported "premium" chocolate, from Europe, North America, and Japan, which is fine if you're in a hurry and looking for something recognizable.
Then there are the dozen or so locations across Thailand where you can try value-added chocolate. Value-added chocolate is made from bean to bar, by craftspeople who take their local fruit and turn it into luscious chocolate.
While big chocolate brands like Cadbury and Mars take up a fair share of the Thai chocolate market, the portion taken up by "premium" and value-added brands is only expanding. Events like the weekly chocolate buffet in downtown Bangkok are attracting more & more clientele month over month, and ditto for the country's many chocolate makers.
In these new craft chocolate cafes, consumers seem to prefer drinking their chocolates and then taking home high cacao percentage bars to enjoy alone. Yet the fruity flavors naturally found in some Thai cacao origins is confusing for them.
The average Thai consumer's idea of "real" chocolate is of a very bittersweet, cocoa-forward flavor. Any other tasting notes may make the chocolate seem off, or expired. One chocolate maker even told me that a customer asked them "why don't you try Starbucks?" in reference to the inconsistent flavors between their single origin chocolates.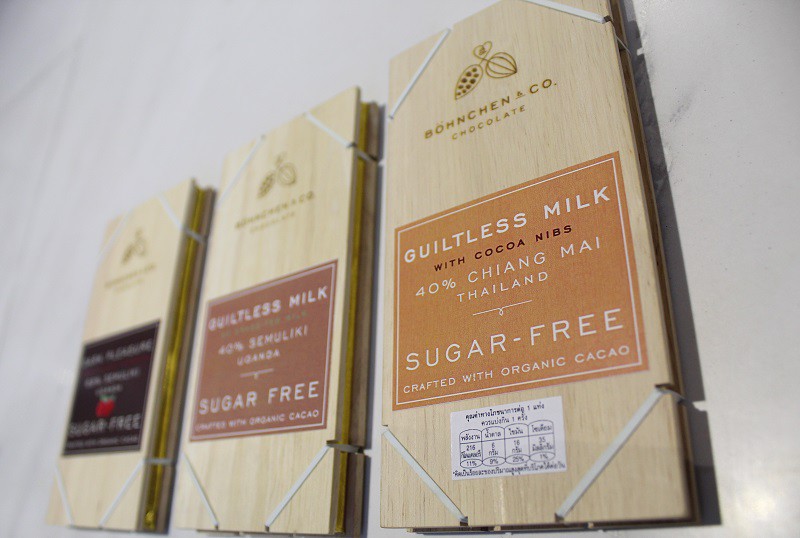 Craft Chocolate Makers in Thailand
Kad Kokoa, one of the older chocolate makers in Thailand, only opened their cafe in spring 2018. The lawyer couple behind the business had been studying agriculture in preparation for retiring in the north of the country when they stumbled upon some cacao trees.
After forgetting about them for several months, the couple came back to the concept of creating a value-added Thai chocolate, partnering with an older farm in Chiang Mai to begin building a 100% Thai chocolate brand.
Chocolate makers in Thailand are focused in two areas: Chiang Mai and Bangkok. The cacao they're using comes from all around Thailand and the world, but these two cities have emerged as hubs of the gourmet chocolate market in Thailand.
In Chiang Mai we find Siamaya, Mark Rin, Clean Chocolate, and Aimmika. Kad Kokoa is based in Bangkok and has expanded from using only Chiang Mai beans to also include 3 other regions in their lineup. Newcomers to the scene also include Anarchy Chocolate, based a bit south of Bangkok.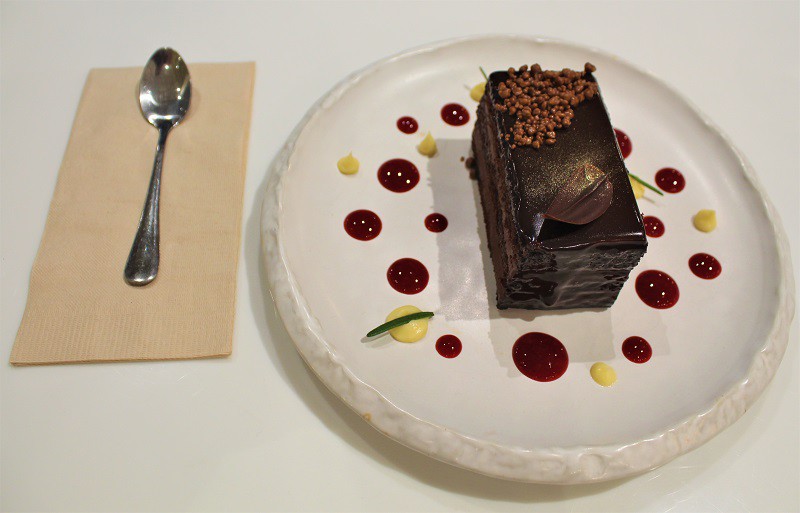 Currently, several other up-and-coming makers are producing chocolate in Thailand using Thai cacao, though I suspect that there will be even more soon. It's unclear where they're based, as they don't have permanent cafes, but three of these makers are Chocolasia, Kai Cocoa, and Metha Chocolate.
Thai cacao-centric chocolate makers in Bangkok are Xoconat, Sarath N. Chocolatier, Shabar Chocolate, Kad Kokoa, and PARADAi. Going against the grain is another Bangkok-based maker using imported cacao to make sugar-free chocolate: Böhnchen Chocolate.
Outside of Southeast Asia, there is a Thai expat in Toronto (Amy from Mojihouse Coffee and Cacao) exporting Chumphon 1 cacao from a collective of farmers in the northern Chiang Rai province. One American company (Parliament Chocolate) is also using Thai cacao for one of their bars, for as long as it lasts.
These days there are so many Thai bean to bar chocolate companies popping up, even far outside of the main cities, that it's difficult to keep up. For example, in the countryside you'll find Matchima Chocolate and Vinn Chocolate, both of which opened in 2019. Thai chocolate culture is very young, and growing very quickly.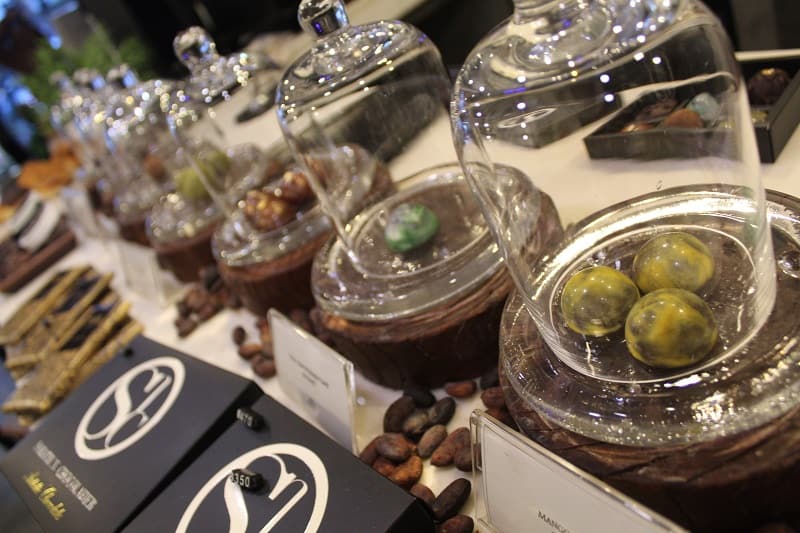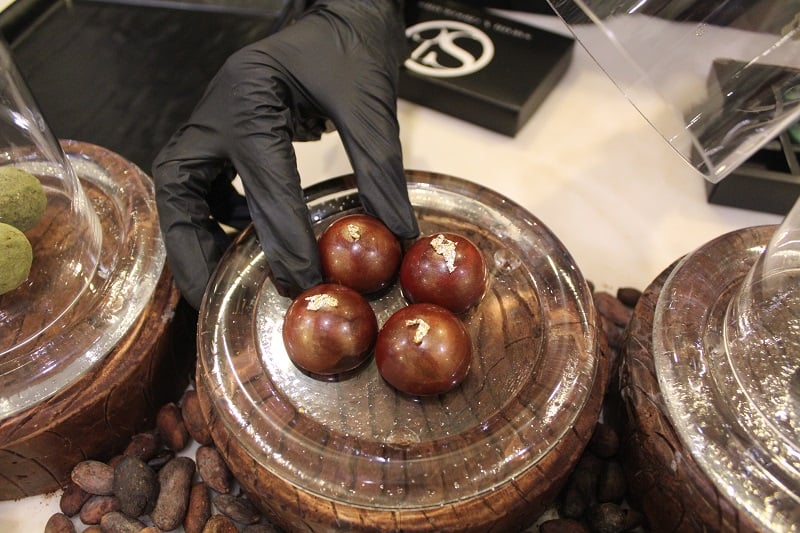 The Future of Chocolate in Thailand
Cacao has a relatively short history in Thailand, so most of the chocolate culture there is European-based. Most all of the chocolate in Thailand is imported and of low quality, though the last couple of years, the country has seen a huge shift in that paradigm.
With now over a dozen chocolate makers, Thai chocolate culture is undoubtedly on the up and up. There's actually a lot of potential for cacao to become a high-earning crop in Thailand.
But as a researcher at the Chumphon Horticultural Research Center told me, "there's not enough information sharing on the sides of buyers and farmers, so the farmers aren't growing as much as or as well as they could to meet demand."
Without any cultural history of cacao cultivation of production, Farmers don't judge the value of cacao on anything other than income potential. When selling seedlings brings in so much more income, it's hard to see the bigger picture of what will happen when local chocolate makers no longer have a supply of cacao.
Some makers are already turning to outside sources for cacao, in the hopes of saving their businesses. But only time will tell if the farmers can turn around the industry in time.
Have you ever tried chocolate made with Thai cacao?
---
Save this for later!