I've just returned from another week on Taiwan.
Originally inhabited by aboriginal peoples, and opened to the world by Dutch and Spanish explorers in the 1600's, Taiwan is a stunning tropical country. For most of its modern existence, it's also been under varying degrees of Chinese rule. The dominant language is still Mandarin, but many people speak English there, especially those living in cities. In the south, many people speak Taiwanese or even an indigenous language, like Hakka.
If you're uncomfortable without English speakers around, I'd recommend finding things to do in Taipei. Chinese culture and fashion have had a big impact upon the aesthetic and choices of the people, especially when it comes to food. Fancy and expensive edible gifts have become the norm, as they have in metropolitan China, and craft chocolate is definitely leading the pack.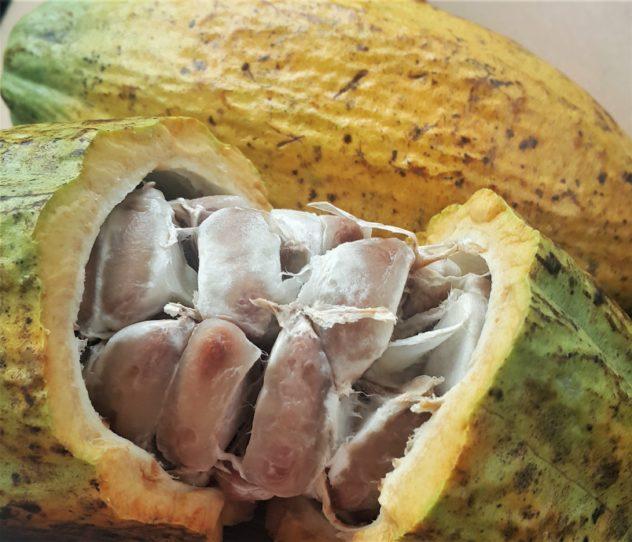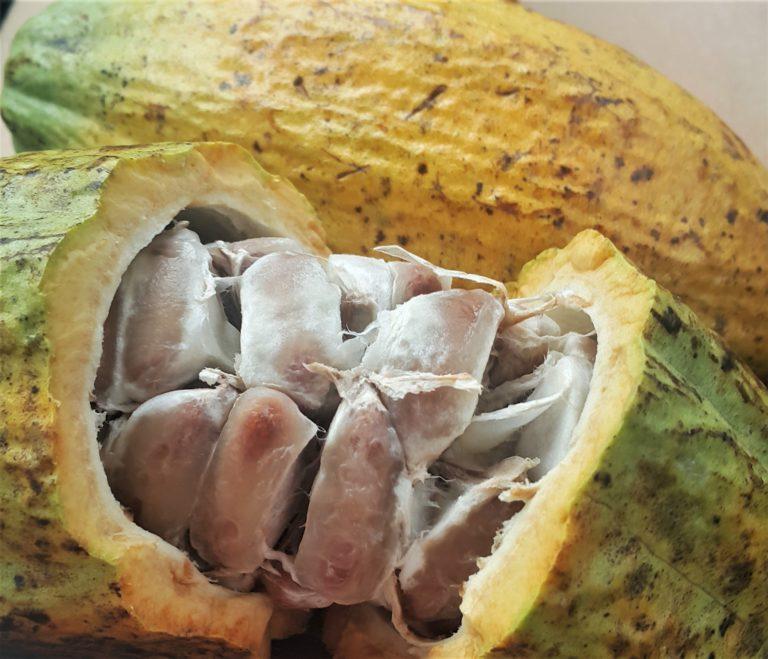 Cacao Along Taiwan's West Coast
I found nearly forty chocolate shops in Taiwan, some with multiple locations. Six of these spots are cacao-growing farms of varying sizes, dotted along the west coast. Most all of the cacao grown on the island is of the hardier forastero variety, and it's in high demand; I tried three separate times to buy a kilo, to no avail.
The raging cacao industry is actually a response over the last fifteen years to the unsustainable betel nut industry which dominated Taiwan at the end of the last century. Boy am I glad betel nuts went out of style, because I've heard that they don't make nearly as good chocolate.
These days in Taiwan, DIY workshops are all the rage, and French-style anything is in vogue. Whether you're planning your trip around the coolest chocolate spots, or seeking a unique perspective on Taiwanese culture, at least one of these six of these chocolate spots should make it on to your list. TL Chocolates opens the earliest, and if you make an appointment for 8am, you have plenty of time to grab a traditional Taiwanese breakfast on the way there.
This itinerary takes you over 200 miles in about 4 hours of driving, if you decide to undertake this itinerary in one day. It's do-able in that time period, but we'd advise you to stretch it out and take some time to also appreciate the surrounding areas. If you're a cacao farmer or looking to start growing the brown gold, you may also be interested in contacting Pingtung Hakka Cacao Association, Coffee & Chocolate Taiwan, or Monisa's Cocoa Garden.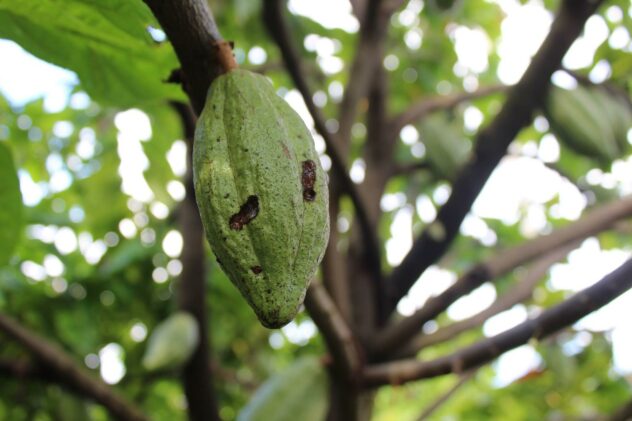 8am-9am, in Nantou County
Even with several days of Taiwanese hospitality under our belts, my friend and I agreed that TL Chocolates owner Tseng Cheng Tung is one of the nicest people we had met. Nantou county is his birth place, and the only logical place for him to retire from teaching. On his 4 year old farm, he maintains around 800 cacao trees varying from 4-year-old producers to seedlings. We asked the month prior if we could visit his cacao farm, not really knowing what to expect from his Facebook page. When we arrived, he gave us a tour of his farm and we all chatted for about an hour in slow English.
But this was not the end. Mr. Tseng had prepared some home made chocolates with cut local fruit and cacao pulp jelly and chocolate milk jelly just for the two of us. For all of his preparation, he asked for nothing in return. He said that "you come all this way just to see my farm, and I must show you" it. At a latitude of 24 degrees, it is likely one of the northernmost outdoor cacao farms in the world. To visit, I'd recommend renting a car and parking on the property, though you can also take the bus from Taichung or Nantou and he will pick you up for an adult DIY workshop.
Offerings: DIY Chocolate Workshops with a farm tour.
Address: 名間鄉東湖村虎坑巷47號, Nantou (Google Map)
Tel: +886 937 888 476
Hours: 8am – 4pm, Daily (visits booked by appointment through Facebook, only with more than 7 days' notice
9am-11am: drive ~2 hours to Chiu's Coco, in Pingtung County.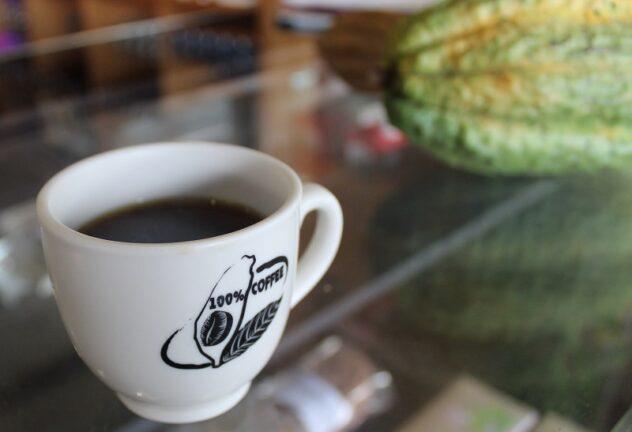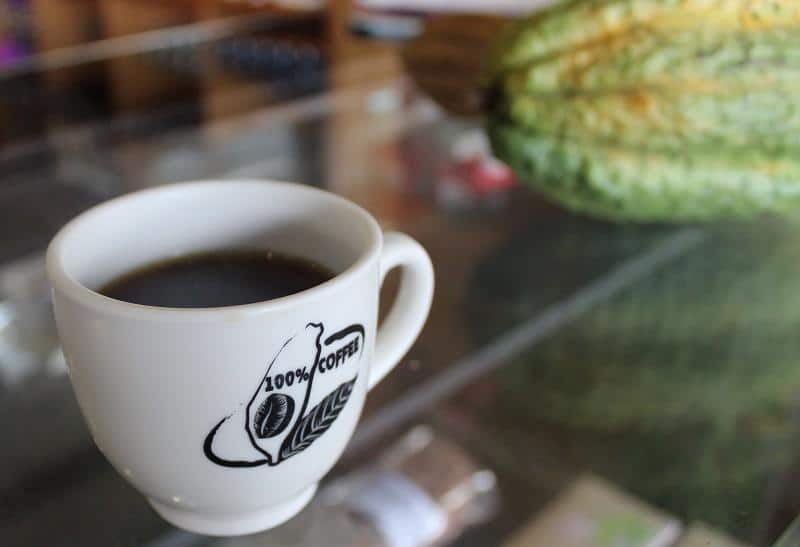 11am-11:45am, in Pingtung County
This is a spot that we missed this time around. In fact, we didn't even know about until we made it back up north to Chomeet, a sweet little residential chocolate workshop just south of Taichung. They told us that it was the first bean-to-bar maker in Taiwan, and that they were very inspired by the owner. Chui is his name, which he lends to the catchy slogan "Choose Chiu's," and he has spent the last 14 years dedicating his life to bringing cacao as a viable crop to Taiwan. It started with a desire for quality Taiwanese coffee, but spread quickly towards other fine flavor raw materials.
He was the first bean-to-bar chocolate maker in Taiwan, and on top of that, he uses his own cacao in his creations. Chui planted his first trees in 2003, and harvested his first crop in 2006. On their property, you can see the cacao trees he still maintains, and try some of his tree to bar chocolates and ice cream, as well as learn all about how they are made and the history of Taiwanese cacao.
Offerings: tree-to-bar chocolate bars & bonbons, ice cream, and cosmetics.
Address: 921, Pingtung County, 內埔鄉, 富田村富豐路328號 (Google Map)
Tel: +886 930 475 009
Hours: 10am – 9pm, Tue-Sun.
11:45am-12pm: drive ~15 minutes to JCCW.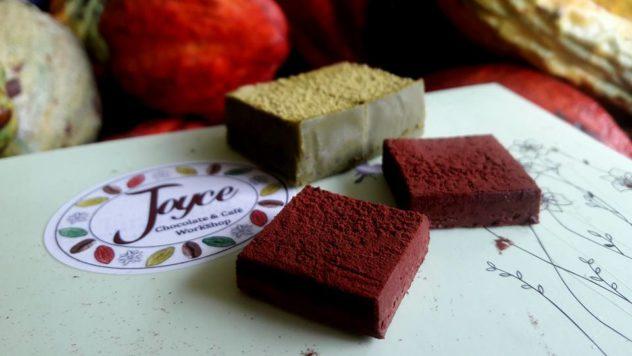 Photo credits: Joyce Chocolate & Cafe Workshop. All Rights Reserved.
12pm-1pm, Pintung County
This is the second of three stops clustered together, just outside of Khaosuing City. It's the only other spot on this list which we didn't hear about until it was too late. The Cafe has an open house of sorts every Sunday from 1pm-6pm, during which Joyce demonstrates the chocolate making process (with samples, of course!), and then shows off the cacao and coffee trees growing just outside the cafe windows.
Joyce has also traveled around the world to learn about cacao harvesting and chocolate making, and would make a good resource for chocolate junkies. This will be one of my first stops next time I make it to southern Taiwan.
Offerings: tree-to-bar bonbons, Taiwanese coffee, cacao & coffee farm lessons, and chocolate workshops with an overview of their chocolate making process.
Address: 中柳路396巷7號 Pingtung (Google Map)
Tel: +886 938 802 019
Hours: Sundays from 1pm – 6pm, or by appointment.
1pm-1:15pm: drive ~15 minutes to CocoSun.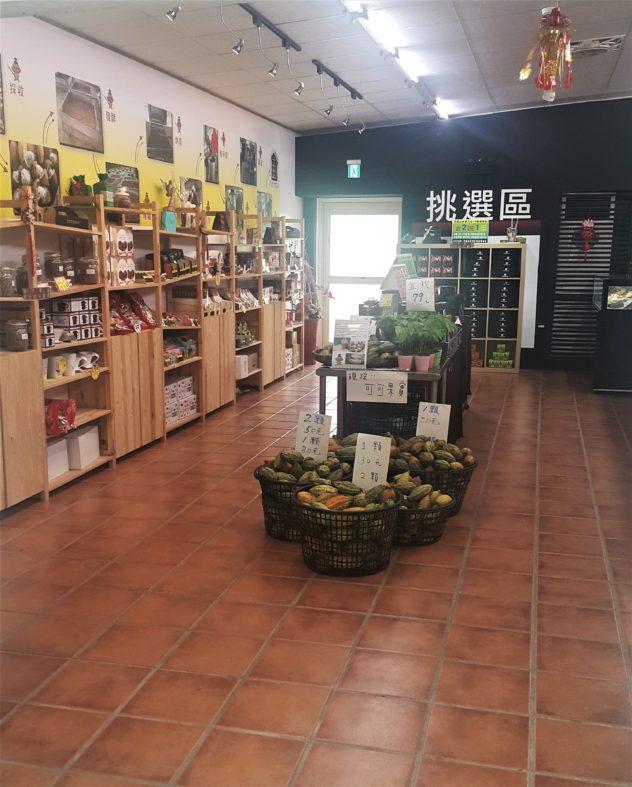 1:15pm-1:45pm, Pintung County
Cocosun is well-known locally for their "chocolate enzyme drink," which is made with fermented cacao nibs and basically tastes like white wine in chocolate slushy form. They also make bean-bar chocolate on-site. Intrigued? Their brand, Jobar, uses Ecuadorian cacao, while the company relies upon Belcolade couverture to make their bonbons. The property is quite large and photogenic, especially under the shade of the cacao trees dotting the property.
Cocosun even sells fresh cacao pods in their gift shop, some of which we snagged as road food during our drive back up north. Those who are interested in talking shop about cacao should seek out Joseph, a knowledgeable employee who studied in the US and speaks perfect English. If you're heading over hungry, Joseph himself is also in charge of the farm's small brick oven pizza restaurant.
Offerings: bean-to-bar chocolate, flavored bonbons, DIY Chocolate Workshops for kids, chocolate wine slushies, brick oven pizza, and forastero cacao pods.
Address: 923, Taiwan, Pingtung County, Wanluan Township, 復興路2之55號 (Google Maps)
Tel: +886 8 781 0569
Hours: 9am – 6pm, Daily (open until 6:30pm on weekends)
1:45pm-2:15pm: drive ~30 minutes to Fuwan Chocolates.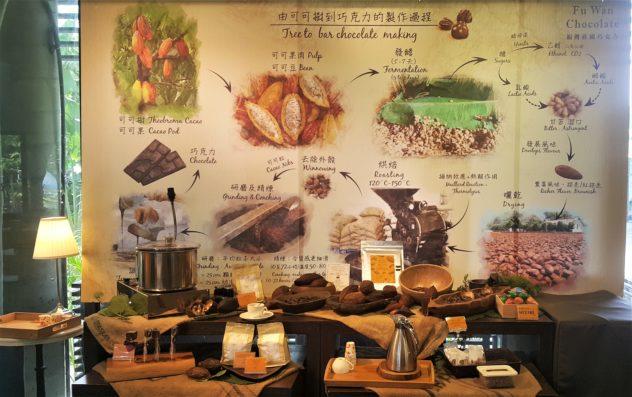 2:15pm-3:30pm, Khaosiung City
Unlike most international award-winning chocolate makers, Fuwan Chocolate's facility is rather nondescript. Parking is abundant, as is open space. Their grounds serve as both a guesthouse with tranquil gardens and a farm-to-table restaurant, and a bean-to-bar chocolate factory. While you wait for your meal or afternoon tea & truffles, you can walk over to the farm and check out their own little cacao plantation in the making.
But if you want to make this a quick visit, just follow the yellow signs. Head straight to the building near the back, past the restaurant and hall of chocolate infographics, and you'll find the air-conditioned chocolate workshop. There they have a picture menu of their offerings, complete with prices and the ability to taste almost everything, including the bars they make from Pingtung cacao.
The brand has become known for their tree-to-bar Taiwanese chocolates, of which they sell 6. But they also import Papua New Guinean and Ecuadorian cacao to craft bean-to-bar chocolates, and they create scrumptious flavored bars with French chocolate. The staff is very nice, but didn't speak much English and work valiantly through Google translate. The internationally-recognized company is located off of a nondescript road, so pay extra attention when looking for the turn.
Offerings: award-winning bean to bar chocolate, afternoon tea with locally-inspired bonbons, chocolate-covered fruits, mendiants, Chocolate Making DIY, Guest House
Address: 屏東縣東港鎮大鵬路100號, No.100, Dapeng Rd., Donggang Township, Pingtung County, Taiwan 928 (Google Maps)
Tel: +886 8 835 1555
Hours: 9am – 6pm, Daily.
3:30pm-5pm: drive ~1.5 hours straight down the coast to Uncle A-Shin's Choco Farm, savouring that view.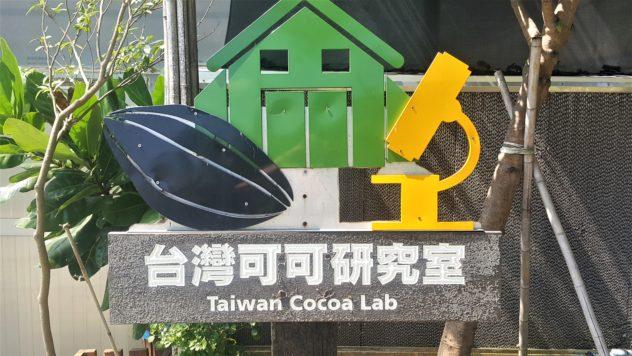 5pm-6pm, Kenting (Pingtung County)
This last stop is by far the largest and most cutesy of the bunch. Well before you arrive, you will encounter a multitude of signs along the highway, enticing you their way. Four times a day they have performances by local indigenous people, and staying at the resort across the way will garner discounted entrance. But what really draws in the locals are the kids' DIY workshops. Classes range from chocolate making to herbal experimentation, and the farm offers a NT$100 discounts on their food or classes, in the form of coupons printed on their NT$200 admission tickets. Kids under 3 are free.
But what draws in the international crowd is the promise of their chocolate. Wandering across the plantation earns you bursts of AC every time you enter a room, with plenty of wide open space in between. After a long walk, settle in at the cafe. If you make this trip in reverse, I'd recommend the Taiwanese coffee, and some truffles and house-made ice cream at any time of day.
We had a smattering of their chocolates, and I was supremely impressed by each one. The translated conversation I had with the barista promised that their products are made with Taiwanese chocolate. Nothing we tried was too sweet, and it appears that they make everything on site. The only issues we had were the heat and sparsity of pods on the trees, but I would definitely head back there again. Don't be deterred by the establishment of an entrance fee, because it's your ticket to deliciousness.
Offerings: DIY Chocolate Workshops for kids, performances by indigenous peoples, a massive air-conditioned gallery of chocolate making instructions, Taiwanese coffee & drinking chocolate, locally-flavored ice creams & gelatos, self-guided farm tours, house made chocolate bonbons, and a gift shop with various items including roasted cacao beans in tiny quantities.
Address: No. 27-8, Wanli Road, Hengchun Township, Pingtung County, Taiwan 946 (Google Maps)
Tel: +886 8 886 9696
Hours: 9am – 6pm, Daily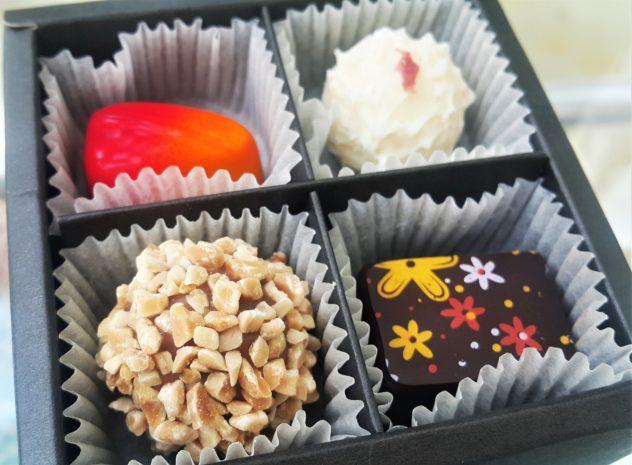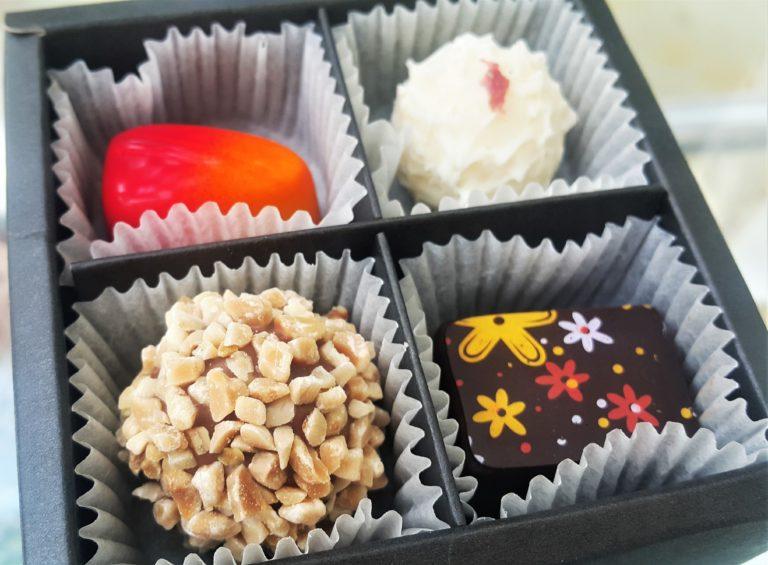 Congratulations! You have just arrived at the southern tip of Taiwan in time for sunset & sundaes on the beach, or a trip to Kenting's delicious night market for fresh fruit and delectable dumplings. Chinese foods may dominate on this island, but that won't stop Taiwan from crafting its own mark and flavours in the chocolate world.
With all this new cacao growing in unexpected parts of the world, we will see more & more quality chocolate in developing chocolate markets in the years to come. We need more sources for quality cacao, and in Taiwan's small scale cocoa production, I believe they found another good one.
---
If you liked this post, please pin it so that others can find it, too!
Have you ever been to Taiwan? Where is the strangest place you have ever eaten chocolate?