I've been trying to find the perfect chocolate sauce recipe for years. Through many trials & errors with various types of chocolate, fat ratios, and even thickness of chocolate bits, I've finally got this simple chocolate sauce recipe down to an art. All you need is a spoonful of milk, some of your favorite chocolate, and a bowl of ice cream. This is the simplest chocolate sauce recipe you'll ever find.
Can It Really Be That Simple?
It really can. The key to this chocolate sauce recipe is in sourcing really good chocolate, ideally a craft chocolate with no more than 3 ingredients. If you can handle soy, a chocolate which lists "soy lecithin" on the ingredients list isn't necessarily bad or mass market. Just don't use chocolate chips unless you can chop them up very well, as their size doesn't melt well.
The problem with using crappy chocolate of any form, however, is that this sauce is destined to be the star of any dish. Whether you're putting it on top of ice cream, on brownies, or filling cupcakes, the chocolate's flavor will dominate. If you're not sure where to buy high quality chocolate, I've written a post on where to buy craft chocolate online.
Oh, and don't forget to also use a high quality ice cream! I get mine from a local ice cream dealer, all made near my town with ingredients sourced locally. I love to eat their Honey Lavender flavor with the sauce made from this recipe. But if you can't find top-shelf ice cream, just go for the plainest vanilla you can find, and cover it in your delicious chocolate sauce. Your taste buds will thank me later.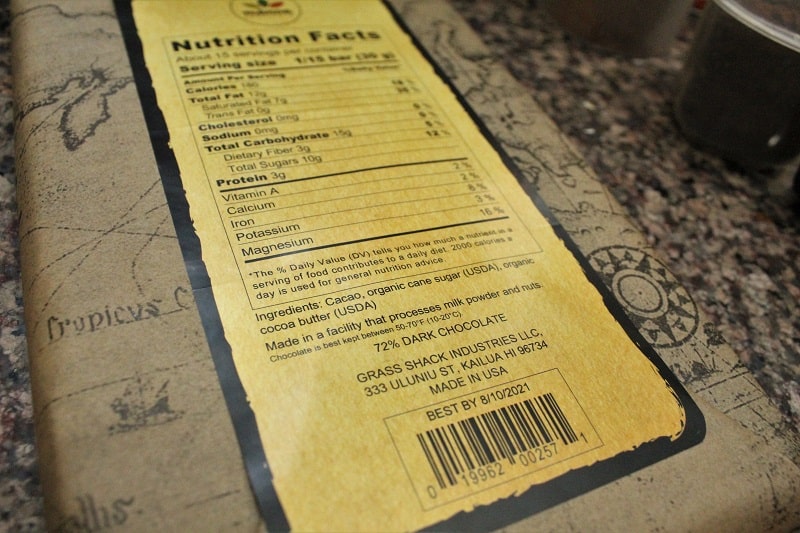 Yield: 1
2-Ingredient Chocolate Sauce Recipe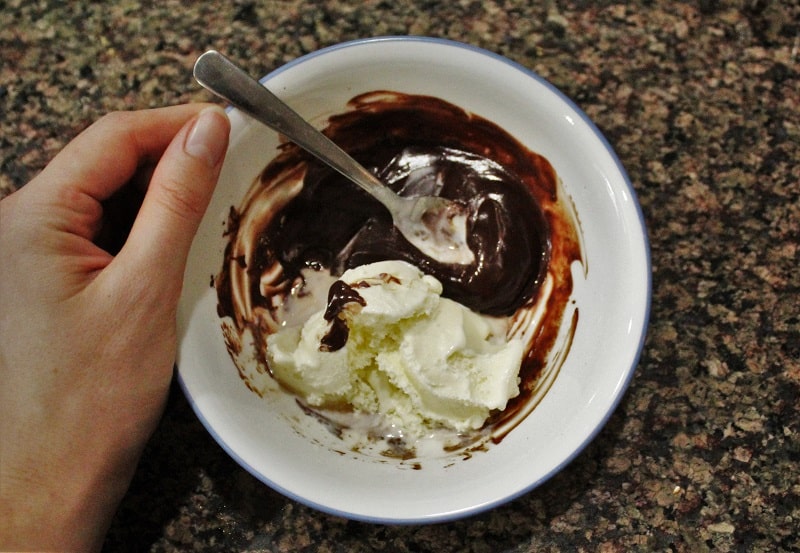 A quick & simple chocolate sauce, perfected over many years and many microwaves!
Ingredients
1 Tablespoon milk of choice
1oz/28g chocolate (dark or milk)
Optional: dash of sea salt
Instructions
First, get your ice cream bowl and spoon out onto the counter, along with the knife and cutting board. Measure off or weigh how much of the bar you need, and put that onto the board. Chop the chocolate across, so that it splinters like in the picture below. Pieces should measure no more than 5mm across and be quite thin.
Next, measure out a tablespoon of milk into the ice cream bowl and heat the milk in the microwave for 10-15 seconds, depending on the power of your microwave. Once the milk is heated, immediately pull it out of the microwave and add in the chopped chocolate in the thin layer, as seen below.
Let the ingredients sit for two minutes. This time allows the chocolate to slowly melt rather than being burned or mixed together while at very different temperatures. If it doesn't stand, the fat and the solids will begin to separate, and it will look like curdling milk.
After two minutes, stir vigorously with your spoon to combine all of the liquids and the solids. Within 10 seconds, your sauce should start to look like the shiny liquid in the bowl below. If you like the flavor contrast it brings, consider adding a dash of salt to your sauce before mixing, and definitely before you add any ice cream.
Add ice cream or eat directly from bowl, and enjoy.
Notes
Keep an eye on the milk so that it doesn't start cooking in there. If it's still not warm enough, heat it in 5-second intervals until it's quite hot, but not burning.
Use a milk chocolate if you prefer a sweeter sauce, or if it pairs better with the flavor of the ice cream. Or if that's just all you have laying around.
You can use a white or ruby chocolate in the recipe, but a white chocolate would likely be lost against the flavor of the ice cream, and ruby chocolate would likely clash with any ice cream flavors.
To make an even softer and creamier chocolate sauce, replace the tablespoon of milk with a tablespoon of heavy cream, and make it a heavy dash of salt (if you choose to add salt).
---
Pin this homemade chocolate sauce recipe for later!