Small chocolate businesses need our support now more than ever. So in an effort to make your shopping easier (& with the holidays in mind), here are the best places to buy craft chocolate online. We go from the best craft chocolate on Amazon to online craft chocolate retailers (sorted by country and region). There are even unique gifts for chocolate lovers and bean to bar chocolate subscription boxes.
My focus is on bean to bar, craft chocolate makers, known for focusing on the quality & ethics of the cacao beans they use to make their artisanal bars, as well as the unique flavors therein. So back when I first discovered that there was craft chocolate on Amazon, I spent hours sorting through the varied options.
Before a few years ago, most online craft chocolate retailers could only afford to sell to their local market, so international options were scarce. Now there are dozens of online craft chocolate retailers, gifts for chocoholics, as well as bars you can buy individually on Amazon.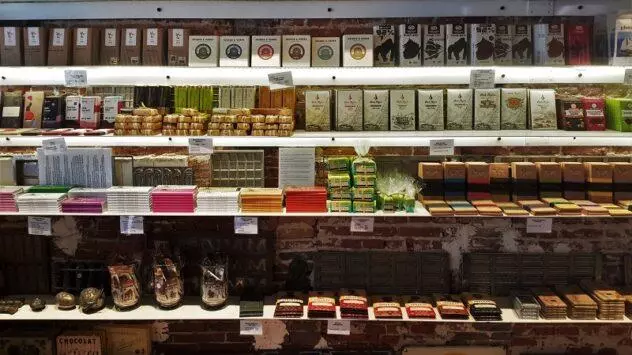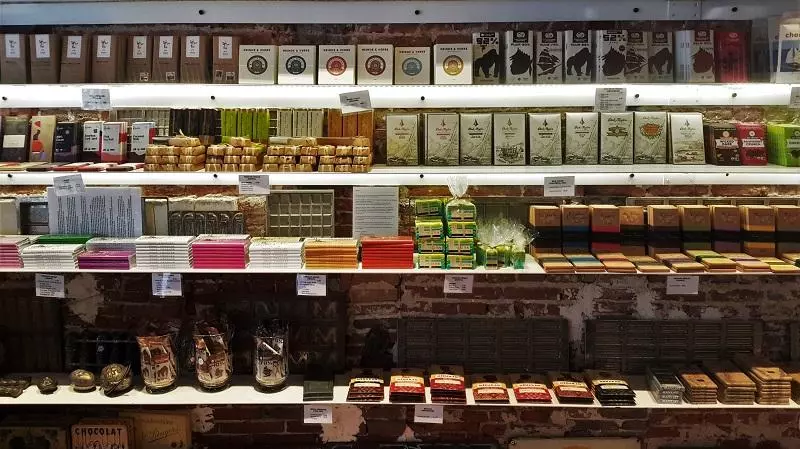 7 Ways Chocolate Businesses Can Attract Customers
From upping your social media game to doing giveaways and discounts, the high season is upon us! Remember that when you choose to support small local businesses, this means supporting your neighbors who work there and the dreams of the people who started that venture.
The pandemic was actually a boon for those who prefer to order chocolate online, but it is tiring work to fill orders. Personally, my family isn't big on eating out, and generally we only buy chocolate online or in person for special occasions.
But over the last three years, I've sent more chocolate to friends and relatives than I could ever keep track of, and these are the tactics that got me post-pandemic, too.
Put up less expensive versions of products on your website, sans packaging & bundled in special sets, like French Broad Chocolate's "Naked Bars" sets, which just feature their inner wrapping.
Sell virtual gift cards in the form of a code that can be redeemed on a later date, preferably a much later date, like at The Chocolate House in DC.
Offer free local delivery and contactless pickup on-site from your factory, or even just bundled delivery with nearby local businesses, like restaurants and other small artisans.
Automatically apply free shipping to all domestic orders over a certain amount, like Madhu Chocolate is doing for orders over $50.
Keep a pop-up on your site, offering a discount on customers' entire order for the duration of a specific month.
Do weekly or bi-weekly scheduled online chocolate tastings with customers, like Chocolate Noise did with some makers she's partnered with. Makers can offer special weekly tasting bundles for loyal customers to purchase and participate. Dandelion Chocolate also did monthly virtual tastings, sharing bars made by other makers who use the same origins as they do, tasted together with the actual farmers who produce the cacao.
Create new and unique products, like the chocolate bread from Bellflower Chocolate, a limited-edition creation which was delivered by bike in the Seattle area.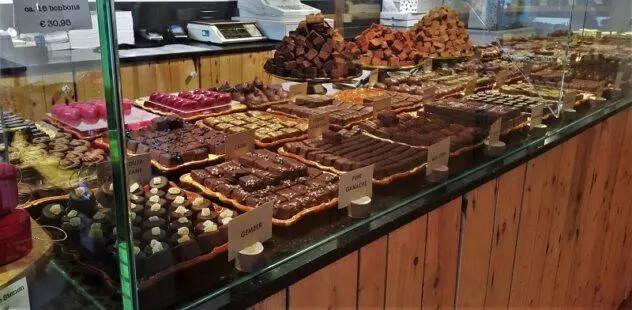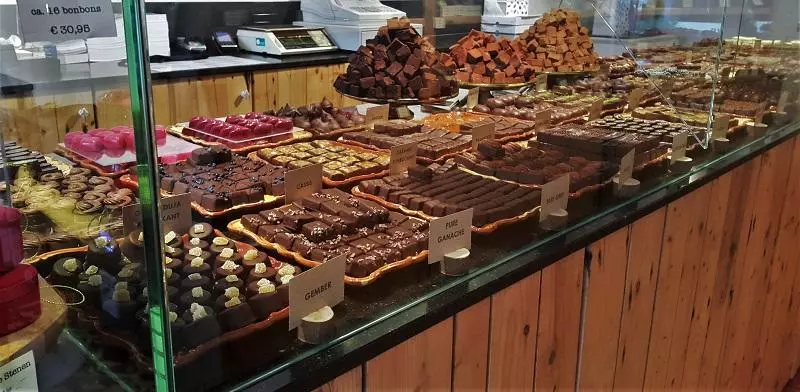 Buy Chocolate Online (Amazon)
Not only is there now a vast selection of craft chocolate to buy online, but many of these bars are being sold directly from the makers. Amazon certainly still takes their cut, but with the convenience of shopping for everything in one place, many more people are now exposed to quality chocolate.
These are some of the most tempting bars I've been lucky enough to get my hands on over the past several years.
Dark Craft Chocolate Bars
Pralus Chocolate, Madagascar 75%: Made with malagasy cacao from the farm of Francois Pralus himself, this bar is bright and strong, but undeniably sweet. Crafted in the traditional French style of extra cocoa butter and a heavier roast, this is one of my favorites of Pralus's many origins. Read my full review here.
Dick Taylor, Belize 72%: Not only is their packaging gorgeous, but it's functional, too! Their Belize is made with cacao from Maya Mountain Cacao, a farmer cooperative in southern Belize, and one of my favorite single origins. With chocolatey base notes and a fruity finish, this is a bar I can't wait to add back to my own collection.
Pacari, Fig Bar 60%: This is one of my mom's favorite Pacari bars. When I lived in Ecuador I tried all of the bars available in his collection at the time, and this was one of the more popular choices amongst my friends.
The fig flavor is imparted in the form of bits of dried fruit, contrasting nicely with the sweet 60% cocoa that characterizes all of this Ecuadorian maker's flavored bars. It's a very affordable introduction to craft chocolate, made all that much sweeter by being made in country of origin. Read my full review here.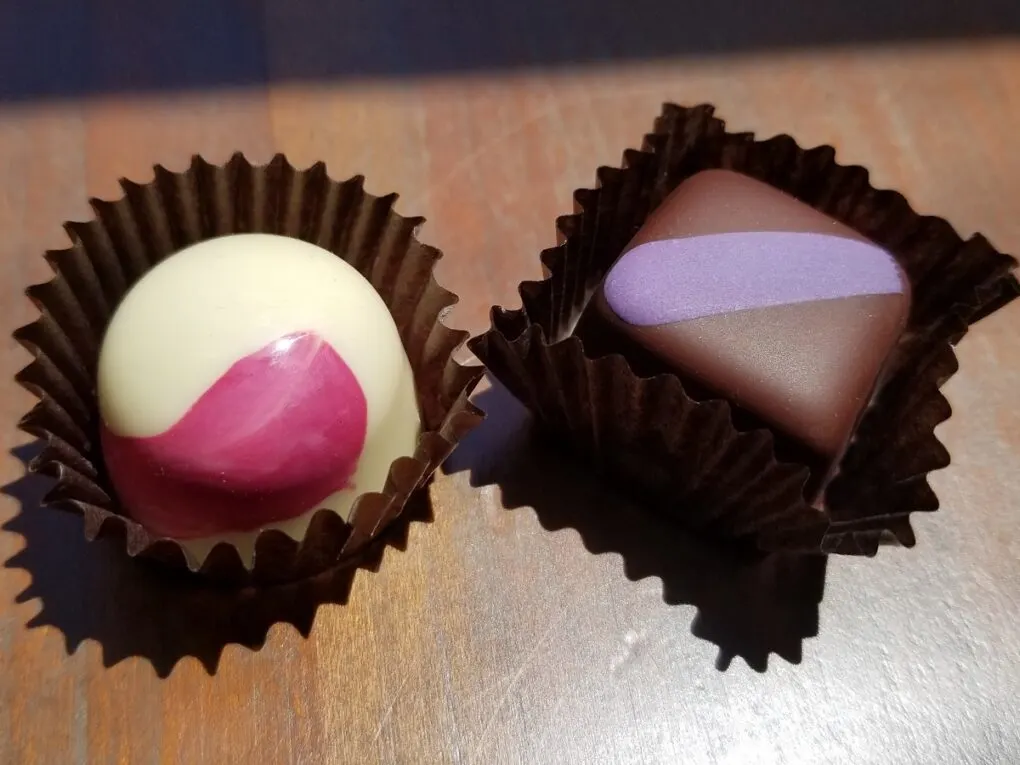 Milk Craft Chocolate Bars
Michel Cluizel, Milk Salted Butter Caramel 45%: Gourmet milk chocolate almost sounds like a misnomer, but if you've heard of Michel Cluizel, then you know that it's anything but.
This darker milk chocolate offers up the sweetness of a traditional milk chocolate, but with a deeper flavor and crunchy bits of French-style caramel. You wouldn't dare use this bar for s'mores.
French Broad Chocolates, Malted Milk 44%: As in love with this company & their online chocolate store as I've been for the past half decade, it won't take but a few bites of this bar to get you aboard the love train.
Imagine that the malted milk balls of your youth got a grown up makeover, and not only tasted more like chocolate, but had the ethics of Mother Teresa, to boot. Read my full review of the brand here.
Manoa, Goat's Milk Chocolate 69%: It would be difficult (read: impossible) to overstate how much I love this bar, not because of who made it, but because of how addictive it is.
Despite the high cacao percentage, the splash of goat's milk adds a subtle spice that emphasizes the sweet cocoa in this milk chocolate. Even better, it's basically a health food at 69% cacao. Read my full review here.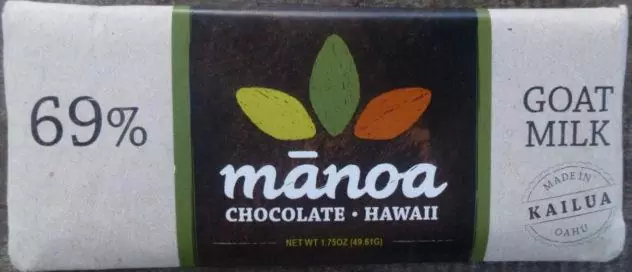 White Craft Chocolate Bars
Omnom Chocolate, Lakkris + Sea Salt: Straight outta Iceland, Omnom has been making waves in the craft chocolate world for some time now, most notably with their creative inclusion bars.
This one in particular tastes a lot like the homeland, salted licorice at the forefront and sweet melty white chocolate in the background. Bonus: the packaging design is guaranteed to blow you out of the water!
Fruition, Toasted White: Though it's become a trend over the last few years to create a browned butter milk chocolate, I have yet to be informed as to why caramelized white chocolate is still uncommon.
It's admittedly simple to do, and the caramel flavor of this toasted white chocolate proves that this sweet goodness should be available everywhere.
Milkboy, White Chocolate 26%: Milkboy is a relative newcomer in the fine chocolate space, and their bars sit at a more affordable place on supermarket shelves, but they still make quite a tasty product.
This bar in particular is a rather sweet and milky white chocolate, which lives up to the brand's namesake & the Swiss ideal of a truly milky chocolate. It manages to bring a delightful cocoa aroma together with a smooth texture and dairy-rich finish.
Raw Vegan Craft Chocolate Bars
Raw food, and especially raw desserts are becoming increasingly popular in the vegan and paleo and raw food communities. This obsession has continued its reach into chocolate, and the parents of this movement in chocolate are none other than Raaka.
The Brooklyn-based company has been making raw vegan chocolate for the last several years, and has finally broken into the Amazon market, where you can buy chocolates online from a variety of sellers.
This Best Sellers Trio offers a great mix of the flavors the company has on offer, from the creamy cocoa of the coconut milk bar to the light acidity in their pink sea salt bar and the strong whiskey tones in their bourbon cask aged bar.
This would make a great holiday surprise! Check out my review of a different Raaka bar, their Strawberry Basil, here.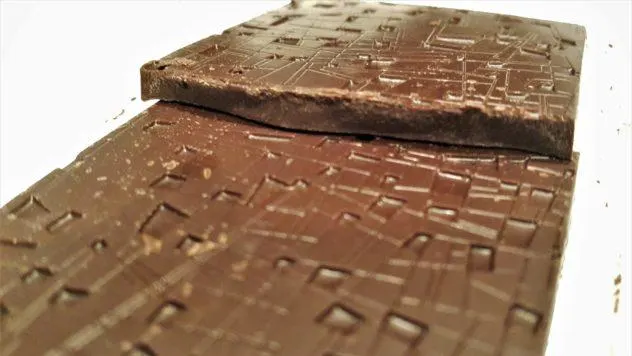 Best Online Chocolate Websites
These are a collection of sites where you can order chocolates online to be delivered straight to your door, curated as I have done so above, and with a much wider selection.
I recommend you buy directly from makers themselves when possible, so to also check out this list of chocolate-making members of the Fine Chocolate Industry Association.
Since the craft chocolate scene is bigger in North America than anywhere else, you'll notice that they have a much larger selection relative to the best online chocolate websites noted below. But no matter where a chocolate shop is located, if they offer a range of international shipping, I've starred their entry.
North America: Craft Chocolate Online
Europe: Craft Chocolate Online
Asia: Craft Chocolate Online
Oceania: Craft Chocolate Online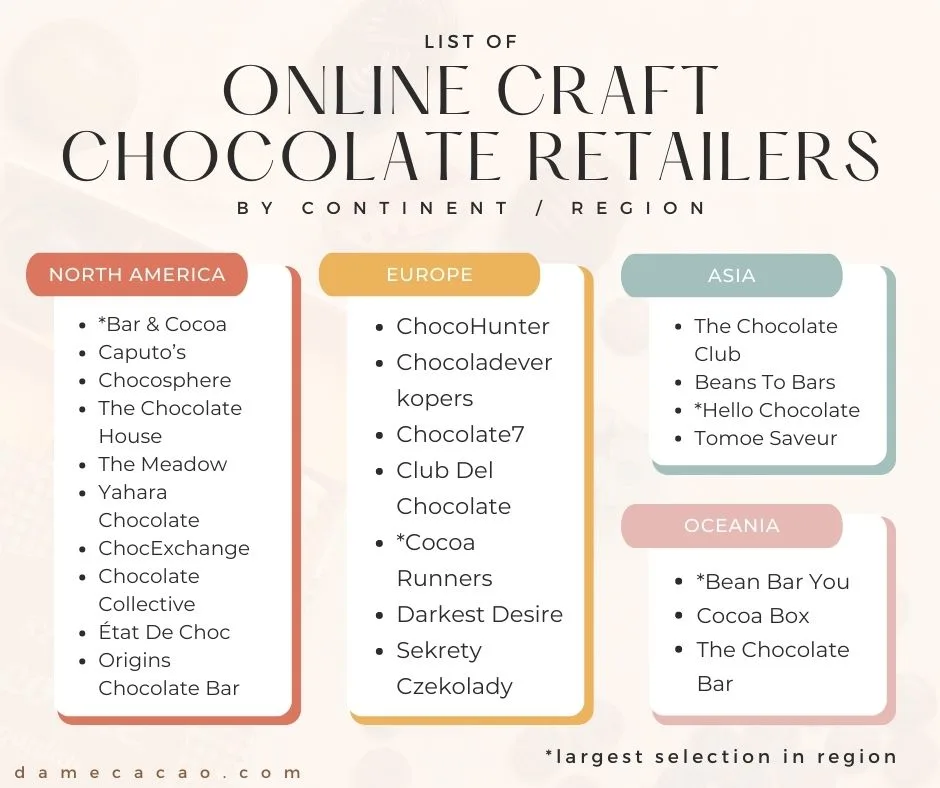 Craft Chocolate Subscription Boxes
There are a huge number of craft chocolate subscription boxes available these days; it's all the rage to buy chocolates online for friends and family. A few of the online craft chocolate sellers mentioned above also have a physical store and/or a subscription box.
However, many companies have been working to craft the best chocolate subscription boxes for their local market, some for several years now. Deliveries range from once a month to once every three months, depending on when you think you'll need another fix.
Subscribing to a maker or a service not only makes a great gift for you or a loved one, but it's also a way to vote for better chocolate with your dollars. Put your money where your mouth is; pun intended. Below are eight notable subscriptions to consider joining or giving as a gift, both from chocolate shops & direct from makers.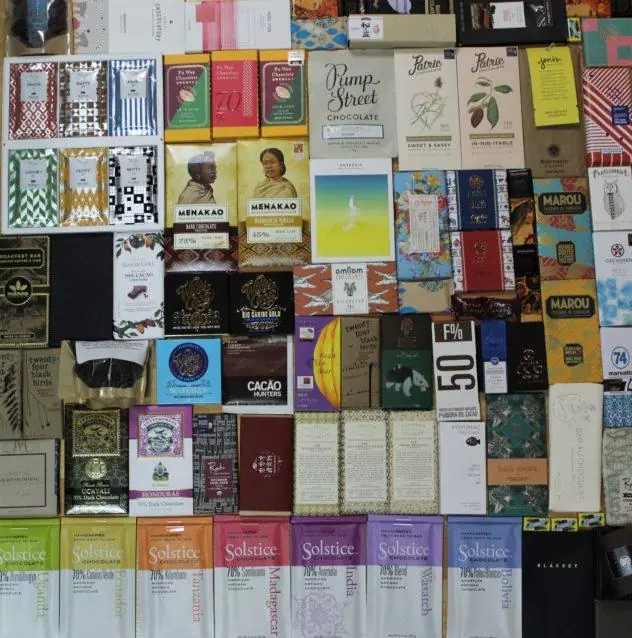 Lonohana /// 3 bars delivered every other month, $300USD for the year. One of the first chocolate makers in Hawaii, Lonohana uses their own Hawaiian cacao beans to craft their exclusive chocolate bars, as well as hand-selected beans from around the world.
These include both milk and dark chocolates, as well as the occasional inclusion of another Hawaiian ingredient. Lonohana's bars started off delicious and have aged well; for those looking to taste Hawaii for less than the price of a plane ticket, I'd highly recommend investing in this subscription box. 6- and 9-bar subscriptions are also available.
Raaka /// 3 bars delivered monthly, $75USD total. Since their establishment in 2010, Raaka has been killing the creativity game and putting out new releases each month, exclusively to their "First Nibs" subscription box members.
Known as the unroasted chocolate company, the base earthiness of Raaka's bars will certainly no appeal to everyone, but the flavors they offer might blow your mind. Turmeric Latte or Waffle Cone bar, anyone?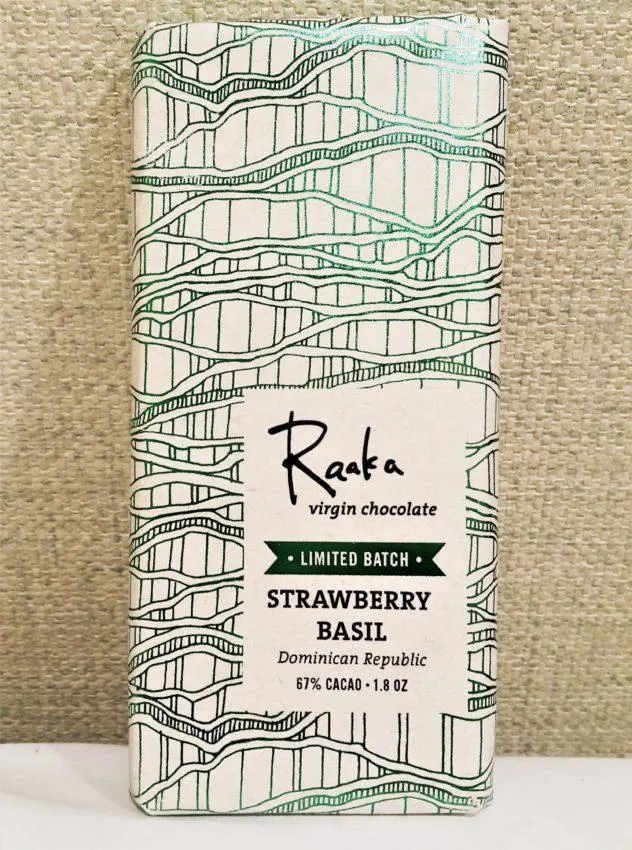 Kekao Co. /// 3-5 bars delivered monthly, $30USD per delivery. Kekao is one of the many craft chocolate subscription boxes which has popped up over the last few years.
Started by a chocolate lover who knew what he wanted but just couldn't seem to find it, the box is curated with the goal of expanding your palate for much less than the cost of a plane ticket. Currently only shipping to Canada and the USA.
Raconte Moi Un Chocolat /// 3 bars a month, €20 per month. For either 3, 6, or 12 months of the year, you could have three bars of delicious craft chocolate delivered to your French address! This young France-based business offers a beautiful selection of chocolates from around the world, delivered to your doorstep every month except for July and August.
Cococlectic /// 4 bars once a month, $38USD. This US-based company offers boxes of 4 or 10 bars shipped at the beginning of every month, with discounts for paying for several months in advance. Shipping to Canada is available for $20 extra dollars per month.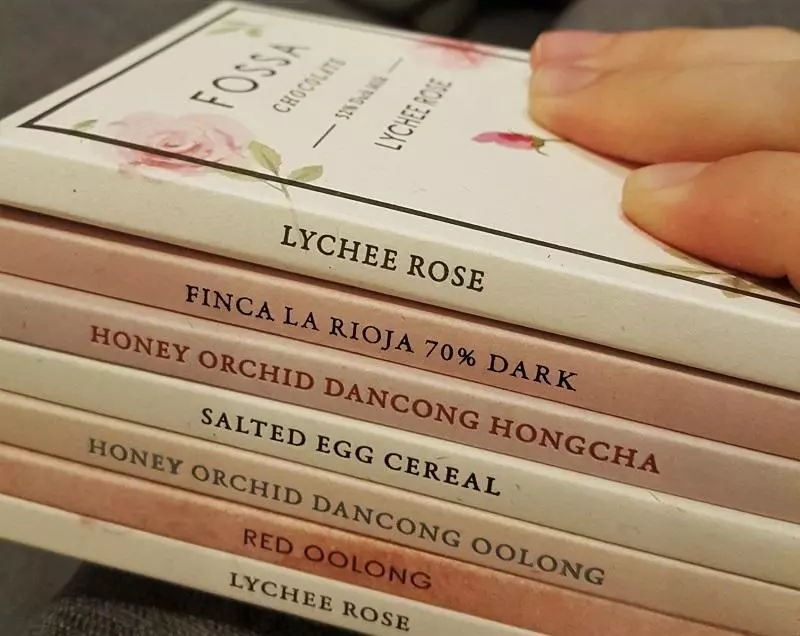 Choba Choba /// 10 smaller bars and subsequently 3 large bars are delivered every two months, $165CHf for the year. Firstly, Choba Choba only delivers to Liechtenstein and Switzerland (where they make their chocolate). That said, the Swiss company is truly bringing quality chocolate back to the place it's rumored to have never left.
Using cacao from the two Peruvian farms with which they work exclusively, Choba Choba has made it their goal to work exclusively with chocolate lovers who share their dream of better chocolate and communities. I think their award-winning cacao and chocolates prove that this dream is becoming reality.
Cocoa Couriers /// 3 bars once a month, $25CAD. Undoubtedly craft chocolate-focused, this Canada-based subscription service has the market pointing in the right direction. If you're looking to create the best chocolate subscription box for a friend, the service also curates boxes of 4 or 5 bars, each $10CAD more than the basic package.
Chocolatl /// 3- or 6- or 12-months of handpicked artisan chocolate bars, price unknown. One of the few retail shops in Europe offering delivery, Chocolatl has been overtaking its home base of the Netherlands with a wide variety of craft chocolate bars, definitely worth the risk.
Purchasing a selection from them many years back is still one of the best chocolate subscription boxes I've ever received, albeit just the once!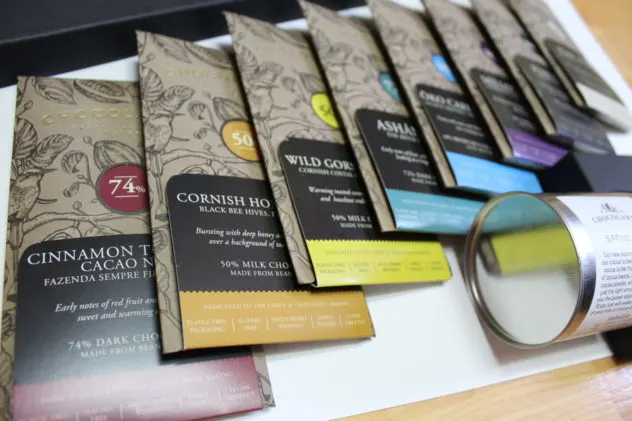 Craft Chocolate Buying Tips
Hundreds of decisions, big and small, go into the craft chocolate bar you're about to buy, from what varietals of cacao to grow and when to harvest to how long to roast beans and the size of the font on the packaging. So now you, as the consumer, have a few decisions of your own to make.
To help ease your decision-making process, I've identified the various factors that go into a chocolate bar, and how to know your preferences even if you've never tasted anything like it before.
Type Of Chocolate
White, milk, or dark (or ruby, sort of). It seems to be a straightforward concept that you'd have a favorite, but for me it depends on my mood. Some days I'm craving something sweet, so I'll go for a milk or dark milk, and other times I want something really chocolatey, so I'll go for a dark or a 100%.
Know how much sweetness you like and go off that; whites and milks tend to be sweeter than darks due to the percentage of the bar that's made up of sugar. But there are some very mild dark chocolates that taste like a milk chocolate and are quite good for you, and vice versa with dark milk chocolates.
Cacao Percentage
The percentage written on the packaging just tells you what percentage of the bar is made from cacao derivatives, both cacao solids and cacao butter. For a real-world application, a 55% dark milk chocolate recipe could be 25% cacao beans, 30% cacao butter, 15% whole milk powder, and 30% white sugar.
This means that a person who normally eats dark chocolate may be surprised by the richness of a milk chocolate and vice versa. When you're buying craft chocolate online for someone else, it's smart to try a few things in the middle percentage-wise.
Same goes for yourself. Ask the seller if they have any recommendations for someone new to craft chocolate, and I'm sure you'll get an enthusiastic list of options in return. Don't be afraid to go dark if they recommend it, too, because some dark chocolates are very mild.
Cacao Origin
There are so many unique cacao origins out there now, and each has a different reputation, though there are always exceptions to the rule (especially as you get into single-region or single-plantation bars). Some common flavors are nutty for Ecuadorian beans, smoky for Papua New Guinean beans, and fruity for Malagasy beans.
If you have already tried enough bars that you know your preferences for (or against) certain tasting notes, then it's worth getting to know these reputations a bit. It's always a fun party trick to explain trends in cacao origins! Or even better, look into some cacao brands and pick a favorite cocoa bean producer.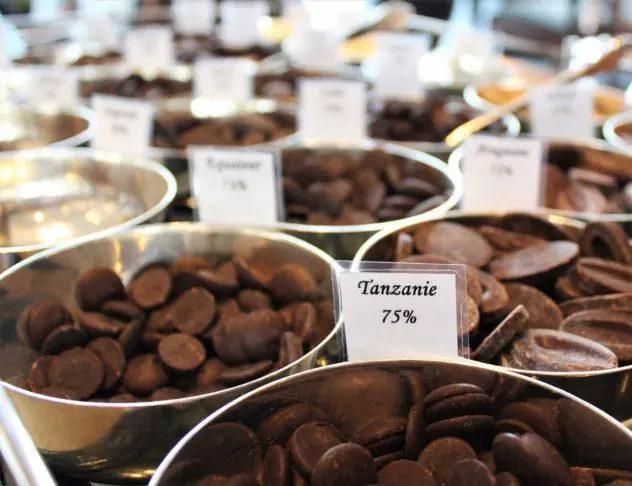 Chocolate Maker
Just like in sports, there will be some people who are better at the art of chocolate making than others. Some people have favorite makers, so you may want to do some digging into who the experts like.
Some makers have wonderful subscription packages that make a neat gift for yourself or someone else so deserving; see above for more info. I won't name any of the makers I'm not a huge fan of, but here are some favorites to look into as a newbie to artisan chocolate bars: Escazú, Solstice, Patric, and Manoa.
Chocolate Price
Some bars are worth the insane-seeming price tag, and some just aren't. It's up to you to find out which those are worth it for you. For me, if a bar is amazing enough I'll shell out as much as $15 apiece.
But some people don't think the same way, and couldn't care less if a bar was $2 or $20 as long as it contains cocoa and sugar. So know your audience and create your own "price to pleasure index," as my friend Lowe (Choco Files) calls it.
Chocolate Inclusions
Are you allergic to something or looking to find specific flavors? Do you want a certain texture to your bar, like the crunch of nuts or the chewiness of dried fruit? Largely it will come down to whether you want a single origin, or something more visually creative.
To understand more about inclusions, read this article on what inclusions are and why to use them, but it boils down to extra ingredients/flavors in the chocolate.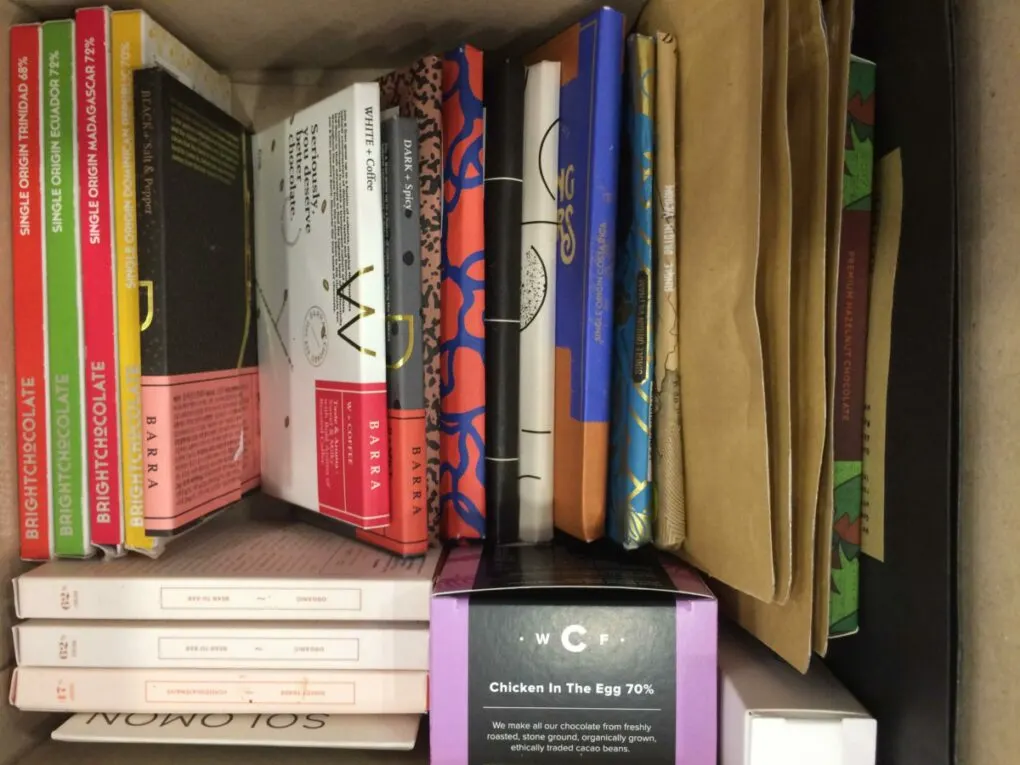 Buyer Idiosyncrasies
Ask yourself honestly if you're just looking for a pretty gift for a friend's baby shower or the like. Do you have a relative who loves certain colors and is not too flavor-focused? Or are there certain out-of-the-box flavors such as lemongrass or rose petals that you want to avoid, maybe due to an allergy or aversion to change?
Do you specifically want something locally-made or made with beans from a certain origin? If you're serious about finding the perfect present, there's a delicious list of questions to consider.
Storing Chocolate: Best Practices
In the hopes that it'll make it longer than a few days, you should keep your bars or truffles in a dry room temperature environment, like a cupboard or on top of the fridge. If they're open bars, put them in a Tupperware or other plastic container.
Even if they're open, bars should last this way for a few months or longer, if you let them. Most chocolate is actually aged before it is put into packaging and sold on the open market, so further ageing your chocolate might not be a bad thing!
It is bad to leave chocolate in extreme temperatures, however, as it could lead to a melting or breaking point. Literally. If you have any questions, feel free to send me a message or see if one of my other resource pages answers your query.
For tips on buying craft chocolate online or elsewhere, be sure to check out my chocolate tasting guide so that you can learn what you want out of fine chocolate. If there are any other bars you think are worthy of adding to this list, namedrop them below! I'm always looking for some quality options to share with you all.
Click here to learn about chocolate travel, the next step in your chocoholic journey!
---
If you found this helpful, please pin it!