Who ever said you can't have cookies for breakfast? Ever since quarantine started, the most consistent part of my days has been a cup of coffee each morning. And later, a cookie (or three) after dinner. Other than my Peruvian pancake recipe, this coffee chocolate cookie recipe has become one of the most-used sweets recipe in my rolodex, with no infusing, chilling, or freezing required.
With a few tweaks, it's ended up being a soft and chewy cookie recipe rather than crispy, and I keep it that way because it gives the cookies a melty texture when you pop some in the microwave. Plus, the chocolate chips get gooey and their pop of sugar is able to stand out even more. The bitterness from the coffee grounds, vanilla, and nibs make for an overall understated sweetness, while the salt added both inside and on top will keep even the most persnickety palate happy!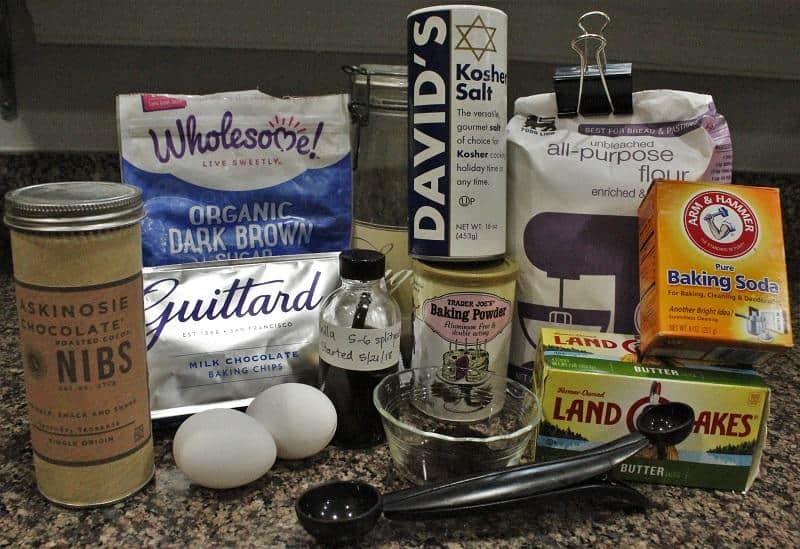 The choices that make this coffee cookie recipe so different come down to the vanilla, sugars, cacao nibs, chocolate, and coffee. That may seem like a lot to change, but the goal was to make a melty cookie with some give, and not too much in-your-face sweetness. I like my cookies like I like my coffee: creamy, bittersweet, and complex.
This espresso cookie recipe has about double the vanilla usually used for such a such a recipe, increasing the complexity of the flavor and aroma. Using both white and dark brown sugar makes the dough slightly more moist, and adds to the underlying sweetness. Using cacao nibs instead of nuts adds a healthy and unique crunch to the dough. Nibs are actually the purest form of chocolaty goodness, and in fact, they contain all the nutrition that makes chocolate good for you.
I also made it a point to use milk chocolate chips rather than semisweet or dark chocolate, because the milk in the chips actually caramelized during the baking process, adding another layer of flavor. The use of coffee grounds rather than instant coffee powder was more about using up something I have a lot of at home, but it turned out really great! Just note that if you do decide to use instant coffee powder instead of ground coffee, you should use less than half the amount of instant coffee.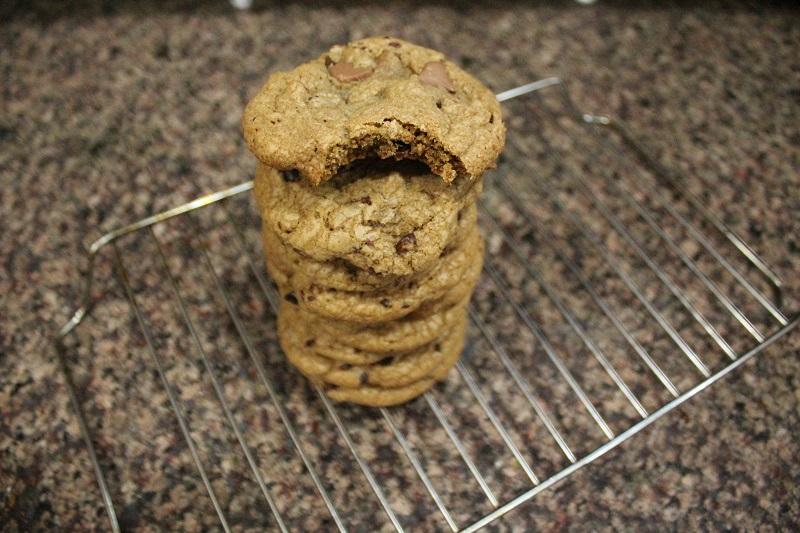 Yield: 40 cookies
Easy Espresso Chocolate Chip Cookie Recipe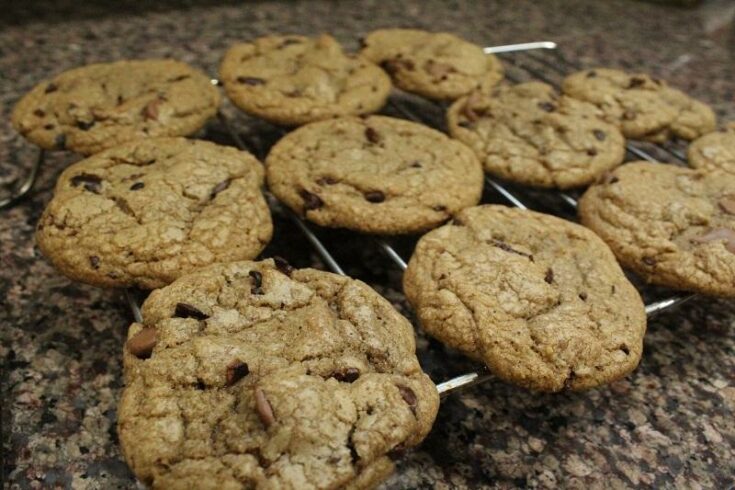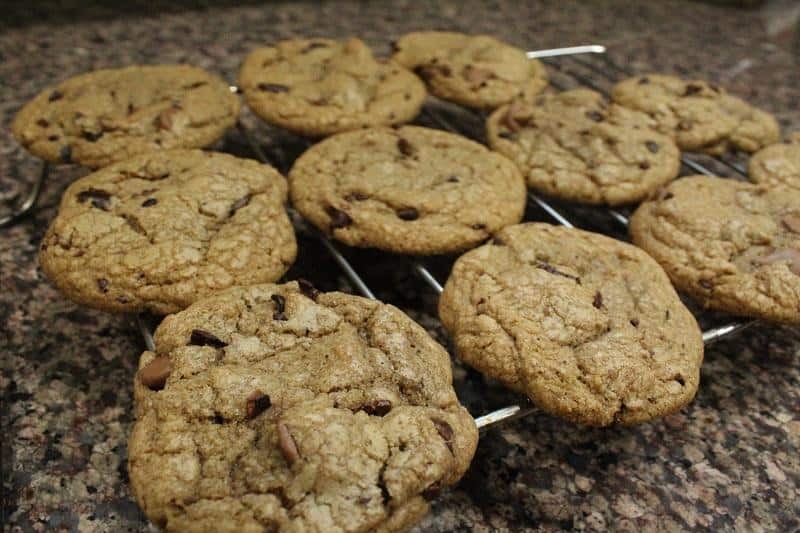 A soft and chewy chocolate chip cookie with complex undertones of coffee, and a melt-in-your-mouth bite. Recipe can easily be halved.
Ingredients
3 cups white flour
1 teaspoon baking soda
1/2 teaspoon baking powder
2 Tablespoons very finely ground coffee (I recommend a chocolaty craft coffee, but any dark roast you find at your local coffee shop should do)
1 teaspoon sea salt (not iodized salt; see above)
1 cup salted butter (2 softened sticks, 8oz.)
1 cup dark brown sugar (light brown would work in a pinch)
1 cup white sugar
2 teaspoons vanilla extract
2 large eggs
1.5 cups milk chocolate chips (11.5 or 12 oz.; I recommend Guittard milk chocolate chips or other craft chocolate chips)
1/2 cup cacao nibs (4oz.; I recommend using some nutty cacao nibs, like Askinosie's)
Instructions
Preheat oven to 350°F (175°C) degrees, making sure the cooking racks are placed in the center of the oven.
Put parchment paper on a large cookie sheet and set aside. Taking out a medium-sized bowl, combine the dry ingredients (flour, baking soda, baking powder, ground coffee, and the salt), and then set the mixture aside.
In a large bowl, cream the softened butter and the white & brown sugars together until fluffy. Beat in each egg one at a time, and then add the vanilla.
Slowly add spoonfuls of your dry ingredients' mixture to the dough, beating well after each addition (10 to 15 seconds).
Finally, lightly mix in the chocolate chips and cacao nibs. The chocolate chips may sink to the bottom if you use an electric mixer, so scoop your dough from the bottom as you form large tablespoons and drop them onto the parchment-covered sheet.
Bake each sheet for 12 minutes, or until edges just start to brown. Don't bake the cookies for more than 14 minutes, or the bottoms may begin to burn.
Remove the cookies from the sheet immediately after taking them out of the over, transferring them to a cooling rack for at least 10 minutes before consuming.
Notes
While this recipe can be frozen with no harm to the dough, I recommend baking all of the cookies at once and reheating them when you're ready to eat them. Since you need to cool the cookies for awhile before they can be eaten, I highly recommend reheating your cookie by placing it over a cup of your warm beverage of choice.
Keep your cookies stored in an airtight container for up to a week... if they last that long! I recommend serving them warm— 12 to 15 seconds in the microwave will do the trick— with a cup of black tea or a strong latte. Unlike most chocolate chip cookie recipes, these flavors melt together on the palate like a buttery shortbread with sweet caramelized chocolate, flaky sea salt, and crunchy cacao nibs.
If you can swing it, many craft chocolate makers now also offer chocolate chips and other baking supplies, sources from an ethical supply chain that goes beyond "Fair Trade." I still recommend using milk chocolate chips above, all, however, so if you don't have the time to special order something, Guittard is the most ethical & tastiest brand of grocery store chocolate chips. Happy baking!
Pro-tip from my grandmother: keep one of the wrappers from the sticks of butter on the counter. You can keep the scraping spatula & spoons on a slick surface that was going to be thrown away anyway, without wasting another plate to keep them clean.
---
Pin this espresso chocolate chip cookie recipe for later!