I feel very passionately about steering people towards better-quality chocolate, made with cacao bought at a fair price. But trying to find the best fair trade chocolate brands can be confusing, especially since Fair Trade chocolate has become such a flexible term.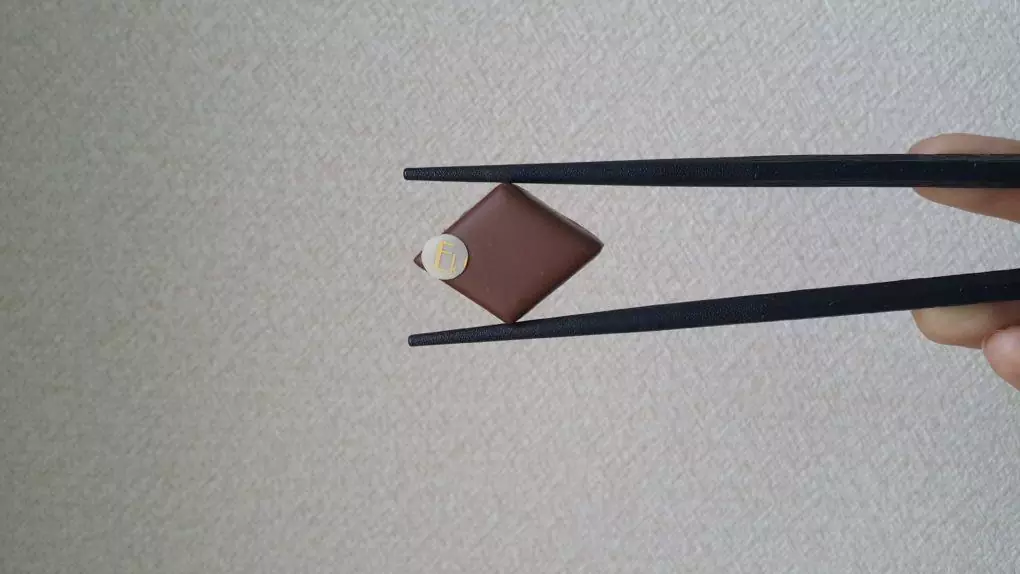 There are now dozens of fair trade certifications out there, each of which has their own standards for pricing content, and sustainability. There are lots of chocolate companies out there that even claim to make Fair Trade chocolate, but are owned by one of the 'Big 5' chocolate corporations.
So in the end, the only Fair Trade chocolate brands I'd actually recommend are independently-owned companies with transparent sourcing practices. You can usually find annual reports shared on their websites, rather than just a bunch of stickers slapped onto a bar in a supermarket.
I get so many questions about the best, most sustainable and ethical chocolates that finally I decided to name a few of my favorite brands of fair trade chocolate below. People truly want to buy better chocolate, and while I encourage you to find a local craft chocolate maker, I know sometimes it's just easier to opt for what's available online.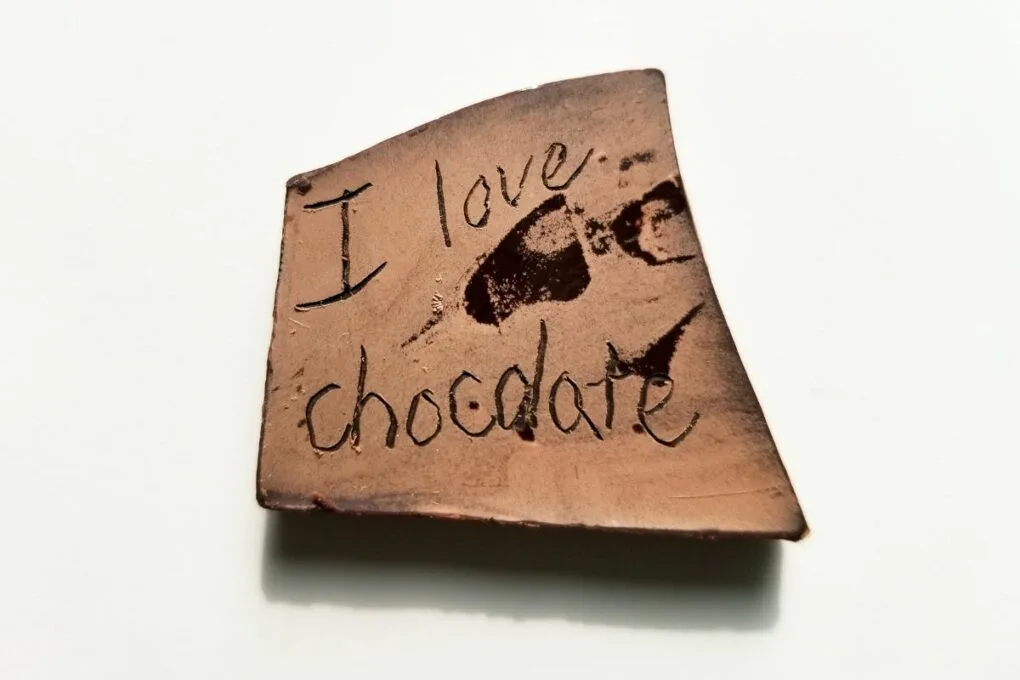 Fair Trade Chocolate FAQ
What does fair trade mean in chocolate?
Since Fair Trade has broken off into different groups, it's difficult to generalize what one fair trade label means over another. But the fair trade movement has nothing to do with the environment (that's Rainforest Alliance certified).
Rather, it was started with the goal of paying farmers higher, more equitable prices for their goods. In chocolate this means paying cocoa farmers roughly 20% higher than market price, though this percentage varies depending on the label.
Which chocolate brands are fair trade?
Most conventional chocolate brands are unfortunately not using fair trade or direct trade cacao. But some sustainable chocolate brands which use fair trade cocoa are Divine Chocolate, Theo Chocolate, Equal Exchange, Alter Eco, Raaka Chocolate, and Unreal Chocolate.
How do I know if chocolate is fair trade?
All fair trade chocolate will be labelled as such with one of the labels in the image below, among many others. There are a multitude of ways that a company can invest in fair trade labor practices, however, so it's best to go to the companies' websites to see their exact certifications.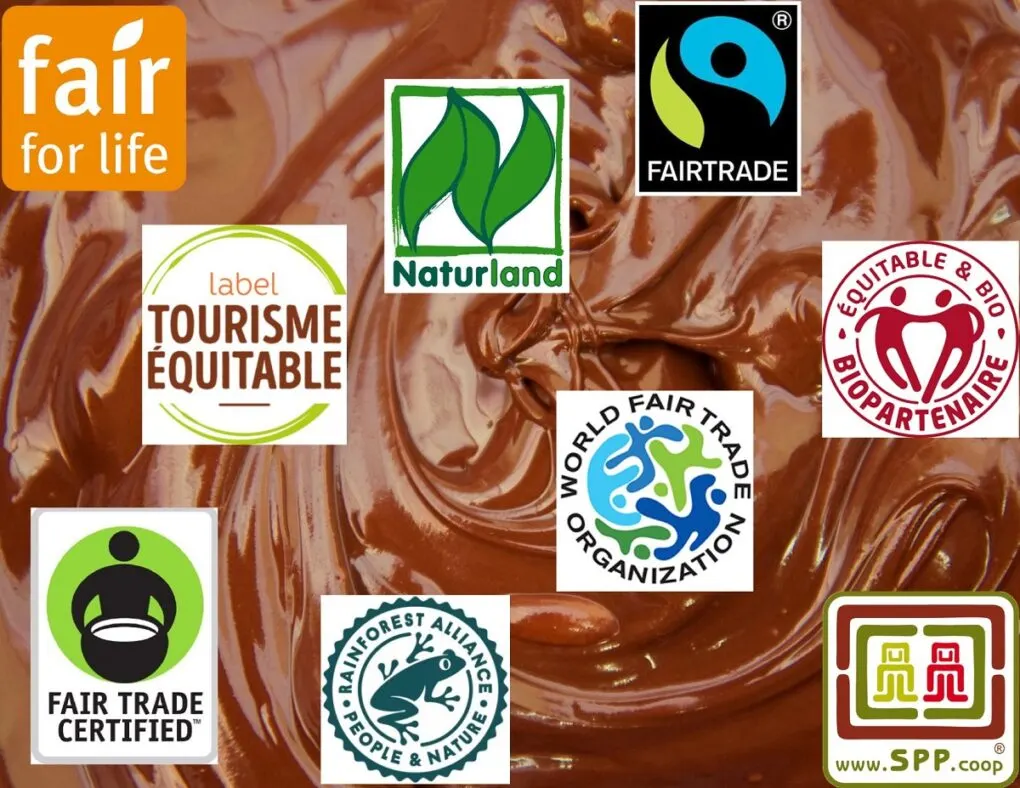 Is Ghirardelli chocolate fair trade?
No, Ghirardelli Chocolate is not fair trade certified. They claim on their website that they can 100% trace where their cacao came from, but that begs the question— where does Ghirardelli source their cacao?
Is fair trade chocolate better?
Fair Trade certified chocolate can generally be considered better than conventional chocolate. That is to say, Fair Trade chocolate brands can guarantee no forced labor, but it doesn't say anything about the taste or quality of the chocolate made from it.
For example, Endangered Species chocolate is Fair Trade, but it infamously tastes awful. Even with rebranded packaging, you can't cover up that level of bitterness.
Best Brands of Fair Trade Certified Chocolate
Original Beans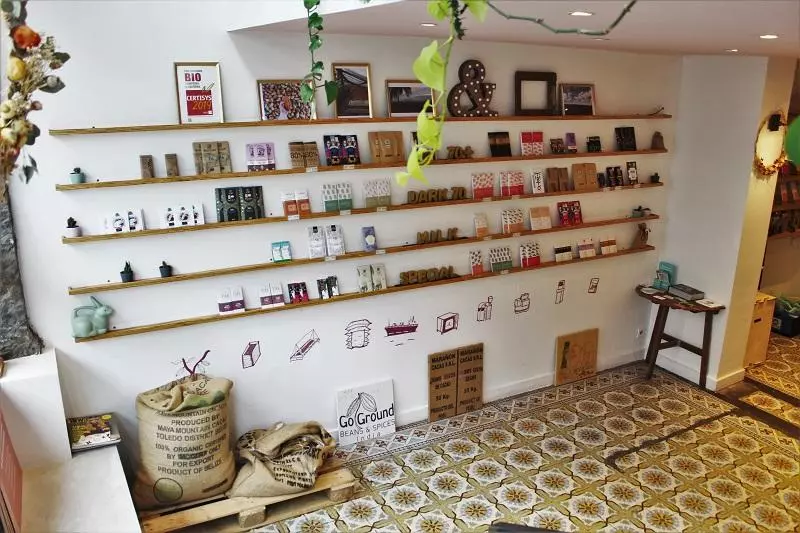 At the top of my list is Original Bean's Fair + model, which recognizes that a safety net based on a fluctuating price forces farmers to find alternative sources of income. Original Beans was established in 2008 in the pursuit of sustainably-produced, high-quality cocoa that provides farmers a living wage through direct trade.
They are a member of Direct Cacao, an organization of bean-to-bar chocolate makers who pay farmers significantly more for their cocoa beans than the Fair Trade minimum price. An interview in 2022 reveals the criteria Original Beans focuses on when scouting the farmers they want to work with.
They assess environmental impact, the prospect of finding and preserving rare cocoa variants, and the presence of a community with which they can develop a long-term relationship. They source cocoa bean origins for craft chocolate makers under their 'Sourced-by-Original Beans' standard (and can ship cocoa to smaller makers in bags of 50-60 kg or even less).
Their team documents the annual salaries of cocoa farmers in different regions, and calculates the sales required to make a comparable annual income. Original Beans guarantee their growers a multi-year fixed purchase price that's double fair trade prices.
In turn, farmers are given support and incentivized to produce the best quality of product and prevent the need for children to work on farms. A few years back I interviewed Jan Schubert, the South America region cacao 'sourcer' for Original Beans; you can listen to that interview here.
Divine Chocolate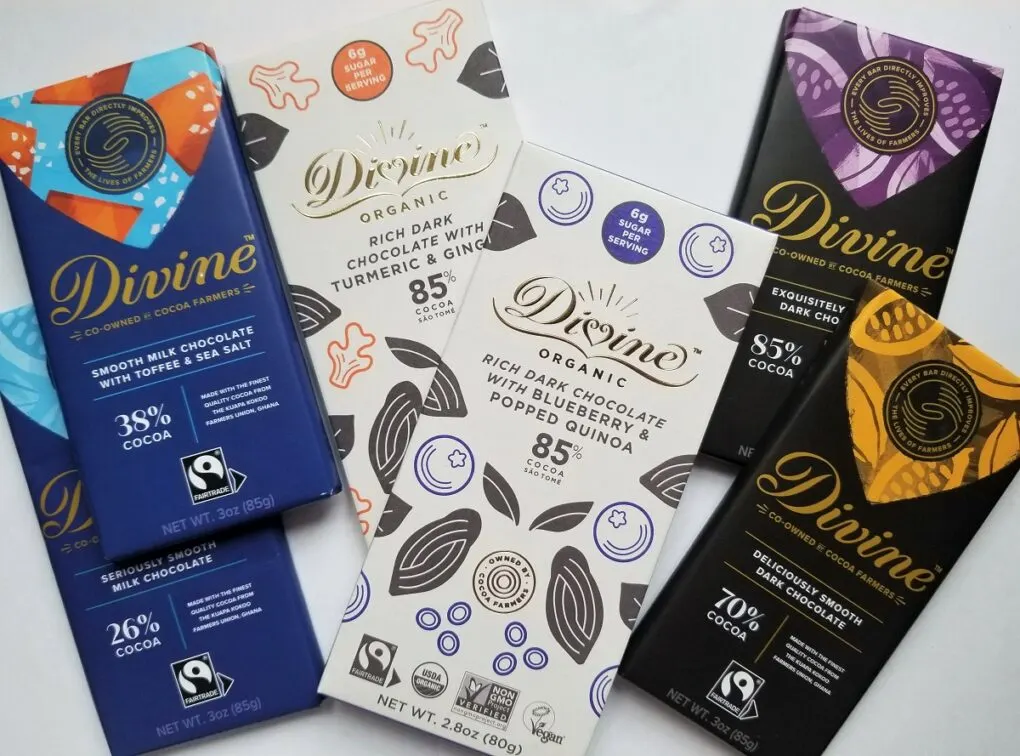 Fair Trade certified chocolate also has its share of producers that are making a difference. Back in 1998 Divine Chocolate Limited was established in the UK, 45% of which is co-owned by the Ghanaian fairtrade cocoa farmer co-operative Kuapa Kokoo which had about forty thousand members at the time).
They started with the name Day Chocolate Company, and partnered with Twin Trading, The Body Shop International, and Christian Aid for logistical, financial, and marketing support. From 2002 to 2015 Divine Chocolate won multiple awards in the ethical, social, and taste categories, slowly but steadily growing the company.
Back in 2000 they also partnered with Comic Relief, a British charity, and developed the Dubble chocolate bar, which continues to help fund the development of water wells and schools in Ghana. At the time, Divine's model was revolutionary for being the first of its kind that allowed the farmers themselves to own shares of the company.
Divine continues to run campaigns to boost the awareness of Fair Trade, ethical trade at large, inclusion in the chocolate industry, and the plight of cocoa farmers. And now they're one of several farmer-owned chocolate companies around the world.
Alter Eco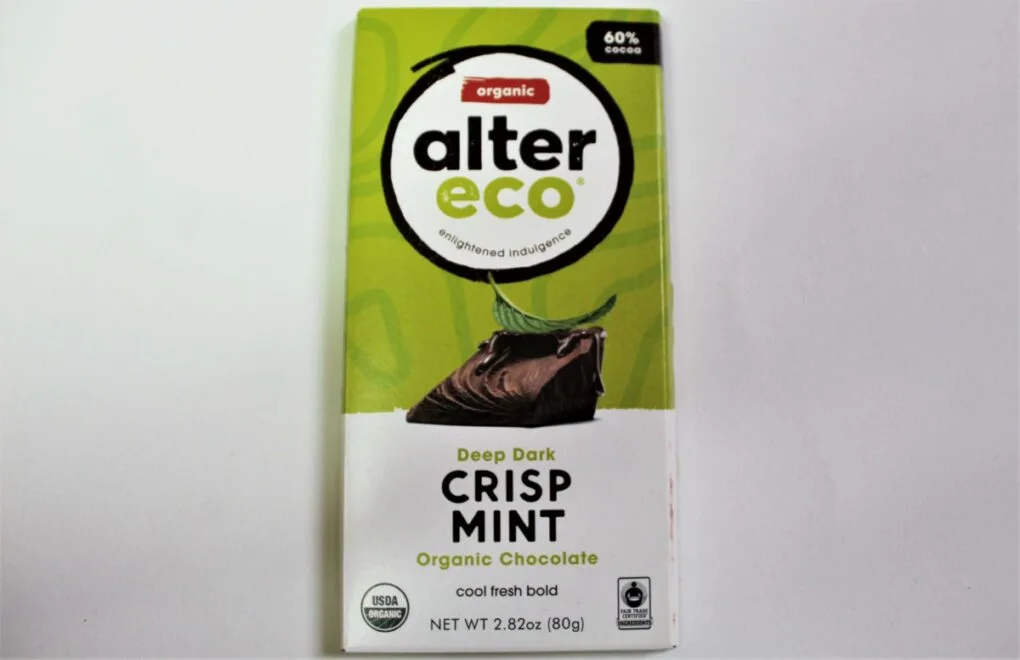 Alter Eco used to sell a wide range of Fairtrade products, but eventually focused on chocolate products. They have an emphasis on Agro-forestry and regeneration of the supply chain through reinvestment & improvement of cocoa cultivation. On top of selling Fairtrade certified products, Alter Eco acquired certification as a B Corp in 2009.
This extra certification demonstrates that a business has achieved a high level of verifiable business practices in the areas of social and environmental responsibilities, legal commitments, and transparency. Their move to focus on vegan chocolate and quinoa products maximized growth and impact by increasing buying volume.
The chocolates themselves are manufactured in Switzerland, and beyond just being fair trade chocolate, they're all certified organic and non-GMO. Over the years, alter Eco has won awards for their chocolate and sustainable packaging, and garnered recognition as a fast-growing private company between the years 2016 and 2017.
In 2022 they ranked second on the Chocolate Scorecard for their ethical labor, farmer compensation, transparency, and sustainable chocolate production. For those knowledgeable about the different Fair Trade lables, Alter Eco USA is certified Fair Trade under the Fair For Life program.
This program is ISO 26000 compliant, launched to complement FLO's model in order to include farmers in eastern Europe and include more specialized products.
Unreal Chocolate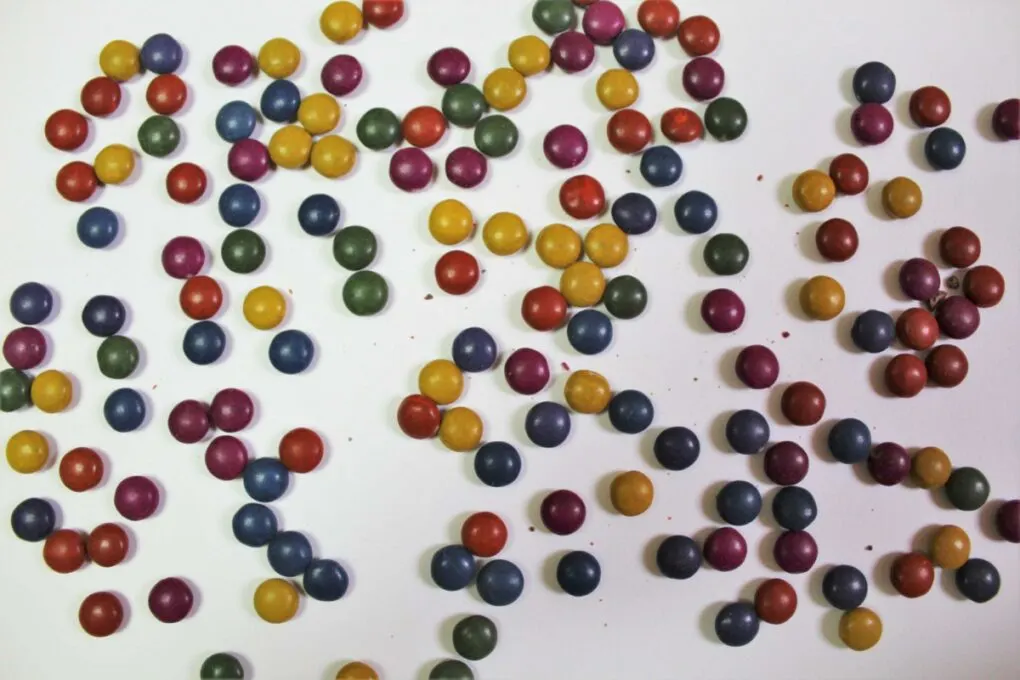 Relatively new to the fair trade chocolate brands scene, Unreal Chocolate was started by a pair of brothers who wanted to re-make their childhood favorites— sans the preservatives & artificial flavors. While a noble goal, this is easier said than done.
But over the years that I've been trying their products, I've remained impressed by both the flavor and quality of their milk and dark chocolates. They describe their treats as "chocolate snacks," and I do have to agree.
Their line of nut butter cups and "gems" (high quality M&Ms®) are quite good chocolate, and all of their products are soy-free & mostly organic chocolate options. Especially for those looking to add a sweet little something to packed lunches or trail mixes, investing in one of their brightly-colored packs is the way to go. They're even re-sealable.
Theo Chocolate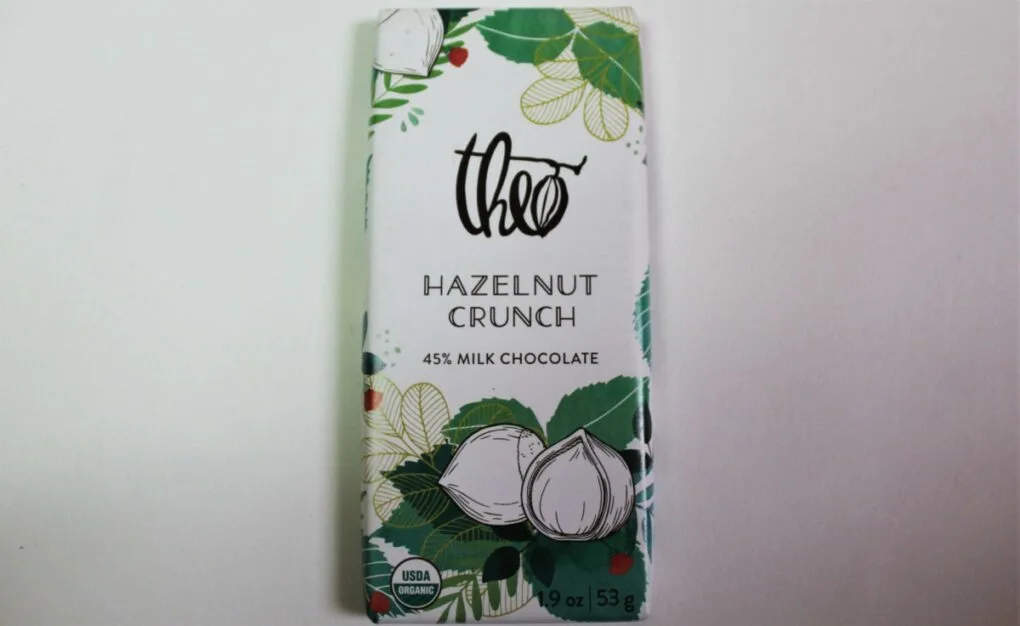 Since their founding in 2006, Theo has become by far one of the most open and transparent larger fair trade chocolate companies. They continue to source over two-thirds of their cacao from farmers in the Democratic Republic of Congo (DRC) in West Africa, and the company is both certified organic & Fair for Life.
Although the company is no longer wholly-owned by the founders, one of them is the main shareholder, which makes me think it remains in good hands. Additionally, they maintain an open door sort of policy at their Seattle-based chocolate factory, running daily tours and a variety of chocolate classes.
Their range of bars has grown over time, as well, with their lowest percentage of cacao being in their 45% milk chocolate. The fact that you can't find a Theo chocolate bar with less than 45% of the ingredients coming from the cacao bean is legitimately impressive.
Their milk chocolate is creamy and rich, and every season brings its own specialty bars ranging from the horchata in cooler weather to the fresh lemon flavor each spring. Their 70% dark chocolate is a sweet but not overwhelmingly flavorful base for most of their bars, which get as high as a 85% dark chocolate.
For those interested in peanut butter cups, Theo's are definitely my go-to, and available in both dark and milk chocolate.
Raaka Chocolate
Raaka Chocolate only produces vegan, unroasted chocolates. This means the ingredients they use are animal product-free, and the cacao was not exposed to the super high heat normal in chocolate production.
Since their opening in Brooklyn in 2010, the two-man team behind Raaka has been bringing their vegan chocolate to the world; also since their opening, people have been mislabeling them a raw chocolate company. Throughout their growth, their goal has always been to build a company & farmer partnerships that benefit everyone in the value chain.
Their regular bar line-up ranges from 60% coconut milk chocolate to a 82% bourbon cask aged, all made with one of 3 or 4 different single origin cacaos. The earthy undertone I taste in all their bars definitely doesn't appeal to everybody, so I'd recommend one bar before committing to their entire line-up.
Alternatively, if you find yourself in Brooklyn one Saturday or Sunday, you can head over to Raaka chocolate factory in Red Hook for a tour, tasting, and learning experience. Otherwise you can find their bars at select Whole Foods locations and on Amazon.
Equal Exchange
Equal Exchange is a for-profit, worker-owned cooperative that distributes Fairtrade products. They were founded in 1986 and headquartered in West Bridgewater, Massachusetts, making them the oldest Fair Trade Coffee company in the United States.
They mainly establish long-term contracts with coffee farmers, offering higher prices than the open market. They also offer those tiny red Equal Exchange Chocolates that a lot of us used to hand out around Halloween. Additionally, they operate three cafes in the US (in Washington, Illinois, and Ohio) and have a UK co-operative subsidiary that shares various product lines.
Despite TransFair USA exiting the partnership with Fairtrade International, Equal Exchange took a stance to uphold authentic Fair Trade principles, which gives me hope in their continued ethical chocolate production.