Salinas is a relatively small beachfront town on Ecuador's southern coast, a 10-hour bus ride from Quito, with direct buses leaving from Quitumbe Station every night. You can fall asleep on the bus and wake up on the coast. What more could you need for a long weekend away?
Visiting Coastal Ecuador (Outside Esmeraldas)
Salinas blends into the next-closest town of La Libertad as the urban sprawl continues on, echoing out from beaches with the softest sand I've ever felt in my life. I spent 4 long, loud days in Salinas over the weekend, and this is what I have to say about the touristy town.
During the Ecuadorian summer from June to September, there are very few tourists. It seems like most of them don't often wander beyond the beach line, which is a shame, especially if you are here for a few days, since this town is full of good food, well beyond the coast. Most of the visitors come during December to February, many of them to enjoy Salinas Yacht Club. The rest of the year the beach town is populated by visitors from Guayaquil, and it has been referred to as the "Miami Beach of Ecuador" to me more than once. At least during the off-season, as far as I can tell, this is only reflected in food prices.
How to Get to Salinas from Quito
Numerous people pushed me towards TransEsmeraldas, a bus company based in Quito which goes to destinations throughout the country, so that's who I aligned with. Since I live in Old Town Quito, I had to hop on the trolley at 8pm with my giant backpack, an experience I would not care to repeat, but it did only cost me ¢25 instead of a $12 taxi. Next was a matter of buying the boleto (ticket), which I had to do on the bus since the ticket printer was malfunctioning. I paid the ¢20 ticket printing fee and ran to catch my 9pm bus, where I paid the $15 fee and snagged the two left front seats, where I lay unmolested and unfortunately unable to sleep well for the next 10 hours.
*Protip: Buy your return ticket immediately after getting to the bus station in Santa Elena. Buses back to Quito can fill up fast.*
Pulling into Santa Elena Station at 7am, one must pay a taxi of unknown price, or ¢30 take one of the big tacky buses that say "SALINAS" on the front. They're very easy to find. I got off near the end of the line, a 30 minute ride, and had no trouble whatsoever with the other passengers. The bus stops a lot to pick up schoolchildren and local workers, however, so don't be surprised by that. Getting back is simple, because you already have your ticket. Riiiight? Now you just need to catch bus 13 (it is the only public bus that heads out of town, and the last bus of the night leaves at 7:30pm), and to do that you just wave it down, like a taxi. It wants to pick you up, trust me.
So another ¢30 to the driver and you're ready to get to the station and on your bus to Quito, from where you will take the trolley or a taxi to your accommodations. The bus stops about 10 minutes away from the bus station and all the passengers get off, women in one line and men in the other, so that police can search the bus for drugs, but about 10 minutes later you're back on the road. Both trips the actual time spent on the bus was just under 10 hours.
It's also possible to spend less time on the bus if you go via Guayaquil and take a more slow travel approach to Ecuador.
Places to Stay in Salinas
Chesco's Almar. Where I stayed for $10 a night, and a place that I think should always be full; the place itself is beautiful with tiled floors and an indoor hammock… and did I mention that it's right on the beach? The bus let me off about a block from the hostel, whose manager opened the door to me at 7:30am, 6 hours before he was obligated to. Good guy Ronald. Also, the $3 burgers sold by the place right below are positively scrumptious.
Las Palmas Del Mar. A moderately priced hotel at $40 pp a night for a double room, this B&B includes breakfast and is right on the beach. Some extra high points reviewers made were regarding clean and elegant rooms, right on the beach. So, seaside or pool view?
Chaqana Lodge. Despite not being right on the beach, guests were very pleased with the facilities and the location. At just $10 a night, or $13 on weekends, it would be hard to not get caught up in the beach lifestyle, lounging it up at the downstairs bar with your free wifi, making plans to go salsa dancing with your new friends at the end of the night.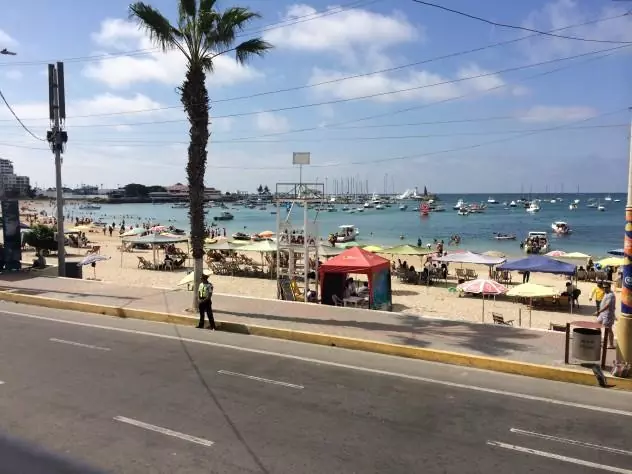 Did someone say beachfront?
Things to Do in Salinas
Whale watching. Many men will be hawking this one on the beach, and some of them even speak decent English, so take your pick. It usually takes about an hour.
Charter a yacht. Obviously one of the most expensive tourist options; I'm actually afraid to look.
Lay on the beach, slathered in sunscreen. Despite the sometimes-cloudy facade, the sun is intense even when it isn't shining brilliantly. It did make an appearance every day, however, despite some people's insistence that it can be "dreary" in off-season.
Go bar-hopping at night. Although I didn't see as many bars open here as I do in the touristy areas of Quito, I've been told that there are dozens, all vying for your affections in true Ecuadorian fashion.
Salsa Dancing. Especially if you are a woman, it can be decently easy to find a place that will let you in just to dance; usually they are hoping someone else will buy you an overpriced drink. I went to Los Helechos to dance, a nice bar a few doors down from my hostel.
Enjoy some of the freshest seafood in the world. Some of which you can buy right on the beach, but I'd advise cooking it first.
Soak in the view from the Chocolatera. A beautiful lookout, just a bit of a walk or short taxi ride from the beach; it is the farthest western point on mainland Ecuador. No chocolate involved, unfortunately.
Visit the Loberia. Just a mile from the Chocolatera, there is a beach club where you can go to watch the surfers and sea lions, or lobos marinos in Spanish.
Las fiestas de Salinas. In December, to celebrate the founding of the town, Salinas has a grand festival with lots of sports games, aquatic competitions, tons of free concerts, and much more.
Practical Information
Best Times to Visit
Though I went in September, my recommendation is to go during high tourist season, December to February, though don't forget to book a hostel or hotel at least a month in advance. Ecuadorian Independence Day (August 10th) is also a fun time to visit due to all the celebrating happening, but it would also be more difficult to get to, as everyone travels that weekend.
Safety Level
8/10 on the beach; probably 5/10 as you drift farther from la playa. My friend has told me that the only times people might have stuff stolen from them is if they wander into some place they are not supposed to be, where there are no people, and they carry a bunch of stuff (a camera or fancy cell phone, perhaps).
4D/3N Budget
Transport to Salinas: $31.15 ($0.25 for the Trolley to Quitumbe, $0.20 ticket fee & $15 for the Transesmeraldas ticket to Santa Elena; 9pm to 6:45am, and $0.30 for bus from SE to Salinas. $14.50 for second bus ticket & $0.90 for buses there and back and there)
Hostel: $33
Food: $35
Activities: FREE!
TOTAL: 100
Other towns in the area include La Libertad & Santa Elena.
---
If you found this post helpful, please pin it for later!
My favorite thing to do anywhere in Ecuador is salsa dance. What do you want to do in Salinas?