I've made the road trip down to French Broad Chocolate Lounge four times over the last decade, and happily since that first trip they've added a new location! That growth is well-earned, too, because French Broad Chocolate Factory makes some of the best desserts in Asheville— as well as some of the best chocolate in the world.
One of our field trips in my university's EATS 101 class back in 2016 was even was to visit French Broad Chocolates' old factory, to taste & better understand how they produce their bean-to-bar chocolates.
I've updated this article since my last visit to French Broad Chocolate in 2022, where I went to both of their cafe spaces.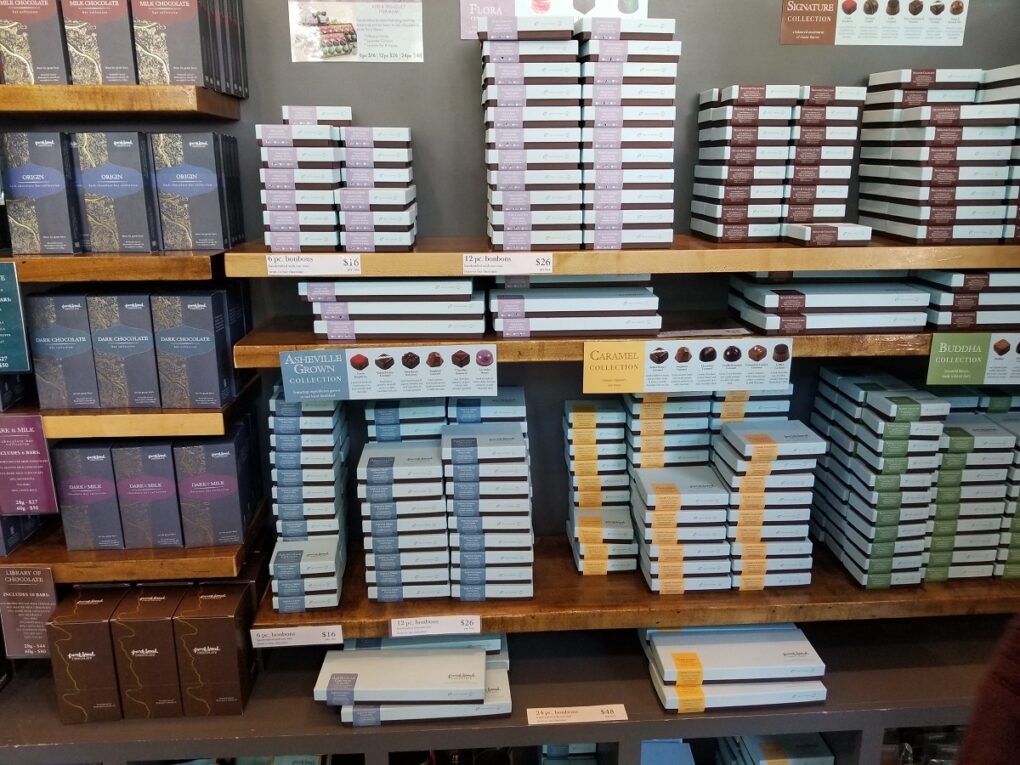 French Broad Chocolate Lounge Locations
French Broad Chocolate Lounge
10 S Pack Square, Asheville, NC 28801
Hours: 11am-10pm, daily
French Broad Chocolate Factory & Café
821 Riverside Drive, Asheville, NC 28801
Hours: 11am-5pm, daily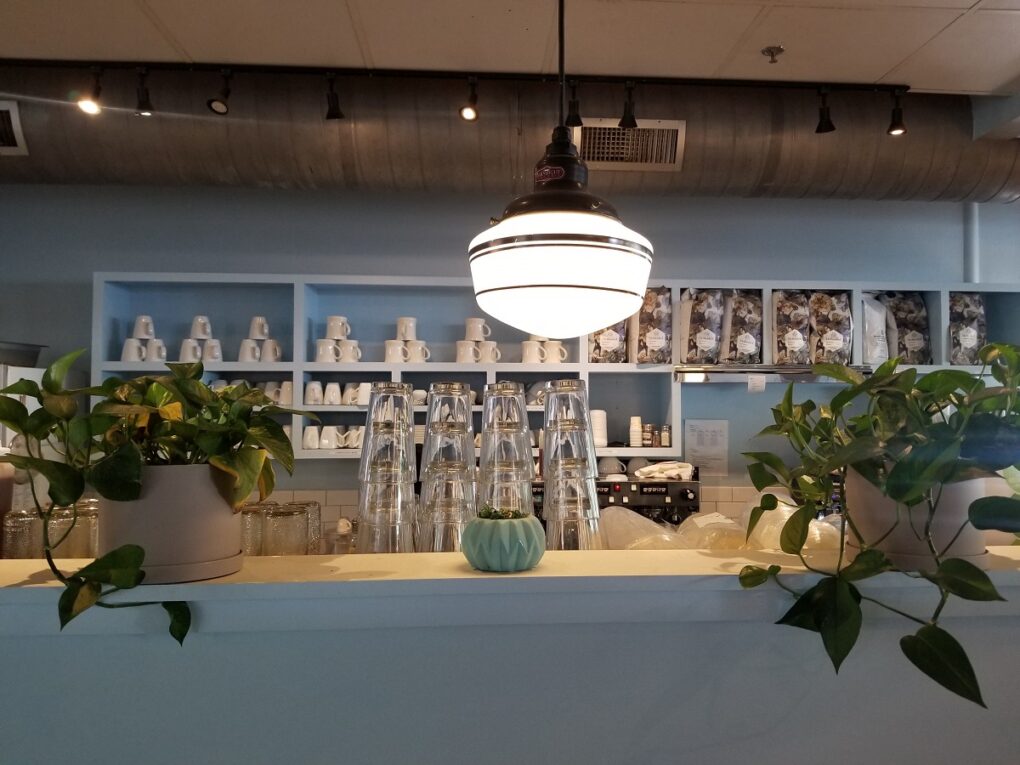 About the First Chocolate Makers in Asheville
When I'd last visited six years prior, French Broach Chocolate Factory had just opened a second location in downtown Asheville, and had recently opened their factory up for operations. They had just debuted their new packaging, and we were actually some of the first people to ever see it. These are the same beautiful blue boxes you see today.
Now anyone who has discussed my future with me probably already knows this, but if I were to open a chocolate cafe, I would model it after French Broad Chocolate Lounge in Asheville, NC. They have top-tier chocolate and bonbons and desserts, as well as strong relationships with the farmers they work with around the world. In the 10 years that they've been open, they've created a safe and welcoming space in downtown Asheville, and in the early years they supported other chocolate makers by selling their wares.
French Broad Chocolate is one of my favorite makers because their beliefs are displayed right there for anyone to see and eat in their products. They value sustainability for cacao farmers, chocolate makers, and the environment, resulting in a delicious product which all are proud to contribute to. The happy triangle of farmer-maker-consumer is all taken care of, no one more than the others, reminding me cheerfully of my first chocolate teacher, Sunita from Happy Chocolate Experiences.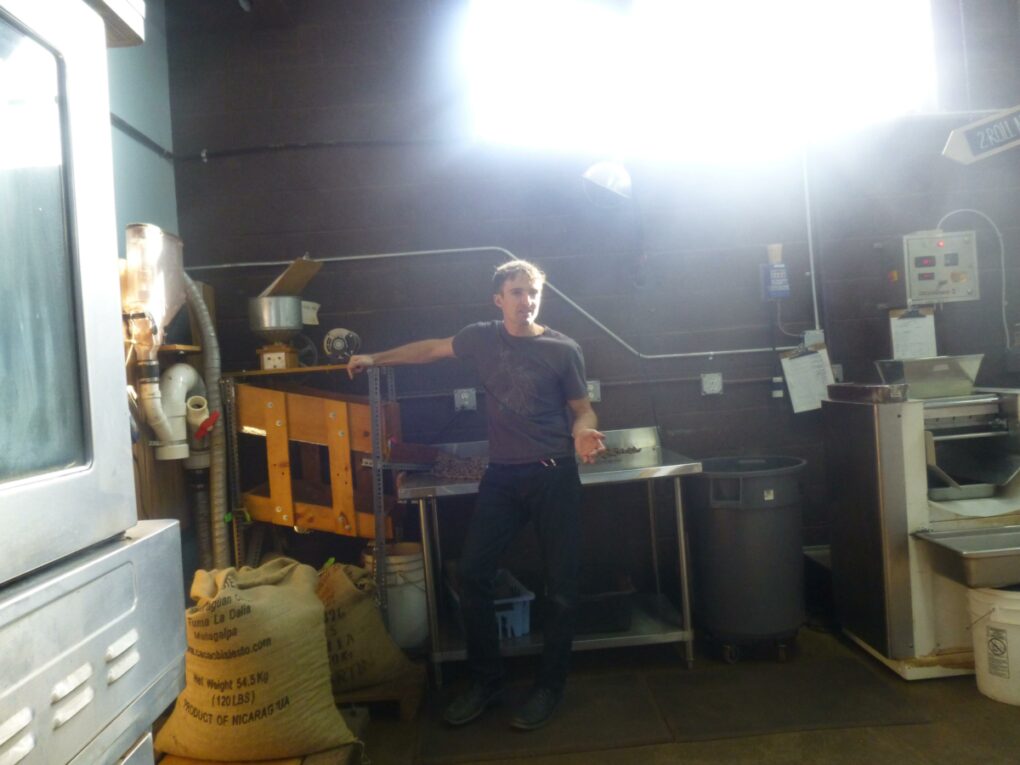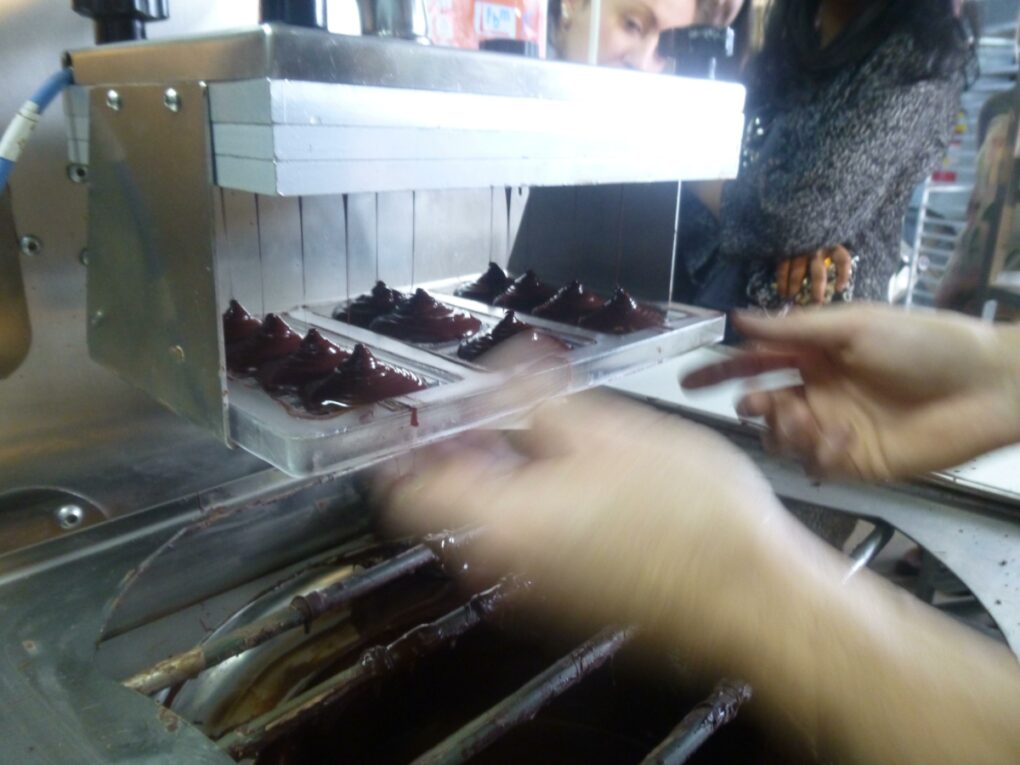 Taking A Chocolate Factory Tour
To begin the chocolate tour, we met up with Dan, one of founders of French Broad Chocolate, at 10am in his factory on Buxton Avenue. Though the building is nondescript, it turned out to hold immense treasures. A display case full of truffles greets you when you walk in, along with the intoxicating scent of melted chocolate and roasting cacao. Dan was very nice, taking a couple of hours of his time to tell us the (romantic & reckless) story of how he ended up, a dozen years later, as a chocolate maker in North Carolina.
You can read about it on their website, though I think that Dan probably tells it best. But let's just say that it starts with a drive in a school bus down to Costa Rica and ends with two kids and metric tons of chocolate. Sounds dreamy, eh?
We were walked through each step of chocolate making, literally, and at the end we had the opportunity to buy some of their chocolate in its brand new packaging! They were actually having a release party later in the day, celebrating the "storybook-like packaging," something they had been working on for quite some time.
They wanted to reveal the romantic origins of their company, as well as create something that was worth more than just the paper it was printed on. Now you can visit French Broad Chocolate Lounge at one of their two locations, and now we'll dig into what you can expect.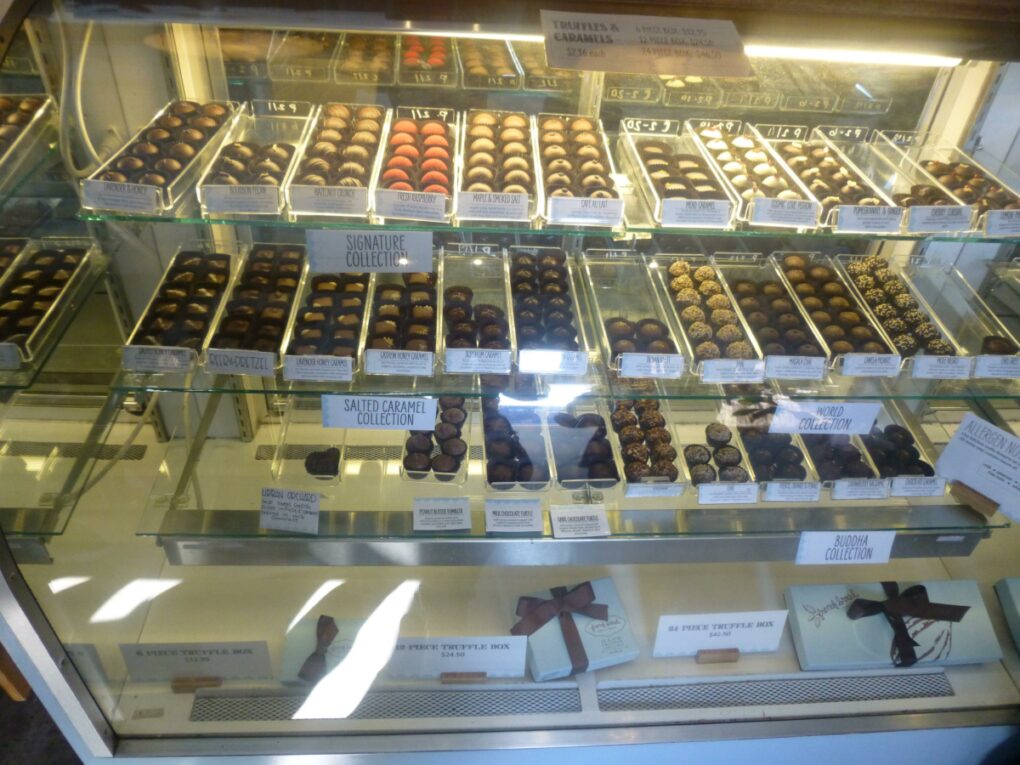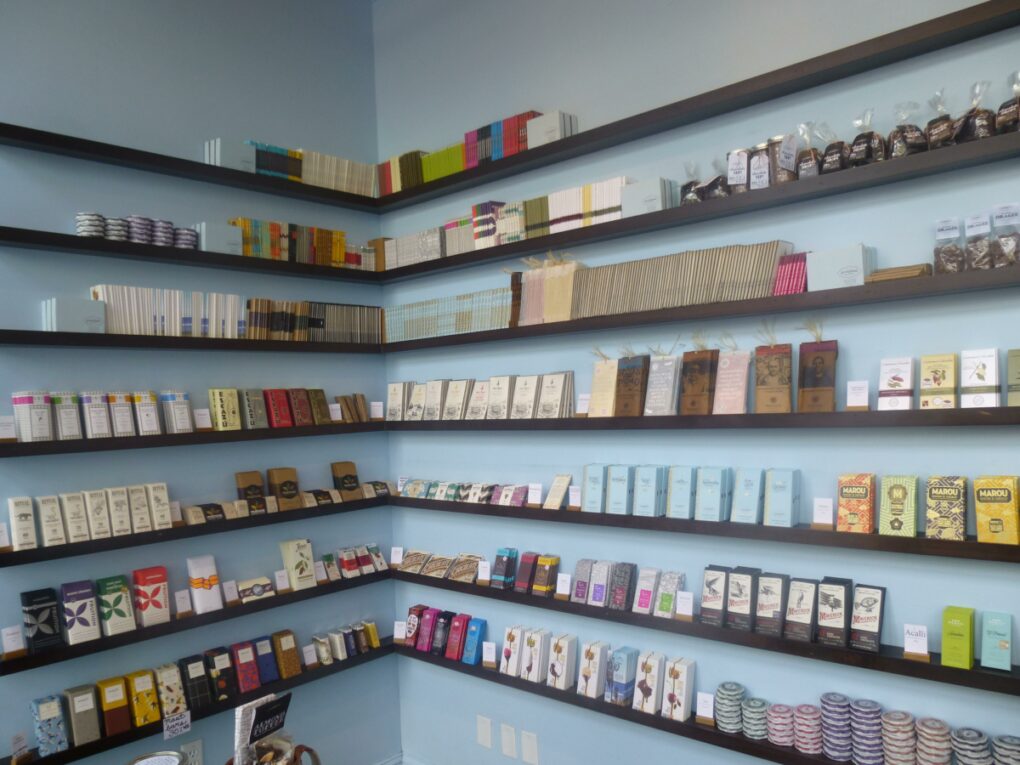 What to Expect at French Broad Chocolate Lounge
Both the lounge and the factory sell all of French Broad Chocolate's core products: chocolate bars, bonbons, truffles, brownies, cacao nibs, chocolate drinks, coffees, chocolate-scented products, and more. Most visitors come into the café to rest and refresh after walking around Asheville, so the menu of drinks and pastries has only expanded over the years. Two things that have remained consistent best-sellers for a reason are their brownies and their liquid truffles.
Each of their brownies is large, the size of a piece of cake, and dense but creamy. The Nibby Salted Caramel is a family favorite, which we tend to order with a simple latte. A more classic pairing would be their Bhudda Liquid Truffle, which is a thick, vegan-friendly chocolate drink mean to be sipped rather than slurped.
A newer addition is their selection of ice creams, which are delicious during the summertime, but tend to fall out of favor with the cooler autumns in Asheville. My trick to still enjoy a scoop or two in the winter is to order an affogato— a delectable Italian concoction made of one scoop of ice cream topped with a hot shot of espresso.