When was the last time you ate bone marrow & creme brulee in the same day? For me, it was just last month. At the end of January I went with my Eats 101 class to spend the weekend in Asheville, staying at the Biltmore, touring its estate, mansion and winery, in between fabulously decadent meals. Seriously. I couldn't take many pictures due to the elegance of the places where we ate, but I was stuffed by the end of each meal. One of our days, we even made it over to French Broad Chocolates to taste & better understand how they produce their bean-to-bar chocolates.
About Asheville's First Chocolate Makers
Before our last meal in town on Sunday, and here comes the chocolate part, we toured the city's resident chocolate factory. They had just opened a second location downtown, and opened their factory up for operations. Additionally, they had new packaging to debut, and we were some of the first people to ever see it!
Now anyone who has discussed my future with me probably already knows this, but if I were to open a chocolate cafe I would model it after French Broad Chocolate Lounge in Asheville, NC. They have top-tier chocolate and truffles and desserts, strong relationships with the farmers they work with around the world, an open and welcoming space in downtown Asheville, and they support other chocolate makers by selling their wares.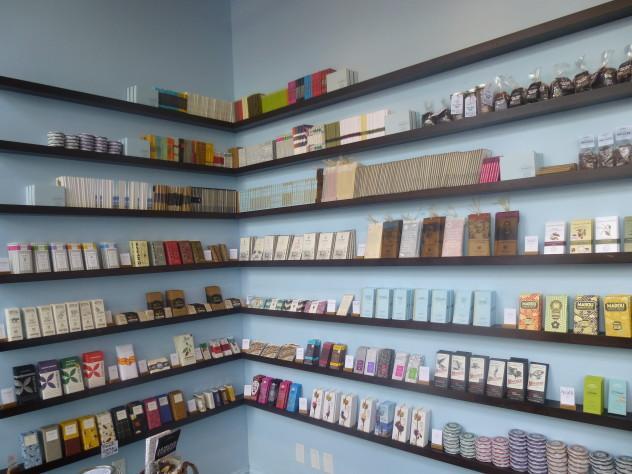 French Broad is one of my favorite makers of all times because their beliefs are displayed right there for anyone to see and eat in their products. They value sustainability for cacao farmers, chocolate makers, and the environment, resulting in a delicious product which all are proud to contribute to. The happy triangle of farmer-maker-consumer is all taken care of, no one more than the others, reminding me cheerfully of my first chocolate teacher, Sunita from Happy Chocolate Experiences.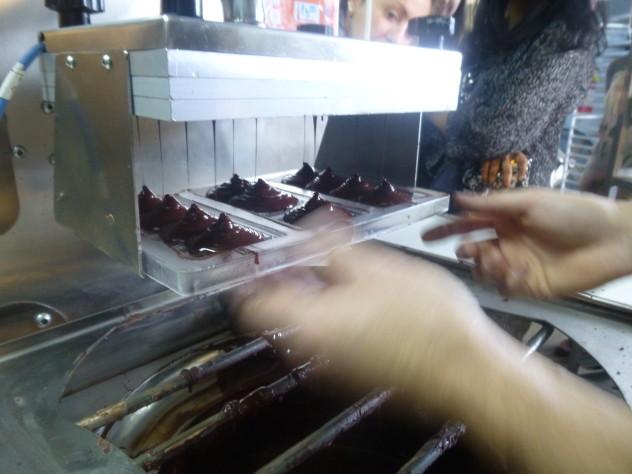 To the Factory We Go
To begin the tour, we met up with Dan, one half of the couple behind French Broad Chocolate, at 10am in his factory on Buxton Avenue. Though the building is nondescript, it turned out to hold immense treasures. A display case full of truffles greets you when you walk in, along with the intoxicating scent of melted chocolate and roasting cacao. Dan was very nice, taking a couple of hours of his time to tell us the (romantic & reckless) story of how he ended up, a dozen years later, as a chocolate maker in North Carolina.
You can read about it on their website, though I think that Dan probably tells it best. But let's just say that it starts with a drive in a school bus down to Costa Rica and ends with two kids and metric tons of chocolate. Sounds dreamy, eh?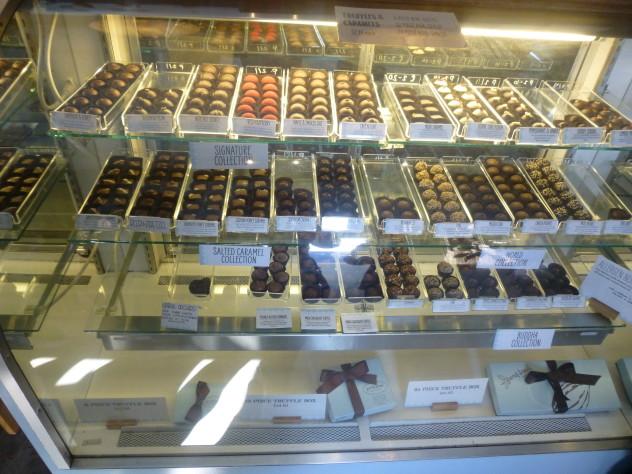 We were walked through each step of chocolate making, literally, and at the end we had the opportunity to buy some of their chocolate in its brand new packaging! They were actually having a release party later in the day, celebrating the "storybook-like packaging," something they had been working on for quite some time. They wanted to reveal the romantic origins of their company, as well as create something that was worth more than just the paper it was printed on. The beautiful bright blue packaging certainly achieves this, in my opinion, so keep on keeping on, Dan & Jael (and their sons Sam & Max!) . We all appreciate the work and constant innovations coming out of Asheville. I'll be back soon!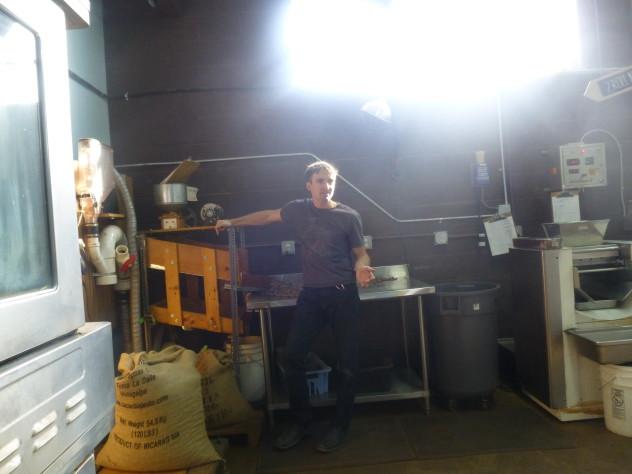 Have you ever visited Asheville & French Broad Chocolates? How was your visit?