Have you ever thought about where vanilla comes from?
The plant, Vanilla planifola, is native to Mexico, but now grows on a vine in tropical locations around the world. The largest growing regions at the moment are in Madagascar and Indonesia.And like the chocolate tree, vanilla comes from a fermented fruit grown from one of the pollinated flower grown on those vanilla vines.
Vanilla flowers are a type of orchid, in fact. That flower you see on the front of so many vanilla yogurt containers is actually a vanilla orchid. But while the flowers are beautiful and fragrant in their own right, once they're pollinated they turn into the most expensive spice in the world. Right now it costs more than silver. And Hawaii actually produces that spice. While vanilla isn't going to be popping up in the most popular Hawaiian dishes anytime soon, it's unquestionably on the up & up on the islands.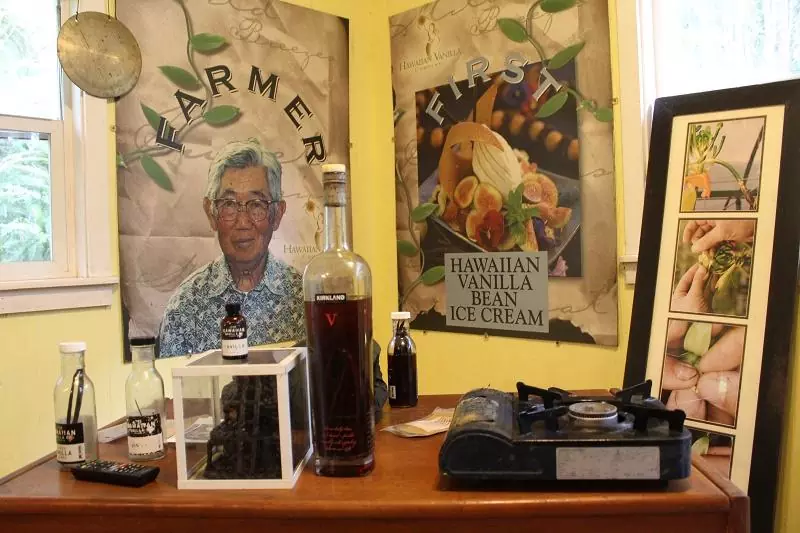 Hawaiian Vanilla Company Tours
When I was looking to tour a vanilla farm Hawaii was the first place I wanted to go. It's a paradise for chocolate lovers, after all, so it makes sense that there would be places to see vanilla growing, as well. To my gratification, I found a few places! The most appealing place seemed to be Hawaiian Vanilla Company, which also happens to be one of the biggest & oldest sources of Hawaiian vanilla beans.
Two types of tours are offered on this family-run & family-owned vanilla farm. Tour Option 1 offers a farm tour with a scoop of ice cream at the end, and Tour Option 2 offers all of that plus a vanilla-themed lunch. My companion, Barefoot Chocolatini, & I opted for Tour Option 2, lunch and all.
The longer tour begins with some basic background on vanilla cultivation, and then the main meal. They wanted to make sure everyone is fed and ready to head out to the farm, so this is the perfect time to get to know some of your tour mates! When you arrive you'll choose your drink (vanilla lemonade, vanilla sweet tea, or half tea & half lemonade) and settle in with some potential new friends. Next will be the tour!

See below for more information on visiting the farm, or click here to make a reservation.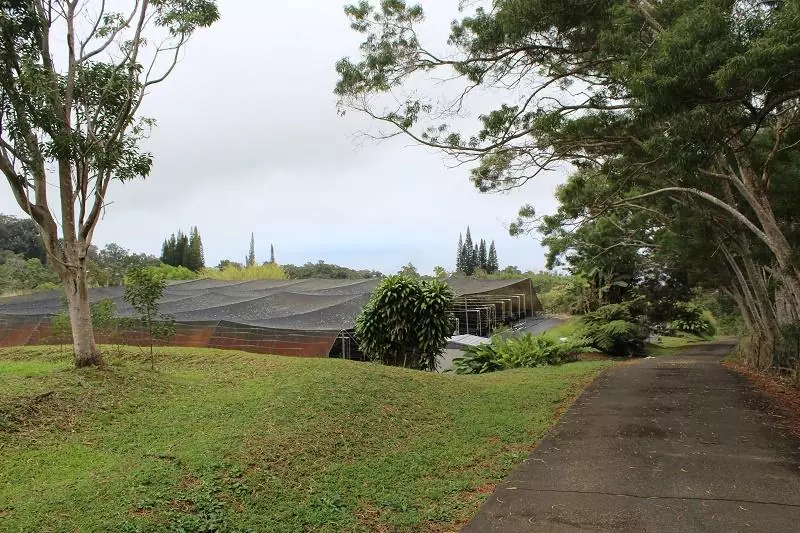 Vanilla Farm Hawaii: The Menu
With the "Vanilla Experience" tour option comes a full lunch, in which each item is made with Hawaiian vanilla beans, in some capacity. Here's a look at the lunch, with each item described in the caption.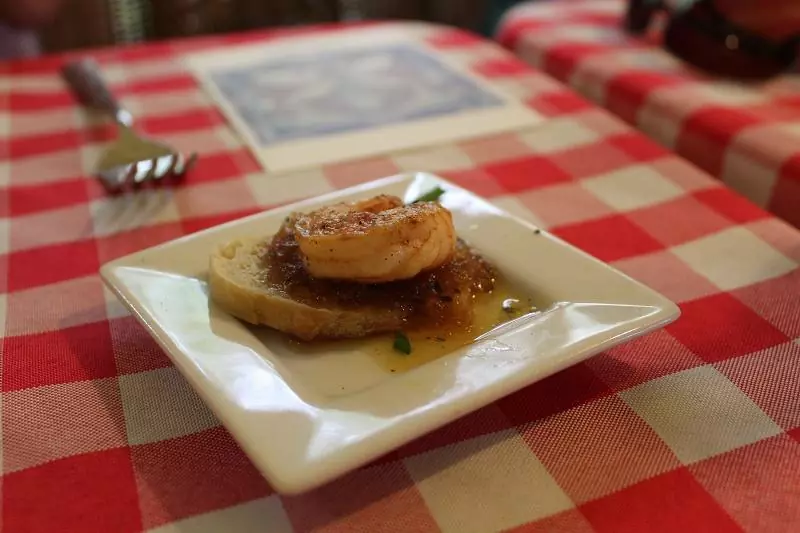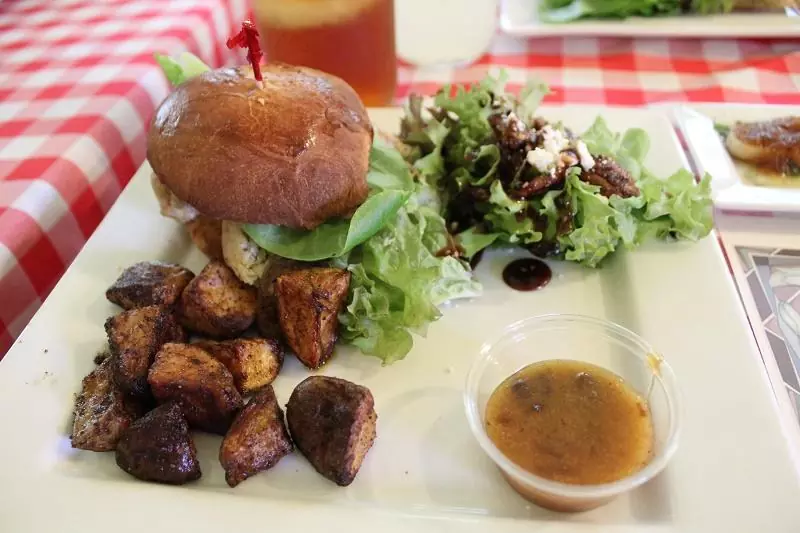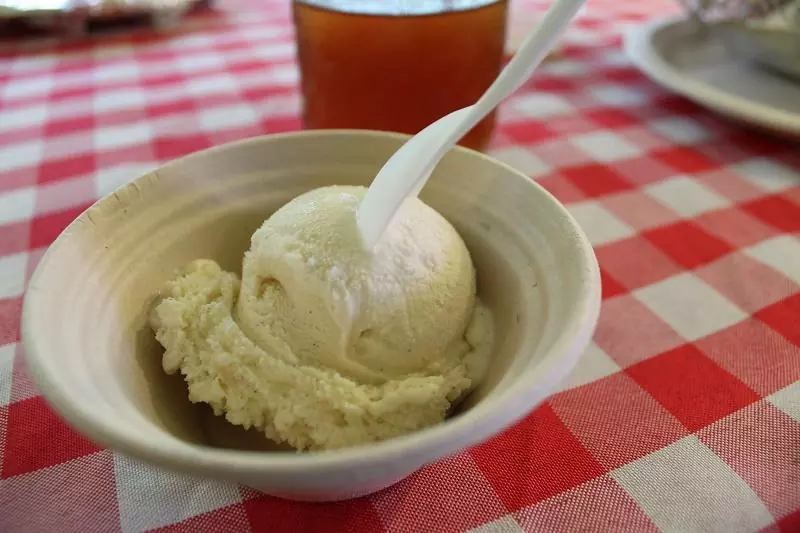 The Hawaii Vanilla Farm Tour
After they've given you a bevy of perspectives on their main product, one of the owner's family gathers everyone up to tell them more about how Hawaii's first large-scale vanilla farm came to be. I won't spoil all of the details, but the farm started as the dream of an elderly Japanese man, was carried on by a transplant from Oahu, and continues open-ended with a 5-person crew (all of whom are siblings or cousins).
Starting outside their farmhouse, your tour guide will take you down the road to a clearing overlooking their closest greenhouse. There you'll learn more about life in rural Hawaii, the plants cultivated on The Big Island, and how the family came to run the largest vanilla plantation in America.
Heading down into the greenhouse, if you've timed your visit right, you'll get to see vanilla at each of its stages of life. The best time to visit a vanilla farm on Hawaii is in March or April, when all of the vanilla orchids are blooming but there are some flowers turning into the fruits (which we call vanilla "beans" once they're fermented & dried).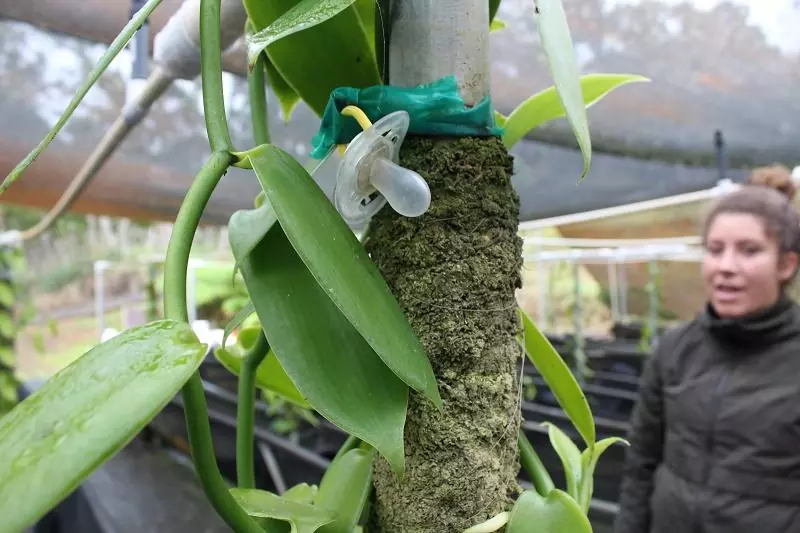 From the vanilla vines with their pods to some flowers, I'll leave the story of the baby binky for when you visit in person, but suffice it to say that there is a logical explanation. Well, as logical as some things can be on the Big Island. If you get rained on, the family has umbrellas for you to borrow, but I'd recommend bringing one of your own, or a rain jacket.
Once you've gotten your fill of the farm and had a Q & A session, it's back to the farm for a video and some vanilla ice cream. The video was produced by The Food Network back in the early 2000's, and tells a little more about the overall background of Hawaiian vanilla. But the ice cream, while made with the farm's vanilla, was made by an ice cream company on another island.
If you like affogatos, I'd recommend you save your ice cream to have with the coffee they serve once the video ends. I was very glad I did!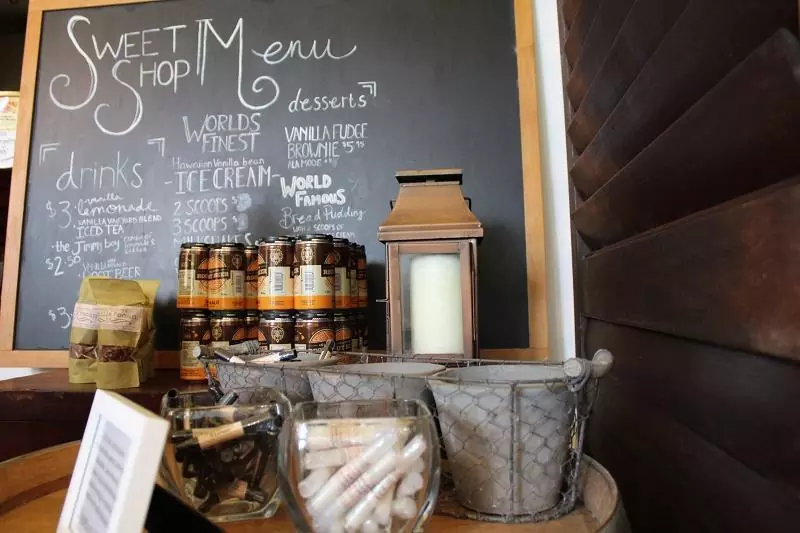 Would We Do It Again?
We enjoyed the tour itself enough, but as a self-proclaimed foodie, I can't say that the lunch was worth the extra $20. The chicken was dry and the drinks were just okay, though the actual vanilla products they were showcasing within the lunch were scrumptious.
So as much as I'd like to support the family, I'd spend that additional money buying their vanilla sauces in the gift shop if I could do it over again. They also have a nice selection of chap sticks and high quality vanilla pods, but on the cooking end I'd recommend the aforementioned sauces & spice rubs (the rub they serve on the potatoes at lunch is delicious).
At the end of your tour, other than the coffee, you also get a postcard to send anywhere in the US. As long as you properly address it, they'll send it for you, which is a sweet little token of appreciation. Overall, I enjoyed the tour of the Hawaiian Vanilla Company and learned quite a bit, but would recommend the shortened version in the future.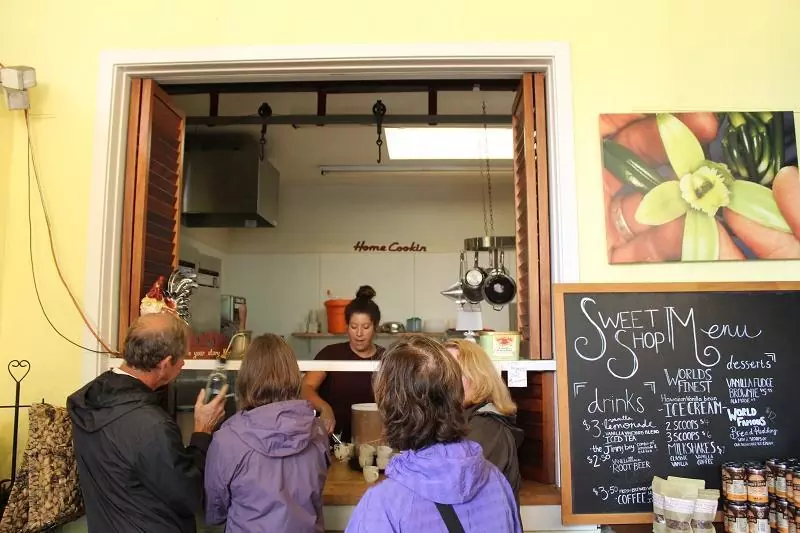 Hawaiian Vanilla Company Tour: Prices & Options
Tours are offered on week days at 1pm, or 12:30pm if you opt for lunch. The basic tour includes your drink of choice, the vanilla presentation and farm tour, as well as ice cream & coffee afterwards; the price is $25USD per person. The "Vanilla Experience" option adds lunch into the mix, and costs $48USD per adult & $28USD per child.
Reservations are required for all tours, and you must pay in advance. Prices are accurate as of April 2019, and do not include the 10% taxes & fees.
Click here to make a reservation.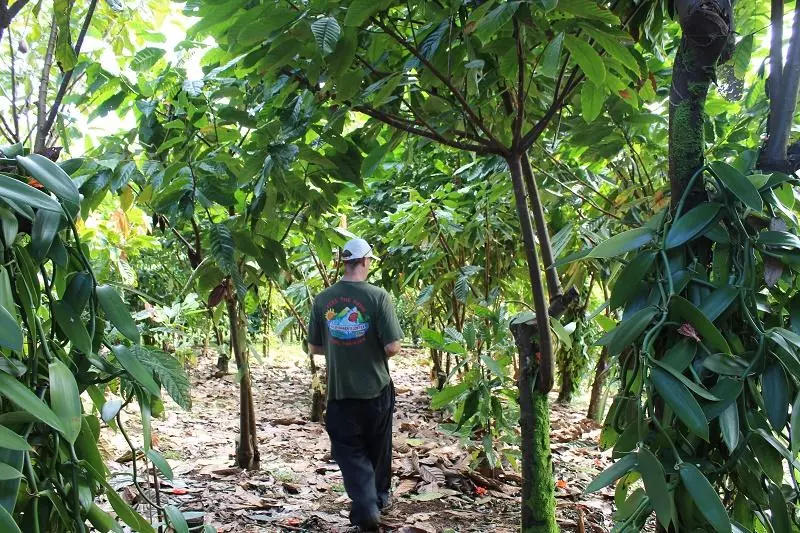 Other Places To Find Hawaiian Vanilla Beans
If you're unable to make it all the way to the northeastern side of the Big Island, there are some alternatives to the Hawaiian Vanilla Company.
Closer to Hilo, the main city on the eastern shore of the Big Island, there is Sharkey's Coffee & Cacao Farm, where the Sharkey family grows a variety of plants, but focuses on coffee, cacao, and vanilla. They're one of the few farms on the island growing a relatively large amount of vanilla, and they're huge proponents of other farmers adding vanilla vines to other fruit trees already growing on their property.
If you can't make it on one of the Sharkey family's tours (see the above picture), you can still visit their cafe just north of Hilo to pick up some real Hawaiian vanilla beans, or visit their stand at the Hilo Farmers' Market. On the other side of the Big Island is Huahua Farm, a family farm focusing on vanilla. Their farm is located in Holualoa, just south of Kailua, and even though they're not currently offering farm tours, you can order their products online. They sell macadamia nuts, Kona coffee, vanilla sugar, and Hawaiian vanilla beans.
Map To The Hawaiian Vanilla Company
---
Did this post help you plan your trip? Save it on Pinterest so that it can help others, too!