Maddy Smith comes from a family of fabricators.
For her entire childhood, her family had this secret chocolate toffee recipe that served as the envy of the neighborhood. For the longest time, this was Maddy's favorite treat. Years later, her family told her that they'd actually just clipped it out of the local newspaper— that being the "secret" part of the recipe. Everything she'd known about her family's chocolate story had been wrong.
But this over-sweetened version of chocolate was all she knew until 2012, the year her life sort of broke down.
That year, Maddy looked up from her everyday life and found herself in a very dark place, her father dying and her long-term relationship ending. Amidst all the turmoil, she somehow made a very simple realization: "the more raw cacao and chocolate that I ate, the better I felt. And I liked that."
So she pursued it. She didn't start bingeing on chocolate, using it as a crutch for her feelings; she first asked herself why she liked it so much. When she realized that she didn't really know the answer, she started to do some research.
"In the '90's, everybody thought chocolate was bad for your skin, made you fat, and gave you pimples. And in the early 2010's, everybody did a lot more research, including myself, on the ingredients included in those chocolates." Research led her to the information that cacao is one of the healthiest foods on the planet, and that if you remove all of the processed oils and sugars and preservatives from commercial chocolate, that's what you get.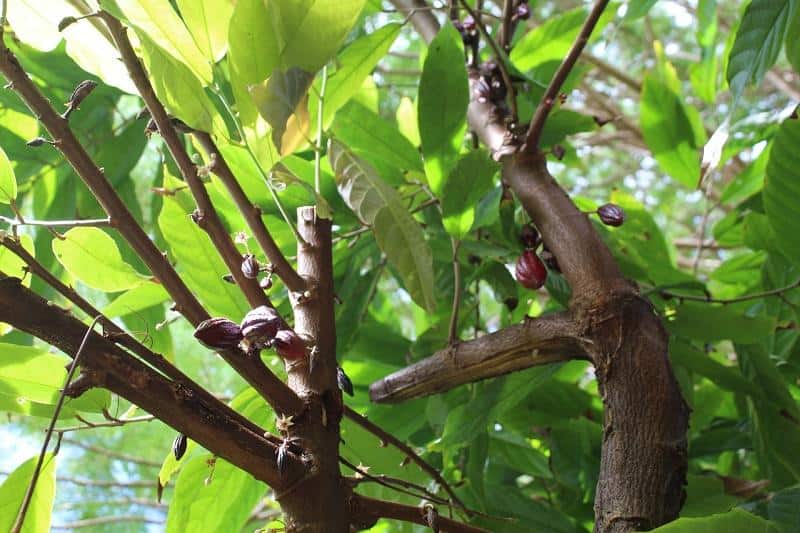 It was the same cacao research Maddy found that has also brought about changes in how the rest of us perceive chocolate. Over the last half decade or so, part of this research has actually fueled the growth of the craft chocolate movement. The cycle has fed into itself, prompting the release of many high percentage chocolate bars, most of them made with such low quality ingredients that they tasted more like dirt than like chocolate.
It was in the midst of her cacao discoveries that Maddy became involved in the "raw" chocolate movement, making her own chocolate at home from "raw" cocoa powder & cocoa butter, and medicinal herbs. After a few years of her medicinal chocolate making, in 2015 she moved to the Big Island of Hawai'i. There she learned that you can actually grow cacao in the United States. In fact, she could grow it in her very own backyard.
So she does.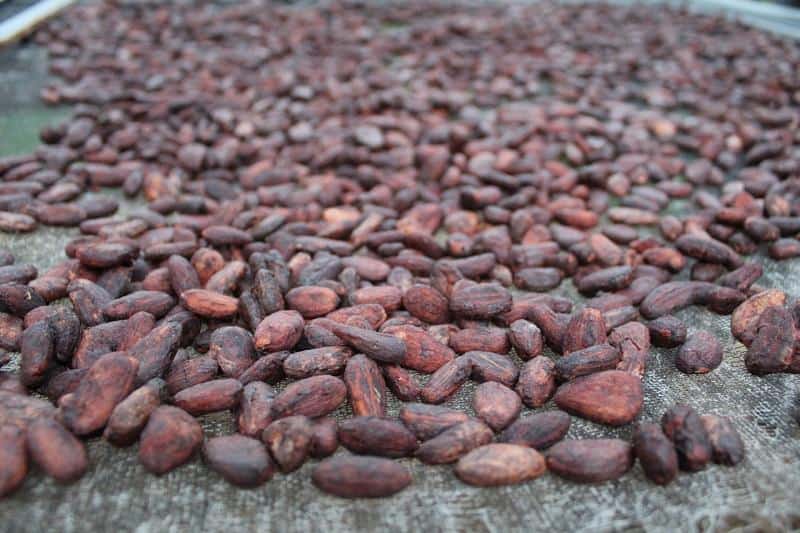 After she moved to Hawaii, Maddy became involved in the Hawaiian chocolate & cacao movement pretty immediately. She became the Barefoot Chocolatini, and now runs cacao farm tours, and makes her own bean to bar chocolate at home (doing most of the post-harvest processing of the cacao herself). Every week, she meets people who are a lot like herself when she was first discovering the benefits of cacao, and to her delight, she now gets to be that enlightening presence.
"People come to Hawaii seeking nature, getting as close to nature as they feel comfortable with. They come on farm tours because they're interested in where cacao & chocolate comes from; they want to know what the tree looks like, how it's processed. They have no idea that it's a fermented food, and the background that goes along with it."
Farm visitors have come from all over the world, and range from small groups on a work retreat to young families and solo travelers. But a common thread among them is this interest in where their food comes from. They want to know all about its history, from tree to bar. They ask about who picks the pods, and any pesticides used on the farm. Where is the machinery sourced from?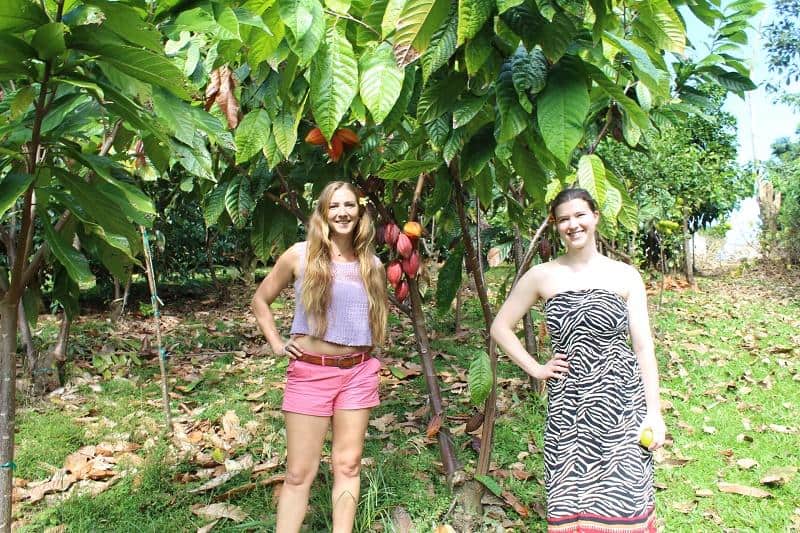 Maddy doesn't always have the answers. But she's quick to tell you if she's not sure, happily looking up the answer or asking a local friend. Because there is a lot to know about cacao and chocolate, and beyond that, about Hawai'i and how its many micro-climates affect all of the little details of chocolate making. Learning everything would take several lifetimes, but that doesn't mean there aren't people trying to do exactly that.
Just over the last four years that Maddy's lived on the Big Island, she's noticed an uptick in interest on the farmer side in regards to pursuing cacao. In part this is due to the influence of craft chocolate culture from the mainland, but it's also due to stronger consumer interest in every aspect of their food. With freer access to information these days, the power our food has over us has become even more obvious, sparking a need within us to learn more about it.
You are what you eat, after all.
But even the wonders of creation can become boring if they're just listed out as a series of steps. It turns out that we've become fascinated less so with the foods themselves, and more so with the stories we tell about them. "Every time I leave a chocolate maker or cacao farmer, I am re-inspired and intrigued by all the different ways people do the same thing," says Maddy. Her role is different from that of the makers she works with and the consumers she takes on tours. Because Maddy is the storyteller bridging the gap between them, no fabrication needed in this chocolate recipe.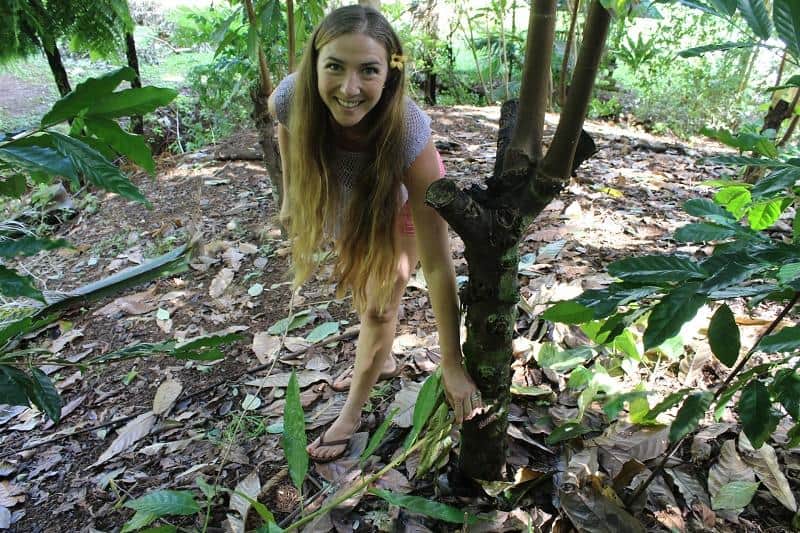 Every time she learns a new detail about chocolate and cacao, it adds to the depth of her stories. No matter whether her audience is visitor or local, everyone always walks away having learned some new fact or figure about chocolate and cacao. For example, most people have no idea that you can make chocolate at home, a pursuit which many of the state's cacao farmers do. It allows them to add value to their crop, which they can then sell locally.
Even though there are over a dozen people making chocolate on the Big Island alone, most of them run extremely small operations, which you might not even know about if not for people like Maddy. On her chocolate bar crawls she takes visitors around the chocolate shops of the sleepy town of Hilo. Over the course of a few hours, they're taken through the many steps of chocolate making, and given the chance to taste chocolate made with a variety of Hawaiian cacao terriors.
At the moment there are only about a half dozen different growing regions in Hawaii producing enough cacao to differentiate and promote as separate Hawaiian cacao origins. But Maddy & her cacao colleagues are working to change that in the coming years, transforming Hawai'i into the Napa Valley of Chocolate, albeit with a few flights in between.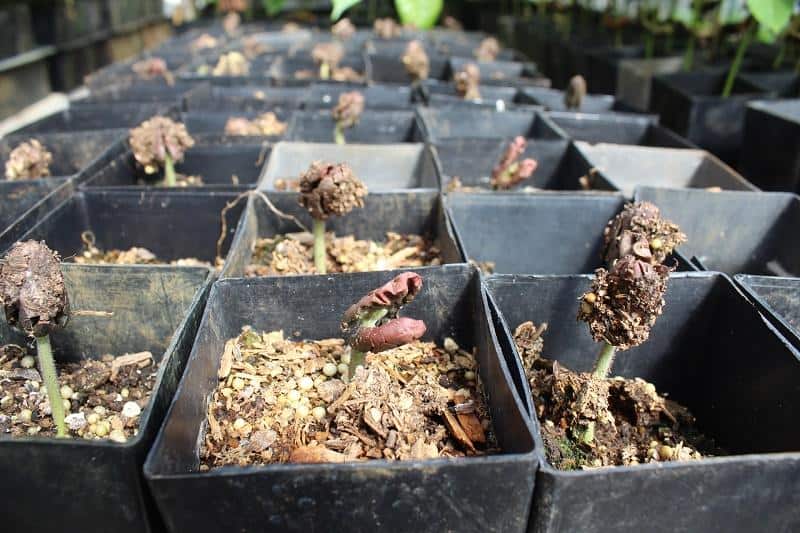 After all, people travel for wine and food all the time, so why not travel for chocolate? Maddy's vision involves a cacao farm map and an established cacao road along which visitors can freely visit a number of different farms. With all of the factors that play a role in chocolate flavor, and all of the different things you can do with cacao, it wouldn't be too hard to create & sell very distinct chocolate terriors on the same island.
With all the possibilities for local food & drink pairings, and tastings of Hawaiian & international chocolates, Maddy is confident they can craft something really special across the islands. Very soon, both visitors and locals will no longer have to wonder about where their chocolate's ingredients come from. But one of the obstacles Maddy's had to contend with is a lack of context for Hawaiian chocolates.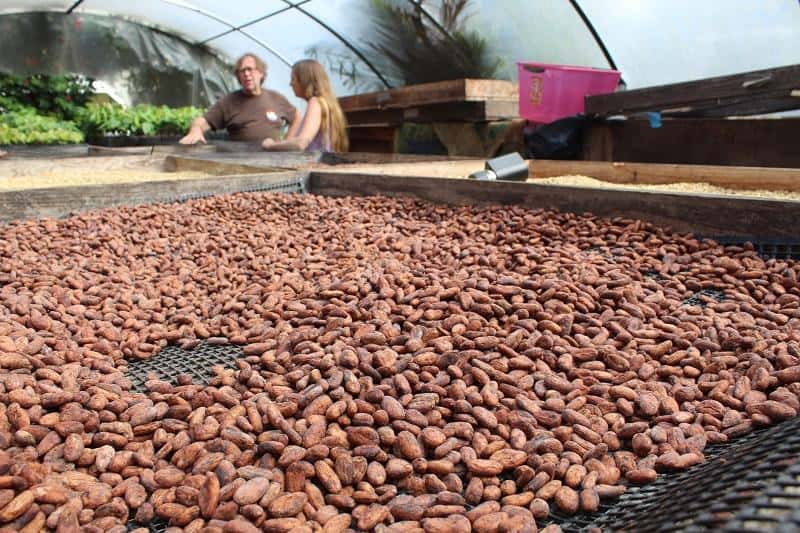 The amount of international and mainland American craft chocolate available on Hawai'i is abysmal, meaning that consumers have no other reference points for either price or flavor of other small-batch chocolates.
At the moment, Maddy is working on a chocolate subscription box solution to that problem, but retailing chocolate is a new undertaking for her. The farmers & chocolate makers she's been working with on Hawai'i have been growing cacao for years now, but local demand is just now starting to pick up. Adding imported chocolates into that mix is a risk, but so was moving to Hawai'i four years ago, changing her family's chocolate story for the better.
If Maddy's learned anything over the course of her Barefoot Chocolatini journey, it's to always pursue your happiness, even if it seems scary.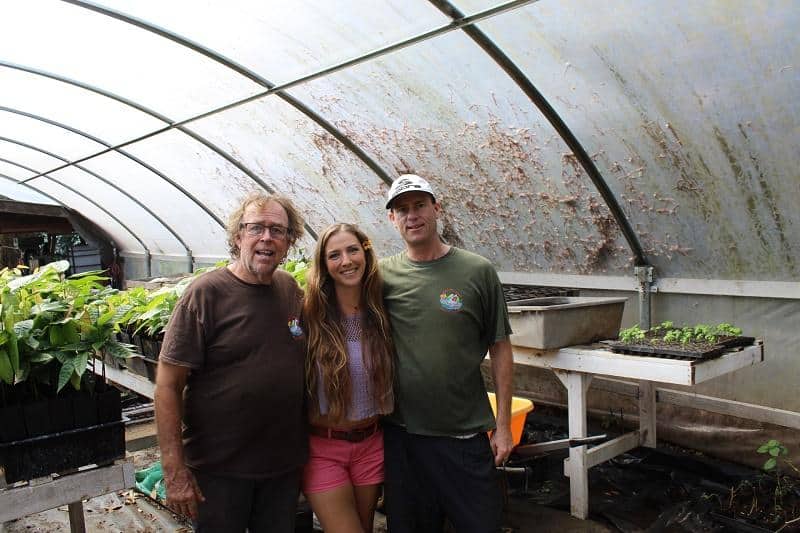 "You have to find where your rock bottom is, so you can rebuild with a strong foundation."
Maddy's driving force is the truth. Whatever the whole, unfiltered truth is, she wants to know it. So what started off as a fascination only with raw cacao has continued to evolve as she learns more about the fruit and the relationship we have with it. Perceptions change, and people change along with it. But that first spark of happiness has kept her on an ever-winding path, balancing the truth with her pursuit of happiness. A pursuit which for her, doesn't always mean choosing between one or the other.
At least when there's chocolate involved.
Connect with the Barefoot Chocolatini on Instagram or Youtube, and book a tasting or tour through her website. A huge thank you to Maddy for showing me all around the Hawaiian chocolate & cacao scene, and for sharing her story with me!