Have you ever wanted to visit a chocolate farm, and try a fresh chocolate fruit straight off the tree? Of course you have! For those of you not in-the-know, the chocolate tree is called Theobroma cacao, and it grows within 25 degrees of the equator, putting Hawaii right at the edge of its growing region.
Hawaii is the only US state which can grow cacao, and actually has one of the highest concentrations of tourist-accessible farms in the world, with a huge chunk of them right on the Big Island. Chocolate makers are in high concentration here, as well, with most of them making chocolate from cacao tree to chocolate bar all in the same place.
Hawaiian chocolate is hard to find off of the islands, since local demand is so high. Therefore, one of the most unique things you can do on your Hawaiian vacation is tour a cacao plantation.
But other than trying a fresh chocolate fruit, on each of these tours you'll also learn all the steps of chocolate making, the culture of Hawaiian cacao, and how making chocolate on Hawaii contributes to sustainable farming locally.
Unlike my other chocolate travel guides, this one has more of a farm focus than a shop focus, so only retail shops have their address written down (though the general area of each farm is marked on the map below).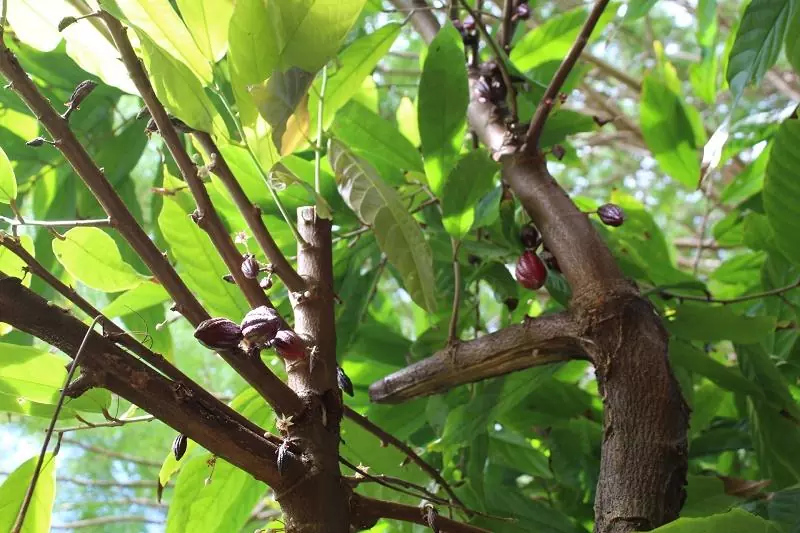 Hawaiian Chocolate Culture
Although the city of Honolulu, and Oahu as a whole, get much more tourism than the Big Island, I'd argue that the Big Island is a better chocolate destination. This is where the state's highest concentration of cacao farmers and chocolate makers resides.
Even though most all of the farms are tiny by world standards, they still have plenty of trees for demonstration & explanation. Some of the farms even have enough trees to do full fermentations by themselves, meaning that they now have material of good enough quality to turn into chocolate.
Hawaii is therefore the best place in America to learn about chocolate. The Big Island in particular offers great insight into how chocolate is made, and a wonderful opportunity to chat with cacao farmers one-on-one.
Also note that Hawaii's islands were formed thousands of years ago by violent volcanic explosions. There are still active volcanoes that make up parts of some islands, including three here on the Big Island.
Last year, Mt. Kilauea erupted violently, destroying many homes and farmland, and displacing lots of people. Some of this farmland included cacao farms, but farms and regions on the south side of the island are currently safe to visit.
Farm tours are on the expensive side, at $40-65USD per person, though kids are free on many of the tours. It's really a perfect family activity, and luckily the visits take up a whole afternoon, averaging two hours & choc full of samples!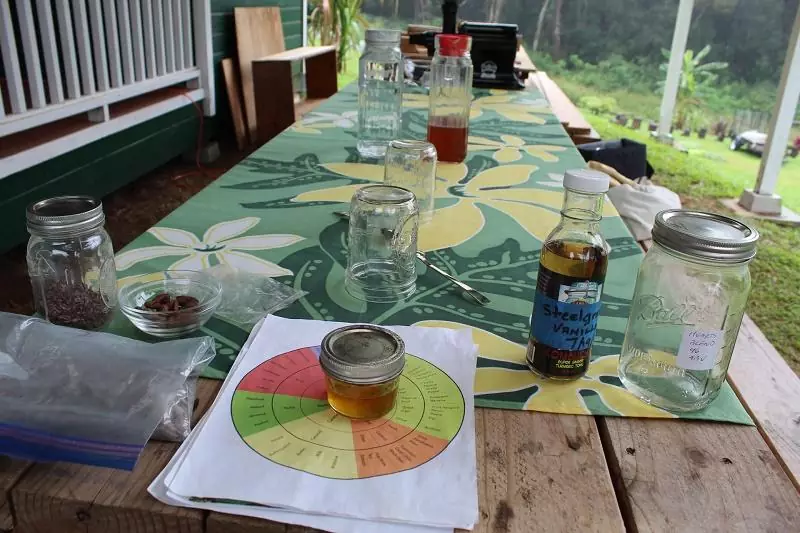 Big Island Travel Tips
Place names. For everyone else who just can't seem to remember the difference between all of the Hawaiian cities that start with K, here's a map of the Big Island. The Big Island is indeed the biggest island in the Hawaiian island chain, but its full name is actually the Big Island of Hawai'i (hence the nickname). Fun fact: w's in the Hawaiian language are pronounced as v's; don't let that throw you off when hearing location names.
The Big Island IS big. The island itself takes about an hour to cross at one of two or three points, and two hours to get up either coast. This doesn't sound like a long time, but it sure adds up if you're planning to visit more than one chocolate stop! Most places start to close around 4 or 5pm, as well, so be sure to start your days early.
Cell signal. It is horrible outside of Hilo, seriously, and at several points along the highway you won't get any signal at all. This can be scary if it starts raining and your car hydroplanes, like mine did at several points, so be sure you download Google Maps on to your phone before setting out and drive slowly.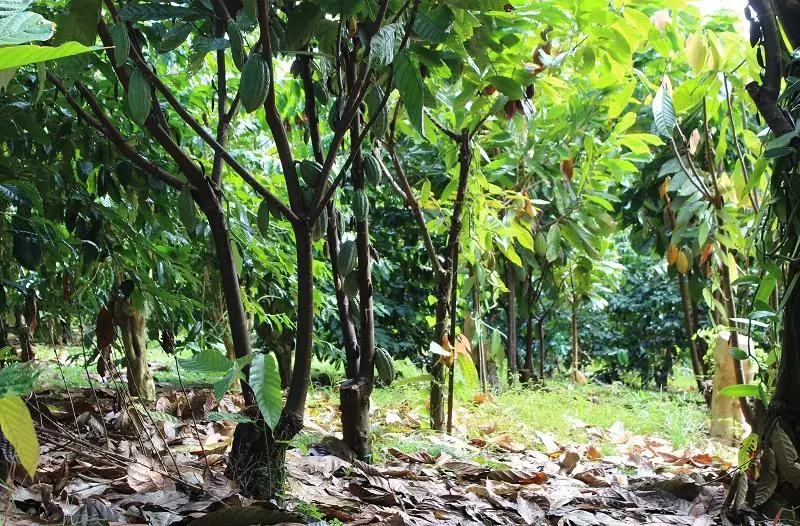 Big Island Chocolate Shops (Retailers)
When you just don't have the time to go on a Hawaiian chocolate tour, or you want a nice large selection of makers, you'll want to visit a retailer. The shops below have a decently large selection of local Hawaiian chocolates, and are located across the big island.
If you want to get to the local selection as fast as possible, ask about Sharkey's or Pa'auilo Chocolate; they have the biggest distribution locally. Chocolate retailers are marked on the map in purple.
The smallest of all the Big Island chocolate retailers, Locavore only sells Hawaiian products, no exceptions. This means that for those of you with a penchant for supporting local businesses, but not enough time to visit them each individually, this is your stop.
Its location in downtown Hilo doesn't hurt, either. When I went in, I spent nearly $100USD on local honeys, jams, and chocolates, happily filling up an entire reusable bag (which I then bought). Be sure to ask for samples of anything you're interested in, as you never know what they've got on hand!
Address: 60 Kamehameha Ave, Hilo, HI 96720, USA
Hours: 9am-6pm, weekdays; 9am-5pm, Sat.; 10am-4pm, Sun.
This Hawaiian chain is like Whole Foods, but much smaller. They maintain a huge fruit & prepared food area, as well as a dedicated chocolate and sweets area, where several local chocolate makers are represented. But unlike the chain grocer's Foodland, they carry more "raw" and "super food" chocolates from around the US & abroad, and overall a larger organic food selection.
Address: 1221 Kilauea Ave, Hilo, HI 96720, USA (Hilo location)
Hours: 7am-8pm, Mon.-Sat; 8am-7pm Sun. (Hilo hours)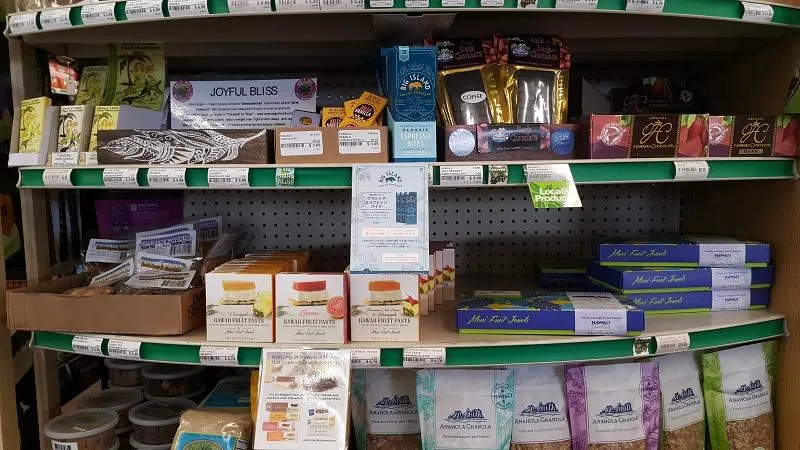 This is your local natural foods store, all organic with a focus on vegan & vegetarian options, and prepared foods for takeaway. They have a small selection of local chocolates, such as Sharkey's and Pa'auilo Chocolates, and ones imported from the mainland and abroad.
But the biggest pull for Abundant Naturals (as it's known locally) is that it's located right in downtown Hilo, along with Locavore. This makes it the most accessible as both a chocolate stop and a lunch break.
Address: 292 Kamehameha Ave, Hilo, HI 96720, USA
Hours: Mon/Tue/Thu/Friday, 8:30am-7pm; Wed/Sat 7am-7pm; Sun 10am-5pm
While Foodland is first & foremost a large grocery store, they also have a much larger than average selection of both local Hawaiian and regional American chocolates. If you're pressed for time, but know that you're near a Foodland, it's worth stopping in for a short perusal of the chocolate selection.
Sometimes they even have a special section for Hawaiian chocolate bars, so be sure to ask about that. If they take you to the Hawaiian Host chocolates, be more specific and as about "high end" Hawaiian chocolates, and feel free to namedrop "Manoa" (one of the easiest-to-find Hawaiian chocolates).
Address: 16-586 Old Volcano Rd #102, Kea'au, HI 96749, USA
Hours & Prices: 6am-10pm, daily (Kea'au location)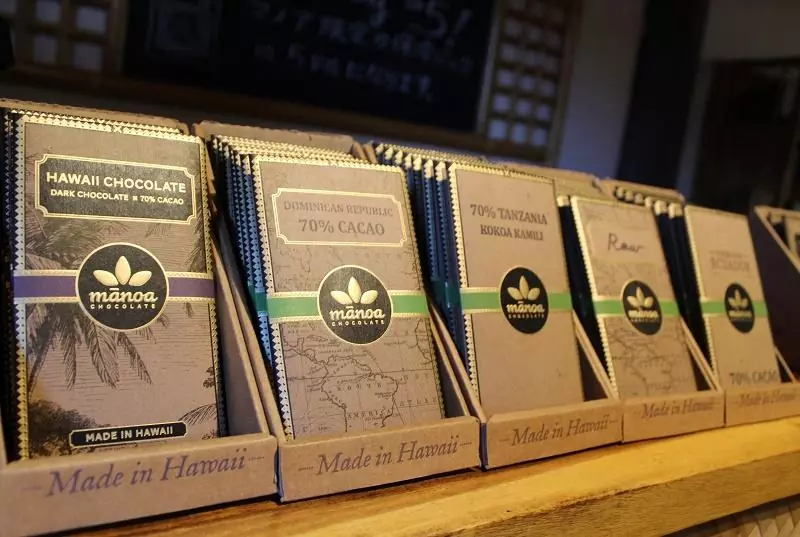 Waikoloa & Kailua-Kona Chocolate
Most visitors to the Big Island stay around Kona and Captain Cook, where many military families are also based. Lucky for all of you, the west side of the Big Island also has some beautiful cacao farms to visit! It's not all beaches, though those are beautiful, too.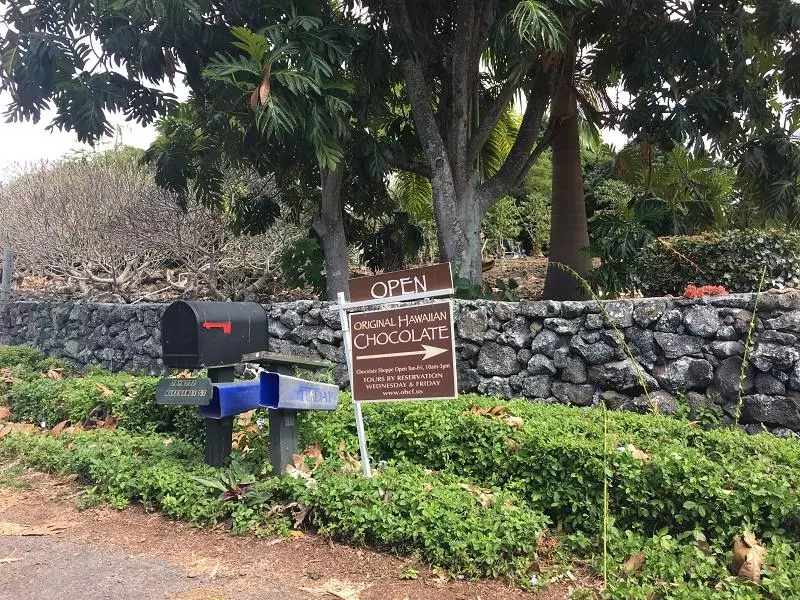 This is the oldest still-standing chocolate factory on the Big Island. Started in the 1980's, the shop is bean to bar using only Hawaiian cacao, and now sells three types of chocolate designed to show off the terror of Hawaii as a whole: forastero milk, forastero dark, and criollo dark.
The company uses the cacao trees on their property, as well as cacao from local producers, to make their bars and other products. As soon as you walk into their shop, an employee will offer you a little paper cup with curated samples of each type of chocolate, which I'll let you judge for yourself, but I didn't buy much.
Original Hawaiian Chocolate Factory tours are only offered twice a week, and I wasn't on the island either of those days, so I only visited their shop. But other visitors have had only good things to say, though it's on the shorter end of the cacao tour spectrum.
Advance reservations are required for all tours, which are held at 9am on Wednesday and 9am & 11am on Fridays. The tours cost $20 per person, and take place right next to their shop.
Address: 78-6772 Makenawai Street, Kailua-Kona, Hawaii 96740
Shop Hours: 10am-3pm, Tue.-Fri.
A rather unconventional stop for a chocolate lover, Red Water Cafe is primarily a restaurant (and quite a delicious one, I might add!). But the owner, David Abrahams, also makes his own chocolate from bean to bar, selling it in the cafe & using it in the menu.
The chocolate itself is fine, very chocolatey and earthy, but the kava bar is bitter & numbing (apparently, exactly as it should be). The chocolate is good and made in-house, but I'd recommend the flourless chocolate cake above all.
Address: 65-1299 Kawaihae Rd, Waimea, HI 96743
Cafe Hours: 3-11pm, Mon.-Sat.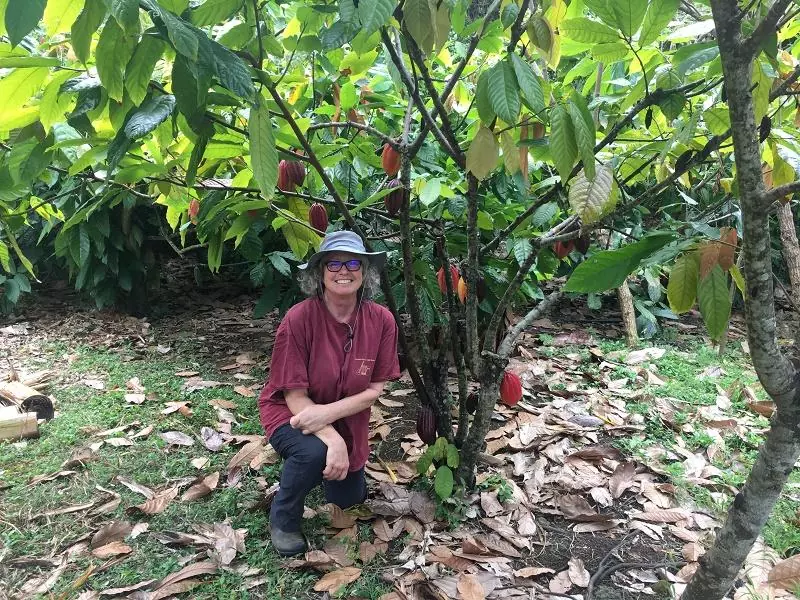 Una & Leon have had cacao trees since 2001, and have been adding to their agroforestry plot for much longer. Each farm tour lasts 2 hours and takes you all across their well-used plot of land. The cacao trees are out back, but planted all around them, above & below, are different levels of flora.
From tall trees to coffee bushes and ground covering plants like turmeric or tomatoes, each patch of land has a purpose. Their plants work together in harmony, but I'll let Una tell you more specifics— she's been caring for the farm for over four decades.
At the end of the tour you'll get a taste of some of the chocolate products the couple makes on-site: chocolate-covered macadamia nuts, dried banana slices, and chocolate bars. Tours are offered by request, with at least a day's notice; they cost $15 and include a $5 credit towards purchases.
Pro-tip: don't use the address on Google for their farm, because it won't take you to the right place; pull over and follow their map once you reach Green Mountain Rd. Address emailed after booking is confirmed.
I'm reluctant to add Ocean Grace to the list, but I've been told that the family behind the operation is quite lovely, and thorough in their tours. I tried to reach out, however, and received no response.
But if you'll be in the immediate area and want to tour a cacao farm nearby, it's worth contacting them in advance. The farm's owners and main caretakers are husband & wife Marty & Nancy. Address emailed after booking is confirmed.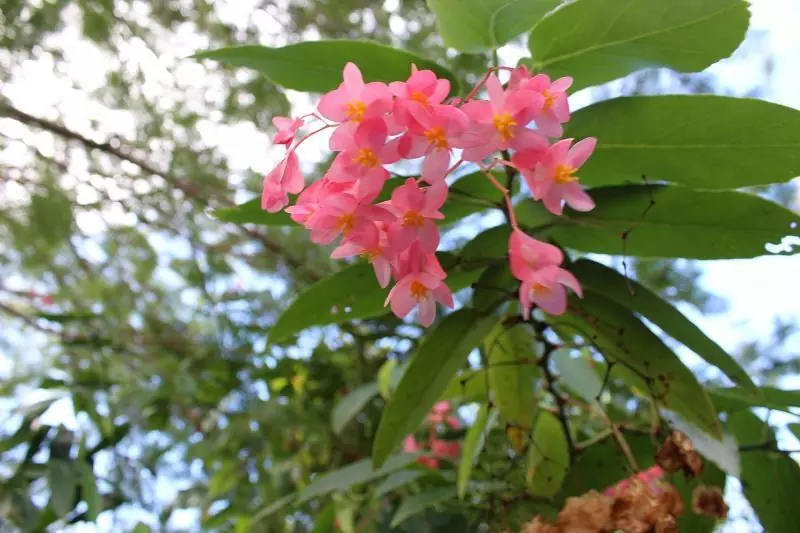 This family's business is cacao. They've been making chocolate for over half a decade, selling their creations at the weekly Keauhou Farmer's Market in Kailua. Alongside their chocolate bars, they also sell fresh cacao pods, roasted coffee, macadamia nuts, and a variety of seasonal fresh fruits from their farm.
Their chocolate bars range from a 51% milk chocolate to a 75% dark chocolate, with dairy-free options available, and domestic shipping if you order on their site.
Address: Keauhou Farmer's Market, 78-6831 Alii Dr, Kailua, HI 96740
Market Hours: 8am-12pm, Saturdays
Hamakua & Hilo Chocolate
Most of the cacao from the Big Island is from the eastern coast, especially around Papaikou and the Hamakua Forest Reserve. So it's no surprise that most of the Hawaiian chocolate tours are along that side.
However, the east coast is also home to a few tree to bar chocolate brands whose farms aren't really open to the public. Notably, Aloha Feels & Pa'auilo Chocolate are both making and selling chocolate, but don't offer farm tours at the moment.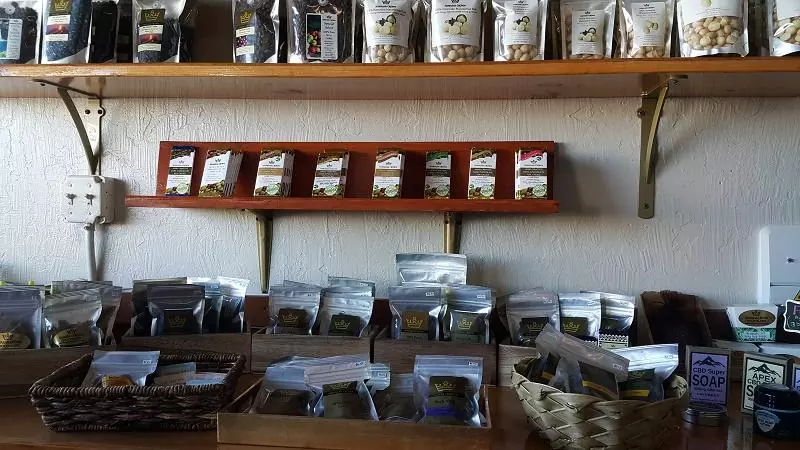 This is a small storefront with a large, open work space where they make the chocolate. The shop is easy to miss if you're not keeping an eye out for it, but it is right along the main drag in downtown Hilo. When you first enter, look to the left on the counter and sample some of the chocolates in their line-up, ranging from 80% dark to 50% milks and sugar-free options.
The shop boasts a large coffee and chocolate drink menu, as well as bags of various coffee roasts & little baggies of chocolate-covered goodies. They're working on a CBD line of cacao-based products.
The owner, Tom Menezes, has been working with cacao for decades, and really knows how to work a bean into some good chocolate. Hawaiian Crown also has a shop on O'ahu and a farm outside of Hilo, which you can tour for $15 a person on Mondays, Wednesdays, or Fridays at 2pm.
Address: 160 Kilauea Ave, Hilo, HI 96720, USA (shop location)
Shop Hours: 8:30am-5pm, Tue.-Sat.; 10am-4pm, Mon.
A relative newcomer on the scene, Mauna Kea Cacao has been offering farm tours since spring 2019, now in both English and Japanese. The young Hawaiian cacao farm was started in 2011, and has been expanded every year since then through the loving effort of the owners, Susan and John.
On their weekly tours, they take both kids and adults through the laborious process of growing and then making your own chocolate. The half-mile tour will take you across their beautiful farm, where you'll be able to pick & crack open your very own cacao pod.
Then you'll be taken over to the drying beds, and to see any active cacao fermentation they have going on. At the end, you'll get to try their award-winning cacao, and sample some chocolates made by American craft chocolate makers.
The cost of the 90-minute tour is $40 per adult & $15 per child aged 6-17. Small private tours can be arranged with a week or more of notice.
Address: 10 minutes' drive north of Hilo; address for GPS & directions emailed after booking is confirmed.
Hours: public tours offered at 10am & 1pm on Thursday (in English) and at 10am on Wednesdays (in Japanese)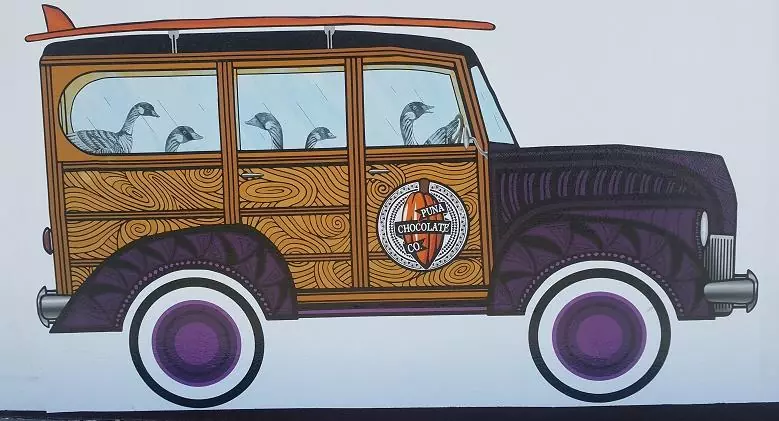 Puna Chocolate is expanding remarkably quickly, now having 3 locations across the US. On my visit to their shop in downtown Hilo, a very nice young guy was managing floor, which also features other Hawaiian-made handcrafts, like instruments and non-chocolate sweets.
As soon as you enter you'll be offered a couple of samples of whatever they chose to open that day, giving you a good sense of whether or not you'd like to invest in a bar or two. Puna's lineup has a 70% dark or 50% milk base, as indicated by the color of their wrapper, and a variety of interesting local inclusions.
Of the bars I sampled and bought, my favorites were the plain Dark Milk and the dark Honey Berry Wine. They also have limited supplies of a 90% dark bar, which is neither sweet nor bitter and has a very strong base cocoa flavor.
Address: 126 Keawe St, Hilo, HI 96720, USA (Hilo location)
Hours: varied. Open at 9am Mon.-Sat. & 10am Sun; closed 6:30pm Sun./Mon, 7pm Tue.-Thu., 8pm Fri./Sat.
Formerly Mahilani, this 1000 acre farm holds a number of cacao trees, enough that they've been producing Hawaiian chocolate for many years. The estates actually also produce cacao products such as cocoa butter, cocoa powder, and cocoa tea.
So they must have a large enough swath of cacao growing to warrant buying a cocoa butter press (which is a very expensive machine). But honestly, Lavaloha doesn't have much of a presence beyond their products, and I couldn't find much information on their estates (beyond that they exist).
They hold regular tours of their plantation, and even have a little cart to take you from one place to the next. However, if you don't have time to visit then you can purchase their products in several different shops across the island.
Tours are offered four times daily, and cost $30 per adult and $5 for youths (6-12), with kids 5 and under visiting for free.
Address: 1820 Amauulu Rd, Hilo, HI 96720, USA
Hours: 9am-5pm, daily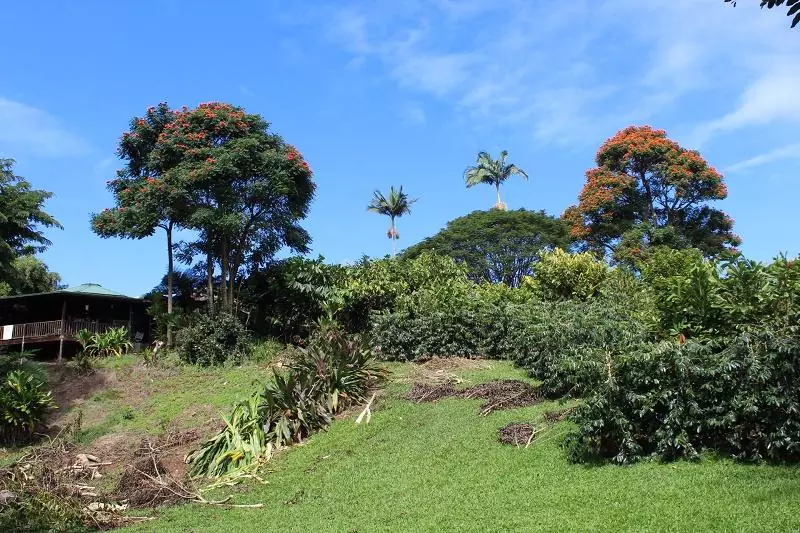 Sharkey's, or Hilo Shark's Chocolate, is one of the more established Hawaiian chocolate brands on the Big Island. You can find their chocolates in shops across the island, but there's just something special about trying a chocolate fresh out of the melangeur.
Their farm tour takes you all around their cacao, coffee, and vanilla farm, located in the same region where most of Hawaii's commercial cacao is grown. With land so beautiful, it's no wonder the trees don't want to leave!
Some of their cacao trees are decades old, with younger ones being sprouted each month. At the entrance to their farm you'll spot some of those cacao seedlings, many of which will end up on other people's farms— Tom Sharkey, the owner, is often called the Johnny Appleseed of cacao.
The family started off in coffee decades ago, but they later got into cacao, and expanded into vanilla later on. They now work with local growers to ferment and dry their cacao to turn it into chocolate, right there on the farm.
You can purchase Sharkey's Chocolate from a number of shops across Hilo, as well as at the Hilo Farmer's Market, and from their cafe just north of Hilo, or after your farm tour.
Address: 1672 Old Mamalahoa Hwy #28, Honomu, HI 96728, USA (cafe address)
Hours: 8am-4pm, daily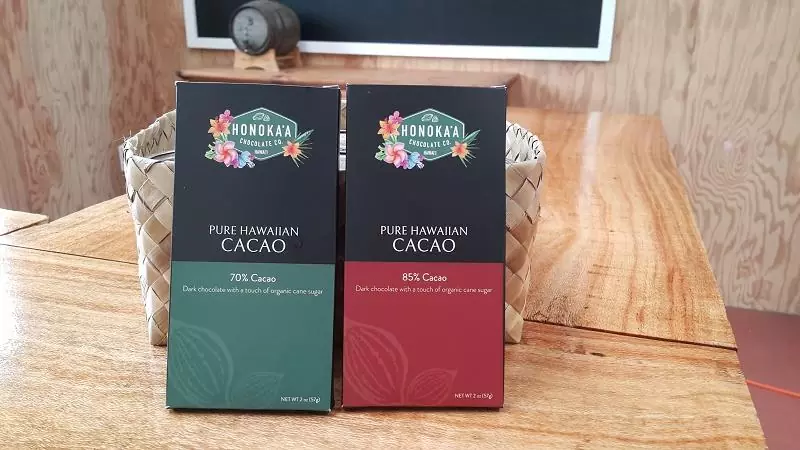 This is the first Hawaiian cacao farm I visited. The owner, Mike, gave me a 1-on-1 tour during one of their scheduled tour times, though I'd have had companions if others had signed up. Our tour started over at their small chocolate shop, where Mike makes & tempers all of his chocolate by hand.
We continued down and then up the property, learning about the history of the farm its cacao grove, white pineapple fruits, and many varieties of cane grass. One of Mike's other jobs is actually as operations manager for Kuleana Rum Factory.
During my visit he was in the process of planting one of each existing cane grass varietal on his land, as a sort of living museum for sugar cane, including native Hawaiian sugar varietals.
There's basically one of each tropical fruit you could imagine on a farm, from coffee to banana to miracle fruit, and Mike can tell you about each & every one. His "white pineapple frosty" is not to be missed! Address emailed after booking is confirmed.
Hamakua means "breath of the God (or ancestors) in the local Hawaiian language, referencing the trade winds along the Hamakua coast. They bring abundant rainfall and a tropical feel year round, which has made this region legendary for its wealth of fruits and beautiful flowers.
Hamakua Chocolate Farm is located less than 10 minutes north of Hilo, making it one of the most accessible cacao farms on the Big Island. They don't have a set tour schedule, but rather accommodate guests as they make requests— winter time on the mainland is high season, so be sure to book ahead at that time.
Tours take 2 to 2.5 hours, and include a look around their farm, an overview of how chocolate is made, and insight into the Hawaiian chocolate scene. The owners, Dan & Berndt, also have two rooms available for rent if you'd like to be even closer to nature. Address emailed after booking is confirmed.
Kalapana & Pahoa Chocolate
Right now the southeastern part of the Big Island is still recovering from the volcanic eruptions in 2018, but it is currently safe to visit. The area has two spots to check out, as well, with their own unique draws.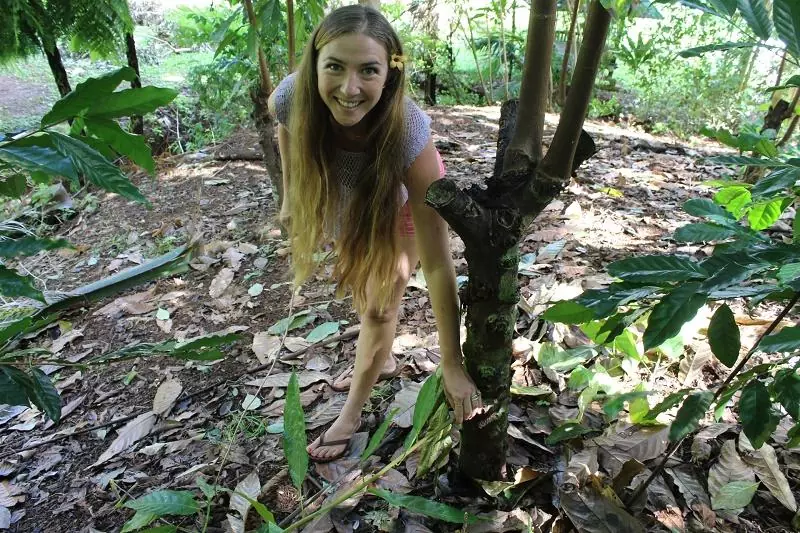 The woman behind the Barefoot Chocolatini brand is Maddy Smith, a chocolate tour guide now making her own tree to bar chocolate. Although she's based in the city of Kalapana, Maddy also works with small farms north of Hilo & Hawaiian Sanctuary in Pahoa to offer a variety of experiences related to Hawaiian chocolate.
These include cacao farm tours in Pahoa, and the Hilo Chocolate Bar Crawl and Bean To Bar Chocolate Farm Tours, all of which have rave reviews with good reason.
Maddy is very knowledgeable about the local chocolate & cacao scene, as well as the process of chocolate making from tree to bar, and she offers good perspective for curious visitors. Meeting place is emailed after booking is confirmed.
Read more about Maddy in my interview with her.
Chocolate (Kokoleka) Farm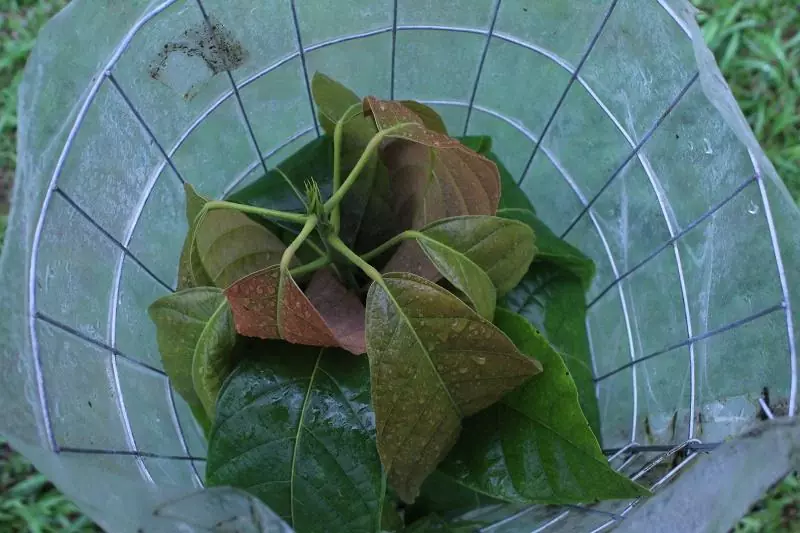 FARM TOUR IS CURRENTLY UNAVAILABLE. Kokoleka Farm owner Lynda is one of the newest chocolate guides on the Big Island, but she's not at all intimidated by the undertaking of running a farm. Most of her cacao is about a decade old now, with some younger trees planted in just the last few years, adding layers of upkeep onto the whole operation.
On her tours you'll start with a little history on the farm, but quickly move on to some tasting. Over the course of the tour you'll have the chance to try seasonal fruits fresh from the trees, including cacao, passion fruit, and breadfruit.
Kokoleka is also currently the only cacao farm offering tours in Pahoa, making it quite the unique experience for those of you who headed south in order to commune with nature. If you're seeking nature and haven't booked accommodation yet, either, Lynda also rents out a room on her property. Address emailed after booking is confirmed.
This is the first annual festival dedicated only to the Big Island's Hawaiian cacao farmers & chocolate makers, now in its second year. The festival is a coming together of most all the chocolate makers on the island, and a good chunk of the cacao farmers. It's put on by the East Hawaii Cacao Association, itself only about half a decade old.
Visitors can expect to have access to lots of samples of Hawaiian chocolate, cacao farmers from around the world, and knowledgeable folks in the Hawaiian cacao industry. Cacao seedlings will be given away to the first 750 guests, and farm tours will be available at a few points throughout the day.
Festival Venue: Hilo Hawaiian Hotel, 71 Banyon Drive, Hilo, Hawaii
Date: Saturday, April 13th, 2019 (entrance is free)
Big Island Chocolate Map
---
Did this post help you plan your trip to Big Island cacao farms? Save it on Pinterest so that it can help others, too!
Have you ever visited the Big Island of Hawaii?