Paradise. This is most people's understanding of Hawaii. There are palm trees swaying in the wind, a gentle surf, and pineapples. Sometimes we imagine macadamia nuts and hula dancers, but overall it's more tropical beach than rain forest.
But such images just scratch the surface of Hawaiian potential, and all the many unique things to do on Oahu and the Big Island. Not to mention, they completely ignore the colonial history that brought us the state of Hawaii in the first place.
In fact, like most things thriving on the Hawaiian islands, pineapples, macadamia nuts, and sugar cane aren't even native to Hawaii, but rather were brought by colonists centuries ago. Over the decades, land owners of varying sizes have tried to bring other faraway tropical plants to grow on the islands, one of which they brought over several times: Theobroma cacao.
Cacao, as the species is more commonly known, is now cultivated & made into chocolate on at least four of the Hawaiian islands, creating some of the only truly American chocolates. So before your flight to Hawaii, consider adding a cacao farm tour to your to-do list; you won't regret it!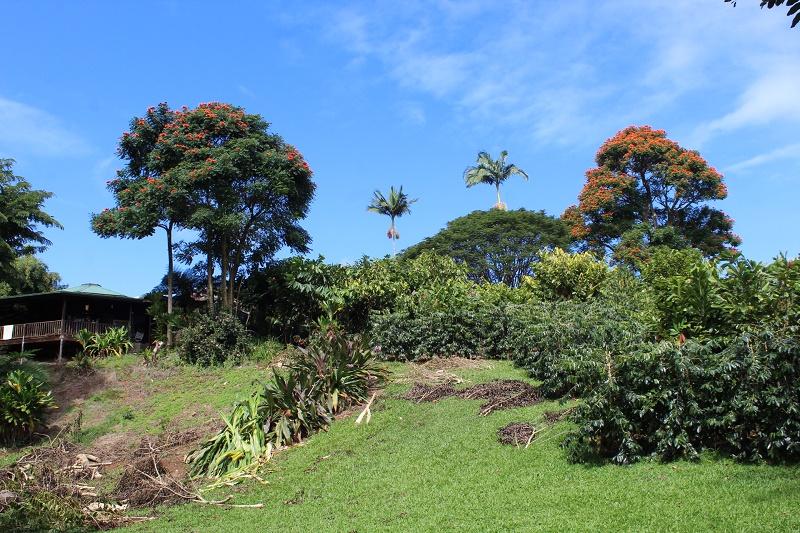 How Cacao Got To Hawaii
The arrival of T. cacao upon Hawaii is more a tale of curiosity than anything. According to Dan O'Doherty, cacao researcher and consultant, sometime during the American Civil War a botanist brought over samples of the tree for study. The samples came from two criollo varietals, one directly from Mexico and the other taken from the Philippines. It turned out that Hawaii had the perfect climate for cacao cultivation, so the trees continued to blossom.
Over the next century-and-a-half, a few large companies, including Hershey's, tried to cultivate cacao on Hawaii on a commercial scale (i.e. cheaply). This failed. For while Hawaii was gaining its reputation as a beach-side paradise, it was also slowly shedding its past as America's tropical cornucopia. All sorts of crops used to be cultivated on Hawaii but have now been mostly abandoned, including cacao's chocolate companion, cane sugar.
There was some early interest in growing cacao in Hawaii commercially around WWI, and after the war wrapped up that kind of fell apart... it was pretty quiet for the better part of a century.

Dan O'Doherty, Cacao Services
Hawaii's last sugar cane mill closed down just a few years ago, with the last dredges of Maui-made cane sugar still being sold in a few places across the islands. But unlike Hawaii's now-defunct sugar cane industry, Hawaiian cacao is finally having a real comeback. After several failed attempts to cultivate Hawaiian cacao in the same way they cultivated Hawaiian sugar cane, modern Hawaiian cacao farmers are approaching the industry with another goal in mind.
Instead of making a cheap commodity, they're crafting a product Hawaiians can be proud of: chocolate.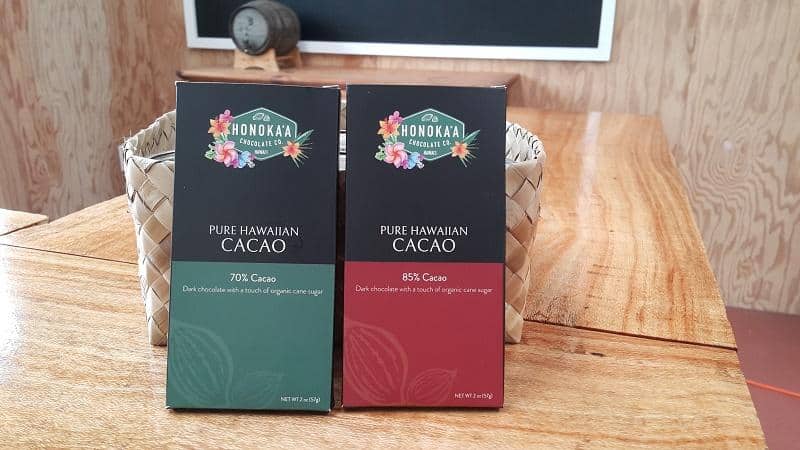 Watching Hawaiian Chocolate Making & Cacao Farming
Cacao Cultivation On Hawaii
Up until ten or twenty years ago, there weren't really any commercial cacao farms on Hawaii. The University of Hawaii continued to maintain some cacao trees in their nursery for their own study, however, so cacao has continued to grow on the island of O'ahu over the decades. But commercial planting projects never lasted longer than the few years their momentum & seed money carried them.
What these large companies hadn't yet realized was that Hawaii is not a place to cultivate large amounts of a relatively cheap crop. Bananas, coconuts, and cane had all had their time, and eventually production moved elsewhere. As isolated islands in one of the richest countries in the world, land isn't cheap in Hawaii, and neither is local labor.
So Hawaiians either needed to do something with their cacao, or give up on it, which many of them did. Selling the dried cacao beans wasn't making enough money to pay their rent. As Dan would say, cacao wasn't economically viable, and for the most part, it still isn't.
In sheer financial terms, solely as a cacao grower you'd lose money running a cocoa farm on Hawaii. But as a small portion of their farm's crops, cacao has slowly gained popularity with farmers.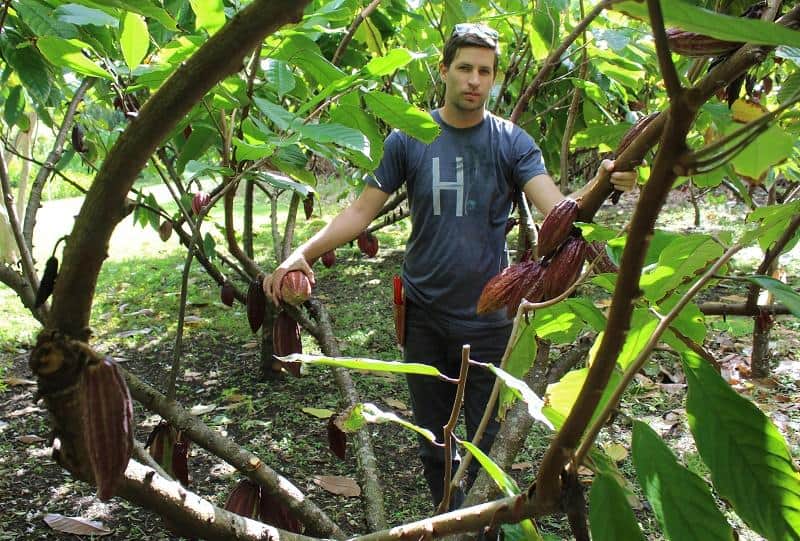 Tom Menezes of Hawaiian Crown Chocolate in Hilo, on the Big Island of Hawaii, was one of the first Hawaiian farmers to start planting cacao on his own land at scale. After realizing that chocolate making was the way to go for him, Tom started looking for partners. When he didn't find any, he started making it himself, spending two years in the research and development phase before finally launching his brand in the mid-2000's.
Hear more about Tom & Hawaiian cacao in this documentary from the Chocolate Garage, which you can also view in the video embedded above. And since I can't be the only one who's confused by all the names of islands and cities across Hawaii, please use the map below for reference throughout the article!
Just up the road from Hilo, along the Big Island's Hamakua coast, is Tom Sharkey, a coffee-farmer-turned-cacao-farmer. Sharkey & his son Erin have been giving away cacao seedlings to nearby farmers for years now, in an effort to increase the volume of cacao grown on the island. The two now make their own chocolate from cacao they grow on their land & source from nearby farmers, many of whom wouldn't be growing cacao if not for the Sharkeys.
Original Hawaiian Chocolate Factory, on the Kona side of the Big Island, is often credited with propagating the cacao craze in Hawaii. But while they've had a huge role in spreading the word on Hawaiian chocolate for consumers, they haven't done as much for cacao growth on Hawaii.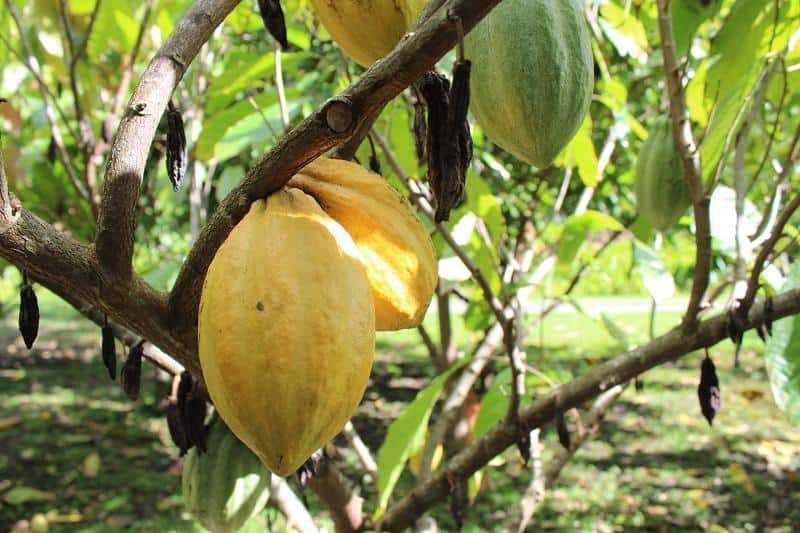 One of the most influential forces in Hawaiian cacao has also been an unlikely one: Dole Foods. The agricultural giant has been growing some cacao on their O'ahu lands for decades, even abandoning the trees for awhile, but a little over a decade ago they took up the trade again. After making some chocolate from their Hawaii-grown cacao that tasted remarkably good, the company started leaning into cacao's potential on Hawaii.
It was around the same time, about a decade ago, that Dan O'Doherty stepped onto the Hawaiian cacao scene as a masters student at the University of Hawaii. In recent years he's genetically mapped numerous distinct types of cacao grown on Hawaii, built a research farm on nearby land, and started his own cacao consulting business.
Up until recently, Dan did much more work internationally, because outside of a few farms looking to cultivate on a larger scale, there wasn't a lot happening in the Hawaiian cacao scene. This is changing rapidly, however, and local business has been keeping Dan busy. A few of the cacao farms I visited on Hawaii had been cultivating cacao on a small scale for well over a decade.
Some had even all but forgotten about their trees for a time, but the rest had made the additions relatively recently. Thanks to their isolation, cacao on Hawaii only faces a few pests and diseases that threaten production, and local farmers have come up with solutions for each. Still, most farmers' trees produce only small amounts of cacao, often not enough to properly ferment without outside help.
But maybe four or five years ago, there was a decided shift on the island chain. The American craft chocolate scene was starting to reach Hawaii, Lonohana started selling their single-estate tree to bar chocolate, and people started taking notice of Hawaiian Chocolate off-island. It's the newer, bigger projects on Hawaii, inspired by these recent successful cacao endeavors, that have been keeping Dan's attention.
Hawaiian Chocolate Making
There were very few chocolate makers on the islands over the years, up until 2009. That's the year Lonohana Chocolate started their cacao plantation on the North Shore of O'ahu. The farm was started with tree-to-bar chocolate making in mind, inspired by the work of the Grenada Chocolate Company on the Caribbean island of Grenada.
Then in 2010 both Madre and Manoa started their chocolate making ventures, separately starting two of the first craft chocolate companies in the US, both based on O'ahu. All three makers continued slowly growing their operations until another milestone year marked the Hawaiian chocolate scene in 2014: Lonohana started selling their chocolate and Hawaiian Crown opened their first retail shop on The Big Island.
This time five years ago, Hawaii had one of the highest concentrations of chocolate makers in the US, and now the number of micro-batch chocolate makers is only growing as small farms continue exploring the possibilities of vertical integration.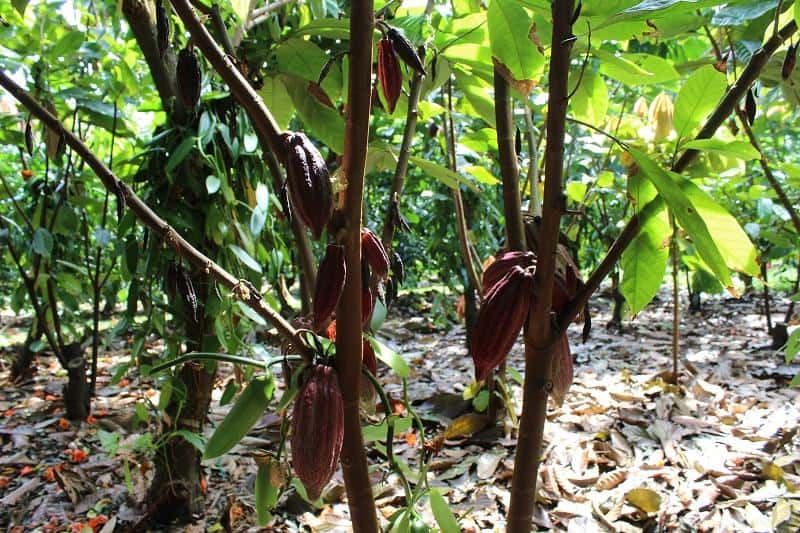 Manoa is now one of the largest craft chocolate makers in the US, making several tons of chocolate each year. Dylan Butterbaugh actually started the company with Dan O'Doherty back he was still a college student. Dan has since sold his share of Manoa and turned his energy to the cacao side of the industry, but Dylan has only doubled down on his efforts to craft a good reputation for Hawaiian chocolate around the world.
Truly bootstrapped at the start, Manoa is now run by Dylan and his wife Tammie, who's also helped build the business from the get. Their efforts have decidedly put Hawaiian chocolate on the map— depending on your own personal definition of "Hawaiian chocolate," that is.
Because even though the Butterbaughs make chocolate on O'ahu, only about 15% of that chocolate is made with cacao grown on Hawaii. The rest is sourced directly from farms around the world, including from Costa Esmeraldas Cacao, who also happen to be a client of Dan's. Their other cacao origins are top quality, but from the start their priority has been to help develop sources of high quality throughout the islands.
"I think we have the appetite to buy all the cacao currently being produced on the islands."

"With the exception of the Dole Plantation, of course."

Tammie & Dylan Butterbaugh, Manoa Chocolate
At the moment they're working with cacao farmers in a number of capacities, filling in all the gaps they can handle while more & more cacao trees mature. Most notably they're providing audits for farmers looking to sell to them, and making chocolate for those who don't want to. Thanks to Hawaii's high northern latitude, the proportion of cocoa butter in Hawaiian cacao is some of the highest in the world, making 2-ingredient chocolate (only cocoa beans + sugar) relatively easy.
Manoa is currently manufacturing such 2-ingredient bars for farmers who want to taste their beans crafted into something more high quality than they could ever achieve in a small tabletop grinder. They then package the bars with private labels for the farmers to use however they'd like. This includes cacao farmers who've shifted their focus away from commodities and more towards the tourism sector.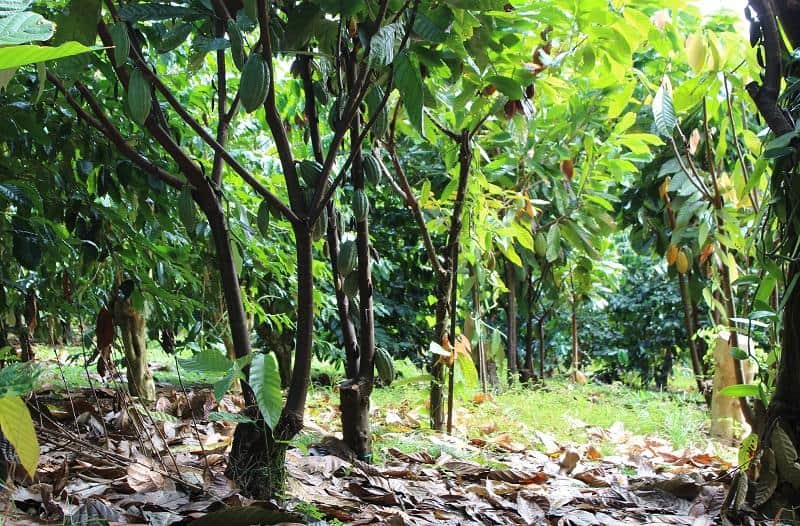 Craft Chocolate TV
The Reality of Tree To Bar Chocolate On Hawaii
There seem to be three basic business models for cacao farmers on Hawaii. The first is to grow a little bit of cacao on your property and sell it either wet or fermented & dried to a local buyer. Wipe your hands of it afterwards. Another model is to grow some amount of cacao on your farm and then enter the agro-tourism sector, offering farm tours and maybe even some chocolates made with your cacao beans.
Option three is vertical integration; grow your own cacao and then make it all into chocolate from tree to bar, selling it in your own retail shop. "Vertically-integrated" was a term I heard a lot during my interviews. "Tree to bar" wasn't thrown around a lot because honesty, it's not enough to make a living.
Turning your cacao into high quality dried beans adds some value, while turning those beans into chocolate adds a lot more, but selling chocolate direct to customers is where you can make the biggest difference. Producing chocolate from tree to bar is only half the battle; the next step is getting it to market.
That's why Manoa's role as a chocolate maker on behalf of farmers is so important— it keeps all of the value on the islands. In fact, 80% of all of Manoa's sales were within Hawaii last year.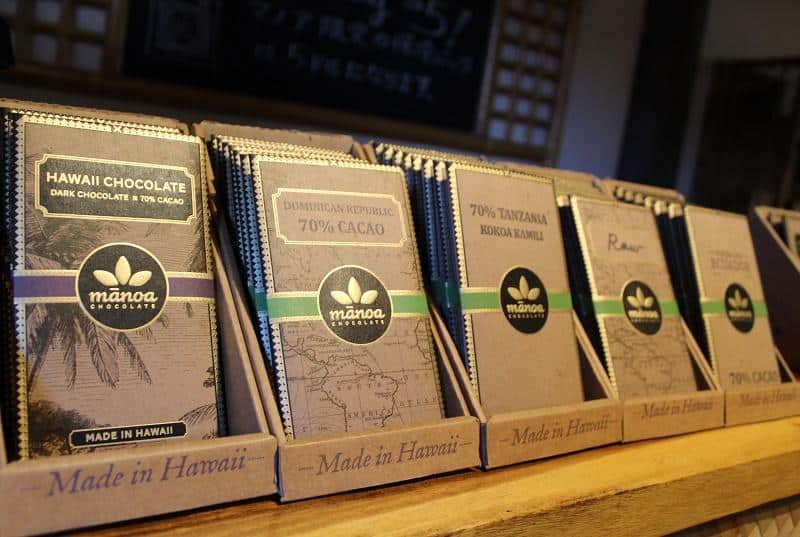 Manoa doesn't yet practice vertical integration, however; their appetite for cacao is just too high. They buy cacao from local farmers, but Seneca Klassen of Lonohana Chocolate is one of the few makers doing it all himself. Seneca was actually inspired in part by the success of Dole's chocolate brand, Waialua Estate.
He exclusively uses his own cacao from his farm about an hour north of his chocolate factory on O'ahu. Over the last couple of years he's also added a few high quality outside origins to his line up, but they were necessary choices to complete the vertical integration of his business: a retail shop.
"Traditional chocolate making is a value extraction model."

Seneca Klessen, Lonohana Chocolate
Opening their physical doors in late 2017, Lonohana's Hawaiian chocolate bars represent a departure form that traditional model, creating value on Hawaii rather than taking it away. All of their bars are now available from their shop in Kakaʻako, as well as online and select few spots on O'ahu. Despite their volume, Lonohana Chocolate remains pretty damned exclusive. Now 10 years in the making, Seneca says it's still very much a work in progress. He's constantly experimenting with what works for customers, with what gets him up in the mornings, because that's what it takes to run a good business for over a decade.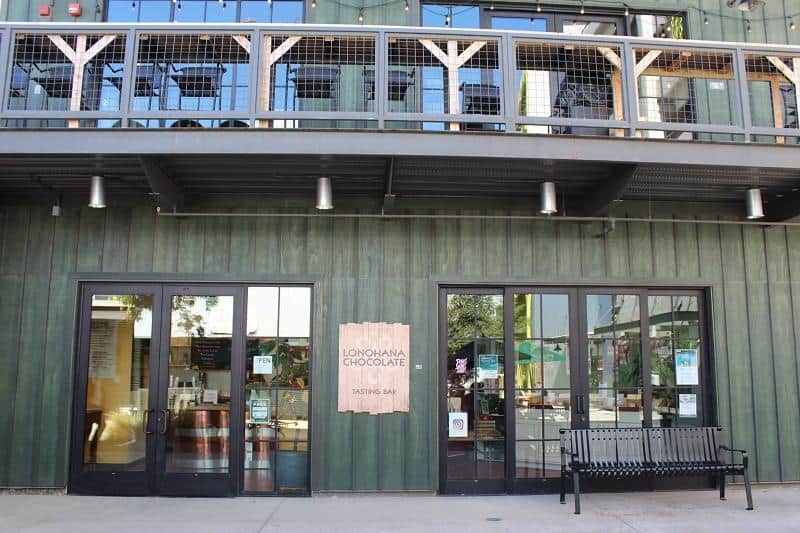 Defining Hawaiian Chocolate
The ancient Hawaiian system of Ahuapua'a land use designation is still in use across the islands. It demarcates portions of the land for agricultural use only, meaning that significant portions of Hawaii are still & will remain agricultural areas. For cacao farmers this means de facto governmental support, while both Hawaiian chocolate makers & cacao farmers enjoy de jure governmental support in the very definition of Hawaiian chocolate.
But with so many tree to bar chocolate makers popping up these days, it can be confusing for consumers to define what constitutes Colombian, Thai, or Hawaiian chocolate (to name but a few). Beyond the concept of adding value to cacao on the islands, and vertically integrating your business as much as possible, this question of defining "Hawaiian chocolate" came up a lot during my research on Hawaii. Is it any chocolate made with cacao from Hawaii, or simply any chocolate made in Hawaii?
"The state of Hawaii passed legislation recently... that doesn't allow blending. So if you're going to label [anything as] Hawai'i chocolate, that means grown in Hawai'i, 100% grown in Hawai'i."

Tammie Butterbaugh, Manoa Chocolate
The law only covers Hawaiian chocolate, not coffee or any other agricultural good, so it's an impressive step for the government to have taken. But the debate rages in other cacao-growing countries, and may never find a solution. In fact Dole, a company much better known for their pineapples and bananas than for their fine chocolate, had up until recently been sending their Hawaiian-grown cacao to a company on the mainland to be manufactured into chocolate there and then shipped back for sale on Hawaii.
Chocolate Tours On Hawaii
The concept of Hawaiian chocolate tours is as varied as that of Hawaiian chocolate. All four of the islands which are growing cacao also have at least one cacao plantation to tour. Most of these tours start with some background on the farm and its fauna, and then continue with a walk around the land, and finally, a tasting. Some tastings include the fresh cacao fruit or raw & roasted cacao beans, and most include chocolates of some kind.
Every farm has their own way of doing things, but each tour is kind of like an elective class, covering the basics of farming on Hawaii, specifics on the how & why of their farm, and then examples of what they grow. No tests at the end, I promise! This expansion into agro-tourism could be great for cacao farms, as long as the shift is done in an environmentally-responsible manner. We still want the farms to work as farms, after all.
But there's also a relatively new addition to Hawaiian chocolate tour options: Barefoot Chocolatini. Maddy Smith, whom you can read more about in my interview with her, is the chocolate educator behind Barefoot Chocolatini's chocolate tours & chocolate bar crawls, and soon the chocolate subscription boxes and chocolate bars. She serves as a bridge between the makers & farmers and consumers on Hawaii, a role which I've always seen as a necessary one for a country's chocolate culture to move forward.
Right now there are at least a half dozen options for Hawaiian cacao and chocolate tours in 2019, but Maddy & I both expect to see many more options in the years to come. Maddy in particular envisions making Hawaii a chocolate destination. The Napa Valley of Chocolate, if you will.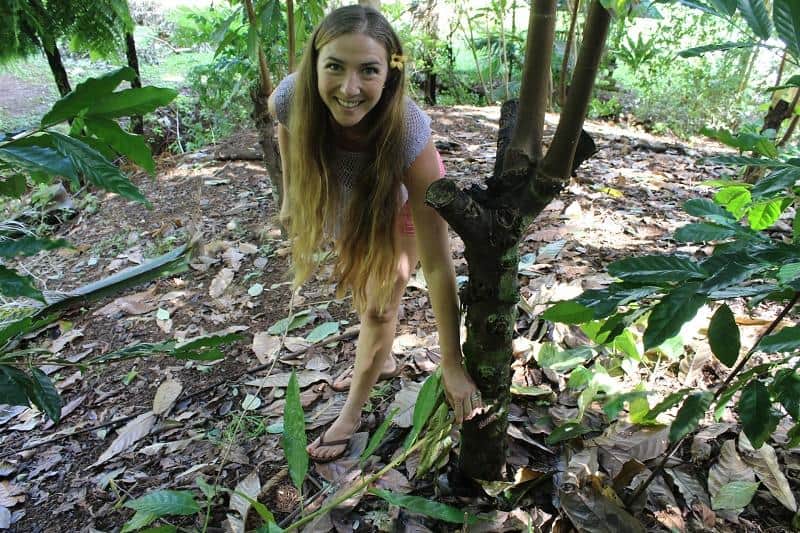 The Napa Valley of Chocolate
The concept of chocolate everything is extremely appealing— there's a reason Charlie & The Chocolate Factory was such a hit. But right now, that's simply not where Hawaiian chocolate is. Rather, it's the place where Hawaiian chocolate could be.
Just like Napa Valley, a famous wine region in northern California, Hawaii can grow the raw material and produce the chocolate all in the same place, just as vineyards grow grapes and produce wine all in the same place. Most of the cacao farmers in Hawaii are at a very small scale and have no interest in starting chocolate tours or making chocolate out of their beans. For one thing, Hawaii has a lot of other interesting crops they may want to focus on. It's just not realistic that everyone will become obsessed with chocolate.
But there are enough farms of varying sizes and varying origin stories to make the concept work. Just like wineries show their customers how to taste & value each distinct origin & processing step, cacao farmers each have their own tales to tell. Add in a map to help people self-drive up each coast of the main islands, and the slower tourist season just see a bump in visitors.
Instead of wine country, think chocolate country.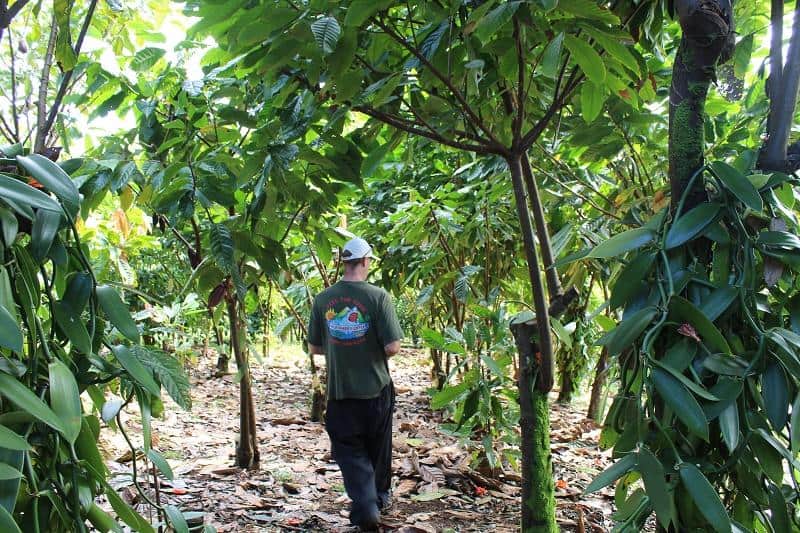 The Future of Hawaiian Cacao & Chocolate
After many chocolate chats, the future of the Hawaiian cacao & chocolate industry seems bright. There's still not a lot of information online about all of the Hawaiian chocolate events or tours, and what little there is usually highlights just one place at a time. Part of the reason I'm writing this series of articles in the first place is to fix that problem, offering information on chocolates on all the islands, and related chocolate events in Hawaii.
The social media presence of Hawaii's many chocolate makers, cacao farmers, and educators is on the rise, but that's just the start. Once people are on the islands it needs to be viable for them to travel to more than one chocolate stop if they'd like to. I'm not saying they build a train like in California, but clear directions to each farm would be a great next step.
Manoa, and now also Lonohana, offer visitors great context for Hawaii's place in the world's cacao-growing regions by offering chocolates made with origins from around the world, including Hawaii. But to fully educate the local public, it would help to have more availability of imported chocolates, both from the mainland and abroad. This isn't an easy step, but it would help the local and international craft chocolate communities.
Much more cacao has been planted on both Maui and O'ahu in the last couple of years, and the first harvests of those crops will happen in the next year or two. On O'ahu there's another hundred or so acres leased by Dole, which the company plans to plant cacao on in the near future. Along with those plantations, there are also chocolate factories and tourist attractions in the works on multiple islands.
So as long as the Hawaiian Islands' cacao industry can remain relatively isolated from pests and diseases, I predict it will become another (small-scale) origin of fine flavor cacao, despite the high cost of land and labor.