There's just something truly about sitting around a campfire, roasting marshmallows and assembling the perfect s'more. But did you know that there are countless ways to get creative with this classic treat?
I'm excited to share with you a variety of mouthwatering and unique s'mores recipes that will take your fireside dessert game to the next level. As you dive in, you'll quickly notice that there's more to s'mores than just great chocolate, graham crackers, and marshmallows.
Whether you're a s'mores aficionado or new to the game, these creative s'mores-flavored recipes will inspire you all summer long. Prepare to impress your friends and family with these irresistible, gooey, and oh-so-delicious twists on the classic fireside treat!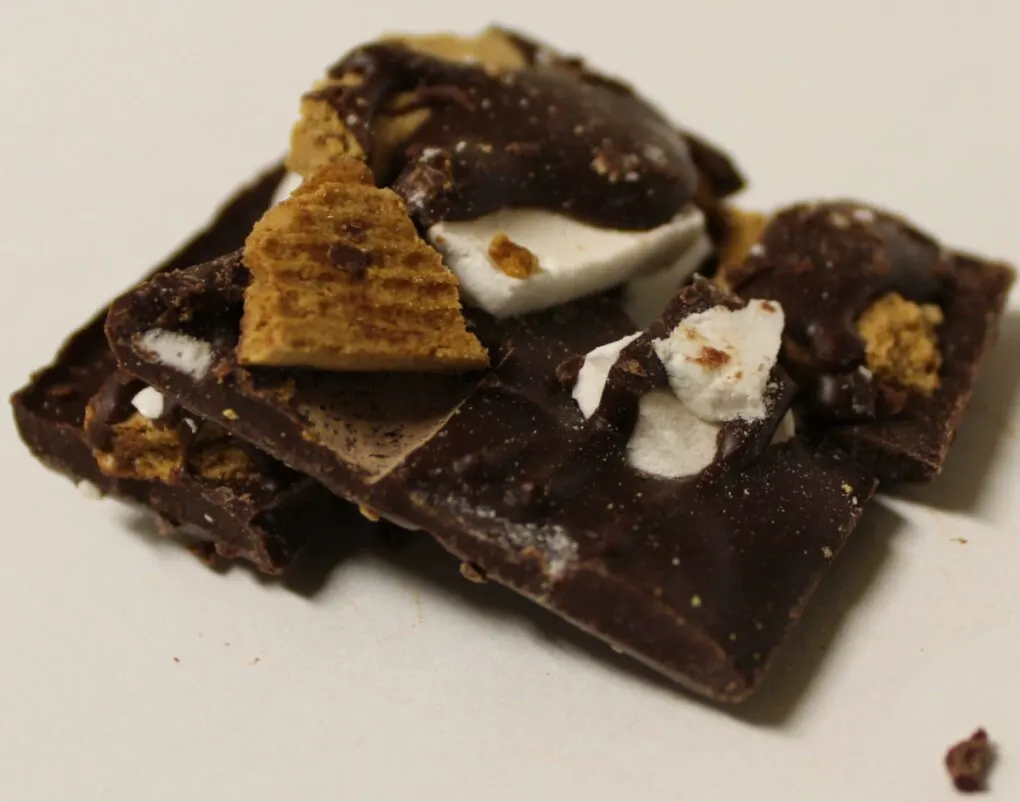 How to Make a Classic S'mores
The classic s'mores recipe is a timeless favorite, and has been for generations. Made with graham crackers, milk chocolate, and marshmallows, this simple yet delicious treat is perfect for any occasion. If you need a refresher, follow this step-by-step guide to learn how to make the perfect classic s'mores.
S'mores Ingredients:
Graham crackers
Chocolate bars
Marshmallows
Step 1: Break the graham crackers in half and place them on a plate.
Step 2: Break a full-sized chocolate bar into two pieces and place half on one half of the broken graham cracker.
Step 3: Place a marshmallow on a skewer or long fork and hold it over an open flame (campfire, stove burner, etc.) until it is golden brown and soft on the inside. Alternately, put it on the other half of your graham cracker and put it on a tray inside your toaster oven or even the air fryer for 8 minutes on the lowest setting.
Step 4: Place the toasted marshmallow on top of the chocolate and then place the other half of the graham cracker on top.
Step 5: Press down gently on the top graham cracker to help the chocolate and marshmallow melt together. The heat from the marshmallow will melt the chocolate, creating that ooey-gooey s'more goodness you're craving. Enjoy a classic s'more immediately while it's still warm and melty, for the best experience.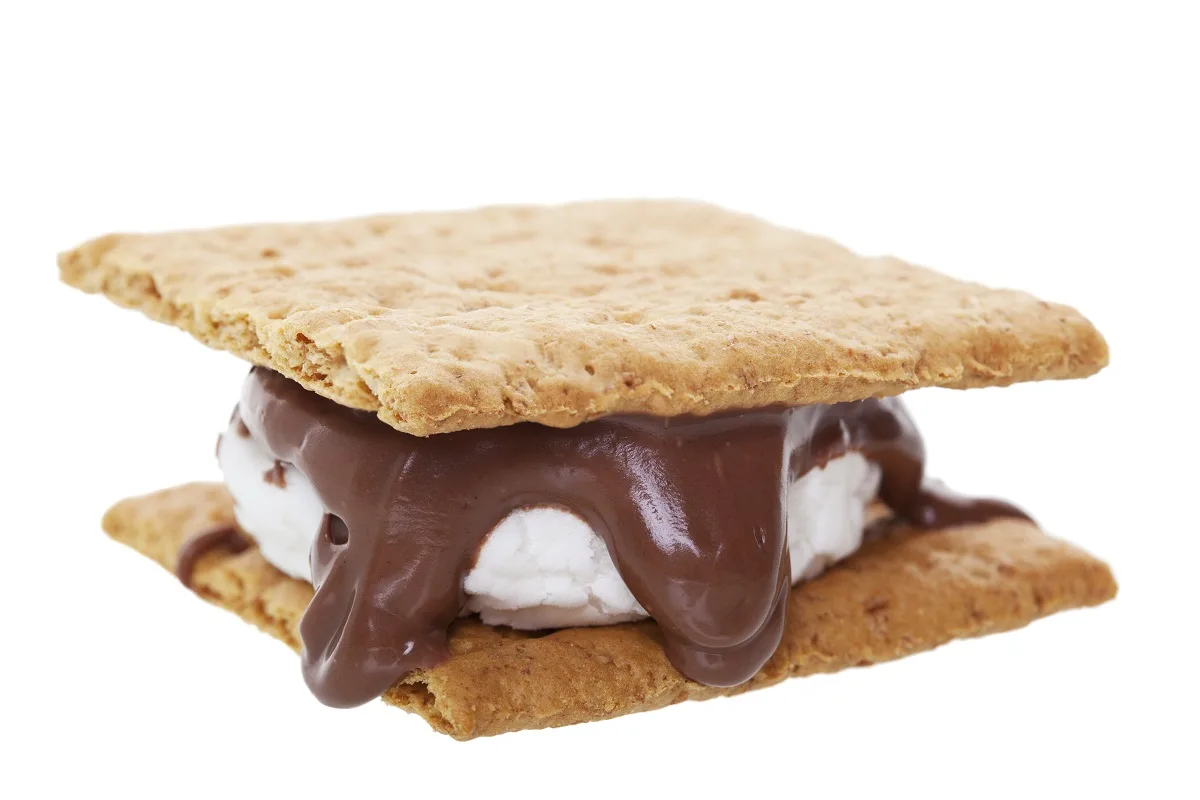 Creative S'mores Variations
Now let's explore some delicious and unique twists on the classic s'more recipe. Feel free to let your imagination run wild and don't be afraid to experiment with different combinations. Your taste buds will thank you.
Peanut Butter Cups & Nutella
Chocolate and peanut butter fans, this one's for you. For this variation, use your favorite peanut butter cup in place of the standard chocolate square, and spread a layer of hazelnut spread on the graham crackers. The combination of peanut butter, hazelnuts, and marshmallow creates an irresistibly decadent blend of flavors.
White Chocolate & Strawberries
For a fruity and indulgent treat, try swapping milk chocolate with white chocolate and adding some sliced fresh strawberries. The combination of the sweet white chocolate and the tartness of the strawberries offers a delightful contrast to the gooey marshmallow and crunchy graham crackers.
Melted white chocolate
Sliced fresh strawberries
Marshmallow
Graham crackers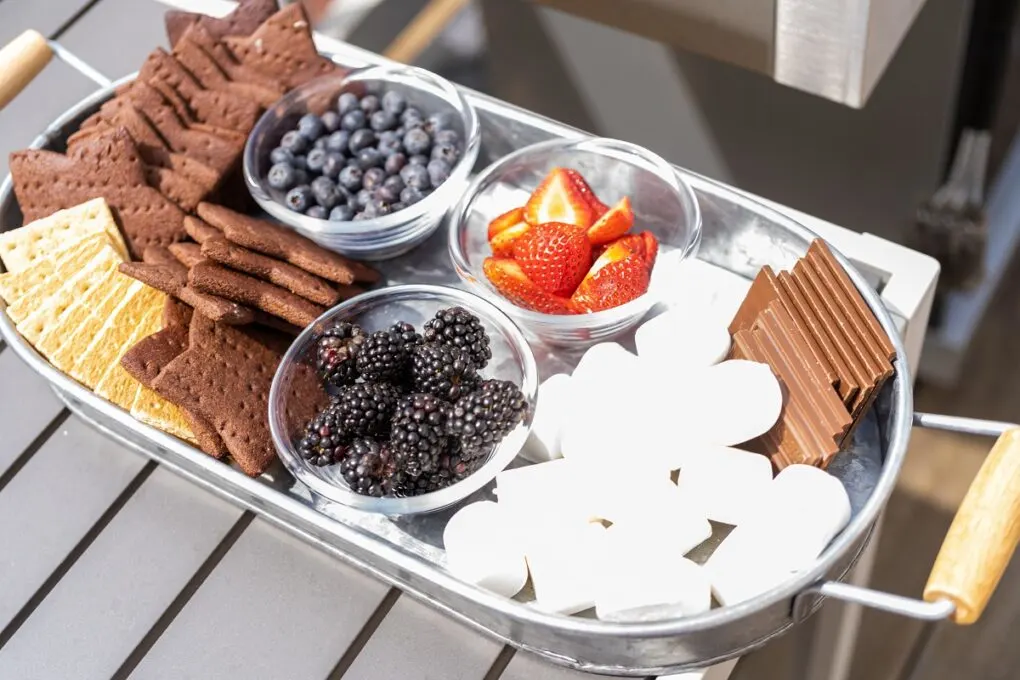 Brownies + Cherry Pie Filling
To create a rich and luxurious s'more experience, try adding a soft, chewy brownie and a dollop of cherry pie filling between your graham crackers. This creative s'mores recipe combines the flavors of a chocolatey brownie and the tang of cherry pie for a sumptuous, unforgettable flavored s'more.
Oreos and Candy Bars
For a fun twist on the traditional s'more, substitute graham crackers with your favorite Oreo cookies, and replace the standard chocolate with mini-sized candy bars of your choice. The combination of crunchy Oreos, melty candy bars, and gooey marshmallows will have you chomping at the bit for more (or just running back to the campfire!).
Remember, when trying these variations or creating your own, have fun and enjoy the process of experimenting with new flavors and combinations. There's no right or wrong way to put your own spin on these tasty treats.
S'mores Pancakes
S'mores chocolate pancakes are a delightful breakfast treat that combine the classic flavors of s'mores in pancake form. These pancakes are fluffy and delicious, with a perfect blend of graham cracker, chocolate, and marshmallow flavor. They're perfect for a lazy weekend brunch or a special occasion breakfast, especially if you make a homemade marshmallow topping.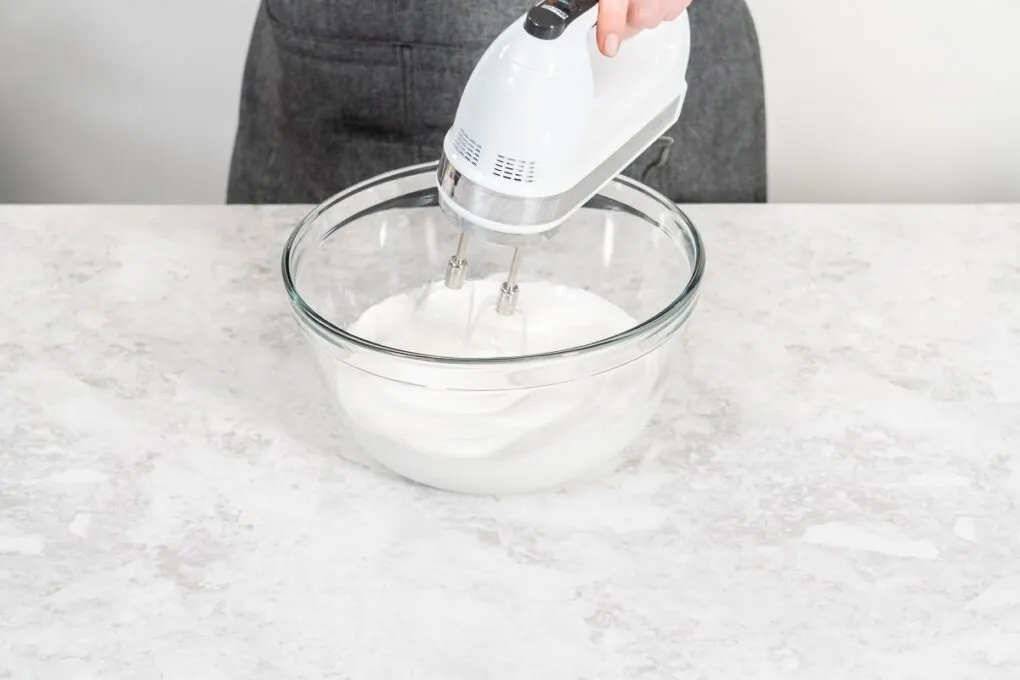 S'mores Pizza
S'mores pizza is a fun and creative dessert that combines the classic flavors of a s'more with a crispy pizza crust. This recipe is a delicious way to enjoy the classic flavors of a s'more in a slightly savory, salty, and very new way. Serve it at your next party or gathering as accompaniment or in lieu of your go-to pizza flavor.
Pizza dough
Butter
Crushed graham crackers
Chocolate chips
Marshmallows
S'mores French Toast
S'mores French toast is a delicious twist on traditional French toast. With layers of graham crackers, chocolate chips, and toasted marshmallows sandwiched between golden brown French toast, this recipe is a delicious and indulgent way to start your day. You'll just need:
Bread
Eggs
Milk
Chocolate chips
Marshmallows
Graham crackers
Butter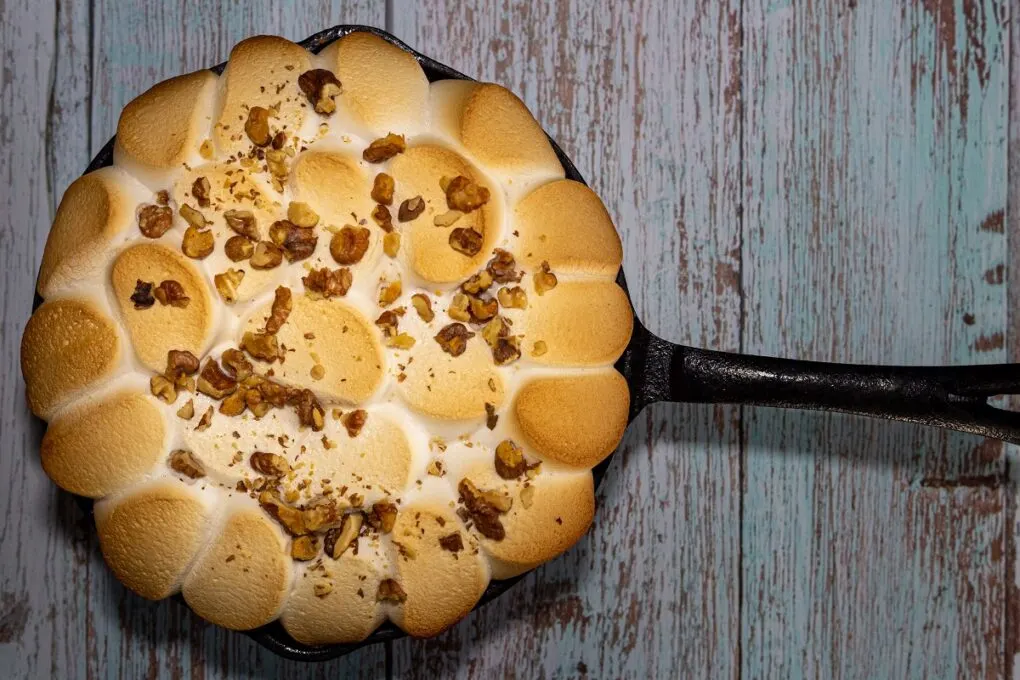 Fun S'mores-Themed Desserts
Who doesn't love the classic combination of graham crackers, marshmallow, and chocolate? With these creative recipes for s'mores, you can switch up your usual to add even more deliciousness to your favorite campfire treat. Below are some of my favorite s'mores-themed desserts, perfect for any occasion.
S'mores Bars
Why not try a fusion of s'mores and blondies? These ooey-gooey creations are a crowd-pleaser and can be customized with various mix-ins. Similar to s'mores rice krispie treats, you can prepare s'mores bars in a matter of minutes.
Toasted Coconut S'mores Cake
Are you as in love with the coconut & chocolate pairing as my mom is? Then a toasted coconut s'mores cake is just the dessert for you! This cake combines the flavors of s'mores with the tropical taste of toasted coconut, and an optional sprinkle of toasted pecans.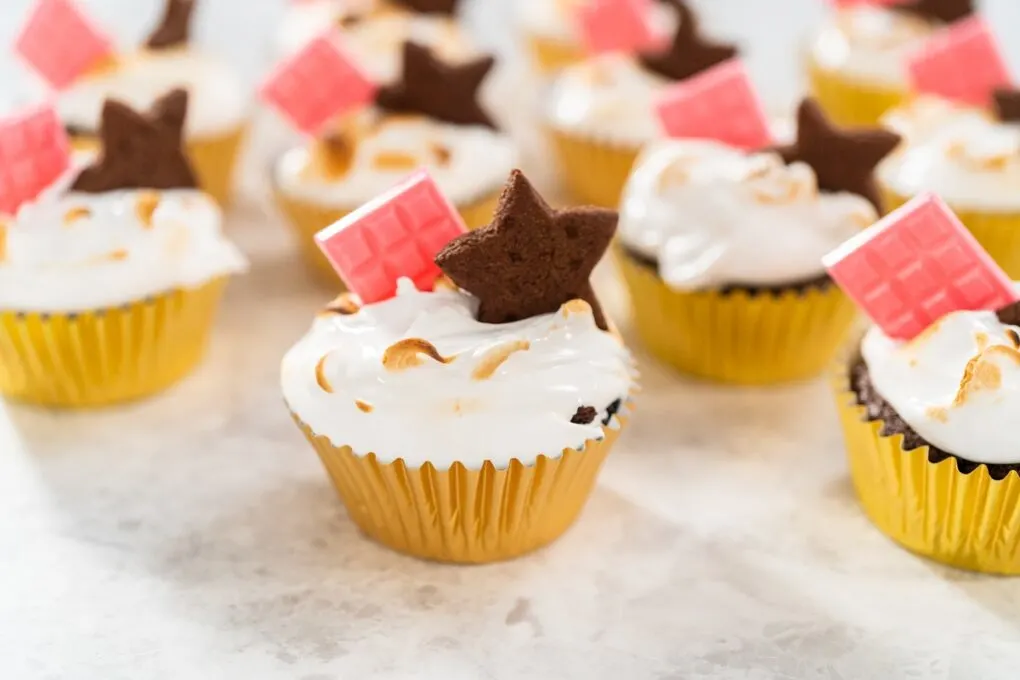 S'mores Ice Cream
S'mores ice cream is a delicious frozen treat that combines vanilla ice cream with a swirl of the classic flavors of a s'more. With a creamy vanilla base mixed with chunks of graham crackers, chocolate chips, and marshmallows, this recipe is a balance of sweet and indulgent, and keeps for quite awhile in the freezer.
S'mores Truffles
S'mores truffles are a decadent and delicious twist on traditional truffles, mixing the classic flavors of a milk chocolate ganache into a s'more-inspired delicacy. These s'mores truffles are the perfect bite-sized treat for your next party or gathering, and you can make 'em classy or kid-friendly.
Rice Krispie Treats S'mores
For a no-bake twist on s'mores, try these rice krispie treats s'mores. They have all the flavors of traditional s'mores, but with the added crunch of crispy rice cereal. You can even experiment with different fillings, such as ritz crackers or nut butter, tailored to your tastes.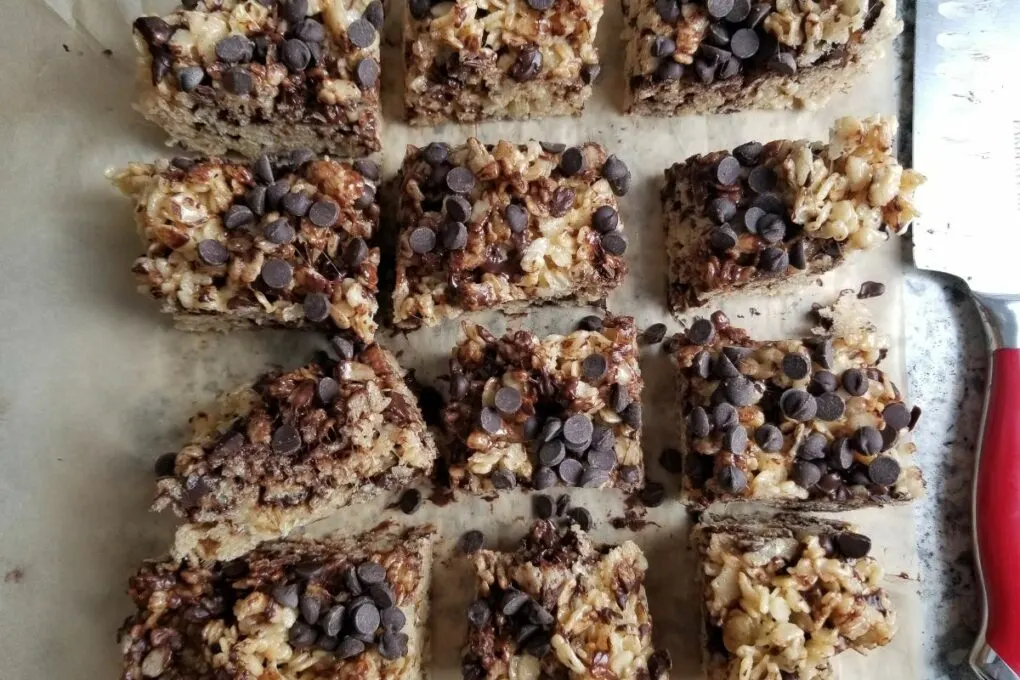 S'mores with Unique Ingredients
Bananas and Nut Butter
Ready for a fruity twist on your s'mores? Swap out the chocolate for some bananas and nut butter for a fruity s'more you can make all year 'round. Start by spreading your favorite nut butter, such as peanut, almond, or cashew, on a graham cracker.
Next, add a few slices of banana on top of the nut butter. Roast a marshmallow until it's gooey and golden brown, then place it on top of the banana slices. The combination of creamy nut butter, sweet banana, and gooey marshmallow is beyond satisfying.
Apple Slices and Caramel Sauce
Take your s'mores up a notch by incorporating apples and caramel sauce. Begin by thinly slicing apples and drizzling them with some caramel sauce. Place the apple slices on a graham cracker, followed by a piece of chocolate.
After roasting your marshmallow, sandwich it between the chocolate and another graham cracker. The crisp apple slices and sweet caramel sauce add a unique, delicious touch to a classic s'mores recipe.
Jam and Sandwich Cookies
For a more sophisticated s'mores variation, try using jam and sandwich cookies. Replace the graham crackers with sandwich cookies of your choice, like Oreos or shortbread cookies. Spread a thin layer of your favorite jam (think raspberry, strawberry, or even grape or blueberry) on one of the cookie halves.
Place a square of chocolate on top, followed by a roasted marshmallow. Close the sandwich with the remaining cookie half, and you've got a scrumptious s'mores-inspired dessert.
S'mores Trail Mix
S'mores trail mix is a fun and easy snack that combines all the classic flavors of a s'more in a convenient and portable form. To make it, mix crushed graham crackers, chocolate chips, and mini marshmallows in a large bowl with any other mix-ins you desire.
Store in an airtight container or portion it out into individual bags for a quick and easy snack on the go.
Campfire and Roasting Tips Roasting Marshmallows
To achieve the perfect roasted marshmallow, follow these simple guidelines:
Choose the right roasting stick. Opt for a stick that's long enough to keep you a safe distance from the fire but sturdy enough to support the weight of the marshmallow. Fondue sticks are a great pick if you're at the store and in a hurry.
Place your marshmallow at the end of the stick, making sure it stays steady.
Hold your marshmallow over the campfire, avoiding direct flames. Focus on roasting it in the radiant heat around the fire to achieve a golden-brown color.
Be patient and rotate the stick at a consistent pace to prevent burning.
Fire Pit Safety
When using a fire pit, it's essential to prioritize safety. Here are some considerations:
Always check regulations and guidelines regarding open fires in your area.
Select a fire pit away from trees, bushes, and tents to minimize potential hazards.
Ensure you have a fire extinguisher or bucket of water nearby, just in case.
Making S'mores Indoors
If you don't have access to a campfire or fire pit, fear not. You can still enjoy delicious s'mores indoors by using alternative methods:
Oven: Place your s'more components on a baking sheet and broil them in the oven for a couple of minutes until the marshmallows are golden brown.
Microwave: For a quick fix, you can microwave your marshmallow and chocolate together on a plate for about 15-20 seconds. Just be careful not to overcook, as marshmallows can expand rapidly and even burn.
Stovetop: If you have a gas stove, you can carefully roast your marshmallow directly over the flame using a long fork or stick, but sometimes this can make the s'mores taste funny, so I usually opt for the air fryer or oven.
Remember to be cautious when handling the hot marshmallows, and enjoy your homemade s'mores.