At Timeless Chocolate, the ingredients are decided upon first, and then the products are discovered therein. Unlike most chocolate makers, the guys (& girl) at Timeless are not focused on the cacao farmers so much as on the Okinawan sugar cane farmers they work with. Welcome to the sweeter side of this island, and some of the best food in Okinawa.
Virtually Setting the Scene
Since 2014, Timeless Chocolate has been building up a loyal base of fans and artists who frequent their seaside shop for its good food and good people. With reliable natural light and an open floor plan, the cafe would fit right in in Portland or Amsterdam. During my first visit at mid-day, the cafe smelled of cinnamon, and the 50s vibes of the wall decorations and look of the shop really threw me off. Shouldn't it smell like chocolate in here?
But then I fell into the shop's wavelength and it was like time slowed around me. Everything was already following the chocolate look. Down to the walls, as dark as a Hershey's bar, the Timeless aesthetic is Okinawan hipster chic with a boatload of international pride. The barista—Vana— plays his beloved American rock music in between bouts of Cuban son. As the day wanes, the smells of chocolate making and pastries increases; people are always moving the sea air around. Even the patio maintains the open space, looking out over a square in American Village, and the ocean beyond that.
Progress at Timeless is defined by the constant pursuit of creativity & quality within the local artisan community.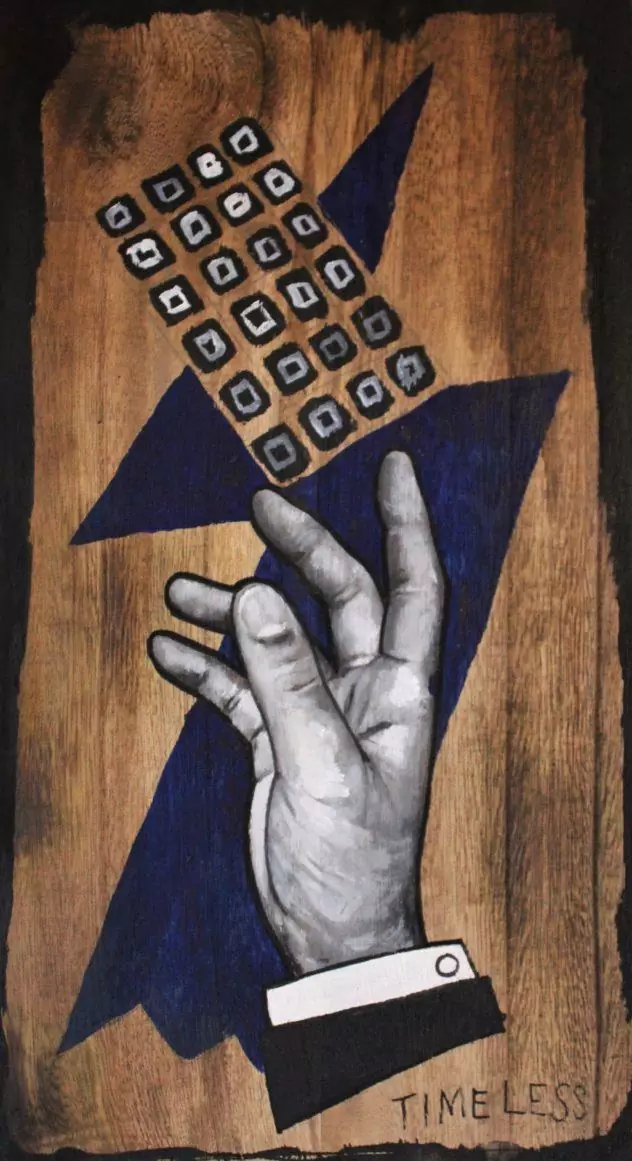 The Sweet Story
Even their choice to pursue chocolate making is an expression of local pride. The staff have chosen to focus on the sugar, which they personally source and craft with the help of Okinawan sugar cane farmers. To exemplify their ever-expanding quest for unique varieties of Okinawan sugar cane, one of their products is a ball of chocolate-coated sugar. Awhile back, they found a rich molasses-tinted sugar being produced on one of the islands. It's a rare varietal of black sugar, grown in the region for centuries. Unfortunately, the moisture content was too high to use it in chocolate, so they fell back onto creativity and decided to coat in it a thin layer of their 100% chocolate.
When consumed straight, the sugar is melty and grainy with an earthy kick that I've heard described as licorice-like. Put it all together and it's earthy, fruity, and melt-in-your-mouth sweet; a rousing success, in my opinion. Yet many of the most commonplace local ingredients have inspired some innovative products: take salted nib honey, cacao mustard, and passion fruit butter for example. Each was crafted in collaboration with a different local artist in Okinawa, and offers an island remix on cacao or sugar.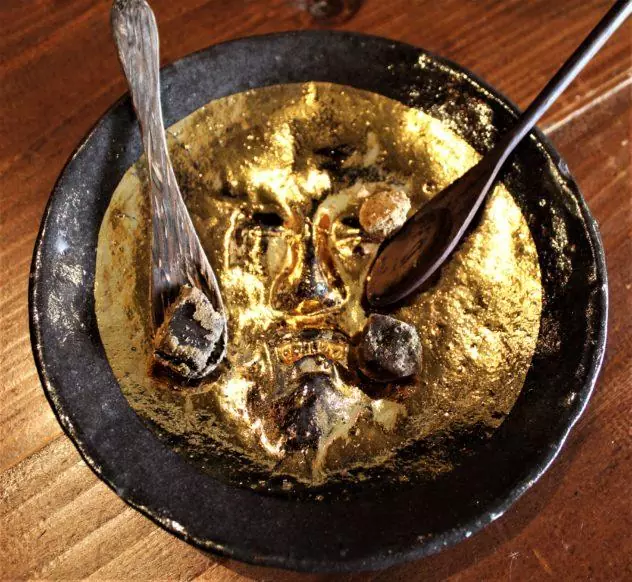 The Jovial Staff
Owner: Hayashi aka Kibby-G
Chocolatier: Megumi
Barista: Vana
Chocolate Maker: YSK
Manager: UC
Patisserie Chef: RIE
A Virtual Tour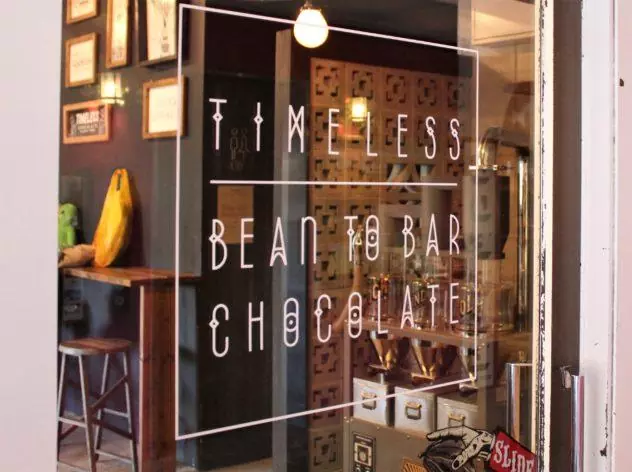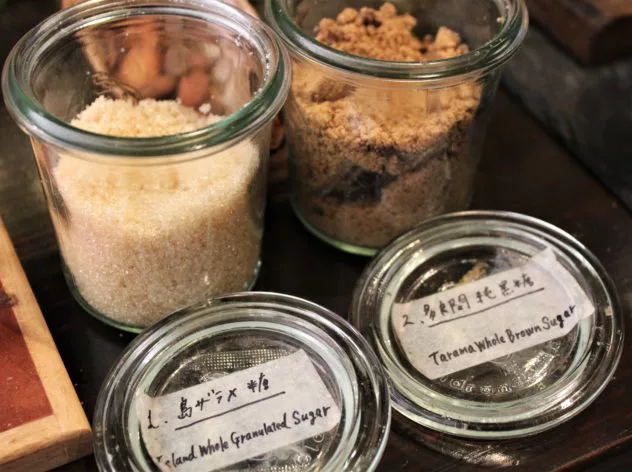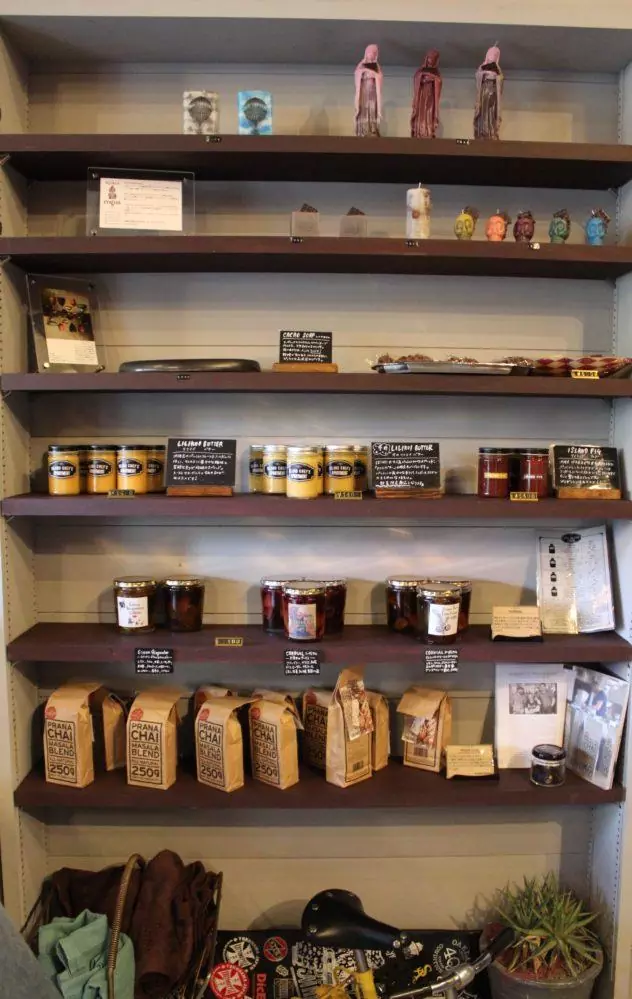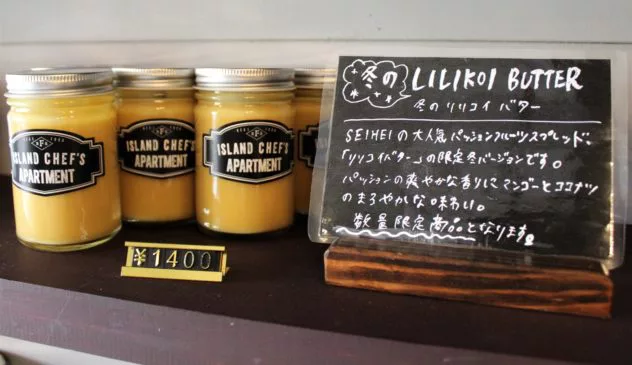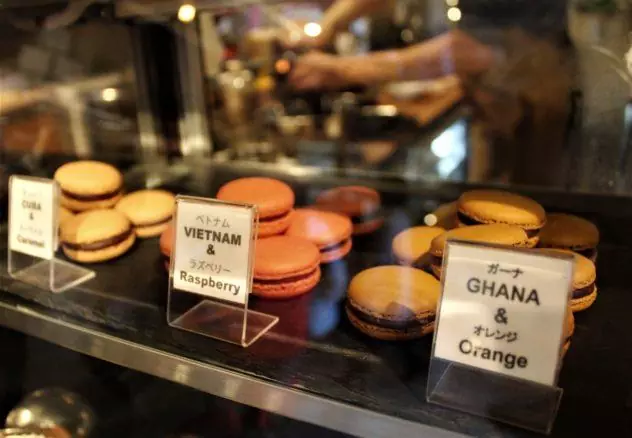 Meet The Maker
Hayashi-san is the infamously quirky owner of Timeless Chocolate. As could be expected from an entrepreneur, he was busy when I visited Timeless. But luckily he was able to answer my questions via email, and later translated in a variety of methods. Unfortunately this is not written in Hayashi's voice, since the original transcript is in Japanese, but the heart of his answers remains. I sat down with his righthand man, UC, to fill in any lingering gaps. The following is a medley of what Timeless is all about.
How did you start making chocolate, and in Okinawa of all places?
Our story is all about the sugar canes growing in Okinawa, and their different flavors. But to start at the beginning, I got into fine food through coffee. While working as a barista in Melbourne, I realized that the flavor of the sugar really changed how the flavors of each bean were expressed. I didn't have any experience working in chocolate or or confectionery. There was nobody to mentor me. I simply came to Okinawa looking for the best sugar canes to use in the espressos I worked with. I later became fascinated with the different flavors of the sugar canes grown on different islands, and how that tied back to their varietals and production methods.
Right now, fewer than 10 craftsmen are able to make the old-fashioned handmade brown sugar. So we've recently started a revitalization project with a local sugar cane plantation, in order to protect the Itoman varietal's unique culture and taste. Taking advantage of the knowledge we gained while working with coffee— changing flavors based on origin and roast— we try to pair cacao origins with compatible Okinawan sugars. Our rougher ground chocolate takes advantage of cacao with fine acidity and fruitiness, like the reaction of the coffee beans when you add sugar to the coffee before pulling the espresso. In that chocolate we use coarse Kikai Island Ubushima (sugar). Our smoother chocolate features pure brown sugar, refined for a long time to bring out deeper tones.
How do you source your beans and choose which origins to use?
Right now we're legally able to import 15 different countries' cacao, however our goal is to deal only with 4-5 cacaos, each of which are highly compatible with the flavors of Okinawan sugars. Last year we began a partnership with Taiwanese cacao farmers, and we hope to feature that origin soon. In the near future, our plan is to strengthen relationships with cacao farmers in Jamaica, the Philippines, and Trinidad & Tobago.
Have you been to any of these countries yourself to source cacao or travel?
I've been to the more accessible countries in Asia; Taiwan, Thailand, the Philippines, Malaysia, Vietnam, and all over Japan. But I've also been to Hawaii, Australia, and Mexico, with plans to visit farmers in Jamaica, Cuba, and Trinidad & Tobago later this year.
How did you decide on using Okinawan Black Sugar in your products (if you've looked up Okinawa online, you've surely heard of their sugar cane)?
If you look at "bean to bar" companies in the world, these businesses are almost exclusively seeking unique cacaos. Whereas at Timeless, we deeply explore sugar cane, which no other company is currently doing. Okinawa is a subtropical region where you can grow both cacao and sugar cane, though the brown sugar we make here is very hard to handle, thanks to its strong taste. Still, there is a centuries-long tradition of making sugar in this region, and we think it's important to highlight that. Rather than aim to be the best at making chocolate, we wanted to create products which could only be made in Okinawa. I don't want to just compete for some "number one" title.
Where does your inspiration for your cafe and your always-changing product line come from?
At Timeless, we only sell handmade products crafted with fresh ingredients. This forces us to produce in small batches, but it guarantees that everything we produce is of high quality. Our staff have a lot of ideas regarding potential products, often based on the ingredients and sounds and sights they experience in our local community. When something in particular has inspired you to create, you always remember to enjoy with all five senses. Our outlet in Chatan is simultaneously a workshop, a café, and a gathering place. We've held a variety of artists' expositions and events in this place so far, and we've found that if there is art and delicious chocolate, everyone is happy.
What is your long-term vision for Timeless, 5 and 10 years from now? Did I hear correctly that you're starting a cacao green house?
Rather than looking 5 or 10 years down the line, we envision continuing 100 or 200 years into the future. Right now the only raw materials we use are cacao and sugar cane; we believe that trying to trick people with other ingredients does not work. So knowing that these raw materials do not just grow in Okinawa but all over the world, we feel that it is our mission to both use quality materials and teach the history and culture of them. Although we have started both cacao and sugar cane plantations on Okinawa, but our goal is not to replace what we are already buying, but rather to better understand the needs of the plants themselves.
Where outside of Okinawa are you currently selling bars? Inquiring minds need to know.
Our goal as a business is not just to profit. Whenever we sell bars outside of Okinawa, we always ensure one of our employees is there to answer questions, and teach customers about the ingredients and work that have gone into our chocolate. So currently we do not wholesale any of our bars, though we do occasionally have small pop-up shops in Japan, the US, and Australia.
BONUS: Do you have any holiday specials?
We hold pop up shops around American Village a few times a month. Right now we're also hosting a series of food events here, called Numberless. They feature Okinawan sweets with a focus on a specific ingredients. We enjoy pursuing lots of shorter-term local collaborations rather than seasonal products.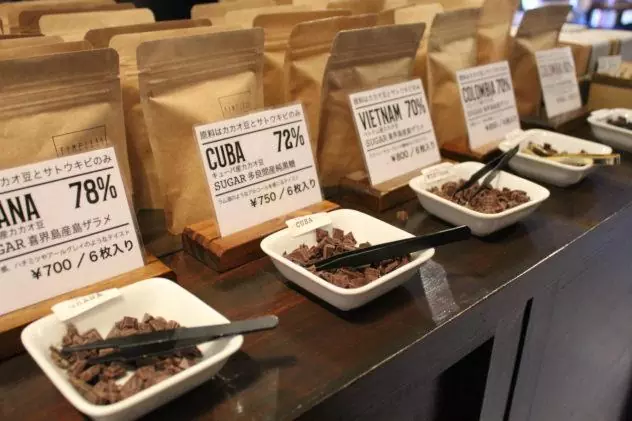 Practical Information
Address: Distortion Seaside Building 2F, 9-46 Mihama Chatan-Cho, Nakagami, Okinawa Perfecture, Japan (Google Map)
Tel.: 098-923-2880
Hours: 11am-7pm, daily
Prices: J¥P200 for a macaron-J¥P850 for a sachet of chocolates.
Must Try: honestly everything, but the more unique flavors are in their fresh cacao pulp drink, local fruit cordials, and chocolate bars. Their current origins are Colombia (2 different percentages), Cuba, Ghana, and Vietnam, with a Taiwanese origin in the works.
Since the cafe is in the American Village, nearby attractions include the ferris wheel, the boardwalk, and some beautiful beaches. Feel free to follow Timeless on Instagram. They are only one part of a worldwide movement of bean to bar chocolate, a food bringing chocolate's timeless origins to light & its many flavors to your lips. So please, savor each bite, and don't forget to send a piece to me (Colombia 70%, please).
---
Like this post? Save it for later!
I'm sure this post made you want to hop on a plane to Okinawa— but which bar would you want to try first?