If you take a stroll in Seoul sometime around the first week of November, you'll quickly notice stalls and convenience stores putting out large displays of Pepero of all sizes and colors. You will often see many of these boxes around, and they'll come in heart-shaped gift boxes and bouquet-filled baskets.
You might think this is unusual because it's nowhere near February, but there's such a thing as Pepero Day in Korea, and it's celebrated much like Valentine's Day. But it's not exclusively for singles. You can gift this chocolate- and nut-coated candy to your precious friends and favorite co-workers.
Remembering the date of this chocolate holiday is also relatively easy. It's celebrated each year on November 11, a date commonly written as "11/11" to resemble four Pepero sticks. Fun Fact: November 11 is also Korean Rice Cake Day, when you can see creative versions of garaetteok in Insadong.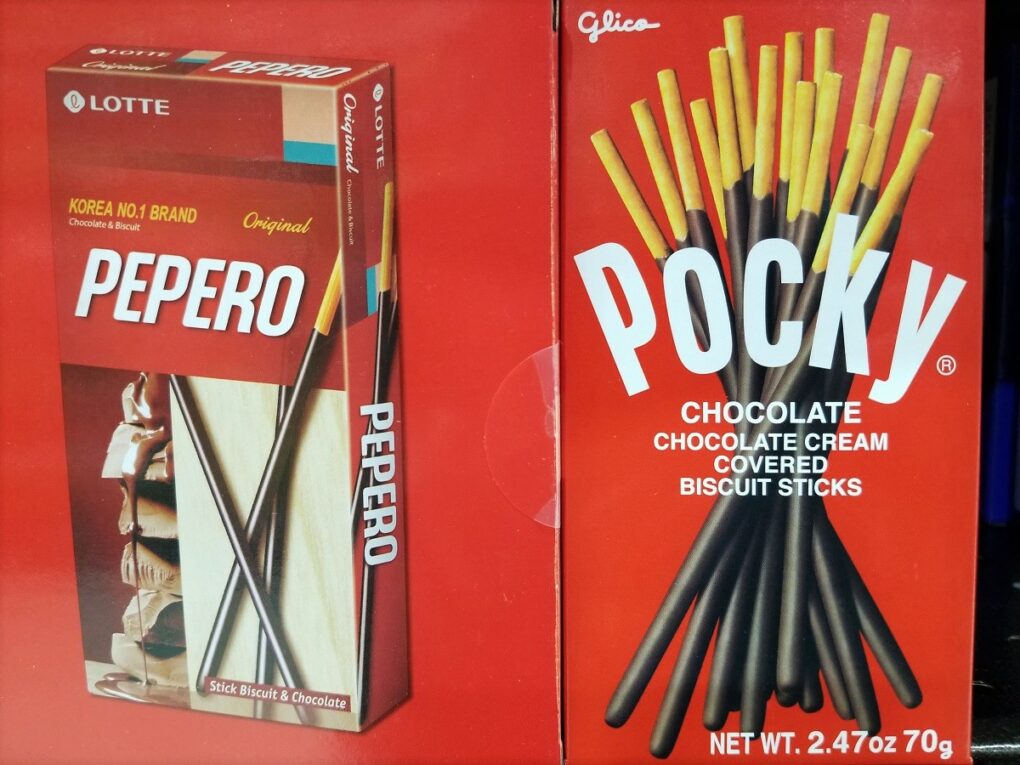 History of Pepero (vs. Pocky)
People familiar with the Japanese brand "Pocky" may immediately think Pepero is a copycat, but Lotte denies this. It doesn't help that "Pocky Day" is celebrated on the same day by the Japanese, too, so the fight has escalated to the ownership and historical significance of this cultural tradition.
To officially end the debate of "which came first," the Japanese are the winner of this argument. Pocky was introduced 17 years before Pepero hit Korean candy stalls in 1983, and Glico used this as grounds to take Lotte to court in 2015.
While most expected the Japanese company to win the case, Glico failed to claim ownership for a surprising reason. The stick-shaped biscuit is easy to eat, to the point that it doesn't have a defining feature that makes them the source.
Had they filed for trade dress protection the moment Pocky was sold to the public, things could have been different, but they lost this lawsuit in 2021. While this may seem like a fight between two corporate giants, it could be interpreted as so much more than that.
The bad blood between Japan and Korea can be traced back to the late 16th century, when Toyotomi Hideyoshi tried to conquer Korea but failed miserably. Then, between 1910 and 1945, the Japanese forces successfully occupied the peninsula and sought to wipe out the culture, language, and history of the Korean people.
Many years after the Japanese brutality ended, most Koreans still feel that the Japanese were not apologetic enough after World War II, and that attempts to do so were insincere. This heartbreaking scene from "I Can Speak English" is a strong testimonial of a former "comfort woman" demanding a proper apology years after the Japanese occupation.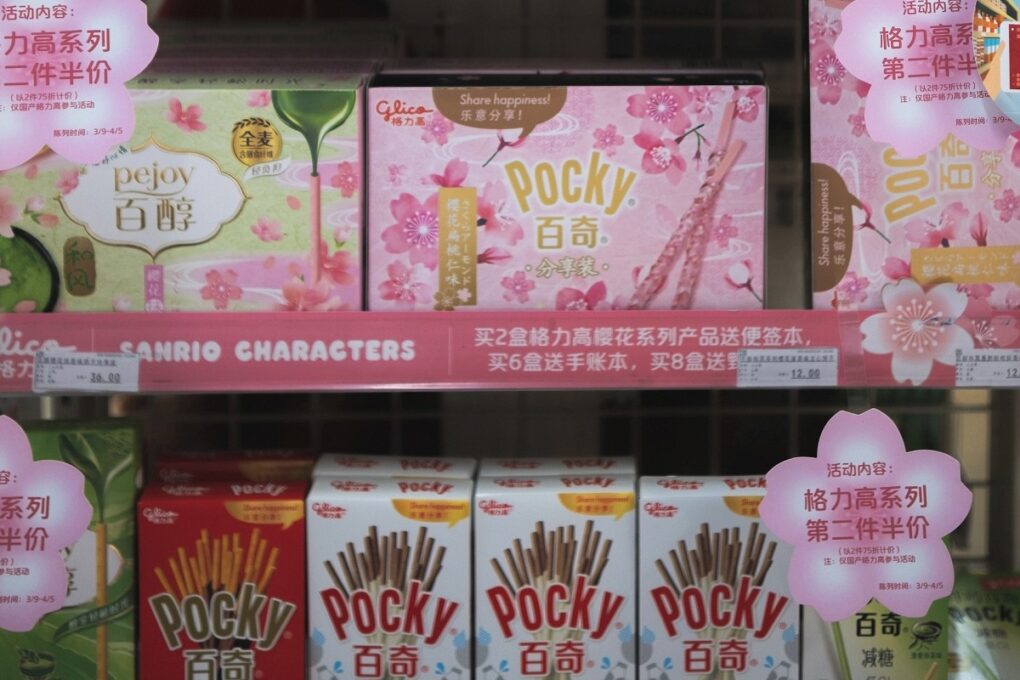 Celebrating Pepero Day in Korea
Nobody knows exactly how it started, but legend goes that the gifting tradition started when two girls exchanged boxes of Pepero, with the hopes of becoming tall and as thin as the sticks inside. Whether this story is true or not, the tradition is largely observed as another gift-giving holiday, especially between friends.
From classrooms to workplaces, locals use Pepero day to express how much they appreciate the people in their lives. It's also common to give this to your teacher or boss and receive one in return. Some say that the number of boxes you get is a gauge of your popularity.
Flip a Pepero box sold around this time of year, and you'll find a space that lets you write messages, similar to Valentine's Day chocolates in the US. Couples tend to use this space to tell their significant other how much they love them, and singles generally write something heartfelt to confess to their crush.
Even though the point is to gift Pepero to someone else, you can & many people also do buy a box for themselves. Throughout Korea and the rest of the world, self-love has become the trend, and for Korean Pepero Day, the boxes embrace this with their cutesy sayings.
The brand now has various flavors of pepero that cater to all sorts of taste, and each one is guaranteed to be a treat. Pepero is also really easy to get your hands on. You can find these signature red or green boxes in convenience stores, marts, and online shops (even on Amazon).
But if you want to save money and are in Korea, I recommend buying Pepero on Coupang, because you can get 30 boxes of assorted flavors for just $25. Alternatively, if you're confident in your kitchen skills, how about making your own Pepero?
Here's a step-by-step guide from Harriet's Kitchen, and all you need is vegetable oil, all-purpose flour, granulated sugar, whole milk, baking powder, and salt. The only downside is that it takes three days and a lot of patience to make.
So if the person you have in mind is okay with receiving a makeshift popsicle-shaped Pepero, then try Cooking Tree's quick recipe, instead. And if you're feeling creative, My Korean Kitchen suggests using pepero sticks to bundle a typical Korean roll cake.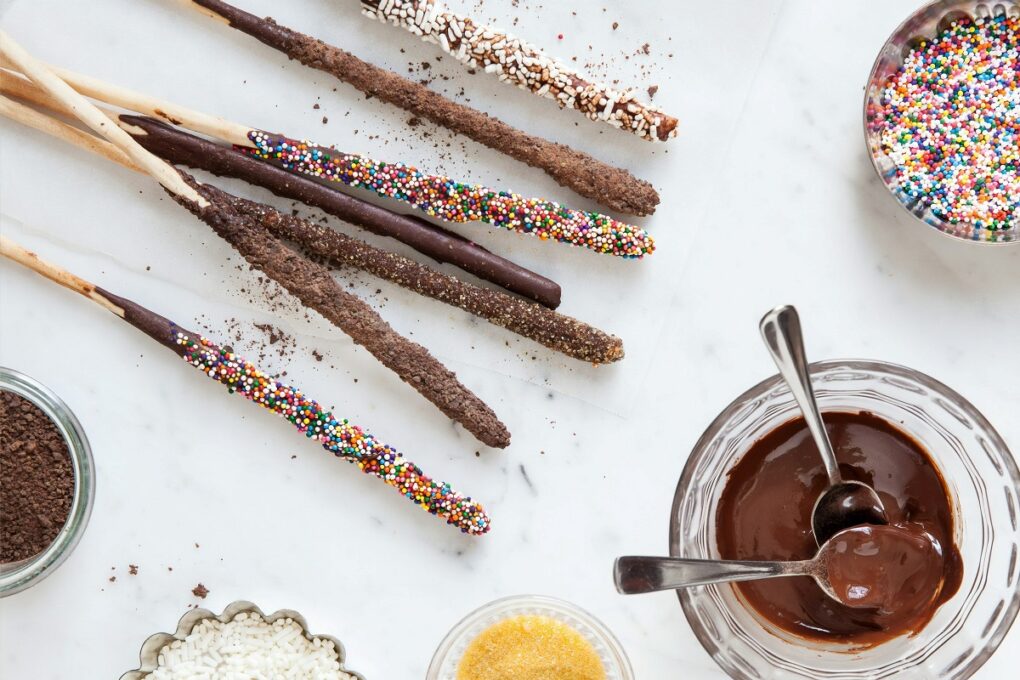 10 Best Pepero to Buy
Pepero is best known for its standard red packaging, which contains the mild breadsticks covered in plain milk chocolate. But did you know that there are various flavors and versions of this beloved snack?
Here are some flavors of Pepero commonly gifted to friends and loved ones in Korea, as well as interesting Pepero flavors that you shouldn't ignore.
Mint Chocolate Pepero
BTS initially sparked controversy with mint chocolate in South Korea, since some members think it tastes like toothpaste mixed with chocolate. So many international fans who haven't tried this combination tend to be incredibly biased, at first.
However, a stick of this chocolate mint Pepero flavor might change their minds. I find the taste of this particular Pepero to be a bit herbal and toasty, so it would do well with your friends with an adventurous palate.
Choco Cookie Pepero
Fans of fudgey chocolate chip cookies will enjoy snacking on this flavor of Pepero. It has a nice crunchy texture, and a generous amount of chocolate coating. It pairs particularly well with vanilla or chocolate ice cream.
White Chocolate Pepero
If you love the taste of Oreo cookies and the Cookies 'n' Cream Hershey's bar, these sticks are made for you. The white chocolatey coating is creamy & light, and the whole stick can be dunked in milk to soften it before eating.
Almond Pepero
Delicious, crunchy, and thicker than the ones in the red box – this is hands down the best Pepero in Korea. People can't get enough of the taste and texture of milk chocolate with crushed almonds, to the point that it's quickly & easily sold out in marts and convenience stores. You might want to grab one if you see one' you won't regret it.
Yakult Yogurt Pepero
Like mint chocolate, people might find the Yakult flavor of Pepero to be an acquired taste. But if you enjoy the sweetened citrusy taste of the probiotic drink, then you might enjoy munching on this coated biscuit.
Strawberry Cookie Pepero
The strawberries in Korea are reportedly sweeter than the ones outside the country. Because of this, the chunky strawberry milk frosting tastes a lot like sweet Korean strawberry milk, which is why this flavor is also considered one of the best Pepero in Korea.
Dalgona Pepero
Locally known as ppopgi, viewers of the hit TV show "Squid Games" might be familiar with these thin sugar biscuits with an umbrella shape stamped on top. Gifting this flavor to a fan of the show might be a good way to demonstrate that you support their interests.
Then again, these thin biscuits are coated with a honeycomb toffee syrup that's reminiscent of the beloved street food, making it the perfect gift for any friend who appreciate Korean culture.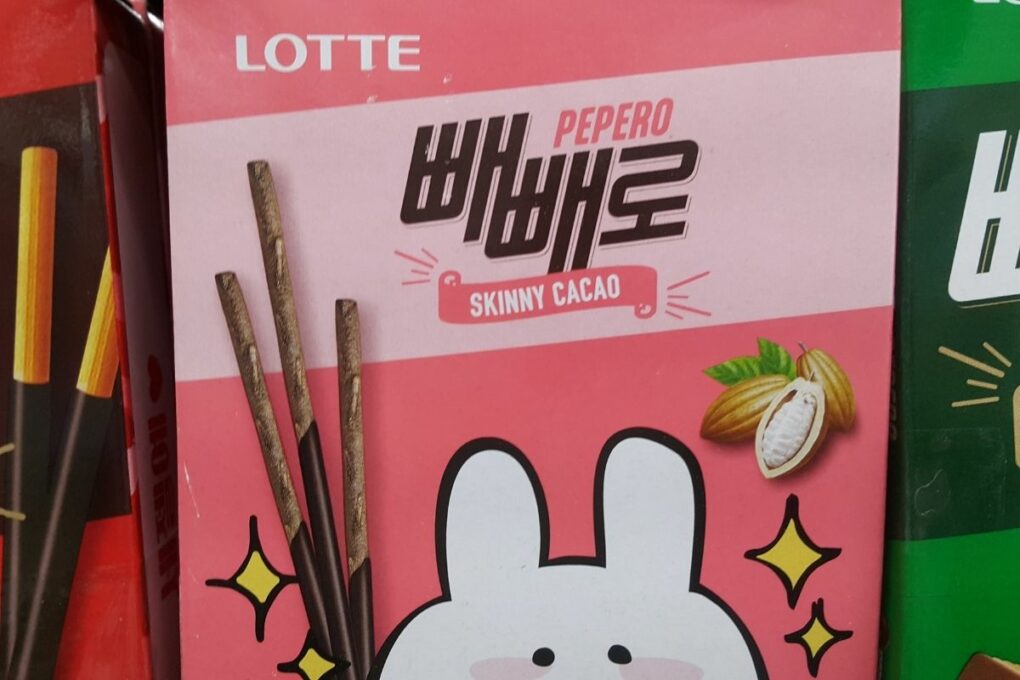 Nude Pepero
Honestly, this is just an inverted version of the Dark Chocolate Pepero. But these Korean snack biscuits do guarantee a no-mess eating experience, which is best for kids. Some people even use these to stir their hot chocolate in the wintertime.
Nude Green Tea Pepero
Mildly bittersweet and refreshing, this chocolate-coated, matcha-flavored snack has the taste your tea-loving friends are looking for. Plus, matcha is known to boost focus and improve memory, so you might want to gift these to students or hard-working colleagues that need a mind-boost from time to time.
Injeolmi Pepero
Here is another Pepero inspired by a Korean traditional food. If you've been to the streets of Myeongdong and seen rice cakes covered with a whitish powder, that's actually roasted soybean powder.
Those rice cakes are called injeolmi and they taste a lot like peanut butter. Once opened, this particular Pepero smells like a rice cake shop, and may spark feelings of nostalgia if you give it to a Korean friend.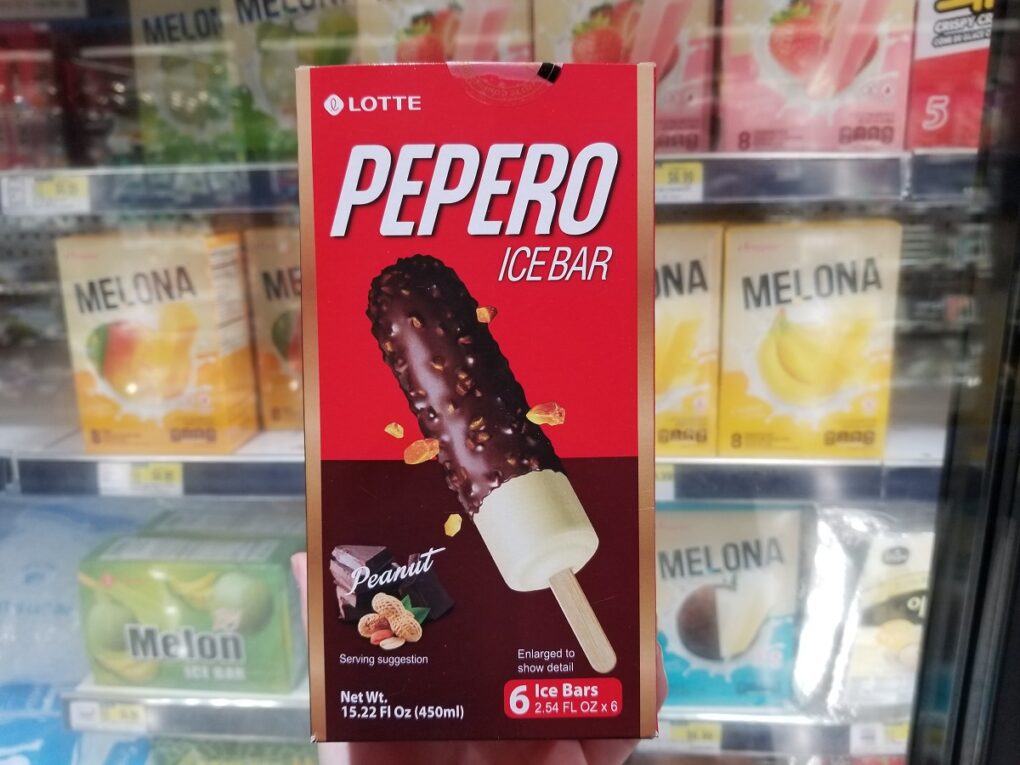 National Pepero Day Korea FAQ
What is Pepero Day in Korea?
Pepero Day is an unofficial gifting holiday in South Korea. It's treated a lot like Valentine's Day, but instead of gifting Pepero to your significant other or crush, you give it to people that made you smile in the past year.
Is Pepero Day for singles?
Even though Pepero Day in Korea is sometimes thought to be a day to comfort your single friends, it's not exclusively a holiday to celebrate singles. You can give Pepero to friends, colleagues, or family, regardless of their relationship status. The official day for singles for Koreans is called "Black Day" and is observed on April 14th each year.
Is Pepero Day romantic?
Sure, it can be! Giving your loved one Pepero on this special day is a thoughtful gesture, since it basically means that you appreciate having them around. Younger Koreans now sometimes also use the November 11th holiday as an opportunity to confess their longtime crushes.
Is pepero better than pocky?
A lot of people who've tried both brands think they taste similar. They even have the same price on the world market, so really, it's not fair to say that one brand is better than the other. However when it comes to personal preference, I feel like Pepero's chocolate is better than Pocky's because Lotte chocolate tends to be sweet, milky, and rich.