Finding a reliable vegan hot chocolate recipe is hard work! Over the years I've perfected mine using my chosen coconut milk base, but feel free to use any plant-based milk you'd like, from full-fat to fat-free. To make this vegan hot chocolate recipe, in addition to some delicious craft chocolate, you'll need access to a small saucepan & stove top burner, or a microwave.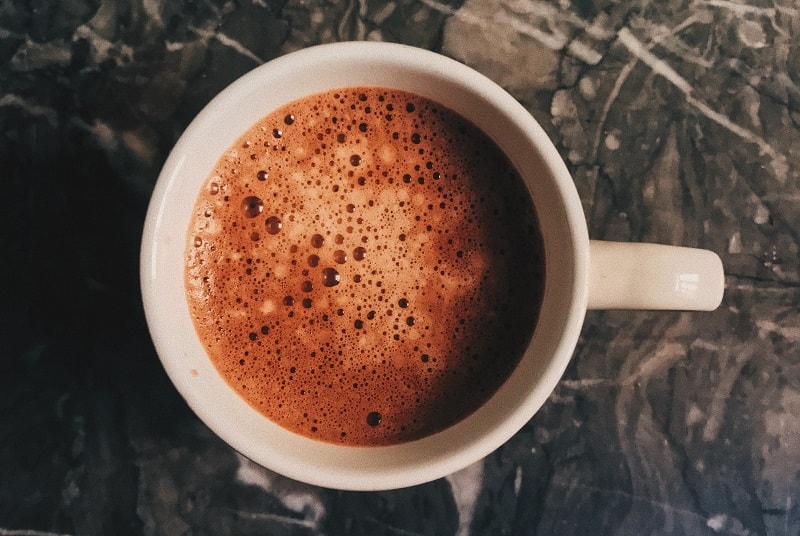 Ingredients
6-8 oz. of plant-based mylk of your choice
2 oz. of chopped vegan chocolate (white, milk, or dark, but make sure it's sweet enough for your taste)
Optional: a pinch of salt or pure monk fruit extract
Method
This is the real trick to perfect vegan hot chocolate: chop your chocolate very small, and heat the milk only.
First, chop up your chosen chocolate, whether it comes in bar or chip form, until it's in little slivers. Then take your mylk of choice and heat it in a saucepan over the stove (or nuke it in the microwave), warming it with either method until it's just a bit too hot to touch.
Turn off the heat and move the pan to a different surface. Add in all of your chosen chocolate, and let the pan or mug sit alone for two minutes. Don't touch it. This rest allows the chocolate to melt naturally, and if you over-heat your mylk, it could burn the chocolate or even separate the cacao solids from the cocoa butter, so stick to a low heat.
After a couple of minutes, slowly stir or whisk your drinks together, combining the mylk and chocolate from the bottom of the container up. If the fat and solids in the chocolate do separate, never fear. Just use a high-powered whisk or an immersion blender to re-combine everything; this will also make for a frothier drink.
This is when I usually add a pinch of salt to contrast the sweetness, but serve your cocoa however you'd like and enjoy!