Pronounced "O-yan-tay-tombo" and called simply "o-YAN-ta" by the locals, I spent two months of my life in this small Peruvian town, this a living Inca village just a few hours from Cusco and Machu Picchu.
What Is The Sacred Valley Of Peru?
The Sacred Valley, or el Valle Sagrado, is what many people call the Peruvian Andes region surrounding the city of Cuzco. Cusco was the capitol city of the ancient Incan empire, and is currently the economic center of the region. The Sacred Valley is known for both the living culture of the Incas, and the amazing natural scenery.
This scenerey, and the many remnants of the once-dominant Incan Empire, bring in floods of tourists and normalizes the Spanish language. But thankfully, children are still taught the Incan language of Kichwa (as well as English) in school. It's pretty common to hear people speaking to each other in Kichwa around town.
The city where I lived for 2 months, Ollantaytambo, is well known as a stop on the way to visit Machu Picchu. It sees a huge number of tourists each day, with no real low season to speak of. During the Peruvian summer, when I was living there, even though there was often bursts of rain, most of the time it was bright & sunny during the day and cold at night. The stars were seriously bright if it wasn't cloudy.
If you are in the region to visit Machu Picchu and looking for a rest stop that is not Cusco, this is the town I would very highly recommend either on the way there or back. Nearby towns and cities include Urubamba, Maras, Cusco, and Pisaq,each of which have their own attractions and reasons to visit.
My coworkers, most of whom grew up in town, were quick to correct me when I called any of the ancient sites "ruins," as they're not ruined; they're still very much sacred. They prefer to call them archaeological parks (parques arqueológicos), and as visitors we should try our best to respect that. Also consider that we have llamas and birds and puppies of all kinds, in case you're into that kind of thing. Just don't touch the llamas.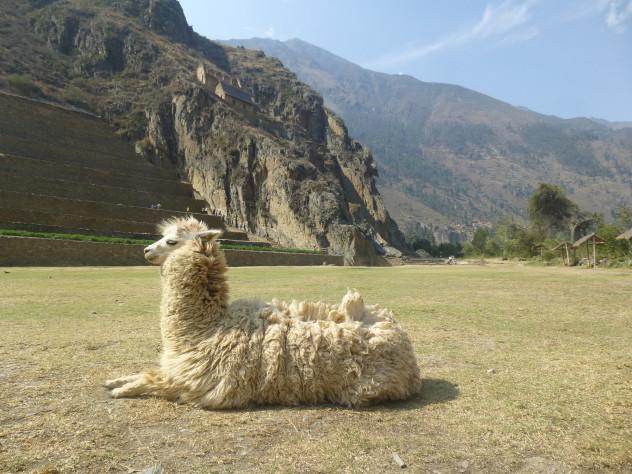 Getting Around The Sacred Valley
Once you arrive in Cusco, either by bus or flight, you have a few options. But the only ones I would recommend if you have luggage are either taxi or colectivo (shared van). From the airport or most anywhere else in the city, you can catch a shared or private taxi, and to get to Ollanta it should cost somewhere between 35-40 soles in total. If there are 4 people sharing that evens out to 10 soles ($3.10USD) apiece, though it will cost much less if you're going to a closer-by city like Urubamba or Pisaq.
Definitely negotiate if you're quoted a much higher price.
A colectivo, or shared van, is 8-10 soles a person to Ollanta, depending on the size and quality of the vehicle. However these can only be caught from an area called Pavitos, on Avenida Grau, so if you are coming from the airport you will have to pay a taxi to take you directly there or to Plaza San Francisco. From there it's a 15 minute walk; this taxi should cost no more than 8 soles, though you will hear people yelling out ridiculous prices, like 35 or 40 soles, right in front of the airport. Ignore them and walk out to the street to catch a taxi.
A young woman actually flagged down a taxi for me after I told her that "a friend" told me that to the town center it should cost no more than 8-10 soles, and she got a small tip from the driver in exchange for bringing him my business (which I'm totally fine with). I got the right price and she got a bit of money on the side.
Don't worry about anyone robbing you in front of the airport, but at night I recommend staying extra vigilant anyway, on principle. It will take 2-2.5 hours to arrive at the main plaza or the train station in Ollantaytambo. It's only about 1.5 hours to Urubamba from Cusco, or 45 minutes to an hour to Pisaq. The same goes for getting back, to Cusco except in reverse; all the taxis/colectivos are caught from the same place in Ollanta.
The only stop in the shared van should be made in Urubamba, a small city about 20 minutes from Ollantaytambo, which is why it seems to take longer to get there.
The entire town of Ollanta is walkable, and the same for Pisaq (though Urubamba is much bigger). Everything is decidedly within walking distance, though for those who have a lot of luggage or don't have 15 minutes to spare, there are taxis or colectivos or moto-taxis. Costing s/.1 per person per ride, the mototaxis are everywhere and you only have to tell them where you're heading in order to get a ride.
Make sure you have exact change.
Colectivos are mostly for going anywhere not within walking distance, off the main highway back to Cusco or towards Machu Picchu, such as the Maras Salt Mines or Urubamba (from Ollantaytambo those two spots will cost you s/.1.20 and s/.1.50 respectively). Rarely do colectivo drivers try to rip people off, because very few tourists use their services, except for directly to Cusco. So this is a dependable option.
Taxis will take you to most every other place, but are by far the most expensive. I have no cost estimates for taxis because they change their prices depending on whether you're a tourist or a local, though you'll be offered taxis almost constantly while you're in town. I promise.
Ollantaytambo Hotels: Where To Stay
During low season in Ollantaytambo (September to December), it's easy to walk into town and get a cheap hostel by just walking around and inquiring in a few places. Make sure you ask to see the facilities and inquire whether or not breakfast is included. During high season for Machu Picchu in Peruvian winter, from July-August, I'd book ahead, though it will be more expensive.
Mama Simona Ollantaytambo
Highly-recommended, this hostel is inexpensive, probably largely due to its location being so far off the main plaza and beaten path. It is about $13 a night, and only holds nine guests at a time; offering a communal kitchen and hot water, it would be a great option for a big group that wants to rent out the whole space.
Hostal Chaska Wasi
This appeared to be the cheapest lodging in town at about $8 a night, and a good option for backpackers just trying to find a place to lay their heads for the night. They have hot water and are located right in the middle of the plaza, near internet cafes and all the restaurants you could need as well as the main market.
One of the nicest hotels in town, this is one place you can book ahead of time, in case you're looking for American service and prices, and the security of having something already settled. The perks are an included filling breakfast, stunning view and central location; downsides are a price tag of $80 a night for a private 2-person room, though that may be lower or slightly higher depending on the town's occupancy at the time.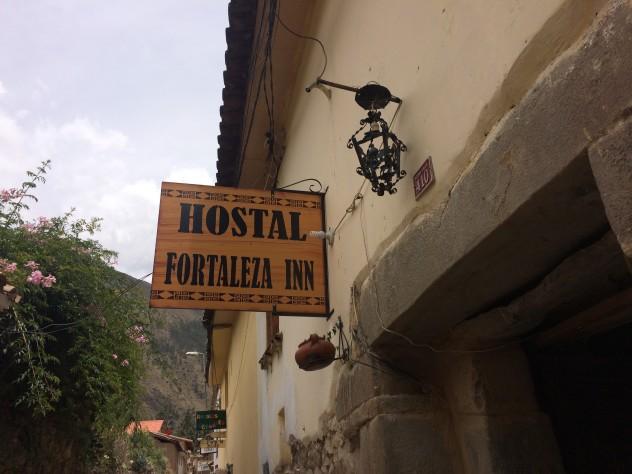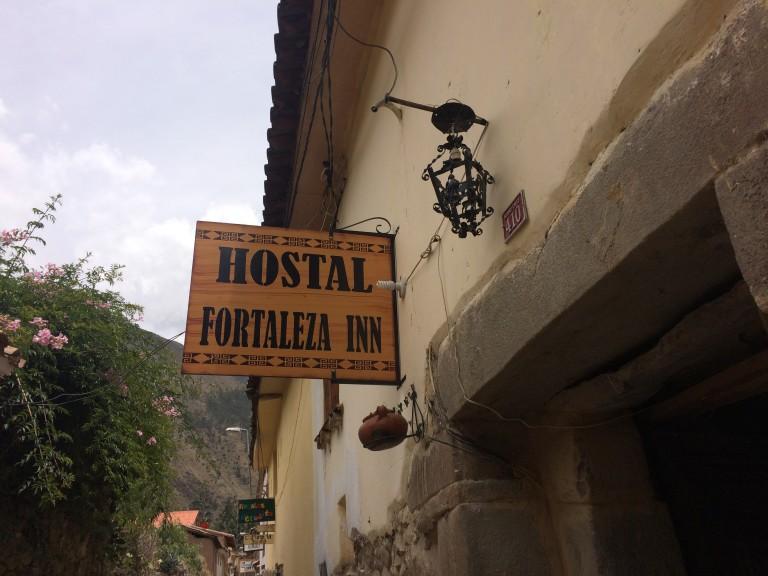 Things to Do in Ollantaytambo
I love my little town, and after a couple of months, I discovered that there's a lot to do right in town or just outside of it. Using Ollanta as your home base, these are my top picks for day-trip activities, with prices indicated (it is a tourist town, after all).
Free— Wandering the market in Plaza de Ruinas any day of the week. This is probably one of the first places you'll see, apart from the main plaza, because it is just five rows of stalls full of statues, clothes, and various other souvenirs. How much this costs depends on you, and if you are here for long enough, you may run into some of the people who actually make the stuff, as they go around selling them to the stores which you are looking at.
For instance, I bought a few nice purses for s/.10 apiece, direct from the woman who had made them, but from a stall you'd be hard-pressed to get a price quoted to you as less than s/.20. If looking at a common item such as the hats or statues, ask a few different stall for their prices, so you can be sure you get it at the best deal.
Make sure the stalls you negotiate with aren't next to each other, though, otherwise everyone will just overhear and quote the same price. None of the stuff sold is edible, however, so to buy coca powder or teas or traditional snacks, you'll have to stop a woman with a basket full of snacks, or head over to the main food market.
Free— Hiking up the mountains or just walking around the town and taking in the stunning beauty of the Peruvian landscape, and watching the sun set (or rise) over the mountains.
Free— Strawberry Fields: There is a lesser-known adventure available in town, and that is to go check out a working strawberry farm! Despite the altitude, a huge variety of fruits and vegetable can be grown in town, and one of them is strawberries, which in this case are grown on vines planted in rows and set on top of tarps so that the berries are easier to spot.
The family which runs the farm is very nice, and would likely let you help pick your own berries, if you so desired. Because of the altitude and proximity to the equator, the farm is probably growing berries year-round, but the high season is October-February during Peruvian summer. To find the puppies and the strawberries of the farm, you follow a path parallel to the one leading to the train station.
Take the road to the left of the main archaeological park until it curves to the right; you'll keep straight onto a separate dirt path instead of curving to the right, and after a slight downhill it will plateau and you'll continue straight. After half a kilometer the path will nearly end, but you'll find a wooden door to your left which says Se Vende Fresas, meaning "Strawberries Sold Here." Behind those magical doors lies Oz… Kidding. There lies fresh, juicy strawberries for s/.9 a kilo. Enjoy!
Free— Wandering the main food market, which is housed in a three-story building right off the plaza. The second and third floors are dedicated to lunch places and tiny stores, but on the bottom floor you can find a variety of local fresh fruits and veggies, as well as meats and cheeses and grains. If you decide to buy something, know that you will never get the local price, and that you may actually be paying 5-10 times what a local would pay.
For reference, right now I buy oranges at 3 for s/.1 and bananas 5 for s/.1 and potatoes at s/.2 per kilo. I've seen people paying s/.2 or more for a single orange, which is ridiculous. If you don't want to be duped like that, wait for the big fruit trucks to come on Tuesday mornings, lined up on the street outside the market, or just ask around for prices from various vendors, not feeling guilty when you walk away.
Free— Archaeological Park (Parque Arqueológico Pinkuylluna): there are two sacred Incan areas in town, and honestly, these were my favorite. Plus they're free! You can't beat free. The park itself can be a tad hard to find, but it's right off the plaza. Once you find it, know that there are three parts, and it took me about three hours to see all of it. I'd recommend hiking boots, and a ton of water and sunscreen, as well as a good camera.
It's a moderate hike and a stunning view of town, as well as of the other park. Because most people who go to the other one come in by bus and can't explore, these are much less populated and are a more leisurely hike. Pro-tip in case you didn't see it above: Peruvians hate the word "ruins," so you should always call them archaeological parks when referring to them in Spanish; you'll earn respect for this, I promise.
s/.60pp— Main "Ruins"/Archaeological Park (Parque Arqueológico): These are a huge attraction for tour groups, and most everyone who goes there goes as part of a guided group with pre-purchased tickets, though you can apparently buy a single ticket from Tawachaki, a restaurant facing the structure and the plaza. These many constructions are cool to explore and take a couple of hours to walk, but I honestly don't think it's worth it.
The town sees none of the profits; they go straight to the government in Lima according to everyone I've asked. Plus, the layout is very open and the walking is easy & guided, leaving little room for exploration or personalization due to the obvious paths and do-not-enter signs.
Unlike in the free archaeological park there is no way to climb around or up stuff (at least you're not supposed to, though you can read about how I did anyway here, though it's all sturdy as can be. Overall I was left with the feeling of having just attended a show put on for my benefit rather than explored a historic site. Much like how I felt after Machu Picchu.
s/.35pp or s/.75pp— ChocoMuseo Workshop: I have led these workshops, and I have to say that I have never had anyone leave unhappy. There is a mini-workshop and a main workshop, lasting 45 minutes or two hours, respectively, with prices reflecting this. The mini-workshop is geared more towards kids, including the participant's choice of white, milk or dark chocolate, and whichever mold they desire; they make their own chocolates from tempered chocolate, adding whichever Peruvian flavors they desire, and while the chocolates are hardening, they get a tour explaining how chocolate is made.
In the bigger workshop the participants make chocolate directly from bean to bar, just like we do in the shop. They start earlier in the process, making three different chocolate drinks, roasting and peeling beans and then grinding the cacao into a paste, picking up then with making their own chocolates and getting the tour.
Everything can be shortened a bit if needed, but there's a lot of comradery between participants and joking on the part of the workshop leader. At the end, you can order something to drink or look around the shop and sample the liquors, jams or beauty products. Workshops are available at any time of day for any number of participants, and can be done in English or Spanish.
s/.12.4pp— Salineras de Maras: One of the cooler things I did on a day off was visit the salt mines of Maras, a 15 minute colectivo ride from town, costing just s/.1.2 a person each way, plus s/.10 a person to get into the area. The salt mines were formed a while back after a ton of water was left there, and the salt harvested there is used everywhere.
It is an impressive site, and you can even bring some of the salt back with you, though it's still just salt. It is a twenty minute trek in from where you get dropped off, passing over a bridge and hiking up a small mountain, but it is a beautiful walk and not hard at all in my opinion. Ask the colectivo driver to drop you in Terrabamba or simply at the "Salineras."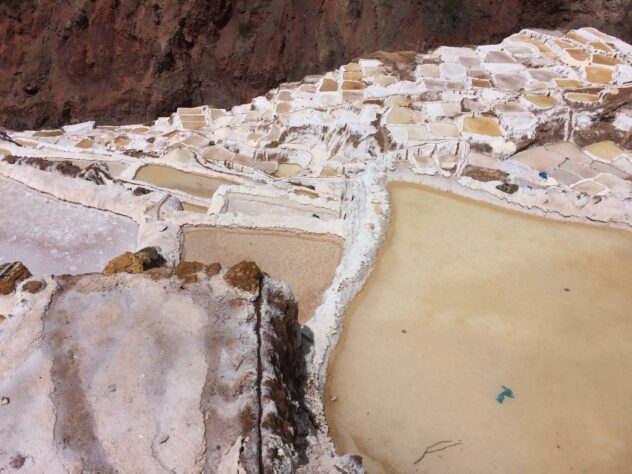 s/.2.4pp+Beer— Brewery (La Cervecería del Valle Sagrado): The brewery is only open to the public from 2pm-7pm Friday-Sunday, unfortunately the exact hours which I work, so I never got the chance to visit, which I totally would have despite that fact that I don't drink beer. But the owner, Juan, came into the shop sometimes and bought cacao nibs from us to make a special beer, so I got to know him pretty well and he's good people.
In addition, his beer is sold in La Esquina Café and a friend of mine tried his Passion Fruit one there, pronouncing it delicious, so I feel good recommending it. Based off the prices at La Esquina, a pint will run you about s/.15; not bad for artisanal beer.
From what I've heard, it's a popular spot for ex-pats and you may be able to arrange a tour of the facility in English or Spanish during off-hours, though I have no idea what the cost would be. It costs s/.1.2 per person in a colectivo each way, asking the driver to drop you off in Parabamba or simply "La Cervecería."
s/. Free— Wandering the big Sunday Market in Pisaq: The only definite cost is the price to get there, because you definitely can't walk. This town is nearby, and known for its Incan "ruins" and huge Sunday market (as well as having a ChocoMuseo!), at which locals sell their wares.
Though I never felt the desire to go, people sure talked it up to me, so if you're passing through on a Sunday it is worth a look, and you might even find some cool stuff to bring home! Ask various taxis for price quote, and go with the lowest number.
s/.3pp— Wandering the big Wednesday Market in Urubamba: Same deal as the Pisaq market in terms of getting there being the only definite price, but in terms of size, this one is almost certainly bigger. Since it's a small city, their main food market, which is always open, is already huge and four stories tall, but add in people lining the streets with everything from knitted hats to vegetables from their garden to handmade pipes, and you've got a full day of walking to do.
Again, there is no commitment to buy and always ask a few different people for their prices before committing yourself to something, but the odds are good that you'll fall in love with something before day's end. Getting there is just a matter of finding a (taxi or) colectivo right outside the Ollanta food market, making sure they're headed to Urubamba, and paying the man s/.1.5 once you arrive; ask him or anyone else where the "mercado" is before you leave on foot.
Prices Vary— There are also options for renting bikes or four-wheelers if you're staying for a while, usually with a guide attached; inquire at your hotel about where to go.
Ollantaytambo Restaurants: Where to Eat
There is no question that Ollantaytambo has two types of restaurants; one for tourists and one for locals. I'll start with my recommendations as to the most unique and delicious tourist restaurants, all of which I have eaten at (and used the wifi of), in order from priciest to cheapest.
El Albergue
Located inside the train station. The fanciest restaurant in town, this place also has the best food and the fastest wifi. It's a pretty upscale place though, reservations encouraged, so don't expect to pull out the laptop at dinner.
My recommendations are the chicken anticuchos appetizer, pepper steak entrée, and side of lemonade; seriously the best lemonade ever, made with Inca Mint and fresh juice. The majority of the food comes from the owner's own farm, which you can tour, so it's very much worth the price. Plus, the owner is an absolute sweetheart, ditto for the staff. Dinner will run you s/.30-60pp.
Hearts Café
Located on the corner across from the bridge. I'll say flat out, I don't like the owner, and they no longer donate to the local kids like they say they do. The original owner did, and the current owner exploits this belief of the tourists; go ahead and ask him where the donations go or where you could donate your own time.
That said, it is still a restaurant, and the staff are professional and the food is good; three of my coworkers used to work there, so they can vouch for the quality as well. My recommendations would be the alpaca burger or spicy chicken sandwich, with the very yummy chocolate cake for dessert. Dinner will run you s/.25-35pp.
La Esquina Café
Located on the corner in the main plaza, near the ATM. Wonderful owners and very easy to find! This is always my recommendation when people ask where to eat, if I don't send them towards El Albergue. My recommendation is the chicken fajita or sandwich with a portion of french fries, though they also have a set menu and many delicious vegetarian options. The artisanal local beer is a popular pairing with their food, though it may cost you just as much as your meal. Dinner will run you s/.20-30pp.
Mamúkis
This is where I ate every day for lunch, whenever I went out for lunch instead of cooking at home. Catering almost exclusively to locals looking for a nice lunch or soup out with the family, for s/.6 you get five things: the huge soup of the day, a tiny appetizer, a large entree, a tiny gelatin dessert and a cup of the juice or tea of the day. All the food is delicious and inexpensive, but consider yourself warned that everybody speaks exclusively Spanish or Kichwa.
Restaurant Sumac Mihuna Wasi
Full disclosure: I never ate here, but this is the only local dinner spot that is relatively easy to find, and seems to have inexpensive local fare. There is a huge range of options which appear to be available, but odds are that there will be a daily menu available that is cheaper than all other options, and just a delicious.
El Ganso Bar
If looking for a mixed drink, good company and free wifi, this is the spot. It's also the haunt for many long-term tourists and ex-pats, so the owner and bartender both speak decent English, allowing you to communicate and request songs freely. Occasionally there are fights outside, but it seems to all be due to already-drunk people showing up and starting something.
To get there, turn off the main plaza just to the right of the ATM, and about a block in you'll run into the light-up purple/yellow sign for "El Ganso Bar." A Maracuyá Sour will run you s/.15 and a Bailey's over ice s/.12, though they also have huge Cusquena beers for s/.15 and a nice selection of Peruvian cocktails.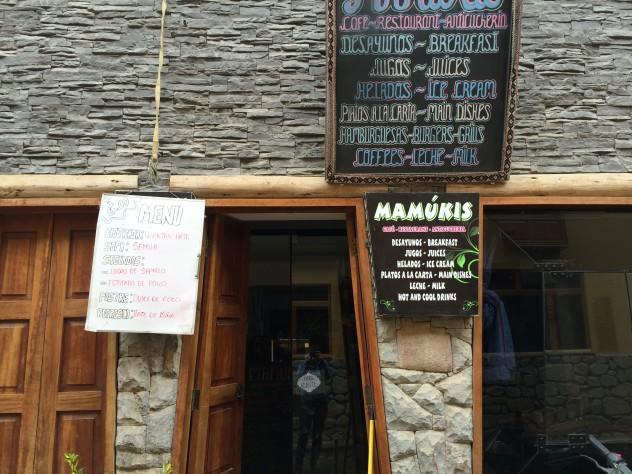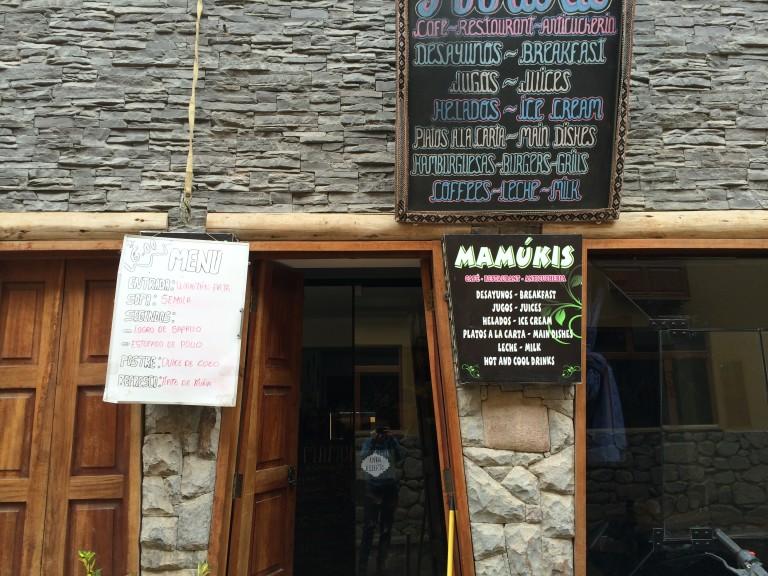 Ollantaytambo Souvenirs: Where To Shop
Let's be honest, you're not gonna leave town without a cute little llama key chain or knit hat or other kitschy souvenir. Depending on what kind of vibe you're trying to project on your trip, there are a variety of places in Ollantaytambo where you'll find delicious and/or well-made things for reasonable prices.
Juana's Juguetería
A cute little store off the beaten path of the main plaza where a woman and her daughters sell knitted sweaters and kitschy crafts and a ton of other stuff at prices much lower than any others I was quoted in town. It's a great way to support the local economy while still keeping a few soles in your wallet for a nice lunch; plus everything is well-made or of the same quality as others of its kind sold in town.
Awamaki
Though this place did not come very highly recommended by my co-workers, the place is purported to sell fairly-traded goods from local producers. They at least give every buyer the same price, unlike the local market just across the way, though buying anything for a higher price than others does not necessitate the price bumps I heard about.
ChocoMuseo
This is where I work, and because of that I can guarantee both the quality of service and fare. The women I work with are stupendous, though they don't speak a terrible lot of English, and the food & chocolate are wicked good. My favorites are the latte + crepe combo for s/.15 or the Frappuccino for s/.10, though the truffles are absolutely delicious and always made with fresh ingredients, if you're just looking for something small to munch on.
Art Shop
Next to ChocoMuseo in Plaza Ruinas is a huge art shop with hundreds of prints and framed pieces. No idea of prices, but the shop is easy to find and the owner and his kids are very friendly. He also often goes around with a portfolio of smaller pieces like a traveling salesman, making his pitch to anybody who will listen. You're most likely to get the best price right in the shop, as long as it's not closed for lunch!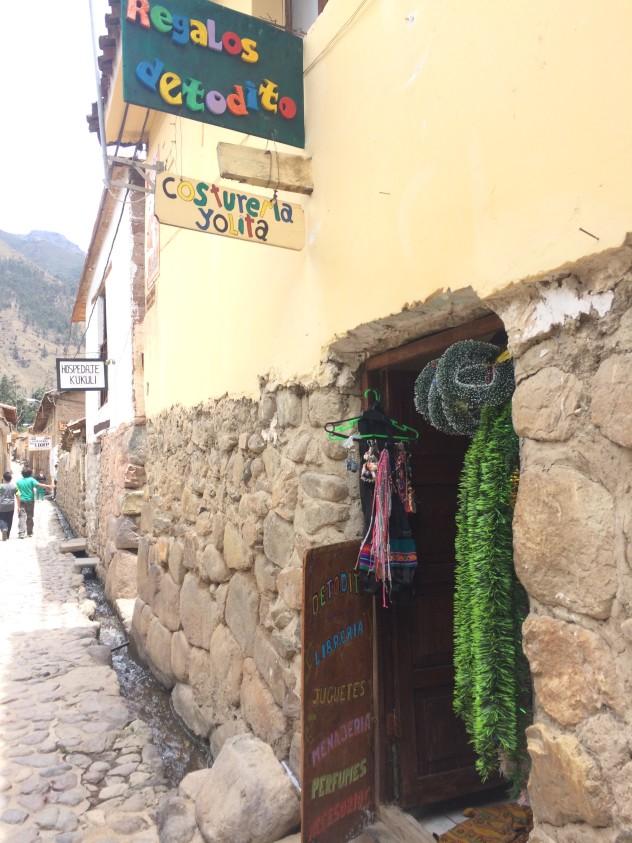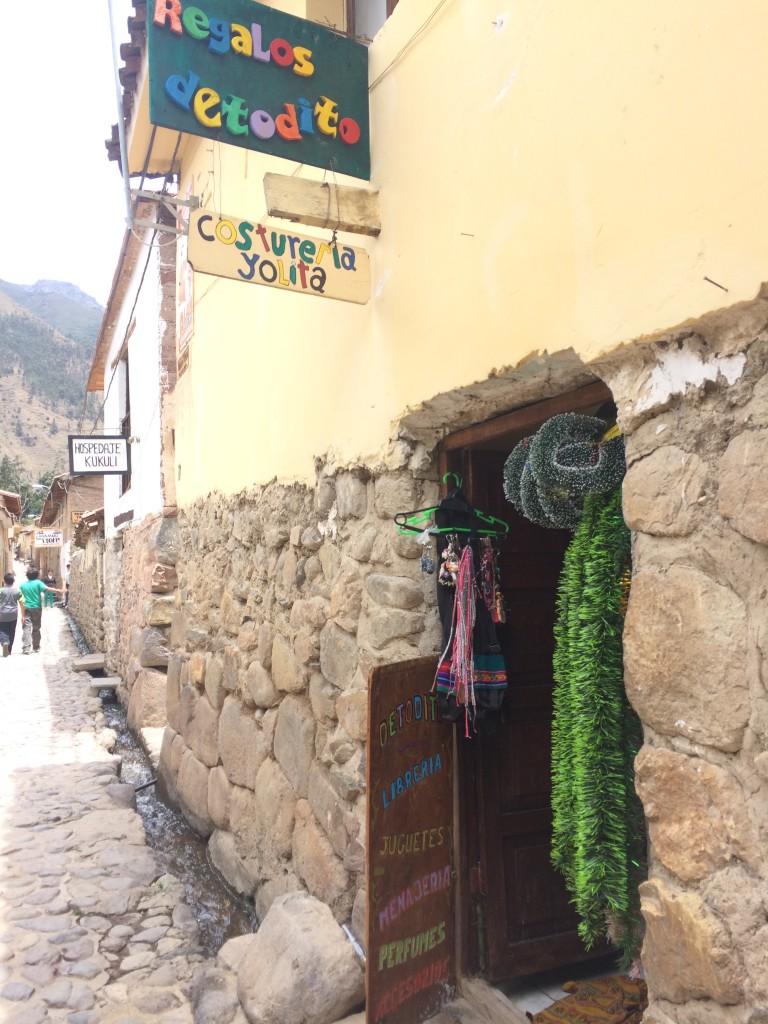 Visiting Ollantaytambo: Practical Information
Best Time to Visit Ollantaytambo
A bit of a misnomer, the "best time to visit" query really doesn't apply here. The weather and number of visitors is fairly consistent due to the high demand for Machu Picchu and the town's location. July and August are high season for MP & the Inca Trail, so expect it to be pretty packed.
If you are coming from somewhere in the northern hemisphere, however, then you'll be visiting during Peruvian summer. That may be a solid pull factor. Keep in mind that this is when Machu Picchu and the Sacred Valley experience the most rainfall, as well, so pack a rain jacket and waterproof hiking boots.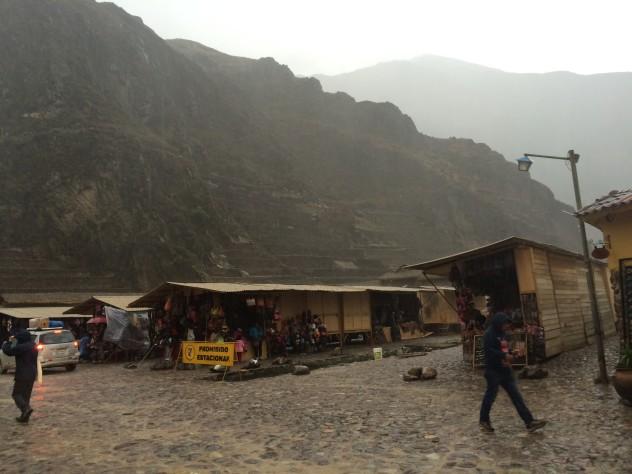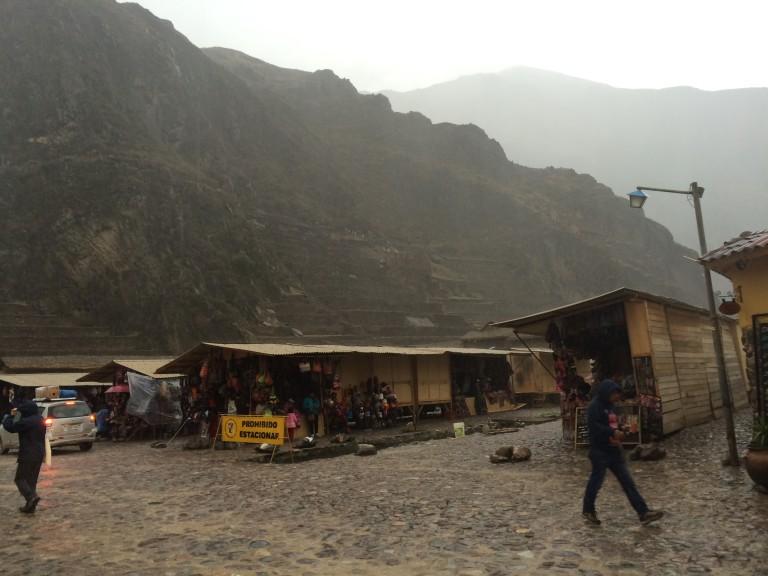 Safety Level: 9/10
Because it is such a small town and people really want it to maintain a good reputation among tourists, this is likely one of the safest towns in Latin America. Though you may get some cold looks from people who hate the constant barrage of foreigners, nobody will attack you for no reason. You're more likely to be ripped off when buying souvenirs than robbed in any form.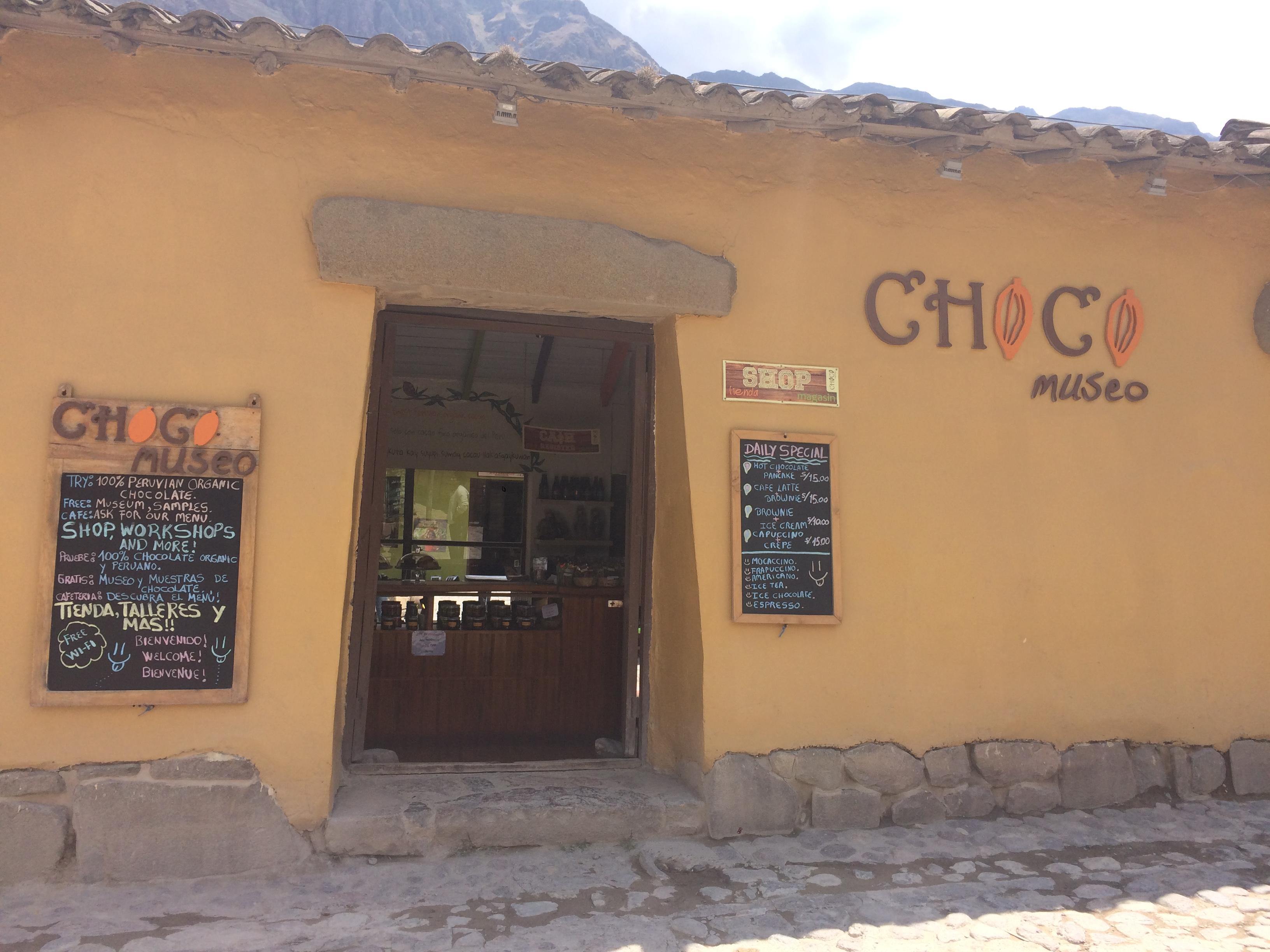 Sample Budget For 4D/3N
Lodging: s/.80
Transport: s/.20
Activities: s/.50
Food: s/.100
Souvenirs: s/.50
TOTAL: s/.300 or $90
A note: all the prices I quote are in Peruvian soles, the November 2021 exchange rate of which is currently $1.00USD = s/.4, or $0.25 per sol. The only ATM in town is in the main plaza, and that is the exchange rate I got when I withdrew the most money, and factored in the cost of the withdraw fee.
Keep in the back of your mind the fact that, according to my coworkers, the average income in this town hovers around s/.30 a day. So though you should always be wary of getting ripped off, don't pass up the opportunity to buy a handmade craft directly from the person who made it; you could be feeding their kids that night.
*Bonus: Abarrotes Mar is a local convenience store where you can buy anything from cheese and garlic to bottled water, all for much cheaper than any other store in town. Though this place is admittedly a few blocks off the beaten path, and will take a bit of exploring to find, it's worth it to be able to buy all your groceries for less than anyone else will sell them to you for.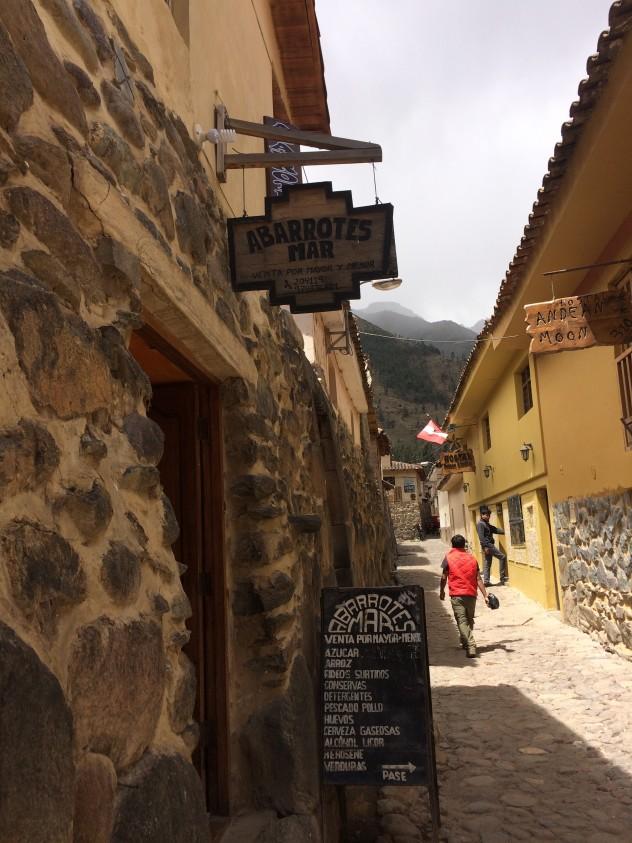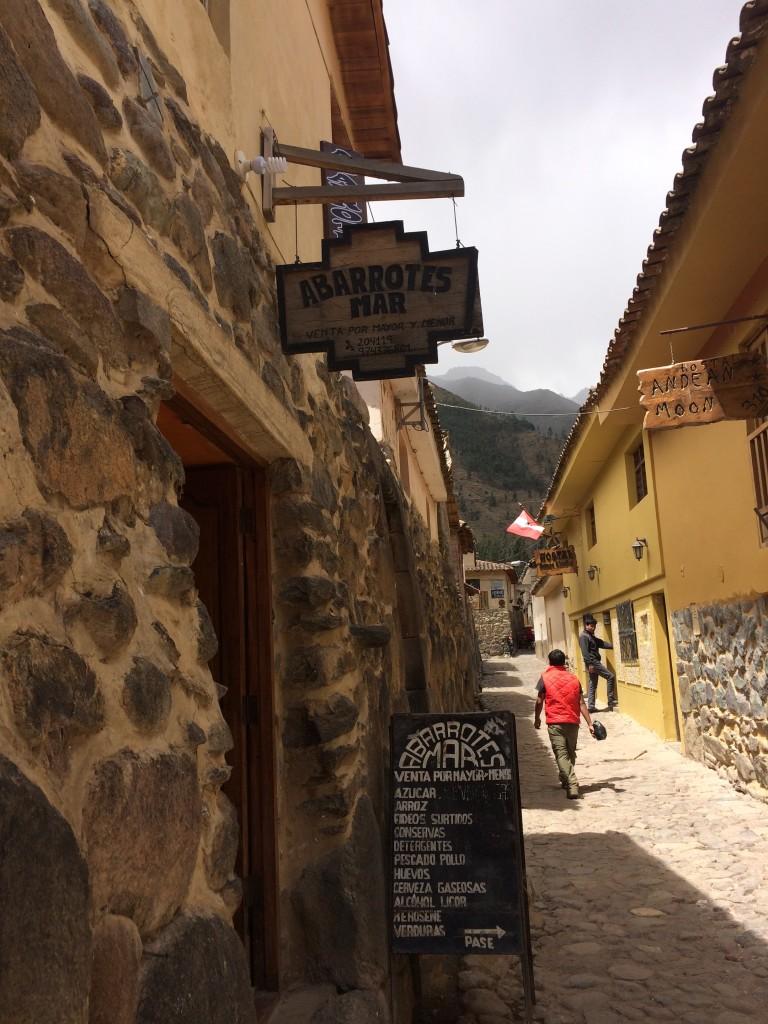 Have you ever lived in a small town? What's your favorite thing to do there?
---
If you found this guide to Ollantaytambo helpful, please pin it so others can find it!